Why Choose Crutchfield?
Deep discounts on car installation gear
We offer vehicle-specific installation instructions, dash kits, wiring harnesses, and speaker accessories at deeply discounted prices with car stereo and speaker purchases. Available for most vehicles.
Learn more
Trusted since 1974
Our customers have trusted us with their business, and they've helped us win awards for our service.
Check out our most recent awards
Factory-authorized dealer
The manufacturer's warranty always applies.
See more details
NAD T757
7.1-channel home theater receiver
Item #: 745T757
This item is no longer available.
Original Price: $999.99
Add audiophile sound quality to your home theater
Whether your favorite artist is Sibelius or Spielberg, the versatile T757 serves up the latest audio and video features your high-def home theater needs, along with the warm involving sound that NAD is famous for. This precision-built receiver includes potent, audiophile-quality amplification for seven speakers plus decoding for the superior high-resolution surround sound formats available with today's HD video sources. The beefy T757 is not just built, but overbuilt: Don't be fooled by its 60 watts-per-channel rating. Like the rest of its line, NAD tested the T757 with all channels going full-tilt simultaneously. Under strenuous conditions, the T757 comes through with spectacular, low-distortion sound that many can only aspire to.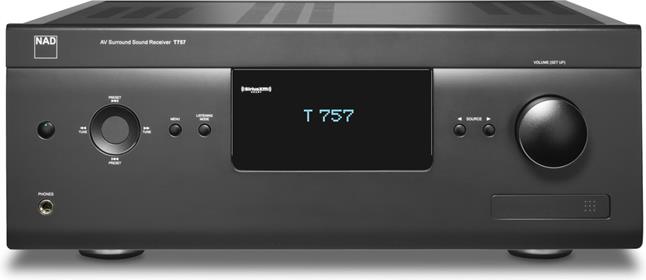 ---
Connection flexibility
The T757 can help you connect your system for convenience and versatility as well as excellent performance. HDMI inputs let you hook up your four best high-def components for easy switching. Analog-to-HDMI conversion sends all of your video sources to an HDMI-capable TV via a single-cable digital connection. If you're looking for improved sound quality with your front speakers, the back surround channels are re-assignable for use with bi-amp capable speakers. There's also a second independently powered zone so you can place speakers in one room, without impacting the program or sound quality in the first. And with 7.1-channel preamp inputs and outputs, you can receive analog signals from multichannel sources like Blu-ray players as well as send analog multichannel signals to separate power amplifiers.
Obsolescence is not built in
Neither technology nor your interests will stand still. Significant changes in either used to mean you'd have to get a new receiver to replace one that might otherwise be functioning perfectly. The T757's Modular Design Construction lets you add or replace modules in your receiver whenever you desire without having to start from square one. That's easier on your wallet and on the environment.
Product Highlights:
Power and Processing:
7-channel amplifier
110 watts per channel into 8 ohms (20-20,000 Hz) at 0.08% THD, with 2 channels driven
Dolby® TrueHD, DTS-HD™ Master Audio, Pro Logic® IIx, and DTS Neo:6 decoding
analog-to-HDMI video upconversion (up to 480p)
auto speaker calibration for precise surround sound and easier system setup (microphone included)
Multi-room Audio:
dual-room/dual-source output
surround back amplifier channels can be assigned to power speakers in 2nd room
only analog sources can be played in the 2nd room
Audio Performance Features:
back surround speaker channels re-assignable for bi-amping front left and right speakers for better sound
gold-plated A/V inputs/outputs
detachable power cord
Connections for up to 9 A/V source components:
inputs are assignable for hookup flexibility
1080p-compatible HDMI digital video switching (4 in, 1 out)
HDMI version 1.4a with support for 3D video, Audio Return Channel, Deep Color, x.v.Color, auto lip-sync, and HDMI-CEC
component video switching (3 in, 1 out)
composite video switching (3 in, 1 out)
S-video input
digital audio inputs: 4 optical , 3 coaxial
digital audio outputs: 1 optical, 1 coaxial
4 analog stereo RCA inputs, including 1 front-panel
7.1-channel analog audio preamp input
7.1-channel preamp output for connecting optional external amplifiers
5 audio/video inputs, including:

1 front-panel input with composite and S-video
4 rear-panel inputs with composite and S-video

3 audio-only inputs (includes input/output loop)
preamp output for a powered subwoofer
no phono input — to connect a turntable you'll need to add a phono preamp
RS-232 port for automated control systems
1 pair of main speaker outputs
General Features:
intuitive on-screen menu via all monitor outputs
40 AM/FM presets
A/V remote
17-1/8"W x 6-13/16"H x 17-1/4"D
weight: 33.9 lbs.
warranty: 2 years
Receivers: Your ticket to sensational sound
Your receiver powers your speakers and lets you connect and select your entertainment sources. But a great receiver does a lot more — it ignites your emotions. From the passion of a favorite musical artist, to the crossfire of a super-charged movie soundtrack, to the intensity and immersion of a fast-paced video game, your receiver is the key to experiencing and enjoying it in full.
NAD T757 Reviews
Average Customer Review:
8 Reviews
---
Written by: Philips from San Francisco on September 3, 2014
Excellent product! I have owned this unit for 3 years with great quality sound and functionality. Mostly stream vidoes out to a pair of Rega floor speakers - - which has amazing sound quality.

Pros: Great cinematic sound quality! The DNLA feature has played every video container file I've thrown at it flawlessly!

Cons: Switching between input sources can be glitchy, i'm not sure why. Not a big minus however.
Written by: tvrgeek from Bowie, Md on September 25, 2013
Crutchfield Customer Review
(
What's this?
)
"It works" may not sound like a really positive review, but it is considering so many units have HDMI switching problems. Switches solid every time. Solid tuner, very good sound for a receiver. A big step up from the D, M, S, Y, O,& P main-line units. Of course, not the match for my Parasound amps, but no receiver is. Audyssey was wrong with sub polarity, but that is SOP for Audyessey. Pretty logical remote. This one is a keeper.

Pros: It does what it is supposed to do.

Cons: It would be perfect it it had a 2 or 3 band parametric eq for the sub.
Written by: Jeff R from Poland, Ohio on September 3, 2013
Crutchfield Customer Review
(
What's this?
)
I have been purchasing NAD products for close to 20 years. The sound is well balanced and not overly bright, which is what I prefer for classical music. The set up was easy. I have my laptop hooked up to it and my TV to watch Youtube videos. The sound is much better than from the laptop. Not to mention the DVD's I play, which look and sound great. I would recommend this receiver to everyone

Pros: Everything I stated in my review

Cons: None
Written by: MTPhill from Savannah GA on August 20, 2013
Crutchfield Customer Review
(
What's this?
)
First let me say that NAD is probably one of the finest audio reproduction devices available. They stack up into a very small circle of top tier manufacturers. I ordered the T757 to replace a 13 yr old T760 that was losing center channel. Unfortunately the T757 did not support all of my requirements; primarily standby pass through. Even though originally advertised by Crutchfield to support pass through. With the excellent service via Crutchfield Tech Support we found the error in the website details. The only other receiver close to price and quality is the Cambrdige Audio Azur 651R which Crutchfield did a most equitable swap to meet both my needs and theirs.

That said the T757 sets up easily...a very intuitive unit. Menus are easy to follow. The only draw back was Audyssey Auto Calibration. It could not figure itself out. I tried several attempts with differing returns of info and decided to do the manual speaker set up. Power is incredible as I expected. Audio quality to be rivaled. I'm powering a set of Meadowlark Kestrals for 2 channel and this receiver can run flat with no need to adjust frequency levels. Very strong bass and the cleanest mid to high. Surround center is run through a Meadowlark Petral and the surround l/r run through PSB Image B2's. Sadly I had to pass on the unit as I was stuck on a complete HDMI set up and wanted consolidated control through the receiver...to make it as user friendly for for the technically challenged members of my household.

Pros: Audio quality 1st! Ease in set up.

Cons: Audyssey Auto Calibration. No standy by pass through. For the price of the unit it should be included. One should not have to pay $2K more for the option.
NADT757 - Great Surround Sound Amp
Written by: JC from NY on August 18, 2013
Crutchfield Customer Review
(
What's this?
)
Clarity and separation of instruments from surround material (DVD Audio, SACD, Blu-Ray, DVD) is really good. Particularly bass guitar, its distinct coming from the NAD T757. I listen to rock music, and within reason, the louder this AVR is cranked, the better it sounds. Don't worry about the 60W/ch spec, this AVR in surround sound mode can be deafening driving efficient speakers. Really makes my comparatively cheap Klipsch's sound great. I wish there was more surround material out there. Stereo material is good on the T7575, but nothing like surround material which usually comes in an audiophile mode (DVD-A, SACD). My experience with an Oppo 103 is that the NAD sounds better with HDMI cable, not analogue cables (NAD actually says this in the manual and they are right).Replaced a one year old Denon AVR w/ this NAD because it really got muddy when the volume was turned up. Its night and day! And its a great value! Not perfect, but approaching audiophile territory at this price point.

Pros:

Cons:
Written by: Paul L. from Poughkeepsie, NY on February 2, 2013
Crutchfield Customer Review
(
What's this?
)
Bought a new Home Theater with Panasonic TC-P55VT50, Oppo Blu Ray BDP 95 and Image 5T PSB speakers in October. This receiver blew me away. I had a 5 year old NAD receiver and while it was at the same price point 5 years ago as this reveiver there is no comparison. It has plenty of features but it's best feature is the sound. I am into vinyl, DVD Audio and SCAD as well as Blu Ray high resolution concerts so the most important thing for me is sound. I had gone to all the big box stores 5 years ago and bought their top of the line equipment and they hurt my ears. Returned them all and found NAD is the best price performer there is. You can really tailor this receiver to meet your specific needs. You can Mix and match the inputs and set up pre sets. The Audessy self set up works well however my room is less than ideal so I started with the Ausessy setup and then teewked it to suit my environment. I bought the sennheiser HD 800 headphones and took a while to realize that the speaker distance in the speaker setup affects the headphone jack output so the imaging was off. No problem because you can customize presets for virtually all set up options and inputs. It is very flexible. I also love the Audio Return Channel feature which allows me to feed the TV audio to the Reveiver backward on the same HDMI cable that feed the TV the receiver audio. I am really into music and this receiver is a perfect match. It excels when coupled with the OPPO Blu Ray player using the analogue inputs.

Pros:

Cons:
Written by: Tom from Rochester, NY on January 26, 2013
Choosing AVRs today brings in a lot of variables, normally related to the feature set. That's how most brands market their products. If you are looking for a lot of bells and whistles, ultimate convenience, plug 'n play, then this AVR (and NAD in general) is simply not for you. But if it's sound quality you're looking for, then you're right where you should be. I have several NAD products (e.g., T787, M51, C565) in my main system, and honestly there are times when I question if I should have taken the mainstream route for simplicity. But then I play some music, and all doubts go away.

I've been updating my basement system (mostly for music), at the same time dabbling with ripping some FLAC files from my ~500 CDs and experimenting with some 24/96 downloaded files. I just had an old Denon AVR and Apple TV down there. Being able to stream both Airplay and FLAC files was the prime concern. I considered Marantz AVRs, Sonos, and a multitude of other options. I did a test run with my patio AVR (Marantz 1602) since it was idle for winter. While the convenience was nice, the highs it sent my DefTech 7004s made my ears bleed. In the end, I narrowed the choices to Marantz 7007 vs. NAD T757/Marantz NA7004 combo, and chose the NAD based on the "NAD sound" and ability to easily update streamers if desired.

The T757 at its original price point was a push, as the 7007 was much more convenient and a good AVR. But at the reduced price point for the T757, a no-brainer for me.

Pros: Sound quality, especially clean bass. Built like a tank. Simple operation and setup. At the current price, it's truly a steal, sound quality simply in a different league compared to similarly-priced Denon 3313 et al.

Cons: Lack of conveniences, e.g., need a separate streamer.
NAD T-575 As core processor for legacy components in a surroud sound s
Written by: HallB from Stroudsburg, PA on May 14, 2012
Crutchfield Customer Review
(
What's this?
)
i wanted to use an Adcom CFA-5000 to power two Mirage OS895 floor standing speakers in a 5.1 configuration in my upstars bedroom. The Adcom and Mirage where parts for an older system that was being upgraded and the NAD was the perfect bridge solution that still leaves me a relatively easy upgrade path to 3D in the future. I have had several other NAD components (preamps, poweramps and receivers) so it was a name that I was familiar with. The overall appearance is understated elegence regarding the design of the components and great sound without a lot of gimmicks The.set up of the combined system, Mirage floor sanding untis, an Infininty CC2 center channel, Polk PSW 125 subwoffer, and Polk MSii surround speakers was a snap and the acoustic calibration tool is amazing. I added the NAD T-567 as my new Blue Ray player and I can't say enough good things about it. I have delt with Crutchfield over at least 20 years and have been extremely satisifed with the customer service and quality of the consultants and support staff. Both of my kids have used Crutchfield for thier car sound systems.This is a class organization that practices the concept of quality service instead of just mouthing it as an advertising slogan.

Pros:

Cons:
What's in the box?
Black A/V Surround Sound Receiver
6.5' AC power cord
Audyssey ACM1H Setup microphone with attached 20' Cable (mono mini-jack connector)
AVR 4 Wireless remote control
2 "AA" batteries
ZR 5 Zone 2 wireless remote control
CR2025 Lithium battery
AM loop antenna
FM dipole antenna
75 ohm to 300 ohm adapter
Owner's manual CD-ROM (English/ French/ German/ Spanish/ Italian/ Dutch/ Portuguese/ Russian/ Swedish)
Quick start guide
Warranty information
Product Research
Audio Features
Video Features
Remote Controls
Audio Features
Amplifier Section: The T 757 is rated using NAD's Full Disclosure Power; 60 watts continuous output x 7 channels with all channels running simultaneously from 20-20,000 Hz into 8Ω loads with no more than 0.08% THD. The stereo output is 110 watts continuous x 2 channels under the same conditions.
Amplifier Assignment: The T 757 supports up to 7.2 channels (Front L/R, Center, Surround L/R, Surround Back L/R, and Dual SW) for surround playback defined by the Blu-ray disc format. The seven amplifier channels built into the receiver are typically used for 7.2 channel surround in the main room, but there are various amplifier configurations to accommodate your home theater setup:
7.1ch: The T 757 provides 7.2ch surround (with front left/right, center-channel, surround left/right, and surround back left/right channels along with a preamp subwoofer output) in your main zone.
Bi-Amp: You can configure the amplifier for front bi-amp operation to achieve a higher-quality 2-channel sound by connecting the receiver's front and surround back channels to your main front speakers (if compatible). In this configuration, the receiver will be limited to 5.2ch surround.
Multi-Zone: The surround back channel amplifier can also be assigned to power stereo speakers in Zone 2. The receiver will be limited to 5.2ch surround in the main zone.
MDC (Modular Design Construction): MDC ends the frustration of having to replace your entire AV surround sound receiver just to keep pace with the ever-changing world of AV electronics. NAD's most important recent innovation, MDC battles technology obsolescence by allowing you to upgrade the T 757 with new connectivity and features as new technology becomes available. MDC places all the input circuitry on easily removable plug-in cards; your investment is protected because a single card, rather than the entire receiver, can be replaced when a new format is introduced.
Audyssey Auto Calibration: The Audyssey auto setup and calibration feature uses the included microphone, along with sophisticated digital electronics to automatically setup and calibrate the T 757 to the exact speakers and speaker placement of your unique home theater. The receiver automatically checks what speakers are connected (5.1 vs 7.1) and their polarity, measures and adjusts each speaker's distance (delay time), relative level (volume), and size (crossover point). The speakers can also be adjusted manually if you prefer.
Listening Modes: The T 757 offers decoding for all the latest surround formats including Dolby Digital, Dolby TrueHD, Dolby Digital Plus, DTS, and DTS-HD Master Audio; as well as Dolby Pro Logic surround processing.
Note: Dolby Digital and DTS listening modes can only be selected if your audio source is connected to the A/V receiver via a digital audio connection (HDMI, optical, or coaxial). To enjoy true 7.1ch Dolby Digital TrueHD and DTS-HD surround sound, the receiver must be connected to your Blu-ray player via HDMI.
Listening Mode Parameters: The T 757 provides the following Listening Mode Parameter adjustments for Dolby Pro Logic IIx and DTS NEO:6.
Center Width (DPL IIx): Modifies the "hard-centeredness" of the center image, by gradually mixing mono center content to the Front left/right speakers as well. A setting of 0 retains the center-channel-only default while a setting of 7 yields a fully phantom center channel.
Dimension (DPL IIx): Adjusts front-rear emphasis of the surround effect independently from the relative channel levels.
Panorama (DPL IIx): Adds a "wraparound" effect by extending some stereo content into the surround channels.
Center Gain (DTS NEO:6): Adjust for better center image in relation to the surround sound channels.
EARS: Two-channel recordings, whether stereo or surround-encoded, are reproduced with proprietary NAD surround processing with signals output to the front left/right, center and discrete left/right surround channels, plus subwoofer. EARS extracts the natural ambience present in nearly all well-produced stereo recordings. It does not synthesize any ambience or other sonic elements and thus remains truer to the sound of the original musical performance than most other music-surround options. EARS offers realistic, stable "front-stage" sonic imaging and spacious but unexaggerated ambient "virtual acoustics" that remain faithful to the original recording. Select EARS for listening to stereo music recordings and broadcasts. EARS produces a subtle but highly natural and believable ambience from nearly all "natural-acoustic" stereo recordings. Typically, these include classical, jazz, and folk genre.
Stereo Modes: The NAD T 757 also provides two-channel stereo and multi-channel stereo playback, as well as an analog bypass stereo mode.
Stereo: All output is directed to the front left/right channels. Low frequencies are directed to the subwoofer if one is present in the Speaker settings. Select 'Stereo' when you wish to listen to a stereo (or monaural) production, such as music CD or FM broadcast, without surround enhancement. Stereo recordings whether in PCM/digital or analog form and whether surround-encoded or not encoded, are reproduced as recorded. Multi-channel digital recordings (Dolby Digital and DTS) are reproduced in "Stereo Downmix" mode via the front left/right channels.
Enhanced Stereo: All recordings are reproduced in stereo via the maximum speaker complement. Enhanced stereo can be useful for maximum volume from all channels or for multi-speaker background music (cocktail party) listening. For this mode, Front, Center, Surround and Back speakers can be turned ON/OFF as desired.
Analog Bypass: All analog signals remain in the analog domain without analog-to-digital conversions. At Analog Bypass, the DSP circuitry is bypassed but full tone control functions remain. 'Bass management' or Speaker settings are also not in effect as these are DSP functions.
Direct Mode: Analog or digital sources are automatically played in their native formats. All the source's audio channels are reproduced directly. This mode recreates the original sound most faithfully, thereby producing outstandingly high-quality audio.
A/V Presets: Five A/V presets can be stored with customized settings for listening mode, DSP options (lip sync delay), tone control, speaker setup, and front panel display.
Tone Controls: Bass and treble can be adjusted +/- 10 dB.
Audio Inputs/Outputs: The NAD T 757 offers a variety of analog and digital audio inputs/outputs.
Assignable Inputs: Eight of the T 757's nine inputs are assignable (source 5 is fixed as analog audio 3 and S-video 1); you can program the name (as displayed on the front panel and OSD, up to twelve characters), analog input, gain setting (+/-12 dB to match the other sources), digital audio input, and video input to match a given source selection.
Digital Inputs/Outputs: There are three coaxial digital inputs and four optical digital inputs (one front). The inputs accept digital audio signals from a digital TV, Set top box, Blu-ray player, compact disc, DVD, LD, or other digital source components; each can be assigned to a specific source using the on-screen menu. There are also digital outputs, one coaxial and one optical. The digital outputs can be connected to MD recorders, CD recorders, DAT decks, or other similar components.
Preamp Outputs: The T 757 features Front left, Front right, Center, Surround left, Surround right, Surround Back left, Surround Back right and Subwoofer preamp outputs to connect the receiver to external power amplifiers. There is also a dedicated stereo output for Zone 2.
7.1 Channel Input: The T 757 features a 7.1 Channel input (Front left, Front right, Center, Surround left, Surround right, Surround Back left, Surround Back right, and Subwoofer) for connecting an outboard processor or multi-channel analog source. The 7.1 channel input can be assigned to eight of the nine inputs (source 5 is fixed).
Speaker Terminals: The receiver has binding post speaker terminals for the front, center, surround, and surround back channels. The binding posts can accept bare wire up to 12 gauge, pin connectors, and single banana plugs. The terminals are spaced too far apart for dual banana plugs and a collar surrounding the terminals prevents the use of spade connectors.
Headphone Output: The receiver features a 1/4" stereo headphone jack on the front panel for connecting an optional pair of headphones. The unit's speaker outputs are automatically muted when a set of headphones is connected.
Multi-Zone: The T 757's Zone 2 output allows independent selection and control of output to another room. There are dedicated stereo RCA audio outputs for Zone 2. If no surround back speakers are used in the main zone, the surround back amplifier channels can be reassigned to power speakers in Zone 2. The volume of Zone 2 can be controlled by the NAD receiver using either configuration or from your add-on integrated amplifier when using the line-output. Optical/coaxial digital and HDMI audio sources are not output to Zone 2. You cannot output any video signal to Zone 2.
Video Features
HDMI 1.4 Inputs/Output: This unit has four HDMI (1.4) inputs and one HDMI (1.4) output. The inputs are assignable using the receiver's on-screen menu. The T 757 will convert composite video, S-video, and component video to HDMI.
Video Conversion: The T 757 takes each analog video input (composite video, S-video, or component video), digitizes it and sends it out through all of the monitor outputs (analog and HDMI). The on screen display is also output through all of the monitor outputs.
3D Pass-Through: With the advent of 3D media, it is important to own a receiver that recognizes 3D video signals. The T 757 is able to pass through 3D signals from your Blu-ray player, ensuring that the 3D effect doesn't get lost in translation. It also recognizes signals from 3D television broadcasts. By connecting a 3D-compliant Blu-ray disc player and 3D-compliant TV to the T 757, you will have a 3D home theater where you can enjoy high-definition sound and video on a level you've never experienced before.
ARC (Audio Return Channel): This feature allows audio to be sent from your compatible HDTV to your receiver through the same HDMI cable already being used to send audio and video to your HDTV. This eliminates the need for extra cables connected to your television.
Lip Sync Delay: Video signals may take longer to process than audio signals, depending on the connected video equipment. The audio signal can be delayed up to 120ms to synchronize with the video signal.
Component Video Inputs/Output: This unit has three component video inputs and one component video output. These inputs are also assignable using the receiver's on-screen menu and the composite video and S-video input signals are converted to component video.
Composite Video Inputs/Output: There are three composite video inputs (one front, two rear) and one composite video monitor output; the inputs are assigned to specific sources using the on-screen menu.
Front-Panel A/V Input: The receiver features a front-panel A/V input which consists of composite video, stereo RCA, and optical digital jacks. There is also a 3.5mm stereo mini-jack input on the front panel.
Remote Controls
Main Remote: The AVR 4 remote controls the T 757 and is pre-coded with controls for other NAD components.
Zone 2 Remote: The included ZR 5 is a discrete compact remote for controlling the Zone 2 features of the T 757, it allows control of the Zone 2 volume and source selection, as well as other applicable functions. The ZR 5 will work from a different room using an IR sensor and hub or the IR sensor of a compatible NAD component in the second zone (either must be wired back to the location of the T 757).
HDMI Control: The NAD T 757 can control select external audio/video components connected via HDMI which support HDMI control. When you make an HDMI connection with a TV or player compatible with the T 7575's HDMI control function, you can perform the operations from the T 757's remote control; Power off, Switching of audio output devices, Switching of audio input devices, Volume adjustment, and Playback functions.
Remote Connections: The NAD T 757 is fitted with the following custom remote inputs/outputs.
DC Trigger: The 3.5mm +12 volt output trigger is programmable and can engage when the receiver is turned on, when Zone 2 is turned on, or when a specific source is used. The output can also be delayed up to 15 seconds.
IR In/Out: These 3.5mm connectors (one input and two outputs) allow you to connect the T 757 to an infrared repeater and other components with IR inputs.
RS-232C: The RS-232C port is to be used in conjunction with an external controller; AMX, Crestron or a compatible PC using NAD's proprietary PC software.
Switched AC: The maximum output on the 3-prong switched AC outlet on the rear panel is 120 watts/1 amp.
NAD A/V Remote App: This device can be controlled by your iPhone or iPad by the NAD A/V Remote App. Through the app, you can select and control basic functions such as power, volume, source, and listening mode for all zones. You can also name sources, tweak receiver presets, adjust tone controls and trim levels, tune radio stations, and activate Audyssey room equalization, from anywhere in the house. The NAD A/V Remote App is available from Apple iTunes, and works with iPhone, iPad, and iPod touch running iOS 5.1.1 or later.
Our Product Research Team
At Crutchfield, you'll get detailed, accurate information that's hard to find elsewhere. That's because we have our own in-house Product Research team. They verify what's in the box, check the owner's manual, and record dimensions, features and specs. We stay on top of new products and technologies to help people make informed choices.