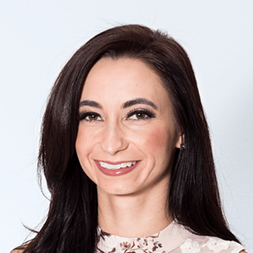 Allison
Advisor since 2017
Located in Norton, VA
Allison
Lover of movies, music, and fitness.
Tech I'm excited about:
High res portable music players!
Favorite music:
My taste in music is very eclectic. I love anything from Johnny Cash to Future to Foo Fighters to Marilyn Manson.
Favorite TV shows:
True Blood, Spartacus, Dexter, The Killing, The Following, and SNL.
My biggest adventure
My college trip to Europe!
Share how Allison helped you:
What customers say about Allison
Allison was awesome to work with. She is very knowledgeable and went out of her way to get me what I needed. I will be using her for any future purchases.

Jeff M., June 29
Wonderful!! Talking to a true human with a sense of humor. Allison, thank you for your help as I appreciate your speed and experience. I'm coming back you know! Oh yes! I told her what I wanted and she gave what I needed. You go girl!!! John In Missouri. You know who I am. Good life Allison!! I'll be back!!

John, August 18
Crutchfield had fitted my pride and joy 2003 Nissan 350Z with speakers, sub, and amp and I was looking for a new head unit to compliment this system. when I called it was close to Allison's end of shift. She was great in helping me find the perfect head unit, rear camera, and Sirius XM unit for my car. I know that spending the extra time with me caused her to go over her regular work shift, but not once did she make me feel rushed. As a retired State Trooper I call that going above and beyond in the performance of her duties. It's people like Allison that keep me coming back to Crutchfield for all my electronics needs.

Jan Graves, June 12
I just placed an order with Allison, one of many. She is very polite,patient, and very professional, and most importantly Allison knows everything audio and goes above and beyond. (eg.) An amp that matched my subs, well instead of her just selling me that one, Allison went and researched the subs and found me a amp that was a lot better suited for around the same money! That's customer service! She is not there just to earn a paycheck, you can tell she is passionate about her job and loves what she does. Allison will definitely be my go to Advisor in the future. I would rate her a 7 out of 5 stars :-)

Kevin Bryant, June 19
Allison was wonderful to work with. She was very polite, helpful and knowledgeable. Allison went out of her way to ensure that this new Nikon lens was compatible with my older Nikon camera. She even researched my old camera in order to ensure compatibility. I had a forty dollar gift card available due to a large number of Reward Points received from a previous Crutchfield order. Allison applied the forty dollar gift card to my phone order rather than e-mailing it to me!

DOMINICK, May 25
Asked Allison a few simple questions before ordering. She was knowledgeable, friendly and wasn't annoyed with the simple questions I had asked. Thanks!

Daniel, May 19
Allison was very friendly and helped me find the right head unit with exactly what I wanted in my car.

Robert Goddard, April 12
She was incredibly helpful and very attentive. She was able to answer all of my questions and responded in a friendly manor. I would recommend Crutchfield to anyone based off of the experience I had with Allison.

Aaron L., March 15