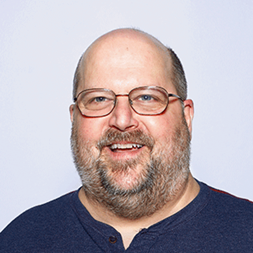 Artie
Advisor since 2006
Located in Charlottesville, VA
Artie
I have always collected music (a whole room full) and love improving my listening experiences.
Tech I'm excited about:
4K TV for cinema quality experience
Favorite getaway spot:
The beaches of South Carolina, twice a year at least.
Best thing about working at Crutchfield:
I enjoy helping our customers get better sound and video experiences.
Certifications
JL Audio Certified
Pro Audio Certified
Share how Artie helped you:
What customers say about Artie
Artie was very helpful. I already had HDMI cables, but I wasn't sure they were the correct version. I had purchased a previous Onkyo receiver amplifier from Crutchfield with HDMI cables a number of years ago. He researched my previous order and determined the version of those cables and advised me that they were not suitable for the newer technology.

Allan O'Prey, January 9
Artie was extremely helpful in picking out speakers and the complete setup for my son's truck. I do not know much about car audio and he guided me in the right direction in setting up the sound system!

Tony, November 27
Artie was very courteous and pleasant to talk to. I appreciated his prompt follow-up call and working with him. Overall, I give Artie and Crutchfield an A+ on customer service! It's what keeps me coming back. Thanks again!

Mike, September 14
I purchased the JVC radio for my 2009 Nissan Versa. Artie was so great! He was friendly and waved his magic wand to show me the way! He answered every question I had and double checked that he was giving me the correct information. He let me know every tool I would need and gave a recommendation for a part that would not have been included. He also showed me a preview of what to expect in the manual when installing. Feel confident with my purchase and think that Crutchfield will be ready to answer questions I have when installing. Artie also just had a great sense of humor and his excellent customer service ensures I will recommend Crutchfield.

Alex, August 18
Artie was very knowledgeable about all the products I was looking for. He seemed to understand what I wanted and the best way to get me there. He was very patient with me as I had several questions and changed my mind frequently. Thank you so much Artie for making this a pleasant experience for me. This is why I continue to buy from Crutchfield.

Chris, July 14
Artie was very helpful and did not rush to end the chat conversation. I ended up with an Onkyo that should exceed my needs. Thanks again Artie!

Steve Hajdik, July 6
I spoke with Artie on the phone today, and he went out of his way to explain ohms and a whole lot of other stuff that I didn't fully understand. He didn't have to do that, but he did and I really appreciated his enthusiasm. Thanks Artie!

Tim , May 25
Artie was very helpful in helping me decide on some car audio products thanks again!

Jason , May 24
I called for a Bluetooth adapter for my 2005 Miata, not knowing what I was getting into and Artie was terrific. He immediately knew exactly what I needed, sold me the right adapter and also threw in the stereo removal tools. He also gave me some basic instructions and made the whole process easy. Very nice person who I would buy a beer for if I was in VA! This is why I like Crutchfield.

Barry, April 26
Artie was extremely friendly and helpful. He took the time to look through every option for my question by looking through JVC's site to find the compatibility I needed. He was very professional and even helped me with a few picks for my march madness bracket! Thanks Artie and I hope that Maryland pick works!

Jared , March 13
I am happy that I chose "chat" and Artie was my expert. He was very knowledgeable about the Blu-Ray player I was considering purchasing and helped me make my decision and feel good about it. He even suggested the best cable hook-up so that I would receive a clear picture. Thanks, Artie! You are an asset to Crutchfield!

Janet , February 27
Artie and I had a great discussion on the albums we had collected and helped set up a system so now my Grandson can enjoy my albums. Artie was friendly, helpful and very knowledgeable. I have been dealing with Crutchfield for years and I always come back because of the excellent service, during and after the sale.......Thank You.

Dennis , February 22
Artie was awesome! This kind of customer service is hard to come by. He was very patient and friendly and helped me fully understand a modification that my dash would require. He even wowed me by pushing pictures and manuals directly to my browser so I could follow along with what he was saying. Down to earth (which is rare with the tech crowd), clear, helpful, just all around stellar. Thanks again, Artie!

Mishka, December 21
Artie is awesome. I needed an A/V receiver to complete our home theater system. But I just hadn't gotten around to researching it myself. I called in not knowing anything about A/V receivers and Artie actually took the time to educate me. I needed to connect some old stereo bookshelf speakers so he looked into them and figured out what the best options for connecting them would be. Thanks Artie! You rock!

Hammad, December 12
I called Crutchfield after I poorly pre-wired the house for speakers. Artie was more than kind in helping me solve my problem without making me feel like an idiot. Kind, professional, knowledgeable, and full of grace for the do-it-wrong-yourselfer like me. Thanks Artie !!!

Derek, November 28
Artie was extremely helpful in providing me with a solution I was having with the sound on my wall mounted TV not being loud enough. Being it was not the main TV in the house I was not looking for a big system but instead a sound enhancement system which Artie provided a wonderful solution both from an economical standpoint and needs standpoint. It is one on one assistance from Crutchfield employees like Artie that make me keep coming back to Crutchfield to make my purchases.

Brian, November 28
Artie helped make the complicated easy. Answered all my questions and even some I forgot to ask. Thank you! My wife even thanks you!

joseph, November 14
He listened to my set up and gave great advice. Did not rush to get off the phone at all. Great customer service. Thanks.

David , October 26
What great customer service! Very professional, quick and super friendly. I highly recommended him. Thanks again!

Tina, September 24
Extremely helpful and resolved all my worries can"t wait to be rockin' in the F150!

Patrick , September 1
It was a pleasure talking to Artie. I felt like I was talking to one of my good friends. He was knowledgeable, polite and a true professional that knows his stuff. My radio in my van is not working properly so it was time for a new one. Artie made suggestions and I went w/ his professional opinion. Bought a Sony. Looking forward to installing it and hopefully I can find the time as I am one busy guy. Thanks Artie. Be well !

Paul , August 3
Artie, thanks for your help getting my audio system performing like it should by directing me to the NAD wireless audio transmitter and receiver. It is every thing you said it would be. You've got my business again thanks

Al Kolendo, June 17
Artie made absolutely sure that the accessory lens I was going to buy was compatible with my DSLR. It was!

Rick, May 13
Artie made my choice simple on what was complicated for me. Thanks so much for your expertise.

Brent , April 6
Artie was AMAZING in giving me the details on how the car stereo I picked out would fit in my 2002 Chevy Astro van. I almost didn't buy the stereo because I didn't think it would fit. THANK YOU VERY MUCH ARTIE!

Robert, March 3
Friendly, polite, knowledgeable. Everything you need to feel confident when making a purchase.

Antonio , February 28
Artie was awesome! Helpful and friendly! Be sure to ask for him if you get the chance! These guys also pick up the phone late on a Monday night, which I might classify as absolutely unprecedented customer service. I will buy from them!

Sol, February 1
Somehow I got matched up with the wrong radio insert. Artie fixed me up with the correct insert in about 1 minute. Thanks!

Tyler, June 23
Artie is awesome! Consider me an audiophile and a long-time customer of Crutchfield as well as several other home and car audio retailers over the years, including a number of small specialty shops. When I'm in the market for a new head unit, amp, or speakers, I've already done my research; I know what I'm going to buy (thanks to the internet) long before I contact Crutchfield. However, like many, I want to be sold! In order to exceed my expectations, a customer service / inside salesperson needs to be knowledgeable, friendly, sharp, and it doesn't hurt if they listen and adapt to my needs. Artie possesses these qualities and more. He did a great job today helping me place an order, and while I haven't received the shipment yet, I'm confident I'll be satisfied and continue purchasing fine products from Crutchfield, and Artie, for many more years to come!

Eli, February 19
Excellent Customer Service!

Herb C., December 31
I contacted Crutchfield about an order I was about to place just to shore up my thoughts on my speaker choices and not wanting to over buy or under buy speakers for the receiver I was buying as well. Artie was great and even gave me a couple tips that I had overlooked when running speaker wires. Thanks Artie you are one of the best!

Jerry, March 2
I ordered a Samsung Blu-Ray disc player with Artie's help about a week ago. It arrived within a few days, in perfect condition. The ordering process was so smooth and easy. Artie was personable and a total pleasure to have dealt with. I am very pleased with the product and the service I was given.

Tom Grannis, February 25
Quick response, knew what he was doing and talking about. Advisors such as Artie make Crutchfield the best place to shop for audio equipment. His knowledge of the products undoubtedly is far superior to the representatives at local audio shops and even big retail chains. This is what I have grown to expect from Crutchfield, and I have not been disappointed yet, and likely never will be. Thank Crutchfield and Artie for making a rather rough experience an easy and simple one...so simple "A caveman could do it".

Chris, April 19
Artie took the time to answer each and every one of my questions during our phone conversation. His advice was reasonable and completely objective. His passion for audio is readily apparent. I can't stress the value Crutchfield provides often enough. Time and again they have displayed a level of customer service that is unrivaled. My first choice for electronics has and will continue to be Crutchfield.

Ben in Las Vegas, January 22
Real friendly and helpful. I was interested in the Parrott hands free device for my wife's car and he knew what I would need to make it work. Hats off to him!

Bruce Graves, October 27