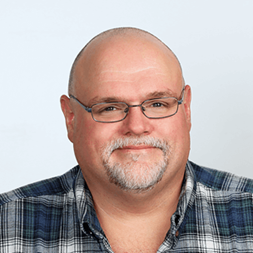 Tyler
Advisor since 1999
Located in Norton, VA
Tyler
I am a big tech buff that loves movies, music and computer gaming.
Tech I'm excited about:
Device connectivity. I feel that the connected home/car enviroment is the wave of the future.
Favorite music:
Country, Classic Rock
Favorite movies:
Aliens, Anything Star Trek, - I'm a movie buff so this would be a long list.
Favorite TV shows:
Currently NCIS, Person of Interest - Old Shows (Firefly, Stargate)
Badges
* Hi-Fi Advisor
* Marine Audio Advisor
* Remote Category Advisor
* Personal Audio Advisor
* Photography Advisor
* Home Theater Advisor
* Tv
Share how Tyler helped you:
What customers say about Tyler
I called about my turntable audio output signal volume being lower than other components on my system. I have turntable port in my receiver, but the volume level is noticeably different than say, what my cd player volume levels and fidelity put out. Tyler took the time to ask what kind of turntable I had and the cartridge I am using and the receiver I own. The receiver I own was purchased with Crutchfield, and he was familiar with my overall gear. He recommended an independent pre-amp to plug into the receiver for better fidelity. I am eagerly awaiting for it to arrive. I will follow up with the results, but I am confident that plugging in the pre-amp in one of the aux outlets will improve things. Will let Tyler and you all know! Fingers crossed!!!

Christopher, March 10
Tyler was very patient and knowledgeable about the questions i asked him, it was as though i was talking to a friend about stereo equipment. This isn't my first purchase from Crutchfield and i'm sure it won't be the last.

Randy, March 9
I appreciate the time that Tyler spent with me to go over every detail of my purchase. His professionalism, expertise and customer service was second to none. I continue to do business with Crutchfield because of the absolute value received on products, service and team members like Tyler!

Douglas Doty, December 7
Tyler was awesome. He helped me to select product that I expect will be inline with what I was looking for. I tend to over purchase; being distracted by cool tech and what not. Tyler redirected me to products matching my real requirements and chose not to up sell me when he easily could have. This sort of ethical customer assistance and sales make purchasing so much more enjoyable. Thanks Tyler.

Matthew, December 4
I was having trouble using a gift card and click the chat button and was connected to Tyler. He was able to help me navigate the order process and was extremely helpful in making the process as smooth as possible. I had questions about products and payment methods and he was able to answer all without batting an eye. In the future when I order from Crutchfield, I will contact Tyler directly to have him facilitate the sale because he was so helpful and enjoyable to chat with.

Rob , September 12
This was my first time going to Crutchfield but it will definitely will not be my last. Tyler made sure of that. I've never experienced an Advisor as patient, knowledgeable and honest as he was and who treated me as me the way he did. He helped me to choose a quality surround sound system within my budget.Thanks again Tyler. Tyrone July 3

tyrone fitzpatrick, July 3
Super helpful, Super friendly, SO knowledgeable. The guy thinks 10 steps ahead.

Chris Blanco, June 15
Tyler was incredibly helpful in talking me through my options for a home theater in my new home under construction. He knows his stuff very very well. I had dozens of questions and there was always a strong sense that I was not being given a soft answer. He was also very patient with me and was very very helpful. I purchased the Anthem receiver, and the reason I'm doing this survey is I clicked on his name and wanted to purchase another product from Tyler --- the subwoofer. MANY THANKS FOR YOUR HELP

Edward Glynn, May 21
Tyler was so patient and spent as much time with me as I needed. Just a couple of the many ways he helped me was directing me to manufacturer websites so I could view how a product works and describing how to check my vehicle for the type of sound system it has. Customer service head and shoulders above most others. Thank you.

Steve, April 18
Very helpful, had some questions about the right set-up for my situation and he was fast with response and answered all my questions, now if I can get Tyler to come hook everything up for me, that would be a plus! But really I am glad he was there to help.

TJ, April 11
Tyler was very helpful in the selection of the car audio equipment I needed. He was extremely knowledgeable on product specs and installation advice. I would rate him 10 out of 10 any day.

Nathan, April 5
Tyler was patient, extremely knowledgeable and friendly as can be while helping me with a DAC setup. I will certainly contact him for my next purchase. Totally impressive.

Chris , March 20
Tyler was very helpful in dealing with my lack of knowledge about new technology and successfully reconfigured my first Crutchfield purchase into something that will work great. Thank you Tyler!

Barney , March 4
This man is awesome. He got me the best product for what I needed. I wish there more like him in customer service. He also listen to good music.

Lance, February 7
Tyler's tips saved me from wasting my cash....Thanks again for all your help and patience.

Brian, January 15
Tyler was very helpful. Sounded like he knew what he was talking about, gave me some tips and did not try to up sell. My kind of guy. Thanks Tyler!

Jim Shearon, January 1
Saving the customer money is a huge aspect of customer service and Tyler scores big time sales success!!

Steve, December 19
I wanted to make a substitution on an item in the packaged accessories for a new radio. Tyler understood exactly what I wanted, and set up a package specifically with the items I wanted. Super!

Brian, December 8
Tyler's quick responses were spot on. I'm getting the Onkyo TX-8160 thanks to Tyler! BRAVO!!

Scott , November 20
Great customer support and help chatting with me about my install and what all I needed to get! Great guy!

Timothy, November 17
was honest and was great to order from him

harold luper, October 19
Tyler spent a lot of time with me on the phone to help me with a audio system I am installing into my 1970 Jimmy. He was very patient and helpful. He helped me pick out the equipment as well as told of his personal experience with the equipment. Great Job! I will definitely recommend Crutchfield and Tyler to my friends.

Nick , September 21
Tyler was very helpful, knowledgeable, and patient with me. He offered quick answers that were on spot with my needs. Been impressed at how easy it is for me to pick things out here at Crutchfield. I am totally clueless when it comes to this stuff and would have no where to turn if it weren't for them.

Jessica, August 24
Tyler was super helpful to this car audio novice. Patient and provided excellent advice to suit my needs. Thanks!

Jacob, June 9
Called about not being able to get a free wiring harness for my speakers, Tyler was able to hook me up with them and explained what the issue was. Will be returning after service like that! Thanks Tyler

Jordan, June 1
Tyler was very helpful when I ordered the wrong install kit for my car. He got the new part ordered and on its way to me in moments. Crutchfield is the best. Thanks, Tyler!

Daryn, April 30
Great help, Tyler knew his stuff to a T and was very explanatory. Thanks!

Adam, April 16
Going in with no idea what I wanted or need I was fortunate to find Tyler. He has the same type of vehicle I did and was a goldmine of information. I walked away with a better understanding and was able to make an intelligent decision based upon his recommendations. Thanks for being there for me.

Mark, March 10
Having some electronic background and knowing what I want made my interaction with Tyler fantastic. Let me say, even though I have electronics background Tyler still would have made our interaction beneficial if I hadn't. He answers your questions clearly and easy and doesn't push you towards a certain product but leaves the choice up to you. I would recommend anyone needing help to Tyler. ****

Brandon, January 25
Tyler just "GETS IT"..I jumped on to just see if there were any advisors available on a Sunday afternoon (thinking no way...). Low and behold I got Tyler. Several years ago I was needing help, and got great help and advice from another rep named Lincoln. This go around I spoke to Tyler in great length about a cruddy Jeep stereo and Tyler Ironed it all out,...Lucky for me that Tyler had personal experience with my system and my issue,...he sure set me straight..Super huge Thank You Tyler for all of your help!

Bob, January 11
Tyler was great....his advice helped me to avoid damage to my car stereo equipment!

Tamill , January 8
I couldn't be more happy with how much of a help Tyler was. He was very good at answering questions I had and I would have a totally different result without his help. Also, he put together components for my sound system all for me and personalized it for the type of music that I listen to.

Jack Devlin, December 1
Tyler was great. He helped us find a great receiver in our price point as well as speakers, wires, random accessories to make our strange set up work. This was 3 years ago, and since that time I've told so many people about our awesome experience! Thanks Crutchfield for doing things right!

Leah, September 19
Tyler was very helpful, patient, understanding; had a very good idea of what I wanted, by giving me some great suggestions, with the kind of specs I was looking for. I've shopped Crutchfield many years ago. The products and Service are still outstanding as well as the variety and choices.

Claude, August 25
Tyler did a great job talking me through how to hook up my Pioneer head unit in my Boxster. Everything turned out perfectly! This was my first Crutchfield experience and I will definitely be coming back as a result of Tyler's customer service.

Eddy, December 9
I asked for assistance for my husbands car stereo for a Christmas gift. Tyler emailed immediately and suggested the PERFECT system! So glad I ordered and got assistance here. Great experience

Melissa, November 25
Tyler is a patient and completely professional customer advocate. Our most recent purchase included a Television and power protection for the same. After discussing what we were looking for in our equipment, the end result was no less than perfect! We've been shopping with Crutchfield for over ten years and always receive excellent advice without the "hard sell" tactics used by others. There is no replacement for knowledge and education.

Steve, January 10