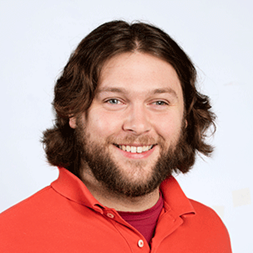 Willy
Advisor since 2016
Located in Charlottesville, VA
Willy
I spend my free time looking for new music to stream in my home and car.
Tech I'm excited about:
The future of the home theater, turntables.
Favorite music:
Classic Rock, Blues, Jazz, Folk, Classical, Outlaw Country.the list goes on.
Favorite TV shows:
Sons of Anarchy, Breaking Bad, Game of Thrones, American Horror Story, The Walking Dead, Black Sails, and Spartacus.
Favorite books:
Catch-22, Life of Pi, A Song of Ice and Fire, The Kingkiller Chronicle, Watership Down, The Alchemist, and The Marble Faun, to name a few.
Badges
* Hi-Fi Advisor
* Remote Category Advisor
Share how Willy helped you:
What customers say about Willy
Mick was awesome! Did not give me robotic customer service responses and was good to chat with! Very helpful!!

Ryan, June 10
Was lost in this area of vehicle audio. He was very clear and exact. Professional and went over everything within the order twice to make certain i was obtaining everything I needed in my audio upgrade. True professional and very kind. Take a bow sir, you are a master of your craft. Again thank you very much. Joe

Joseph Barone, June 6
I was looking to upgrade the factory head unit in my 2013 F-150. Mick was able to steer me in the right direction and get me all of the features I wanted while still keeping my factory options (such as steering wheel buttons etc). His patience with my questions, and ability to find me exactly what I was looking for, while keeping within my budget, is exactly the reason I always visit Crutchfield for any car audio needs!

Trevor, June 6
I really liked Mick. He seemed to enjoy helping me figure out what I needed and what worked best for my situation. Keep up the good work!

Jim, May 25
I used the live chat service because I had some questions about TV's. Mick was on the spot! He answered all my questions with style and grace. Through the chat we lived we laughed and in the end we learned a little about life. Spectacular customer service! Thanks Mick!

John, April 28
Mick was extremely helpful and knowledgeable when it comes to car audio. He was very easy to talk to and felt more personal than an average sales person. Mick helped hook me up with everything I needed, great employee with great customer service!

Ryan, April 20
It's been along time since I bought a car stereo so I decided to call Crutchfield and Mick help me out. He was really awesome and very cool. He helped narrow down a head unit and 2 sets of door speakers with the ability to expand in the future. I was looking for something in between, not too cheap and not too expensive and he nailed it! They even have the option to pre-wire the head unit harness for an additional fee. That killed half the time it takes just to install if doing it yourself! Didn't even know they did that. Very happy with Mick and can't wait to get my equipment to rock out!

Chris, April 8
Very knowledgeable and extremely helpful, knew everything about product electrical requirements and was able to give great recommendations on what I should buy.

Nick B., March 22
Mick was fantastic. I have never done business with Crutchfield but had read great reviews about your customer service. Mick met and exceeded my high expectations. He was knowledgeable, helped me work through solutions and in the long run, saved me a few bucks. Great job Mick you are a true professional! Thanks again!

Anthony , March 19
He helped me quickly and accurately he was very nice and helped me get the parts I needed.

Chris , March 17
I was lost in the sea of car audio, I had a lot of questions and wanted to know what were my choices. After chatting with Mick I found what I was looking for and options to look at. Mick is a really Pro and understands what I was looking for. Thank you for all of your help!!!!

Anthony , February 1
Mick helped me pick out speakers and amps for my '83 Jeep CJ7 that will see rain and mud. It was fun chatting with him as we picked what I want and needed, never felt pressured. It felt like a friend was helping me decide what I wanted to do.

Jon, January 28
Mick was extremely helpful and a true pro. He is the epitome of a true customer service rep. He was very friendly, genuine, and actually cared for my needs. He helped me make a great purchase and I hope he gets all the credit he deserves.

Mehrdad A., November 23