10 ways to play your smartphone music out loud
Get great sound at home or on the go
Heads up!
Welcome to this article from the Crutchfield archives. Have fun reading it, but be aware that the information may be outdated and links may be broken.
These days, your smartphone's your entertainment center. You can play music stored on your phone or from any number of music apps, enjoy streaming services, listen to Internet radio stations from around the world, and more. When you try to share all that great music with your friends, though, your smartphone's tiny speakers just can't do it justice — or in some cases, even play it loud enough to be heard. Take heart. Here are 10 easy ways to bypass those teeny speakers and let the music out.
On-the-Go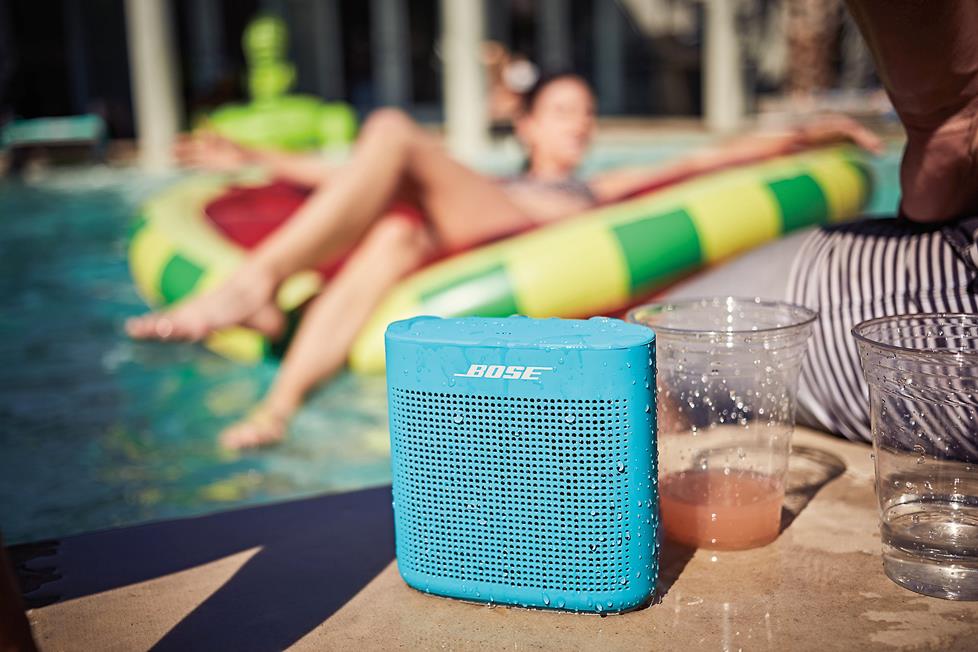 The Bose® SoundLink® Color Bluetooth® speaker II lets you take your music anywhere you go.
1. Portable Bluetooth® speakers — Bluetooth speakers are just about the simplest solution. They work with virtually all smartphones (and tablets). Some even let you connect more than one device simultaneously so you and your friends can take turns as DJ. Portable Bluetooth speakers come in all shapes and sizes.
Shop portable Bluetooth speakers
---
At Home
2. Bluetooth wireless home speakers — Bluetooth speakers in the home are just as simple to use as their portable counterparts. Wireless home speakers usually connect to a wall outlet, rather than using batteries. And because just about every smartphone or tablet has Bluetooth, your friends can share tunes from their devices when they come over. A small Bluetooth speaker in a spare bedroom can make your guests feel right at home.
Shop Bluetooth wireless home speakers
3. Computer speakers (via headphone jack) — The same desktop speakers you use for your computer can also deliver great sound from your smartphone. Just plug the connector into your phone's headphone jack and enjoy. A great solution for a workspace, home office, or den — wherever your computer lives. Shop computer speakers.
4. Home theater receivers — Most new home theater receivers make it easy to play audio (music and video soundtracks) through your component audio system. The simplest way is to connect your smartphone to your receiver's auxiliary input via a stereo minijack-to-RCA adapter cable. If your receiver has a MHL-compatible front-panel HDMI port, you can connect your compatible Android smartphone to it via a cable and control it with your receiver's remote. Some receivers also have Apple® AirPlay® or Bluetooth, so you can wirelessly stream music from your iPhone®. iPad®, or Android™ smartphone or tablet.
Shop home theater receivers with built-in Bluetooth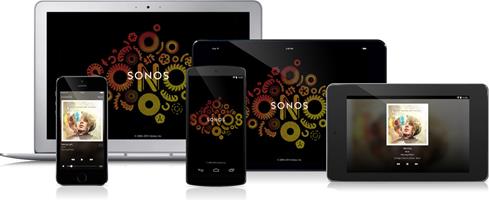 Most wireless multi-room audio systems — such as Sonos — have control apps for your smartphone, tablet, and computer.
5. Wireless multi-room audio systems — If you have a wireless multi-room music system, such as Sonos, Bluesound, or Yamaha MusicCast, you can stream music from your smartphone (Apple or Android) through it. So you can enjoy your music in any room you've installed a system component in — through home audio speakers. Some, such as the Bose® SoundTouch® Wi-Fi® music system, let you stream from your iPhone via Apple AirPlay.
Shop wireless multi-room audio systems
---
Options for iPhones® and other Apple®devices
6. AirPlay wireless powered speakers — These systems let you stream music not only from your iPhone, iPad, or iPod touch, as well as from computers running the current version of iTunes®. Shop AirPlay wireless powered speakers.
The Bowers & Wilkins Zeppelin Wireless is compatible with both Apple AirPlay and Bluetooth.
7. Speaker systems with built-in iPhone docks — These powered speaker system offer two advantages for the iPhone user. First, they offer all the convenience of other wireless AirPlay speaker systems. Second, you can dock your iPhone to the system and play music through the system while your phone recharges. Shop dock speakers
8. Network digital music players — Network digital music players have the ability to stream music from your computer, networked hard drives, and the Internet. And some come with Apple AirPlay so you can add your iPhone's music to the mix. Shop network players with AirPlay
9. Digital-to-analog converters (DACs ) — DACs provide superior signal processing for connected devices, such as computers and CD players. Some include Apple AirPlay or Bluetooth for wireless streaming from your iPhone. Others have a built-in iPhone dock, so you can make a wired connection for even better sound. And some let you connect via a USB cable. Shop DACs for iPod/iPhone
10. Wireless iPhone transmitters — Some powered speaker systems use proprietary wireless technologies that transmit uncompressed signals for better sound quality. Most of these systems offer dongles that can be attached to your iPhone so you can stream from your device through the system. Some allow you to connect their signal receiver to a speaker system or component through auxiliary input, so you can stream wirelessly through even non-Bluetooth or Airplay components. Shop Apple® wireless transmitters.