Adding a custom stereo system to a 1966 Ford Mustang
A longtime Crutchfield customer pumps up his ponycar's audio performance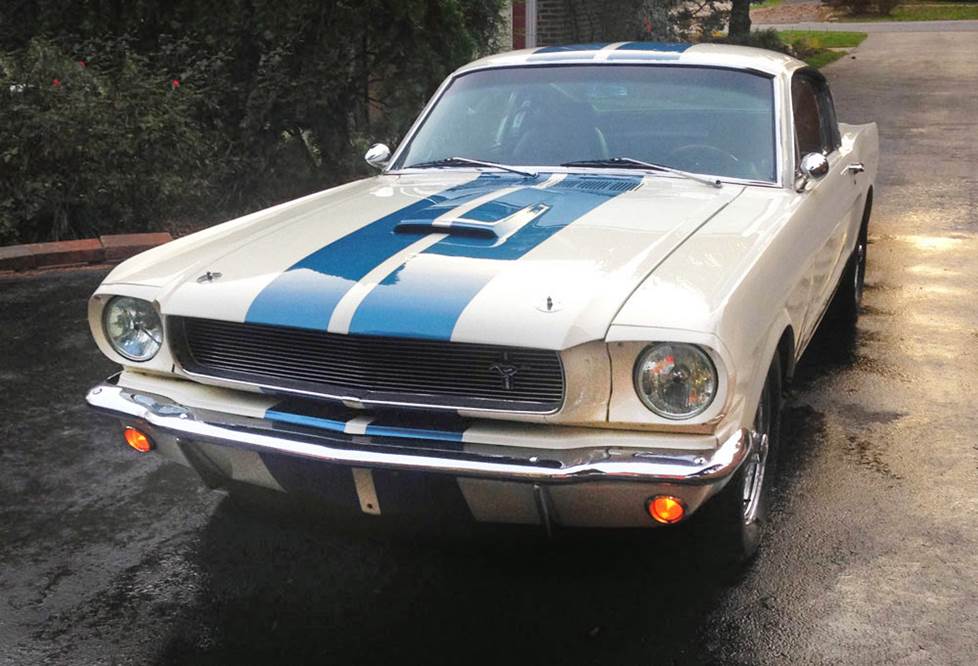 Words and photos by Bill Henderson
Editor's Note: Bill Henderson is a serious car enthusiast and a longtime Crutchfield customer with a gift for finding cool ways to install new gear in old cars. He recently sent us this story about his 1966 Mustang installation, and we're proud to share it with you. For more of Bill's excellent work (both installing and writing) check out his 1963 Studebaker Avanti story. - JP
've owned this 1966 Mustang for 40 years now, and in that time I've probably had six different radios in it. I've finally come full circle by reinstalling the original AM radio and stashing a powerful "stealth" sound system out of sight.
My Mustang is not a factory Shelby model; it's a hot rod. I once wanted to own a real Shelby, but those cars are highly collectable and frighteningly expensive, so modifying one from stock is just a bad investment.
A passion for DIY
I've done every bit of the work on this car myself, except for the paint. During its recent restoration, I modernized the brakes, the chassis, the steering and the engine. After all that, it's only natural to add some modern audio gear. What you see here is not a high-dollar install. It's a practical one that came together over the past five years.
Almost all the components came from Crutchfield. I've been a customer for over 25 years because they're easy to do business with and helpful when I need technical assistance. I don't even bother to shop around anymore when I need something.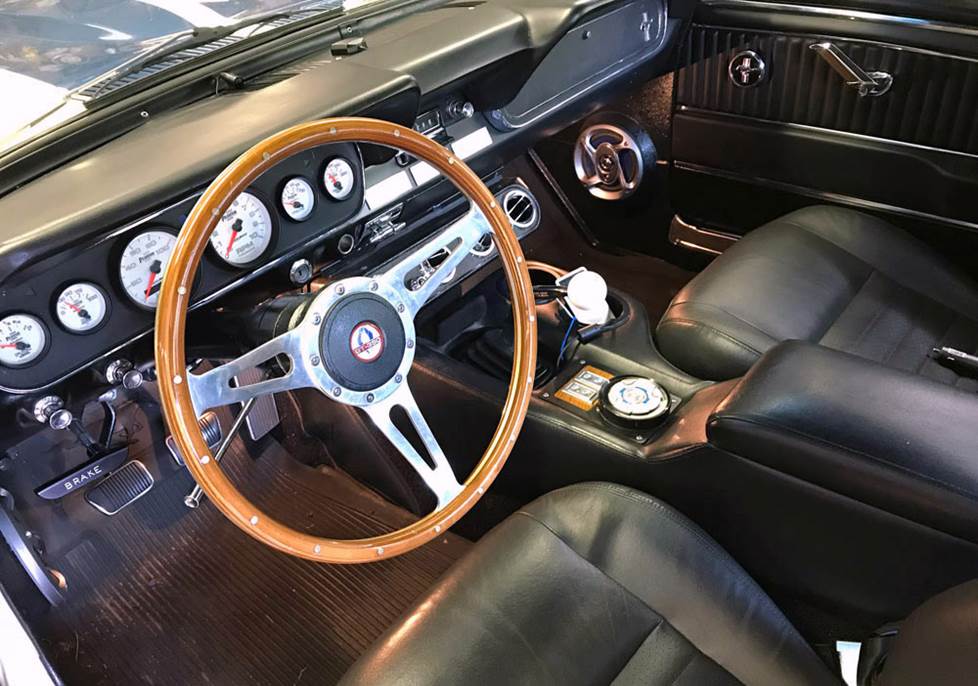 Save for the remote and the kick panel speakers, this vintage Mustang's interior looks pretty stock at first glance.
Deciding on a stereo
Crutchfield and other vendors offer creative solutions for installing modern sound in an antique car, and I considered them all.
The idea of using the original in-dash radio location has limitations for many older cars. The hole is oddly shaped, and the choices in shaft-styled receivers are few. And while they fit, most new radios don't look original.
Some custom retrofitters will install new "guts" in your old radio, giving you AM/FM, some modern connectivity, and even preamp outputs. I tried that in my 1957 Thunderbird a few years ago, but the sound quality left something to be desired.
I also looked at another manufacturer's "stealth" audio system, where the whole thing fits in the trunk and a remote is placed at the driver's hand. This is not inexpensive, and in my view, the technology is somewhat dated. I wanted Bluetooth, USB, and full connectivity to apps on my phone like Spotify, so I decided that I didn't want to go with something proprietary like that, especially when there are so many fantastic car stereo choices on the market today.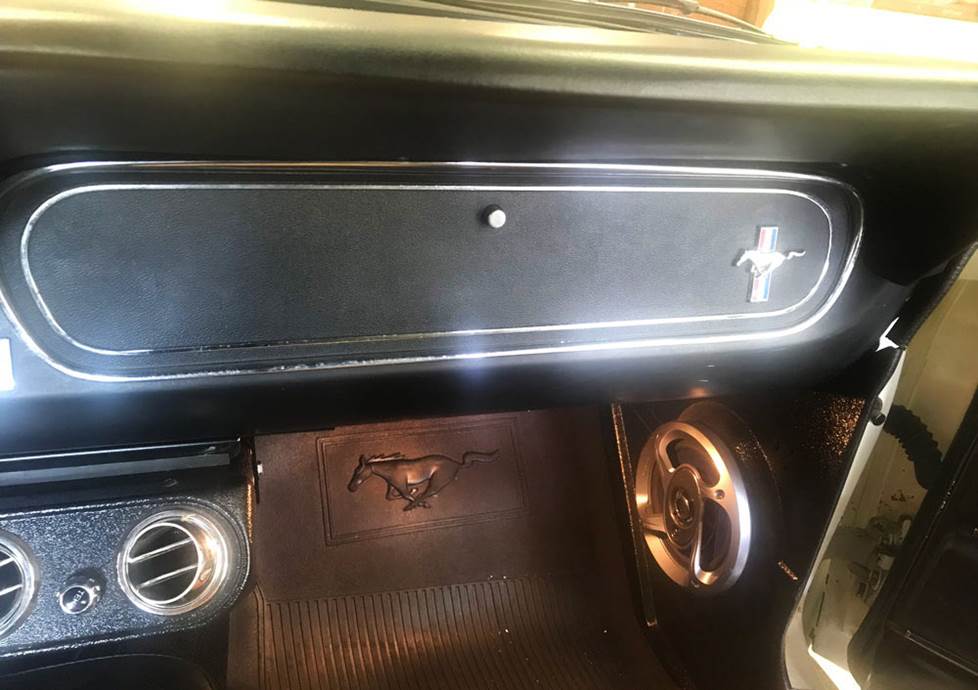 Here's a closer look at one of the kick panel speakers, plus the thoroughly stock-looking glovebox door. Nothing to see here, right?
A custom stereo installation in the glovebox
In the end, I decided to go "stealth" my own way by concealing a receiver in the glovebox and using a remote to control all the functions.
I chose a Sony CD receiver, mostly because of its remote control capabilities. I knew from the start that the head unit would be out of sight, so I needed to be able to control it from the driver's seat.
The Sony sounds great, and it has Bluetooth® connectivity, two USB inputs, and a front panel AUX input. I could install a SiriusXM® tuner, but I access my subscription from my iPhone®, so I don't need one. This receiver also has a CD player, which was essential just a few years ago, but is now just "nice to have." How quickly technology changes!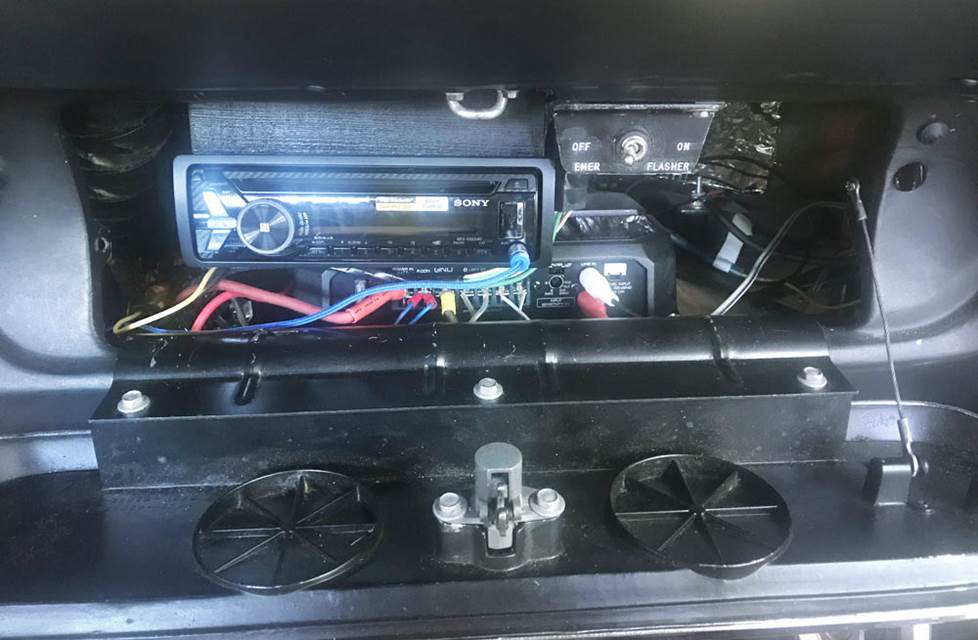 Wrong! Bill cleverly installed a new receiver and an amp in this rather tight location. On the right, you can just make out the sturdy plywood mounting base.
A very stealthy installation
I added an external amp to drive the front speakers. I figured it wasn't much more money, I had the space, and frankly, I didn't want to have to take everything apart again to add one later. This car is coated end-to-end in Dynamat to help deaden sound, but it's still loud on the road, so I needed enough power to overcome the sounds of travel.
Crutchfield recommended the Kenwood KAC-5207 and it does a nice job. To install it, I removed the original cardboard glovebox liner and replaced it with a 1/4" plywood floor. Once that was screwed tightly into place, I secured the amp to the plywood.
Mounting the Sony receiver was the biggest challenge. I fabricated a custom mount with brackets screwed to the sides of the receiver. That's clamped to a factory structural brace on the top of the dash panel. It's all tightly secured, because I do not want to go looking for distracting buzzes and rattles later!
And also a very smart installation
I made sure to leave space between the head unit and amp to allow for air circulation and prevent overheating. The electrical connections are neat, with fused power to the amp coming directly from a solid junction point near the battery. I used heavy-gauge wiring from a Crutchfield wiring kit, including a heavy-gauge ground.
The amp is mounted with all connections facing out (see photo above). Concealing things is nice, but I've learned that hiding all the electrical connections can be a nightmare if you want to make changes later. I have a removable black fabric drape to cover the electric connections during daily use.
One important thing I learned is that if the battery power is disconnected from the receiver, all the memorized settings are forgotten. That's a problem, because when I store the car over the winter, I use a quick-disconnect on the battery. I solved the problem by adding an isolated direct wire to the battery, bypassing the cutoff, and attaching it to the low-amperage yellow wire on the radio. That keeps the memory alive even when the battery is disconnected.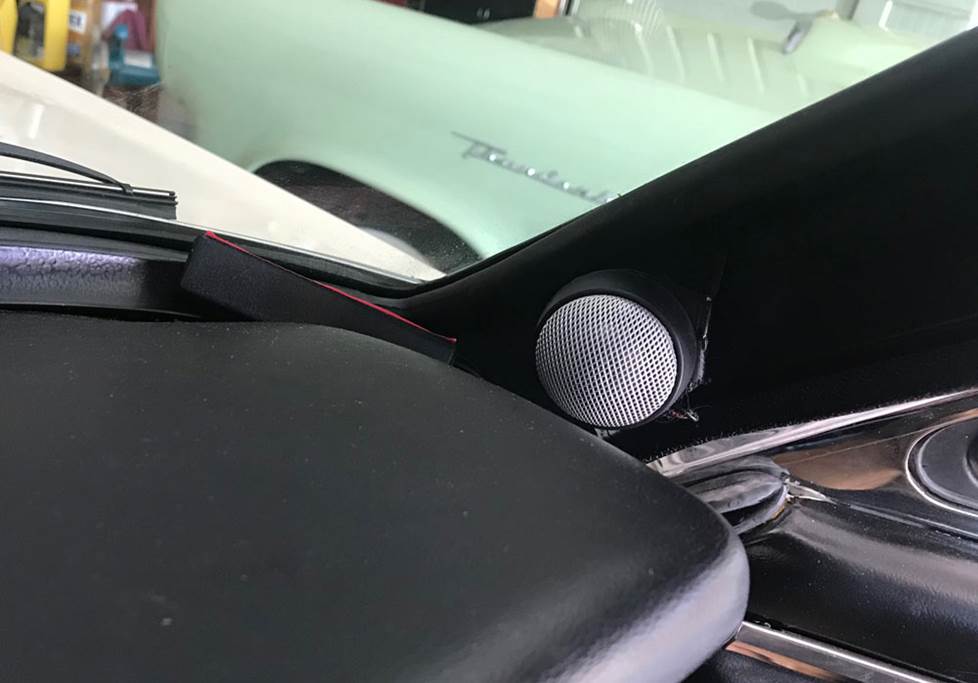 The windshield posts host a pair of Infinity tweeters. And yes, that is a vintage Thunderbird in the background. Bill has a pretty nifty car collection, we'd say.
Kick panel front speakers, plus tweeters
One of my rules in working with my old cars is "cut no holes". Back in 1966, Mustangs with optional speakers had holes cut in the doors for 4"x6" metal grilles, but I decided not to do that. My front speakers are a pair of 6" 3-way Pioneer speakers that fit in special kick panels purchased from a Mustang parts vendor.
I also added small Infinity tweeters on the windshield posts. This actually makes the sound a little too "hot" for me, so I use the receiver's built-in equalizer to dial the highest band back a bit.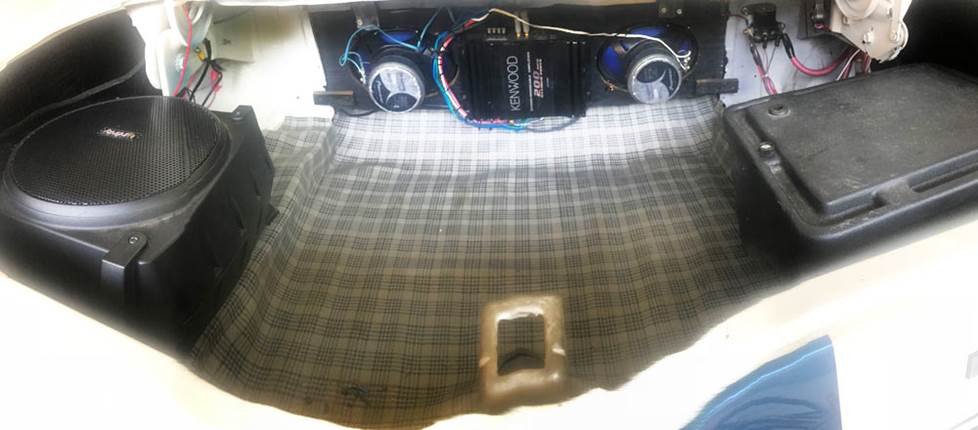 The Mustang's trunk isn't big, but it holds an Infinity powered sub, two Pioneer speakers, and a Kenwood amp. Oh, and the car's battery has been relocated to the trunk to improve weight distribution.
Rear speakers and more
In the back, I use a pair of Pioneer 6"x9" 3-way speakers, plus a 200-watt Kenwood amp and an Infinity powered subwoofer that fits perfectly in its spot. The trunk of this car is so small as to be practically useless, but mounting things neatly around the perimeter leaves some useable space in the middle.
From the inside of the car, the back seat folds down, and you really can't tell there are speakers back here. I replaced the trunk's original flip-up pass-through door with a 3/4" plywood cutout, covered with black fabric. It is screwed tightly in place to prevent rattles. Again, cut no holes in the old car!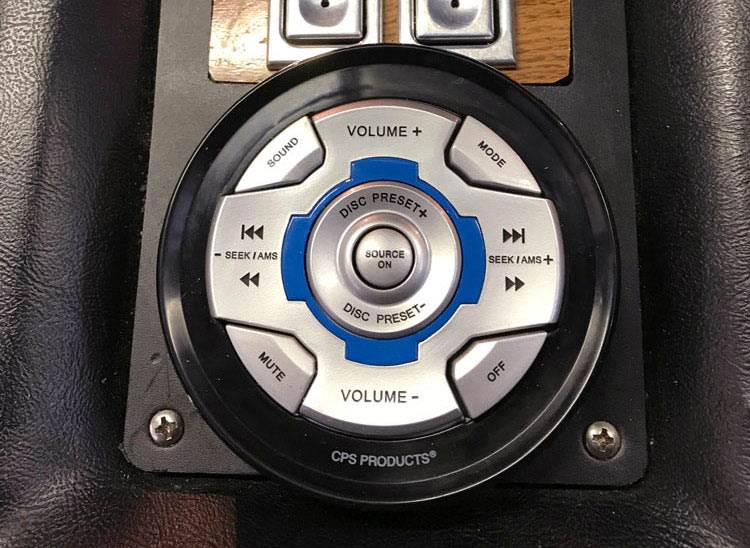 The stereo's included wireless remote doesn't work with the glovebox closed, so Bill controls his tunes with this wired remote.
Remote control from outside the glovebox
A wired remote from CPS Products controls the receiver's many functions. I had hoped to be able to control the stereo with the Sony SongPAL™ app, but after using it for a couple of weeks, I found it just didn't work for me because I had to take my eyes off the road to see what it was doing. SongPAL is, however, an excellent tool for setting up all the sound options. It's much easier than using the knobs and buttons and tiny display on the head unit.
The CPS remote plugs into the back of the receiver and controls all its functions. The only drawback is that when changing sources (from FM to Bluetooth, for example) you can't be sure what input is selected without seeing the radio display. It's a compromise, but I'll live with it.
You might wonder why I didn't use the small wireless remote that came with the head unit. I would have loved to, but it's a "line of sight" remote. To use it, I'd have to leave the glovebox open while I drive, which I'd prefer not to do!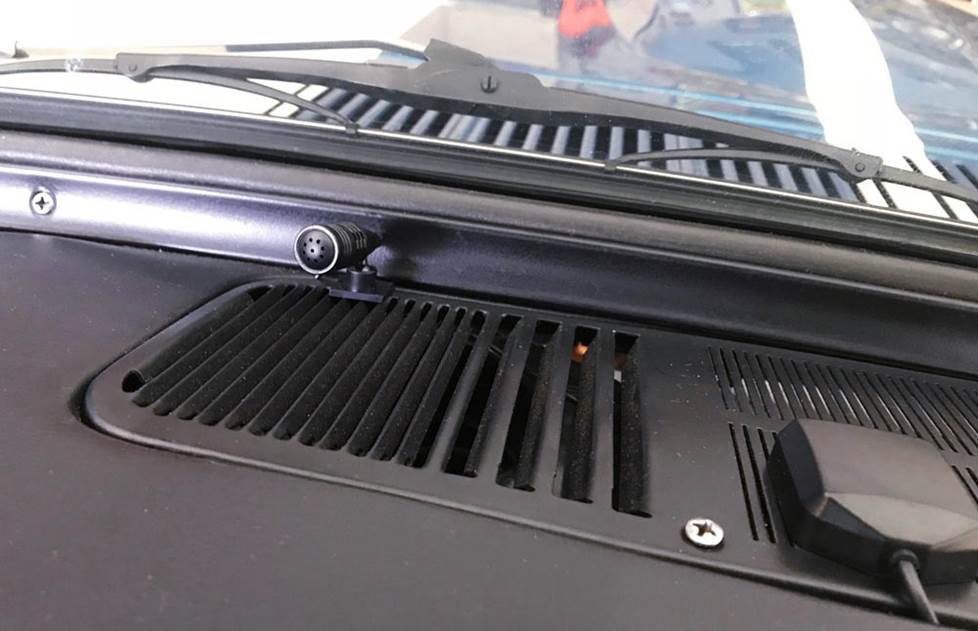 The receiver's microphone blends nicely with the Mustang's dash
Make your own Mustang magic
Or Camaro, or Challenger, or pretty much any car or truck, really. If reading about Bill's Mustang has you thinking about an audio upgrade for your vintage vehicle, our Crutchfield Advisors are available by phone or chat. Give us a call and let us help you build a cutting-edge system that's right for your ride.
---
Vehicles in the Custom Car Showroom are submitted by customers and fans, and edited by Crutchfield writing staff. You can find more of these articles on the Showroom main page.