1973-1986 Jeep CJ5 and CJ7
Upgrading the stereo system in your CJ5 or CJ7
1973 • 1974 • 1975 • 1976 • 1977 • 1978 • 1979 • 1980 • 1981 • 1982 • 1983 • 1984 • 1985 • 1986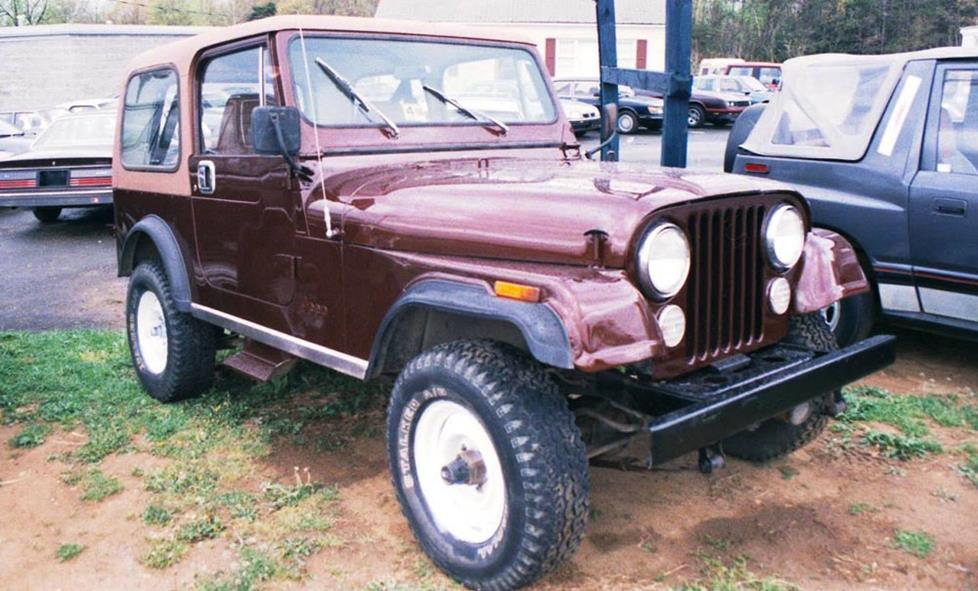 In brief: This Crutchfield Research Garage article gives you an overview of your Jeep's stock stereo system and your aftermarket upgrade options. We'll tell you all about:
Then, use our vehicle selector to find the gear that will fit your CJ5 or CJ7.
Overview of the Jeep CJ
We don't remember the last time we saw a totally box-stock Jeep CJ5 or CJ7 on the road. We know they're out there, of course, but most of the older Jeeps we come across have been modified for maximum off-road capability. Thick roll bars, big tires, lift kits, light bars, and heavy-duty winches are as close to standard equipment on these vehicles as anything aftermarket could be. Considering that the original, military-grade Jeeps were identical, olive-drab vehicles designed for a very serious purpose, it's kind of neat to see how individual owners modify their rides for serious fun.
When you're climbing desert dunes or fording mountain streams in your Jeep, you're probably too busy to worry about sound and music. But when you're driving around town, a quality stereo is nice to have. If you're looking for great-sounding audio gear that's tough enough for Jeep duty, you've come to the right place.
We've done plenty of research on the CJ, and we've come up with a decent list of stereo upgrade ideas. That said, no one's done more research or come up with more innovative upgrade ideas over the years than actual CJ owners. If you have any suggestions, tips, or even corrections, please use the Comments section at the bottom of the article. We'd love to hear from you!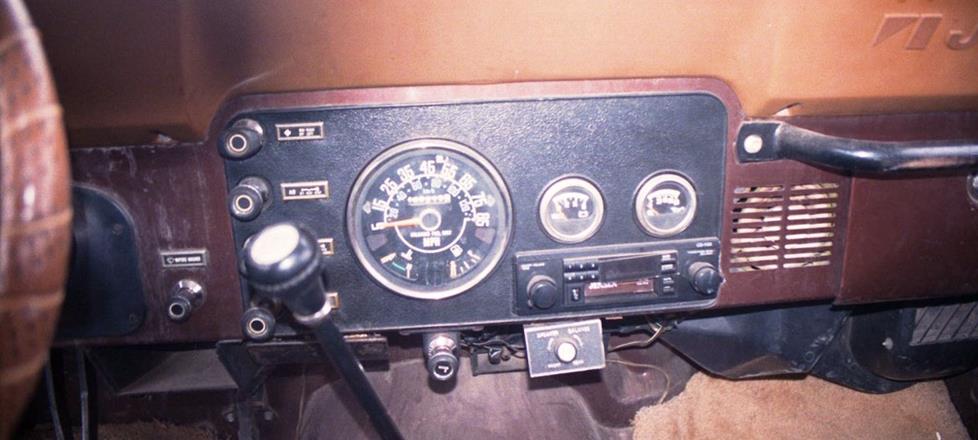 This is obviously not the CJ's factory radio (Crutchfield Research Photo)
The factory stereo system
The long-running CJ5 didn't change much (visually, anyway) over the years, but it did get a new dash in 1973. That's where we pick up the story. The center dash cluster housed the speedometer, fuel gauge, temperature gauge, and…that was pretty much it, though some Jeeps were equipped with under-dash radios.
The CJ7, which debuted in 1976, was a bit wider and had a 10" longer wheelbase. Designed to be a little more user-friendly than the CJ5, the CJ7 offered an optional hardtop, doors, and even an automatic transmission. Creature comforts increased over the years, but the CJ7 probably didn't distract anyone who came to their friendly neighborhood dealership looking for a luxurious Concord sedan or a peppy (-ish) Renault Alliance.
The dash grew a few more knobs, switches, and whatnot over time, but the CJ's interior was always a spartan environment. The shaft-style factory radio, if present, is located in that center dash area. The speakers were located in the dashboard itself.

A closer look at the vintage cassette receiver (Crutchfield Research Photo)
Removing the factory radio
A lot of CJs have been modified by previous owners, so finding one with the original radio in the original location is somewhat unusual. In many cases, you'll find an older shaft-style aftermarket receiver, as seen in our photo Jeep. You'll also see receivers and equipment installed under the dash, which was common for the time.
If you're replacing a shaft-style radio and wish to retain that old-school look, Retrosound offers an impressive selection of digital media receivers that fit right in and sound great. These models don't play CDs, but you'll be able to enjoy your digital music from iPod®, iPhones®, Android™ phones, music players, and USB thumb drives.
Detailed stereo and speaker removal instructions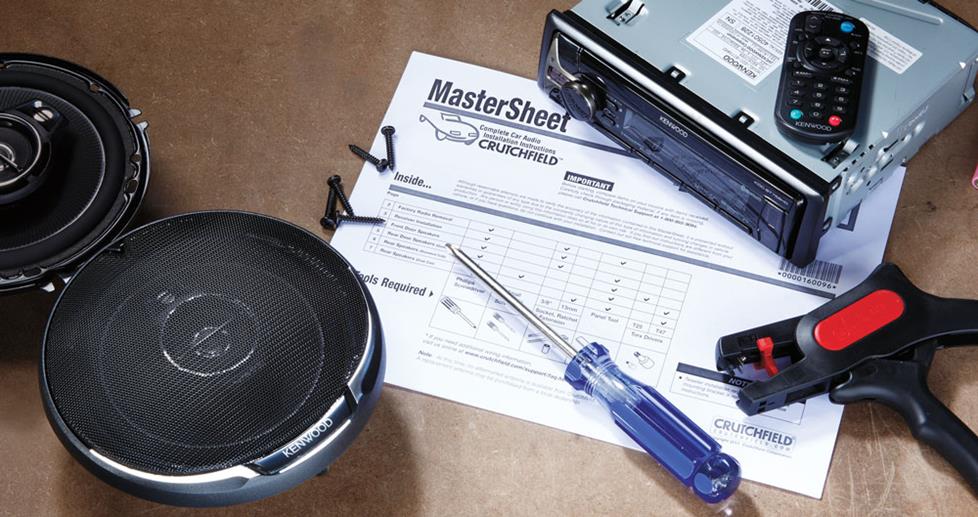 With step-by-step disassembly instructions and plenty of up-close, detailed photos, our exclusive
Crutchfield MasterSheet
™ takes the guesswork out of removing the factory stereo and speakers. It's free with your Crutchfield order, or you can purchase one separately for just $9.99.
If you're one of those Jeep owners who's happiest when the top is off and the trail is rough, you might want to take a look at our selection of marine-rated receivers. They're more than tough enough to handle a little rain or creek water, plus they're sealed to keep out salt and spray, so they can stand up to mud and sand, too.
Our database doesn't provide exact matches automatically, but if you measure the space you have available, we can help you find a receiver that's right for the space. Give us a call and our advisors will be happy to help.
Shop for car stereos that fit your AMC CJ5
Removing the factory speakers
Depending on the vintage, your CJ has speakers in the dash – and/or anyplace else a previous owner decided to put some.

Later CJs offered dash speakers (Crutchfield Research Photo)
Dash speakers
Assuming your Jeep has dash speakers in the first place, they're probably in need of replacement – especially if they're the original factory speakers. Most Jeeps live busy, active, outdoorsy lives, and that can be hard on electronics. Thankfully, we also stock marine-rated speakers for your Jeep.
A variety of 5-1/4" models will fit in your Jeep, but mounting depth is an issue due to the rather shallow dashboard. Even so, we also highly recommend a set of foam baffles, which reduce rattling and help your speakers perform at their best in the Jeep's cockpit. You'll want to look for 5-1/4" speakers that are shallow enough to fit in the dash with the baffles attached.
A set of component speakers can really help boost your sound, but mounting the tweeters will require some creativity on your part. Then again, it's an old Jeep, so the previous owner could have sawed out a couple of great big openings and installed a pair of 6-1/2" component speakers. Stranger things have happened.
If the speakers are behind the factory grilles, they're still easy to remove and replace. On driver's side, you'll need to remove Torx screws from the emergency brake handle and push the handle aside to gain some working room. If you need more, remove 3 Torx screws from the dash panel. This will allow you to pull the panel out for additional clearance.
Unscrew four nuts securing the speaker to the back of the dash, then disconnect the speaker wiring connector and remove the speaker. Connect the new speaker wiring connector and slide the replacement speaker behind the dash grille. Secure the speaker to the studs with the nuts you removed earlier, then test everything out. If it sounds good, you're done!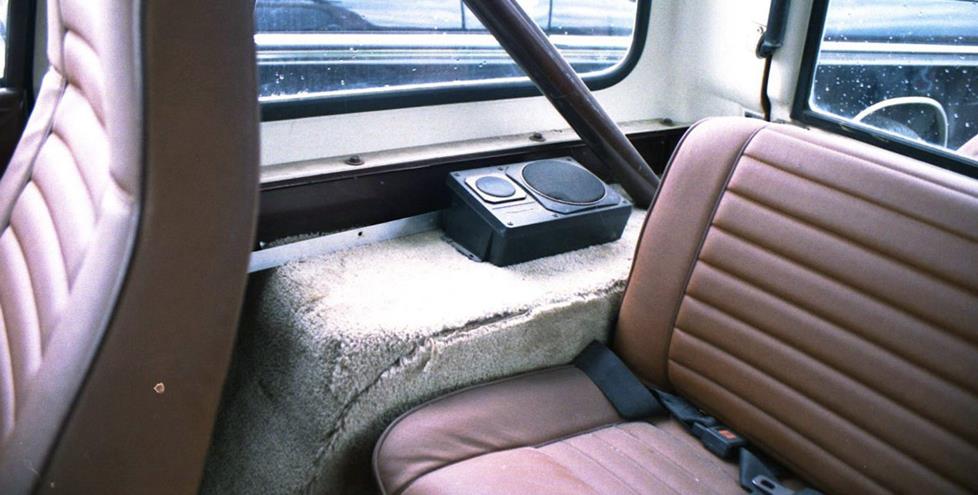 Here's one owner's aftermarket rear speaker installation. This photo was taken a few years ago, so obviously there are newer ways to add sound to your CJ. (Crutchfield Research Photo)
Additional speaker options
The Jeep CJ was around for a lot of years, and the automotive aftermarket never stopped coming up with innovative products to help loyal owners get the most out of their rides. Dash speakers are only the beginning, as it turns out. There are lots of great ways to boost your CJ's sound, and Select Increments has been one of the leaders in Jeep-specific enclosures.
If you're looking for an alternative spot for your 5-1/4" speakers, try the Select Increments Mod-Pod, a pair of unloaded enclosures that fit under each door. They're designed to hold 5-1/4" speakers, but you can enlarge the opening if you need to. The speakers, of course, are not included.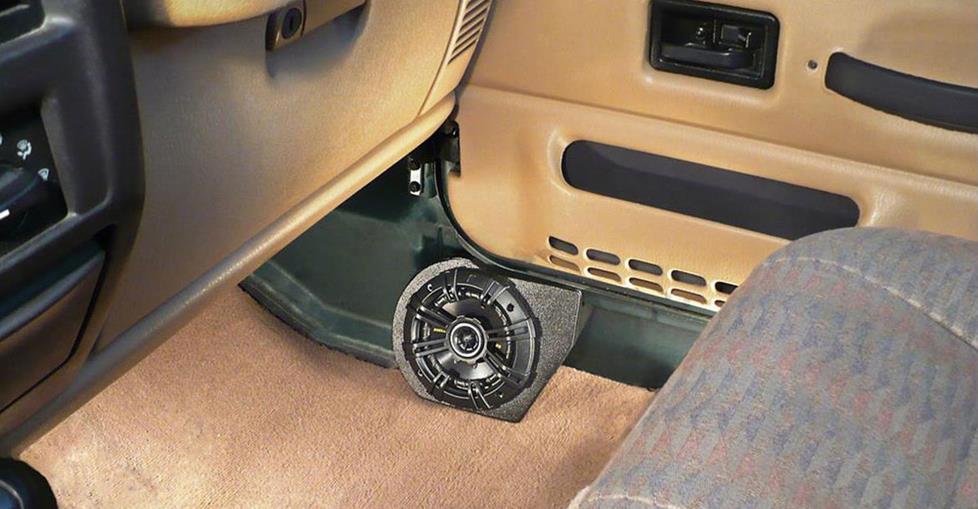 The Select Increments Centra-Pod, on the other hand, mounts under the dash on the transmission hump of your Jeep. The Centra-Pod, which also holds a pair of 5-1/4" speakers of your choosing, radiates the sound directly towards the driver and the passenger for vastly improved soundstaging. The tough plastic enclosure protects the speakers from damage, whether you're off-road or on the way to work.
You can also mount marine tower speakers your Jeep's rollbars if you'd like. Or build a pair of boxes and mount a set of speakers on the rear fenderwells, like our CJ7's original owner. If you own an old CJ, your only limit is your imagination. If you're looking for inspiration, check out our entire selection of Jeep-specific enclosures, or visit our Custom Car Showroom to see what other owners have done with their Jeeps.
Shop for speakers that fit your AMC CJ5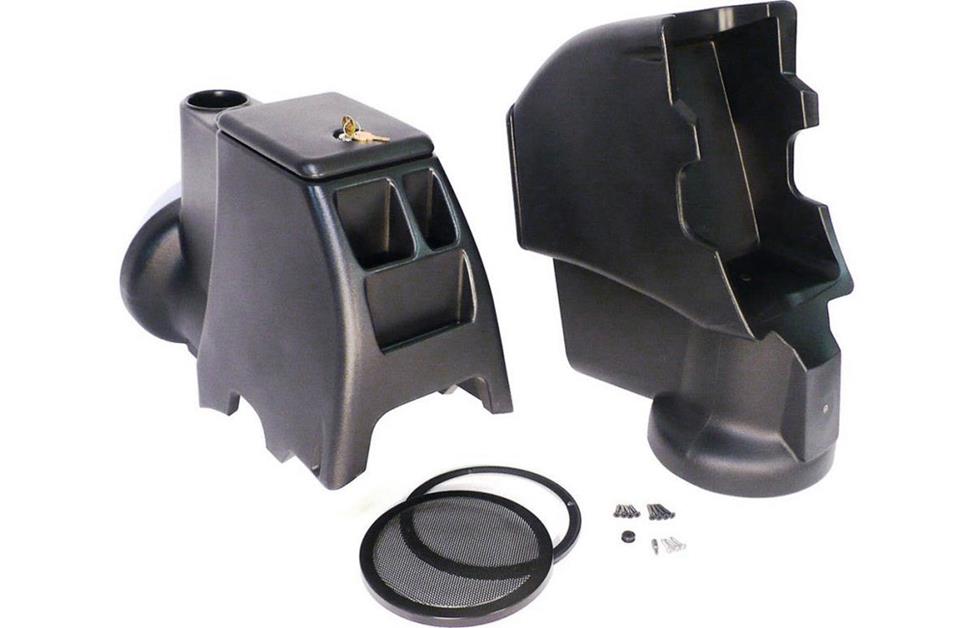 Select Increments Intra-Pod subwoofer enclosure for the Jeep CJ
Bass in your Jeep CJ
Nothing goes better with the great outdoors than serious, ground-pounding, tree-shaking bass. Okay, okay, we're kidding. But if you want better bass, there are some nifty, custom-designed enclosures designed for your CJ. Just remember to tread lightly and be kind to your four-footed friends. We mean it.
The Select Increments Intra-Pod is a great way to add some kick to your CJ. This textured plastic subwoofer enclosure is molded to fit neatly between the front seats. It will hold an 8" sub, and comes with a sturdy speaker grille and installation hardware. The console features two extra-large cup holders, a locking storage compartment, and storage pockets for your iPod® or cell phone. You can also mount an amp in the ventilated cavity located in the base of the enclosure, which screws securely into the floorboard of your Jeep.
There's also the Select Increments Stealth-Pod, a space-saving way to add some kick to your CJ. This rugged 1/4"-thick black plastic box mounts on the tailgate via bracket hangers which isolate the enclosure and reduce noise-causing vibrations. Just install the 10" sub of your choice, then add an amplifier and wiring. Some slight drilling modification to the tailgate or enclosure may be required, so be sure and take all necessary safety precautions.
Shop for vehicle-specific subwoofers for your AMC CJ5
Other options for your CJ
Here are some other smart ideas for updating your vintage Jeep CJ5 or CJ7:
Choose a convenient portable GPS
Your Jeep's dash isn't going to hold a big-screen navigation receiver without a lot of customization. For the best directions, whether you're on the trail or off, a portable GPS is probably the choice for the active Jeep owner. Another bonus? You can slip it into your pocket and take it with you.
Consider smaller subwoofers
If you don't want to go to the trouble of adding a built-in sub or speaker enclosure, you can always add a powered sub and secure it in your Jeep's cargo area. Or, you can add a marine-rated amp and subwoofer combo so you won't have to worry about sudden showers or splashes.
Add a security system
Installing a security system in your Jeep isn't easy (security systems rarely are), but it's definitely a good idea. Our Crutchfield Advisors can help figure out what you need to get the job done, but we usually recommend taking your Jeep and your new security gear to a professional installer.
Let's get started!
Ready to shop? Use our vehicle selector to find the gear that will fit your car or truck. If you have questions of your own, give us a shout via phone, chat, or email