1987-1993 Ford Mustang
Upgrading the stereo system in your Mustang
1987 • 1988 • 1989 • 1990 • 1991 • 1992 • 1993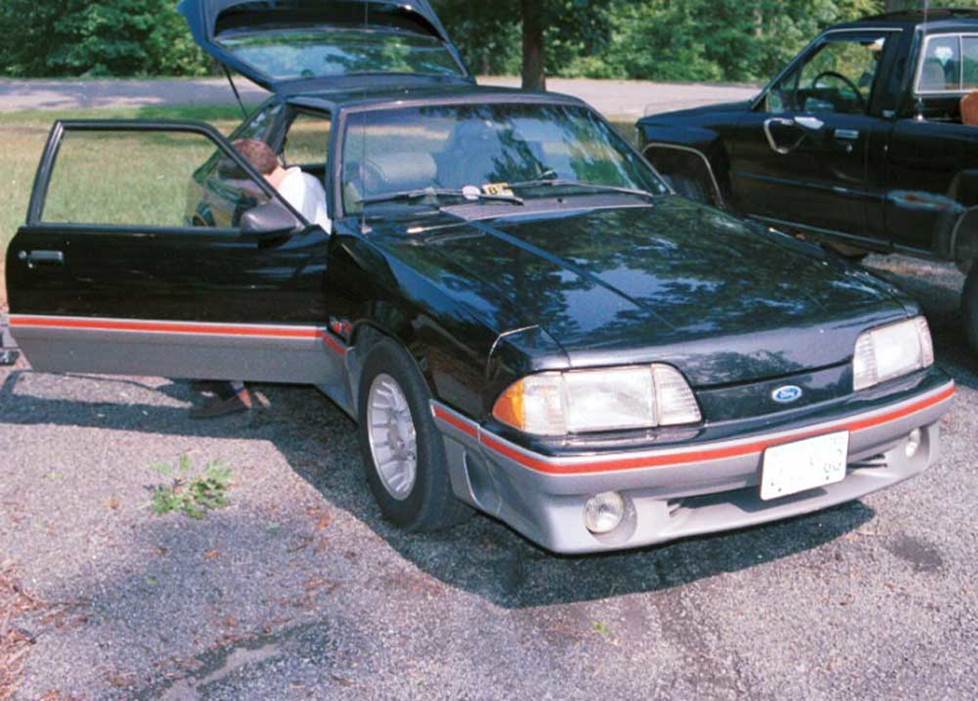 In brief: This Crutchfield Research Garage article gives you an overview of your Mustang's stock stereo system and your aftermarket upgrade options. We'll tell you all about:
Then, use our vehicle selector to find the gear that will fit your Mustang.
Overview of the Ford Mustang
When it comes to hot rodding, racing, customizing, and general automotive enthusiasm, the long-lived Fox-chassis Mustang is undoubtedly one of the most important cars of the last three decades. Even now, with a sixth-generation Mustang well on its way to dealerships worldwide, these third-gen 'Stangs (especially the fabled "five-oh" models) are still on the road, still on the racetrack, and still being improved and enjoyed by their owners.
In 1987, Ford gave the Mustang a significant revamp, updating and improving a long list of things both inside and out. The distinctive, grille-less nose, cribbed from the '86 SVO model, gave the car a sleek and aerodynamic look, while the interior and engineering improvements helped an (even then) aging platform keep up with the competition.
These cars were very popular for a very long time, so there's a thriving automotive aftermarket that can help you turn your '87-'93 Mustang into anything from a fully-restored cruiser to a tire-smoking street/strip screamer. If you're looking for a stereo that you can hear over all the fun you're having, we've got the gear and advice you need to make your Mustang sound great.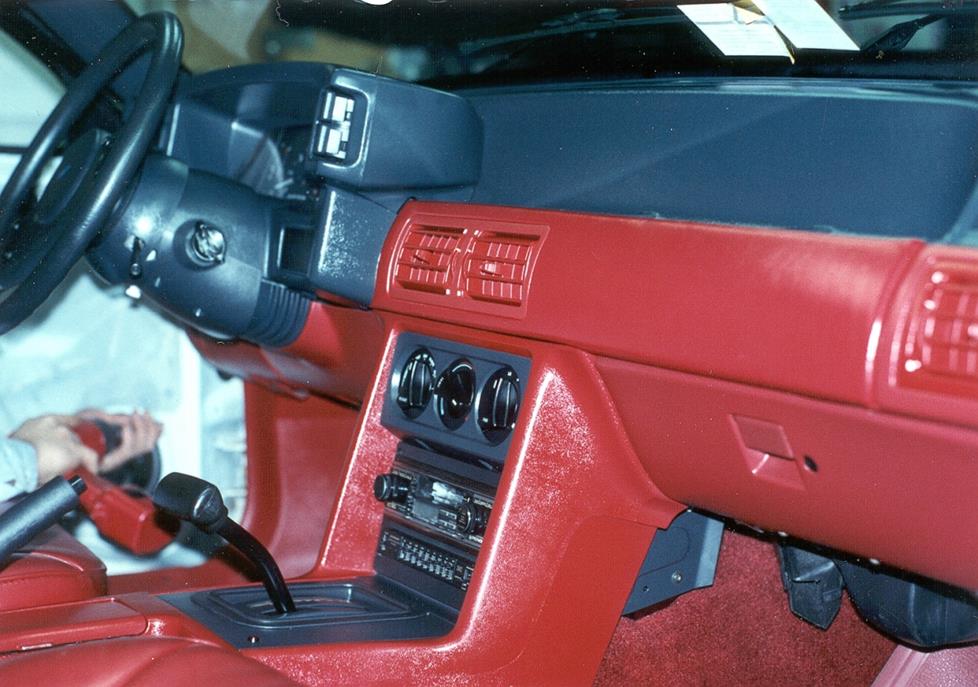 Once upon a time, interiors were a lot less beige (Crutchfield Research Photo)
The factory stereo system
The Mustang's stock audio offerings consisted of either a single-DIN AM/FM radio or the "Premium Sound" AM/FM/cassette model. These weren't the gnarliest factory stereo systems around, so a lot of owners invested in better stereo gear early on.
If your Mustang is "new to you," it may have had some work done already. Our tips and instructions are based on the assumption that the stock system is still in place, but if you're replacing someone's twenty-year-old dream system, you might want some help. Crutchfield offers lifetime tech support on everything we sell, so if you run into a snag, we're just a phone call away.

The Mustang's factory radio (Crutchfield Research Photo)
Removing the factory radio
The receiver opening, which included a change/map/sunglasses bin below the radio, is large enough to accommodate both single-DIN (2" tall) and double-DIN (4" tall) receivers. You'll need to do a bit of work to make them fit, but it's all well within the skill set of the average do-it-yourselfer.
To install your new receiver, you'll need to drill four holes in your console. The installation kit, which is included at a very nice discount with most Crutchfield stereo purchases, will cover these holes. If you decide to re-install the factory radio later on, you can cover the holes with plastic plugs or painted screws. The drilling part isn't that tough, but it's always smart to take your time, make sure you know what you're drilling into, and by all means, wear eye protection.
If you're installing a double-DIN unit in a Mustang equipped with the factory amplifier (located inside the console, behind and below the factory radio), the amp bracket must be removed and the metal studs on the transmission tunnel must be cut off. The safety suggestions noted above apply here, too.
Detailed stereo and speaker removal instructions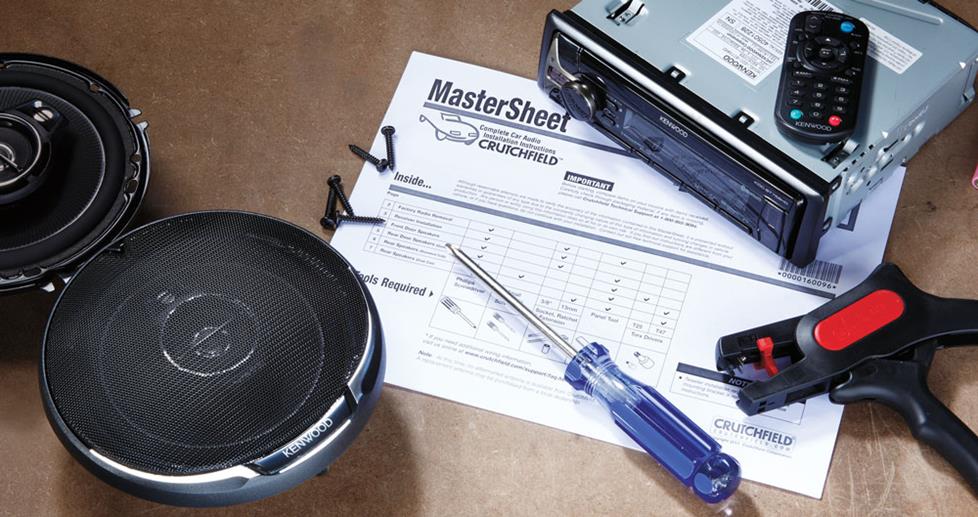 With step-by-step disassembly instructions and plenty of up-close, detailed photos, our exclusive
Crutchfield MasterSheet
™ takes the guesswork out of removing the factory stereo and speakers. It's free with your Crutchfield order, or you can purchase one separately for just $9.99.
Removing your factory radio will require a set of DIN tools. These U-shaped tools are used to remove DIN-style factory radios from the dash of many automobiles, and they're included free with your Crutchfield purchase. To remove the radio, press (do not force) the DIN tools into the holes in the face of the radio (approximately one inch) until you hear a click from each side. Spread the tools slightly outward, pull out the old radio, and get ready to install the new one.
At Crutchfield, we want to make it as easy as possible for you to install your own gear. That's why a dash kit and a Crutchfield-approved wiring harness are included at a deep discount with your stereo purchase. The kit ensures that your new receiver fits seamlessly into your dashboard, while the wiring harness makes the connections between your new receiver and your car's electrical system.
A detailed instruction sheet comes with the kit and harness, but the best part of the package is our illustrated, step-by-step Crutchfield MasterSheet™. This thoroughly detailed document tells you everything you need to know about removing your Mustang's radio and speakers.
Tools needed: Flat blade screwdriver, DIN tools
Note: Many of these Mustangs are equipped with Ford's Premium Sound™ package. The amplifier is located behind and below the receiver on the 1987-92 models and under the passenger's seat on '93 cars. If you're going to bypass this amp (and, considering its age and relative weakness, you probably should), use a socket and ratchet to remove two bolts and disconnect the electrical connectors.
Shop for car stereos that fit your Ford Mustang
Removing the factory speakers
The Mustang was available with either four or six speakers. All are reasonably easy to reach and replace, but the degree of difficulty for the rear speakers varies a bit depending on whether your Mustang is a hatchback, a notchback (aka, coupe), or a convertible.

The dash-mounted speakers are easy to get to (Crutchfield Research Photo)
Dash speakers
The Mustang's dash speakers are 3-1/2" units that, despite the rather shallow opening, can be replaced by a variety of aftermarket speakers.
To remove them, you'll remove one Torx T20 screw from the speaker grille located at the side of the dash. With the grille out of the way, remove the two Phillips screws securing the speaker, pull it out, disconnect the harness, and remove the speaker.
Hook up the new speakers, then, after testing to make sure they're working, button everything back up using the screws you just removed.
Note: There are some "radio delete" Mustangs out there. If your car is not equipped with a radio or dash speakers, just pry off the "dummy" plate that covers the area and proceed as normal.
Tools required: Phillips screwdriver, Torx T20 driver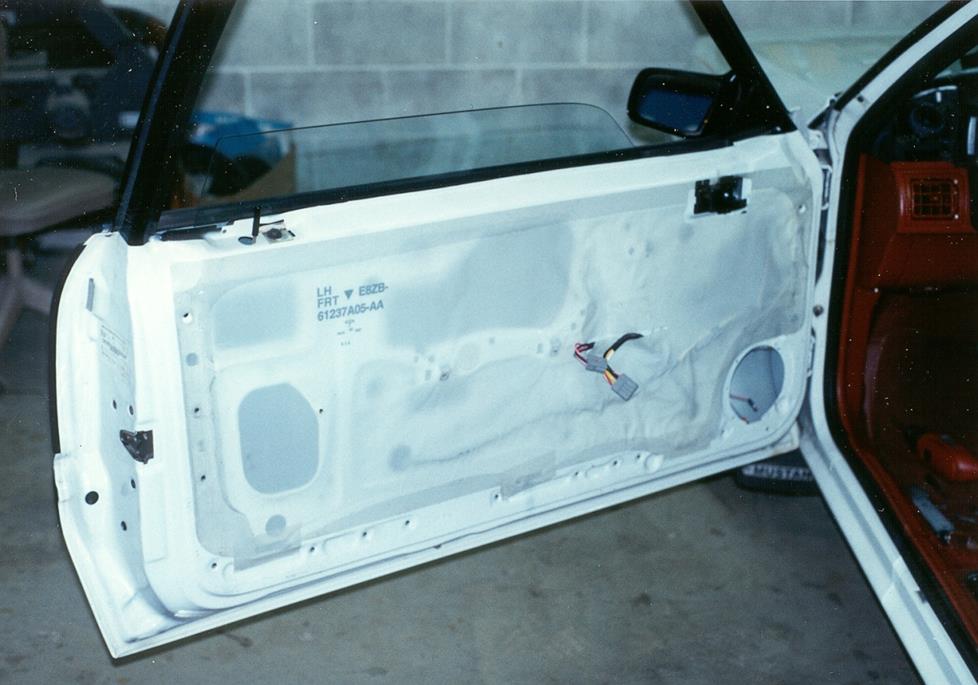 A Mustang's front door is a great place for a 6-1/2" speaker (Crutchfield Research Photo)
Front door speakers
The Mustang's 5-1/4" factory door speakers, never much to begin with, are now approximately 1000 years old in "speaker years." Okay, that's a slight exaggeration, but if you care about sound, you already know that the old gear needs to go. You can replace them with same size speakers, or choose from a variety of 6-1/2" models.
They're relatively easy to reach and replace, but you may need to drill new mounting screw holes for some speakers. If you enter your vehicle's information in our Outfit My Car section, you'll know what to look for. Again, the drilling isn't tough, but you'll want to work carefully and wear eye protection.
As long as we're handing out advice, we should also remind you to exercise patience and care when you're prying away plastic panels — especially old ones. Complete, illustrated instructions on the front speaker removal process can be found in your Crutchfield MasterSheet.
Tools needed: Phillips screwdriver, flat blade screwdriver, socket wrench, 10mm socket, and panel tool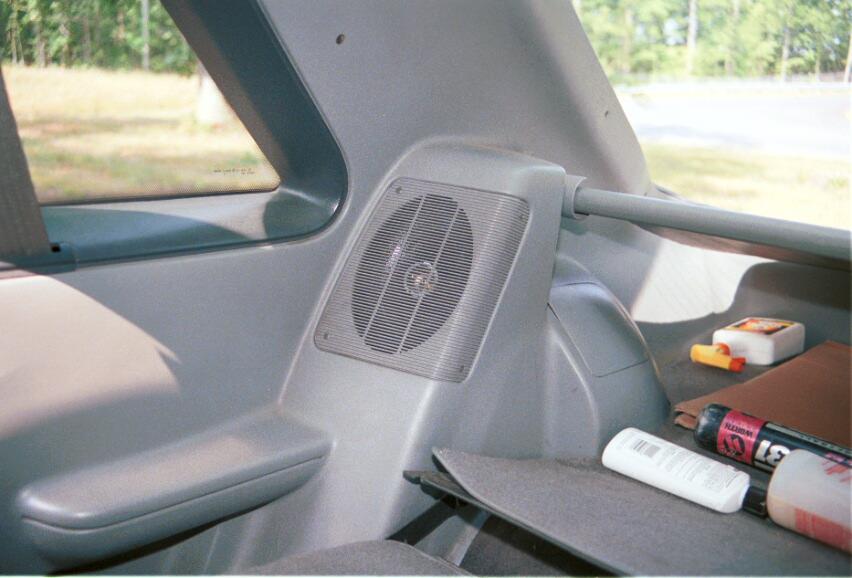 The Mustang hatchback's rear speakers (Crutchfield Research Photo)
Rear speakers
Replacing the rear speakers isn't hard work on any of these Mustangs, but there are some significant variations in the amount of work involved.
Coupe: The Mustang coupe is by far the easiest of the lot. The factory 6"x8" speakers are mounted to the underside of the rear deck, so all you have to do is remove the four 10mm nuts holding them up there; then disconnect the harness. Hook up the new speaker and secure it with the screws you just removed. You can use same-size models, or, with the help of a mounting bracket that's included with your Crutchfield speaker purchase, install a 5-1/4" speaker.
Tools needed: Phillips screwdriver, socket wrench, 10mm socket
Hatchback: The same sizes work for the hatchback Mustang, but there's a bit more involved in getting to the speakers. Fold down the rear seat, then remove four Phillips screws securing the speaker grille. Once that's out, remove the four Phillips screws securing the speaker to the grille, toss the old one aside, then attach the new speaker (and mounting bracket, if applicable) to the grille and continue to reverse the removal process.
Tools required: Phillips screwdriver
Convertible: The ease of replacing the speakers found in the rear seat side panels of your Mustang convertible will depend on the speakers themselves. The dealership that sold your then-new car was in charge of installing the rear speakers. Some used 6-1/2" speakers; others used' 5"x7" speakers. What's in your car? Who knows?
To find out for sure, you'll have to remove one of your speakers, measure the mounting-bolt pattern, and call us for assistance. That process involves removing the entire side panel, of course. Your Crutchfield MasterSheet provides detailed instructions on this, and the rest of the process.
Once you determine which mounting bolt pattern you're dealing with, you have a large selection of 6-1/2" replacement speakers to choose from. You can also install 5-1/4" speakers back there, but you'll need to fabricate your own speaker mounting bracket or use our universal backstraps to help secure the speaker.
In most ragtop Mustangs, the speaker is secured to the side panel with rivets. You'll need a drill and a 1/8" bit to drill out rivets and remove the stock speaker. Again, you're using a drill in a car that you own, so work carefully and be safe.
Tools required: Phillips screwdriver, drill and 1/8" bit
Shop for speakers that fit your Ford Mustang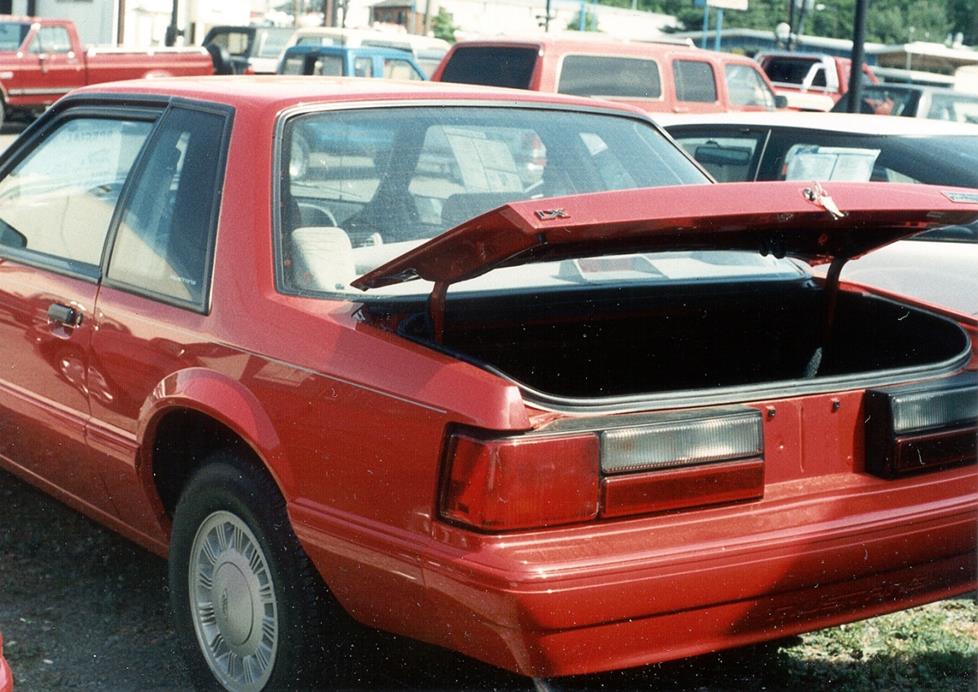 The notchback Mustang has a small trunk, but there's room for bass (Crutchfield Research Photo)
Bass in your Mustang
Whether you prefer to crank the Beach Boys or the Beastie Boys, there are plenty of ways to improve the sound—and the bass—in your Mustang.
The hatchback offers the most available space for big-time bass lovers. There's plenty of room back there for subwoofers in an enclosure. The coupe and convertible, on the other hand, offer a lot less cargo space, so your best bet (if you want to retain any luggage space at all) is probably a powered sub.
Other options for your Mustang
There are plenty of other ways to improve your Mustang. Here are just a few of the ways Crutchfield can help.
Sound deadening
Big, long doors and an older chassis can sometimes lead to a rather creaky, noisy car. To minimize road noise and maximize sound, we recommend installing Dynamat inside the front door panels on any Mustang. If you've installed a sub in a coupe or convertible, you should also have some inside the trunk to reduce rattling.
Antenna replacement
Your Mustang's fender-mounted factory antenna has (assuming it's lasted this long) seen more than its fair share of abuse. A replacement model is available, and complete how-to instructions can be found in your Crutchfield MasterSheet.
Security
Fox-chassis Mustangs have been popular for a long time—with enthusiasts and thieves alike. A number of security options are available for your Mustang, and harnesses are available to make the installation easier. We still recommend using a professional installer unless you already have extensive experience installing car security systems.
Building your system
If you're the kind of do-it-yourselfer who likes to work slowly and take care of projects one step at a time, a Mustang is a great car to work on mechanically. Car-audio-wise, it depends on what you have to start with. Sometimes, less is more.
Your 1987-93 Mustang is basically a blank slate when it comes to high-performance parts or high-quality stereo equipment. The stock system isn't a system as much as it is a collection of easily replaceable parts. That's terrific if you're building your own system from scratch, because it allows you to add gear whenever you have the time and money to do so.
Let's get started!
Ready to shop? Use our vehicle selector to find the gear that will fit your car or truck. If you have questions, give us a shout via phone, chat, or email