1992-2002 Hummer H1
Upgrading the stereo system in your Hummer H1
1992 • 1993 • 1994 • 1995 • 1996 • 1997 • 1998 • 1999 • 2000 • 2001 • 2002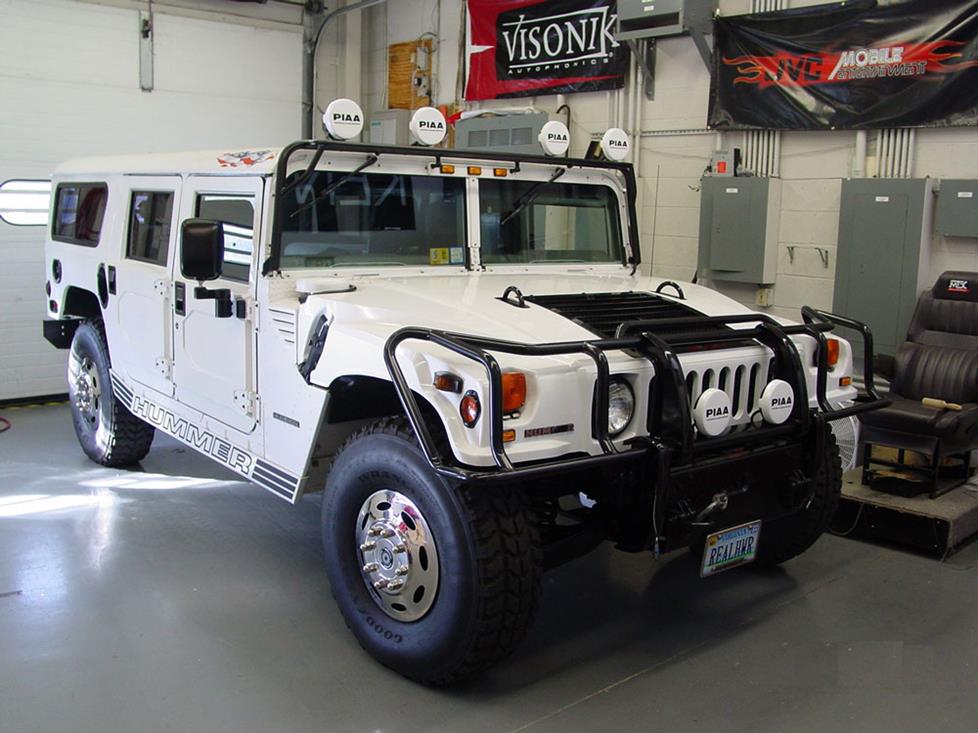 In brief: This Crutchfield Research Garage article gives you an overview of your Hummer's stock stereo system and your aftermarket upgrade options. We'll tell you all about:
Then, use our vehicle selector to find the gear that will fit your H1.
Overview of the Hummer H1
There are people who think the Hummer (nee AMG) H1 is an incredibly cool hunk of go-anywhere, do-anything, all-American iron. There are also people who think those people like to spend their weekends jacklighting deer in national parks. If you're reading this, you're probably in the former camp, of course, and that's totally cool with us.
The H1 is what it is, and it makes no apologies. It's roughly the size of a New York apartment, it's as aerodynamic as a 4-drawer file cabinet, and it's about as fuel-efficient as the semi that just dropped off a load of Priuses at the local Toyota dealer. So? Every now and then, America comes up with a vehicle like this and pretty much dares the world to figure it out. Like the massively finned 1959 Cadillac, the Hummer H1 is so utterly excessive that it actually starts to makes sense if you look at it long enough.
But if you listen to it long enough, you'll want to upgrade the stereo system. There is nothing quiet or subtle about a Hummer, so you'll want to add all the audio firepower you can just to hear your music.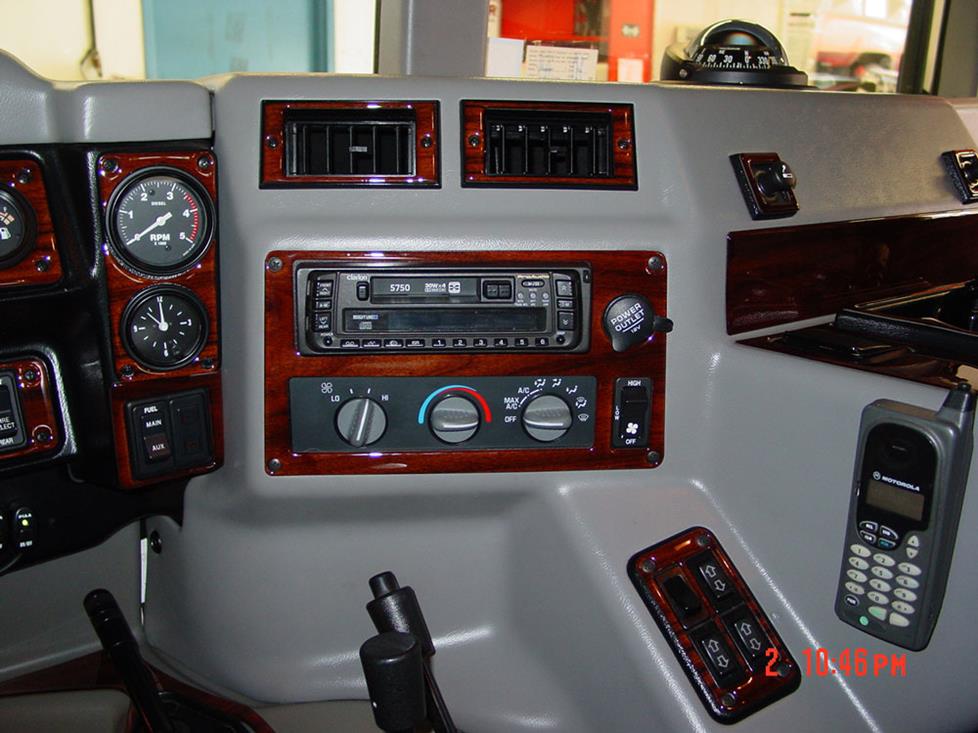 Calling this a "dash" seems insufficient. Command center? Bridge, maybe? (Crutchfield Research Photo)
The factory stereo system
The factory stereos we've seen were Clarion models. The receivers weren't bad for the time, but the speakers seem a little weak for a vehicle like this one, and everything's old at this point. Thankfully, everything's easy to replace and gosh knows there's plenty of room to do the work.
A double-DIN (4" tall) receiver won't fit in the H1, but you can choose from a wide variety of single-DIN (2" tall) CD receivers and digital media receivers.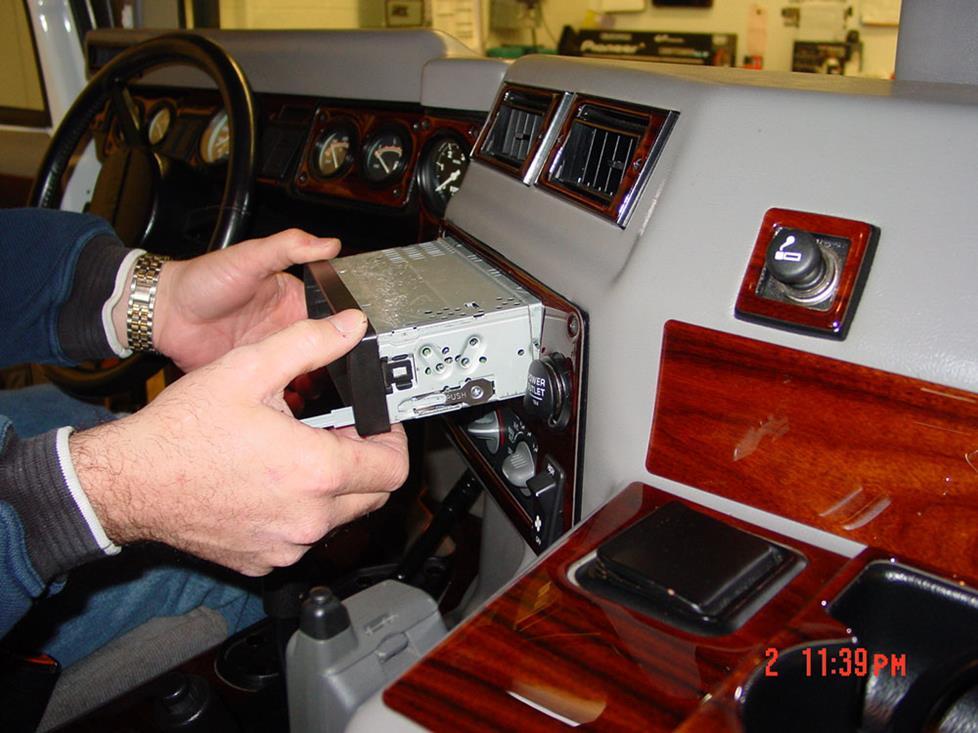 Replacing the single-DIN receiver is actually a pretty simple task (Crutchfield Research Photo)
Removing the factory radio
Before you get started, disconnect the negative battery cable to prevent any potential electrical shorts and set the parking brake to keep the vehicle from rolling down the slightest incline and crushing everything in its path. Wheel chocks might not be a bad idea, either, come to think of it.
Once the safety of you and your neighbors has been secured, hop into the vehicle and get to work on the receiver. You'll start by removing three Phillips screws along the top edge of the center console and two more from each side and the bottom front edge of the console.
Once the console is loose, lift up on the rear edge while pulling it out enough to get to the rear of the radio. Reach back there and remove one 8mm nut from the rear support bracket, then set the console back into place.
Detailed stereo and speaker removal instructions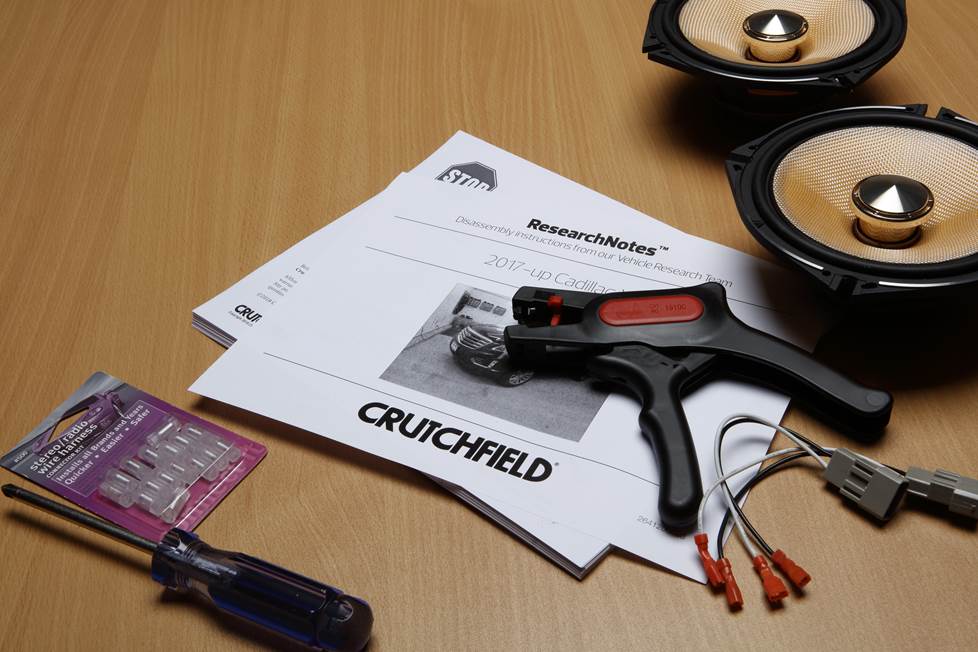 With step-by-step disassembly instructions and plenty of up-close, detailed photos, our exclusive
Crutchfield ResearchNotes
™ takes the guesswork out of removing the factory stereo and speakers. It's free with your Crutchfield order, or you can purchase one separately for just $9.99.
Use the Clarion tools (included with your receiver purchase) to remove the radio from the front of the console, then disconnect the antenna and harness. Use a small flat blade screwdriver to unbend the tabs in the mounting sleeve and remove the whole thing from the dash.
When you install the new receiver, you might need to bend the factory radio's rear support bracket to make room for it. Or not. It all depends on the radio you choose. There's no wiring harness available for the Hummer, so we suggest using Posi-Products connectors to make the necessary connections without the hassle of splicing.
Tools needed: Phillips screwdriver, small flat blade screwdriver, 8mm socket, ratchet and extension, Clarion removal tools
Shop for car stereos that fit your Hummer H1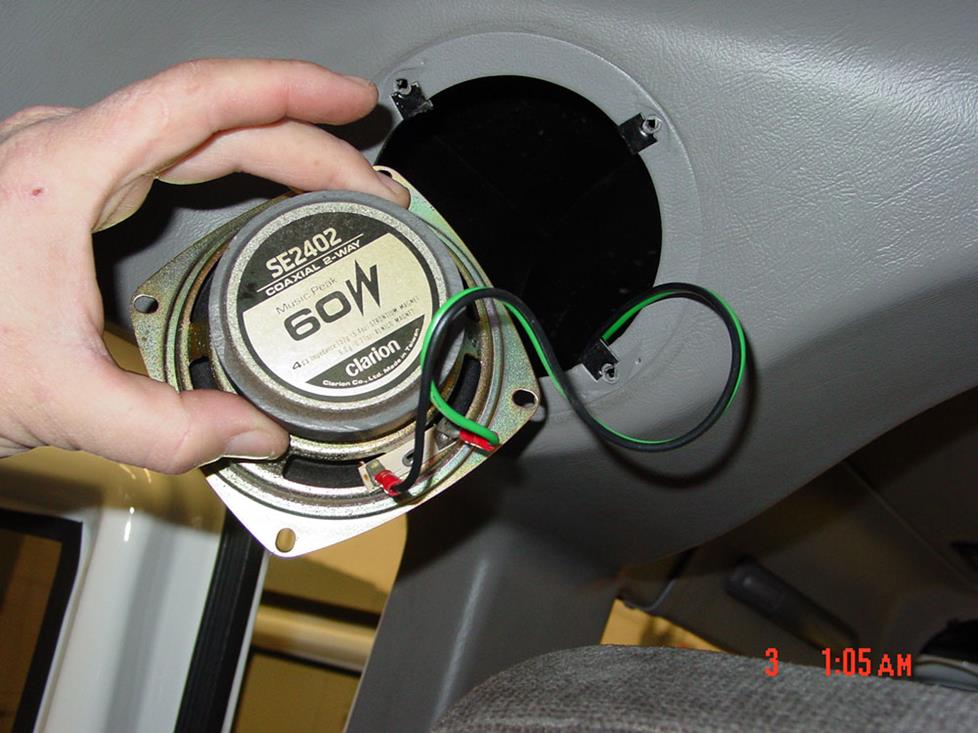 The 4" speakers are easy to reach and remove (Crutchfield Research Photo)
Removing the factory speakers
The H1's speakers are located in the front and rear corners of the roof. They're easy to remove, and a healthy variety of aftermarket replacements will fit.
The work is pretty simple, really. Remove the grille, then remove the four Phillips screws securing the speaker. Pull it out, disconnect the harness, and connect the new speaker to the Hummer's harness. That's it, job done.
It is important to note, however, that you'll need to use the grilles included with your new speakers. So make sure you choose speakers that come with grilles.
Tools Required: Phillips screwdriver, panel tool
Shop for speakers that fit your Hummer H1
If you like bass, you can pack a lot of it into this cargo area (Crutchfield Research Photo)
Bass in your Hummer H1
As you may have noticed, there's an astonishing amount of space in the back of this truck. The actual dimensions are 49" W x 13" H x 41" D, so if you want to go completely nuts with subwoofers and amplifiers, you pretty much can. And you'll have plenty of room left over for a load of goods from your neighborhood warehouse store, probably.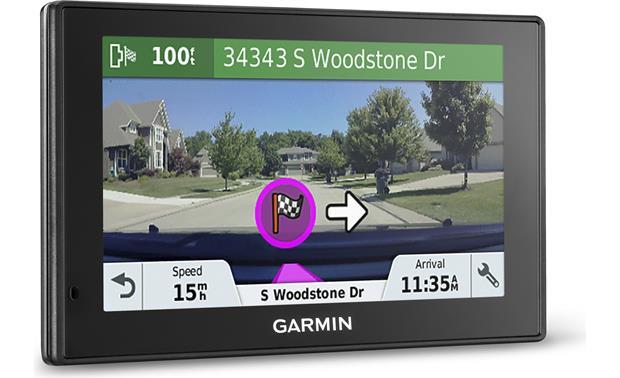 A portable GPS will mount on your dash and give you the directions you need
Other options for your Hummer H1
Here are some other ways to make your Hummer even more enjoyable.
Portable navigation system
You can still get aftermarket nav functionality without installing a touchscreen nav receiver in your vehicle. A portable GPS will give you turn-by-turn directions, traffic updates, and everything you need to make your trip go smoothly. Plus, when you get where you're going, you can put your GPS in your pocket and use it to find points of interest around town.
Add an amp (or two) for better sound
A new 4-channel amplifier will help you get the most out of your new speakers. You'll get cleaner power (and a lot more of it), which will result in much, much better sound. A mono amp can provide the juice you need for your new rear deck subwoofer, too.
Dynamat sound damping
The Hummer is an enormous vehicle that's shaped like a concrete block, so it punches a big, noisy hole in the air at highway speeds. To keep road roar from undoing all the great work your new stereo is doing, install some Dynamat when you're replacing your speakers. This material is a great way to dampen the sounds you don't like and get more enjoyment out of the ones you do. Yes, Dynamat adds weight, but it's a Hummer, so who cares?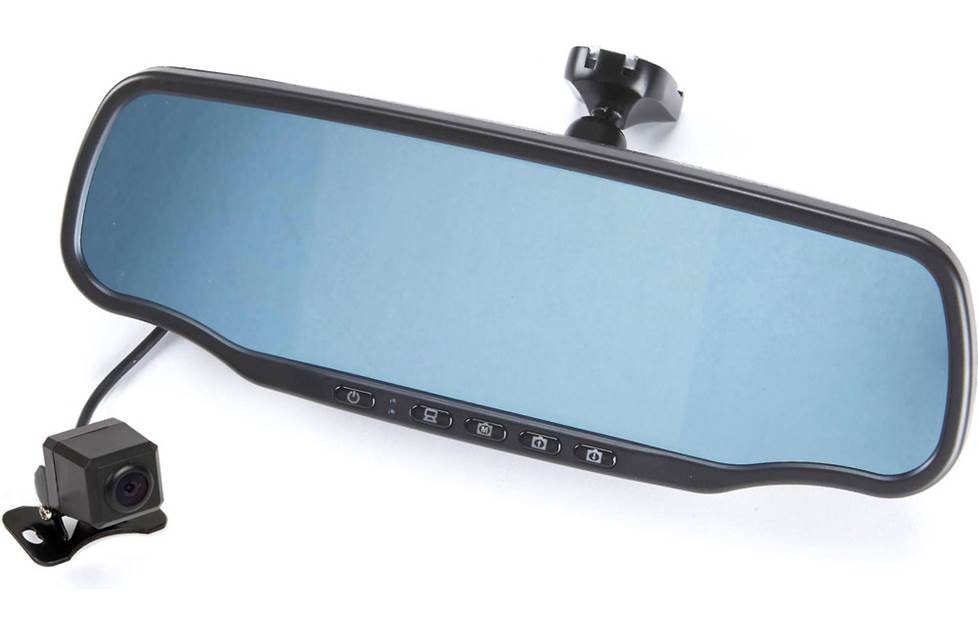 With a truck like the H1, a backup camera/mirror combo is a very smart upgrade
Rear-view cameras
The H1 is not the easiest vehicle to wrestle with in crowded parking lots. Or narrow streets. Or normal streets, for that matter. A double-DIN receiver won't fit in the dash, but a rear-view camera that displays in a special rear-view mirror will really help increase your visibility and safety. The camera can also be a massive help when you're backing up to a trailer. We also offer dash cams and side-view cams, both of which are very smart additions to a vehicle like this one.
Floor mats
No matter how well you treat your Hummer, you're eventually going to get involved in some sort of truck-like activity that gets you and/or it dirty. When that happens, it's a good idea to have a set of WeatherTech Floor Mats on board. These incredibly durable mats trap moisture, contain dirt, and keep your factory carpets looking good.
Security and remote start systems
We can't imagine who'd be crazy enough to steal from the average Hummer owner, but hey, it's a crazy world. Installing a security system in your H1 isn't easy (security systems rarely are), but it's definitely a good idea. Our Crutchfield Advisors can help figure out what you need to get the job done, but we usually recommend taking your truck and new gear to a professional installer.
Let's get started!
Ready to shop? Use our vehicle selector to find the gear that will fit your car or truck. If you have questions of your own, give us a shout via phone, chat, or email