1994-1997 Honda Accord
Upgrading the stereo system in your Accord
1994 • 1995 • 1996 • 1997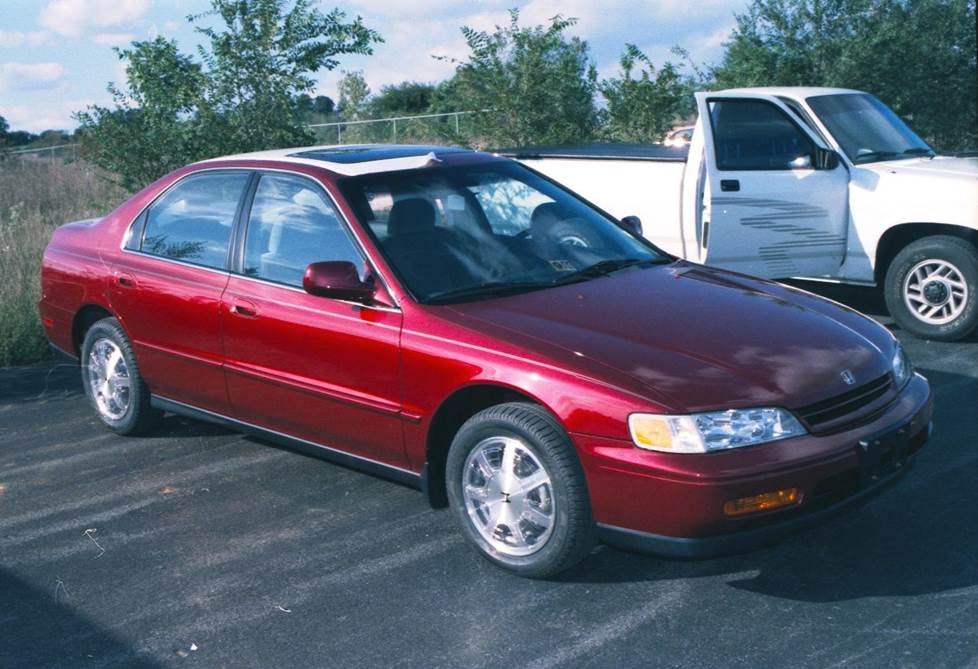 In brief: This Crutchfield Research Garage article gives you an overview of your Accord's stock stereo system and your aftermarket upgrade options. We'll tell you all about:
Then, use our vehicle selector to find the gear that will fit your Honda.
Overview of the Honda Accord
Sales figures aren't the only way to measure a vehicle's popularity. Theft statistics work surprisingly well, too. And when you look at those, you'll find that the fifth-generation Honda Accord is the Ford F-150 of stolen cars. Has been for years, actually, which might be the most backhanded (underhanded? red-handed?) compliment ever paid to an automobile.
The fact that these cars are twenty years old and still being stolen is just remarkable. It's like finding out that people are risking jail time to steal VCRs. Well, maybe not, since Accord parts are worth money and people seem to want them, but you get the idea.
These Accords have always been popular in one way or another, though, because they were (and are) terrific cars. Available in coupe, sedan, and wagon variants, the 1994-1997 Accord offered attractive styling, sweet handling, smart ergonomics, and VTEC performance, plus plenty of other wonderful qualities – including that legendary Honda quality.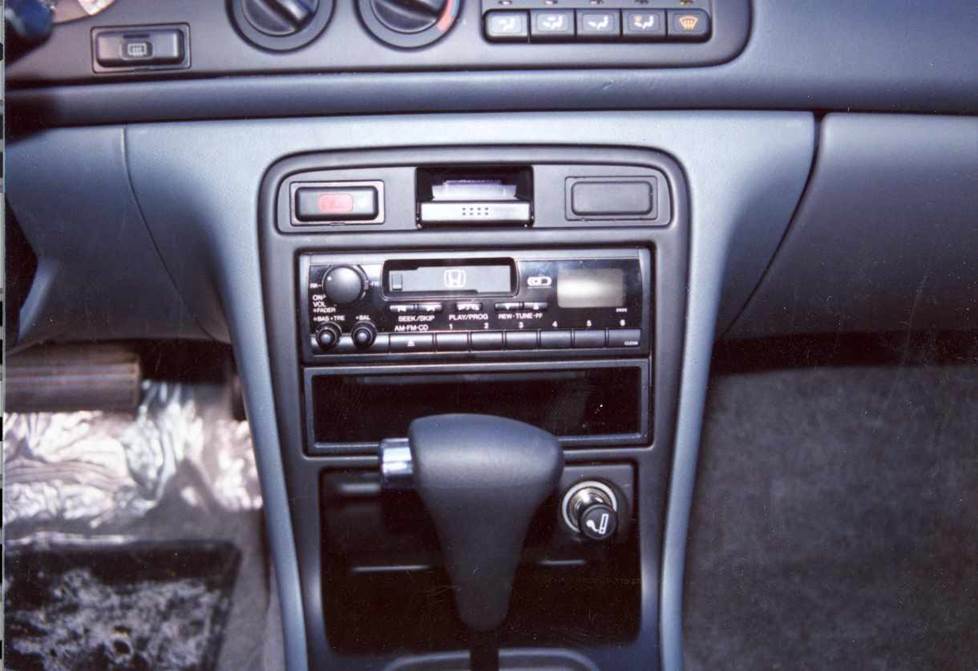 The factory radio is a pretty basic unit. Replacing it isn't hard, but there are a few steps involved (Crutchfield Research Photo)
The factory stereo system
The Accord's factory audio gear was pretty much standard-average for the day, which means cheap, weak, and tinny. Some DX models weren't even equipped with factory stereo gear, so if you have a DX with a stereo, you're probably working with the cassette deck or CD receiver the dealership (or a previous owner) installed.
Whatever's in there, it's probably not worth keeping at this point, especially if you store your music on a phone or other device. So if you're still enjoying your Accord, enjoy your digital tunes with a new receiver and speakers. And since you don't want to lose your car after installing a new stereo, consider a security system. Numbers don't lie.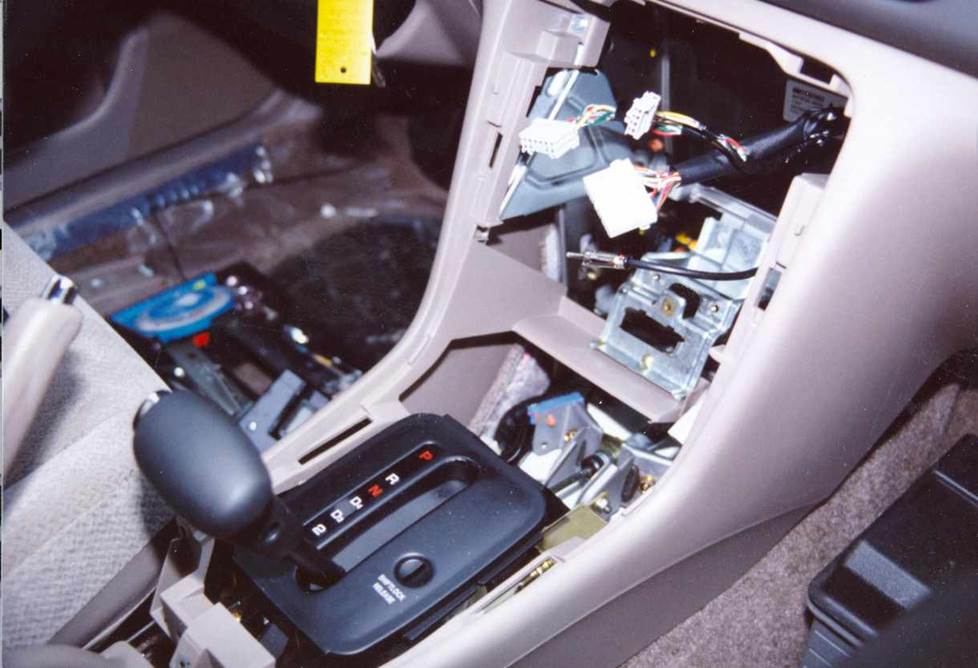 And when we talk about steps, we mostly mean the ones involved in removing the factory console (Crutchfield Research Photo)
Removing the Accord's factory radio
A healthy variety of single-DIN (2" tall) and double-DIN (4" tall) receivers will fit in the Accord's dash. If you want to go retro, it's possible to install a shaft-style receiver, too, but most people are going to go with the first two, so we'll focus on those. If you need it, the shaft-style install info can be found in the illustrated Crutchfield MasterSheet instructions that are included free with your stereo purchase.
The process of getting the old one out and putting the new one in isn't hard, but there are several steps involved, so it's important to stay organized. You'll also want be patient when you're pulling and prying on the plastic panels. Honda has always built tight cars, and this is old plastic, so be careful.
You'll start by setting the parking brake and disconnecting the negative battery cable to prevent any electrical short. Once the car is secure and ready to work on, open the center console lid and pry open the bottom door of the console with a flat-blade screwdriver. Remove the two Phillips screws you find under this door.
Detailed stereo and speaker removal instructions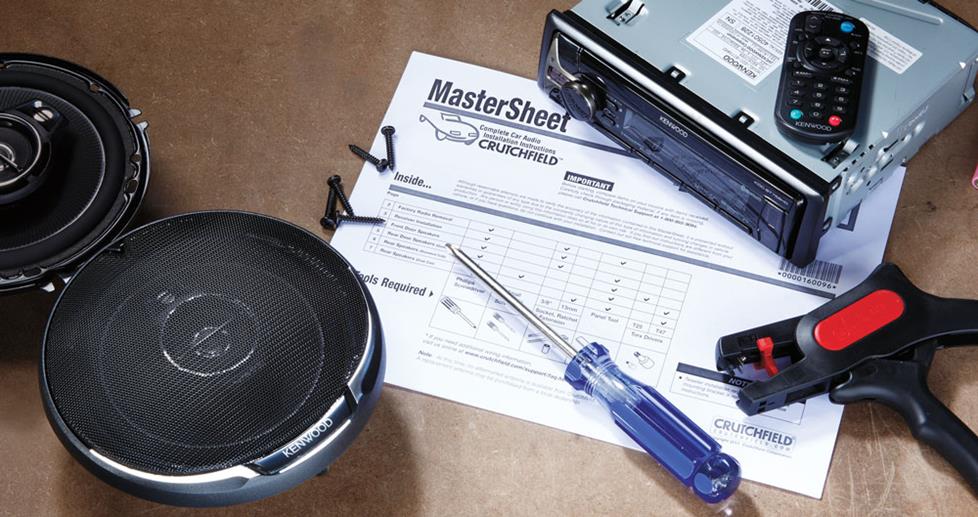 With step-by-step disassembly instructions and plenty of up-close, detailed photos, our exclusive
Crutchfield MasterSheet
™ takes the guesswork out of removing the factory stereo and speakers. It's free with your Crutchfield order, or you can purchase one separately for just $9.99.
Open the cupholder door and pull upward to unsnap it. Remove the cupholder, then remove one Phillips screw from the driver's side of the cupholder cavity. If your car has a coin tray instead of a cupholder, the job's basically the same — pry up on the tray, release the retaining clips and remove it. Either way, you'll see two Phillips screws on the bottom of this cavity. They're fine where they are and you don't need to remove them.
You'll need to remove the console itself next. Lift up on the rear portion of the console while pulling toward the rear of car to unsnap it. Lift the rear console over the parking brake lever and remove it. A blanket or an old towel will come in handy to protect it while it's sitting on the garage floor.
The console swoops up to meet the receiver, so you still have a few more panels to deal with before you're ready to swap out the old receiver. Remove two Phillips screws from the rear edge of the shifter/receiver trim panel, pull out the ashtray, and remove one Phillips screw from the ashtray cavity.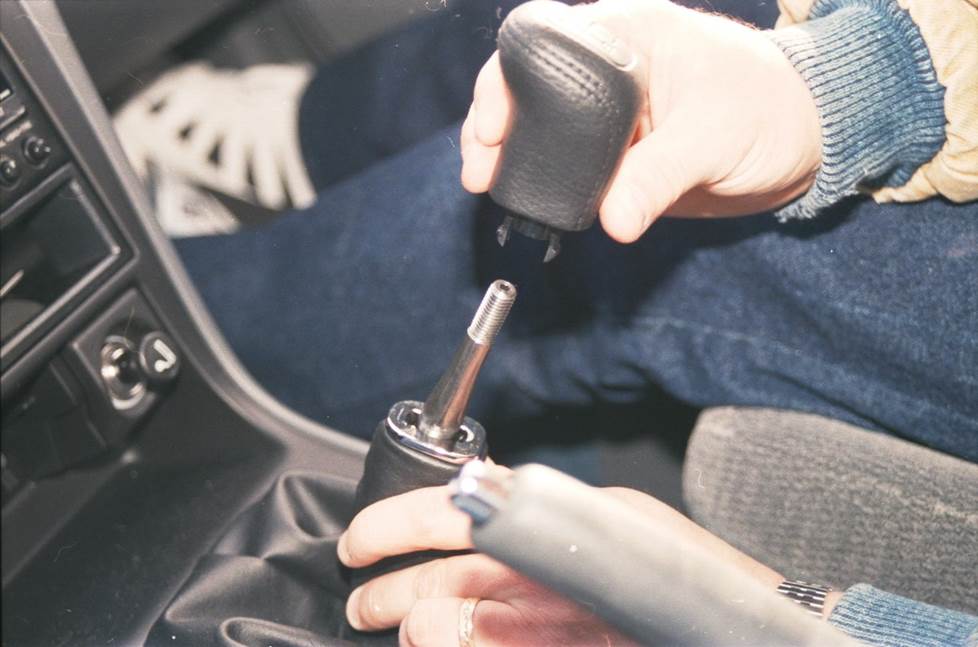 If you have a stick-shift Accord, you'll need to unscrew and remove the shifter knob (Crutchfield Research Photo)
Move the shifter to its farthest rearward position (if the car has a manual transmission, just remove the shifter knob), then lift up the rear portion of the shifter/receiver trim panel and carefully release the panel clips from the top and sides of the panel. Disconnect the harnesses to the hazard light switch, clock, and cigarette lighter, then remove the trim panel.
To finish up this part of the process, remove two 8mm machine screws from below the factory radio/pocket assembly and pull the whole assembly out of the dash. Disconnect the electrical and antenna connectors and set the old radio aside.
As noted earlier, you can install a single-DIN or double-DIN receiver in your Accord. You'll need a dash kit to do it, and the instructions you'll need to attach and install your new receiver will be found there and in your MasterSheet. If you have questions, your Crutchfield purchase comes with lifetime tech support, so give us a call and let our experts help you out.
Tools needed: Phillips screwdriver, flat blade screwdriver, 8mm socket, ratchet & extension
Steering wheel audio controls
It's relatively easy to retain the steering wheel audio controls when you install a new stereo in your Accord. When you enter your vehicle information, our database will choose the adapter you need to make your factory steering wheel controls work with your new receiver.
Shop for car stereos that fit your Honda Accord DX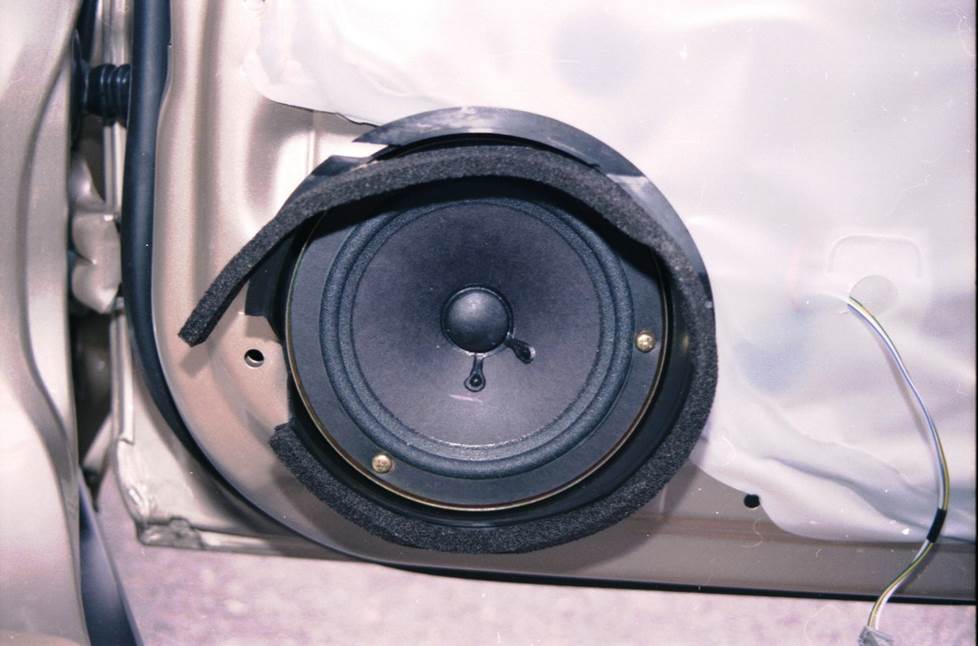 A close-up view of the Accord wagon's rear door speakers (Crutchfield Research Photo)
Removing the Accord's factory speakers
Your Accord has speakers in the front doors, rear deck (coupe and sedan), and rear doors (wagon), plus tweeters on either side of the dash pad.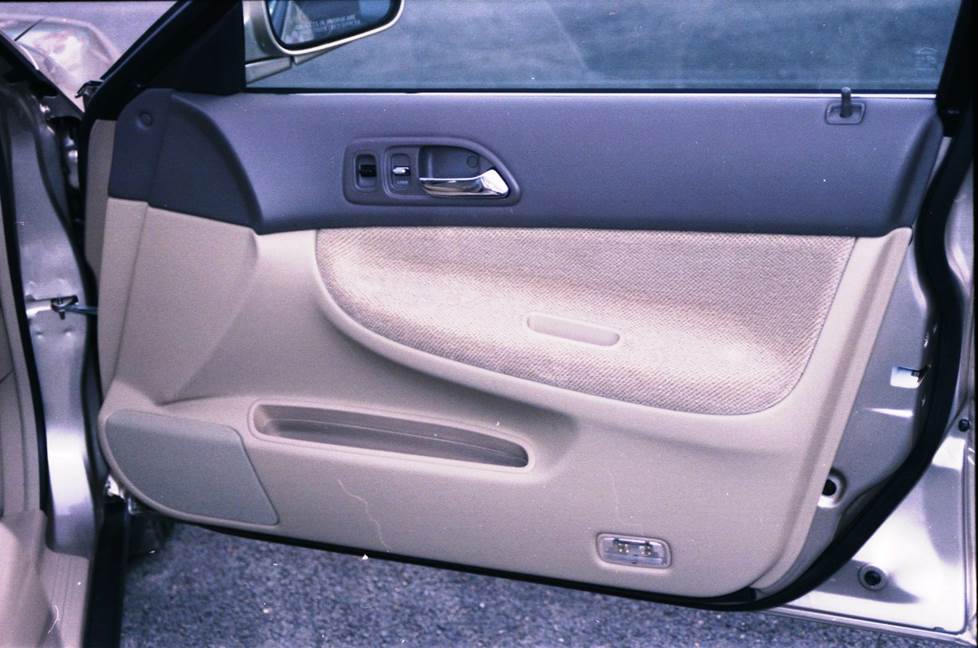 All three Accord models have speakers in the front doors (Crutchfield Research Photo)
Removing the front door speakers
All Accords have front door speakers than can be replaced by 5-1/4" or 6-1/2" aftermarket models. Some 6-1/2's (we'll show you when you shop) come with a Honda-style mounting bracket, which must be used when installing your new speaker. If the new speakers you want don't include these brackets, don't worry. We'll include them and the needed wiring harnesses at a hefty discount.
In general, removing and replacing the speakers isn't hard, but it is easier in some Accords than others. If your car is a DX model (or an EX coupe) and you have dealer-installed speakers, you can get to the speaker location by prying off the grilles. If you have an EX sedan or any LX with factory-installed speakers, you'll need to remove the entire door panel.
Removing a speaker grille can be accomplished with a panel tool and a smidgen of common sense, so we'll skip forward to door panel removal process. Common sense comes in handy here, too, but you'll also need a few more tools, not to mention the illustrated, step-by-step disassembly instructions found in your Crutchfield MasterSheet.
To remove the door panel, you'll start by prying out the screw cover in the door release trim and removing the Phillips screw behind it. Slide the door release trim toward the front of the car to release it from the door and, if your car has power windows, disconnect the power lock connector. Disconnect the door release rod from the handle and remove the assembly. Be careful here, because you don't want to damage any of these parts and pieces. Work patiently, and you'll be fine.
The next step depends on whether you have the power options package or an old-fashioned window crank. If you have the power doors, pry out the screw cover in the switch panel pull cup and remove one screw behind it. Lift the switch panel and disconnect the wiring harnesses, then remove it. If your car has manual windows, grab a (clean) shop rag and use a "shoeshine" motion to release the "C" clip on the rear of the window crank until it's loose enough to remove.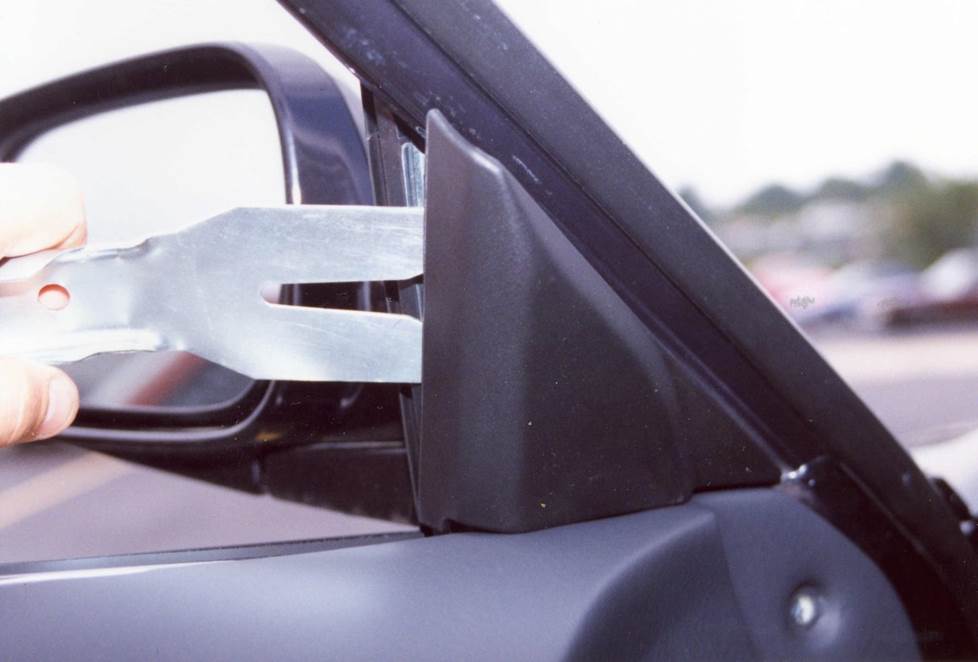 Removing the front door sail panel is a lot easier if you roll the window down first (Crutchfield Research Photo)
With that out of the way, use a panel tool to pry off the sail panel, starting at the top. This is a lot easier with the window down, by the way. Next, you'll remove the retaining clip in the upper front corner of the door panel by inserting your panel tool between the door and the door panel, around the clip, and prying outward. Pry out the door panel to release the retaining clips around the edges of the panel. Lift the door panel upward and off window channel, then disconnect the courtesy light connector (if equipped), and remove the door panel.
And now, it's time to deal with the speaker. Remove three Phillips screws securing it to the factory bracket, then pull it out, disconnect it, and set it aside. Depending on the depth of your new speakers, you may have to cut out the back of the plastic cups that you'll find in the door so that the new speakers will fit. It's not nearly as bad as it sounds, trust us.
Connect the wiring adapter to the new speaker, then secure the speaker to the mounting bracket. Your speaker might not come with screws, so check the box before you start and acquire mounting screws if you need them.
Once the speakers are hooked up, test to make sure they're working properly. If they are, start putting the doors back together.
Tools needed: Phillips, panel tool, shop rag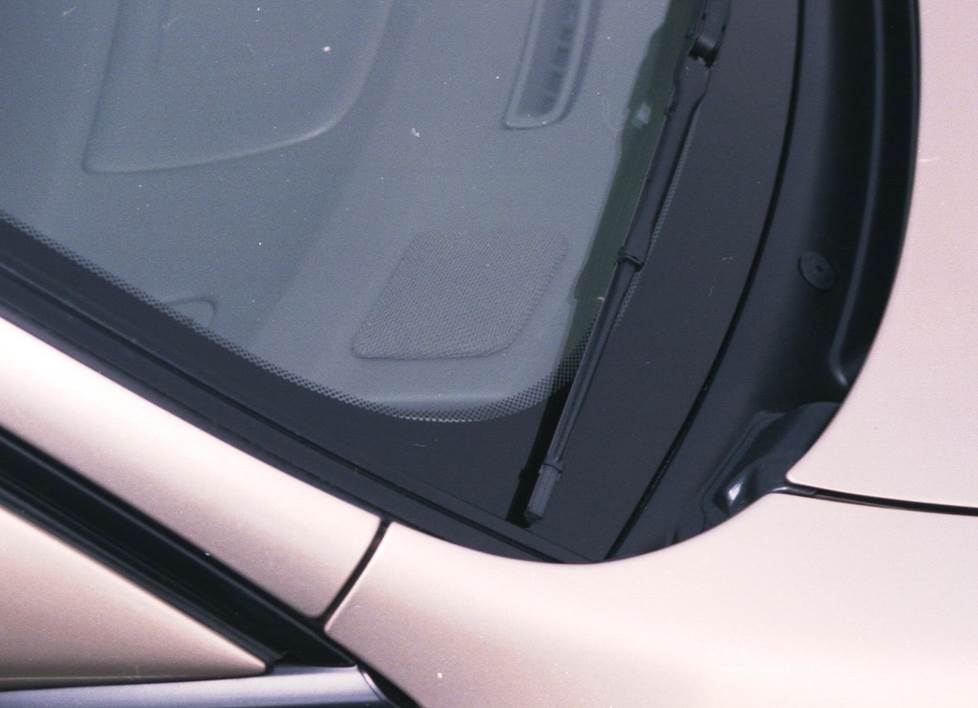 The dash tweeters are easy to remove, but you'll need to be a bit creative to install the replacements (Crutchfield Research Photo)
Removing the dash tweeters
The Accord's factory tweeters are located in the extreme front corners of the dash on EX and LX models. They're easy to remove with a panel tool, but you'll need to use universal backstraps, hot glue, or silicone to secure aftermarket models here. Those new tweeters will need to be less than 2" diameter, by the way.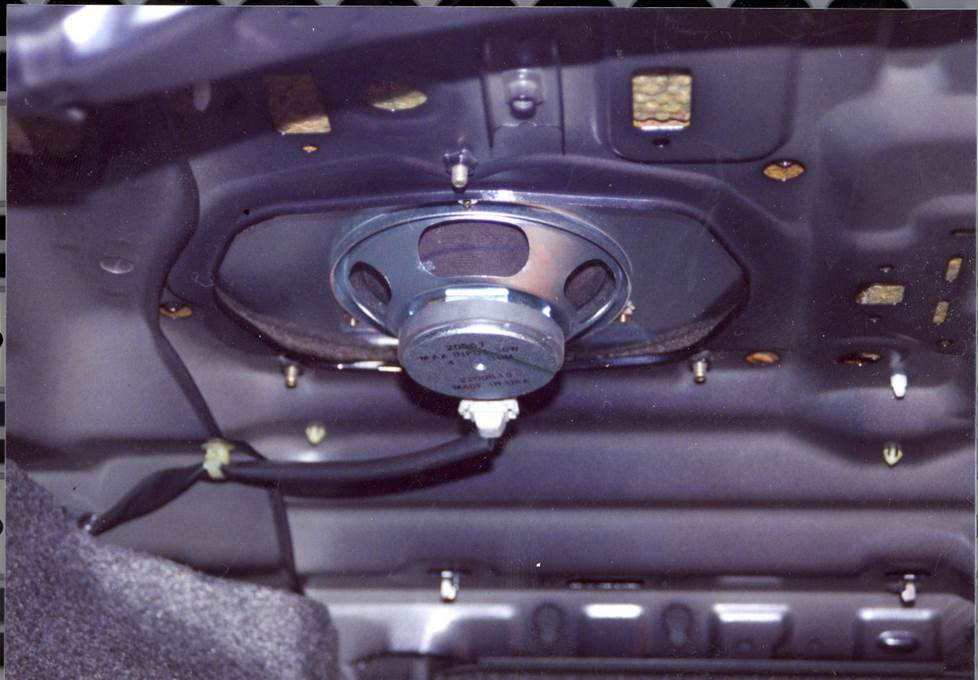 You'll need to find out what size the factory deck speakers are before you order their replacements (Crutchfield Research Photo)
Removing the rear deck speakers (Coupe and Sedan)
In the Accord coupe and sedan, the rear speakers are found in the back deck. They were probably decent back in the day, but that location gets a ton of sun, and blazing sunlight can be hard on speakers. If the old speakers haven't turned to dust already, they're probably about to, so it's a good idea to replace them. A variety of 6-1/2", 6"x9", or 5-1/4" aftermarket models can work here, and if you need an adapter bracket to secure the new speaker, you'll get it at a massive discount when you buy from Crutchfield.
Accord EX and LX models will have factory speakers, but the same isn't necessarily true for Accord DX models. If you can't see grilles, you don't have speakers, so you'll have to acquire brackets and grilles from a dealership or online retailer. If your car does have grilles, the factory speakers are either 6-1/2" or 6"x9" models, so check to see what your car has before you order replacements. If you're having a hard time with that, measure the mounting-bolt pattern, then give us a call.
To remove those old speakers, climb inside the trunk and remove three Phillips screws securing the speaker grille to the trunk. Do this for each speaker. Now get out of the trunk and climb into the backseat. Lift off the grilles (you might need to use a panel tool to help) and remove three exposed Phillips screws from each speaker.
Connect the wiring adapters to your new speakers and the factory connectors. Then install the new speakers. Be sure to test them before you climb back into that trunk.
Tools required: Phillips screwdriver, panel tool (maybe)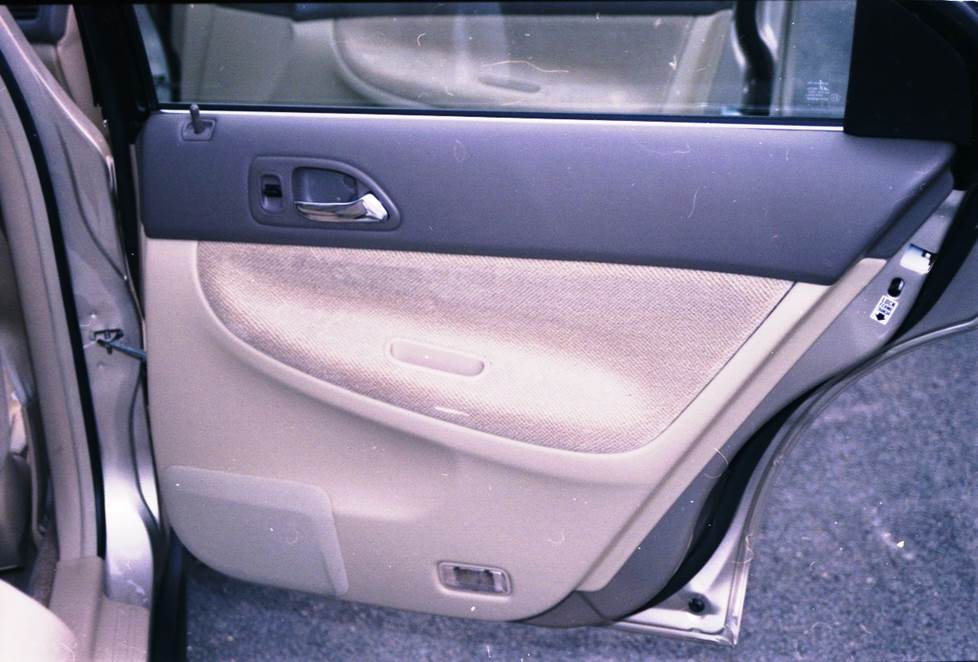 The incredibly cool Accord wagon has speakers in the rear doors. (Crutchfield Research Photo)
Removing the rear door speakers (Wagon)
If you have an Accord wagon of this vintage, you have a very cool car and, because we like wagons a lot around here, we're kinda jealous. Not enough to steal your car, of course, and we're not just saying that because our corporate attorney insisted on it. We are quite content to admire your Accord wagon from afar, and we'll admire it even more when you replace the rear door speakers.
The wagon's rear door speakers can be replaced by 5-1/4" or 6-1/2" aftermarket models, and the process of doing so is almost identical to the work you'll do on the front doors. Complete instructions can be found in your MasterSheet, of course. It's not a hard job, but it is important to be careful with those slightly vintage pieces of plastic you'll be prying on and removing.
Another tip: check to make sure the speaker wires don't interfere with window operation or the door locks before you put the doors back together.
Tools needed: Phillips, panel tool, shop rag
Shop for speakers that fit your Honda Accord DX
Bass in your Accord
Better bass isn't just for kids anymore. For one thing, the original big bass kids are all adults now, so there's that, but there's also the fact that music lovers of all ages have discovered that rich, full bass brings out the best in any kind of music.
If you're adding a boxed subwoofer set-up to your Accord coupe or sedan, you'll find a decent amount of space to work with in the trunk, but measure carefully before you order or build anything. You also might want to look into a compact powered subwoofer, which will allow you to improve your bottom end without eliminating your cargo capacity.
If you have an Accord wagon, you obviously have a lot more space to play with, so go nuts if you want to. And when you're done, go to our Custom Car Showroom, submit your story and photos, and we'll add you to the collection. That's not just for wagons, either. Accord coupes and sedans are welcome, too!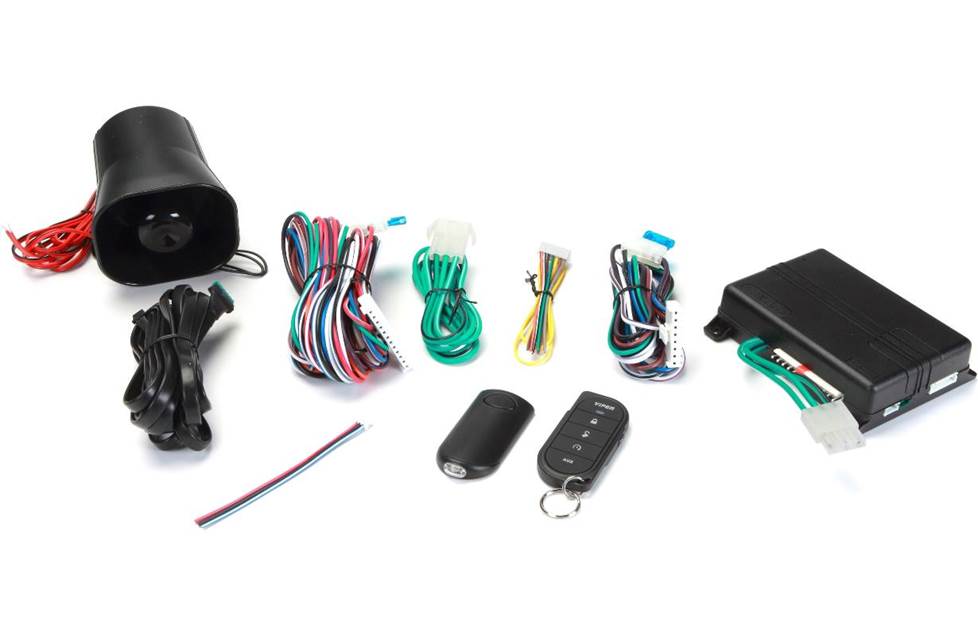 A security system is a great thing to add to an Accord of this vintage. Give us a call and we'll help you choose the system that's right for your car.
Other options for your Accord
Here are some other ways to add new life to your Honda Accord:
Add an amp (or two)
A new 4-channel amplifier will help you get the most out of your new speakers. You'll get cleaner power (and a lot more of it), which will result in much, much better sound.
Add a car security system
You look at your Accord and see a cool car that's cheap and fun to drive. A would-be thief sees a pile of valuable parts. With a car like this, a security system is an investment that's well worth the money. Installing a security system isn't easy, but it's definitely a good idea – especially when you invest in aftermarket stereo gear. Our Crutchfield Advisors can help you find what you need to get the job done, but we usually recommend taking your car and new gear to a professional installer.
Let's get started!
Ready to shop? Use our vehicle selector to find the gear that will fit your car or truck. If you have questions, give us a shout via phone, chat, or email