1997-2000 Ford F-150 Standard Cab and Super Cab
Upgrading the stereo system in your F-150
1997 • 1998 • 1999 • 2000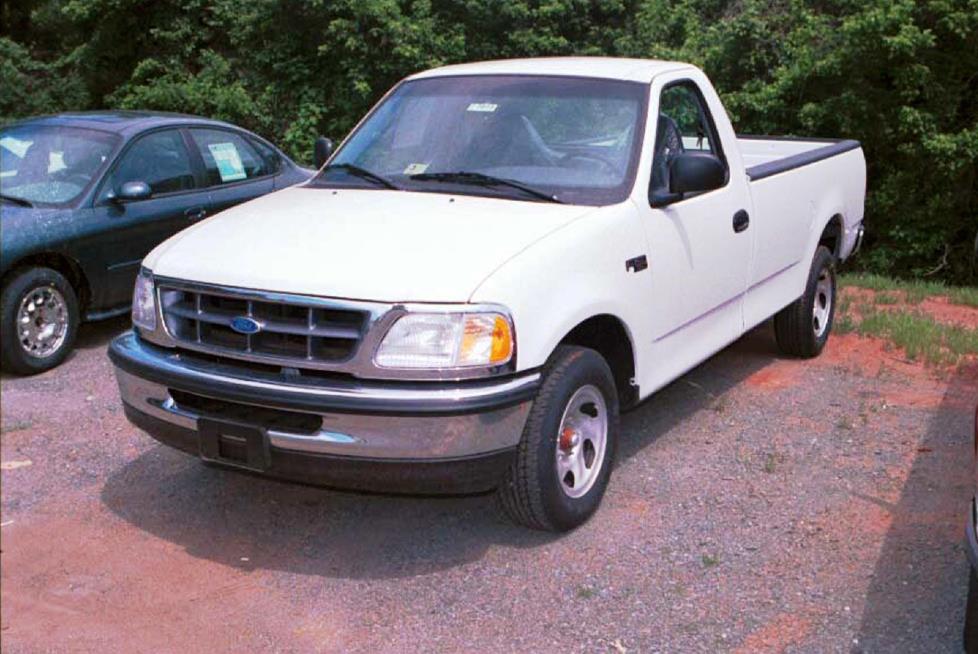 In brief: This Crutchfield Research Garage article gives you an overview of your F-150's stock stereo system and your aftermarket upgrade options. Use our vehicle selector to find the gear that will fit your truck.
Overview of the Ford F-150
The idea of a comfortable, reasonably efficient truck wasn't exactly new in 1997, but as more Americans gravitated towards the idea of a truck as an everyday vehicle, it went from being a quaint notion to an absolute market imperative. Nice colors and fancy hubcaps weren't enough anymore, so Ford grabbed a blank sheet of paper and put their best-selling F-150 through its first ground-up redesign in almost 20 years.
With an attractive, aerodynamic (for a truck, anyway) design, a spaceous, ergonomic interior, and the usual vast array of available options, this F-150 was kind of a game-changer in the light-truck field. Even today, these trucks are still sharp-looking, and judging by the number of them you see on the road, they're every bit as tough as the ads said they were
The F-150's overall design has aged well, but the factory stereo systems have just…aged. If you're tired of old tech and scratchy sound, there are lots of great options available. Your truck probably still has a lot of miles left in it, so why not make them more enjoyable with a brand-new stereo?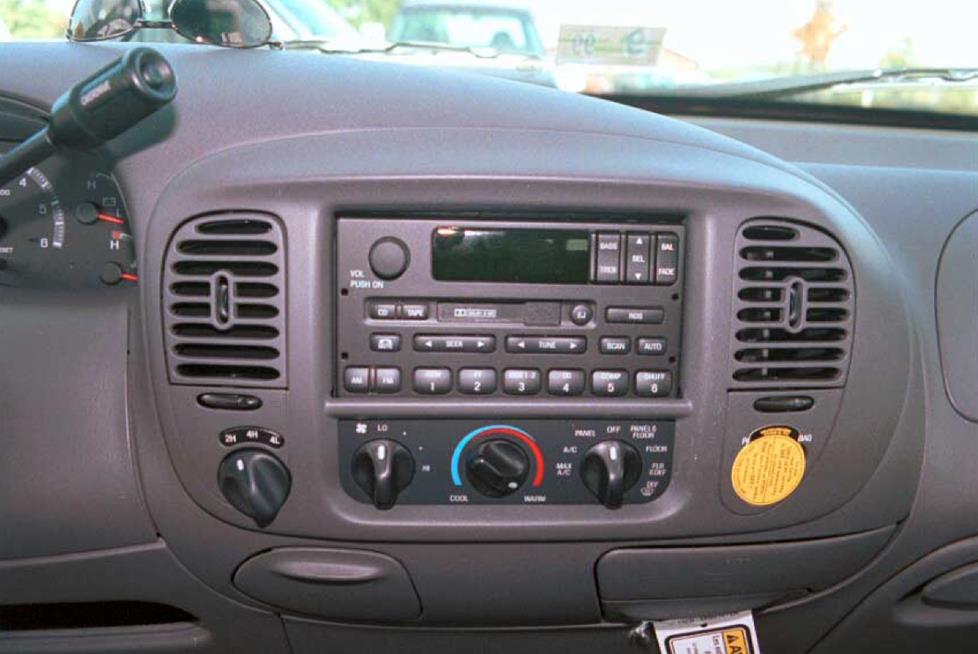 The F-150's factory radio is a pretty basic unit (Crutchfield Research Photo)
Factory system
The F-150 was offered with a standard AM/FM radio, an optional AM/FM/cassette receiver, and a high-end AM/FM/cassette/CD receiver, which included a separate 6-disc changer. When new, these receivers were adequate. Now, they're almost antiques. Your stereo upgrade should definitely start here.
You have a wide variety of aftermarket stereos to choose from, but there are some things to keep in mind as you're shopping. Plenty of single-DIN (2" tall) receivers will fit in the F-150, but video receivers with retractable-screens won't work due to the dash configuration. If you want video and/or navigation, you can install a double-DIN receiver, but you'll have to modify your truck's sub-dash to create the space most of them need. Be aware — once you perform that modification, you won't be able to re-install the factory radio.
When you buy your receiver from Crutchfield, you'll get a big discount on the dash kit and wiring harness you need to install it in your F-150. You'll also get our Crutchfield MasterSheet, which includes detailed disassembly instructions for the receiver and speaker locations.
We'll cover both the Standard Cab and Super Cab versions of the F-150 in this document, since the only real difference between them is the rear speaker configuration.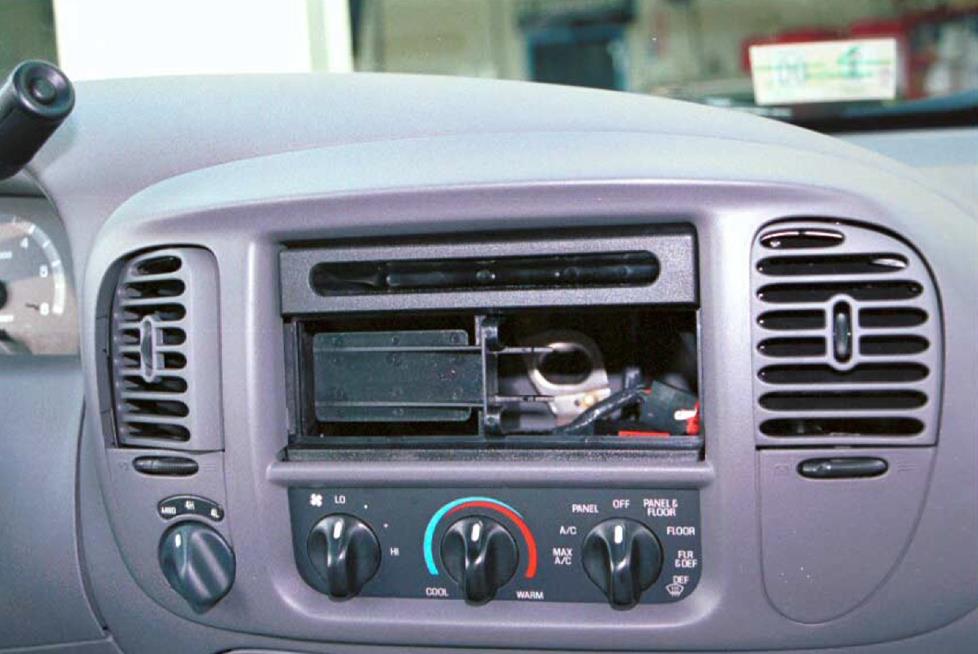 This kit allows you to install a single-DIN stereo. A double-DIN kit is also available. (Crutchfield Research Photo)
Replacing your factory radio
Removing the stock radio is relatively simple. Carefully pull out around the edges of the radio's trim panel to release the retaining snaps. Then, press downward on the top of the right side air duct to get the panel out of the way. Move the panel downward just enough to insert DIN tools into the holes on each side of the radio. Push the DIN tools approximately 1" into the holes, until you hear a click from each side. The click tells you that you're in there, so spread the tools apart slightly and pull the radio out of the dash. Once it's free, disconnect the harness.
On 1997-98 models, if the factory radio has a "CD" button, the speaker connector you'll use with an aftermarket receiver is located below and just to the left of the radio. The connector, which is black, needs to be unclipped and disconnected from its mating connector. Once that's done, you can follow the instructions supplied with your Crutchfield wiring harness.
Detailed stereo and speaker removal instructions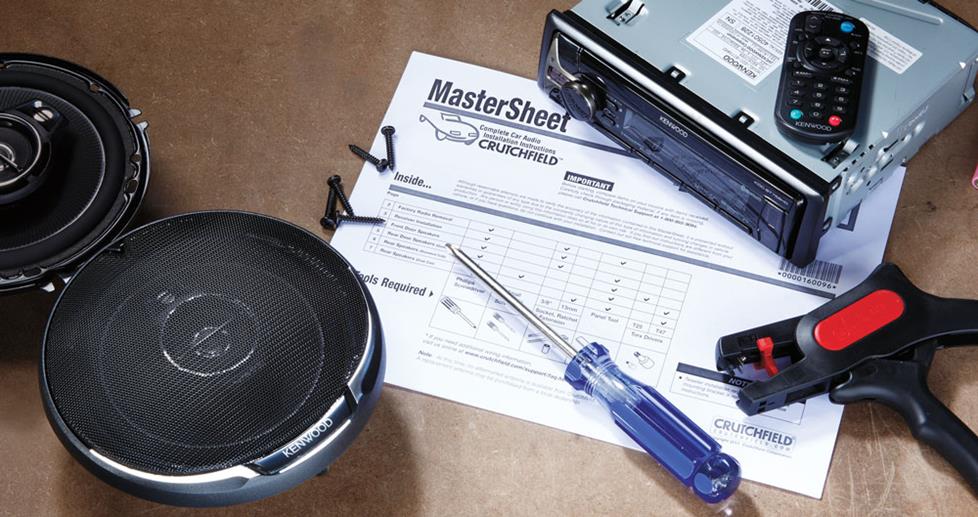 With step-by-step disassembly instructions and plenty of up-close, detailed photos, our exclusive
Crutchfield MasterSheet
™ takes the guesswork out of removing the factory stereo and speakers. It's free with your Crutchfield order, or you can purchase one separately for just $9.99.
When you install a new stereo, you can either bypass the factory Premium Sound amplifier and connect directly to the speakers (for better fidelity) or retain the factory amp (a simpler installation). The Crutchfield wiring adapter harness may be used for either. To bypass the factory amplifier (behind the lower center console), just unplug the connectors from the amp and allow them to hang. Connect the wiring adapter harness to the second set of harnesses, which can be found tied below the factory radio location.
Your dash kit and wiring harness will include complete instructions. If you have questions, you can always call our Tech Support team for help and advice. They're available seven days a week and you'll have access to our free tech line for the life of your receiver.
Tools needed: DIN tools
Steering wheel audio controls
It's relatively easy to retain the steering wheel audio controls when you install a new stereo in your F-150. When you enter your vehicle information, our database will choose the adapter you need to make your factory steering wheel controls work with your new receiver.
Shop for car stereos that fit your Ford F 150
Replacing your factory speakers
The F-150 doesn't have a lot of speakers, but the ones it has are reasonably easy to replace.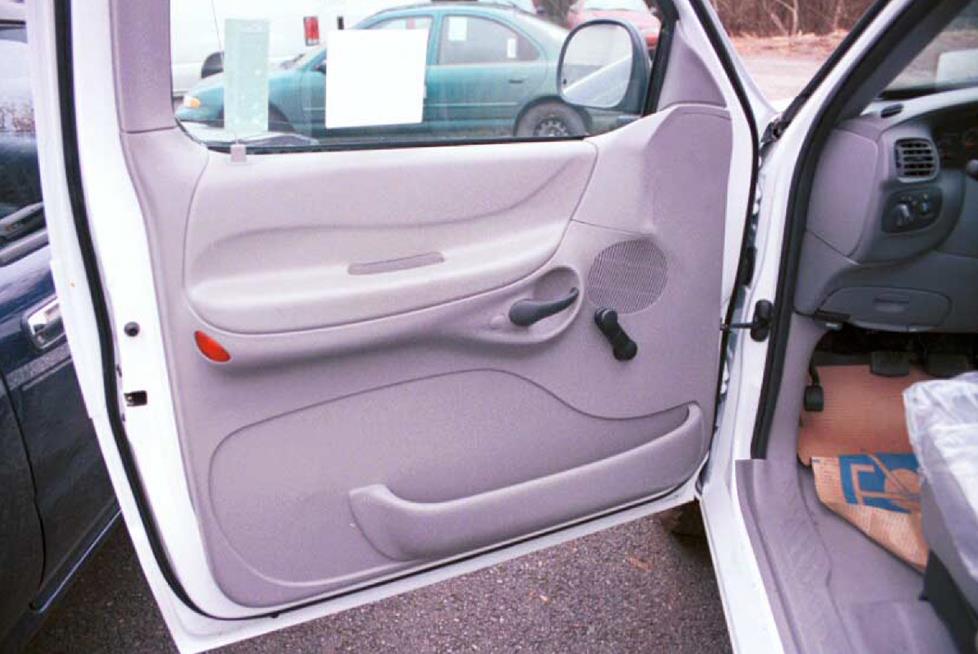 The front door speakers are the same on both versions of the F-150 (Crutchfield Research Photo)
Front door speakers
There are some nuances to replacing the F-150's door speakers, but there's nothing terribly complicated about it. What you need to do does depend on which truck you have, though. If your truck is a 1997 or 1998 model, it's a bit different from the 1999-2000 models. And there are some procedural differences depending on whether your truck is equipped with manual windows or power windows.
Basically, we're talking about the difference between removing a window crank and removing a power switch panel, neither of which are hard things to do. All the step-by-step details, plus handy illustrations, can be found in your Crutchfield MasterSheet.
The factory speakers are Ford's standard 6"x8" oval models, and they can be replaced by same-size or 5-1/4" aftermarket full-range speakers. When you order from Crutchfield, we'll make sure you also get the wiring harnesses you need and mounting brackets if you're installing 5-1/4" speakers.
You can install a set of component speakers in this truck, but you'll need to do some fabrication work to mount the tweeters. Depending on your level of DIY expertise, you might want to hand that job off to a professional installer.
Tools needed:
Power windows — small flat blade screwdriver, panel tool, 5/16" and 9/32" sockets, ratchet and extension, Torx T-15 driver
Manual windows — small flat blade screwdriver, panel tool, 9/32" socket, ratchet and extension, Torx T-20 driver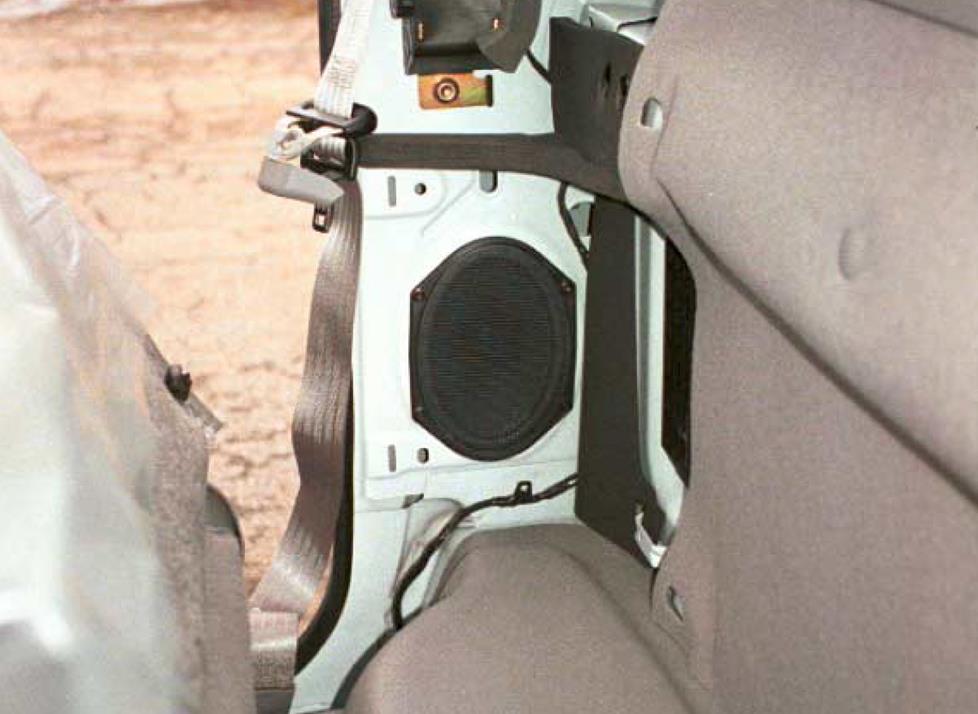 The Standard Cab F-150 has speakers in the rear cab corners (Crutchfield Research Photo)
Rear speakers
All 1997-00 F-150s feature factory 6" x 8" speakers, but with two cabs available, there are some differences in the upgrade process.
Standard Cab
The F-150 standard cab's rear speakers can be found behind the seats, on the lower corners of the cab wall. Is it the best place to put speakers? Well, no, but a lot of trucks don't have any rear speakers at all, so give Ford some credit for trying. A better set of speakers can make a difference back here, so we strongly recommend replacement. You'll need to remove some panels, but the overall process is reasonably easy to deal with. You can replace the factory 6"x8" oval models with same-size or 5-1/4" aftermarket speakers, and we'll make sure you order the harnesses and mounting brackets you'll need to install them.
Some F-150's are factory-equipped with a storage compartment on the rear floor. If yours is one of them, you'll need to get that out of the way before you proceed with the rest of the disassembly process. It's an easy job that starts with pulling the seatbacks forward, then opening the compartment lids and removing the trays. Remove the three 10mm bolts securing the compartment to the floor, then remove the compartment and get on with the process of getting at the factory speakers.
Before you put it back together, test the speakers to make sure they're working properly. Disassembling this location isn't hard, but that doesn't mean you want to do it twice.
Tools needed: small flat blade screwdriver, panel tool, 10mm and 15mm sockets, ratchet and extension, Torx T20 driver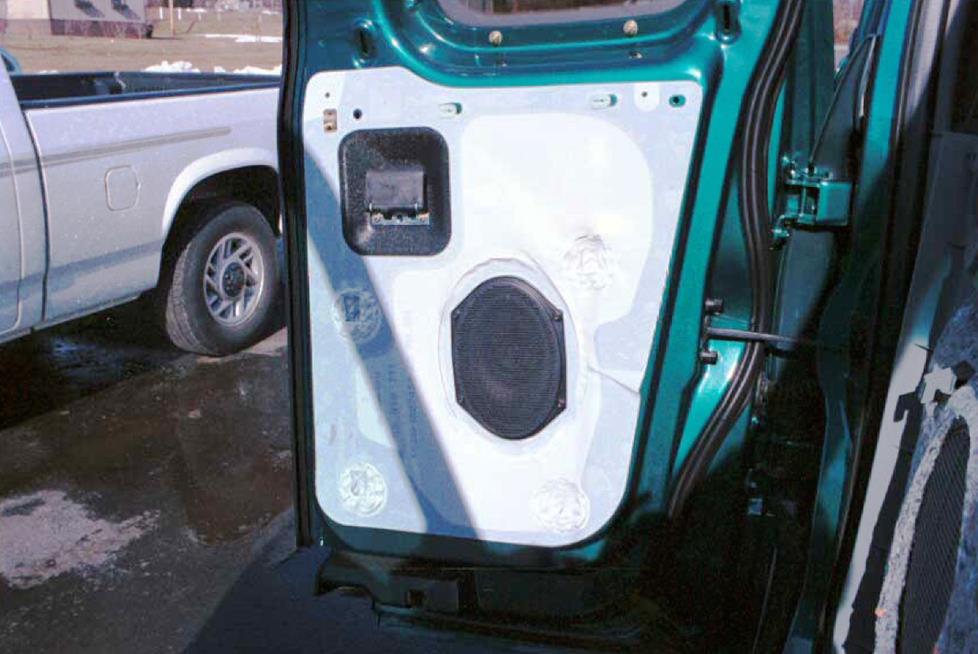 The Super Cab has speakers in the rear door and rear side panel (Crutchfield Research Photo)
Super Cab
The Super Cab model featured a rear seat/storage area that was accessible via a third door on the passenger's side. Speaker-wise, you'll find a pair of factory 6"x8" speakers that you can replace with same-size or 5-1/4" aftermarket models. Again, we'll make sure you get the harnesses and mounting brackets you'll need to install them.
Getting to these speakers isn't difficult, but there are a few steps involved, and those steps differ depending on which side of the truck you're dealing with at the time. The driver's side speaker is in a panel behind the front seat, while the passenger's side speaker is in the third door.
The driver's seat folds forward and the third door swings out wide, so they're not hard to access. The key is to stay organized and be patient with the plastic panels. The door is obviously the more complicated of the two, but your Crutchfield MasterSheet contains detailed disassembly instructions for each speaker location. And don't forget to test the speakers to make sure they're working properly.
Tools needed: small flat blade screwdriver, panel tool, 10mm and 15mm sockets, ratchet and extension, Torx T-47 and T-20 drivers
Shop for speakers that fit your Ford F 150
Bass in your F-150
Believe it or not, there is room for a subwoofer box in the F-150 Standard Cab. Not much, really, but some is better than nothing, which is what Super Cab owners get.
In the Standard Cab F-150, the available space measures 42" W x 25" H x 6-11" D (top) to 10-14" D (bottom). The width measurements were taken between the plastic rear side panels and are the maximum width to sit flush against the rear of the cab. The smaller depth numbers are with the seat fully rearward, and the larger depth numbers are with the seat fully forward. If your seat sits somewhere in the middle, you might want to do your own measurements.
If you still use that behind-the-seat space for storing tools and stuff, you might want to look into a compact powered subwoofer. You'll get plenty of bass, without giving up precious interior cargo space.
Shop for vehicle-specific subwoofers for your Ford F 150
Other options for your F-150
Here are some other great ideas for your Ford F-150.
Kick Panel Pods
If you want to add better sound and, more importantly, better sound staging to your truck, install a set of Q-Forms Kick Panel Pods. These custom speaker enclosures fit right into the space where your kick panels are now and, once you install a set of 6-1/2" speakers, will direct great sound up towards your ears. They're available in a variety of colors to match your truck's interior. Installation isn't wildly difficult, but if you're not an experienced DIY-er, professional installation might be a wise investment.
Sound damping
This F-150 is probably one of the sleekest full-size trucks around, but it's still a big vehicle that cuts a big hole in the air. To keep wind noise and road roar from undoing the great work your new stereo is doing, be sure to install Dynamat when you're replacing your speakers. This material is a great way to dampen the sounds you don't like and get more enjoyment out of the ones you do.
Floor mats
No matter how well you treat your truck, you're eventually going to get involved in some sort of truck-like activity that gets you and/or it dirty. When that happens, it's a good idea to have a set of WeatherTech Floor Mats on board. These incredibly durable mats trap moisture, contain dirt, and keep your factory carpets looking good.
Security and remote start
Installing a security system in your F-150 isn't easy (security systems rarely are), but considering how popular these trucks still are, it's definitely a good idea. Our Crutchfield Advisors can help figure out what you need to get the job done, but we usually recommend taking your car and new gear to a professional installer.
Shop for car security systems for your Ford F 150
Find the audio gear that fits your car or truck
Visit our Outfit My Car page and enter your vehicle information to see stereos, speakers, subs and other audio accessories.