1997-2001 Jeep Cherokee
Upgrading the stereo system in your Cherokee
1997 • 1998 • 1999 • 2000 • 2001
In brief: This Crutchfield Research Garage article gives you an overview of your Cherokee's stock stereo system and your aftermarket upgrade options. We'll tell you all about:
Then, use our vehicle selector to find the gear that will fit your Jeep.
Overview of the Jeep Cherokee
When it comes to compact SUV's, the "XJ" Jeep Cherokee was one of the best of its era. The neat, tidy, totally capable design was basically right when it launched in 1984, so the XJ rolled along for quite a while with only minor updates. Jeep enthusiasts were perfectly happy with it as it was, but in an ever-more-competitive marketplace, updates were sorely needed. In 1997, they finally arrived.
The exterior and interior changes were an obvious improvement, but the stylists weren't the only team involved in the revamp. The engineering department got to work on the Cherokee's "NVH" (noise, vibration, harshness) issues by stiffening the frame and reducing wind noise.
While it's still no match for a Lincoln Town Car when it comes to quiet and comfort, the 1997-2001 Cherokee is a practical, rugged truck that gets the job done on the road or off. If you're looking for a reasonably priced, go-anywhere SUV that's ripe for modification, this Cherokee is a terrific choice.
Detailed stereo and speaker removal instructions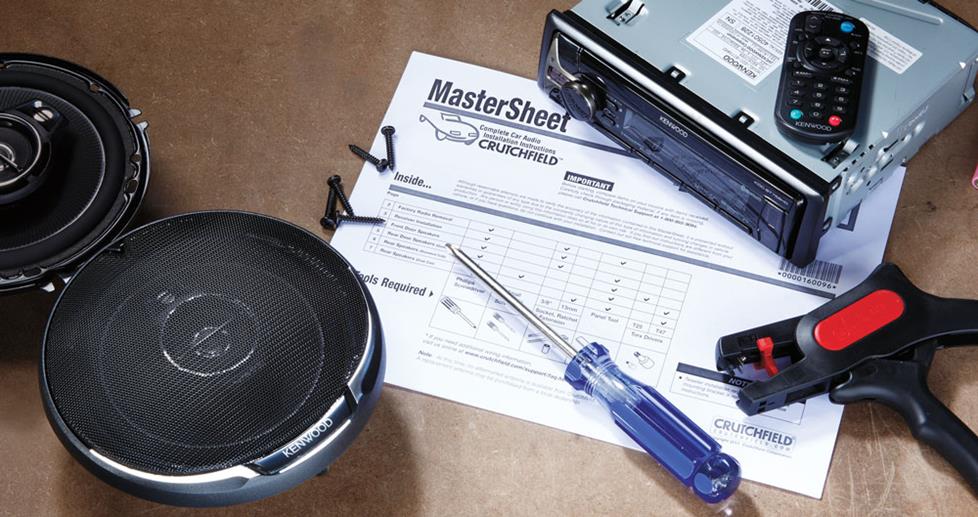 With step-by-step disassembly instructions and plenty of up-close, detailed photos, our exclusive
Crutchfield MasterSheet
™ takes the guesswork out of removing the factory stereo and speakers. It's free with your Crutchfield order, or you can purchase one separately for just $9.99.
The factory stereo system
The revamped Cherokee dash contained either a standard AM/FM receiver or an AM/FM/cassette receiver. The basic speaker package featured two door speakers until 2000, the upgrade (which became the base model after 2000) added two rear roof-mount speakers, and the top-shelf Infinity package added an amplifier, which is located under the rear seat. That amp can be used with a new stereo, but considering its advanced age and not-so-advanced technology, you'll probably want to swap it out for a more powerful aftermarket unit.
Later Cherokees added front door tweeters, but (amazingly enough) we have yet to see a model that's so equipped. If you have, tell us what you know! To learn more about our "crowdsourced" vehicle research process, check out this informative article. If that sound like something you'd want to do, contact us via the email addy in the article.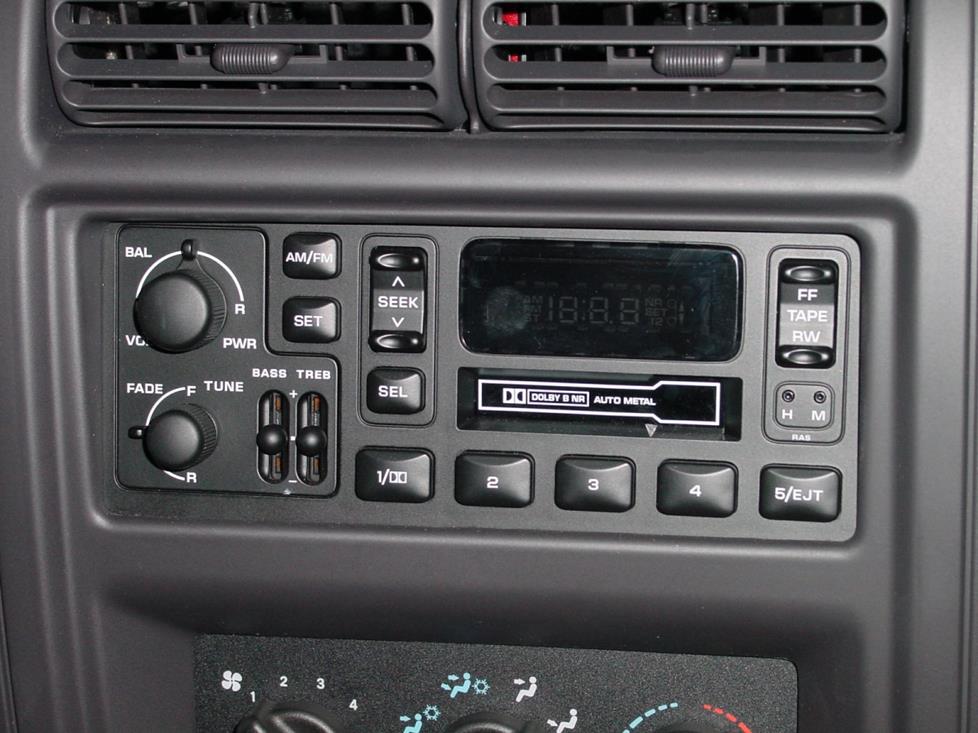 The Cherokee's factory radio is a rather basic piece (Crutchfield Research Photo)
Removing the factory radio
While your Cherokee's dash cavity isn't big enough for a double-DIN (4" tall) receiver, it will comfortably swallow a vast array of single-DIN (2" tall) receivers. You'll need a dash kit to help the new stereo fit the oversized opening, and it's included as part of the deeply discounted installation gear included with stereos purchased from Crutchfield. You'll also save on the wiring harness that connects the new stereo to your factory wiring.
Removing the old radio is relatively easy in the Cherokee. You'll start by carefully prying around the edges of the dash trim panel to release the retaining clips. "Carefully" is an important thing to keep in mind while you're working, because this is some relatively old, brittle plastic and you don't want to break it in a moment of irrational exuberance. Once you've removed the trim piece, remove the two 3/8" hex screws securing the factory radio to the dash, then disconnect the wiring harness and remove the radio.
You'll need to attach the new radio to the installation kit, following the instructions supplied with the kit, then connect the receiver wiring adapter to the receiver following the instructions included with the adapter.
Hold the receiver assembly near the dash and connect the Crutchfield adapter harness to the factory harness, then plug the antenna lead into the rear of the receiver and slide the entire assembly into the dash cavity. Secure it with the two 3/8" screws you removed earlier, then test the receiver to make sure everything's working properly. If it is, carefully reinstall the trim panel.
If your Cherokee is equipped with the Infinity system and you want to use that amp, you'll need to connect the power antenna lead to turn on the amplifier.
Note to hard-core off-roaders: These tips are oriented towards Cherokee owners who spend more time on the highway than they do in the hill country — i.e., most of them. If you're the kind of Cherokee owner who's really serious about off-roading, we'd suggest upgrading your stereo system with weather-resistant marine-rated receivers, speakers, and subs. The installation info is the same, but you'll be installing gear that's built to handle moisture and extreme temperatures.
Tools needed: Panel tool, 3/8" socket, ratchet and extension
Shop for car stereos that fit your Jeep Cherokee
Removing the factory speakers
The Cherokee's factory speakers are located in the front doors and, if you have the 4-speaker system, above the rear hatch. There are some model year variations in the rear roof speakers, so depending on that situation, the overall speaker replacement process can be challenging. It's still well within the capabilities of the average DIY-er, though, so have no fear.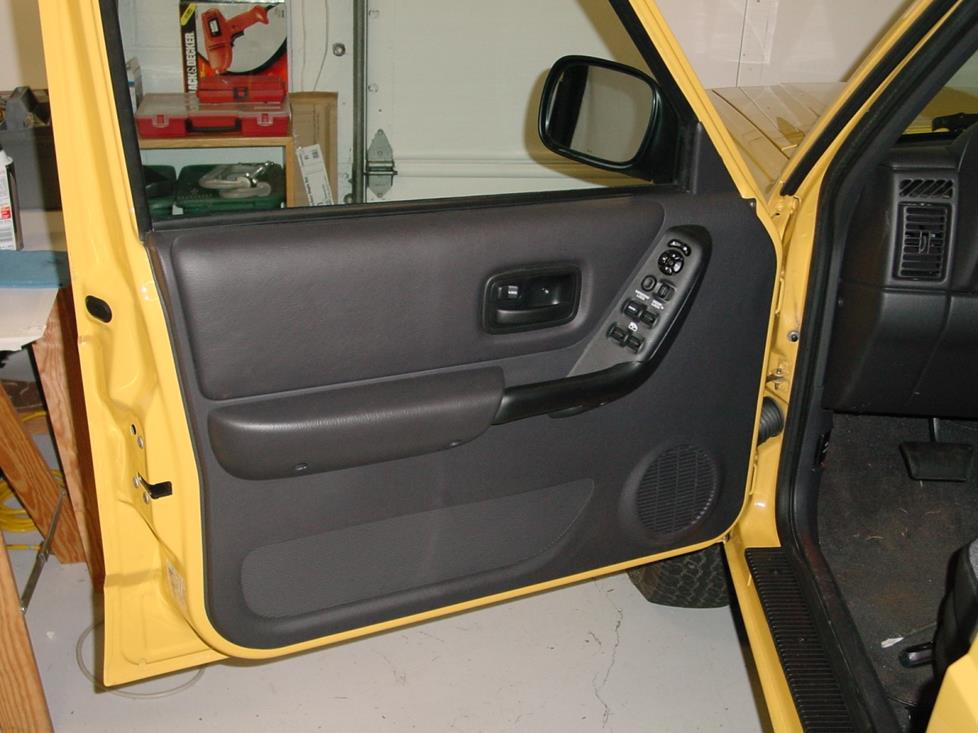 The Cherokee's front doors can house a variety of aftermarket speakers (Crutchfield Research Photo)
Front door speakers
The Cherokee's standard factory front door speakers are Chrysler's somewhat ubiquitous 4-ohm 5-1/4" models. A wide variety of 5-1/4" or 6-1/2" aftermarket speakers will fit behind the factory grilles, but you'll need to re-drill the mounting screw holes.
This isn't terribly difficult, but whenever you're drilling into anything, make sure you know what's around the spot you're working on and make sure you're wearing eye protection while you work.
In addition to the drilling, the speaker replacement process is complicated somewhat by a lot of "fiddly bits" that aren't difficult in and of themselves, but can be a bit tedious and confusing, especially for beginners. You'll be removing a lot of Phillips screws, so it's a good idea to have a tray or old coffee mug handy to keep the screws from wandering off during the removal process.
Your Cherokee will have either power windows or old-fashioned manual windows with a crank. If you have manual windows, make sure you have a shop rag handy to release the C-clip that holds the crank in place.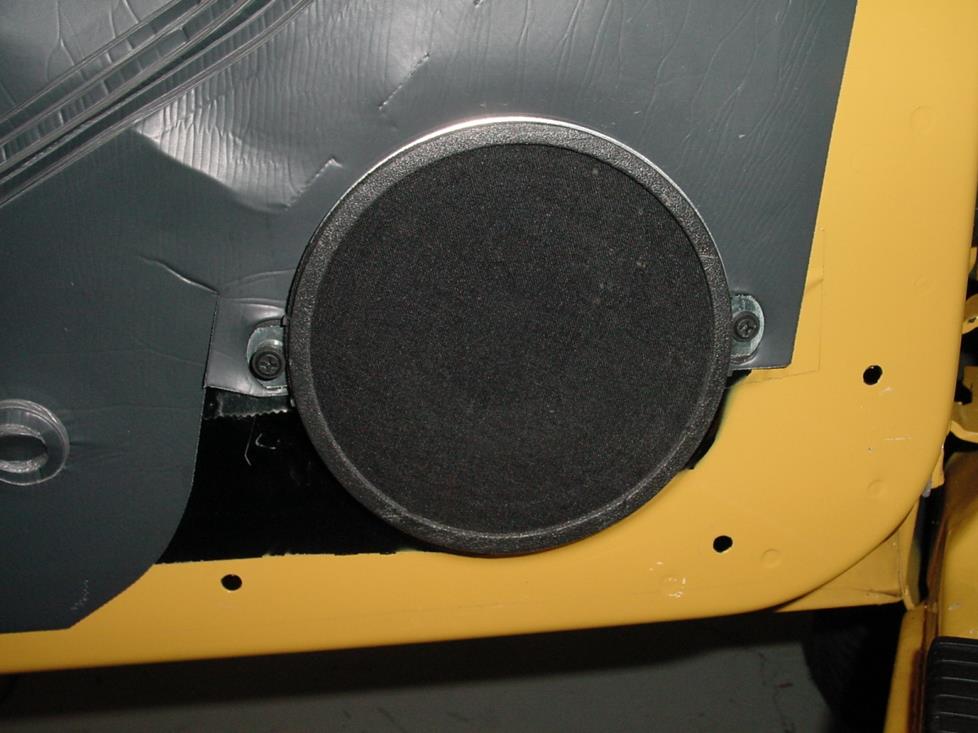 You'll need to drill new mounting holes for your speakers (Crutchfield Research Photo)
And, as we mentioned when discussing the dash, use care when removing the plastic panels. The retaining clips on the Cherokee's door panels have a reputation for being rather firmly fastened, so work slowly and maintain your cool when you're removing them. Also, you'll want to test the speakers and make sure they're working properly before you re-install the panels.
This isn't as intimidating as we're probably making it seem, so if you're new to stereo installations, don't worry. Your Crutchfield MasterSheet includes a complete list of the tools you'll need and step-by-step instructions on how to do the job right. And our experts are only a phone call away if you run into a snag.
Note: The Cherokee's doors are thin and tinny, which will waste a lot of the good work you're doing by installing new speakers. Installing a set of foam baffles along with your speakers is an inexpensive way to get the performance you expect. If you're really serious about sound, installing Dynamat in the doors — and, if you like, the floorboard and headliner — is a more extensive, but worthwhile way to decrease road noise and maximize sound quality.
Tools needed: Panel tool, Phillips screwdriver, small flat-blade screwdriver, shop rag, drill and 1/8" drill bit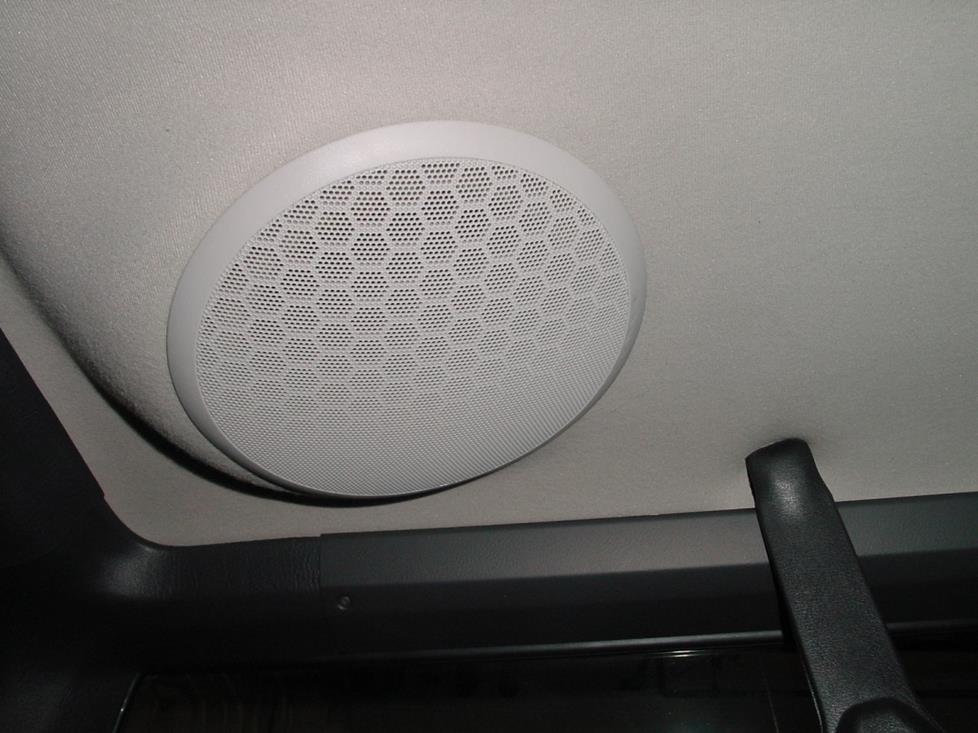 The Cherokee's 1998 redesign made these rear roof speakers a lot easier to work with (Crutchfield Research Photo)
Rear speakers
The 4-speaker set-up included two speakers mounted above the rear hatch. As with the front doors, the factory speakers are Chrysler's 5-1/4" models and you can replace them with aftermarket 5-1/4" speakers.
On the '97 models, the speakers are actually in a roof-mounted console that also houses the courtesy lights. The entire console must be removed to access the speaker mounting locations, and you'll need to cut some plastic rivets to remove the speakers. Speed clips and screws will be necessary to secure aftermarket speakers. This isn't hard, exactly, but it is kind of a pain. Complete, illustrated instructions in your Crutchfield MasterSheet will make it a bit easier than it would be otherwise.
For 1998, Chrysler redesigned this set-up and, intentionally or not, made it much, much easier to replace the speakers. You can replace the speakers with 5-1/4" or 6-1/2" models, and all you need to do is pry off the grilles and remove a couple of Torx T20 screws that hold the speaker in place.
Tools needed: ('97 models) Phillips screwdriver, small flat-blade screwdriver; ('98-up models) panel tool, Torx T20 driver
Shop for speakers that fit your Jeep Cherokee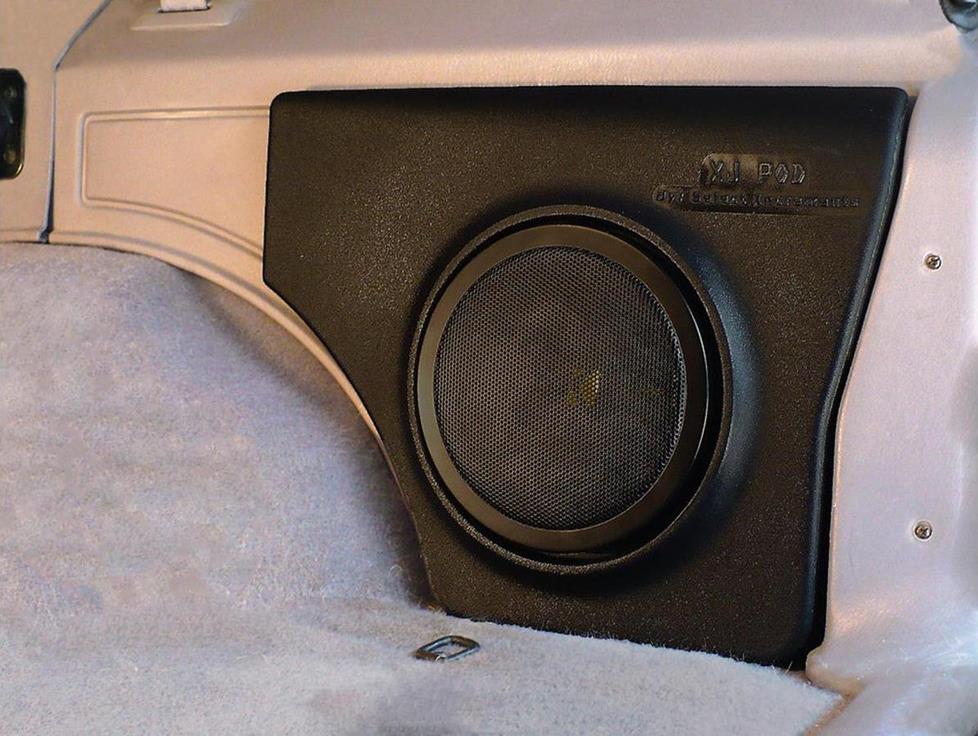 The Select Increments XJ-Pod enclosure will hold an 8" woofer
Bass in your Cherokee
No matter which variation on the factory system you have, the stock Cherokee doesn't offer a lot of bass. In fact, it offers very, very little. Thankfully, there are plenty of aftermarket fixes for that problem.
If you want a subwoofer box loaded with a couple of subs, you have plenty of space to work with in the Cherokee's cargo area. We measured below the bottom of the side window with the spare tire in place and found that there's a 39" W x 18" H x 32"/25" D space for a subwoofer box.
If you're looking for a simpler option that doesn't cut into your cargo space, you can opt for a compact powered subwoofer or go with the Select Increments XJ-Pod. This unloaded sub enclosure will accept an 8" woofer, and fits neatly into the far rear passenger's side panel.
Shop for vehicle-specific subwoofers for your Jeep Cherokee
Other options for your Cherokee
There are, of course, lots of ways to improve your Cherokee. Here are a few ways Crutchfield can help:
Security
Installing a security system in your Cherokee isn't easy (security systems rarely are), but it's less complicated than it could be. Our Crutchfield Advisors can help figure out what you need to get the job done, but we usually recommend taking your car and security gear to a professional installer.
Floor mats
Going off-road gets messy, so a set of WeatherTech floor mats would be a good investment if you're an outdoor enthusiast. WeatherTech also offers custom-fit wind deflectors that can help quiet the still-audible roar of the open road.
Portable GPS
Just because a big touchscreen nav receiver won't fit in your Cherokee doesn't mean you can't have touchscreen nav. We offer a wide variety of portable GPS nav units that, quite frankly, might fit into the Jeep lifestyle a little better than the big-screen models.
Let's get started!
Ready to shop? Use our vehicle selector to find the gear that will fit your car or truck. If you have questions of your own, give us a shout via phone, chat, or email