1998-2002 Honda Accord
Upgrading the stereo system in your Accord
1998 • 1999 • 2000 • 2001 • 2002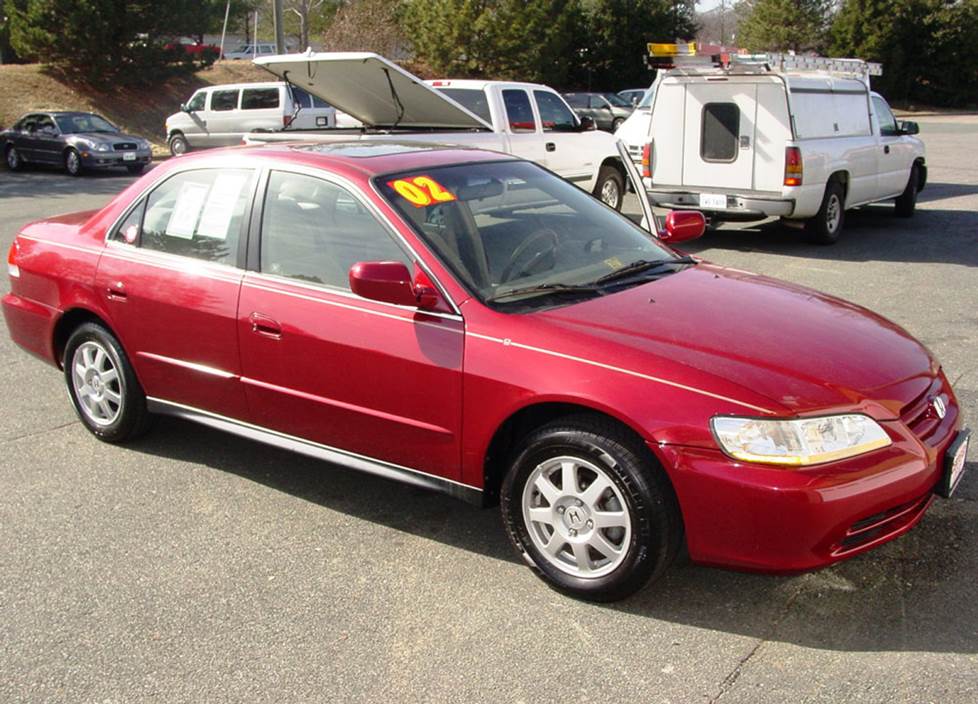 In brief: This Crutchfield Research Garage article gives you an overview of your Accord's stock stereo system and your aftermarket upgrade options. Use our vehicle selector to find the gear that will fit your Honda.
Overview of the Honda Accord sedan and coupe
The late '90s and early 2000s cemented the reputation of the Accord as a well-built, reliable, and popular car. It was the top seller nationwide in its class in 2001, and you'll still see plenty of 1998-2002 Accord sedans and coupes on the road. If you're interested in updating and upgrading the sound system in your Accord, you're in luck. There are plenty of good options available, ranging from simple speaker swaps to replacing the existing car radio with a new receiver.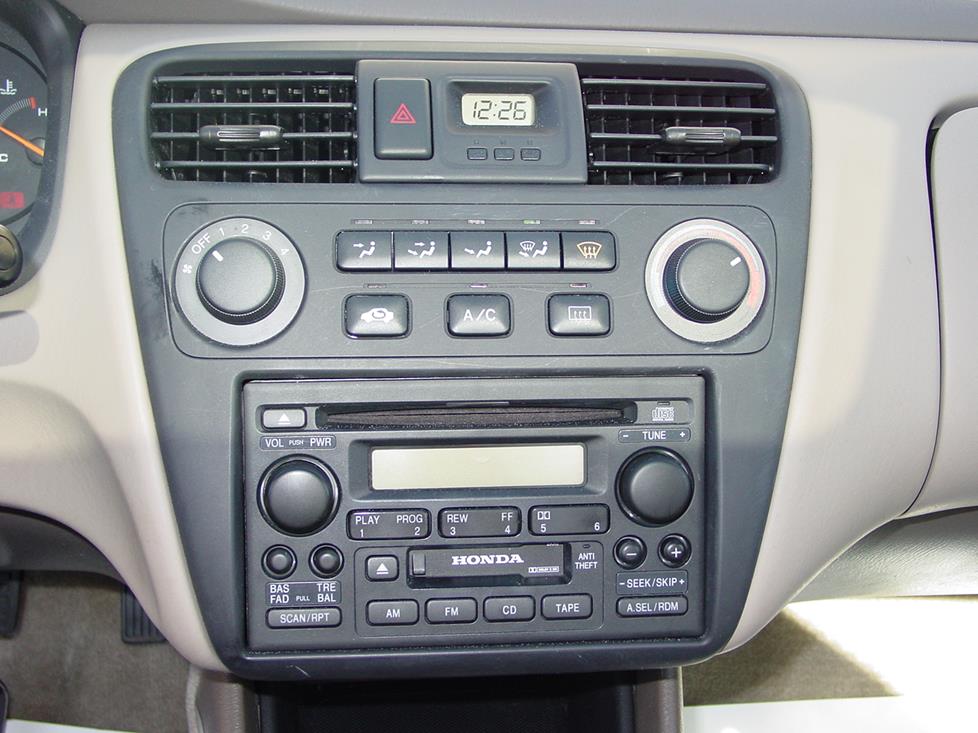 The Accord's double-DIN CD/Cassette receiver (Crutchfield Research Photo)
Replacing your factory radio
If your goal is to do a complete system makeover for your Accord, the best place to start is the in-dash receiver. Not only do aftermarket models have more power and sound-shaping options than the factory radio, but technology has come a long way since the car was built. New receivers have a lot of features to offer, like iPod® controls and Bluetooth® connectivity, to name a couple, that weren't available when theses Accords rolled off of the dealer's lot.
Although the radio cavity opening is the same in both cars, both single- and double-DIN radios were installed in the Accord at the factory. It's necessary to remove the vents and surrounding panel to access the radio's mounting bolts.
Detailed stereo and speaker removal instructions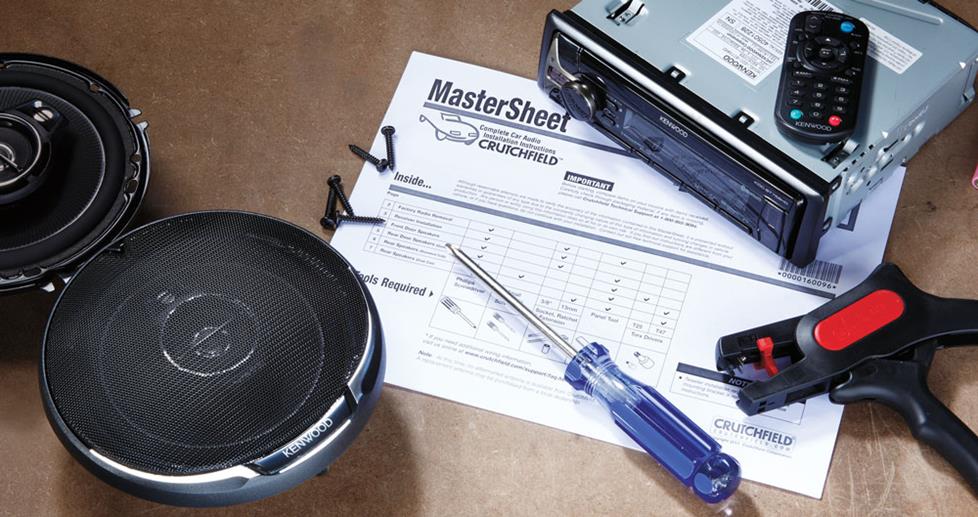 With step-by-step disassembly instructions and plenty of up-close, detailed photos, our exclusive
Crutchfield MasterSheet
™ takes the guesswork out of removing the factory stereo and speakers. It's free with your Crutchfield order, or you can purchase one separately for just $9.99.
The Accord came with a variety of different radio packages, including cassette and CD options. Depending on the model, the factory radio was either a double-DIN model (above, left), or a single-DIN model with a storage compartment below (above, right). In either case the replacement options are the same – you can install an aftermarket double-DIN receiver into the existing opening or add a single-DIN model with the use of a mounting kit. You'll also need a wiring harness to properly connect a new stereo.
Both the dash kit and the harness needed for this installation are available at a nice discount with your Crutchfield purchase, along with our free step-by-step disassembly instructions for your Accord.
Tools needed: Small flat-blade screwdriver, Phillips screwdriver, panel tool, and a shop rag (to help prevent scratching the trim panels) .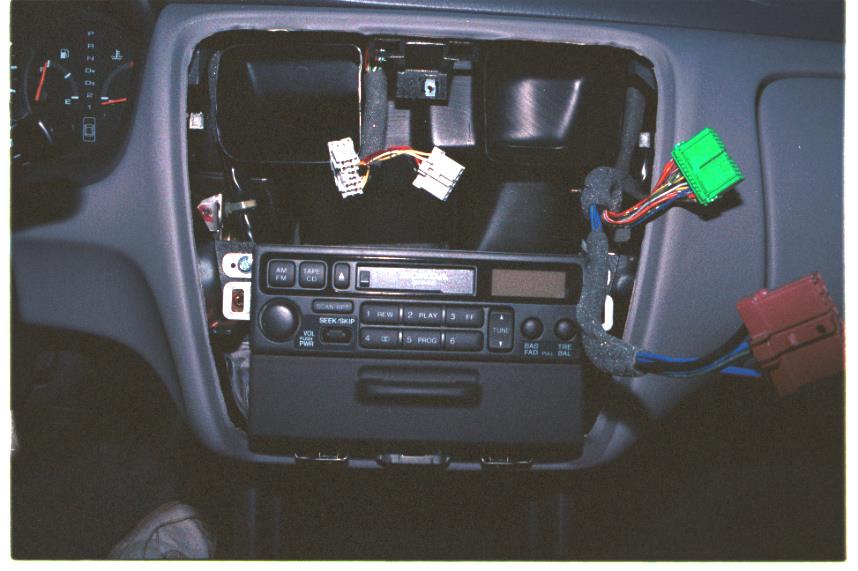 The Accord's dash disassembled (Crutchfield Research Photo)
Steering wheel audio controls
It's relatively easy to retain your Accord's steering wheel audio controls when you install a new stereo. When you enter your vehicle information, our database will choose the adapter you need to make your factory steering wheel controls work with your new receiver.
Shop for car stereos that fit your Honda Accord

The Accord coupe's front door (Crutchfield Research Photo)
Replacing your factory speakers
Depending on options chosen, the Accord will have speakers in the doors, rear deck, and dash.

You may need to cut out the back of the speaker mounting bracket to make room for a new speaker. (Crutchfield Research Photo)
Door speakers
The front doors of the Accord sedan will accept 6-1/2" size speakers. These fit the existing openings, but you may run into issues with mounting depth, as most aftermarket speakers are deeper than the factory-installed models. You can work around this issue by using a hacksaw blade to cut out the back of the plastic mounting bracket to give the speaker magnet and basket some extra depth.
The coupe's doors are longer, but the disassembly process is largely the same and you'll run into the same depth issues with certain speakers. When you enter your vehicle info, we'll show you exactly what fits. All the disassembly details can be found in your Crutchfield MasterSheet.
Tools needed: Panel tool, Phillips screwdriver, flat-blade screwdriver, hacksaw (to increase the depth allowance)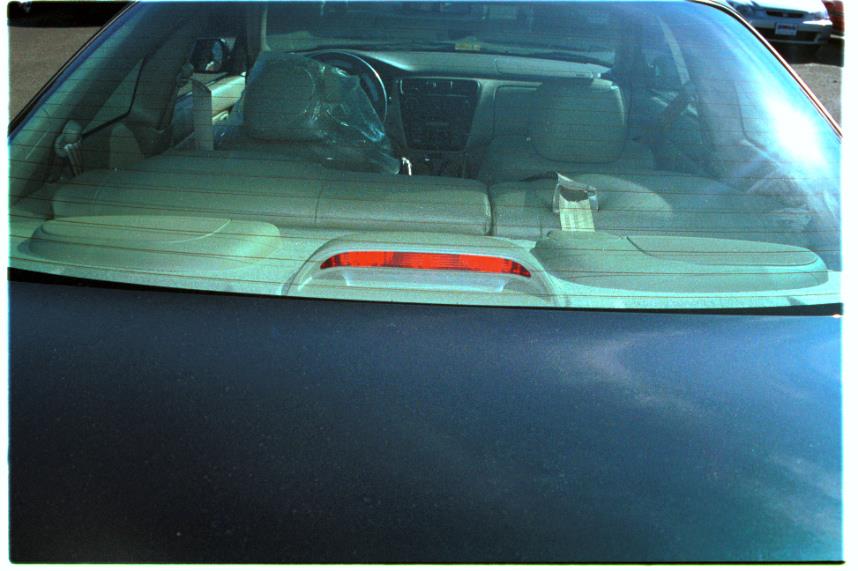 There's no shortage of great speakers that fit in this space. (Crutchfield Research Photo)
Rear deck speakers
The Accord's rear deck speakers are 6" x 9" models. This is an easy installation – the rear speaker grilles are secured to the deck by screws on the underside, and the new speakers fit the existing openings with no modifications. There are plenty of excellent speakers that will fit into the openings.
Tools needed: Panel tool, Phillips screwdriver, small flat-blade screwdriver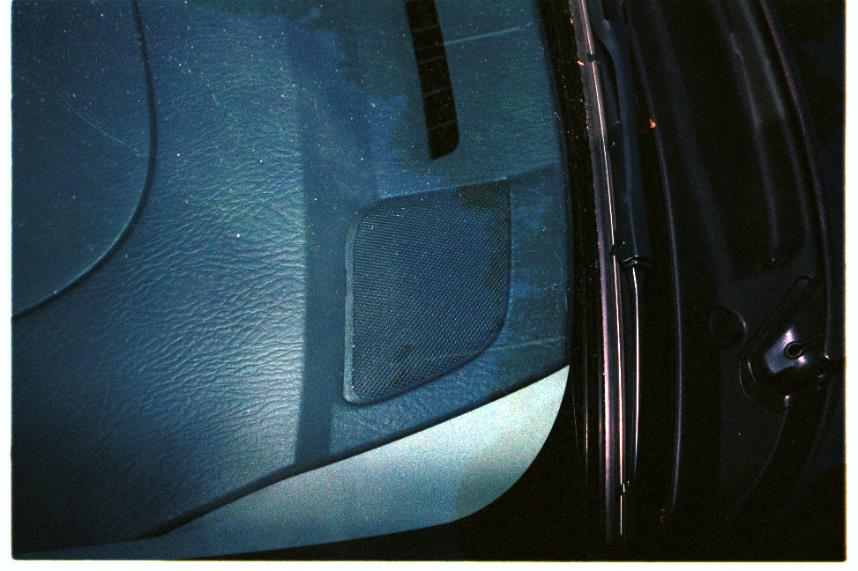 Some Accord models are equipped with tweeters in the top corners of the dashboard. (Crutchfield Research Photo)
Tweeters
The top-end speaker system in the Accord was a 6-speaker system that added a pair of tweeters in the dash. The tweeters are easily accessed by prying out the grille with a small flat-blade screwdriver. If you want to replace the speakers, there's no aftermarket mount available, so you need to use a set of our universal backstraps.
Shop for speakers that fit your Honda Accord
Bass in your Accord
There's ample room in the trunk of the Accord sedan or coupe for a sub box. In fact, most sealed dual 12" subwoofer enclosures, like this model from Sound Ordnance, will fit. Be sure to measure the space you have available and compare that with the specs of the box you're looking to install.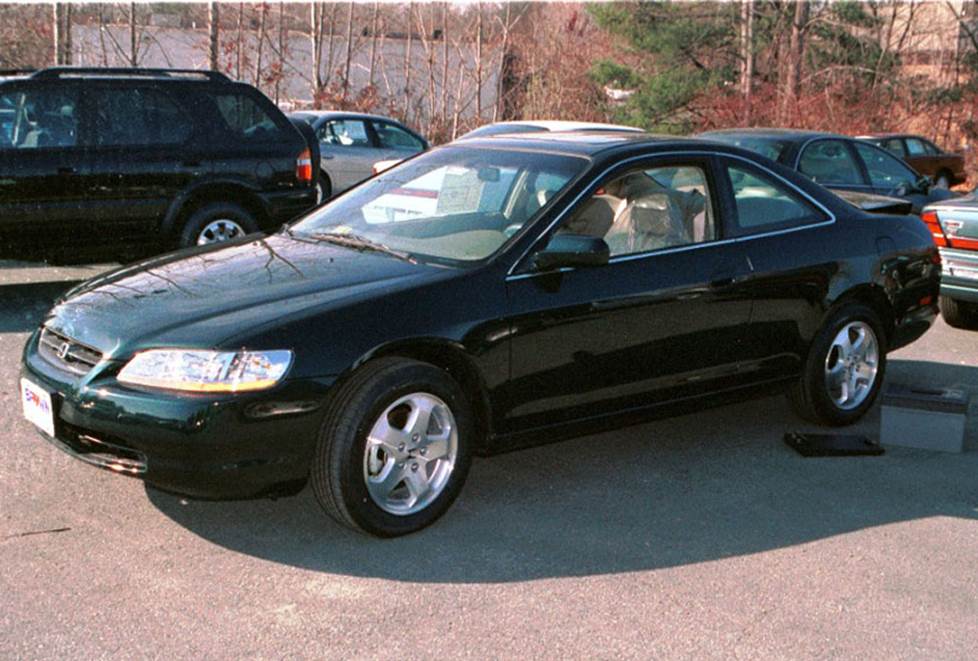 The Accord coupe still looks good after all these years.
Other options for your Accord
There are plenty of ways to make the Accord's sound system as enjoyable as the rest of the car.
Navigation
You can add aftermarket nav functionality without installing a touchscreen nav receiver. A portable GPS will mount on your dash and give you turn-by-turn directions, traffic updates, and everything you need to make your road trip go smoothly. Plus, when you get where you're going, you can put your GPS in your pocket and use it to find points of interest around town.
Dynamat
The Dynamat 10435 Xtreme Door Kit is the perfect way to seal in sound. This heavy-duty insulating material is easy to install, and it really makes a difference. One kit will take care of the front doors. If you install a big sub, you might want to line the trunk lid as well.
Security
Installing a security system in your Honda Accord isn't easy (security systems rarely are), but it's definitely a good idea when you own a car that's popular with car thieves. Our Crutchfield Advisors can help figure out what you need to get the job done, but we usually recommend taking your car and new gear to a professional installer.
Shop for car security systems for your Honda Accord
Find the audio gear that fits your car or truck
Visit our Outfit My Car page and enter your vehicle information to see stereos, speakers, subs, and other audio accessories that will work in your vehicle.