1999-2000 Honda Civic
Upgrading the stereo system in your Civic
1999 • 2000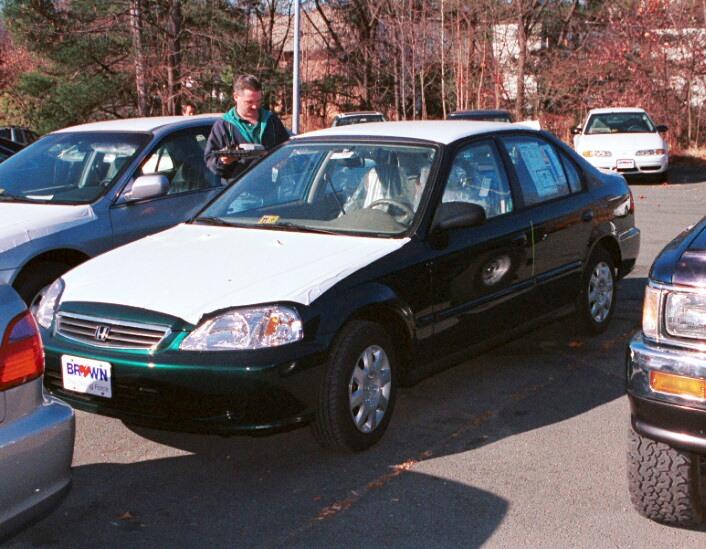 In brief: This Crutchfield Research Garage article gives you an overview of your Civic's stock stereo system and your aftermarket upgrade options. We'll tell you all about:
Then, use our vehicle selector to find the gear that will fit your car.
Overview of the Honda Civic
The Honda Civic is one of the most frequently seen cars on the road for a reason – it's affordable, reliable and doesn't require much to keep it running for a long, long time. It's also a great car for budding do-it-yourselfers, because of how easy it is to find and install high-performance aftermarket goodies.
The same goes for high-performance audio equipment. If you're thinking about building a serious system, the Civic is a great place to start. In fact, bumping up the sound can be even simpler and more rewarding than bolting on the go-fast parts.

The Civic's factory radio (Crutchfield Research Photo)
The factory stereo system
The standard stereo system in the Civic is an AM/FM radio with a CD or tape player with the option for a CD changer. Speakers are located in the front doors on all models and in the rear deck for coupes and sedans. Hatchbacks have speakers positioned on either side of the rear seat.

Here's a look inside the Civic's radio cavity (Crutchfield Research Photo)
Removing the factory radio
After you take out a few dash panels, getting the factory stereo out is a snap. The dash opening is large enough to accept any type of stereo, from budget-friendly units that improve on what came from the factory to top-of-the-line double-DIN decks that give you navigation, Bluetooth and a world of add-on options.
Detailed stereo and speaker removal instructions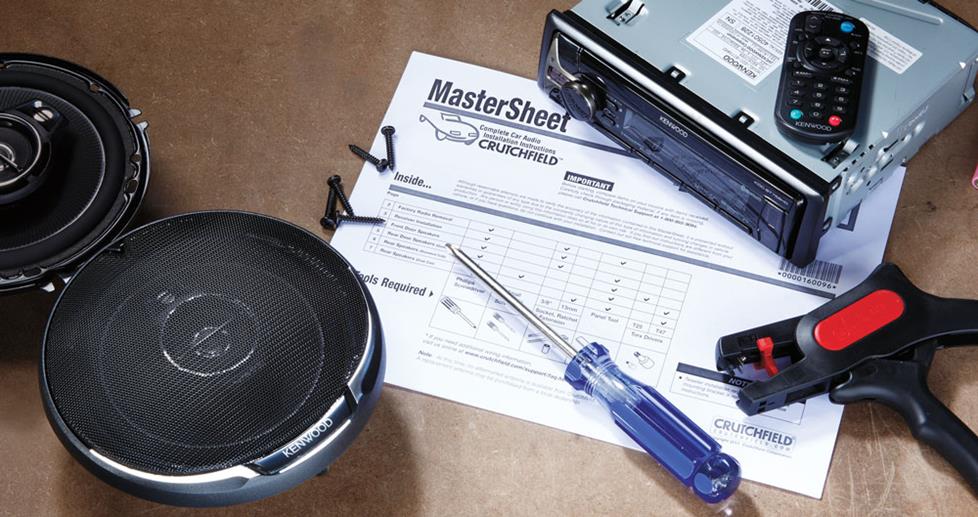 With step-by-step disassembly instructions and plenty of up-close, detailed photos, our exclusive
Crutchfield MasterSheet
™ takes the guesswork out of removing the factory stereo and speakers. It's free with your Crutchfield order, or you can purchase one separately for just $9.99.
With such a wide variety of stereos available, choosing the right one might be harder than installing it. Our advice? Think about how you use your Civic every day and choose a receiver that does everything you need—and maybe a little more. That way, you'll avoid having to upgrade again in the near future.
Tools needed: Phillips screw driver, 8mm driver
Shop for car stereos that fit your Honda Civic
Removing the factory speakers
The Civic's speakers are easy to get to, easy to work with, and easy to upgrade.

Front door speakers behind factory grilles (Crutchfield Research Photo)
Front speakers
The Civic's large stock front door speakers give you plenty of options, too. Most 6-1/2 inch speakers fit easily, and the common size means there are upgrades for any budget. The larger size also makes it possible to get solid low notes, and adding a set of component speakers will give you a full, rich sound up front, right where it should be.
The door panels are easy to remove to get to all the necessary connection points, making the task a great way to get comfortable with doing your own upgrades to your Civic's stereo.
In the front doors, you'll see a plastic cup that sits behind the factory speaker. This cup restricts your choices for new speakers because you can't use a speaker that's much over 2" deep. It's easy to cut out the back of the plastic cup to provide enough depth for your new speakers, and that will really open up your choices. It's a good idea to use foam speaker baffles to protect your new speakers.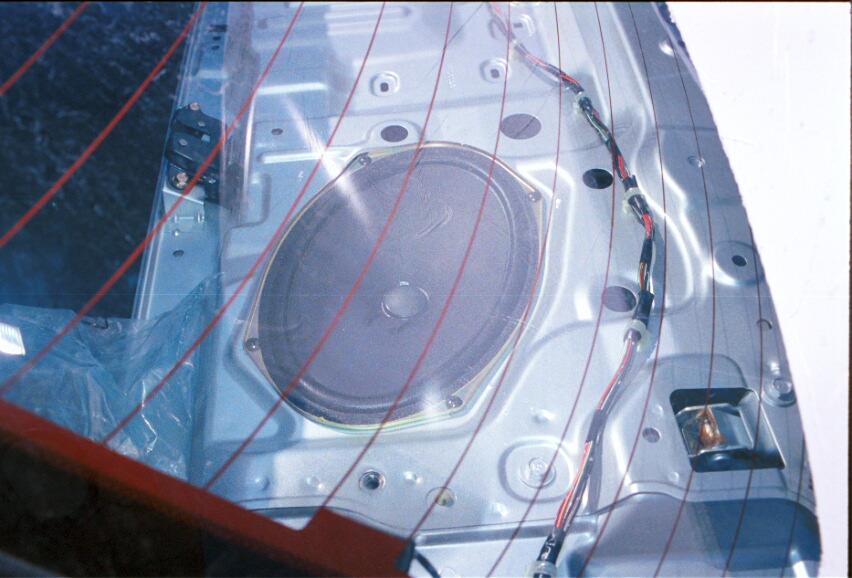 Rear deck speakers, old and new (Crutchfield Research Photo)
Rear speakers
Rear shelf speakers are a simple, bolt-in upgrade on Civic coupe and sedan models. The speaker openings are large, but you have to remove the rear seat to get to them. You can install 6"x9"s back there, or go with 6-1/2" or 5-1/4" speakers with the help of mounting brackets.
Again, you're only limited by your budget, and swapping out these rear speakers will really fill out the sounds in your Civic. You'll have to remove the rear seats and rear deck material, along with several interior panels, to get to the factory speakers, but removal and installation is straightforward and yields big results. Crutchfield will give you a very nice discount on these brackets, and the wiring harnesses with your speaker order.
Tools needed: Phillips screwdriver, panel tool, 10mm, 12mm drivers
Shop for speakers that fit your Honda Civic
Sound Ordnance powered subwoofer
Bass in your Honda Civic
Honda didn't put much thump in the Civic, so adding a subwoofer will really wake up any style of music. The Civic has impressive trunk space for a compact car, so there is plenty of room to add the necessary amp to go along with a sub and enclosure. Or, you can choose a compact powered subwoofer.
Make sure you pick a deck with preamp outputs to make installation easier, and match your new subwoofer to an amp that has enough power to push it. You can also get big improvements by updating the rear 6"x9" speakers for added midrange to complement your subwoofer and fill in any gaps in your music.
Other options for your Civic
With a car like the Civic, the aftermarket upgrade opportunities are amazingly plentiful. Here are a few things we'd suggest.
Satellite radio
This wasn't an option on your Civic, but is a necessity if you find yourself on the road a lot. Most receivers have the ability to add and control satellite radio tuners, or you can pick up a dock-and-play unit that can be easily transferred between vehicles. Your favorite stations will be right there wherever you go, and you'll love the variety of music, sports and news, as well as hearing music you probably wouldn't ever hear on FM radio.
Amps
Honda didn't offer factory amps, but a quality amplifier is a must if you want the best possible sound. Just how much sound is up to you, but a good place to start is added power for your front speakers. If you're adding a sub, you'll also need a way to power it, so look at multichannel amps that can handle the subwoofer and your door speakers. There is plenty of room for the additional juice, with ample trunk space and room under the seats.
Navigation
With so many Civics being utilized as commuter cars, an in-dash navigation system can really come in handy. Double-DIN stereos fit nicely in the Civic's dash and give you a high-end look and easy visibility when you're tracking your progress on the road. If you're Civic only pulls commuter duty and you have more than one car, take a look at our selection of portable GPS devices. They're easy to move from car to car, packed with handy points of interest and come with trusted software and preloaded maps for your journey.
Security
Installing a security system in your Civic isn't easy (security systems rarely are), but it's definitely a good idea. Our Crutchfield Advisors can help figure out what you need to get the job done, but we usually recommend taking your car and new gear to a professional installer.
Let's get started!
Ready to shop? Use our vehicle selector to find the gear that will fit your car or truck. If you have questions, give us a shout via phone, chat, or email