1999-2000 Mazda Protege
Upgrading the stereo system in your Protege
1999 • 2000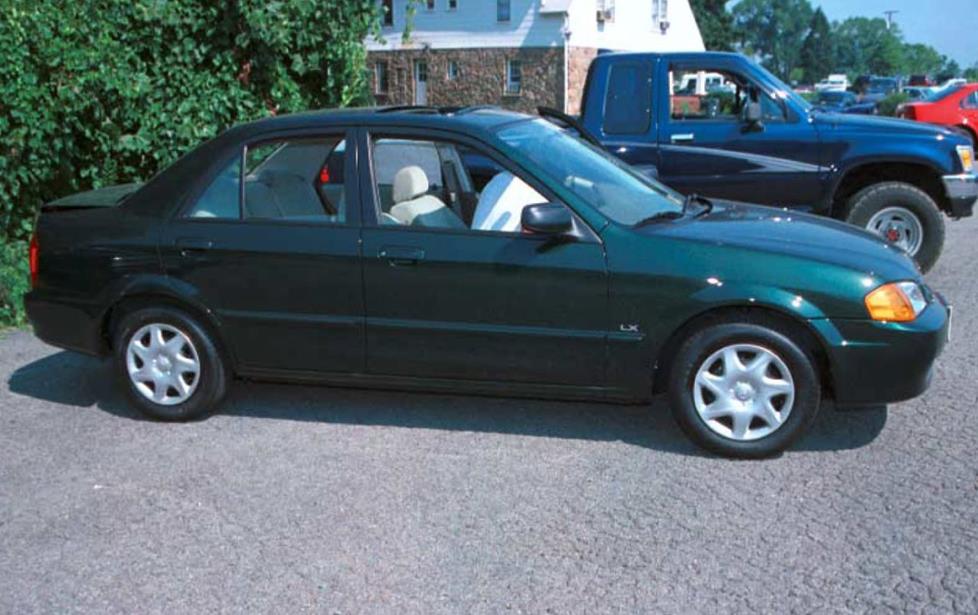 In brief: This Crutchfield Research Garage article gives you an overview of your Protege's stock stereo system and your aftermarket upgrade options. We'll tell you all about:
Then, use our vehicle selector to find the gear that will fit your Mazda.
Overview of the Mazda Protege
The 1999-2000 Mazda Protege is the automotive equivalent of that band you really liked during college. You know, the one that got great reviews and made every music magazine's annual "Best of" list, but never went platinum and eventually faded into the cut-out bins.
This Protege was every car magazine's favorite economy sedan back in the day, but it kind of got lost in the shuffle and has largely been forgotten over the last decade or so. That's a shame ­– unless you're thinking about buying one.
If you just found a well-preserved '99-'00 Protege, you're in luck. The car has great bones, a comfortable interior, a willing engine, and a reputation for rather sporty handling. All it needs now is a little attention from an appreciative owner.
Detailed stereo and speaker removal instructions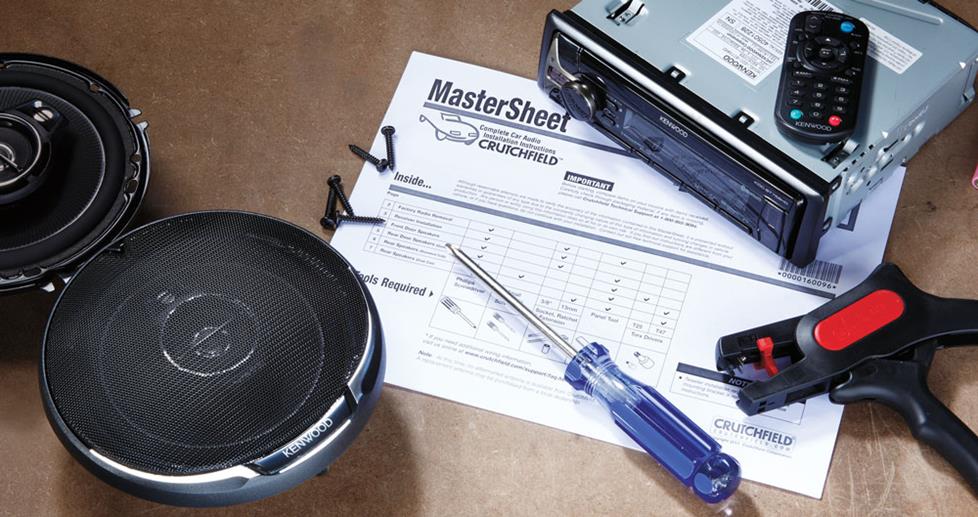 With step-by-step disassembly instructions and plenty of up-close, detailed photos, our exclusive
Crutchfield MasterSheet
™ takes the guesswork out of removing the factory stereo and speakers. It's free with your Crutchfield order, or you can purchase one separately for just $9.99.
The Protege's factory stereo system was decent for its time, but technology marches on and speaker cones fade into dust. The good news is that there are a number of upgrades available for your car. Mazda's innovative "OptiSpace" interior design makes the Protege's cabin a surprisingly nice place to be. A new stereo system will make it even better.
The factory stereo system
The factory receiver sits high in the dash, so it's easy to reach and easy to live with. It's not so easy to replace, but it's not ridiculously hard, either.

The Protege's factory radio (Crutchfield Research Photo)
Removing the factory radio
Removing the old unit requires a set of DIN tools, which are U-shaped (or C-shaped, depending on how you're holding them.) metal hooks used to pull the receiver out of the dash. They're also free with your purchase. To remove the old unit, carefully pry out the DIN hole covers with a small flat-blade screwdriver. These covers are small and plasticky, so be gentle and take your time.
Once they're out, carefully insert the DIN tools into either side of the radio. You'll go about one inch or until a click is heard from each side. Spread the tools apart slightly, pull out the radio, and disconnect the wiring harness and antenna.

A variety of receivers will fit here with the help of a dash kit. (Crutchfield Research Photo)
A number of single-DIN (2" tall) or double-DIN (4" tall) receivers will fit in the Protege's dash, though receiver depth can be an issue. Some slot in with ease, while others require you to cut out the factory stereo's metal rear support bracket to make room for the new receiver. A hacksaw blade will do the job. To install a double-DIN stereo, you'll need to cut out the dividing bar between the factory radio and the adjoining pocket (or cassette deck in some cases).
You'll get a nice discount on the dash kit and wiring harness you'll need when you buy your stereo from Crutchfield.
Tools needed: Small flat blade screwdriver, panel tool, DIN tool
Shop for car stereos that fit your Mazda Protege
Steering wheel audio controls
It's relatively easy to retain the steering wheel audio controls when you install a new stereo in your Protege. When you enter your vehicle information, our database will choose the adapter you need to make your factory steering wheel controls work with your new receiver.
Removing the factory speakers
Your Protege's stock speakers have undoubtedly seern better days, so replacing them with a set of quality aftermarket speakers will make a huge difference in sound quality.

The Protege's 6"x8" front speaker. (Crutchfield Research Photo)
Front door speakers
The Protege's stock front door speakers are 6"x8" units, and there are same-size replacements available. You can also go with 5-1/4" speakers, but you'll need an adapter bracket (available at a discount with your speaker purchase) to make them work.
You'll need to remove the door panels, of course, but that's really not tough at all. Just work carefully and take it easy on the plastic panels. If your car is equipped with manual windows, work a shop rag (Or bandana, if that's your style...) towards the rear of the crank and use a "shoeshine" motion to release the "C" clip on the rear of the crank.
Wiring harnesses for this speaker location are available at a deep discount with your Crutchfield speaker purchase.
Tools needed: Phillips screwdriver, small flat blade screwdriver, panel tool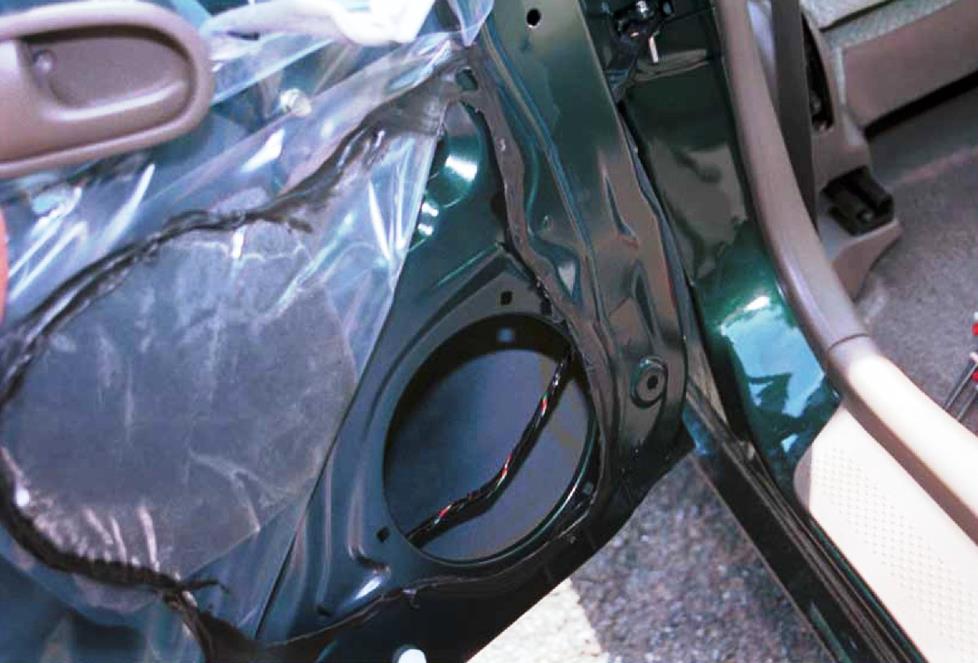 There's no speaker there--yet. (Crutchfield Research Photo)
Rear door speakers
Trick category! Seriously, the Protege doesn't even have speakers in the rear doors. It has speaker grilles and speaker openings, but no speakers and no wiring. Odd, but explicable. While Stateside buyers only got the sedan model, a 5-door wagon was available in other markets. If we assume that the wagons had speakers in the rear doors, the vestigial speaker openings make more sense. The sedan has a deck, so Mazda skipped the 5-1/4" door openings and put a pair of 6"x9" speakers back there.
A variety of 5-1/4"speakers will fit in the rear door openings, and a mounting bracket is included with your speaker purchase. But (and it's a big one), there's no speaker wiring, and no wiring harness available, so you'll be running a lot of wire and doing a bit of splicing.
This is (obviously) a fair amount of work. If you absolutely insist on adding rear door speakers to your Protege, we recommend that you retain the services of a car stereo installation professional.
Tools needed: Phillips screwdriver, small flat blade screwdriver, panel tool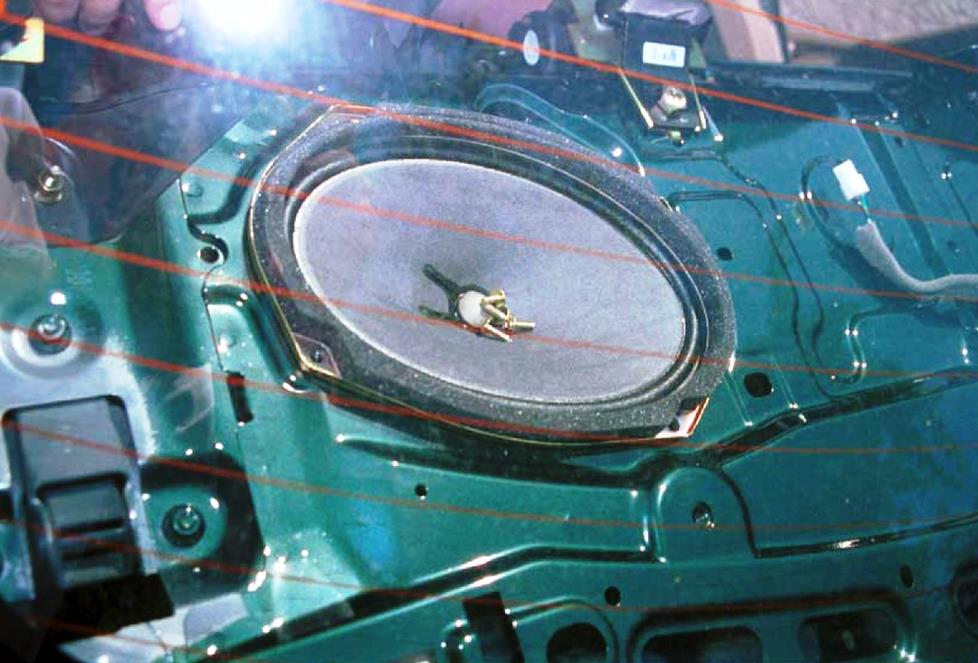 The rear deck houses two 6"x9" speakers. (Crutchfield Research Photo)
Rear deck speakers
The stock 6"x9" rear deck speakers can be replaced with a variety of same-size units, or you can install a set of 5-1/4" or 6-1/2" speakers. As with the front door speakers, mounting brackets and wiring harnesses are available at a discount with your purchase.
Replacing these speakers is is a relatively straightforward process. You'll need to fold down the rear seats and remove a few panels and clips. The "easy-looking-thing-that-isn't" part of the job involves removing the deck-mounted brake light assembly. It's not that hard, really, but remember that you're dealing with a plastic part that's been baking in the sun for a decade or so. Be careful while you're pushing, lifting and disconnecting the assembly.
Tools needed: Phillips screwdriver, a "stubby" Phillips screwdriver, panel tool
Shop for speakers that fit your Mazda Protege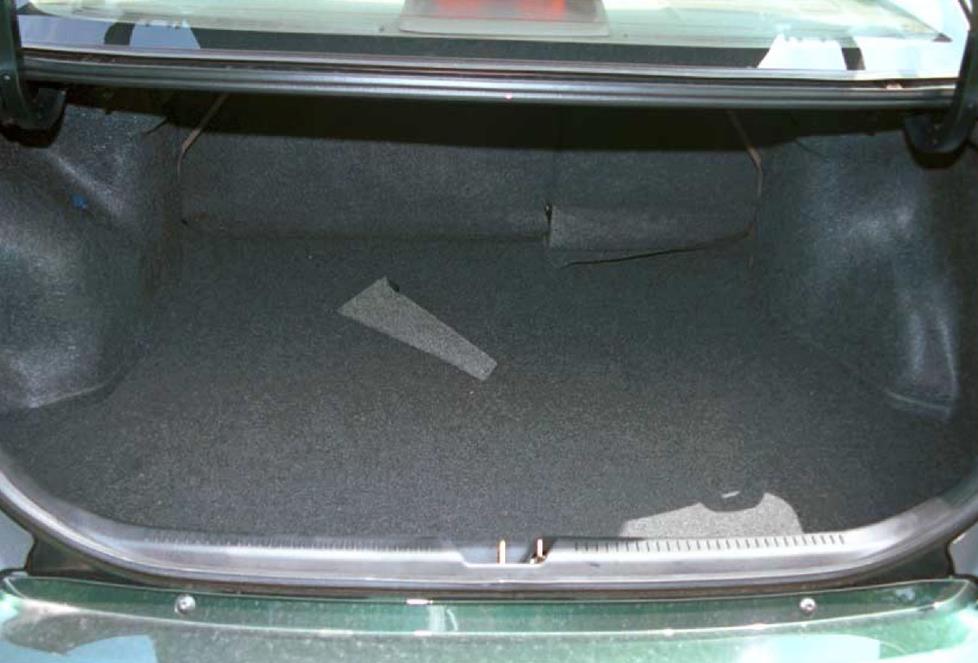 There's plenty of room for boom in the Protege's trunk. (Cruchfield Research Photo)
Bass in your Mazda Protege
While there are no custom-fit subwoofer kits for the Protege, you still have plenty of great options when it comes to adding bass. The car's 12.9 cubic-foot trunk gives you a 39" W x 16" H x 35-31" D space to work with.
The sub you choose to install will depend on how you feel about luggage space. There's plenty of room for a decent-sized sub enclosure if you want to build your own component system. Or, you can choose from a variety of enclosed and powered subs.
Either way, your Protege has plenty of potential.
Other options for your Protege
While the dash opening restricts your ability to add a huge touchscreen nav receiver, it does allow you to consider a digital media receiver. If you're free from CDs and want the best sound possible from your mobile device(s), one of these great receivers might be a terrific choice for your Protege.
Factory upgrades
If you're planning to keep your factory radio, but still want to upgrade your infotainment options, we offer a variety of solutions. Add hands-free convenience to your cell phone, enjoy SiriusXM satellite radio, or purchase a portable GPS nav unit.
Security
Installing a security system in your Mazda isn't easy (security systems rarely are), but it's definitely a good idea. Our Crutchfield Advisors can help figure out what you need to get the job done, but we usually recommend taking your car and new gear to a professional installer.
Let's get started!
Ready to shop? Use our vehicle selector to find the gear that will fit your car or truck. If you have questions, give us a shout via phone, chat, or email.