1999-2004 Jeep Grand Cherokee
Upgrading the stereo system in your Cherokee
1999 • 2000 • 2001 • 2002 • 2003 • 2004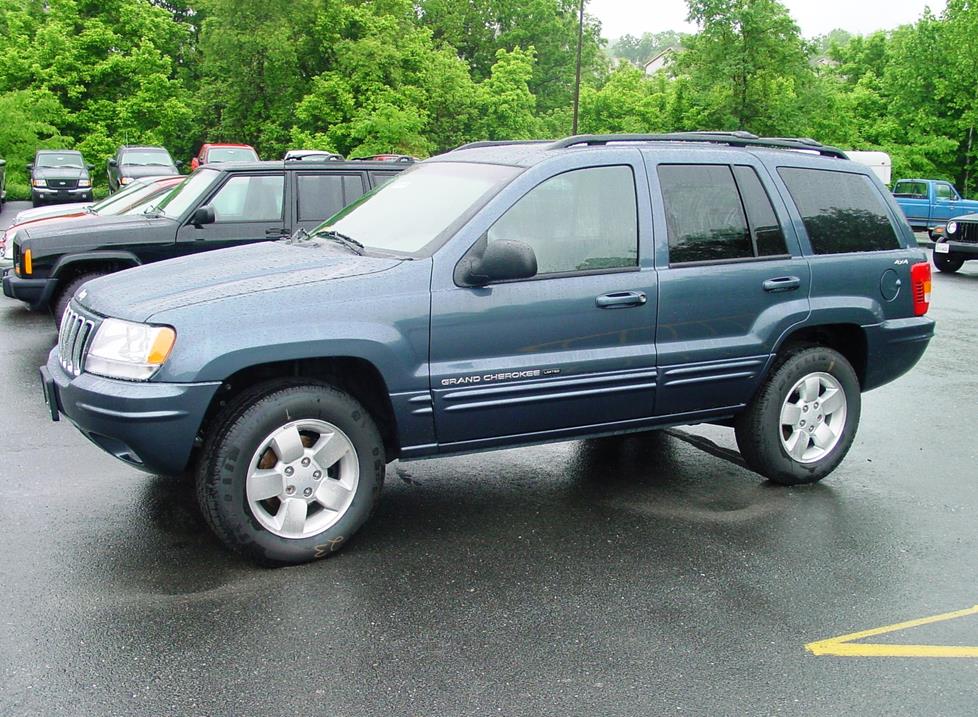 In brief: This Crutchfield Research Garage article gives you an overview of your Cherokee's stock stereo system and your aftermarket upgrade options. Use our vehicle selector to find the gear that will fit your Jeep.
Overview of the Jeep Grand Cherokee
In 1999, the Jeep Grand Cherokee underwent a complete makeover. And when we say complete, we mean it. The new and improved Grand Cherokee only used 127 parts from the previous design. The new vehicle was slightly larger overall and had a new interior layout, but it retained that classic Cherokee look and style.
The new Grand Cherokee was offered in two versions, the standard Laredo, and the Limited, which had an upgraded trim and accessory package. Both of the new versions became quite popular on two fronts: Some owners wanted them for use as a recreational vehicle, while others saw the new Grand Cherokee as a family truckster. With this one vehicle, Jeep picked up significant speed in the market, and as time has shown, the new Grand Cherokee was here to stay.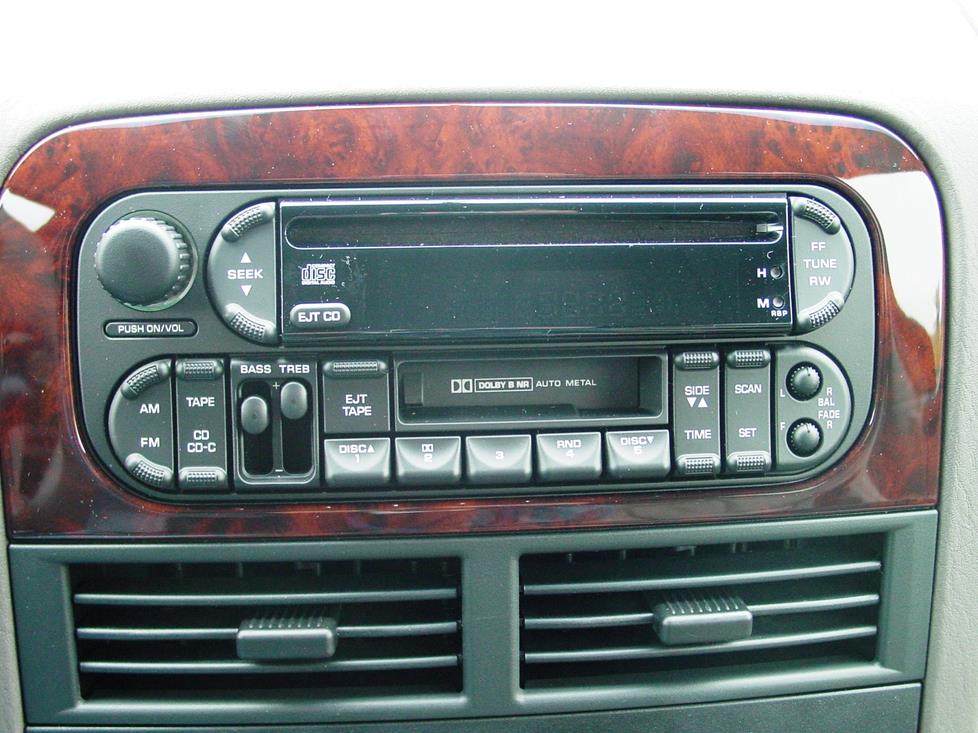 The Grand Cherokee's factory radio (Crutchfield Research Photo)
Factory stereo system
The Grand Cherokee was available with two different stereo packages. The base system was an AM/FM/cassette player and six speakers (front and rear doors, and dash tweeters). The upgraded system featured a stereo with cassette and CD playback and an optional 10-disc CD changer in the rear of the vehicle, plus a 6-speaker Infinity sound system with an external amplifier. Beginning in 2004, the Grand Cherokee was offered with a navigation system option, regardless of the stereo package.

The mounting kit for a new radio (Crutchfield Research Photo)
Replacing your factory radio
Replacing the stereo in your Grand Cherokee is a pretty simple process. Unfortunately, double-DIN (4" tall) stereos won't fit in your Jeep without modification, but you can choose nearly any single-DIN (2" tall) receiver, thanks to a dash that's almost seven inches deep.
You'll need a mounting kit to fill out the space around the new stereo and a wiring harness to connect the new stereo's wires to your Jeep's wiring. In 2002 and up models, you also need an adapter for the FM antenna cable. All of these are available at a discount with all stereos purchased from Crutchfield, plus you'll also get our free, step-by-step MasterSheet™ installation instructions.
The available wiring harness also works with the Infinity audio system, and if you have that upgrade, a new stereo will make it sound even better. If you have the factory navigation system, it will no longer work if you replace the factory stereo. So, if you like the factory nav system, you might want to keep the factory stereo and focus on upgrading the audio side of your stereo system (speakers, subwoofer, and amps) instead.
Detailed stereo and speaker removal instructions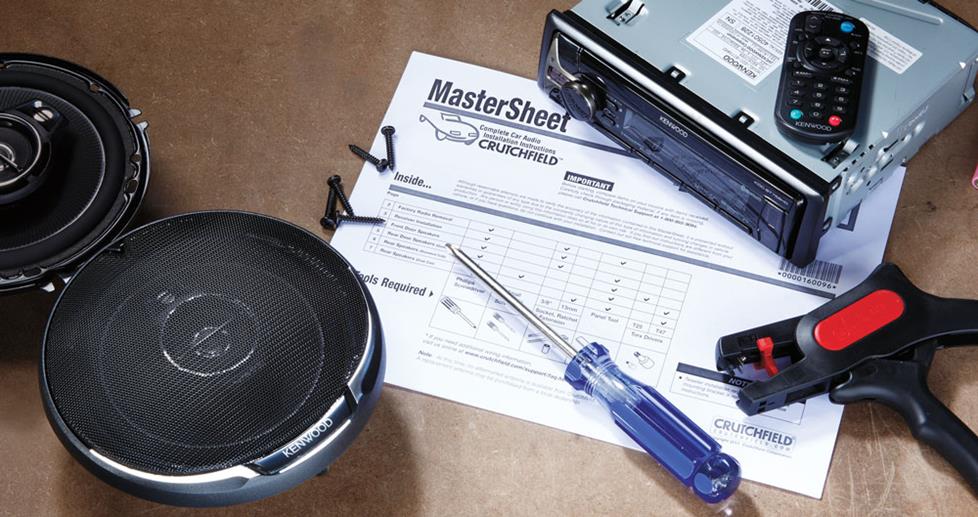 With step-by-step disassembly instructions and plenty of up-close, detailed photos, our exclusive
Crutchfield MasterSheet
™ takes the guesswork out of removing the factory stereo and speakers. It's free with your Crutchfield order, or you can purchase one separately for just $9.99.
As we mentioned above, removing the receiver is simple. Use a panel tool to pry around the edges of the stereo trim panel and release four retaining clips. Next, remove the four Phillips screws securing the radio to the dash. Pull out the stereo and disconnect the wiring harness and antenna cable. That's all there is to it.
Install the new stereo by securing the mounting kit and metal sleeve for your new stereo in the dash. Hold the new stereo near the dash opening and plug in the wiring harness and antenna cable. Slide the stereo into place and replace the dash trim panel.
Tools needed: Phillips screwdriver, small flat blade screwdriver
Parking light note: Many Grand Cherokees with factory keyless entry have a security feature that causes the parking lights to flash after the battery is reconnected. There are two possible ways to stop the parking lights from flashing. If you have the keyless entry remote, press "unlock" to disarm the system. If you don't have the remote, you can disarm it with the key. Put the key into the driver's door and turn it to lock, then unlock the door. This will disarm the system and make the lights stop flashing.
Steering wheel audio controls
It's relatively easy to retain your Jeep's steering wheel audio controls when you install a new stereo. When you enter your vehicle information, our database will choose the adapter you need to make your factory steering wheel controls work with your new receiver.
Shop for car stereos that fit your Jeep Grand Cherokee
Replacing your factory speakers
The Grand Cherokee's factory speakers aren't hard to replace, but the Infinity system offers a slightly different challenge.

The front door of the Grand Cherokee (Crutchfield Research Photo)
Front door speakers
The factory front door speakers measure 6"x9". That's a common size, but the small cut-out size in the door means that few aftermarket 6x9's will fit. Instead, plan on getting 6-1/2" or 5-1/4" speakers for this location. You'll have a lot of options in either size and Crutchfield offers mounting brackets and wiring harnesses at a deep discount with your speaker purchase.
In Grand Cherokees equipped with the Infinity system, these door speakers only receive bass frequencies. All of the mid and high frequencies go to the dash speakers. You can still install regular coaxial speakers, but they'll only play bass. Your best bet is to buy a set of component speakers to replace the stock speakers in the front doors and dash. The only workaround is to install a new receiver and run new speaker wires from the receiver to the door speaker locations.
To get to the factory speakers, you'll have to take off the door panels. Start by removing a Phillips screw located behind a screw cover in the upper "sail" area of the door panel and another in the door pull cup. Then remove a T20 Torx screw from behind the door release handle. Next, use a panel tool to pry around the side and bottom edges of the door panel to release twelve retaining clips.
Pull the panel away from the door and disconnect the wiring harnesses. You also need to unclip the door release linkage rod and the door lock. With the panel out of the way, all you need to do is remove the four Phillips screws holding the speaker in place, pull it out of the door, and disconnect the wiring harness.
Attach the new speaker to the mounting bracket, connect the wiring harness to the speaker, then plug it into the Jeep's wiring connector. Secure the new speaker assembly to the door with the Phillips screws. Test the speaker, then reassemble the door panel.
Tools needed: Phillips screwdriver, small flat blade screwdriver, panel tool, T20 Torx driver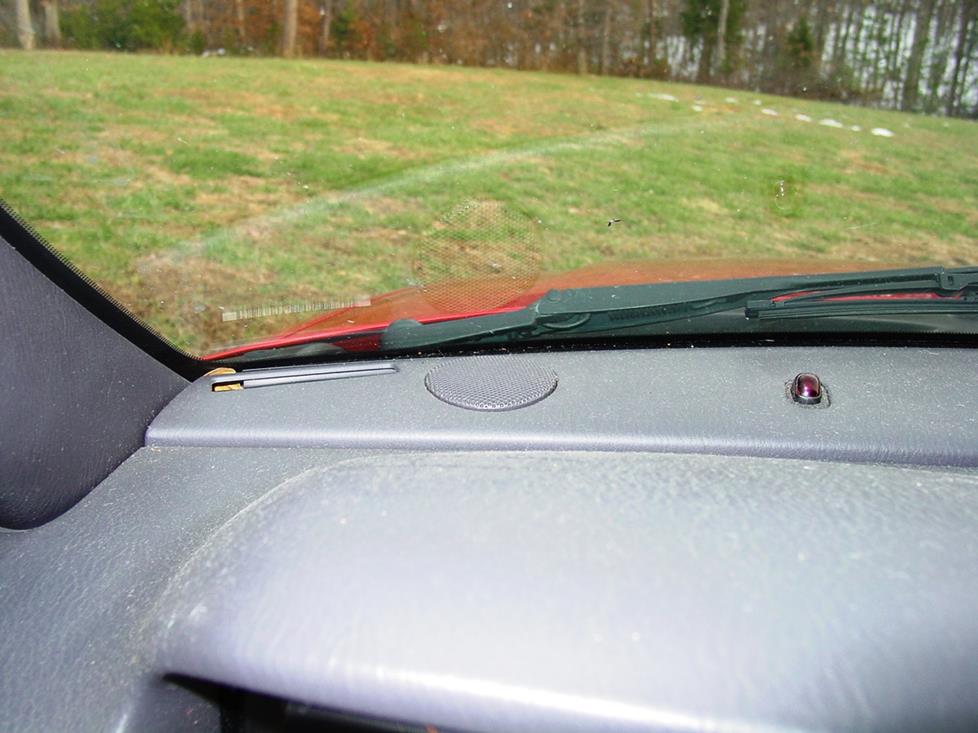 The dash speakers can be found at the base of the windshield. (Crutchfield Research Photo)
Dash speakers
The dash speakers are 2-1/2" diameter tweeters. Since this is an odd size and there isn't a lot of space to work with, your best option for replacement is to install aftermarket tweeters. As we mentioned above, if you have the Infinity speaker system, adding a component speaker system to your Grand Cherokee is an especially good idea.
You'll need to fashion some mechanism to hold the tweeters in place. We carry a universal backstrap that can be used to fabricate a bracket, but yuou can also use hot glue or silicone. There aren't any wiring harnesses available for this location, so you'll have to use Posi-Products speaker connectors on the new tweeters.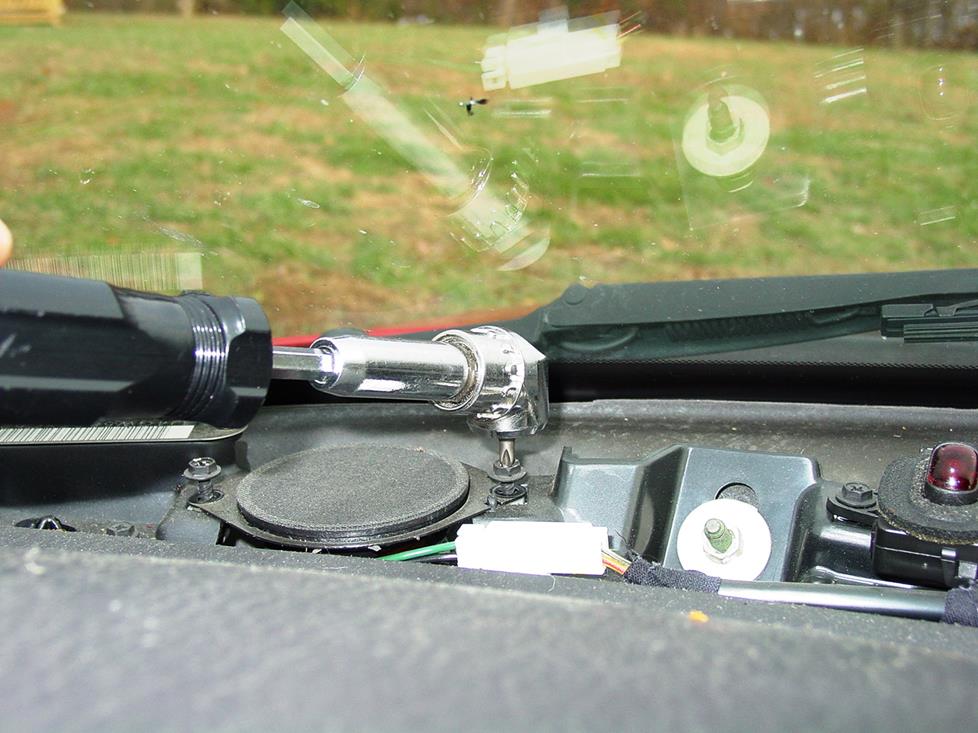 Removing the dash speaker (Crutchfield Research Photo)
Your first step is to remove the dash trim panel. It's a single panel that runs the full width of the dash, next to the windshield. Pry it up all along its length, then lift it up and out. Once the four retaining clips are released, you can work the panel out by gently bowing it up in the center. Next, use a right-angle screwdriver to remove the two Phillips screws securing each speaker.
Tools needed: Right-angle Phillips screwdriver, panel tool
Rear door speakers
The rear speakers are 6-3/4" speakers, but because the door panel sits so close to the speaker, it's almost impossible to find a 6-3/4" or 6-1/2" speaker that will fit there. That means 5-1/4" speakers are the way to go, and there are plenty that'll fit. Mounting brackets and wiring harnesses are available, and included free when you purchase your speakers from Crutchfield. Removing the door panel is nearly identical to the process for the front doors.
Tools needed: Phillips screwdriver, panel tool, T20 Torx driver
Shop for speakers that fit your Jeep Grand Cherokee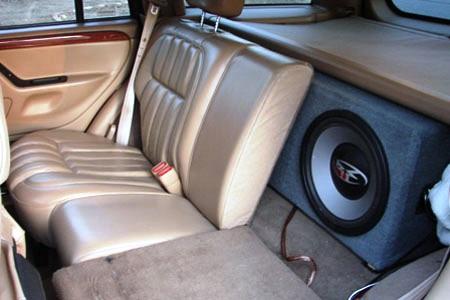 There's plenty of space for bass. (Crutchfield Research Photo)
Bass in your Jeep Grand Cherokee
If there's one area where the Grand Cherokee is lacking, it's bass. Even in the Infinity system, those 6x9s in the front doors can only do so much. Bass is important, because it gives your music a more full-bodied, layered sound. And to get good bass, you have to have a subwoofer.
There's plenty of space available in the back of your Grand Cherokee, so you're ahead of the game in that regard. Just decide how much bass you want and how much space you can devote to a subwoofer box.
A box with a single 8" sub won't take up a lot of room, but if you're a real bass hound, you're probably already dreaming about putting two 12's in the back. On the other hand, if you need to keep that cargo space available, consider a powered subwoofer. They can give you big bass with a smaller footprint.
Shop for vehicle-specific subwoofers for your Jeep Grand Cherokee
Other options for your Jeep Grand Cherokee
There are lots of ways to improve your Grand Cherokee's sound and functionality. Here are a couple of suggestions:
iPod adapters
If you want to keep the factory stereo, perhaps because you like the navigation system, you can still add modern features like iPod®/iPhone® control, an auxiliary input, or Bluetooth® connectivity. Just look up your Jeep in our Outfit My Car tool, and check out the "Car Stereo Add-ons" category to find the options that are available for your Grand Cherokee.
Security systems
Installing a security system in your Jeep Grand Cherokee isn't your typical DIY project. Our Crutchfield Advisors can help figure out what you need to get the job done, but we usually recommend taking your car and new gear to a professional installer.
Shop for car security systems for your Jeep Grand Cherokee
A note on system building
Here's a system-building tip that we often recommend for people who are building their audio system one piece at a time. Replace your speakers and stereo, as usual. Then, when you're ready to add amps and subwoofers to your system, get a 4-channel amp to run your front speakers and a single sub (and keep using the receiver to power the rear speakers).
Later, buy a bigger amp for your subwoofer, and use those rear channels on your first amp to start powering your rear speakers.
Finally, you can add a second subwoofer if you want, or an outboard crossover to fine tune the system. Doing this lets you expand the system in stages without spending money on a bunch of extra gear.
Find the audio gear that fits your car or truck
Visit our Outfit My Car page and enter your vehicle information to see stereos, speakers, subs, and other audio accessories that will work in your vehicle.