1999-2005 Volkswagen Jetta
Upgrading the stereo system in your Jetta
1999 • 2000 • 2001 • 2002 • 2003 • 2004 • 2005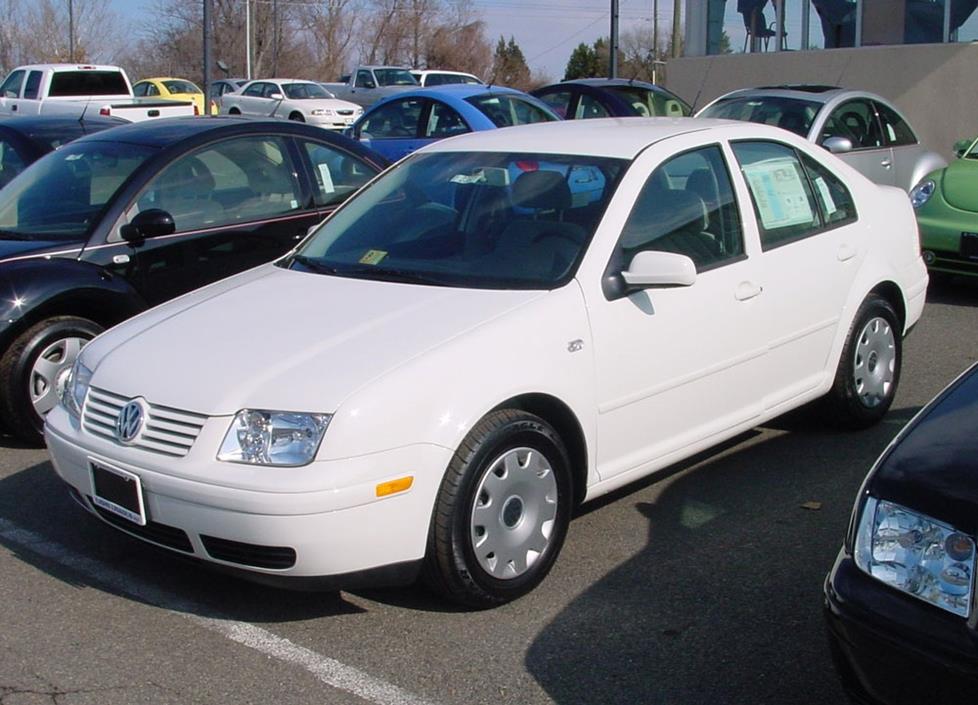 In brief: This Crutchfield Research Garage article gives you an overview of your Jetta's stock stereo system and your aftermarket upgrade options. We'll tell you all about:
Then, use our vehicle selector to find the gear that will fit your vehicle.
Overview of the Volkswagen Jetta
The fourth generation of the Volkswagen Jetta has all the things that made the Jetta such a popular car to begin with – smooth styling, slick handling, a comfy interior, and lots of nifty details that make this reasonably priced compact feel like a much pricier car.
What it does not have is a powerful, up-to-date stereo system. We can help with that. Whether your stereo upgrade is part of a big customization project or just a way to add some joy to your daily driving, we can help you find the right gear for your Jetta.
The Mk4 Jetta debuted in mid-1999 and stuck around until mid-2005. Because of those odd mid-year intros and outros, you'll be asked to specify whether you have the "old" or "new" body style when you enter your vehicle info for select '99 or '05 cars. Hopefully, this will eliminate any confusion, but if you have questions, just give us a call.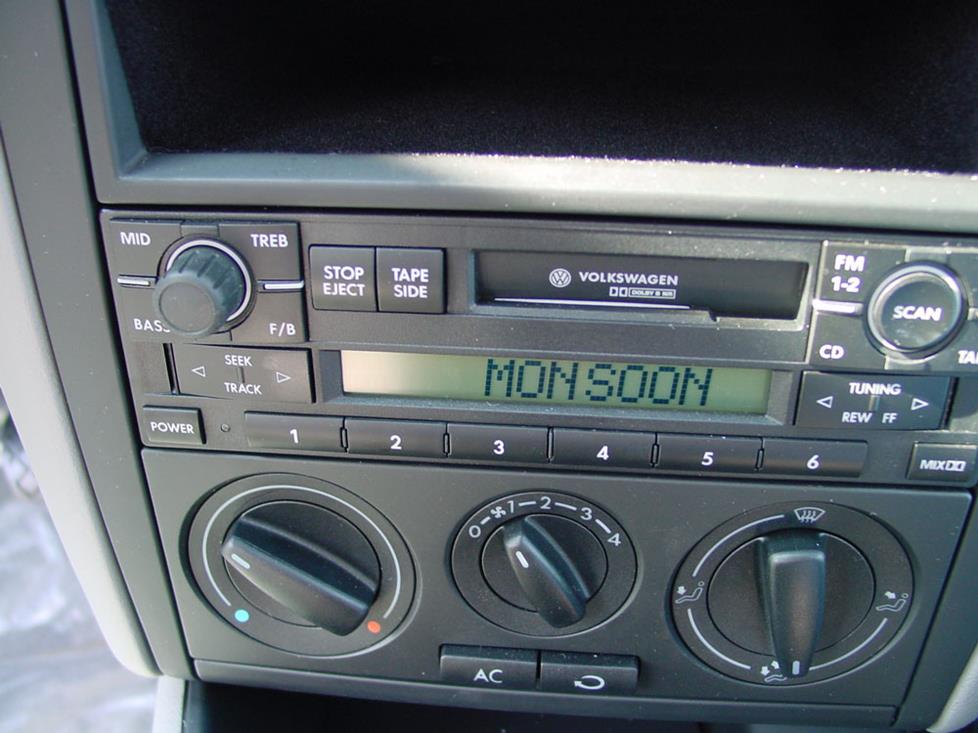 "Monsoon Radio. Damn glad to meet ya!" (Crutchfield Research Photo)
Your VW Jetta's factory stereo system
The Jetta's factory radios are pretty basic. Package-wise, there was the base system and the optional Monsoon system. The radios look pretty much the same, though, so how do you tell which system you have? If you have the Monsoon system, the receiver display will flash "Monsoon" when turned on. Or, you can check for the amplifier, which can be found on the right side of the rear deck in sedans.
Radio replacement is pretty easy in these cars, but on 2004-up models equipped with OnStar, you'll lose the voice prompts when you replace the factory radio. This is a pretty old edition of OnStar, though, so you might not miss it.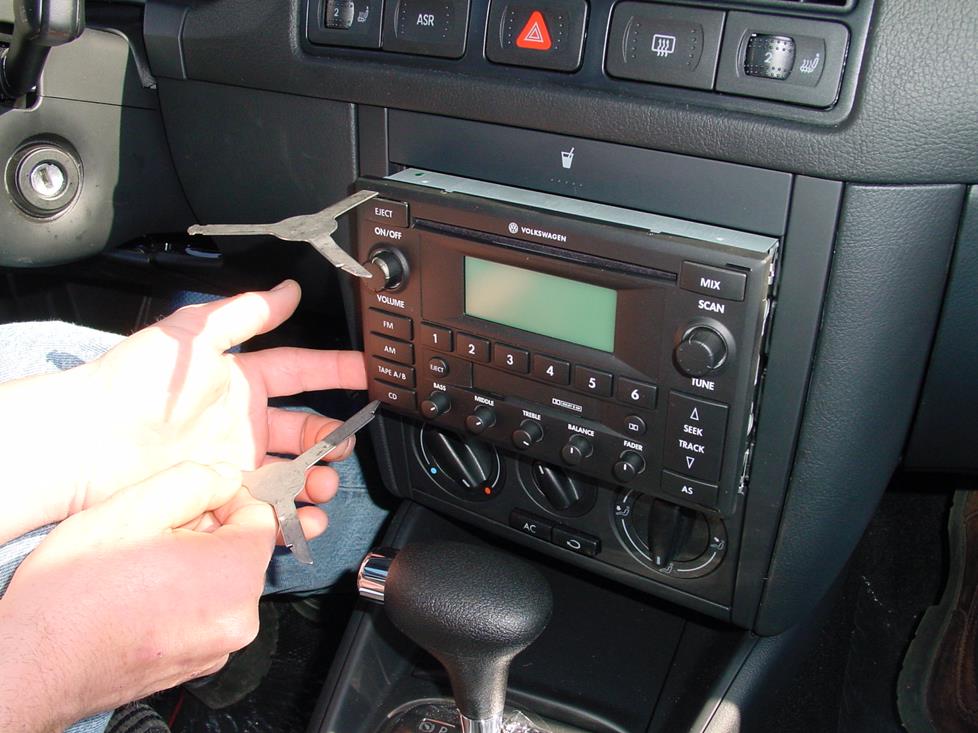 You'll need four of these tools to remove the stock double-DIN radio (Crutchfield Research Photo)
Removing your VW Jetta's factory radio
Replacing the radio in a Jetta is pretty uncomplicated. If you're new to car audio DIY, this can be a real confidence-builder.
You'll start by setting the parking brake and disconnecting the negative battery cable to prevent any electrical short, because nothing destroys one's confidence more than being electrocuted by a car that's rolling slowly down a hill. Once you've done those things, you're ready to get started.
To remove the radio, you'll need VW radio removal tools, otherwise known as "DIN tools." You'll need one pair for a single-DIN (2" tall) radio and two for the double-DIN (4" tall) models, and they're included with your Crutchfield stereo purchase.
Insert the tools into the slots on each side of factory radio face and slowly press them in until you hear a click on each side. The click will unlock the radio, and you'll pull the tools towards you to remove it. Disconnect the wiring harness and unplug the antenna lead, then remove the old radio and start installing the new one.
Detailed stereo and speaker removal instructions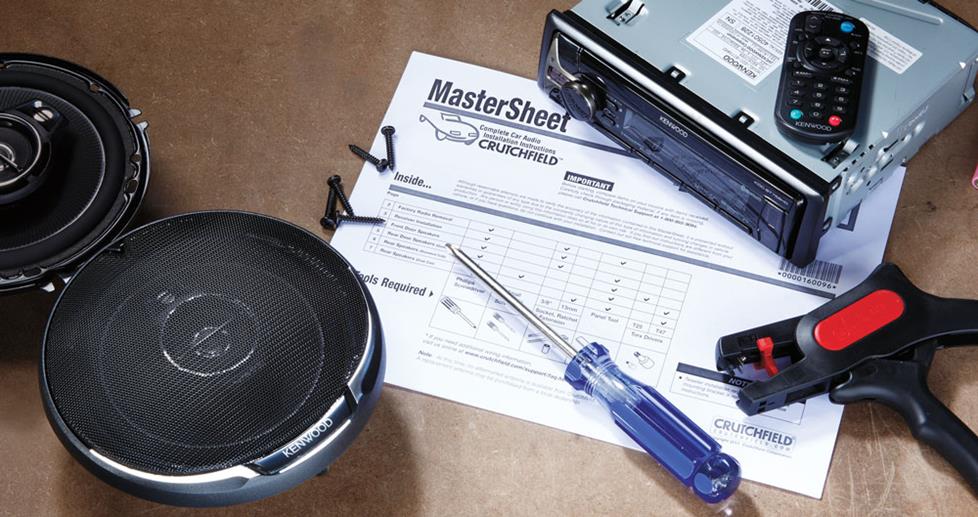 With step-by-step disassembly instructions and plenty of up-close, detailed photos, our exclusive
Crutchfield MasterSheet
™ takes the guesswork out of removing the factory stereo and speakers. It's free with your Crutchfield order, or you can purchase one separately for just $9.99.
When you buy your stereo at Crutchfield, we'll give you a deep discount on the wiring adapter you'll need to connect the new receiver to the factory wiring. It'll come with its own instructions, which you'll follow as you connect it to the receiver.
With almost all aftermarket receivers, you'll have to remove the factory radio's rear support bracket. This isn't hard, but work carefully even though no one will ever see anything you mess up. And if you're using an antenna adapter, be sure the antenna cable is plugged in and the power wire is connected to the receiver's power antenna wire before the receiver is installed.
Once you've installed and secured the new receiver, be sure to test it and make sure it's working before you move on to anything else.
Tools needed: VW radio removal tools
Steering wheel audio controls
It's relatively easy to retain the steering wheel audio controls when you install a new stereo in your Jetta. When you enter your vehicle information, our database will choose the adapter you need to make your factory steering wheel controls work with your new receiver.
Shop for car stereos that fit your Volkswagen Jetta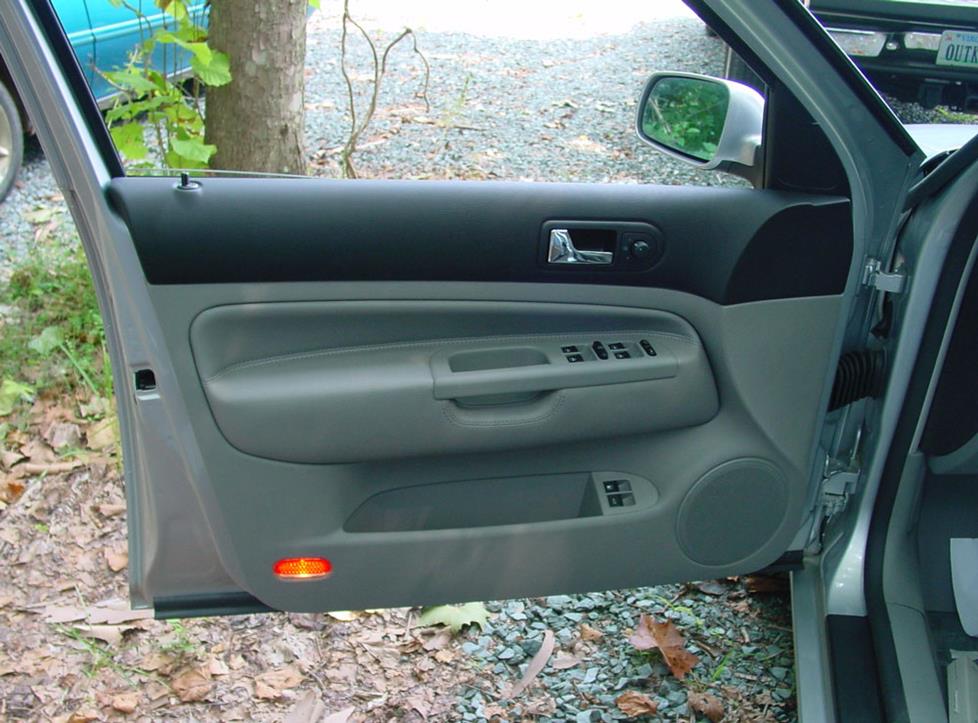 Replacing the Jetta's front door speakers offers a few challenges, but it's still a do-able DIY project (Crutchfield Research Photo)
Removing the factory speakers
The degree of difficulty involved in speaker replacement varies a bit, but it's still a job that's well within the range of the average car audio DIY-er. There are some slightly challenging bits, but you can do this.
We highly recommend component speaker systems in this car. There are already tweeters present and, while replacing them takes extra work, the results will be well worth the time.
You'll need to drill new mounting holes for your aftermarket speakers (Crutchfield Research Photo)
Removing your front door woofers
Removing and replacing the door speakers will make good use of the confidence gained while replacing the radio. It's not a hard job, but depending on how your car is equipped, there can be some interesting parts. Once you have the old ones out, you can install your choice of 5-1/4", 6-1/2", or 6-3/4" aftermarket woofers and enjoy vastly improved sound whether you replace the radio or not.
You'll need to remove the door panels to get to the woofers and the tweeters (see below), a process that's detailed in the Crutchfield MasterSheet that's included with your stereo or speaker purchase. There are some differences between the driver's side and passenger's side doors and some other differences that depend on whether your car has manual or power windows.
Once you've removed the panels, you'll need to remove the woofers. Use a cordless drill and a 3/8" bit to drill out the rivets securing the speaker assembly to the door. Pull out the assembly, disconnect the harness, and remove the speaker. Use a nail punch to knock out the remaining rivet bits in the mounting surface to make sure nothing interferes with installing the new ones.
Your speaker purchase includes (if needed) the mounting brackets needed to install new speakers. Secure each speaker to the bracket following the instructions supplied with the brackets, then place the assembly in the speaker location, mark your new mounting holes, and drill new holes with a 1/8" bit. For final installation, make sure the bracket is positioned with the slot for the wires on top. You'll need to use the stock screws to secure the new speakers, so keep those handy.
Drilling isn't hard, of course, but you're drilling into a car – your car – so you'll want to do it right. Make sure you know what's around and behind what you're drilling into, work carefully, and always wear eye protection.
When it comes to connecting the speakers to the Jetta's factory system, there's another variation to note. If your car has the Monsoon system, your purchase will include the wiring harness adapters needed to connect everything. If your car has the base model stereo system, there's no harness available at this time, so you'll need to use Posi-Products speaker connectors to connect the new speakers to the factory wiring system.
Once the new woofers and tweeters are installed, test them out to make sure they're working properly. If they are, and if the locks and windows are also functioning as expected, you're ready to put the doors back together.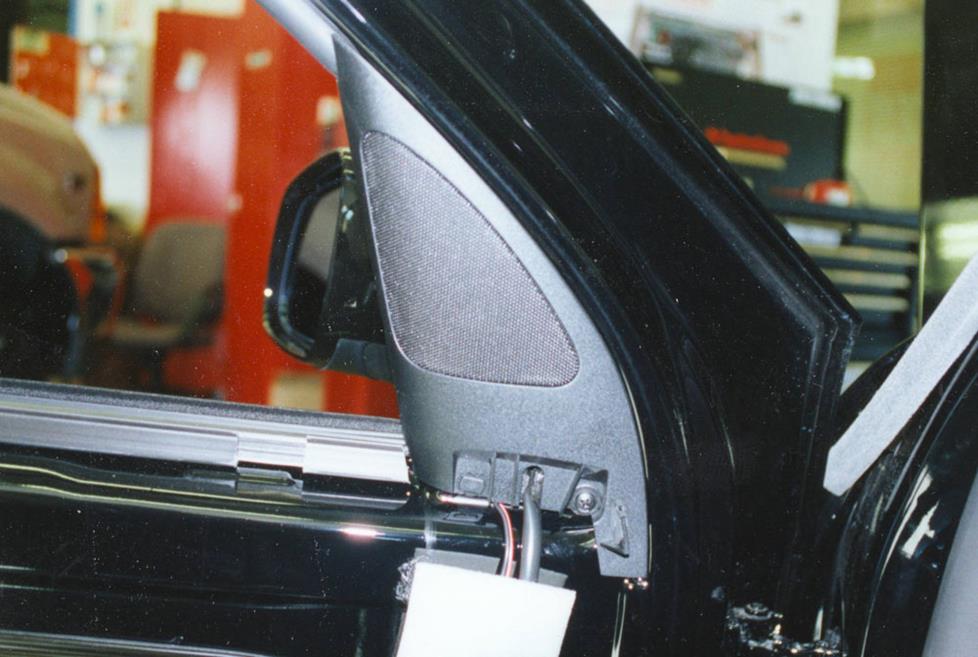 The Jetta's sail panel tweeters are reasonably easy to deal with (Crutchfield Research Photo)
Removing your Jetta's front tweeters
The factory tweeter is a 1.569" in diameter that's molded into the door sail panel. You'll be able to get to them when you remove the door panels. They're kind of tricky to remove, but it can be done if you work carefully.
There are no direct replacements available, and no wiring harness is available for this location. You'll need to use Posi-Products speaker connectors to connect them to the factory wiring. And if you can find component tweeters that fit here, you'll need to connect the new tweeter wire to the new component system's crossover, so a Pro.Fit Wire Worm will really come in handy.
Tools needed: Panel tool, Phillips screwdriver, flat blade screwdriver, 1/8" and 3/8" socket, ratchet & extension, hole punch, Torx T-15 driver
You'll need to drill our the rivets on all four door speakers (Crutchfield Research Photo)
Removing your Jetta's rear door speakers
Pretty much everything we mentioned above also applies to the rear door woofers and tweeters. That took a long time to type, so we're not going to go through it again. Our much-more-industrious Research Team did go to the trouble, however, and all the details can be found in your MasterSheet.
If you run into trouble here, or at any other point in your installation, remember that your Crutchfield speaker purchase also includes free tech support for the life of your gear. We're here if you need us, so give us a call.
Tools needed: Panel tool, Phillips screwdriver, flat blade screwdriver, 1/8" and 3/8" socket, ratchet & extension, hole punch, Torx T-15 driver
Shop for speakers that fit your Volkswagen Jetta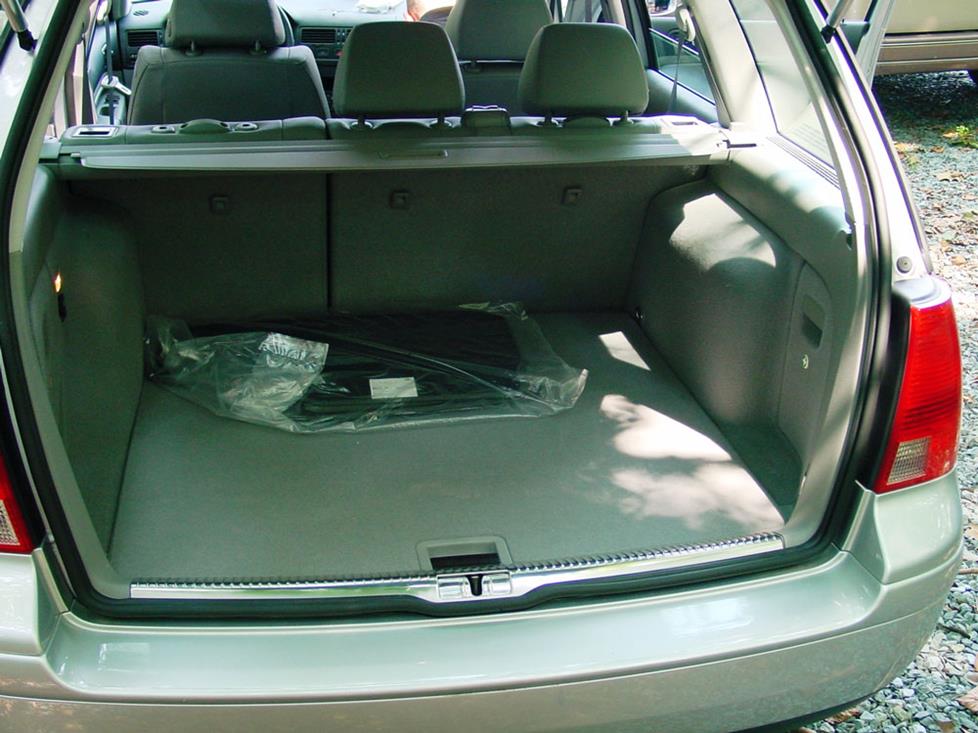 The Jetta wagon offers plenty of space for a subwoofer enclosure. The sedan's not bad, either. (Crutchfield Research Photo)
Adding bass to your Jetta
If you're really serious about bass, these cars do offer some space for subwoofer enclosures. In the sedan, you'll find a 38" W x 20" H x 36"/27" space in the trunk, while the wagon offers 39" W x 16" H x 39"/31" space in the cargo area. How big you go depends on how much you use that area for practical, everyday tasks. If you're worried about losing cargo room, look into smaller powered subwoofers.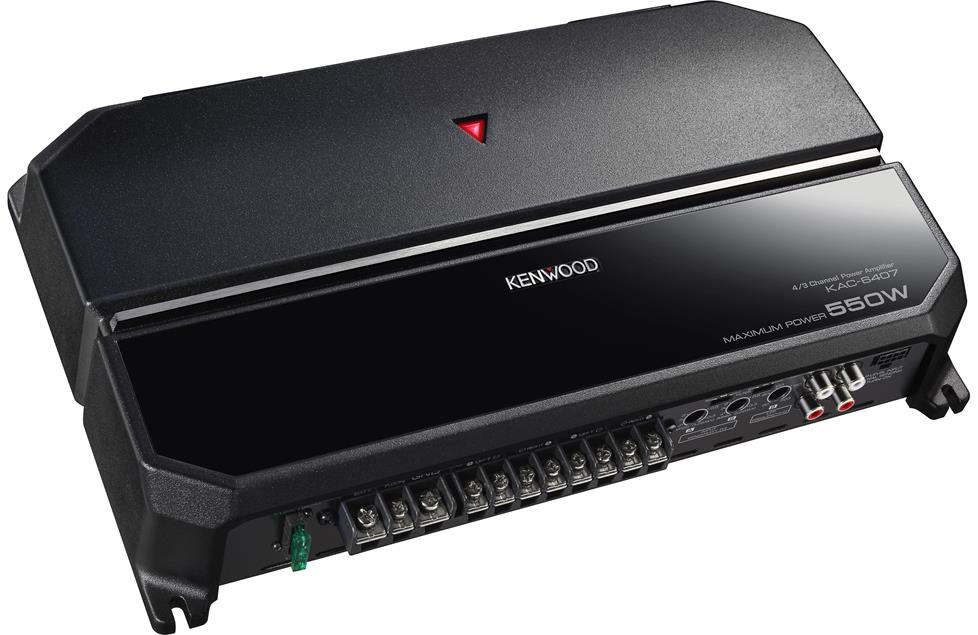 A 4-channel amplifier will really improve your system's sound
Other ways to upgrade your Jetta
Here are some other ways to improve your Jetta's sound and security.
Add an amplifier (or two)
A new 4-channel amplifier will help you get the most out of your new speakers. You'll get cleaner power (and a lot more of it), which will result in much, much better sound. A mono amp can provide the juice you need for a new subwoofer, too.
Kick panel speakers
To add even more sound to your Jetta, install a set of Q-Forms kick panel enclosures. They look like the stock kick panels, but once you cut a mounting hole, they'll hold the 6-1/2" component speakers of your choice. They're located near your feet and angled up towards your ears, so the driver's seat becomes the "sweet spot" for your stereo. Installation takes some work, but it's not beyond the realm of an experienced DIY-er.
Adding a car security system
Installing a security system in your Jetta isn't easy (security systems rarely are), but it's less complicated than it could be. Our Crutchfield Advisors can help figure out what you need to get the job done, but we usually recommend taking your car and new gear to a professional installer.
Let's get started!
Ready to shop? Use our vehicle selector to find the gear that will fit your car or truck. If you have questions of your own, give us a shout via phone, chat, or email