2000-2005 Ford Excursion
Upgrading the stereo system in your Excursion
2000 • 2001 • 2002 • 2003 • 2004 • 2005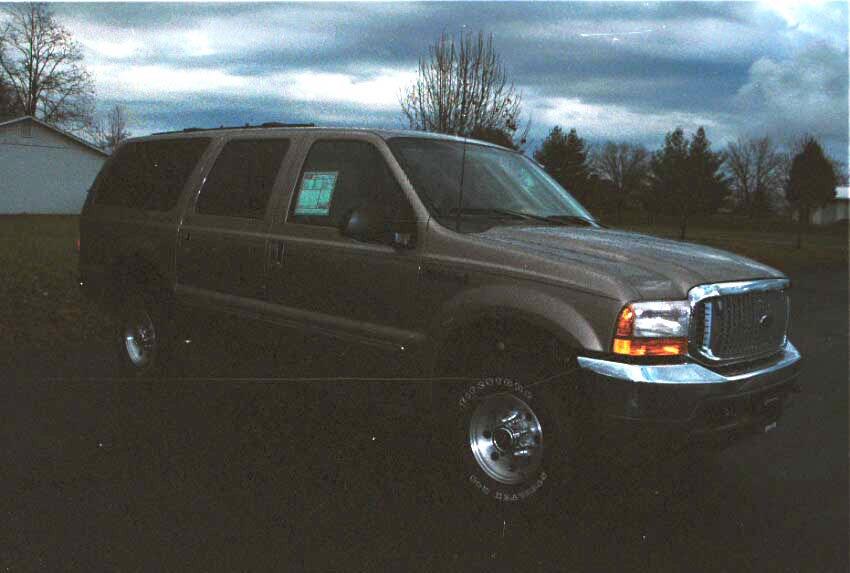 In brief: This Crutchfield Research Garage article gives you an overview of your Excursion's stock stereo system and your aftermarket upgrade options. Use our vehicle selector to find the gear that will fit your Ford.
Overview of the Ford Excursion
Back in the seventies, full-sized cars were often referred as "land yachts." It was an apt term, because the cars were expensive, comfortable, and so huge that a crew of at least three was needed to slip one into a standard parking spot. But if those cars were yachts, then what is the Ford Excursion? A super yacht? A mega yacht? An aircraft carrier?
Simply calling it a "large SUV" isn't enough for this Brobdingnagian vehicle. Based on Ford's heavy-duty F-250/F-350 truck chassis, the Excursion is almost 19 feet long and sports a curb weight of nearly 7000 pounds. All that size means you can carry up to nine people and tow pretty much anything short of a mobile home. You can also walk past Hummer owners and say, "Cute little truck you have there!"
Needless to say, there's plenty of room for audio upgrades in this SUV, so if you're ready to fill that big space with big sound, read on.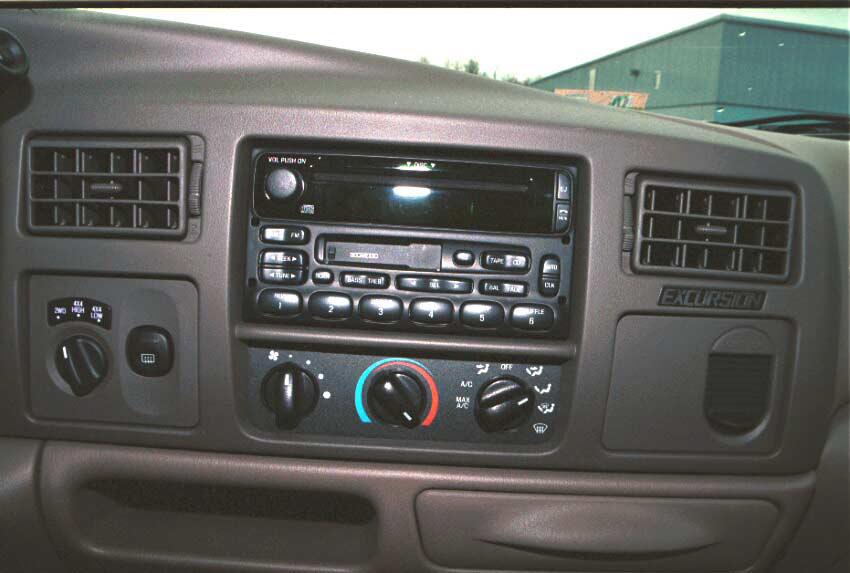 The factory radio is reasonably easy to remove and replace (Crutchfield Research Photo)
Factory stereo system
The Excursion's ride will never be confused with that of a Lincoln, but the interior sports enough creature comforts to match any luxury car. The factory radios aren't awful, but whatever's in your Excursion now is probably due for an upgrade.
You'll find that a wide variety of aftermarket stereos will fit your Excursion, but if you're looking at single-DIN (2" tall) receivers, models with retractable-screens won't work due to the dash configuration.
If you want to add video and/or navigation to your truck, you can install a double-DIN (4" tall) receiver, but you'll have to modify the sub-dash to create the space most of them need. Once you make that modification, though, you won't be able to re-install the factory radio. You'll also lose the factory Video Entertainment feature.
When you buy your receiver from Crutchfield, you'll get a big discount on the dash kit and wiring harness you need to install it in your truck. You'll also get our Crutchfield MasterSheet, which includes detailed disassembly instructions for the receiver and speaker locations.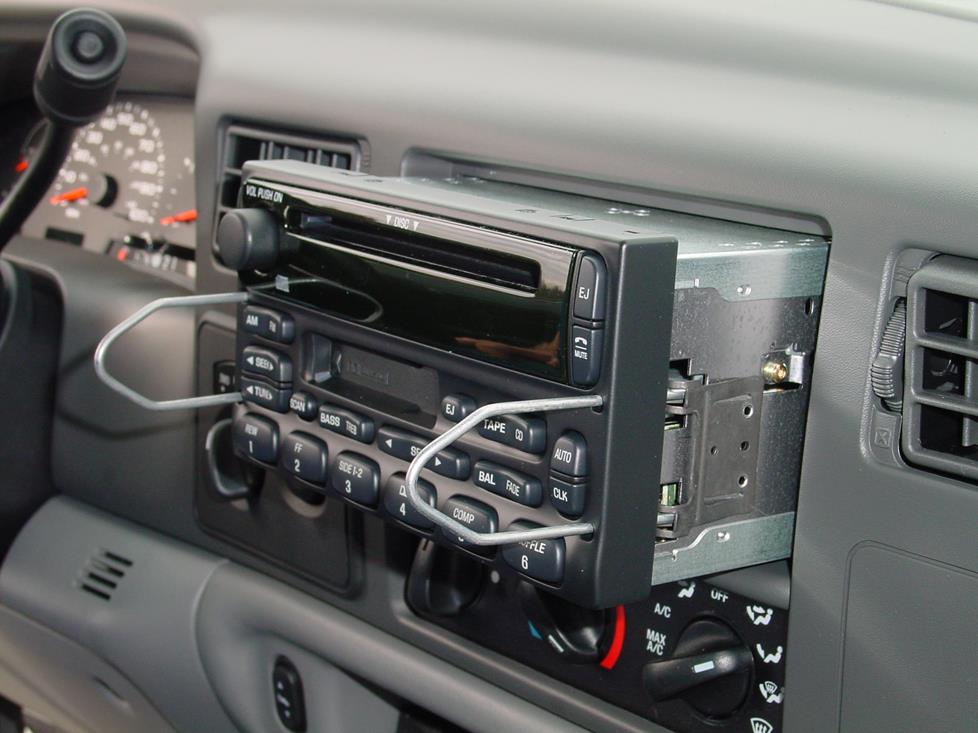 A set of DIN tools is included with your Crutchfield stereo purchase (Crutchfield Research Photo)
Replacing your factory radio
Removing and replacing your Excursion's stock radio isn't hard at all. Grab the DIN tools included with your Crutchfield stereo purchase and gently insert them into the holes in the face of the factory radio. Go in about 1" or until you hear a click from each side. Spread the tools apart slightly, pull out the radio, disconnect the harness, and get it out of there.
If you're installing a single-DIN radio, you can choose between dash kits with a storage pocket on the top or the bottom. Each kit comes with instructions, but basically, you're just inserting the new receiver into a DIN sleeve and attaching it to the kit.
You'll need to crate space in the dash opening for most double-DIN CD/DVD, or navigation receivers. This isn't hard, but the work you do inside the dash cavity cannot be undone, and the old radio can't be reinstalled.
Tools needed: DIN tool
Detailed stereo and speaker removal instructions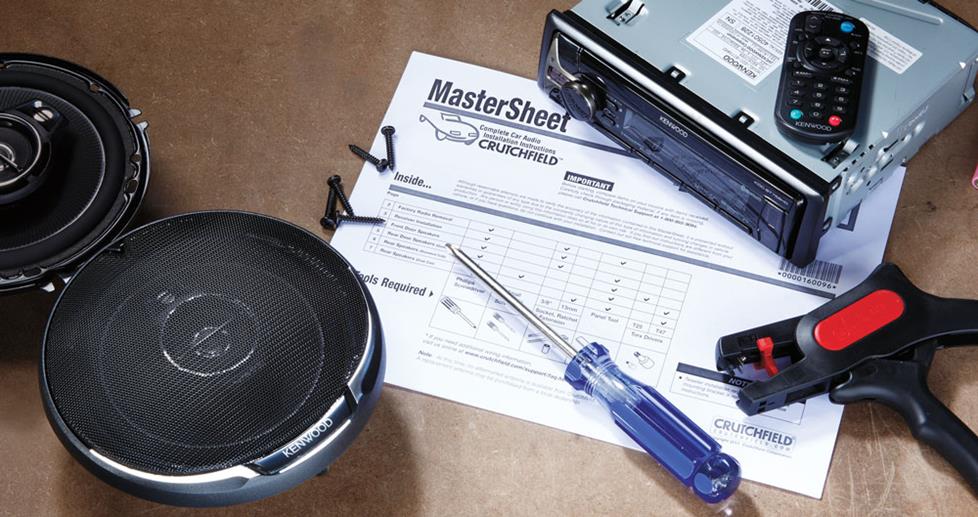 With step-by-step disassembly instructions and plenty of up-close, detailed photos, our exclusive
Crutchfield MasterSheet
™ takes the guesswork out of removing the factory stereo and speakers. It's free with your Crutchfield order, or you can purchase one separately for just $9.99.
Steering wheel audio controls
It's relatively easy to retain the steering wheel audio controls when you install a new stereo in your Excursion. When you enter your vehicle information, our database will choose the adapter you need to make your factory steering wheel controls work with your new receiver.
Shop for car stereos that fit your Ford Excursion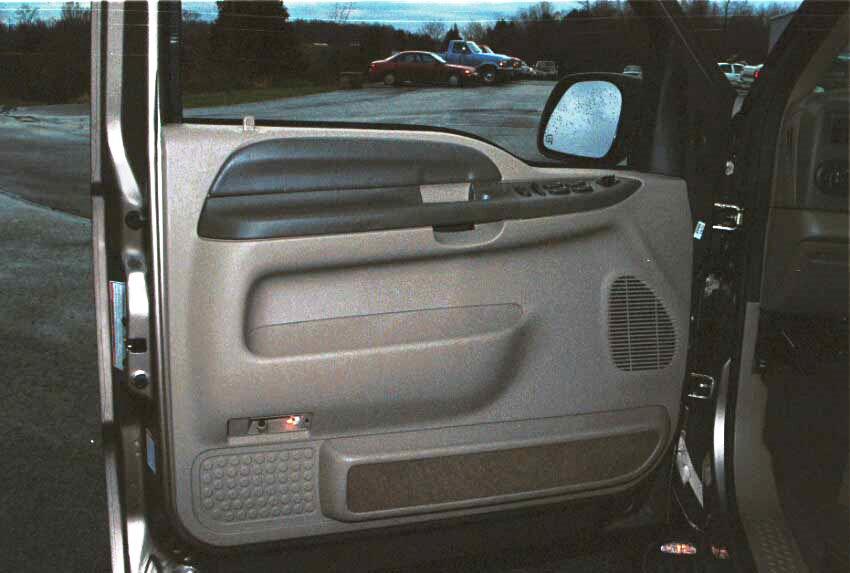 The front doors are big, and so are the speakers (Crutchfield Research Photo)
Replacing your factory speakers
The Excursion has speakers in the front doors, rear doors, and the rear side panel. They're all reasonably easy to reach and replace.
Front door speakers
The Excursion's factory speakers are Ford's standard 6"x8" oval models, and you can replace them with same-size or 5-1/4" aftermarket full-range speakers. When you order from Crutchfield, we'll make sure you also get the wiring harnesses you need, plus mounting brackets if you're installing 5-1/4" speakers. You'll also get a nice discount on those parts when you order from us.
You can install a set of component speakers in this truck, but you'll need to do some fabrication work to mount the tweeters in the sail panels. Depending on your level of DIY expertise, you might want to hand that project off to a professional installer.
You can also boost your sound with a set of Q-Forms Kick Panel pods. These custom speaker enclosures fit into the space where your kick panels are now. Once you install a set of 6-1/2" component speakers, they'll direct the sound up towards your ears. Installation isn't massively difficult, but if you're not an experienced DIY-er, it might be wise to turn this job over to a car audio pro, too.
Tools needed: small flat blade screwdriver, panel tool, 7/32" and 9/32" sockets, ratchet and extension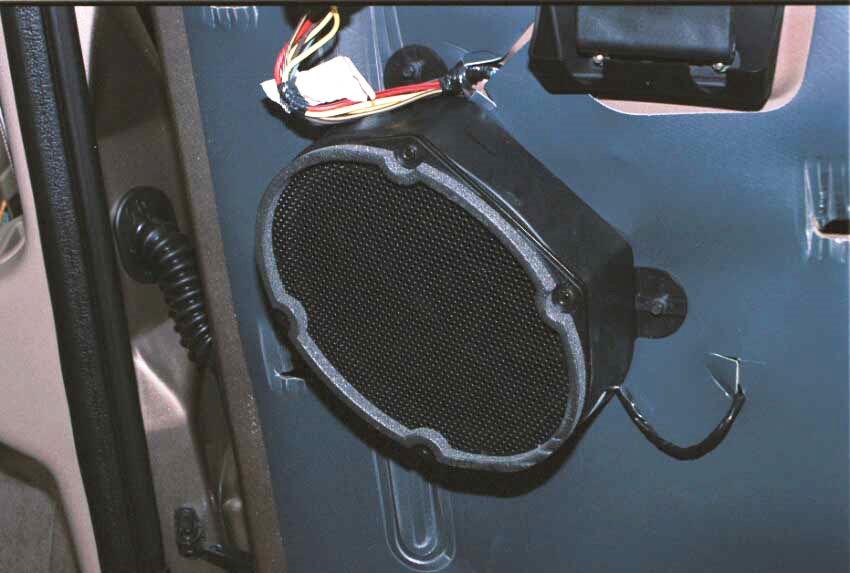 Like the other speakers in the Excursion, the rear door speakers can be replaced with 6"x8" or 5-1/4" models (Crutchfield Research Photo)
Rear door speakers
You'll also find 6"x8" oval speakers in the rear doors, and you can replace these with same-size or 5-1/4" aftermarket full-range speakers, too. The work here is pretty basic, too, so this is another excellent project for the DIY-er.
Use a panel tool to pry up the power options switch panel on each door, starting from the edge closest to the center of the vehicle. Lift the panel, disconnect it, and remove it. This will expose a 9/32" screw, which you'll also remove.
You'll need to remove the reflector lens on the door next. Use a small flat-blade screwdriver to pry it out, using the notch in front. That'll expose another 9/32" screw, which you'll need to remove. With that out of the way, lift the door panel straight up and off, then set it aside. All that's left is to remove four 7/32" screws, remove the speaker, and disconnect the harness.
Install the new speakers, test to make sure they're working, then do everything backwards to put the doors back together. But before you do, make sure the windows and door locks are functioning correctly.
Tools needed: small flat blade screwdriver, panel tool, 7/32" and 9/32" sockets, ratchet and extension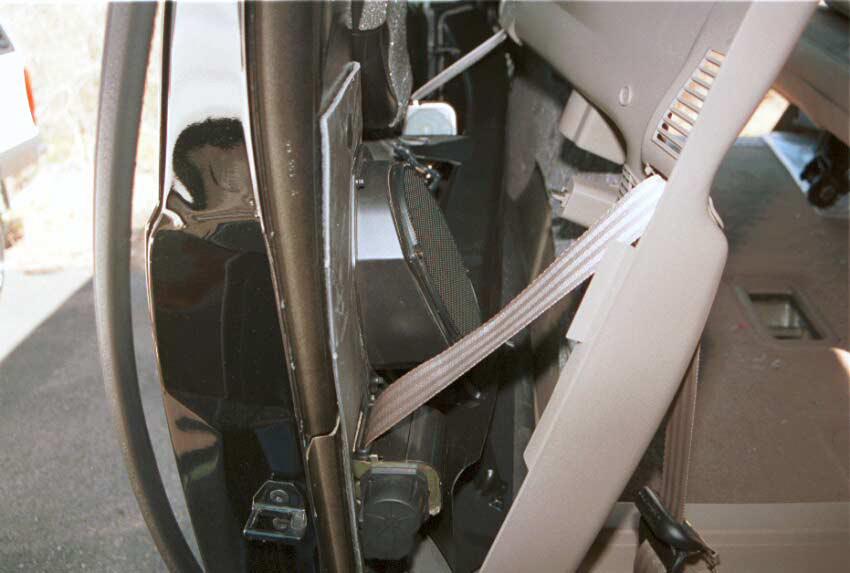 You'll need to loosen — but not remove — the rear side trim panels to replace the speakers (Crutchfield Research Photo)
Rear side speakers
Consistency is a wonderful thing, so the Excursion's rear side speakers are also 6"x8" oval models that can be replaced by same-size or 5-1/4" aftermarket full-range models.
To get to them, you'll need to remove the rear side panels and the third rear seat, if your truck is so equipped. This isn't hard to do, but there are some fiddly bits to deal with, so patience is a virtue when you're doing this job. Or most any job, really, when you think about it.
Complete step-by-step instructions can be found in your MasterSheet. The important thing to think about here is that you'll only need to pry away enough retaining clips to get to the speaker – you don't need to remove the entire thing. You do, however, have to be careful when you're prying the clips out and gently bending the panel out to access the speakers.
As with the other speaker locations, you'll need a speaker adapter bracket to install the smaller speakers, and it'll be included at a discount when you buy your speakers at Crutchfield.
Tools needed: Phillips screwdriver, panel tool, 7/32", 9/32", 1/4" and 15mm sockets, ratchet and extension
Shop for speakers that fit your Ford Excursion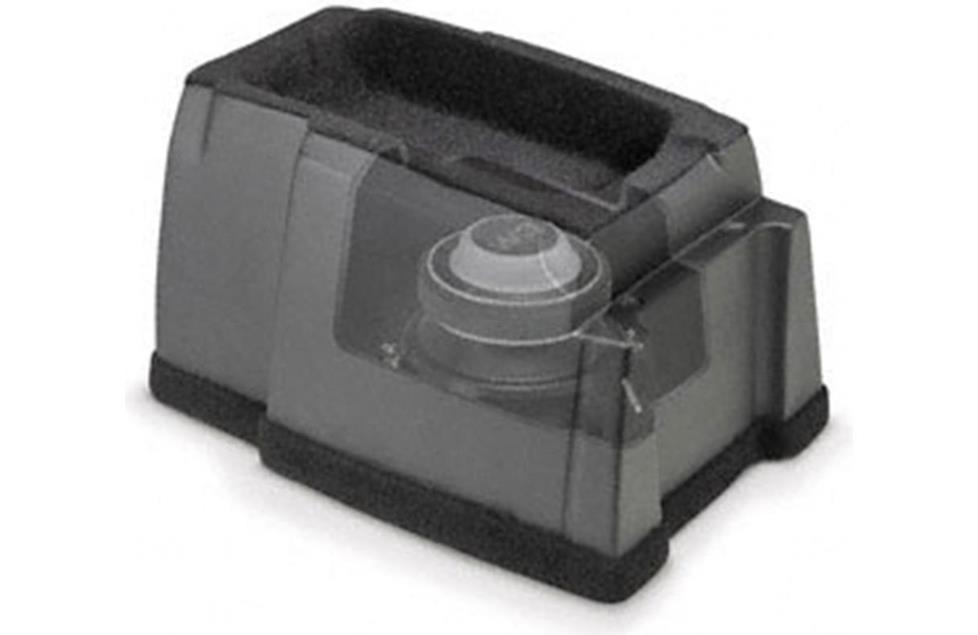 A cutaway view of the JL Audio Stealthbox. This custom sub fits into the center console and holds a 10" JL Audio subwoofer.
Bass in your Excursion
If you like bass, there's plenty of room for subwoofer boxes in these trucks. If you like bass more than people and cargo, there's a ridiculous amount of room to work with. In terms of a one-box measurement, you'll have a 48" W x 17" H x 29"/32" D space. But you can get pretty crazy back here if you ditch any and all practical considerations.
Another outstanding bass upgrade is the JL Audio Stealthbox subwoofer enclosure. Designed to fit the Excursion, this enclosure replaces the center console and holds a 10" JL Audio subwoofer. You will lose some storage space when you install this enclosure, so keep that in mind. This obviously won't work in trucks equipped with a bench seat.
If you're not that much of a basshead and/or you still need your cargo area for hauling cargo, you might want to look into a powered subwoofer. You'll get plenty of bass, without giving up practical space.
Shop for vehicle-specific subwoofers for your Ford Excursion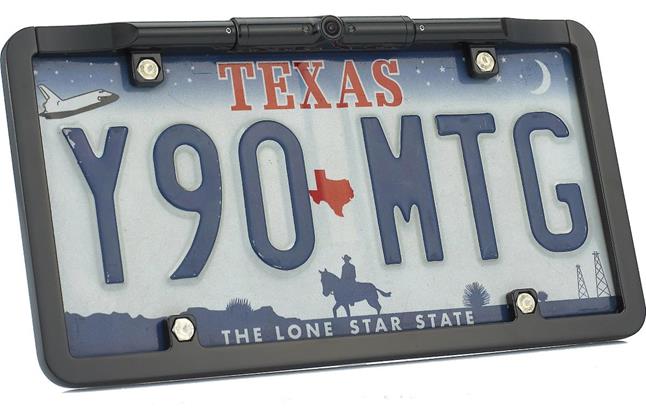 Boyo VTL375HD rear-view camera
Other options for your Excursion
Here are some other great ideas for your Ford Excursion
Rear-view cameras
As you've probably noticed, an Excursion is somewhat larger than, say, a first-gen Bronco. As a result, it's not a whole lot of fun to wrestle with in crowded parking lots. A rear-view camera will really help increase your visibility and safety when your busy day takes you into town. A camera can also be a massive help when you're backing up to a trailer. We also offer dash cams and side-view cams, both of which are great additions to a vehicle like this one.
Dynamat sound damping
The Excursion is a massive piece of machinery, so it punches a big, often noisy hole in the air at highway speeds. To keep road roar from undoing all the great work your new stereo is doing, install some Dynamat when you're replacing your speakers. This material is a great way to dampen the sounds you don't like and get more enjoyment out of the ones you do.
Floor mats
No matter how well you treat your Excursion, you're eventually going to get involved in some sort of truck-like activity that gets you and/or it dirty. When that happens, it's a good idea to have a set of WeatherTech Floor Mats on board. These incredibly durable mats trap moisture, contain dirt, and keep your factory carpets looking good.
Add an amp (or two)
A new amplifier will help you get the most out of your new speakers, and 4-channel and 6-channel amps are available. You'll get cleaner power (and a lot more of it), which will result in much, much better sound. You'll need a mono amp to provide the juice for your subs, too.
Security and remote start
Installing a security system in your Excursion isn't easy (security systems rarely are), but considering how popular these trucks (not to mention the trailers that might be behind them) still are, it's definitely a good idea. Our Crutchfield Advisors can help figure out what you need to get the job done, but we usually recommend taking your truck and new gear to a professional installer.
Shop for car security systems for your Ford Excursion
Find the audio gear that fits your car or truck
Visit our Outfit My Car page and enter your vehicle information to see stereos, speakers, subs, and other audio accessories that will work in your vehicle.