2001-2003 Ford F-150 Standard Cab, SuperCab, and SuperCrew
Upgrading the stereo system in your F-150
2001 • 2002 • 2003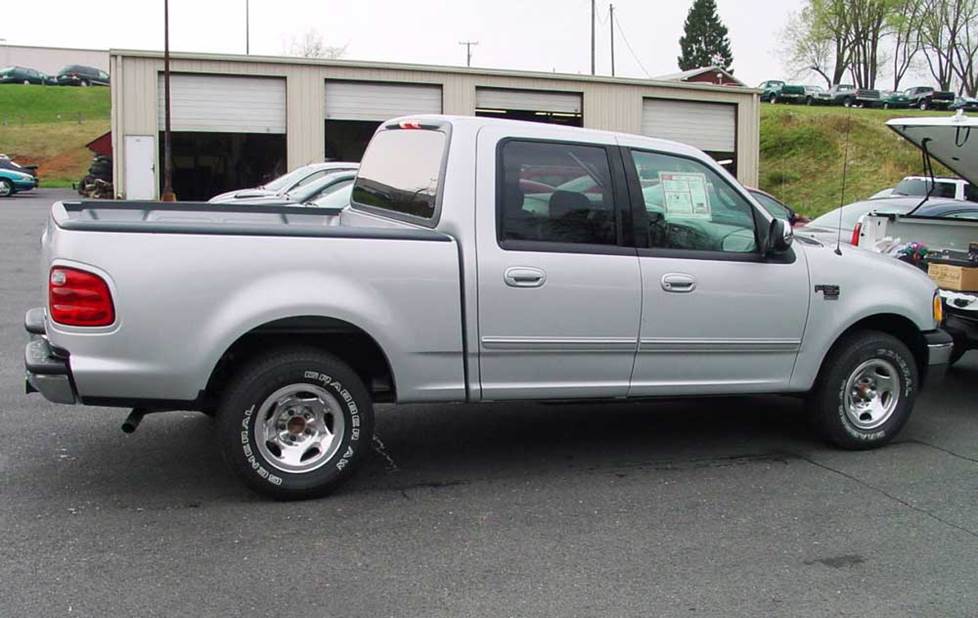 In brief: This Crutchfield Research Garage article gives you an overview of your F-150's stock stereo system and your aftermarket upgrade options. We'll tell you all about:
Then, use our vehicle selector to find the gear that will fit your truck.
Overview of the Ford F-150
Nothing succeeds like success, which is one reason the Ford F-150 has been America's best-selling full-size truck for a very long time. Another (bigger) reason is that Ford has been anything but complacent when it comes to developing and improving these trucks. From engineering to marketing, everyone involved with the F-150 takes that "Number 1" ranking seriously and works hard to keep it.
Case in point, the tenth-generation F-Series. This sleek, revolutionary truck was a big deal when it debuted in 1997, and a series of updates kept things interesting throughout the truck's seven-year run. Cool new trim packages like the Harley-Davidson® edition drew lots of attention, as did the high-performance SVT Lightning model. But the biggest difference-maker was the return of the "SuperCrew" crew cab model in 2001.
No matter which cab style you're driving, a new stereo system will be a big improvement in your truck's everyday enjoyability. We'll cover all three of them below.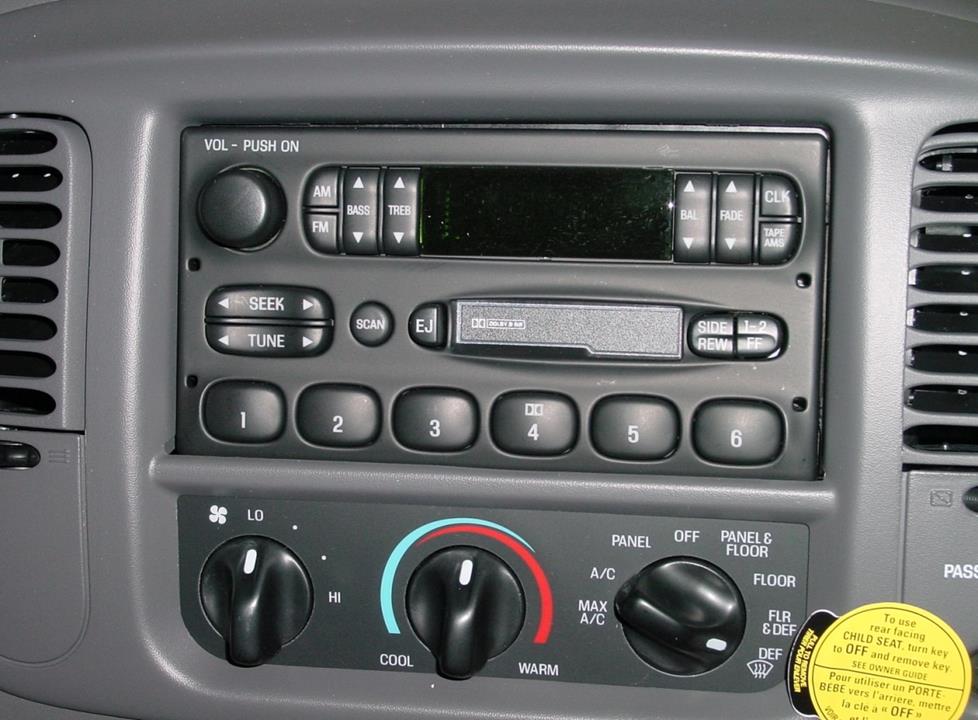 Retro, schmetro. Replacing the old receiver is the first, best thing you can do with your F-150. (Crutchfield Research Photo)
The factory stereo system
The base receiver was your basic Ford AM/FM/cassette model, and there was also an external CD player available. In 2003, a 6-disc, in-dash CD changer appeared in the King Ranch edition, while the Lariat model got its very own Pioneer audio system.
There are no major hiccups to worry about with any of the factory gear, but there are some things to think about when you're choosing aftermarket stereo equipment.
Due to the dash configuration, you won't be able to install a single-DIN (2" tall) receiver with a retractable video screen. There's just not room for the screen to do its thing, so that's a no-go.
You can, however, install a double-DIN (4" tall) video receiver in the F-150. There is some work involved, because there's a sub-dash brace you'll have to remove to create the necessary space. This isn't hard to do, but it can't be un-done, and you can't re-install the stock radio. We're not saying you'd want to, but you should know either way, right?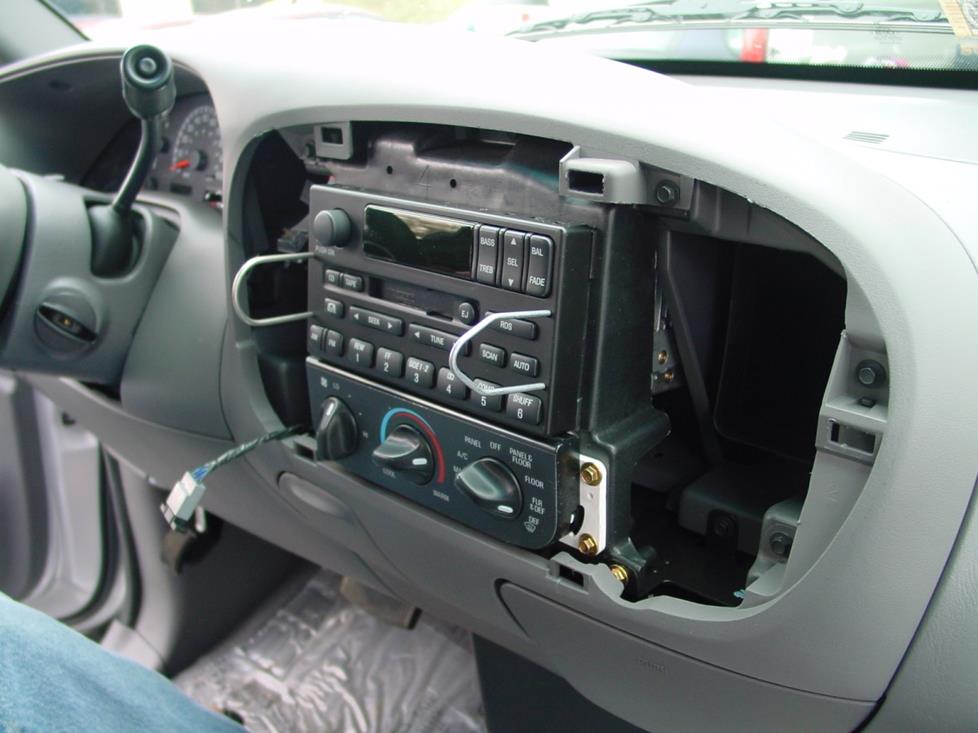 You'll use DIN tools to pull the stock radio out of the cavity (Crutchfield Research Photo)
Removing the factory radio
Removing the stock radio is relatively simple. Carefully pull out around the edges of the radio's trim panel to release the retaining snaps. Then, press downward on the top of the right side air duct to get the panel out of the way.
Move the panel downward just enough to insert DIN tools into the holes on each side of the radio. Push the DIN tools approximately 1" into the holes, until you hear a click from each side. The click tells you that you're in there, so spread the tools apart slightly and pull the radio out of the dash.
Detailed stereo and speaker removal instructions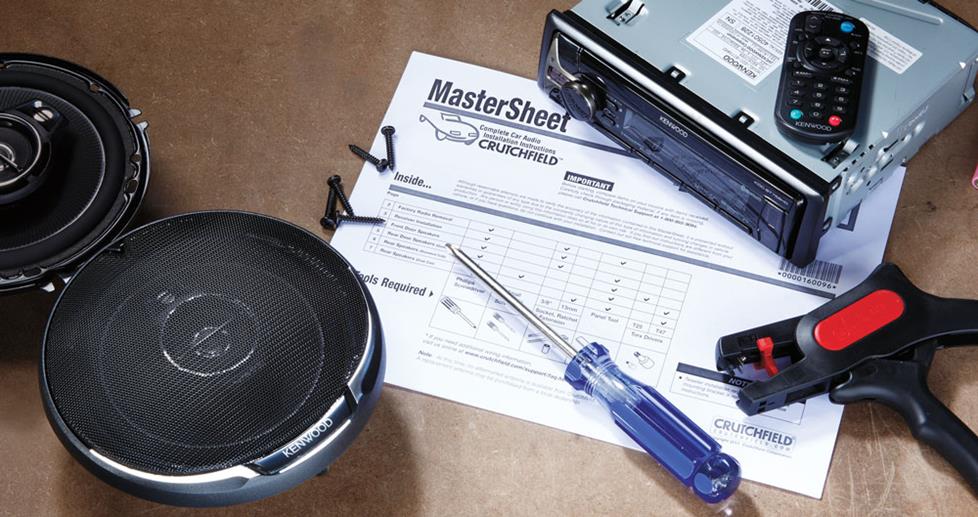 With step-by-step disassembly instructions and plenty of up-close, detailed photos, our exclusive
Crutchfield MasterSheet
™ takes the guesswork out of removing the factory stereo and speakers. It's free with your Crutchfield order, or you can purchase one separately for just $9.99.
Once it's free, disconnect the harness, remove the old piece and install your new stereo by reversing the removal steps and following the instructions included with the wiring adapter. Once it's all connected, test to make sure it's working and. If it is, you're good to go.
Your dash kit and wiring harness will include installation instructions. If you have questions, you can always call our Tech Support team for help and advice. They're available seven days a week and you'll have free access to our tech line for the life of your receiver.
Tools needed: panel too, DIN tools, small flat blade screwdriver
Steering wheel audio controls
It's relatively easy to retain the steering wheel audio controls when you install a new stereo in your F-150. When you enter your vehicle information, our database will choose the adapter you need to make your factory steering wheel controls work with your new receiver.
Shop for car stereos that fit your Ford F 150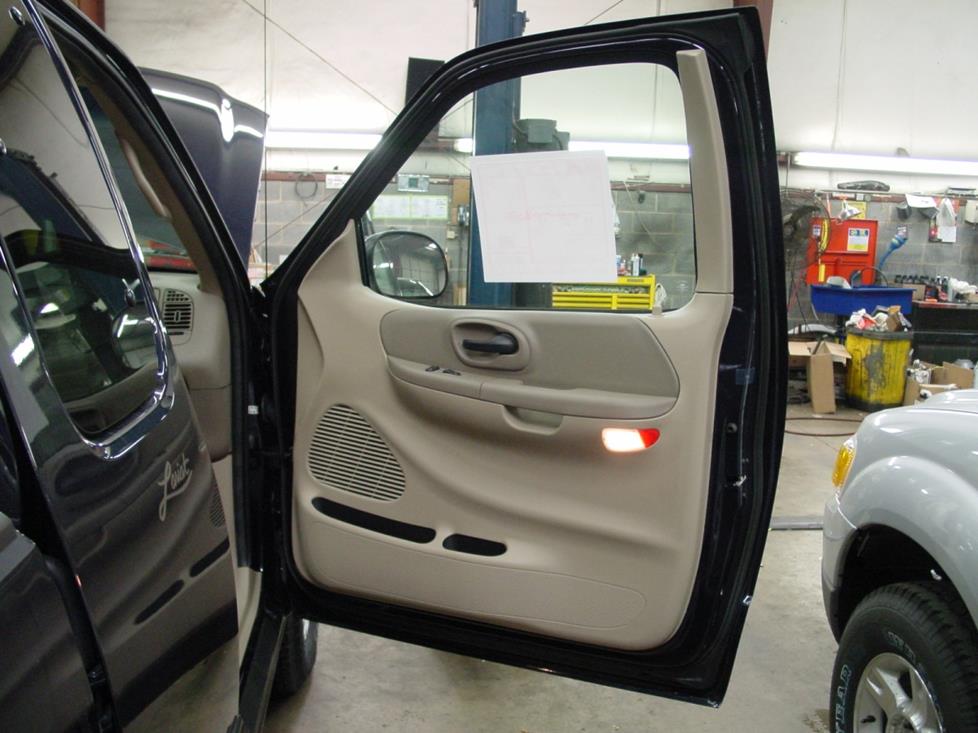 This Lariat model has powered windows. Old-fashioned hand crank windows were available, too. (Crutchfield Research Photo)
Removing the factory speakers
You'll find 6"x8" stock speakers in the F-150's front door, and they're pretty easy to deal with. All three cab variations will house 6"x8" rear speakers, too. The difference is location, location, location.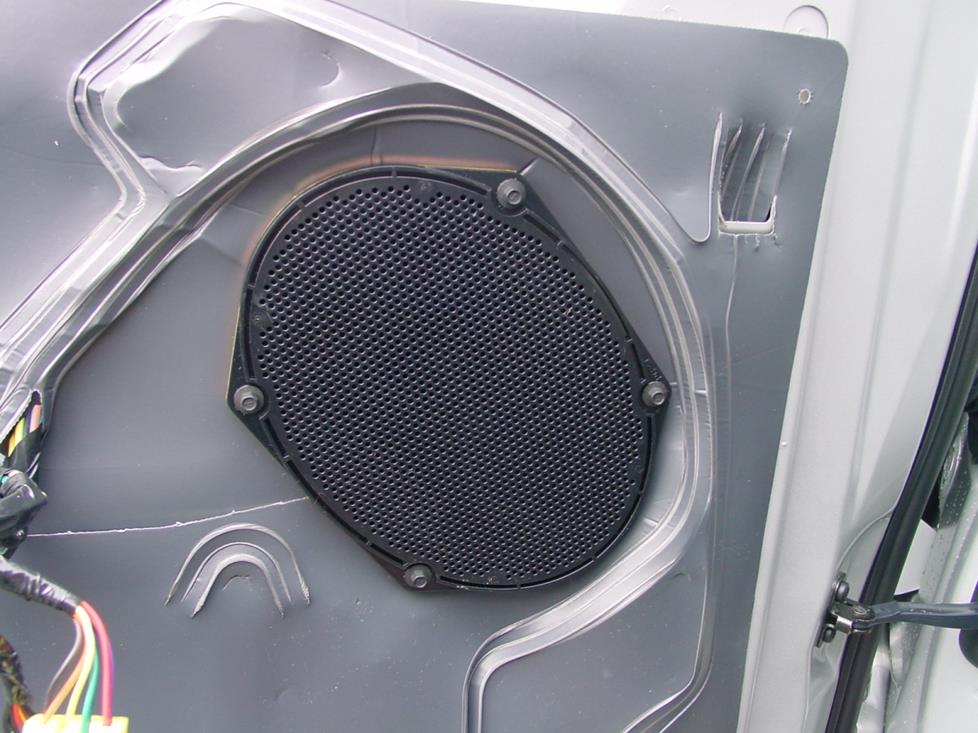 Replacing the front door speakers is reasonably easy, once you remove the door panels (Crutchfield Research Photo)
Front speakers
The factory door speakers are Ford's standard 6"x8" oval models, and they can be replaced by same-size or 5-1/4" aftermarket full-range speakers. When you order from Crutchfield, we'll make sure you also get the required wiring harnesses, plus the mounting brackets you'll need if you're installing 5-1/4" speakers.
Getting to (and then getting rid of) the factory speakers isn't hard in these trucks, but the task at hand depends on whether your truck has manual or power windows. If you have old-school manual windows, you need to remove the window crank. If you have fancy-schmancy power windows, you'll need to remove the power switch panel. Neither of those things will be hard to do, and the rest of the speaker replacement process is about the same, really.
As long as you're patient and gentle with the various panels and pieces, this is a totally doable project for the weekend DIY-er. All the step-by-step details, plus handy illustrations, can be found in your Crutchfield MasterSheet.
You can install component speakers in your F-150, but you'll need to do some fabrication work to mount the tweeters. Depending on your level of DIY expertise, you might want to hand that job off to a professional installer.
Tools needed (Standard and SuperCab): Panel tool, Phillips screwdriver, small flat blade screwdriver, 6mm socket, ratchet & extension, Torx T-20 driver
Tools needed (SuperCrew): Panel tool, Phillips screwdriver, flat blade screwdriver, 6mm and 7mm socket, ratchet & extension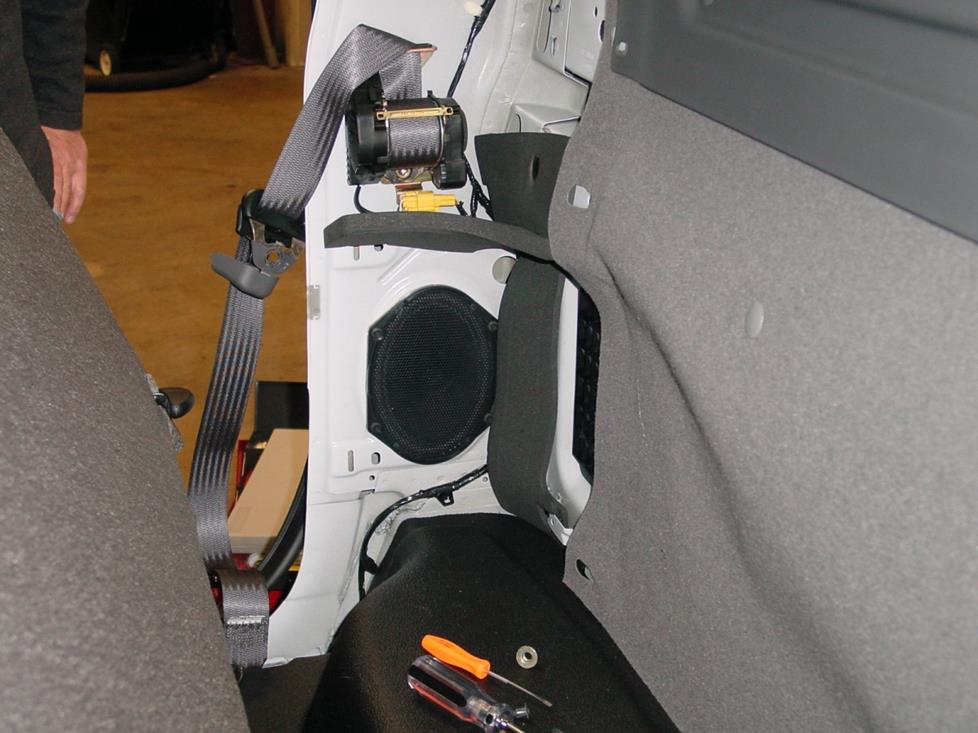 The Standard cab has speakers in the lower rear side panels (Crutchfield Research Photo)
Rear speakers in the standard cab F-150
The regular cab F-150 (above) has a pair of 6"x8" speakers in the lower rear side panels, just behind the doors. Replacing them with same-size or 5-1/4 aftermarket speakers involves removing the panels, but that's not a terribly difficult job for the average DIY-er.
You will have to deal with some aging plastic panels and retaining clips, so take your time and take care of your truck. Working faster or pulling harder won't make the job any easier or better. And if you break it, well, you pretty much already bought it, right? So don't break it. Work carefully. Complete, illustrated instructions can be found in your MasterSheet.
Tools needed: Panel tool, small flat blade screwdriver, 6mm and 15mm socket, ratchet & extension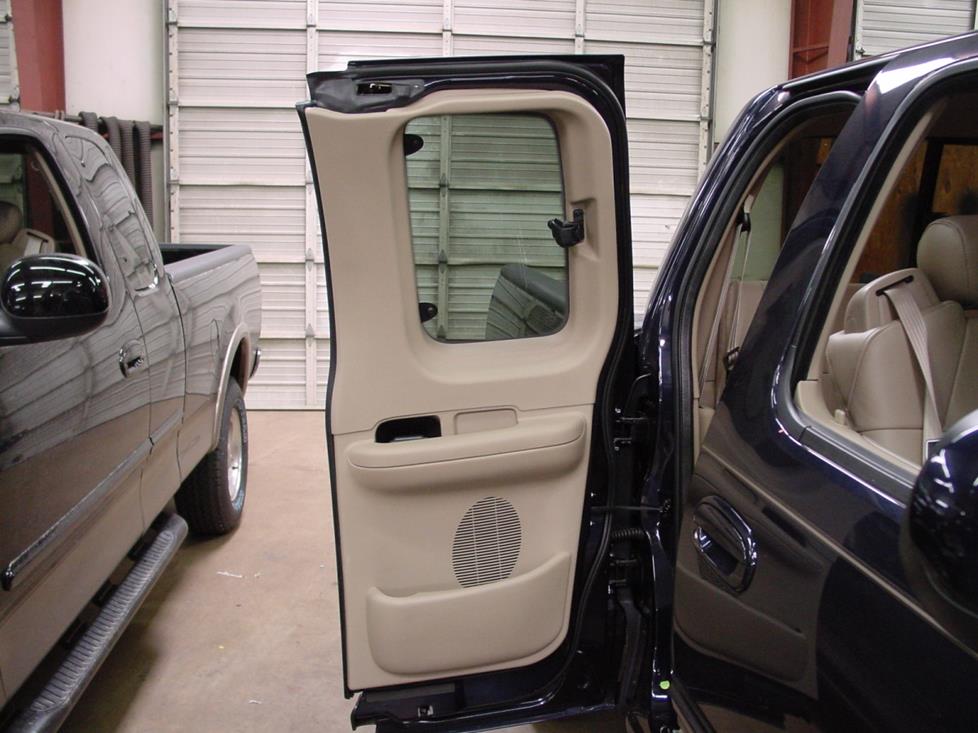 Due to slightly different door speaker locations, the SuperCab is the most challenging of the three. But it's still not that challenging, really. (Crutchfield Research Photo)
Rear speakers in the SuperCab F-150
The SuperCab (extended cab) model features a rear seat/storage area that's accessible via a third door on the passenger's side. Speaker-wise, you'll find a pair of factory 6"x8" speakers that you can replace with same-size or 5-1/4" aftermarket models. Again, we'll make sure you get the harnesses and mounting brackets you'll need to install them.
Getting to these speakers isn't difficult, but there are a few steps involved, and those steps differ depending on which side of the truck you're dealing with at the time. The driver's side speaker is in a panel behind the front seat, while the passenger's side speaker is in the third door. The driver's seat folds forward and the third door swings out wide, so they're not hard to work with.
The key is to stay organized and be patient with the plastic panels. The door is obviously the more complicated of the two, but your Crutchfield MasterSheet contains detailed disassembly instructions for each speaker location.
Once the speakers are connected, test them out to make sure they're working properly. And before you button everything back up, double-check to see that the speaker wires aren't interfering with anything. Once everything IS buttoned up, be sure that the seat belts are secured properly before you hit the road.
Tools needed: Panel tool, Phillips screwdriver, small flat blade screwdriver, 6mm and 10mm socket, ratchet & extension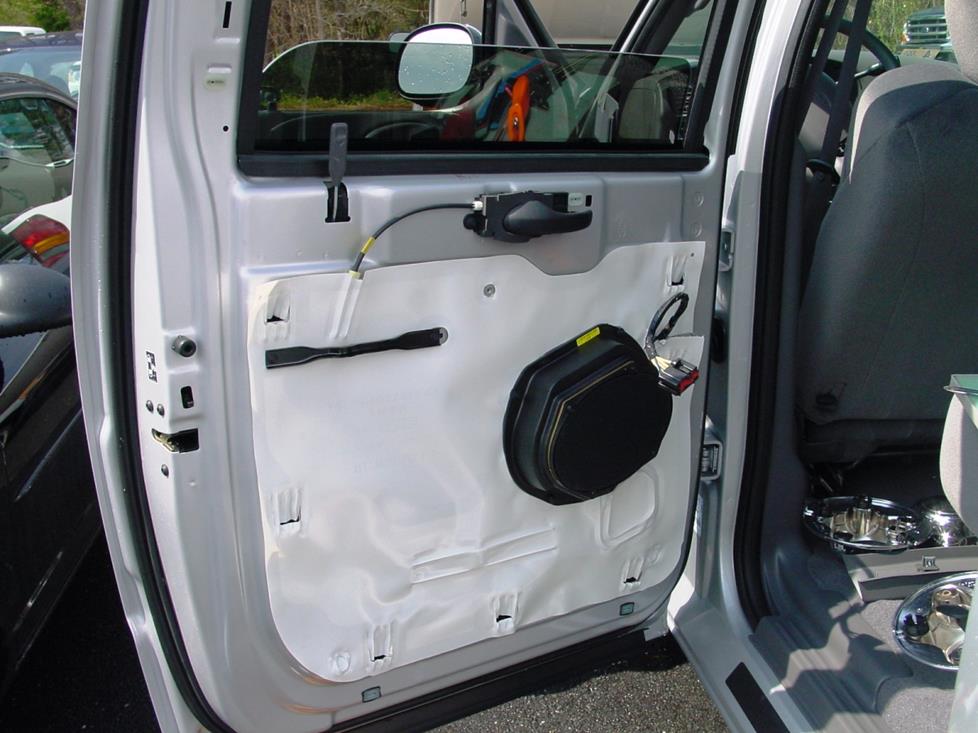 The SuperCrew's door speakers are also reasonably easy to reach and replace (Crutchfield Research Photo)
Rear speakers in the SuperCrew F-150
The new-for-2001 Super Crew brought four-door convenience to the already-awesome F-150. Whether you're hauling an actual work crew to a job site, or a bunch of friends who call themselves a crew and sometimes spell it with a "k" and an "e" for some reason, your passengers will be comfortable in the spacious back seat.
You'll find the same factory 6"x8" speakers in these doors that you'll find elsewhere in an F-150, so these, too can be replaced with same-size or 5-1/4" aftermarket models. You'll need to remove the door panels, but this is not a difficult job if you're patient and organized. Basically, if you've already handled the front doors, you can definitely handle these.
Tools needed: Panel tool, Phillips screwdriver, 1/4" and 7/32" sockets, ratchet & extension
Shop for speakers that fit your Ford F 150
Bass in your F-150
If you're interested in upgrading the bass performance in your F-150, you have some decent options for all three cab styles. Obviously, some offer more space than others, but you can usually find some room for a subwoofer box. There are several custom-fit, loaded and unloaded enclosures that will blend right into the truck's décor and give you serious performance. When you enter your vehicle info, our database will show you the various enclosures that fit your truck.
Shop for vehicle-specific subwoofers for your Ford F 150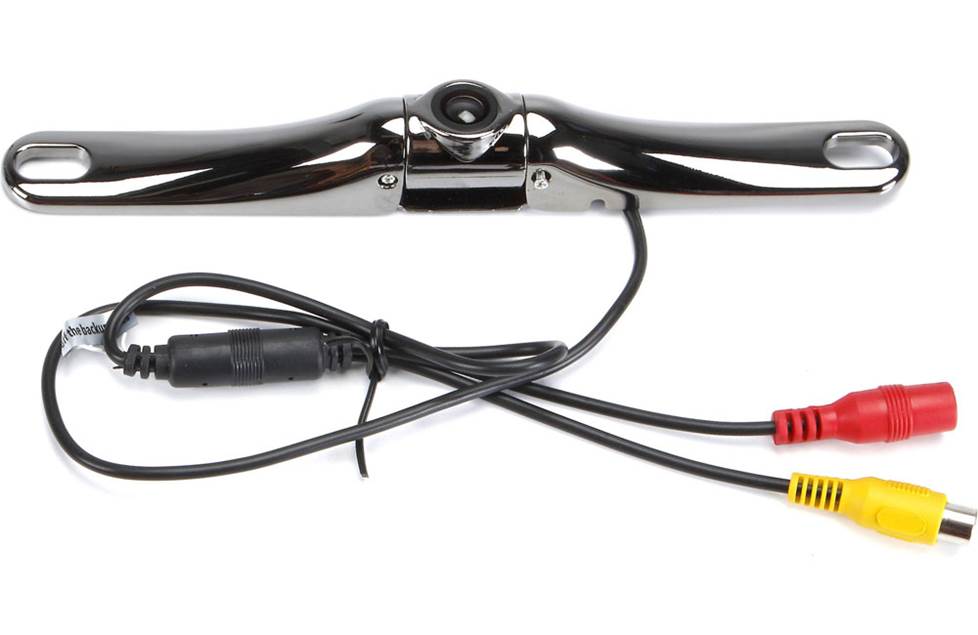 The Accele RVCLPMBS rear-view camera is a smart addition to any F-150
Other options for your Ford F-150
Here are some other great ideas for your Ford pickup
Rear-view camera
The larger the truck, the bigger the need for a rear-view camera. Installing a camera will make backing up in a crowded parking lot a whole lot easier. We offer cameras from Kenwood, Alpine, Pioneer, and more. Some are designed to work with same-brand receivers only, but others come with a composite video connector and will work with almost any video receiver. Still others work with a rear-view mirror.
Add an amplifier for better sound
No matter what else you do to your audio system, to further improve the sound quality, consider installing a 4-channel amplifier for your speakers. That will let you get the best sound from your music and really fill up the F-150's spacious cabin. And if you install a new subwoofer, you'll also need to install an amplifier to power it as well. Talk to one of our advisors to get some ideas for how to economically and easily build your system.
Kick panel pods
If you want to add better sound and, more importantly, better sound staging to your truck, install a set of Q-Forms Kick Panel Pods. These custom speaker enclosures fit right into the space where your kick panels are now and, once you pick and install a set of 6-1/2" speakers, will direct great sound up towards your ears. They're available in a variety of colors to match your truck's interior. Installation isn't wildly difficult, but if you're not an experienced DIY-er, professional installation might be a wise investment.
Sound damping
This F-150 is still one of the sleekest-looking full-size trucks around, but it's still a big vehicle that punches a big hole in the air. To keep wind noise and road roar from lessening the impact of your new stereo, be sure to install Dynamat when you're replacing your speakers. This material is a great way to dampen the sounds you don't like and get more enjoyment out of the ones you do.
Security and remote start
Installing a security system in your F-150 isn't easy (security systems pretty much never are), but considering how popular these trucks (still) are, it's definitely a good idea. Our Crutchfield Advisors can help figure out what you need to get the job done, but we usually recommend taking your car and new gear to a professional installer.
Let's get started!
Ready to shop? Use our vehicle selector to find the gear that will fit your car or truck. If you have questions, give us a shout via phone, chat, or email