2001-2004 Ford Mustang
Upgrading the stereo system in your Mustang
2001 • 2002 • 2003 • 2004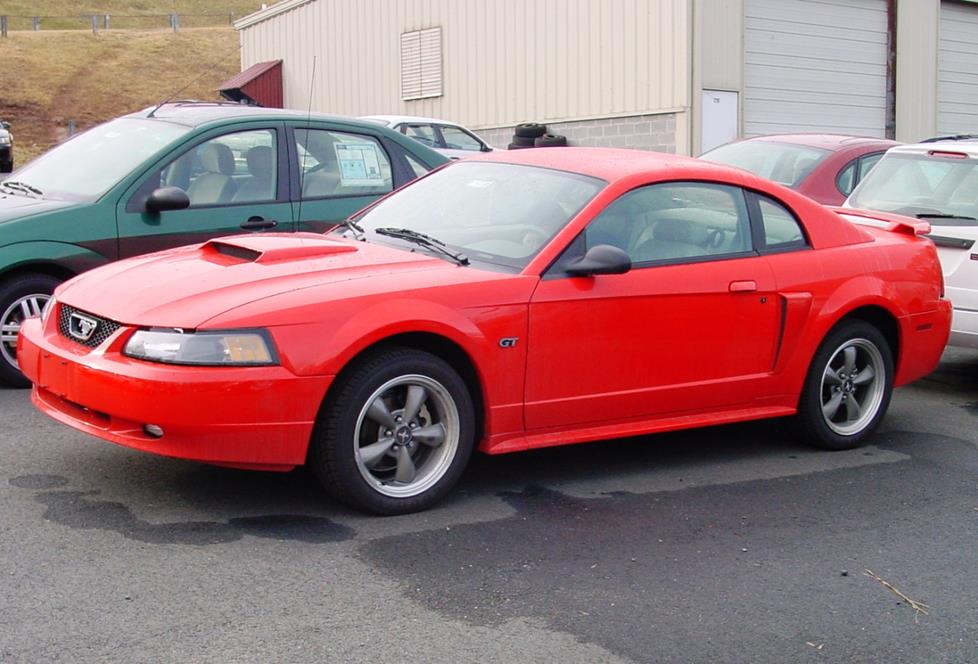 In brief: This Crutchfield Research Garage article gives you an overview of your Mustang's stock stereo system and your aftermarket upgrade options. Use our vehicle selector to find the gear that will fit your Ford.
Overview of the Ford Mustang
Who says public opinion doesn't matter? Back in the eighties, when Ford openly considered replacing the rear-drive Mustang with something sporty and (gasp!) front-wheel drive, the very large Mustang community responded with a very loud "We beg to differ." Or words to that effect…
Whatever they said, it worked. The "Mustang of the Future" went on to become the Ford Probe, while the Mustang of the then-present went on to another decade-plus of continual improvement and refinement. Considering that the basic chassis design dated back to the late seventies, the fourth-gen Mustang was a remarkably strong performer right up until its 2001-2004 swansong.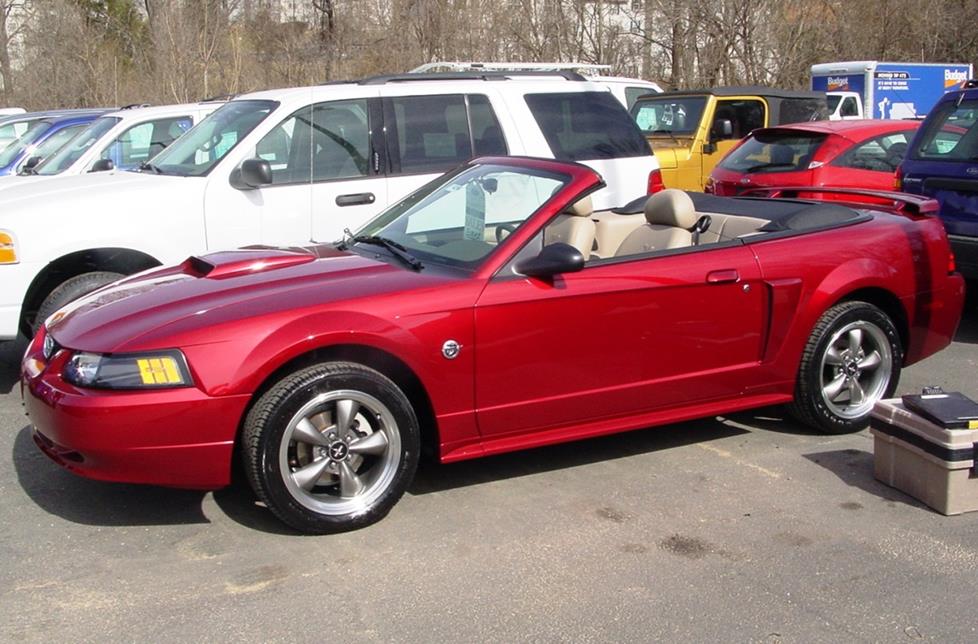 In the buying frenzy surrounding the all-new (but still rear-wheel drive) 2005 Mustang, a lot of people forgot all about these cars. Shame on them, but good for you, because 2001-2004 Mustangs still look sharp, handle well, and don't cost a ton of money. Better yet, there's a vast automotive aftermarket to help you make your coupe or convertible into the pony car of your dreams. If you're dreaming of adding a new stereo system to your older Mustang, you've come to the right place.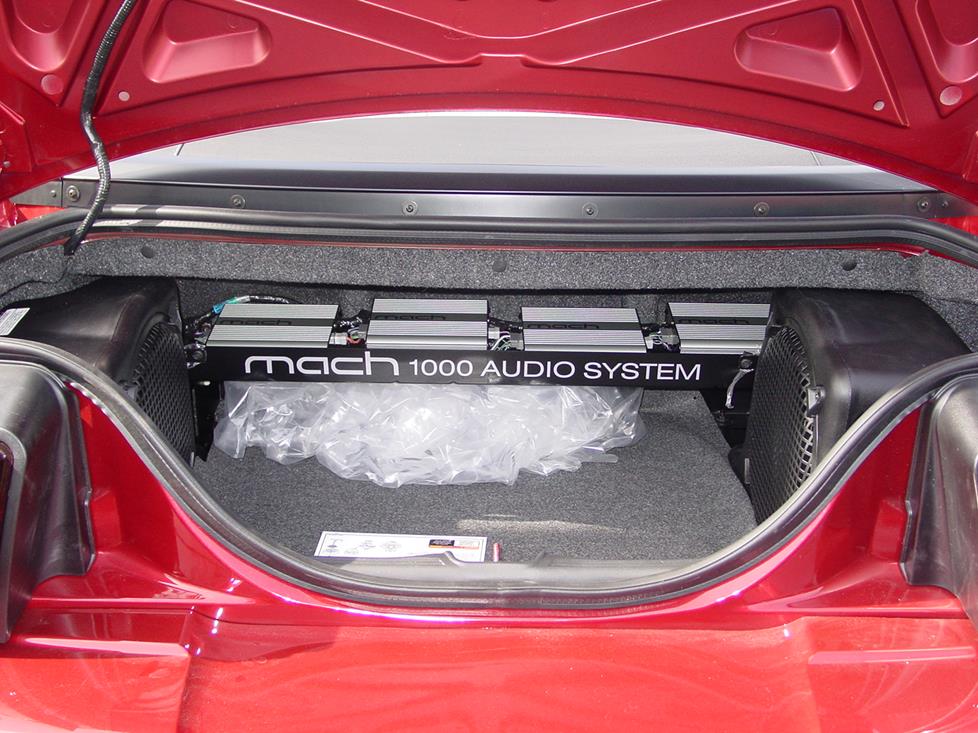 The rearmost portion of the Mach 1000 system (Crutchfield Research Photo) – click on the image for a closer look
Factory stereo system
The Mustang's standard stereo was an 80-watt, 4-speaker system featuring an AM/FM/CD player that gained the ability to play MP3 files in 2002. The next step up was the Mach 460 system, which offered a 6-disc AM/FM/CD receiver with, coincidentally enough, 460 watts of stereo output pumping through a total of eight speakers.
Mind you, that's the peak power rating, not the more meaningful RMS rating, but that's still a ton of power for a "factory" system. The Mach 460's added power came from a pair of amps mounted between the rear seats and the trunk. The amps took care of the lower door speakers and rear deck speakers, while the front and rear tweeters ran off the stock receiver.
With ten speakers and six amps, the Mach 1000 system, which debuted in '02, was to factory audio what the old Boss 429 Mustang was to factory horsepower – wonderful, glorious, American excess. The trunk was a veritable stereo shop on wheels, two enclosed subs on the sides and the four amps that powered them lined up on a rack in the center.
Needless to say, the Mach 1000 produced a prodigious amount of power. An aftermarket system will sound better, especially after all these years, but Ford deserves massive credit for shoehorning a real hot rod of a system into this car.

The Mach 460 receiver (Crutchfield Research Photo)
Replacing your factory radio
Whether you have the base radio or the 6-disc version, removing and replacing your Mustang's factory receiver involves the same basic task list. It's not difficult, but it does require some patience. Be gentle on the plastic bits, and be sure to store the parts and screws in a clean, safe place.
To start, use a panel tool to pry out the front portion of the gear shift trim panel to release two metal retaining clips, then gently lift the trim panel to release two more metal clips. Hold the top edge of the trim panel and gently lift it out, releasing one plastic clip as you go. Disconnect the 12v power outlet's wiring harness and remove the panel.
Next, pry around the sides and bottom of the receiver/climate control trim panel to release four metal clips. Gently pry downward on the top edge to release two plastic clips. Pull it out enough to disconnect the harnesses at the bottom and remove the trim panel. Remove the two 7mm screws from the brackets under the factory radio, pull it out, disconnect it, and set it aside.
Detailed stereo and speaker removal instructions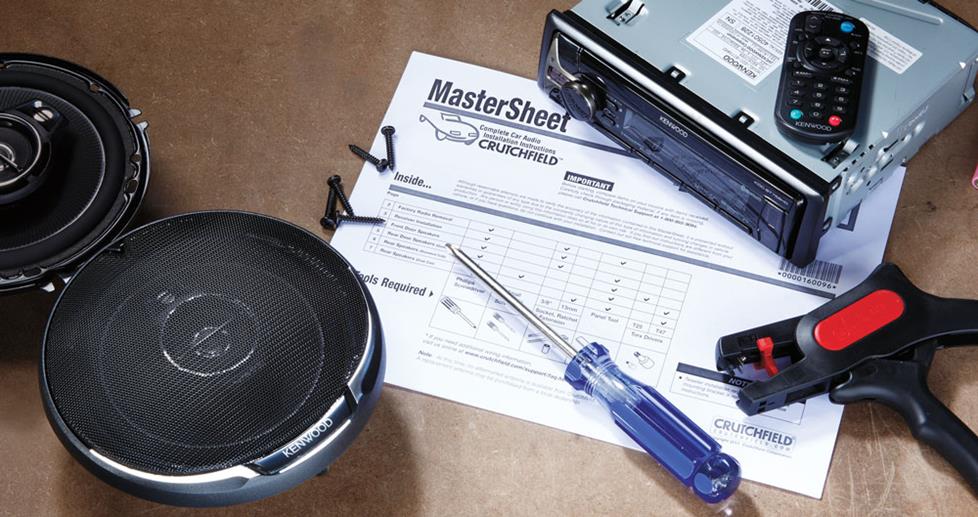 With step-by-step disassembly instructions and plenty of up-close, detailed photos, our exclusive
Crutchfield MasterSheet
™ takes the guesswork out of removing the factory stereo and speakers. It's free with your Crutchfield order, or you can purchase one separately for just $9.99.
Whether you choose a single-DIN or double-DIN receiver, you'll need a mounting bracket and a wiring adapter. When you purchase your stereo at Crutchfield, you'll save money on both.
You'll need to remove the DIN sleeve from the receiver, slide it into the opening in the receiver mounting bracket, then secure it to the bracket by bending the securing tabs. Slide the receiver all the way into the DIN sleeve, secure the rear support bracket (which will need to be adjusted up or down to engage properly) to the rear of the pocket/receiver assembly, and connect the receiver wiring adapter to the factory harness. Plug the antenna lead into the rear of the receiver, secure the assembly in the dash, then test operation and put your dash back together.
Tools needed: Panel tool, 7mm socket, socket wrench and extension, Phillips screwdriver
Note: If you hear a transient "pop" during turn-on/turn-off after you install a replacement receiver, it's probably because the Mustang's factory remote lead employs 5 volts, instead of the usual 12. To eliminate this pop, you'll need to install a 12-volt to 5-volt interface on the remote lead. The special adapter Crutchfield recommends for your Mustang will accommodate this voltage conversion.
Shop for car stereos that fit your Ford Mustang

The Mach 460's 8-ohm, 6"x8" speaker (Crutchfield Research Photo)
Replacing your factory speakers
Installing a new set of speakers in your Mustang is a great idea in theory, but the reality of the situation depends on what sort of factory system you have in your Mustang right now.
If your Mustang is equipped with the base speakers, installing new ones is no big deal. In a lot of ways, the base system makes a better starting point for a quality aftermarket stereo build-up. It's certainly easier.
The Mach systems are hard to deal with. If you're only replacing the receiver, you're okay – unless you want to replace the speakers later, in which case you'll need to get into the dashboard again to rewire things.
On the other hand, if you want to replace the speakers, you'll need to replace the factory amps. That's because the front door woofers are wired in parallel and crossed-over to pump out nothing but bass. The rear deck woofers are wired the same way. The problem is that the Mach speakers are 8-ohm speakers and aftermarket speakers are rated at 4 ohms (or lower). They aren't compatible with the Mach amplifiers.
With most cars, we're happy to show you how to build a great new stereo system in stages, especially if you're on a budget. Alas, Mach-equipped Mustangs don't respond well to that sort of approach. It's more of an all-or-nothing kind of installation, unfortunately.

The Mach 460 system has tweeters in the sail panels (Crutchfield Research Photo)
Front speakers
Coupe: The standard coupe system was equipped with 4-ohm, 6"x8" speakers, which can be replaced by aftermarket 6x8's, or a set of 5-1/4" speakers that will fit using the adapter brackets included free with your speaker purchase.
The Mach 460, on the other hand, has a pair of 8-ohm 6"x8" component woofers in the doors, wired together in parallel. Most aftermarket speakers are 4-ohm models, which won't work with the Mach amplifier, so you'll need to install an amp with a low-pass filter to power the new woofers.
The factory tweeters, powered by the radio, are mounted in removable enclosures located in the sail panels. Many aftermarket tweeters will fit, but you'll need to fashion a mounting bracket to hold them in place. Our universal backstraps can be helpful here. There isn't a wiring harness available, so you'll want to use PosiProducts connectors to tap into the car's speaker wires.
Much of the same can be said for the Mach 1000 system. The main difference is the woofers, which are 5"x7" 8-ohm models. You can replace them with same-size models, or use an adapter bracket and mount a set of 5-1/4" speakers. Because of the impedance, you'll need to install an amp with a low-pass filter to power your new woofers.
You'll need to remove the door panels to get to the factory speakers. This isn't a tough job, but it's good to work slowly and carefully to avoid damaging the parts and panels. Complete, illustrated instructions can be found in your Crutchfield MasterSheet™.
Convertible: All convertibles, regardless of stereo package, have 5"x7" front speakers that can be replaced by same-size or 5-1/4" models. Other than that, the info for the coupe also applies here.
Tools needed: Panel tool, Phillips screwdriver, stubby Phillips screwdriver, shop cloth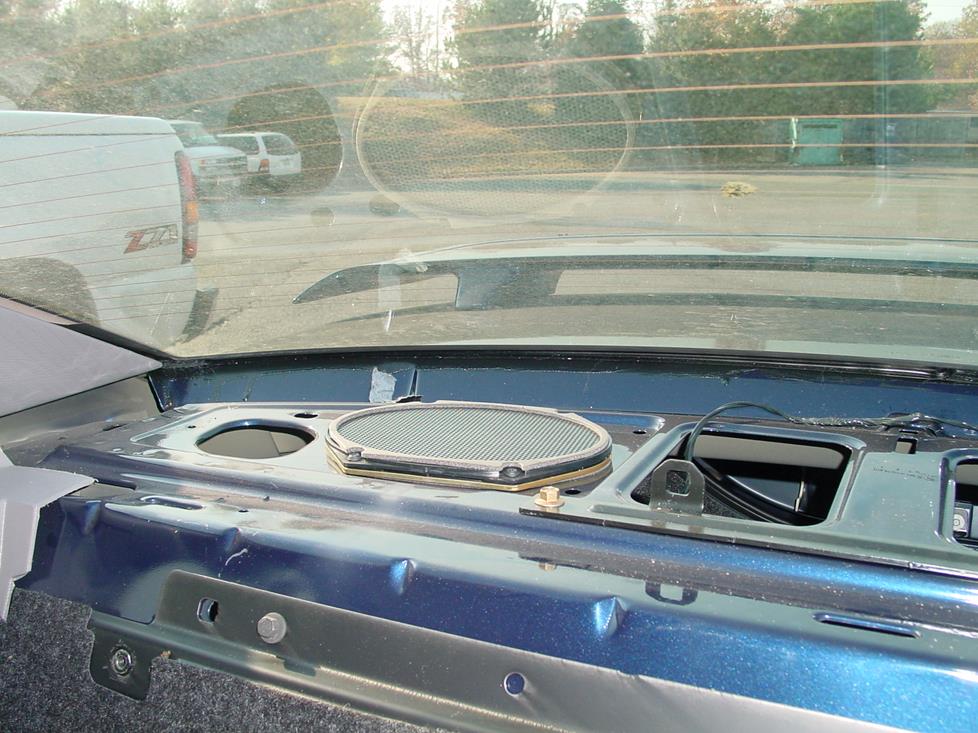 The Mustang coupe's rear deck speakers (Crutchfield Research Photo)
Rear speakers
Coupe: The Mustang coupe's rear speakers are located in the rear deck, so you'll need to remove the rear seat, side panels, and deck material to get to them. This isn't a complicated procedure, but it can be time-consuming, so work carefully and stay calm. Keep track of the various screws and pins you remove, and be sure to clear out a clean, safe space in the garage for the parts and panels. Complete, illustrated instructions can be found in your Crutchfield MasterSheet.
The standard system features a pair of 6"x8" speakers in the rear deck. Same-size replacements will drop right into the opening, or you can install a set of 5-1/4" speakers using the adapter brackets available with your Crutchfield speaker purchase.
In Mach 460 or Mach 1000 cars, you have the same choice of 6"x8" or 5-1/4" speakers, but this swap involves a little more work and commitment. The factory speakers are actually 8-ohm woofers wired in parallel. When you install new 4-ohm speakers, you'll need to replace the factory amp with an aftermarket model that has a low-pass crossover. The same is true for the front speakers, of course, so, again, your best bet is to replace all the speakers and speaker amps at the same time.
Tools needed: Panel tool, 8mm socket, ratchet and extension, stubby Phillips screwdriver, Torx T47 driver
Convertible: Mustang convertibles use a component system located in the rear seat side panels. There's not as much panel removal to deal with here, but take it nice and easy anyway. Any full-sized adult forced to sit in your Mustang's back seat will turn grumpy in a hurry, so you don't want to mess up your panels and give them something else to complain about.
The standard system uses 4-ohm speakers, while the Mach models are equipped with their usual 8-ohm equipment, wired in parallel. When you replace the Mach speakers with standard 4-ohm aftermarket models, you'll also want to replace the factory amp with a new amp that has a low-pass crossover to power the new woofers.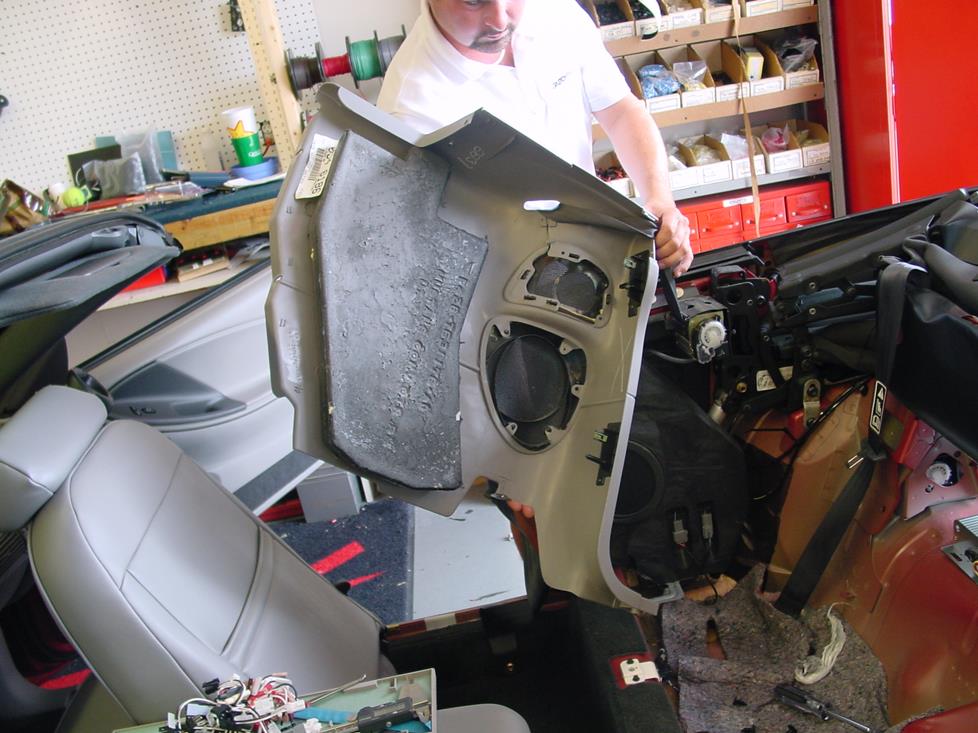 Some disassembly required (Crutchfield Research Photo)
All systems use 6-1/2" woofers, but the factory speaker uses a non-standard bolt pattern and you'll have to drill new mounting holes for your new speakers. You'll also need to create a bracket to hold the tweeters in place. Our universal backstrap is a great solution.
Drilling isn't that tough a task, but then again, you are drilling a hole in your car. Our best advice is to work slowly, wear eye protection and, of course, "measure twice, drill once." Set the replacement speaker in the speaker location and use it as a template as you mark the locations of the new screw holes. Remove the speaker, then use a 1/8" bit to drill the new holes.
Tools needed: Panel tool, Phillips screwdriver, 10mm socket, socket wrench and extension, Torx T20 driver, power drill and 1/8" bit
Shop for speakers that fit your Ford Mustang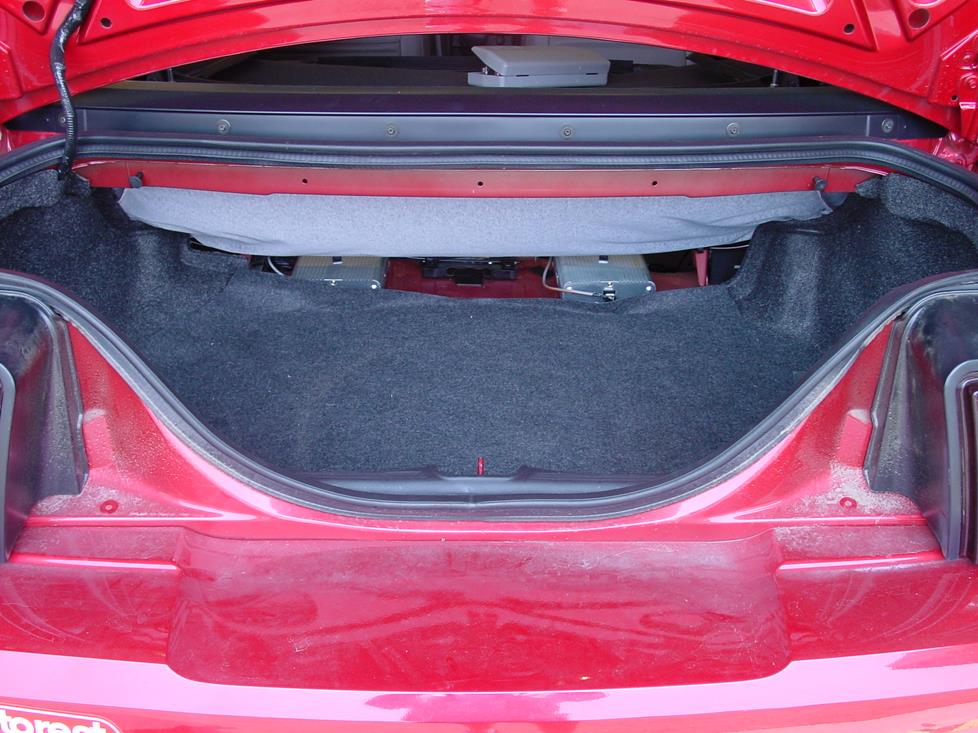 The coupe's trunk gives you some space to work with (Crutchfield Research Photo)
Bass in your Mustang
Coupe: If you want to add more bass to your 2001-04 Mustang, you have plenty of options. The coupe's trunk offers a 35" W x 15" H x 34"/27" D space for a subwoofer box, so you can get pretty loud back there if you feel like it. Of course, if you have any interest in using the trunk for anything else, that's going to take up a lot of space. If you're looking for something smaller that has some power, you have several great choices. You'll still need to replace the amps in the Mach models, of course, but you probably know that by now!
The custom-designed JL Audio Stealthbox contains one 10", 2-ohm JL Audio sub in a slot-loaded, sealed enclosure. Covered in a gray material that blends in nicely with your carpets, it fits in the passenger's side rear corner of your coupe's trunk.
You can also select from a selection of MTX ThunderForms that fit neatly on the passenger's side of the trunk. The amplified ThunderForm contains a 10" sub and a 200-watt amp, while the non-powered version holds a 10" sub capable of handling up to 225 watts RMS. There's also an unloaded model that holds the 10" sub of your choice.
Convertible: The ragtop's trunk is less spacious, of course, at 36" W x 14" H x 18"/25" D. Since that's your only secure space for weekend luggage, we'd suggest a powered sub for this location. These compact models will boost your sound without taking up room you really don't have to spare.
Another way to give your convertible's sound quality a boost is a set of Q-Forms Kick Panel Pods. These enclosures hold your component speakers in an ideal position, angling them to maximize sound quality. Since the Q-Forms are located near your feet, the distance from your ears to each speaker equals out and creates a superior soundstage.
You'll need to cut holes in order to install your 6-1/2" component speakers in these enclosures. Adapter brackets, which you'll need to mount the speakers, are included with your Crutchfield purchase.
Shop for vehicle-specific subwoofers for your Ford Mustang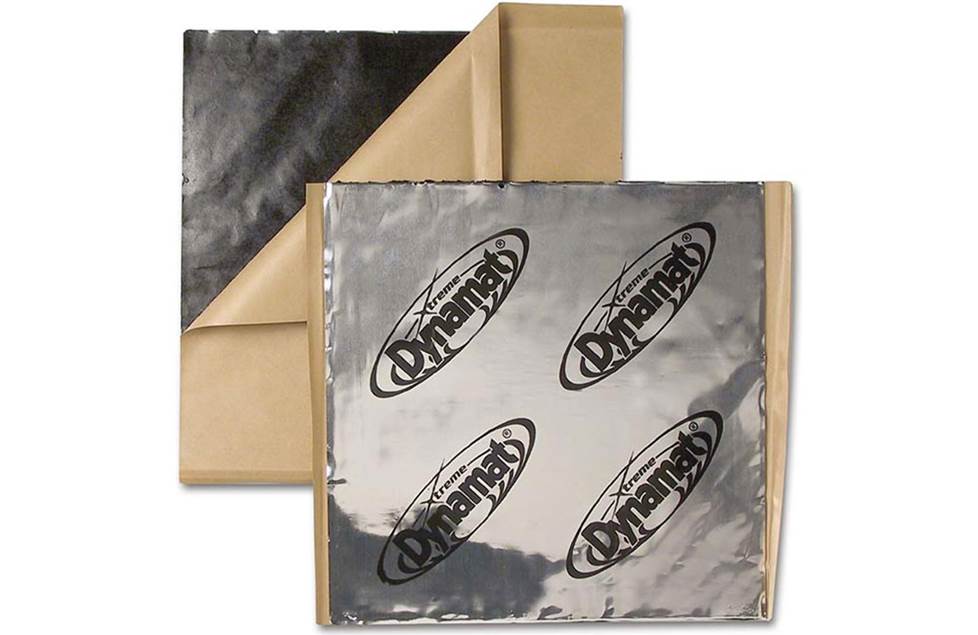 Installing Dynamat is a great way to reduce wind noise and road roar
Other options for your Mustang
There are plenty of other ways to improve your Mustang. Here are just a few of the ways Crutchfield can help.
Dynamat
Depending on what else has been done to it over the years, a Mustang can be a rather noisy place. That's not necessarily a bad thing, but if you really want to get the best performance out of your stereo, you should consider a Dynamat 10435 Xtreme Door Kit. This heavy-duty insulating material is easy to install, and it really makes a difference. One kit should take care of your Mustang's long front doors. If you install an aftermarket subwoofer, you might want to line the trunk lid as well.
Security
Installing a security system in your Mustang isn't easy (security systems rarely are), but it's definitely a good idea. Our Crutchfield Advisors can help figure out what you need to get the job done, but we usually recommend taking your car and new gear to a professional installer.
Shop for car security systems for your Ford Mustang
Find the audio gear that fits your car or truck
Visit our Outfit My Car page and enter your vehicle information to see stereos, speakers, subs, and other audio accessories that will work in your vehicle.