2001-2005 Chrysler PT Cruiser
Upgrading the stereo system in your PT Cruiser
2001 • 2002 • 2003 • 2004 • 2005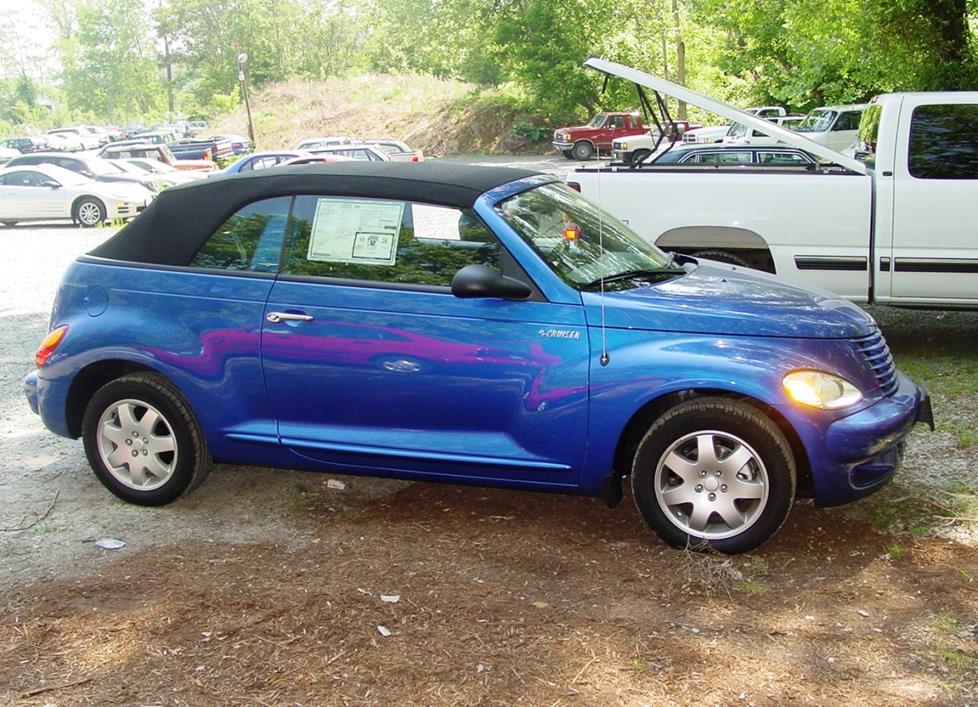 In brief: This Crutchfield Research Garage article gives you an overview of your PT Cruiser's stock stereo system and your aftermarket upgrade options. Use our vehicle selector to find the gear that will fit your car.
Overview of the Chrysler PT Cruiser
Way back in the 1930's, when most cars on the road still resembled "motor carriages," Chrysler introduced the Airflow, a streamlined machine that looked like something out of a Buck Rogers comic strip. The design was, alas, a little too 25th century for the car buying public. Sales were slow, and Chrysler quickly replaced it with something a bit more "normal-looking."
Early in the 21st century, though, Chrysler introduced its new PT Cruiser, a compact wagon (the ragtop came later) that combined Airflow style with minivan utility in a package that was anything but "normal looking." This time, the risk paid off. In a world full of dull, grey sedans, the PT Cruiser's cheerful combination of retro form and modern function quickly attracted a large and loyal fan base. Today, the PT is one of those rare designs that still stands out, even after a decade-plus on the road. Perhaps the secret to aging gracefully is looking a little bit old to begin with.
Whether you're sticking with the stock look or, like many owners, adding your own custom touches, a PT Cruiser can be a pretty nifty way to go about your daily business. If you want your car to sound as nifty as it looks, the PT is a great platform for an aftermarket stereo system.
Detailed stereo and speaker removal instructions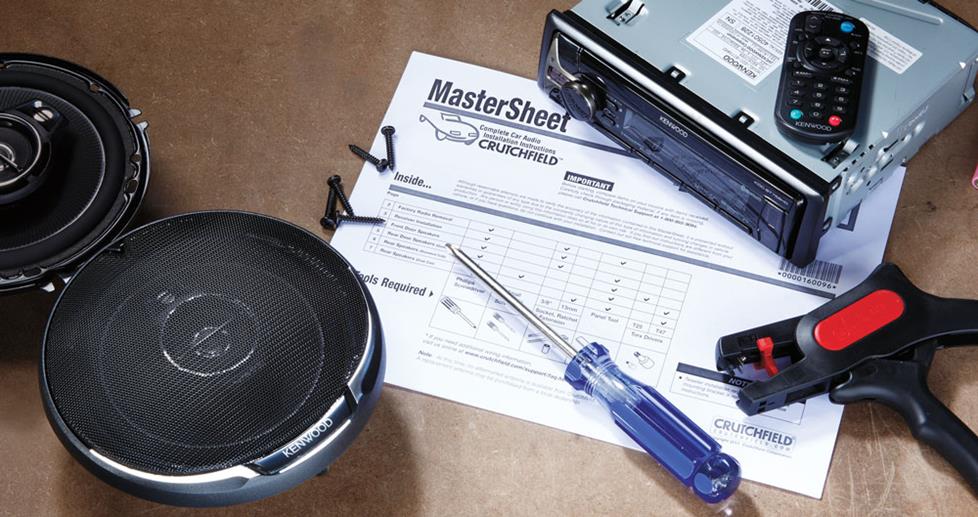 With step-by-step disassembly instructions and plenty of up-close, detailed photos, our exclusive
Crutchfield MasterSheet
™ takes the guesswork out of removing the factory stereo and speakers. It's free with your Crutchfield order, or you can purchase one separately for just $9.99.
Factory stereo system
The PT was available with several different factory radio options. The base unit, familiar to anyone who's ever rented a PT at the airport, was an AM/FM/Cassette radio with six speakers. Upgraded AM/FM/Cassette/CD receivers were also available.
In 2005, The PT Cruiser added optional Sirius satellite radio and Chrysler's UConnect system, which used the audio system as a hands-free, wireless link to cell phones. If your '05 is so equipped, you'll lose those features when you install an aftermarket stereo. Thankfully, there are aftermarket solutions.

The PT Cruiser factory radio with CD and cassette (Crutchfield Research Photo)
Replacing your factory radio
Removing the PT Cruiser's stock radio isn't terribly difficult, but the process is a bit labor-intensive. You'll start by removing the four climate control knobs, which should come off with a firm, but gentle pull. Next, you'll use a panel tool to gently pry out the top of the power window control panel, which is located in the dash, between two HVAC vents. Disconnect that wiring harness, remove it, and remove the Phillips screw you'll see when you remove the panel.
Use your panel tool to carefully pry around the receiver trim panel until you release six retaining clips. With the receiver exposed, all you need to do is remove four Phillips screws, pull the radio out and disconnect it. Complete disassembly instructions can be found in the Crutchfield MasterSheet™ that's included free with your Crutchfield stereo purchase.

PT Cruiser radio cavity (Crutchfield Research Photo)
There's obviously a lot of stuff going on in the PT's center stack, which means you won't have room for a big 4" double-DIN receiver. Perhaps it's all for the best. Accidentally lowering a rear window every time you took a swipe at a touchscreen receiver would soon grow tiresome. That still leaves you a wide selection of powerful 2" single-DIN CD receivers or, if you're travelling disc-free these days, digital media receivers.
Installing your new stereo is largely a matter of reversing the steps you took to remove the old one. Insert the factory DIN sleeve into the mounting bracket and secure it by bending the tabs. Connect the wiring adapter to the factory wiring harness and plug into the antenna lead. The mounting kit and wiring harness are available at a very nice discount with stereos purchased from Crutchfield. We highly recommend testing the stereo before you re-install the dash panels.
Tools needed: Panel tool, Phillips screwdriver, small flat head screwdriver
Shop for car stereos that fit your Chrysler PT Cruiser
Replacing your factory speakers
Speakers are located in the front doors, the dash, and the rear pillars (wagon) or rear seat side panels (convertible).

The PT's door, with panel removed (Crutchfield Research Photo)
Front door speakers
The PT Cruiser's front doors house 6-3/4", 4-ohm speakers. These "oversized" speakers are found frequently in Chrysler and GM vehicles, so same-size aftermarket speakers are plentiful. You can also use an adapter bracket to install 5-1/4" or 6-1/2" speakers. The brackets are free with your Crutchfield speaker purchase, along with a Crutchfield MasterSheet that contains detailed, step-by-step instructions on how to remove and replace stereo equipment on your PT Cruiser.
Removing the originals involves removing the door panels, which is a relatively simple process on the PT Cruiser. You'll need a few tools and some patience, but it's totally doable.
First, pry out the sail panels on the front windows and release two metal retaining clips. The wiring is strong enough to hold the panel, so let it hang there while you proceed. You'll need to remove one Phillips screw from behind the door release handle, another from the front edge of the door panel, and two more from the bottom edge of the door panel. Next, grab a Torx screwdriver and remove two Torx T30 screws from the door pull handle/armrest.
With all that done, you'll use your panel tool to pry out the bottom and sides of the door panel, releasing eight retaining clips in the process. Be careful as you're doing this, of course, and when you're done, lift the door panel straight up out of the slot. Gently pull the panel away from door to release the plastic clip from the door release rod. Disconnect the wiring harness (if equipped) and set the panel aside. Then, remove the three Phillips screws that secure the speaker, pull it out, and unhook the harness.
Now get your new speaker out of the box. Connect the speaker wiring adapter of the new speaker to your PT Cruiser's speaker harness. Secure the speaker (and adapter bracket, if needed) with the screws you just removed and test it out. If it sounds good, re-install the door panel by reversing the removal steps.
Tools needed: panel tool, Philips screwdriver, Torx T30 driver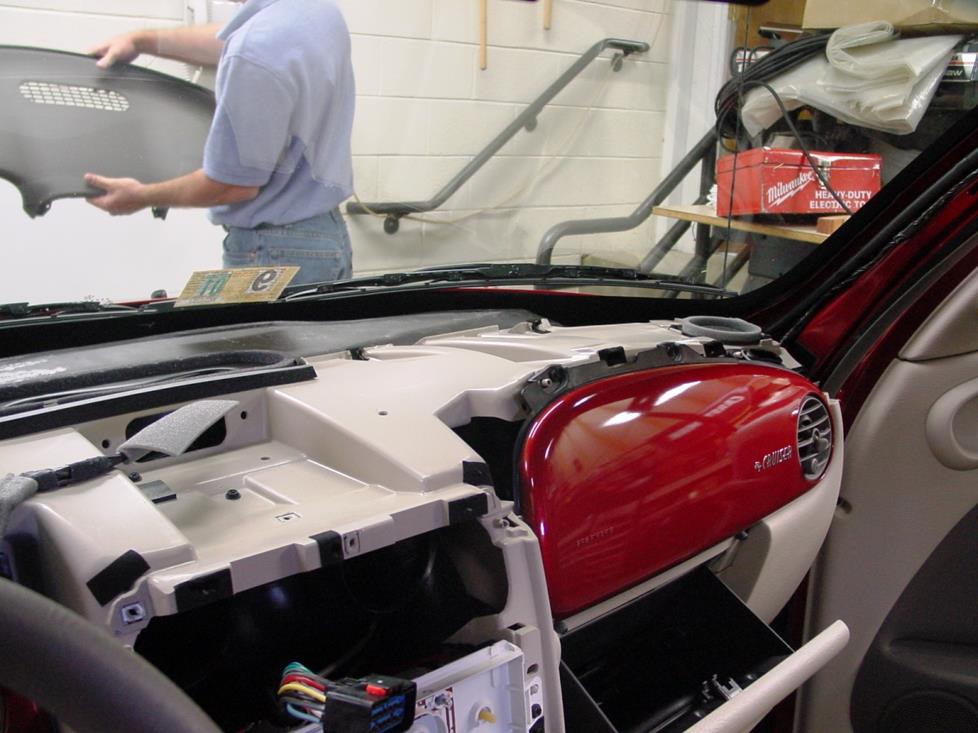 The PT Cruiser, dash removed to expose the corner speaker (Crutchfield Research Photo)
Dash tweeters
The PT Cruiser has a pair of 4-ohm tweeters located in the dashboard. You'll need to remove the radio trim and the dash pad to access them, so if you really want to replace the tweeters, it would be easiest to do it while you already have the dash apart.
The bolt pattern for these tweeters is the same as a 3-1/2" speaker, but the actual cutout diameter is only 2-1/2". You'll need to expand the cutout diameter to get a 3-1/2" speaker to fit, which is probably a job for professional car stereo installers. Which brings us back to the phrase, "if you really want to replace the tweeters."
Another option is to install aftermarket tweeters in this location. You'll need to fabricate a mounting bracket for the new tweeter, and our universal back strap can help with this. Again, this will take a little work, but it's much easier than trying to fit new 3-1/2" speakers.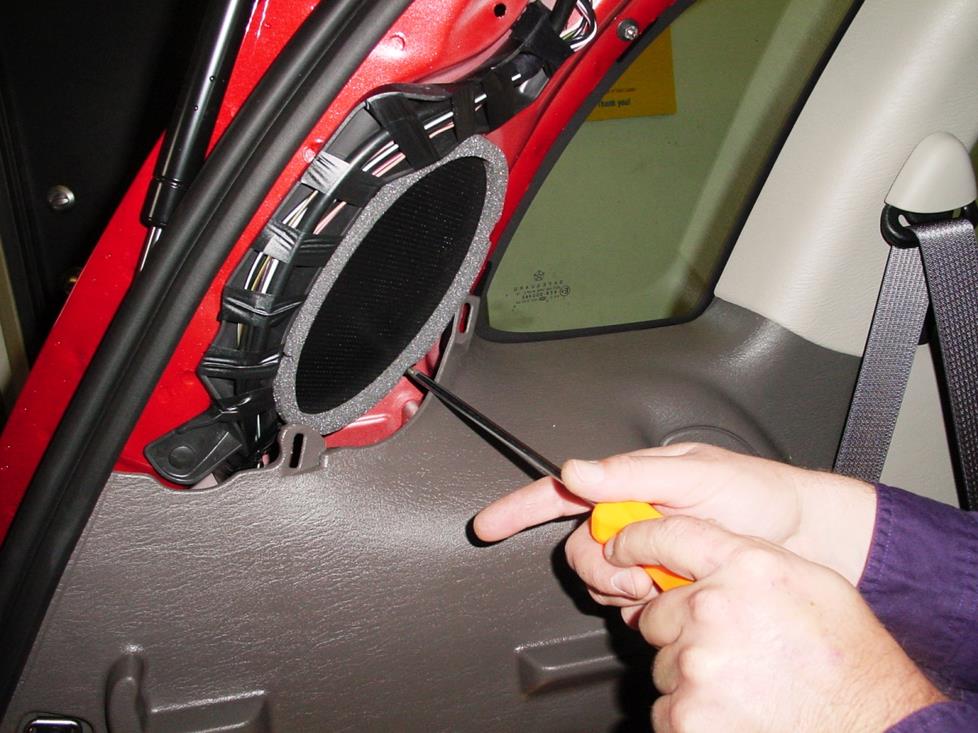 The PT wagon's rear pillar speakers are easy to remove (Crutchfield Research Photo)
Rear pillar speakers (wagon)
The PT wagon's rear speakers are 4-ohm 6"x8" models located in the rear pillars. A set of new 6"x8" speakers will fit nicely, as will a set 5-1/4" speakers, with help from the adapter brackets included free with your Crutchfield speaker purchase.
Removing the stock rear speakers is an uncomplicated procedure. Start by carefully prying out the top edge of the pillar trim panel/speaker grille to release four metal retaining clips that hold the panel in place. Next, remove the four Phillips screws securing the speaker. Some of those Phillips screws are difficult to reach, by the way, so be sure to grab a long Phillips screwdriver when you're in the toolbox.
Once that's done, pull out the speaker, disconnect it, and put it aside. From there, all you have to do is connect the wiring adapter on your new speaker to the PT's speaker harness. Secure the speaker with the same screws you removed and test it out. If it works, you're ready to button up the trim panel and start enjoying the sound.
Tools needed: panel tool, long and short Philips screwdrivers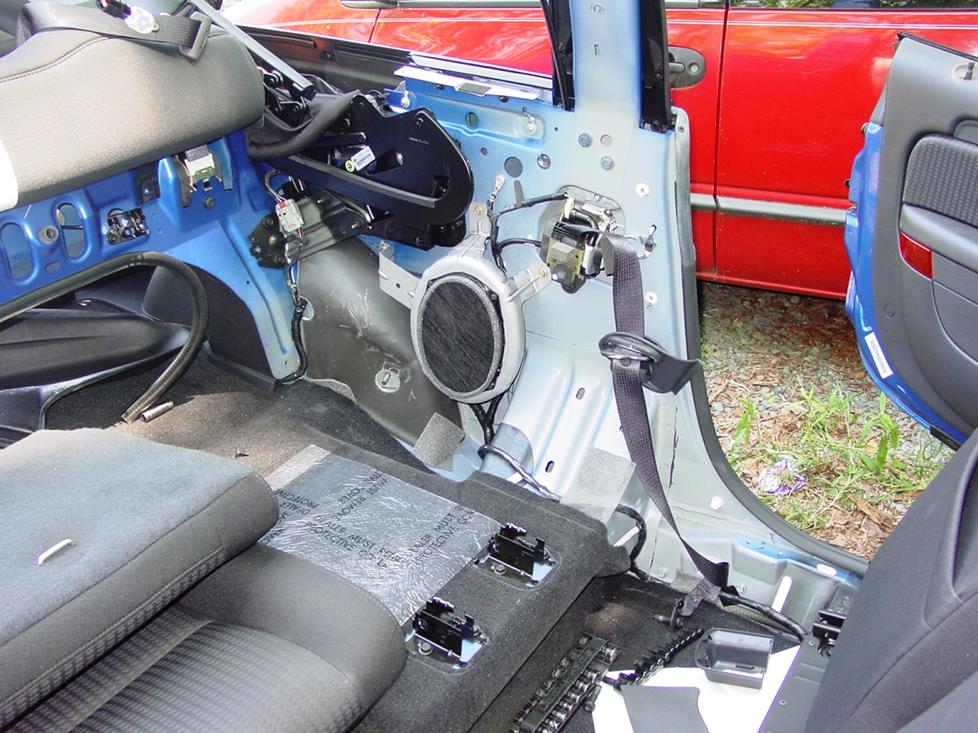 Getting to the convertible's rear speaker requires lots of disassembly (Crutchfield Research Photo)
Rear speakers (convertible)
In 2005, Chrysler added some fun and sun to the PT Cruiser line with a new convertible model. The drop-top was essentially identical to the wagon from the nose to the dashboard or so, so the instructions we've covered so far will take care of your receiver and front speaker installation needs. The rear speakers, however, are another thing entirely.
In the convertible, the rear speakers are 6"x9" speakers, and they're located in the rear seat side panels. And they are tough to reach. Stock-size replacements will work, of course, and you can also use an adapter bracket to install 5-1/4" or 6-1/2" speakers. You'll need to remove the rear seat and several trim panels, though, plus there's a roll bar to deal with.
Complete instructions for the 2005 ragtop are included in your Crutchfield MasterSheet, but this is not an easy job. If you're not comfortable with a big disassembly project, we'd suggest leaving this to a car audio installation professional.
Tools needed: panel tool, long and short Philips screwdrivers, Torx T50 driver, 13mm socket, 13/16" socket, ratchet and extension
Shop for speakers that fit your Chrysler PT Cruiser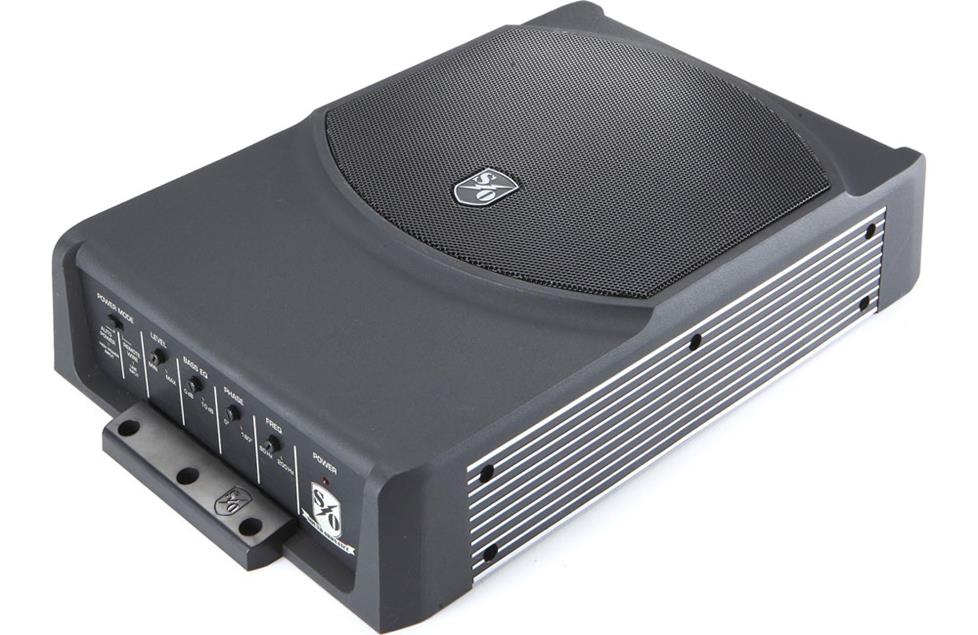 Sound Ordnance B-8PTD powered subwoofer
Bass in your PT Cruiser
If you're interested in adding big-time bass to your PT Cruiser wagon, there's plenty of room to work with in the rear cargo area. The space available for placing a subwoofer box measures 39" W x 18" H x 19"-24" D, so if you're thinking about boxing up a good-sized set of component subs, you're in luck.
On the other hand, if you're interested in adding a reasonable amount of bass without losing an unreasonable percentage of your PT's cargo capacity, you can also add a more compact powered subwoofer. We offer several standalone units that will give you the thump you want without devouring the entire rear compartment.
The convertible's available trunk space is 36" W x 13" H x 27" D. We'd definitely recommend a powered sub for this installation.
Shop for vehicle-specific subwoofers for your Chrysler PT Cruiser
Other options for your PT Cruiser
There are plenty of other ways to improve your PT Cruiser. Here are a few ideas:
Kick panel speakers
A custom-fit Q-Forms Kick Panel Pod is another great way to improve your PT's sound. These pods mount in the kick panel areas in the front of the car. Available in Agate, Black or Brown, Q-Forms enclosures hold your speakers in an ideal position, angling them upward to maximize sound quality. Note: The Q-Forms do not come with pre-cut holes, so you must cut holes in order to install your component speakers in the enclosures. Installing the Q-Forms panel enclosures in your vehicle may require relocation of the parking brake pedal or other vehicle parts.
Floor mats
If you've ever owned a minivan of any kind, you don't need us to remind you of what can happen when you hit the road carrying any combination of adults, kids, pets, and food. Floor mats and cargo mats from WeatherTech will help protect your floors from dirt, damage and discarded juice boxes. As for the seats, door panels, roof and everywhere else a scoop of ice cream can possibly land, we recommend WeatherTech's TechCare car care products.
Security and remote start
Installing a security system in your PT Cruiser isn't easy (security systems rarely are), but it's definitely a good idea — especially for the ragtop. Our Crutchfield Advisors can help figure out what you need to get the job done, but we usually recommend taking your car and new gear to a professional installer.
Shop for car security systems for your Chrysler PT Cruiser
Find the audio gear that fits your car or truck
Visit our Outfit My Car page and enter your vehicle information to see stereos, speakers, subs, and other audio accessories that will work in your vehicle.