2001-2005 Lexus IS 300
Upgrading the stereo system in your IS 300
2001 • 2002 • 2003 • 2004 • 2005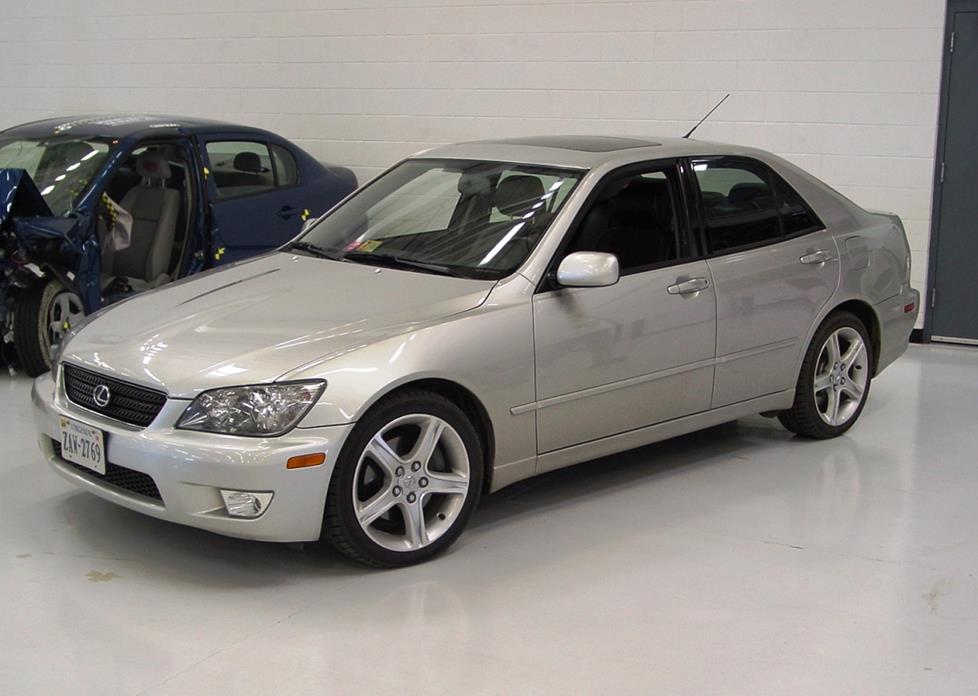 In brief: This Crutchfield Research Garage article gives you an overview of your IS 300's stock stereo system and your aftermarket upgrade options. We'll tell you all about:
Then, use our vehicle selector to find the gear that will fit your Lexus.
Overview of the Lexus IS 300
The joy of a good sports sedan is that it combines the day-to-day practicality of a 4-door boring-mobile with the spirited, let's-take-the-back-way personality of a high-performance coupe. The original Lexus IS 300 provided plenty of both during its 2001-2005 run, quickly earning a reputation as one of the best cars in its class.
Years later, it still is. In fact, the IS 300 is widely regarded as one of the best used sports sedan buys out there. With a powerful engine, an athletic chassis, and taut, muscular styling that still looks good, it's no wonder. Best of all, it's a Toyota at heart, so a properly maintained IS 300 should give you many more miles of fun.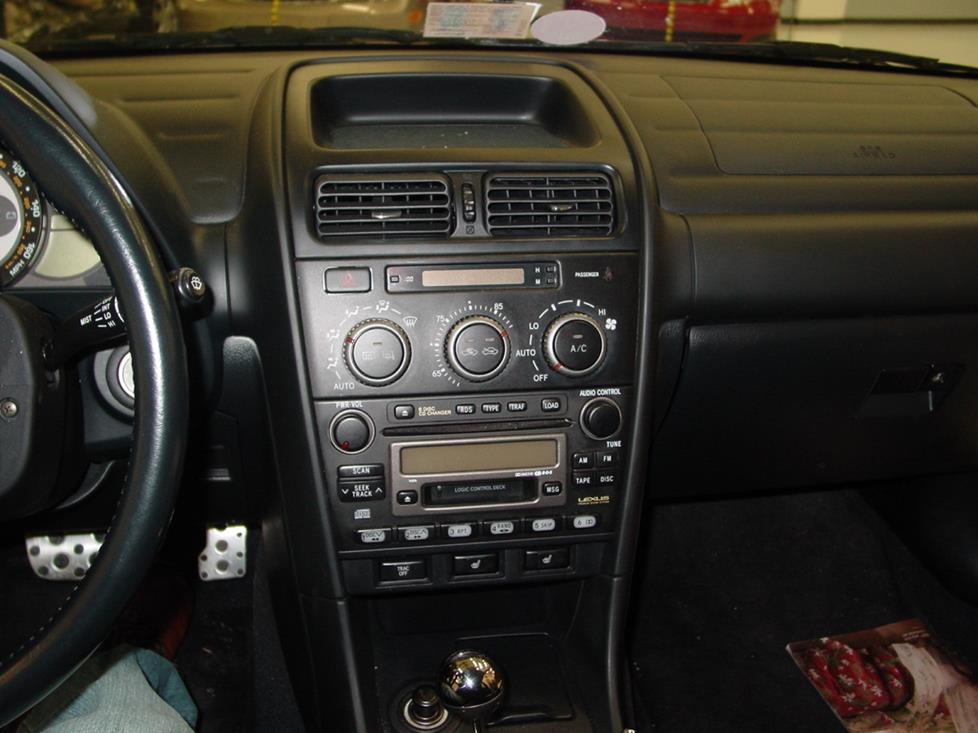 The Lexus IS 300 factory radio is a lot easier to deal with if you have a 2002-2005 car (Crutchfield Research Photo)
The factory stereo system
The IS 300 was the entry-level Lexus, intended to attract a younger demographic more interested in style and performance than luxury and vault-like quiet. As a result, the cabin wasn't as posh as those found in upper-level Lexus models, and the factory stereo options weren't all that impressive.
Replacing the stock gear ranges from ill-advised to challenging, depending on whether you have a 2001 or a 2002-2005 model. A change was made after that first year, making much easier to upgrade the stereo. But for those of you with a 2001, we don't have good news.
The 2001 model is problematic because there's no wiring harness available for the receiver. You'll need to splice wires and bypass the stock amp (located to the right of the glovebox) by running new wire to each speaker. This is neither easy nor fun, and even though Crutchfield provides free lifetime tech support, it's not something you should dig into if you're not an experienced car audio installer.
Detailed stereo and speaker removal instructions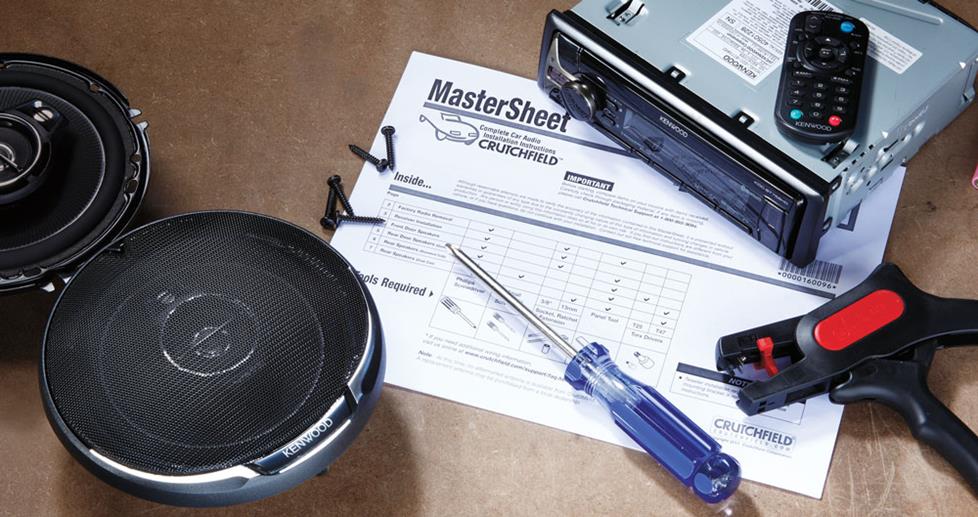 With step-by-step disassembly instructions and plenty of up-close, detailed photos, our exclusive
Crutchfield MasterSheet
™ takes the guesswork out of removing the factory stereo and speakers. It's free with your Crutchfield order, or you can purchase one separately for just $9.99.
If you have a 2002-2005 model, however, you're in much better shape. There is a stereo wiring interface for these cars. A variety of single-DIN (2" tall) and double-DIN (4" tall) receivers will fit in the IS 300's dash. If your car has factory navigation, you'll lose that feature, but there are plenty of newer, better navigation receivers out there, so that's not a big deal. Adding a new stereo will also let you enjoy up-to-date tech like Bluetooth® connectivity, USB, voice control, app control, and more. And you'll get a deep discount on the wiring harness when you buy from Crutchfield.
There's still hope for owners of the 2001 IS 300
If you have a 2001, you should save yourself some heartache and check out the Other Options section down below. There are plenty of ways you improve your stereo system without changing the radio.

A side view of the factory radio, still attached to the climate controls. (Crutchfield Research Photo)
Removing the factory radio
The actual radio replacement process is reasonably uncomplicated on the 2002-2005 cars, but it's not without challenges. (Actually, the process is the same for the 2001 model, it's just that wiring problem that gets in the way.)
You'll start by prying up the cloth-covered panel/coin tray in the top of the dash. Once it's loose, lift it off, starting at the front edge. Underneath, you'll find two exposed Phillips screws. Remove them to loosen the tray/air vent assembly, which you'll gently pry up towards the rear of the car to loosen the retaining clips.
Remove it, then remove two 10mm bolts from the top edge of the radio/climate control assembly. Keep all these bolts and screws handy, by the way. You'll need them again when you put the dash back together.
Next, you'll move down a bit and pry up the trim panel around the gear shift/ashtray until you release the clips. Lift it up, disconnect its wiring harnesses, and set it aside. Pull the power switch panel underneath the radio to release it, then disconnect the wiring harnesses and remove it. You'll see two 10mm bolts on the bottom edge of the radio. Remove those before pulling the factory radio/climate control assembly out of the dash and disconnecting its harnesses. Finally, you'll need to separate the radio and the climate controls.
From there, you'll secure the new receiver to the mounting bracket (included with your Crutchfield purchase at a deep discount), then attach the climate controls to that assembly and plug in the climate control harness. Connect the receiver's wiring harness adapter to the car's factory harness, then plug the antenna lead into the back of the receiver. And remember, that wiring harness doesn't exist for the 2001 model.
Slide the receiver/climate control assembly into the dash cavity, secure everything with the screws you removed earlier, then test the receiver and climate controls. If it all works, you can start putting the rest of the dash and console back together.
Tools needed: Panel tool, Phillips screwdriver, small flat blade screwdriver, 10mm driver
Shop for car stereos that fit your Lexus IS300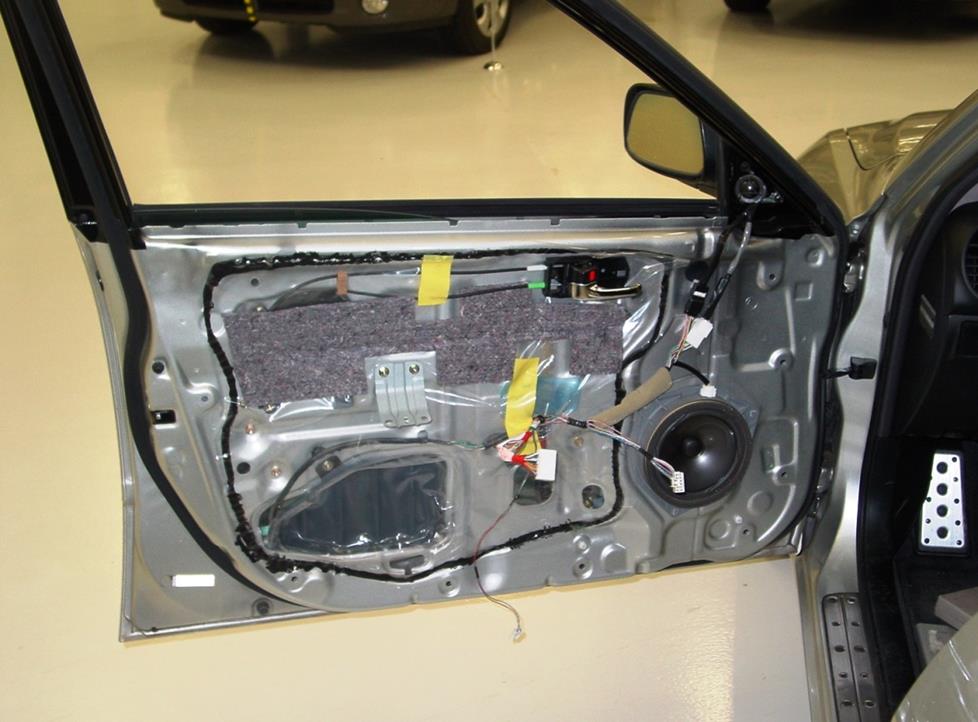 The IS 300 has tweeters in the sail panels and woofers down below. (Crutchfield Research Photo)
Removing the factory speakers
Reaching and replacing the front door speakers isn't all that hard, but there are a few steps involved and you'll need to do some drilling. None of this will worry the average DIY-er. The rear deck speakers are another matter entirely, requiring lots of work and rewiring. And installing a new stereo. See below.
Front door speakers
The factory front speakers are 6-3/4" woofers that can be replaced by same-size or 6-1/2" aftermarket speakers. You'll also find a tweeter behind each sail panel.
You'll need to remove the sail panels, then the door panels, to get to the factory speakers. Nothing difficult here, but be sure to keep the screws you're removing in a safe place for later. Complete, illustrated disassembly instructions can be found in your MasterSheet. We also have wiring harnesses for the woofers, so you'll be able to simply plug in the new speakers.
The most challenging aspect of this job might be the drilling needed for the lower speakers. You'll need to use a drill and a 1/8" bit to remove the rivets securing the factory speaker, then you'll need to use the same bit to drill new mounting holes for your aftermarket speaker. Again, this isn't hard, but you are drilling into part of your car here, so work carefully, wear eye protection, and make sure you know what's beside and behind the area you're drilling into.
You'll need to secure the new tweeter using hot glue, silicone, or our universal backstraps. There's no wiring harness either, so you can either splice the tweeter's speaker wires into the factory wiring (old-fashioned and time-consuming) or use Posi-Products connectors to tap into the stock wires. We suggest the latter, because you'll get a much stronger connection in an area that sees a lot of use.
Before you replace the door panels, check to make sure that the speaker wires don't interfere with window operation and that the door locks are working properly. Better safe than sorry!
Tools needed: Panel tool, Phillips screwdriver, small flat blade screwdriver, 1/8" bit (for woofer), 10mm driver (for tweeter)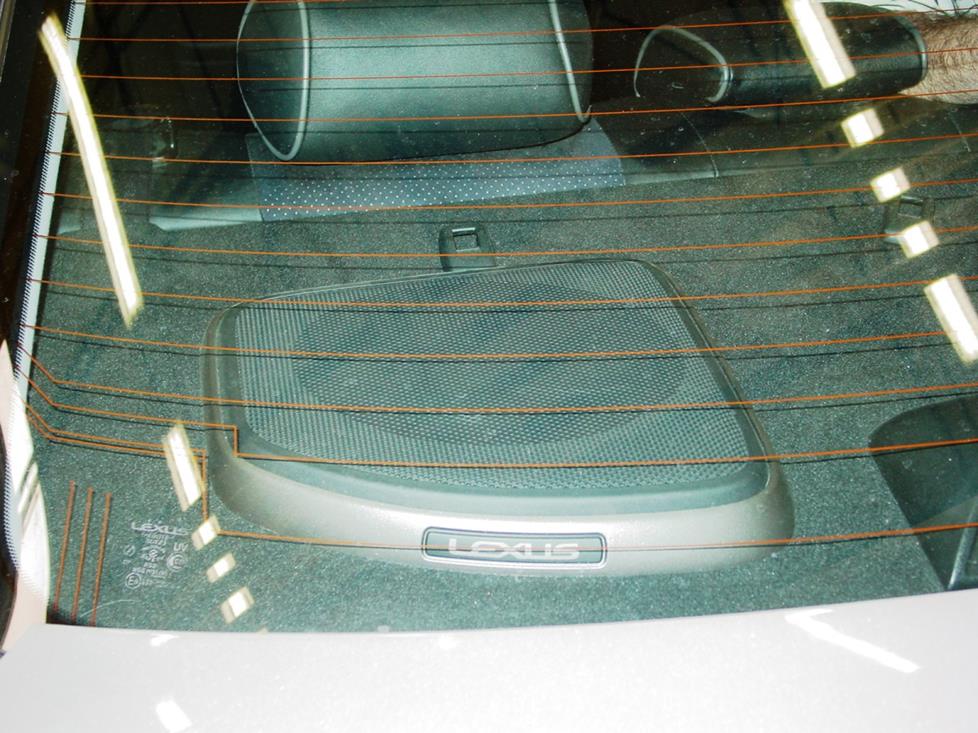 Replacing the rear deck speakers can be challenging. (Crutchfield Research Photo)
Rear deck speakers
The factory rear deck speakers are 6"x9" models that can (theoretically speaking) be replaced by a variety of same-size, 5-1/4" or 6-1/2" aftermarket speakers. The good news is that the speaker adapter brackets you need to install the smaller speakers are included at a steep discount with your speaker purchase. Now, here's the rest of the news, which is less good.
Getting to these speakers involves a number of steps, including the removal of the rear seat. That'll take some work and a little help, but it's not that tough. You'll also be doing the same sort of drilling here that you did when creating new mounting screw holes for the front door. Be careful, work slowly, wear eye protection, etc.
The real problem is that the factory amp sends bass and treble frequencies to these speakers through separate sets of wires. To install new speakers, you'll need to install an aftermarket stereo and bypass the factory amp if you want to enjoy full-range sound. That pretty much means running new speaker wire from the stereo all the way to the rear deck speakers.
This might be a tough job for a first-time DIY-er, but if you've ever installed an amplifier in a car, then you're easily up to the task. At the very least, you'll need a friend to help with the seat removal. If you have any questions along the way, call our tech support team and they'll help you through the tough spots.
These rear deck speakers hang directly down into the trunk and are surrounded by bare metal. This is not conducive to great sound, so a set of inexpensive foam baffles will be a wise purchase. They'll help with performance, plus they'll help protect the speakers from cargo-related damage.
Shop for speakers that fit your Lexus IS300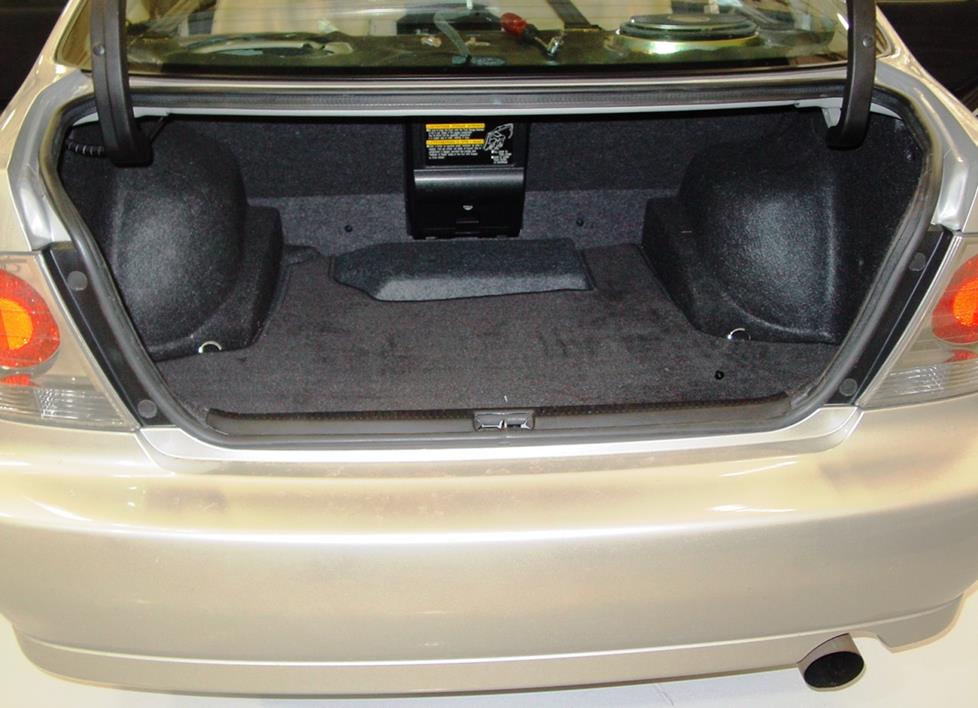 The IS 300's trunk is large enough for everyday use, but there's not much spare room for big subwoofer boxes. (Crutchfield Research Photo)
Bass in your Lexus IS 300
If you're big into bass and thinking about loading up a subwoofer box for your IS 300's trunk, you have a 31" W x 12" H x 25"/23" D space to work with. That's not a vast amount of room, but you can still pack plenty of bass in there if you want to.
If you want to leave room for anything else, like luggage, groceries, etc., a smaller powered subwoofer is a great choice. You'll get a surprising amount of thump, but more importantly, you'll add a lot of depth to your music.
Shop for subwoofers, boxes, and other bass systems for your Lexus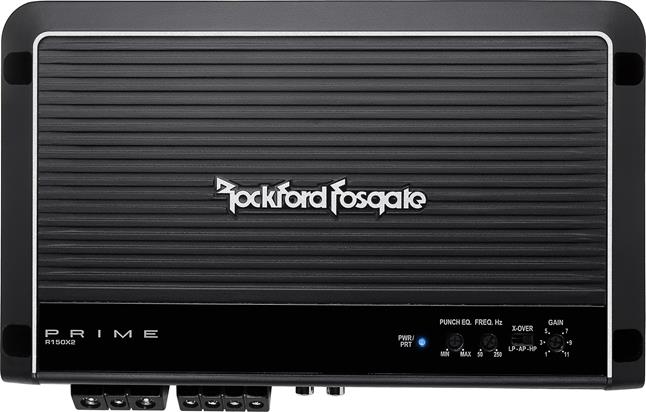 Other options for your IS 300
There are plenty of other ways to improve your Lexus IS 300. Here are some of the ways Crutchfield can help.
Factory stereo upgrades
Whether you have a 2001 model and can't easily replace the factory receiver, or have a 2002-2005 and simply don't want to, you can still expand your musical horizons in the IS 300. We offer several adapters that will help you get your music into the car, like a Bluetooth® adapter for steaming music from any source or an iPhone® connection. You can also just purchase a dock-and-play satellite radio tuner to add to the factory system.
4-channel amplifier
If you don't want to deal with those rear speakers, you can still get great sound by adding a 4-channel amplifier. Use the amp's front channels to power your door speakers and combine the rear channels to power a subwoofer (or two). This is how many car audio enthusiasts build their systems, relying on the back speakers for rear fill-in sound. This is also a great option if you can't (or don't want to) replace the stereo. You'll still get amazing sound with that factory deck.
2-channel amplifier
For those people who don't want to add a subwoofer to the system, first we'll say, "Why not?" But then we'll suggest a 2-channel amp for the front speakers. It works the same as above, making your front speakers sound their best, without the hassle of adding a subwoofer.
Sound deadening
One good way to get the most out of your new sound system is to keep more of the sound in your car. The Dynamat Xtreme Door Kit is the perfect way to seal out road noise and seal in the sound. This heavy-duty insulating material is easy to install, and it really makes a difference. This is a great thing to do while you're installing new speakers, and one kit will take care of the front doors on your IS 300. If you're adding a powerful subwoofer out back, purchase some extra Dynamat and line the trunk lid.
Security
Installing a security system in your IS 300 isn't easy (security systems rarely are), but it's less complicated than it could be. Our Crutchfield Advisors can help figure out what you need to get the job done, but we usually recommend taking your car and your new gear to a professional installer.
Let's get started!
Ready to shop? Use our vehicle selector to find the gear that will fit your car or truck. If you have questions, give us a shout via phone, chat, or email