2001-2005 Mazda Miata
Upgrading the stereo system in your Miata
2001 • 2002 • 2003 • 2004 • 2005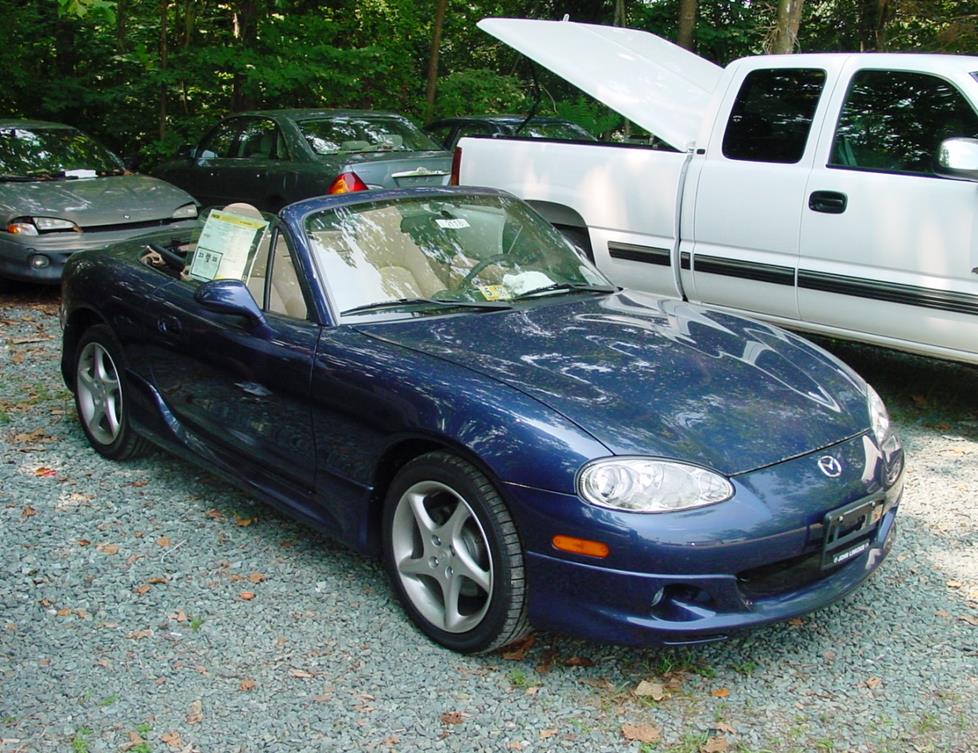 In brief: This Crutchfield Research Garage article gives you an overview of your Miata's stock stereo system and your aftermarket upgrade options. Use our vehicle selector to find the gear that will fit your Mazda.
Overview of the Mazda Miata
When you're driving a Mazda MX-5 Miata on a curvy, country road on a beautiful day, with the top down and the wind on your hair, music probably isn't all that important. You might be quite content to write your own mechanical symphony using the high-revving engine, the occasional chirp from the tires, and your own perfectly-timed downshifts. We totally understand. In fact, we'd like a ride sometime.
The second-generation Miata debuted in 1999 and received this mid-cycle update in 2001. The cosmetic changes were well-received, but country-road driving enthusiasts were much more excited about the bump in horsepower and the wider availability of the optional six-speed manual transmission. With or without the 6-speed, the sound of an enthusiastically driven Miata is a wonderful thing.
But, let's face it, into each life a little rain must fall and the only thing to do when that happens is put the top up and enjoy some music. You're still driving a great little car, so why not enjoy some great stereo sound?
Detailed stereo and speaker removal instructions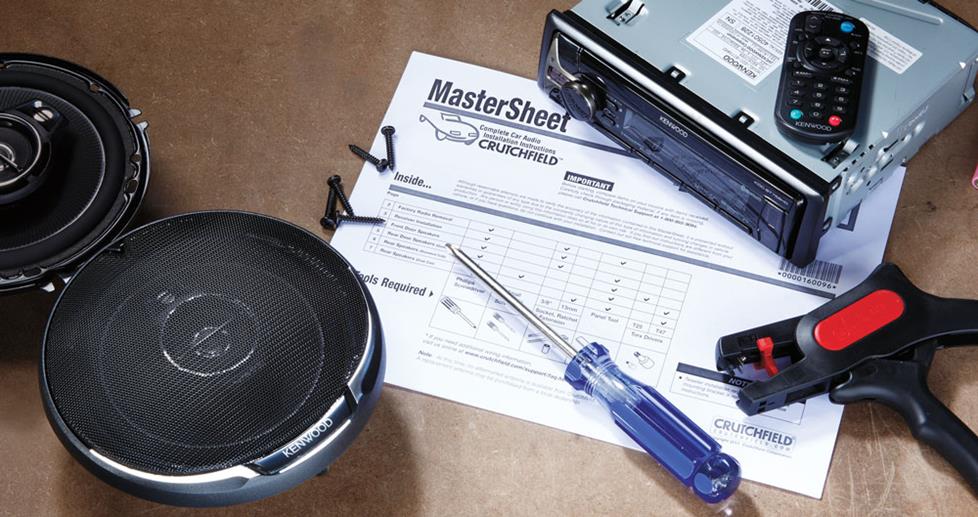 With step-by-step disassembly instructions and plenty of up-close, detailed photos, our exclusive
Crutchfield MasterSheet
™ takes the guesswork out of removing the factory stereo and speakers. It's free with your Crutchfield order, or you can purchase one separately for just $9.99.
Factory stereo system
The 2001-2005 Miata was available with several different stereo packages. The base package was a single-disc AM/FM/CD receiver and four speakers in the doors. Upgrade options were an in-dash 6-disc changer and a Bose® system with larger speakers and an external amplifier. From 2004-up, Mazda added two more speakers to the Bose system, behind the seats in the windblocker.

The Bose-equipped Miata's factory radio (Crutchfield Research Photo)
Replacing your factory radio
No matter which stock system you have, removing the Miata's factory stereo is an uncomplicated process made easier by the detailed, step-by-step instructions found in your Crutchfield MasterSheet™..
You'll use a panel tool to pry off the plastic DIN-hole covers on either side of the radio. Once that's out of the way, insert either two DIN tools (for the Bose system) or four DIN tools (for the base system) into the holes on either side of the radio. (These DIN tools are included with most Crutchfield receiver orders.) Push the tools into the holes approximately 1", until you hear a click from each tool.

To remove the base stereo, insert the DIN tools, then pull back (Crutchfield Research Photo)
It's important to be patient and even gentle with your car during this process. Excessive force can damage the retaining clips, and you'll need those later. Once everything has "clicked," spread the tools apart just a bit and gently pull the radio out of the cavity. Disconnect the wiring harness, unplug the antenna cable, and you're done.
Like the rest of the car, the Miata's radio cavity is rather snug. Still, a nice selection of single-DIN (2") or double-DIN (4") receivers will fit in the dash. Receiver depth can be an issue, but Crutchfield's extensive database will ensure that you purchase a receiver that fits into your dash.
You'll need a mounting kit to trim out your new stereo, a wiring harness to connect the new receiver without cutting the Miata's factory wiring, and an adapter that connects the antenna. These installation parts are available at a very nice discount with your Crutchfield stereo purchase.
If you plan to keep the factory radio and upgrade your system with a Bluetooth®, satellite radio, or iPod® adapter, you'll still have to remove the factory radio to connect any of those adapters.
The Bose system in the Miata includes a factory amplifier located behind and below the car's heater controls. When you install an aftermarket receiver in a Bose-equipped car, you'll need a special adapter, which is available at a deep discount with your Crutchfield receiver purchase.
Tools needed: Small flat blade screwdriver, panel tool, DIN tools
Steering wheel controls
It's relatively easy to retain the steering wheel audio controls when you install a new stereo in your Miata. When you enter your vehicle information, our database will choose the adapter you need to make your factory steering wheel controls work with your new receiver.
Shop for car stereos that fit your Mazda Miata
Replacing your factory speakers
When you're planning to add a new stereo to your Miata, it's important to think about how, and how much, you're going to use it. A new receiver is always a good first step, simply because the additional features (Bluetooth calling, iPod connectivity, etc) can make a big improvement in the fun and functionality of your car.
If you're obsessed with great sound (Since you're reading the Crutchfield website, that's a distinct possibility!), you'll definitely want to upgrade your speakers. But if you're happy enjoying the sound of the engine and the feel of the wind in your hair, there's no need to rush.

The Miata's front door (Crutchfield Research Photo)
Door speakers
The speakers are easy to get to, at least. You'll need to remove the door panels, but that's a straightforward process that shouldn't take very long at all. The ease of installing new ones is largely dependent on which version of the Miata stereo you have and how skilled you are at basic fabrication work.
The factory Bose speakers are a rather interesting 8" in diameter. As you might expect, exact replacements are about as easy to find as a Miata competing successfully on the demolition derby circuit. You can replace the Bose speakers with a wide variety of 5-1/4" or 6-1/2" speakers, but you'll need to fabricate your own mounting brackets.
If you're not comfortable doing your own fabrication work, you might want to leave the job to a car stereo installation professional. Or you could just leave them where they are. They're Bose, and for this particular application, they're quite good. A new receiver will make them sound even better.
The 8" Bose speaker cavity (Crutchfield Research Photo)
The base stereo, on the other hand, comes with a pair of perfectly normal 6"x8" speakers in the doors, so it's a lot easier to find and install their replacements. Some 6x8's fit right in, but with others, you'll need to cut out the back of the plastic factory cup (or mounting bracket) to create some extra depth for your new speakers.
The word "cut" can be scary, but all you're really doing is snipping away at plastic. Work carefully, take your time and all will be well. Of course, if you simply don't want to cut anything in your car, you can always install a pair of 5-1/4" or 6-1/2" speakers.
Tools needed: panel tool, Phillips screwdriver, small flatblade screwdriver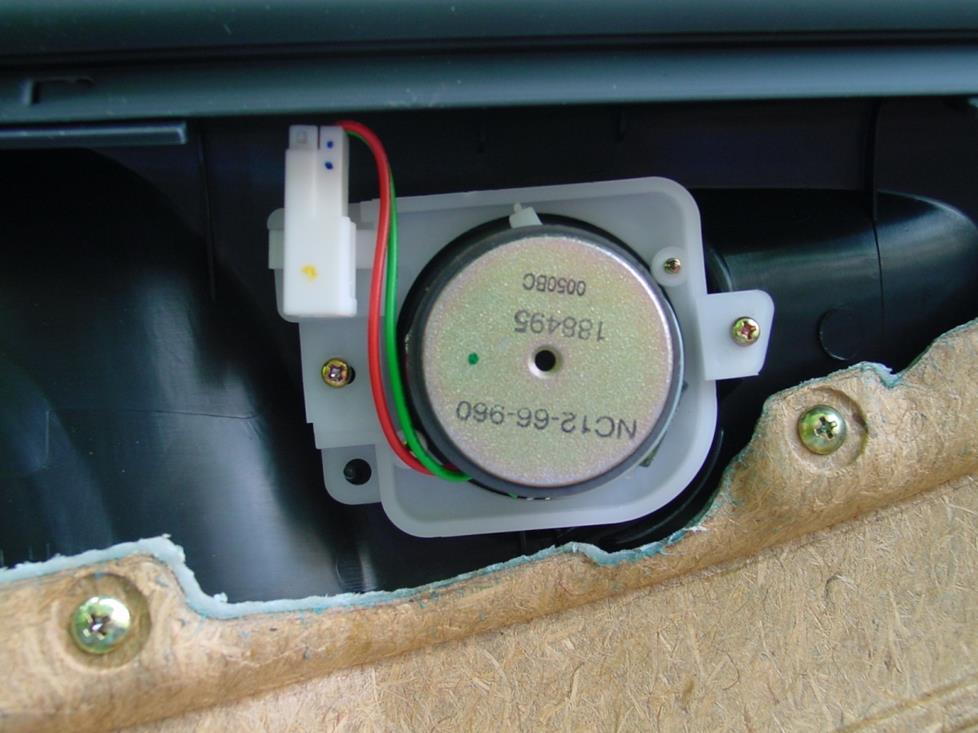 Tweeters (if present) are in the upper front of each door panel (Crutchfield Research Photo)
Tweeters
The Miata's tweeters are mounted in the upper front of each door panel near the mirrors. In terms of sound staging, these 2", 4-ohm tweeters are in about the best space they can be in a car like this – up near your ears. Once you have the door panel off, they're not hard to remove, but replacing them will involve fabricating a new mounting bracket. On the upside, you won't have to splice wires because there are wiring adapters available for this location.
Windblocker speakers
In 2004, Mazda added the Windblocker panel, located behind the Miata's seats. This handy panel, designed to reduce top-down bead buffeting, contains two full-range speakers. We have not yet had an opportunity to research speakers for this location, so we're not comfortable making recommendations at this time. The good news is that the Miata community is full of active, enthusiastic DIY types, so you may want to consult your area Miata club, or visit one of the many Miata forums online.
Shop for speakers that fit your Mazda Miata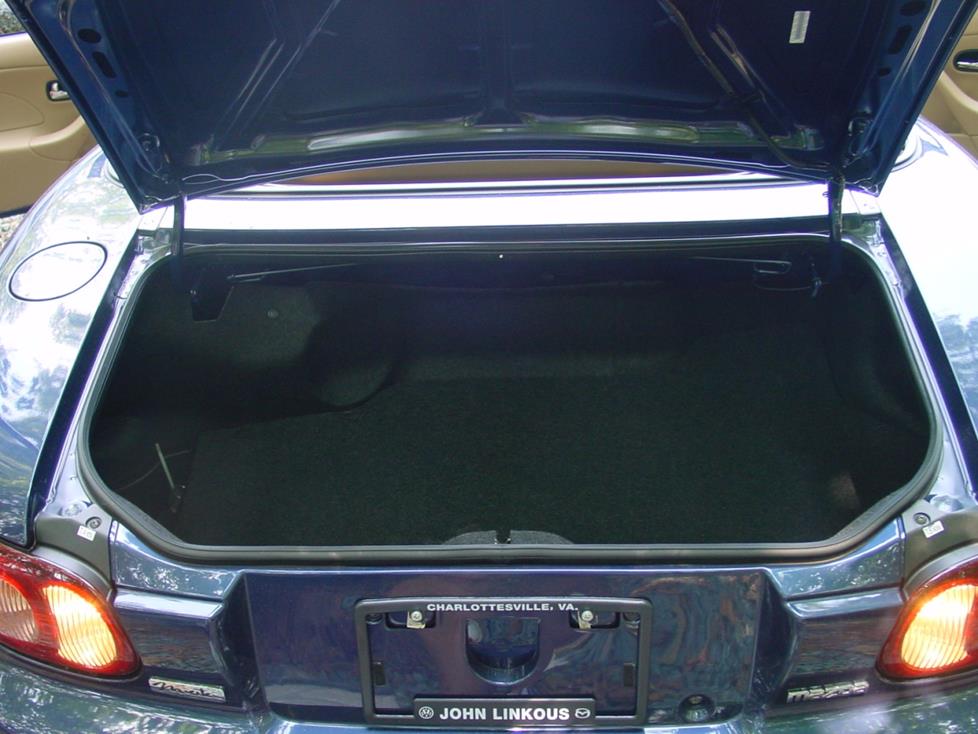 The Miata's trunk is big enough to hold some bass (Crutchfield Research Photo)
Bass in your Mazda Miata
If you want to hear serious thump coming from somewhere other than the expansion strips you're driving over, you'll want to add some bass to your Miata. How much bass is up to you of course, but if you've spent any time with these cars, you know that even a second-gen Miata's trunk is only large enough for weekend's worth of duffle bags.
Sure, you could install a custom-built sub box in the trunk (37" W x 10" H x 21" D on non-Bose models, slightly less with Bose), but that depends on how your passenger feels about a lapful of luggage. We've seen it done and it's pretty cool, but unless your Miata is primarily used as a show car, we'd suggest a small powered subwoofer instead. You'll get the bass you want and retain at least a smidgen of luggage space.
Other options for your Miata
Here are some other ideas to help you get even more enjoyment out of your Miata:
Speaker baffles
A set of these waterproof foam baffles can help you get the most out of a new set of speakers. The soft baffles compress easily within the Miata's doors, forming a seal that reduces panel vibration and improves sound. If you cut a hole in the bottom of the baffle, or remove the entire bottom, you'll maintain good bass response while still protecting your speaker.
iPod® and satellite radio adapters
If you don't want to replace your Miata's factory receiver, you can still add versatility to the system. We offer several adapters that will allow you to use an iPod, MP3 player, or satellite radio with your Miata's factory system. With a car like this, anything that allows you to leave that bulky CD album at home is a good thing.
Security
Installing a security system in your Miata isn't easy (security systems rarely are), but it's definitely a good idea. Our Crutchfield Advisors can help figure out what you need to get the job done, but we usually recommend taking your car and new gear to a professional installer.
Shop for car security systems for your Mazda Miata
Find the audio gear that fits your car or truck
Visit our Outfit My Car page and enter your vehicle information to see stereos, speakers, subs, and other audio accessories that will work in your vehicle.