2002-2004 Nissan Altima
Upgrading the stereo system in your Altima
2002 • 2003 • 2004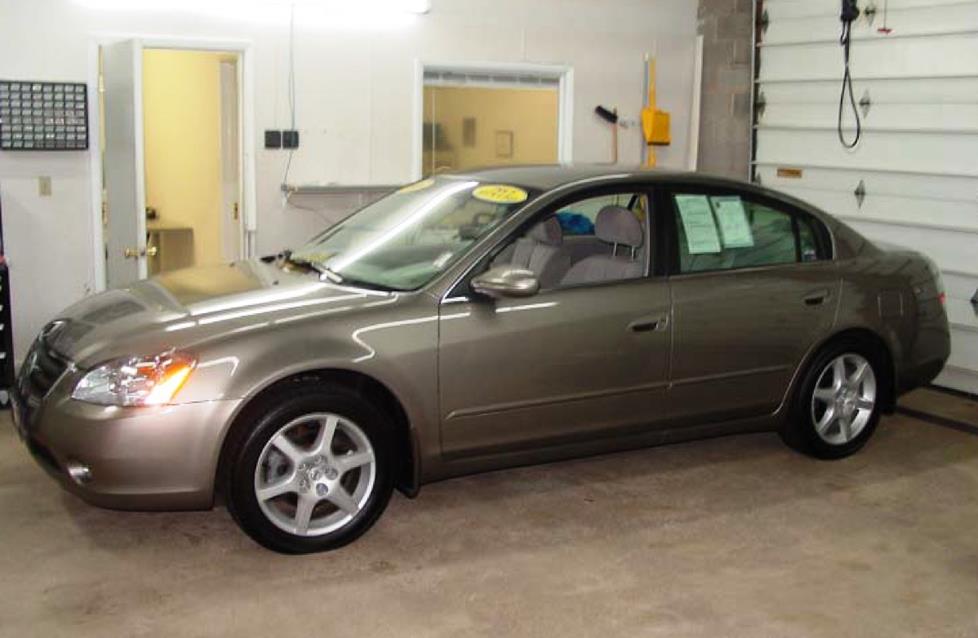 In brief: This Crutchfield Research Garage article gives you an overview of your Altima's stock stereo system and your aftermarket upgrade options. We'll tell you all about:
Then, use our vehicle selector to find the gear that will fit your Nissan.
Overview of the Nissan Altima
Mid-sized family sedans are expected to be roomy, practical, safe…and that's about all, really. It's a hotly contested segment filled with relatively bland cars. When Nissan designed the third-generation Altima, they already knew that anything with four doors and a place to tie down a child seat would sell like hotcakes. But they designed something interesting anyway. The result was a car that was roomy, practical, safe, and – surprise, surprise – fun to drive.
We're not just talking about the 3.5 liter V6 model, either. Automotive magazines of the day also raved about the performance and handling of the 2.5 liter 4-cylinder Altima—and magazine writers almost never rave about the base model of anything. Spirited performance, a comfortable interior, and sleek styling (that's aging quite well, we think), make this Altima a terrific choice for anyone looking for a mid-size sedan with a little something extra.
Detailed stereo and speaker removal instructions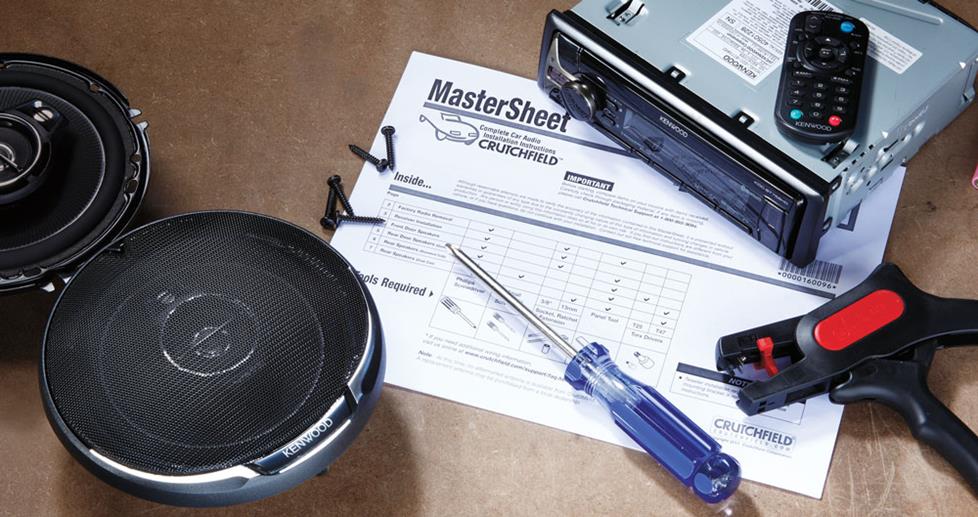 With step-by-step disassembly instructions and plenty of up-close, detailed photos, our exclusive
Crutchfield MasterSheet
™ takes the guesswork out of removing the factory stereo and speakers. It's free with your Crutchfield order, or you can purchase one separately for just $9.99.
The factory stereo system
The 2002-04 Altima was available with a choice of two factory stereo packages; a standard 6-speaker AM/FM/CD system or a premium 8-speaker Bose® AM/FM/CD system. One of the few complaints we came across while reading old road tests involved the car's somewhat noisy interior. One writer suggested turning up the stereo, which isn't such a bad idea. We'd simply suggest that you install a better stereo first!

The Altima's factory radio (Crutchfield Research Photo)
Removing the factory radio
Removing the factory system is relatively uncomplicated, though you'd be wise to be very careful with the plastic bits. Despite the Altima's general wonderfulness, some reviewers noted the "brittle" plastics used in the interior. Your opinions may vary, but any time you see that word used in relation to a dashboard you're about to pry apart, it's probably wise to work slowly.
First, you'll pull the climate control trim panel straight out to release two metal retaining clips, disconnect the wiring harness, and remove. You'll need to remove one Phillips screw located at lower right corner of receiver trim panel, then pry the panel out from bottom and pull it away from windshield to remove. From there, you'll remove the four Phillips screws securing the radio, pull it out, disconnect everything, and remove it. Hang onto those four screws, by the way. You'll need them to secure your new mounting bracket to the dash.
The factory stereo cavity measures 8-1/4" deep x 6-11/32" high x 7-13/16" wide, so you have plenty of room for a new receiver. The Altima's football-shaped dash cavity might seem like a fit challenge, but dash kits are available for both 2" DIN or 4" double-DIN receivers. The kits fit your receiver and the dash opening perfectly, so the installation will look great.
The kit is available at a deep discount with all Crutchfield stereo orders, along with a discounted wiring harness. The wiring harness does not have a ground connection, so you'll need to connect your new stereo to a grounding point in your vehicle.
From here, simply follow the instructions to install your new receiver, test it out, then work backwards to put everything back together.
Replacing the radio on Bose® equipped models (You'll see the logo on the stereo's cassette door and the rear deck speaker grilles.) is basically the same process. You will need an adapter to match the new receiver to the Bose system's amp (located on the underside of the rear deck). This non-electronic adapter is also available at a very nice discount when you shop at Crutchfield.
Of course, if you have the Bose radio, you might not want to replace it. We understand completely. You can still upgrade the speakers without replacing the radio. You can also purchase several adapters that allow you to use Bluetooth, obtain Sirius/XM satellite radio access (with subscription) and play music from your iPod® or MP3 player.
Tools needed: Phillips screwdriver, panel tool
Steering wheel audio controls
It's relatively easy to retain your Altima's steering wheel audio controls when you install a new stereo in your Altima. When you enter your vehicle information, our database will choose the adapter you need to make your factory steering wheel controls work with your new receiver.
Shop for car stereos that fit your Nissan Altima
Removing the factory speakers

The Nissan Altima's front door. (Crutchfield Research Photo)
Front speakers
Depending on your speaker needs, replacing the front speakers on an Altima with the base stereo can be moderately challenging or somewhat involved. Replacing the factory 5-1/4" speakers with aftermarket units is no problem at all, but going bigger means a lot more work.
The difference can be traced to the 4.673" cutout diameter in the steel door frame. If you want to install anything larger than a 5-1/4" speaker, you'll need to cut away at the door steel. Cutting through steel is not the easiest thing for the average amateur installer, so if you insist on 6-1/2" speakers, we suggest retaining the services of a car audio installation professional.
The door panels have to be removed to access the speakers, of course, and your Crutchfield MasterSheet contains step-by-step instructions. No matter what size speaker you choose, you'll need to drill new screw holes in order to secure the adapter brackets needed to hold the speaker in place. They're deeply discounted with your speaker purchase.
The easiest way to do this is to hold up the speaker bracket around the opening, mark where the new holes will go, then drill out the new holes. A wiring harness is not available for the Altima's standard system, so you'll need to cut off the factory connectors and splice the vehicle's speaker wires to your new speaker wires.
To install your new speaker, you'll need to cut off back of the factory plastic speaker bracket. (Crutchfield Research Photo)
On Bose® equipped models, the door panel removal process is the same, but everything else is a bit easier. There's more space available, so a wider variety of speakers will fit. A 6-3/4" speaker will drop right in (once you remove the tabs mentioned below), but 5-1/4" or 6-1/2" speaker will also need an adapter bracket.
In all cases, you'll need to remove two "speaker line-up" tabs in order for the speaker to mount flat. With 6-1/2" and 6-3/4" speakers, you'll need to cut off the back of the (plastic, thankfully) factory bracket in order to create enough depth or magnet diameter for the new speaker. We do carry speaker connection harnesses for the Bose system, and they're specially-priced when you purchase your speakers from Crutchfield.
The Bose speakers are all 2 ohm, by the way, so when you're shopping, be sure to look for lower-impedance replacements, like Infinity or JBL.
Tools needed: Phillips head screwdriver, small flat blade screwdriver, panel tool
Tweeters
All Altimas have tweeters mounted in the "A" pillars. Getting to them is simply a matter of prying away the pillar at the top and sides, then gently pulling it out of the dashboard. Replacing the tweeters is a little tougher. The available mounting height is 0.654", and you'll need to fabricate a mounting bracket. Our universal backstraps will help, because they can be cut or bent to the size or shape you need for your Altima.
A wiring harness is not available, so you'll also need to splice the vehicle's speaker wires to your new speaker wires. A set of Posi-Products connectors can make this easier. These wonderful little things help you make connections without crimping, soldering, or tape. Just strip your stranded wires, insert them in the caps, then hand-tighten the two caps together. The wire ends get locked between opposing cone shapes to create a water-, dirt-, vibration-, and heat-proof housing.
Tools needed: Phillips head screwdriver, panel tool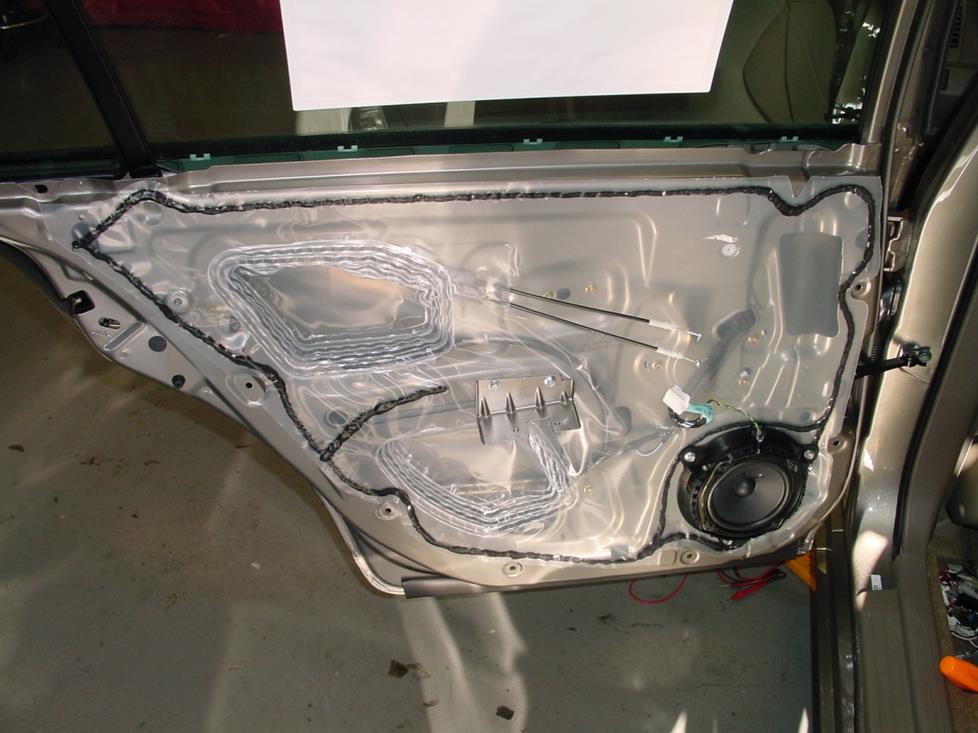 Bose-equipped Altimas have a speaker in the rear door. (Crutchfield Research Photo)
Rear door speakers (Bose® only)
If your Altima is equipped with the premium 8-speaker Bose system, it has 5-1/4" factory speakers in the rear doors. Replacing them isn't hard, but you might have to do some minor tweaking to make the new speakers fit. As with the front models, you'll need to remove two "line-up" tabs on the factory bracket to make the new speaker mount flat.
A number of aftermarket 5-1/4" speakers will fit in this space, but depending on the magnet diameter or mounting depth of the new speaker, you may need to remove the back of the factory mounting bracket to create the needed space. Other than that, installation is pretty straightforward.
Tools needed: Phillips head screwdriver, small flat blade screwdriver, 8mm socket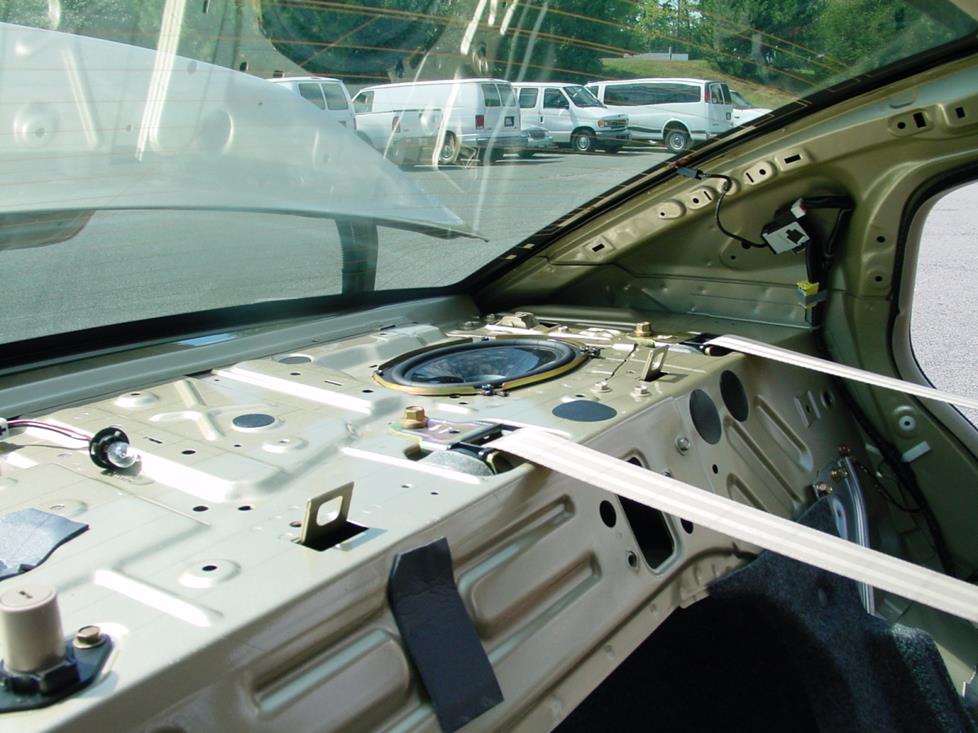 The Altima's rear deck speakers are top-mounted. You'll need to remove the rear seat to replace them. (Crutchfield Research Photo)
Rear deck speakers
The Altima's stock 6"x9" rear deck speakers can be replaced by same-size aftermarket speakers, or you can install 5-1/4" or 6-1/2" speakers using brackets. The swap is pretty easy once you get to the speakers, but getting there involves removing the back seat and several trim pieces. There's nothing seriously tricky in the 10-step (by our count) process, but there are 10 steps.
You'll want to allow plenty of time and remind yourself to have plenty of patience. You'll also want to have an old (but clean) blanket or sheet to protect the seat and trim pieces while they're out of the car. Don't forget to test speaker operation before you put everything together again!
Tools needed: Panel tool, 8mm and 12mm sockets
Shop for speakers that fit your Nissan Altima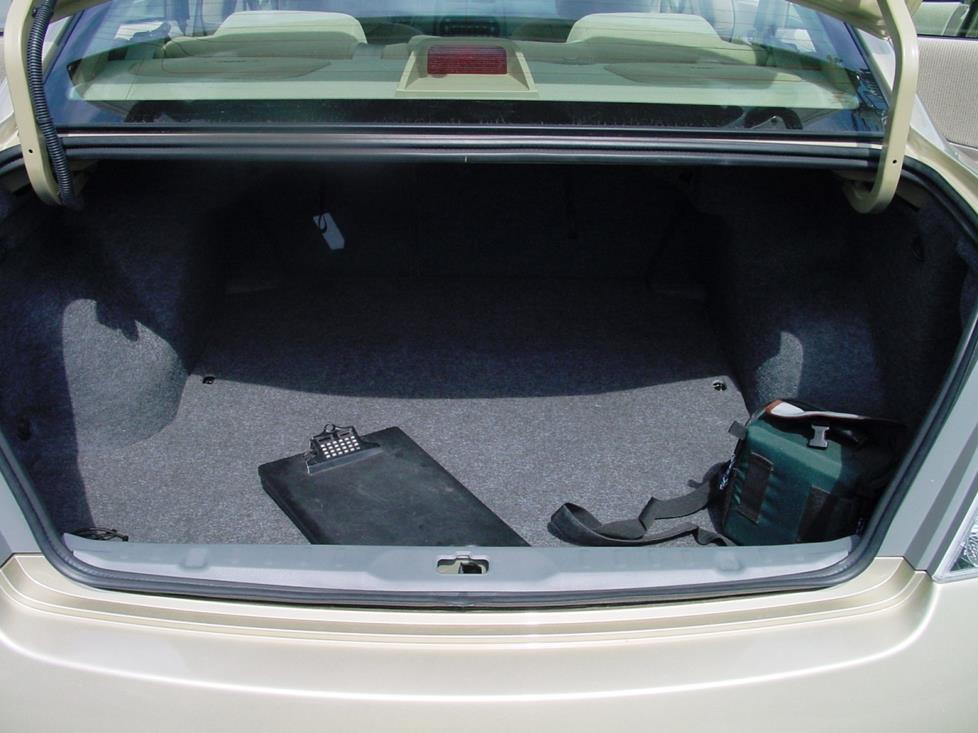 The Altima has plenty of room for thump in the trunk (Crutchfield Research Photo)
Bass in your Nissan Altima
While there aren't any custom-fit enclosures available for the third-generation Altima, the spacious trunk gives you plenty of space for a good-sized sub and an amp. The available sub box space in the trunk measures 40" W x 15" H x 42" (at bottom) to 34" (at top) D. If you value cargo space, a powered sub will also work nicely.
Other options for your Altima
Here are some other ideas for making your Altima more fun and more functional:
Dynamat
Some reviewers noted that the Altima produced a surprising amount of road noise. If you're installing aftermarket door speakers, you might want to install a Dynamat Xtreme Door Kit. This sound-deadening material will quiet road noise and ensure that you hear your speakers at their best. One kit will take care of the front doors.
Digital media receiver
Just because you've tossed out your CD collection and gone digital doesn't mean you have to settle for marginal sound quality. If you're CD-free, but still want great stereo sound, a digital media receiver is a great choice for your Altima.
Security
Installing a security system in your Altima isn't easy (security systems rarely are), but it's definitely a good idea. Our Crutchfield Advisors can help figure out what you need to get the job done, but we usually recommend taking your car and new gear to a professional installer.
Let's get started!
Ready to shop? Use our vehicle selector to find the gear that will fit your car or truck. If you have questions, give us a shout via phone, chat, or email