2002-2006 MINI Cooper hatchback
Upgrading the stereo system in your MINI Cooper
2002 • 2003 • 2004 • 2005 • 2006
In brief: This Crutchfield Research Garage article gives you an overview of your car's stock stereo system and your aftermarket upgrade options. Use our vehicle selector to find the gear that will fit your MINI.
Overview of the MINI Cooper
Originally designed by Britain's Austin Motor Company in 1956, the MINI name has been part of the automotive scene for over 50 years. Throughout the decades, the little car always offered practical utility, oddly dramatic styling ('boxy but cute,' 'powered roller-skate' etc.), and a healthy dose of driving fun, particularly when considering the car's performance variant the "Cooper S."
After suffering through a series of corporate mergers and acquisitions between the MINI's 1959 roll-out and the early 90s, BMW finally took control of the product line in 1994. BMW introduced the all-new MINI in 2002. To the general surprise of no one, the eagerly-anticipated revival was a smash hit from the beginning, combining the best qualities of the old cars with modern safety, comfort, and technology.
While larger than its dimunitive forebears, the 2002-06 MINI Cooper is still a great example of how much pure driving fun can be stuffed into a small, neat package. There's plenty of room for improvement in the factory sound system, so read on to find out how you can make your MINI's sound as sweet as its handling.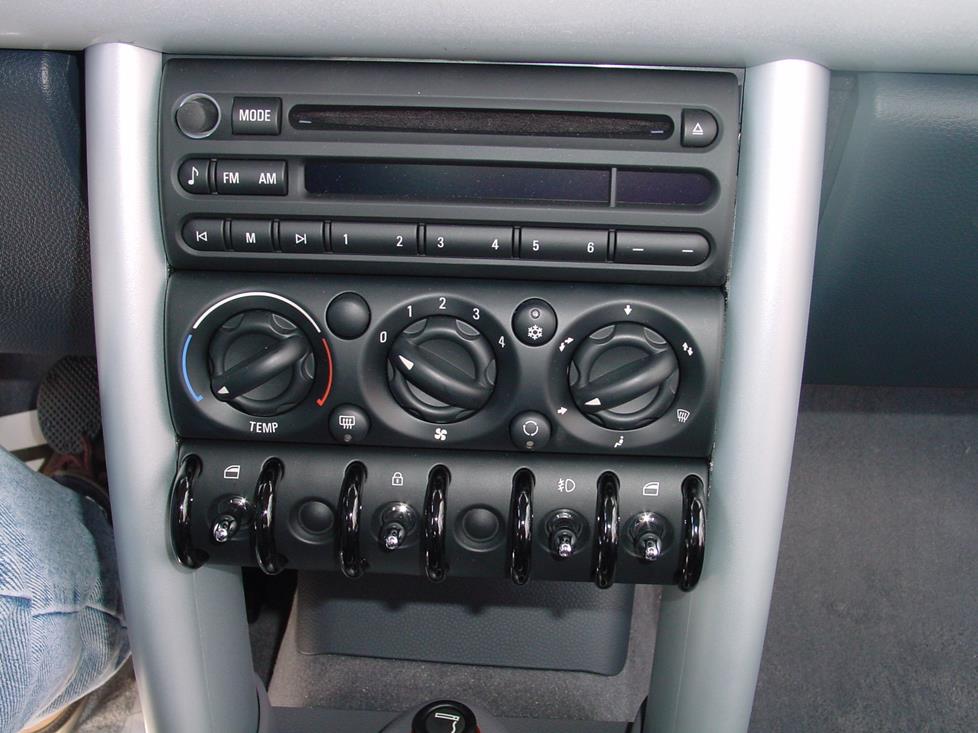 The MINI factory radio (Crutchfield Research Photo)
Factory stereo system
The standard MINI Cooper sound system in the hatchback offers an integrated high-definition AM/FM/CD unit, stacked below the car's primary instrument cluster, with remote receiver controls placed on either side of the steering wheel's center line. In addition to the receiver itself, the sound system includes a woofer/tweeter configuration in each of the front doors, and rear speakers mounted in the rear side panels at hip level.
The front door system consists of a 6-1/2" woofer at the bottom of the door, and a 1-3/8" tweeter placed at the top of the door panel to handle the highs. In each rear side panel, you'll find a standard 6"x 9" woofer. All speakers, regardless of location and position, are protected by grilles.

Removing factory radio from the dash (Crutchfield Research Photo)
Replacing your factory radio
The MINI's factory system isn't bad at all, but you'll still notice a big improvement when you install an aftermarket system
Standard system
It's pretty easy to work on the factory receiver, but you'll have to remove a few dash and console pieces before you can remove it. It floats at the top of a center accessory column, and is unencumbered by other horizontal dash sub-assemblies. This assembly is angled slightly forward to give the driver better access. Once you get the receiver out of the stack, you'll have more than 7 inches in depth to work with, so any new receiver should fit.
The Harman Kardon system adds an amplifier that lives in the cargo area under the right side of the floorboard. You can replace the speakers in the Harman Kardon system, but if you want to install a new car stereo, you'll have to run speaker wire from the new receiver to each speaker location, bypassing the factory amplifier.
Detailed stereo and speaker removal instructions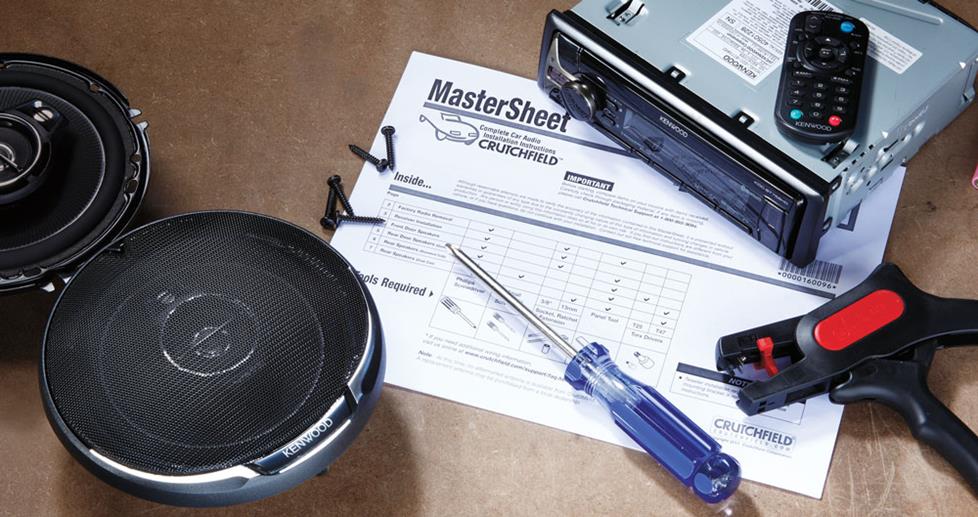 With step-by-step disassembly instructions and plenty of up-close, detailed photos, our exclusive
Crutchfield MasterSheet
™ takes the guesswork out of removing the factory stereo and speakers. It's free with your Crutchfield order, or you can purchase one separately for just $9.99.
Regardless of which system you're replacing, you'll need a mounting kit to trim out the new radio, a wire harness, and an antenna adapter that'll let you connect the MINI's antenna plug to your new radio. These installation parts are available at a deep discount with your Crutchfield stereo order.
Installation note: The accessory power wire in the wire harness isn't contained in the molded connector — it's just a bare wire, so you can either tap into the accessory power wire behind the dash or run a wire over to the MINI's fuse box.
Tools needed: Phillips-head screwdriver, circuit tester, crimping tool and crimp caps, T33 Torx driver, panel tool
Steering wheel audio controls
It's relatively easy to retain the steering wheel audio controls when you install a new stereo in your MINI Cooper. When you enter your vehicle information, our database will choose the adapter you need to make your factory steering wheel controls work with your new receiver.
Shop for car stereos that fit your MINI Cooper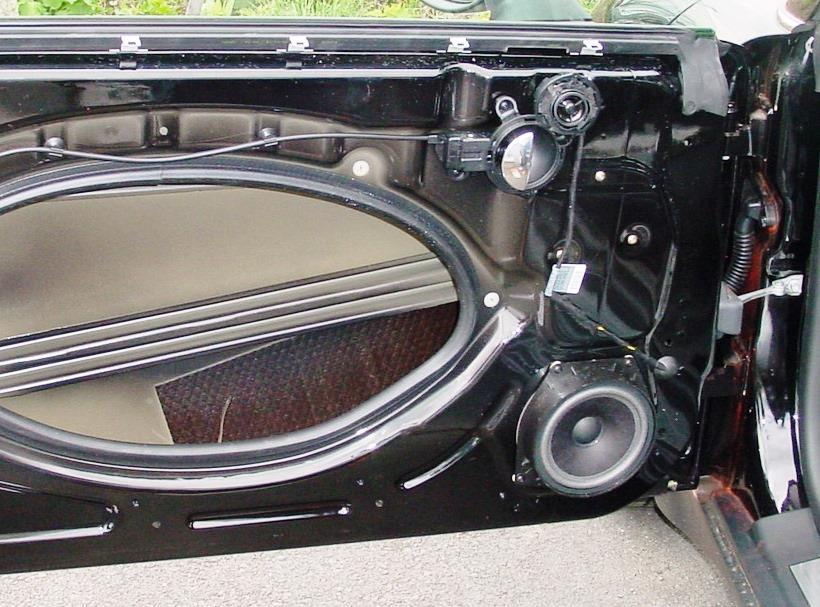 With the door panel off, it's easy to see the MINI's tweeter/woofer combo. (Crutchfield Research Photo)
Replacing your factory speakers
Speaker replacement offers its challenges in the MINI, but you'll be pleased with the results.

A closeup of the factory tweeter (Crutchfield Research Photo)
Front door speakers
The MINI's front door speaker system is a split-location configuration, with low-mid cones placed at the bottom of the doors, while highs are produced by tweeters placed at the top of the door panel, adjacent to the door's latch. If you decide to install aftermarket tweeters, you may have to fabricate new mounting brackets. The tweeter opening is oddly shaped, and making a new bracket will require a little ingenuity. Of course, you can also use a set of our universal back straps, which is a lot easier.
You'll have to remove the door arm rest and the door panel to get to the tweeter location, and you'll have to cut off the original molded speaker connectors and attach the bare wire to the new tweeter. The good news is that a mounting bracket and wiring harness are available at a nice discount for the lower woofer location in your door.
You can install a 6-1/2" or 5-1/4" speaker down there or, even better, pick out a nice set of component speakers. You'll have to drill new screw holes in the doors in order to install the mounting brackets, so take care not to damage the window or window mechanism when you're drilling.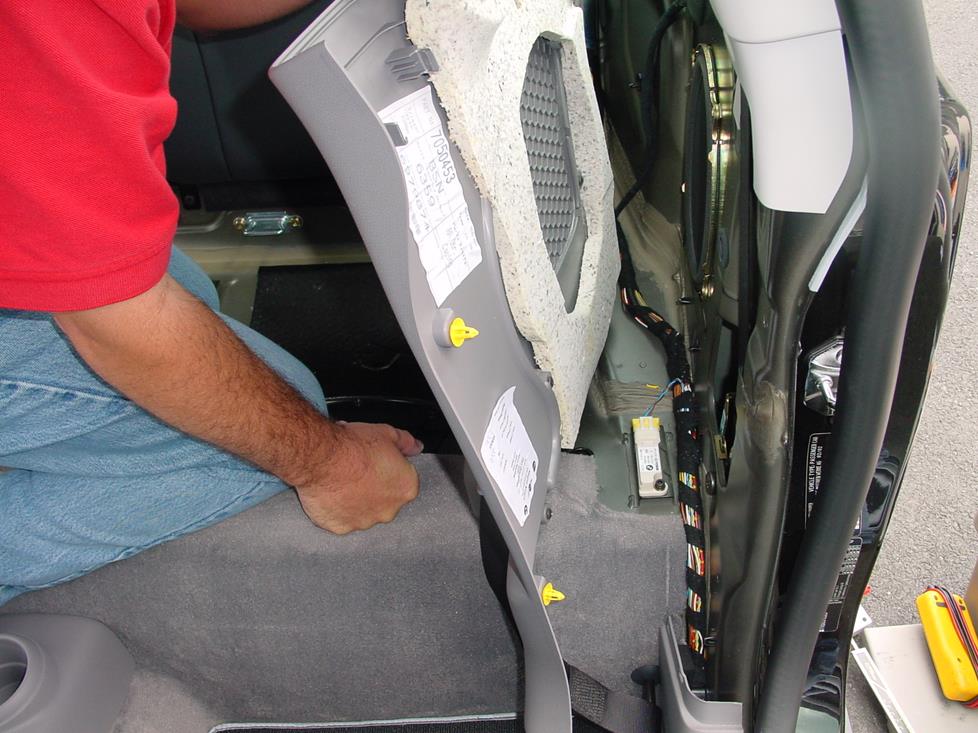 You'll find factory 6"x9" speakers in the rear side panels. (Crutchfield Research Photo)
Rear side panel speakers
Rear speaker replacement is easier, but you'll still have to apply a degree of care. You'll have to remove the rear seat cushion, along with all four of the child restraint covers, to get to the 6"x9" factory speakers.
Then, carefully lift the side panel gasket, and pry away the top and bottom edges of the side panel until it is entirely free of its retaining clips, and lift it out of the way. Once you have the panel off, remove the speaker screws, lift the speaker off its bracket, and disconnect the wire harness.
You can install a nice set of 6"x9" speakers back there, or a set of 6-1/2" or 5-1/4" speakers will go right in those openings with the help of mounting brackets and wiring harnesses supplied by Crutchfield.
Harman Kardon system
The MINI's factory premium system offers a Harman Kardon receiver/amplification package, mated to an integrated multi-wire harness.
If you are only intending to replace the speaker system, the speaker configuration is the same as the standard system. However, no wiring harnesses are available for the MINI so you have to cut off the factory plug wherever you replace a speaker. Simply follow the instructions on the Crutchfield MasterSheet, and you should be good to go.
On the other hand, if you choose to install a new car stereo, you will have to bypass the original wiring harness and amplification by running new wires from the stereo to the front and rear speakers. That's a lot more challenging, so you might want to consult a car audio installation professional.
Tools needed: Phillips screwdriver, flat-head screwdriver, T30 Torx driver, 7mm socket wrench and extension, drill with a 1/8" bit, wire stripper, crimp tool and crimp caps
Shop for speakers that fit your MINI Cooper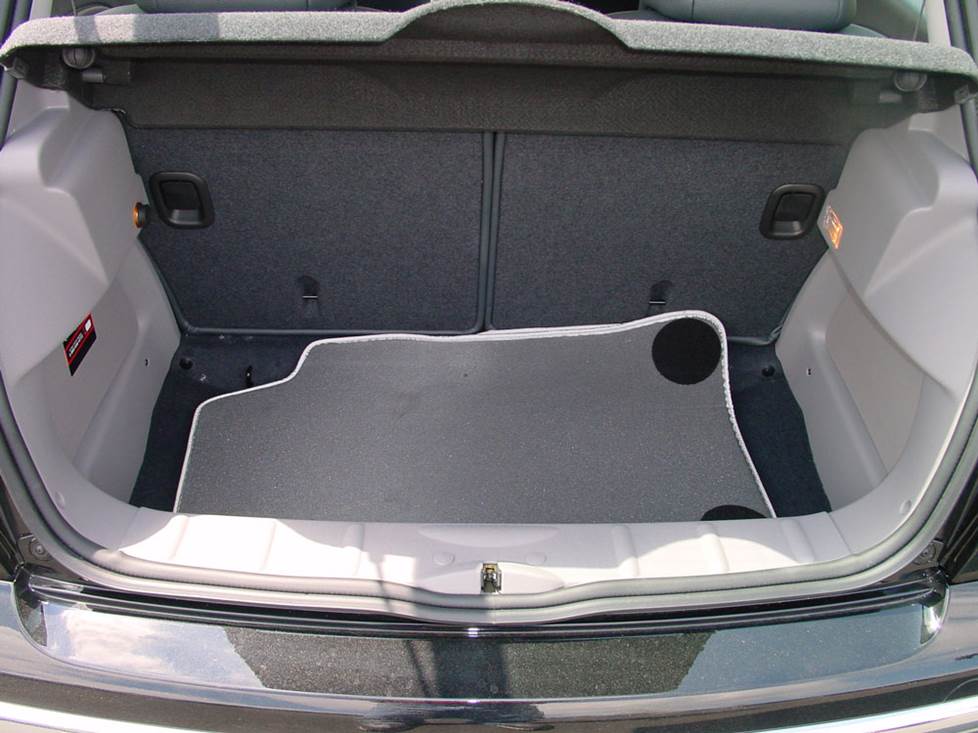 There's not a ton of space back here, but a powered sub could work (Crutchfield Research Photo)
Bass in your MINI Cooper
Unsurprisingly, there isn't a ton of room for an enclosed subwoofer in the MINI. The available cargo area space measures 36" W x 13" H x 14"/10" D, so if you use your MINI as a daily driver, you'll lose some storage space.
A compact powered subwoofer is probably a better choice for this location. You'll get plenty of low-end thump without compromising your car's everyday utility.
Shop for vehicle-specific subwoofers for your MINI Cooper
Other options for your MINI
Here are a few more suggestions on ways to improve your MINI's sound and functionality:
iPod Adapters
You'll find iPod interfaces designed to integrate with the factory radio in the MINI Cooper, even with the Harman Kardon system. Some of the interfaces work with the DSP radio, some work with the non-DSP version.
Security
Installing a security system in your MINI Cooper isn't easy (security systems rarely are), but it's definitely a good idea. Our Crutchfield Advisors can help figure out what you need to get the job done, but we usually recommend taking your car and new gear to a professional installer.
Shop for car security systems for your MINI Cooper
Find the audio gear that fits your car or truck
Visit our Outfit My Car page and enter your vehicle information to see stereos, speakers, subs, and other audio accessories that will work in your vehicle.