2002-2006 Toyota Camry
Upgrading the stereo system in your Camry
2002 • 2003 • 2004 • 2005 • 2006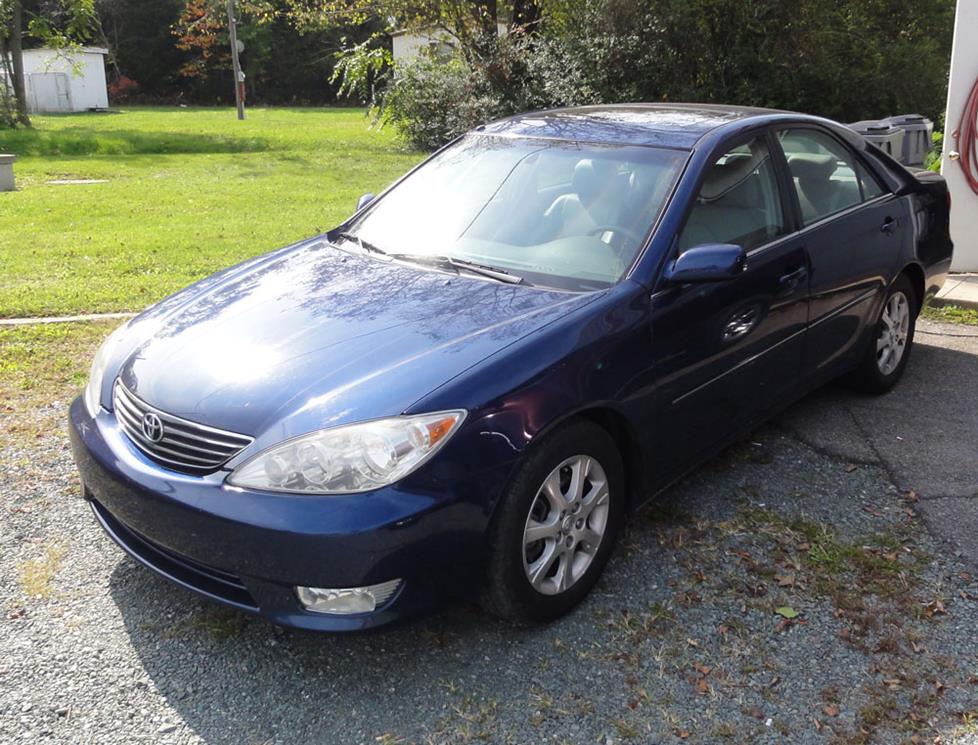 In brief: This Crutchfield Research Garage article gives you an overview of your Camry's stock stereo system and your aftermarket upgrade options. We'll tell you all about:
Then, use our vehicle selector to find the gear that will fit your Camry.
Overview of the Toyota Camry
The Toyota Camry gets a bit of stick in some quarters because it's not "exciting" enough. We don't doubt that a Camry is less exciting than your average European exoticar, but that's really not the point of a car like this. The Camry is a common-sense car for people who want their cars to start in the morning and take them where they need to go with minimal drama. Life is exciting enough without roadside emergencies and hefty repair bills, thanks.
Upgrading your Camry's audio system is an inexpensive way to bring better sound and up-to-date functionality to your daily drive. Just being able to use your smartphone to take calls and play music will be a big improvement, but you can also add a new navigation receiver and get more accurate directions. New speakers will bring out the best in your new gear.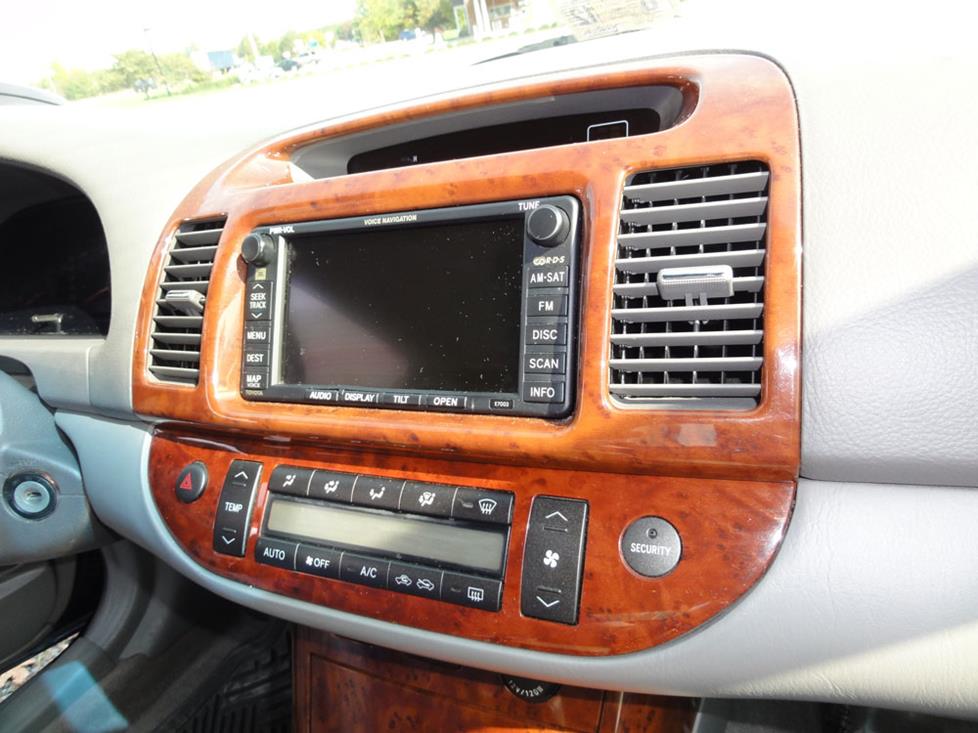 The factory nav receiver was hot stuff back in the day, but a new receiver will give you much better performance (Crutchfield Research Photo)
The factory stereo system
This Camry was pretty well-appointed for its time, with a base AM/FM/CD receiver and an optional navigation receiver. If the 6-speaker base system wasn't enough, buyers could step up to the 8-speaker JBL system with an amplifier (located below the factory radio).
The JBL speakers are all 2-ohm models, so when you're shopping, it's important to understand that installing higher-impedance speakers will result in lower volume levels. If you have any questions, talk to one of our expert advisors.
Our Kit Finder tool (or your advisor) will make sure you're getting the right wiring harness adapter for the stereo you choose.
Steering wheel audio controls
It's relatively easy to retain your Camry's steering wheel audio controls when you install a new stereo. When you enter your vehicle information, our database will choose the adapter you need to make your factory steering wheel controls work with your new receiver.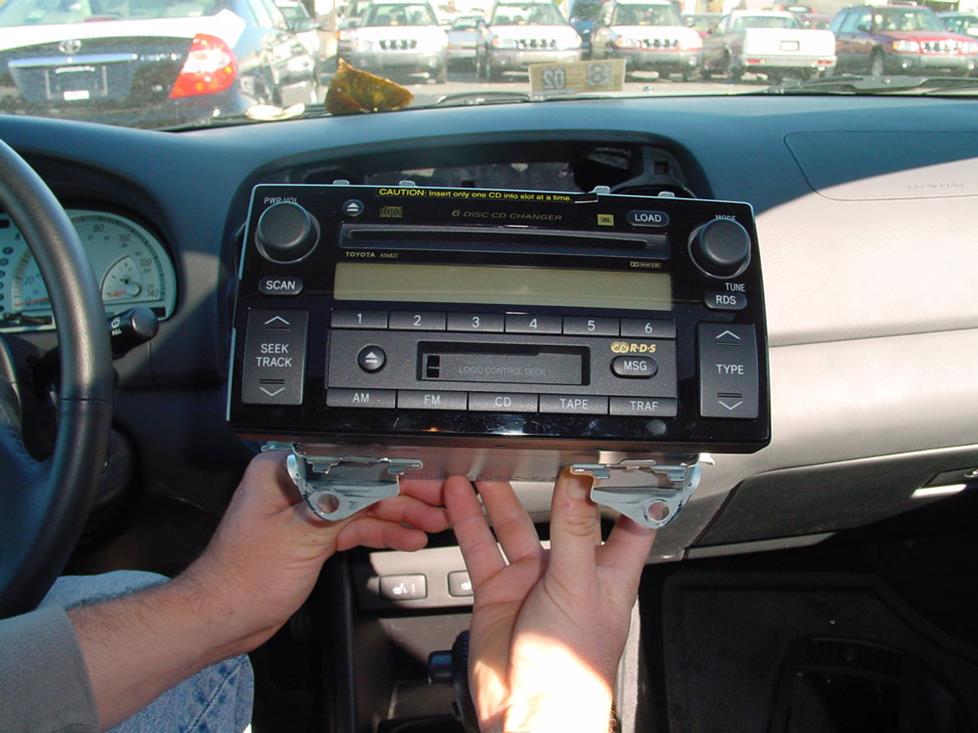 The CD/cassette receivers (JBL model shown) and nav receivers are easy to remove and can be replaced with a variety of aftermarket models (Crutchfield Research Photo)
Removing the factory radio
Whether you're dealing with the base radio or the navigation receiver, removal and replacement are reasonably simple. Safety matters, though, so you'll start by setting the parking brake and disconnecting the negative battery cable to prevent any electrical short.
Once that's done, use a panel tool to (gently) pry out the climate control trim panel, which is held in place by six plastic clips. Disconnect the harnesses and remove this panel.
Next, take a moment to place a (clean) towel on the top of the dash – you'll need it in a minute. Pry around all edges of the receiver trim panel to release the retaining clips, then pull out the panel.
Detailed stereo and speaker removal instructions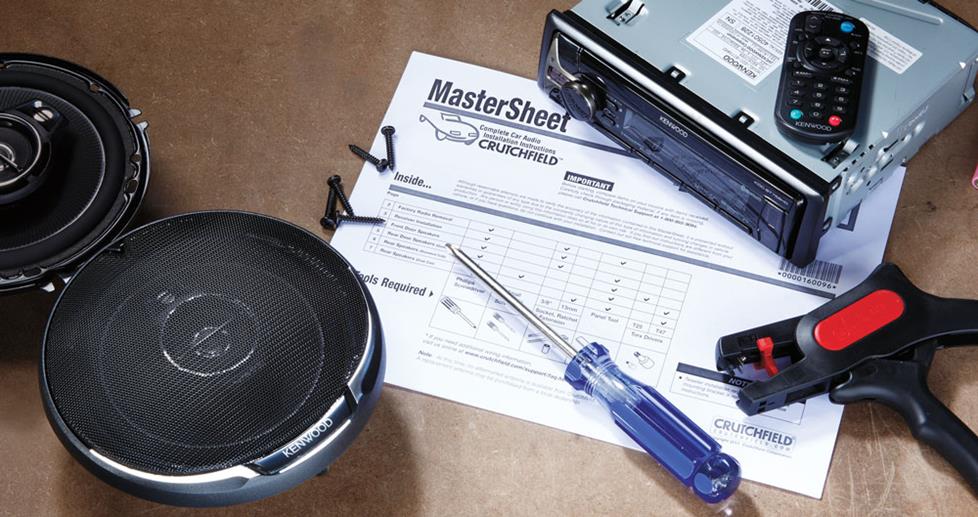 With step-by-step disassembly instructions and plenty of up-close, detailed photos, our exclusive
Crutchfield MasterSheet
™ takes the guesswork out of removing the factory stereo and speakers. It's free with your Crutchfield order, or you can purchase one separately for just $9.99.
DO NOT disconnect the wiring harness — it contains the airbag wiring. Instead, gently place the trim panel on the towel on top of the dash and leave it there until you need it again. Remove the four 10mm screws securing the factory radio, then pull it out and disconnect it.
Installing the new radio is largely a matter of doing all that stuff in reverse. Your Crutchfield MasterSheet contains helpful details, and the dash kit and wiring harness adapter (deeply discounted with your purchase) include instructions of their own. If you run into trouble, you'll be glad to know that buying from Crutchfield entitles you to free tech support for the life of your gear.
Tools needed: Panel tool, 10mm socket, ratchet and extension
Shop for car stereos that fit your Toyota Camry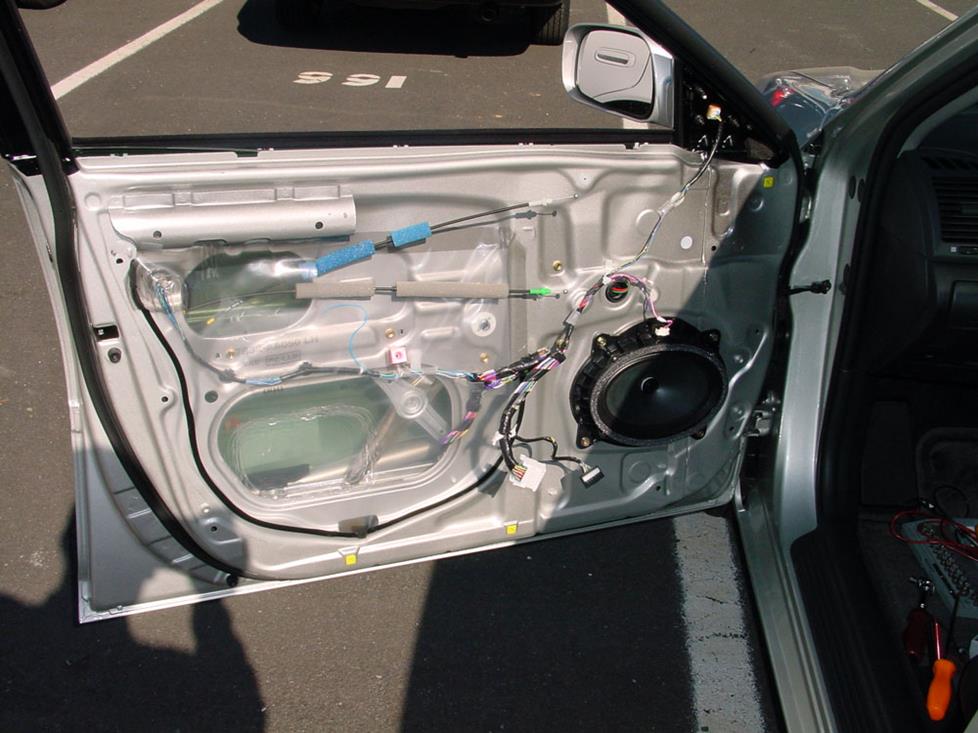 You'll need to remove the door panels to get to the stock speakers (Crutchfield Research Photo)
Removing the factory speakers
The Camry's speakers aren't hard to replace, with the possible exception of the rear deck speakers. Those will present a fair amount of work, but it's still a do-able project for the car audio DIY-er.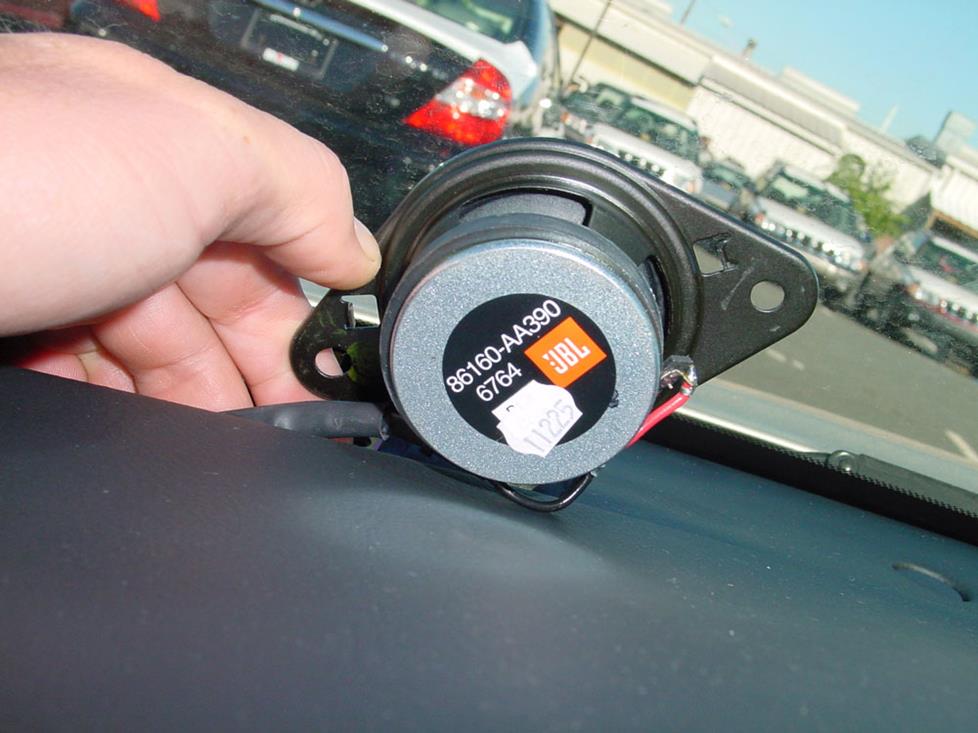 The dash tweeters aren't hard to deal with, but you'll deal with the base and JBL models in different ways (Crutchfield Research Photo)
Removing the Camry's dash tweeters
Both the base and JBL-equipped cars have tweeters in the dash corners. There are some differences in how you deal with each variety, but they're both easy to reach and replace.
Standard system: Pry up the rear edge of the grille to release two retaining clips, pull the grille towards you, and remove it. Then, just remove the two 10mm bolts securing the speaker, disconnect the harness, and remove it.
The front tweeters and the door woofers are wired together at each tweeter location, so when you replace the tweeters, you'll have to splice the input and output wires together to keep the woofers working. Posi-Products connectors will make this a lot easier, and you'll use a couple more to connect the tweeters to the factory wiring.
JBL system: Replacing the JBL speakers is largely the same as above, but there are a few differences. Your Crutchfield advisor can help you choose appropriate replacements.
Tools needed: Panel tool, 10mm socket, ratchet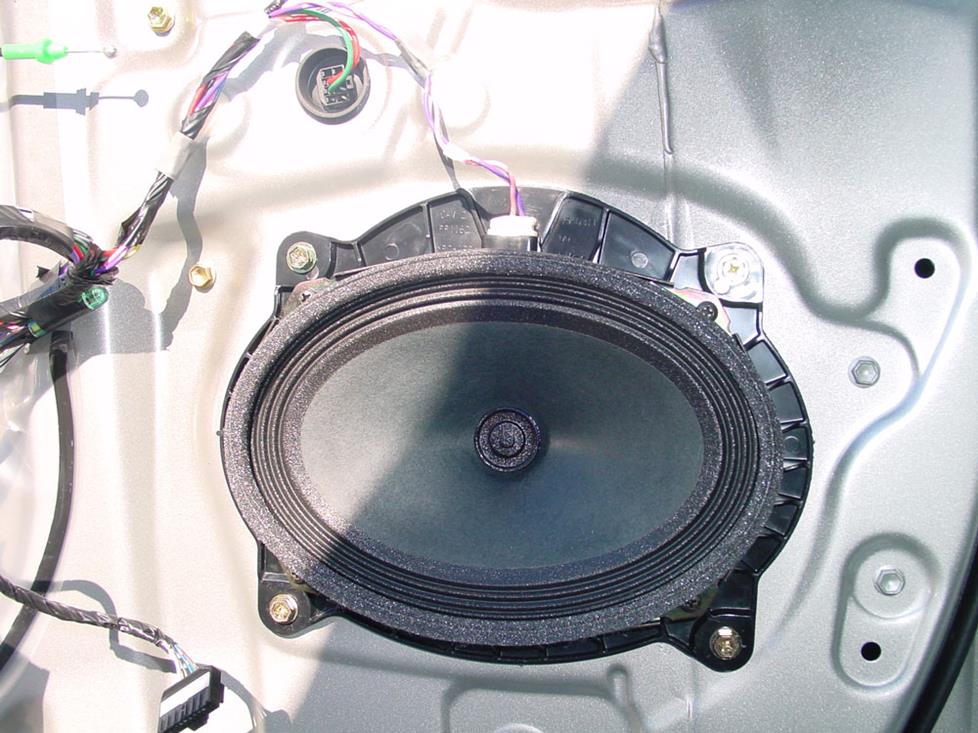 The stock 6x9 speakers aren't hard to remove or replace, but the job can take some time (Crutchfield Research Photo)
Removing the Camry's front door speakers
The front door speakers in both systems are 6"x9" models that can be replaced with same-size, 5-1/4", or 6-1/2" aftermarket models.
You'll need to remove the door panels, of course, and while that's not that hard to do, there are several fiddly steps along the way. Staying patient and organized will come in handy here, especially when it comes to keeping track of the various Phillips screws you'll be removing. You'll need mounting brackets for the smaller speakers, and they'll be included with your order.
Be sure to test the speakers before you put the doors back together, and also make sure that the locks and windows are operating properly. Remember that using higher-impedance speakers will result in lower volume levels, so shop accordingly.
Tools needed: Panel tool, Phillips screwdriver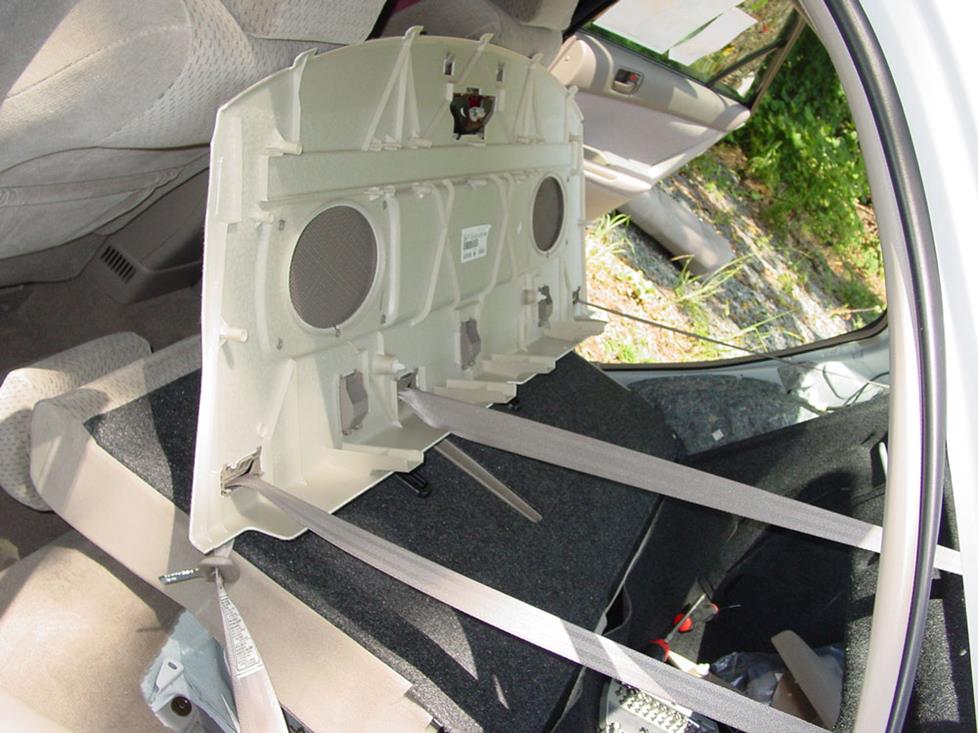 As you can see, replacing the rear deck speakers can get a little involved (Crutchfield Research Photo)
Removing the Camry's rear deck speakers
When you replace the rear deck speakers, you'll run into the only (somewhat) complicated part of this installation. It's a fair amount of work either way, but a reasonably handy DIY-er should be okay. It's important to stay organized and patient with this job, because it will take some time. A helper might be a good idea, too.
If you have the optional side curtain airbags and optional rear window shade, you have some work to do. If you don't have those, the job is easier, but only just. We're going to hit only the highest points here, because explaining both jobs would take up a mind-numbing (for you and us) amount of space and time. Complete instructions can be found in your MasterSheet and our tech support team is only a phone call away.
The stock speakers in both systems are 6"x9" models that can be replaced with same-size, 5-1/4", or 6-1/2" aftermarket models. In most cases, you'll need to secure your speakers using our universal backstraps.
Once the job's done, you'll definitely want to make sure the speakers are working properly before you start the process of putting the rear deck and seats back together again. It's not a job you'll want to do twice! Make sure that the seat belts and brake lights are working as they should before you button everything up, too.
Tools needed: Panel tool, Phillips screwdriver ,10mm and 12mm socket, ratchet and extension
Shop for speakers that fit your Toyota Camry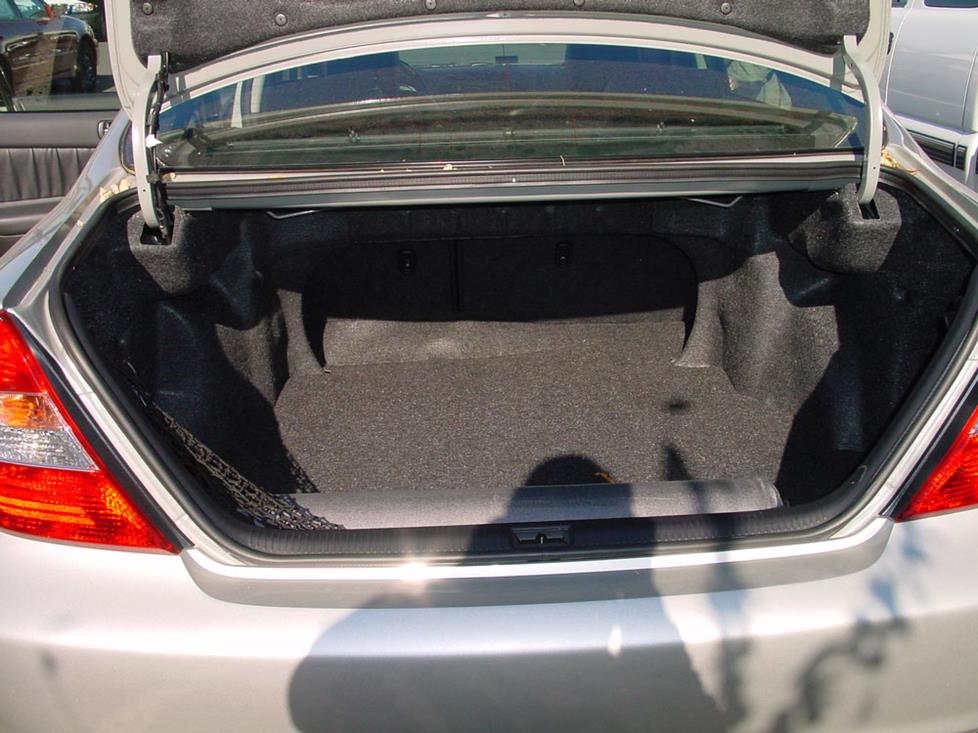 There's room for a big sub box in here if you want one, but there are some more practical solutions out there, too (Crutchfield Research Photo)
Bass in your Camry
There's a decent amount of space in the Camry's trunk, which is handy for lots of reasons – not all of them practical. If you're going heavy on the bass, you have a 39" W x 17" H x 33" D space for a subwoofer in an enclosure.
If you're not planning to line the entire trunk with subs, you can still add plenty of sound with a component sub in a smaller sub box or a powered subwoofer. With the variety of sub sizes on the market, you should be able to find something that sounds awesome.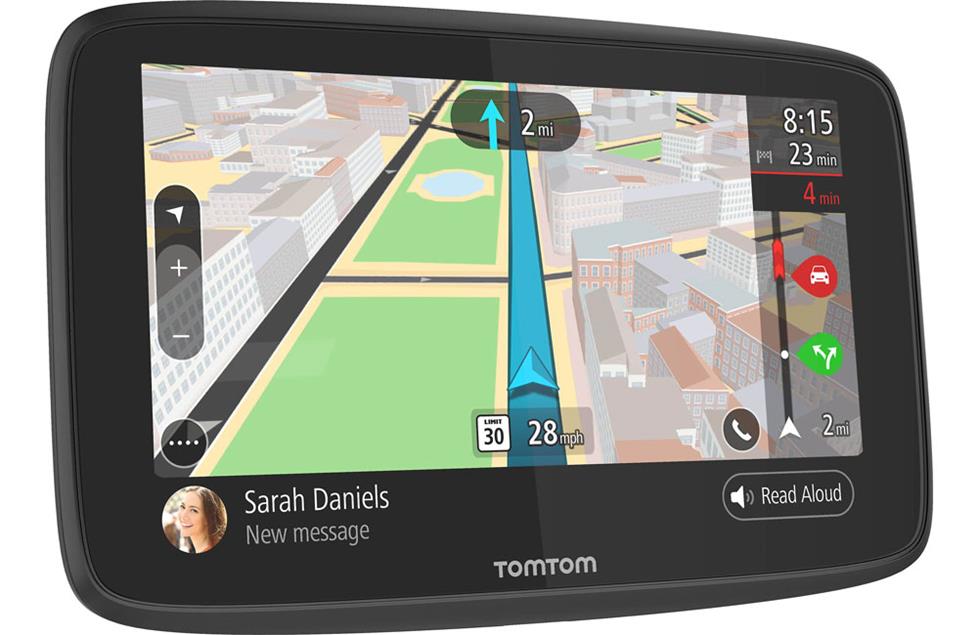 Get where you're going with a GPS nav unit
Other options for your Camry
Here are a few other ways to improve the comfort, convenience, and safety of your Camry.
Get directions with a portable GPS
You can still get aftermarket nav functionality even if you don't want to spring for a navigation receiver. Mount a portable GPS navigator on your dash and enjoy turn-by-turn directions, traffic updates, and other info you need to make your road trip go smoothly. Plus, when you get where you're going, you can put your GPS in your pocket and use it to find points of interest around town.
Add an amplifier (or two)
A new 4-channel amplifier will help you get the most out of your new speakers. You'll get cleaner power (and a lot more of it), which will result in much, much better sound. A mono amp can provide the juice you need for a new subwoofer, too.
Protect your stuff with a security system
Installing a security system in your Camry isn't easy (security systems rarely are), but it's less complicated than it could be. Our Crutchfield Advisors can help figure out what you need to get the job done, but we usually recommend taking your car and new gear to a professional security system installer.
Let's get started!
Ready to shop? Use our vehicle selector to find the gear that will fit your car or truck. If you have questions, give us a shout via phone, chat, or email