2002 Lincoln Blackwood
Upgrading the stereo system in your Blackwood
2002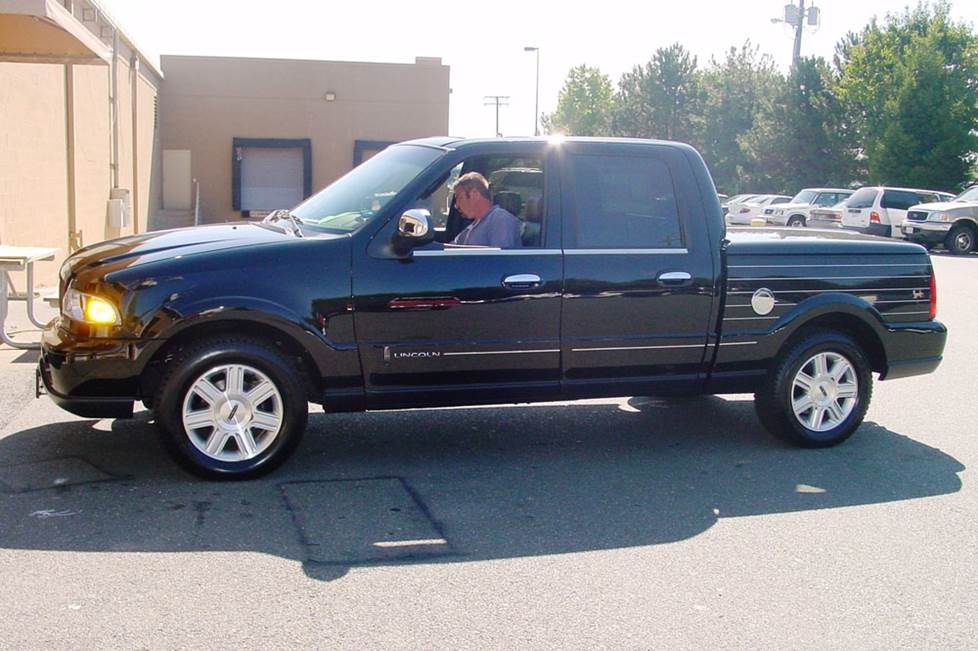 In brief: This Crutchfield Research Garage article gives you an overview of your Blackwood's stock stereo system and your aftermarket upgrade options. Use our vehicle selector to find the gear that will fit your truck.
Overview of the Lincoln Blackwood
Back in the early aughts, fresh off the untimely demise of the motorsports magazine I'd been editing, I found myself in Michigan, interviewing for a job with a car-related PR firm. The people were great, lunch was terrific, and the interview was going smoothly — until they sat me down at a computer and asked me to write a release about the then-new Lincoln Blackwood. I kid you not; the first sentence I typed was something along the lines of, "In answer to the question no one was asking, Lincoln introduces the stunning new Blackwood."
Oops.... I quickly backspaced my way out of that mess, reminded myself that I wasn't applying for a journalism job, and somehow managed to bang out something a little more PR-ish. It apparently worked (they made an offer), but I chose to pass on that opportunity in favor of a poverty-wage newspaper job because I am a stupid idiot. Which also might explain why I've had a soft spot for the Blackwood ever since....
I'm still pretty sure no one was asking for a shortbed F-150 Crew Cab in a tuxedo (sales figures back me up on this), but there are certain vehicles that have an impact on one's life, and the Blackwood had one on mine. That's why I decided to add the Blackwood to our Research Garage offerings.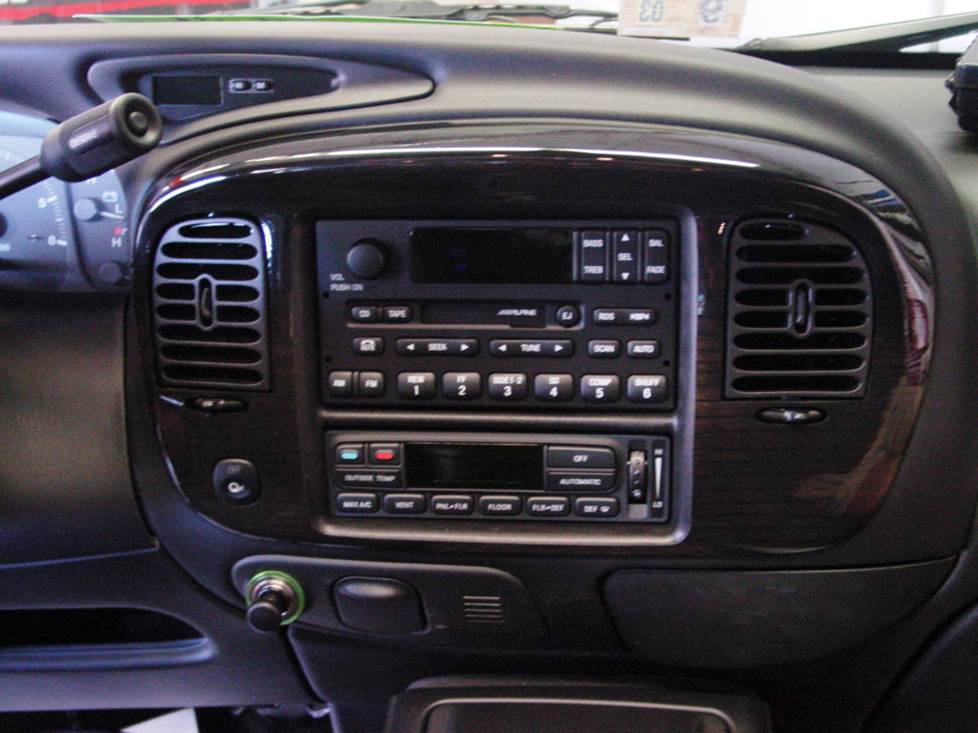 The Blackwood's stock radio is pretty easy to remove and replace (Crutchfield Research Photo)
The Blackwood's factory stereo system
The Blackwood's standard factory system was an AM/FM/cassette with five speakers (including a subwoofer), and a 6-disc CD changer mounted in the center console. Remember outboard CD changers? Yeah, good times….
The optional navigation system featured a 5" screen mounted below the dash. The Blackwood is a rare truck and this was a rare and pricey option, so we haven't had a chance to research one yet. But we're pretty sure that you'll be happier with an aftermarket nav system that mounts in the dash where you can see it without looking down towards the floor.
You can replace the Blackwood's stock receiver with either a single-DIN (2" tall) or a double-DIN (4" tall) aftermarket stereo, but if you go with the big receiver, you'll have to modify the sub-dash in a way that will preclude you from ever re-installing the stock receiver. Keep that in mind if you're imagining a future in which Blackwoods draw '60s muscle car-type money on the auction block. Hey, there were only 50 Neiman-Marcus edition Blackwoods made, so it could happen, right?
As with many Ford trucks of this era, you'll need a 12V-to-5V convertor to prevent "turn-on pop" if you use your new receiver with the factory amplifier. We'll make sure you get what you need when you're ordering.
If you want to keep using the factory sub, make sure your new receiver has a subwoofer preamp output. The wiring harness that's included at a discount (same goes for the dash kit) with your stereo purchase has a plug that'll connect to that output.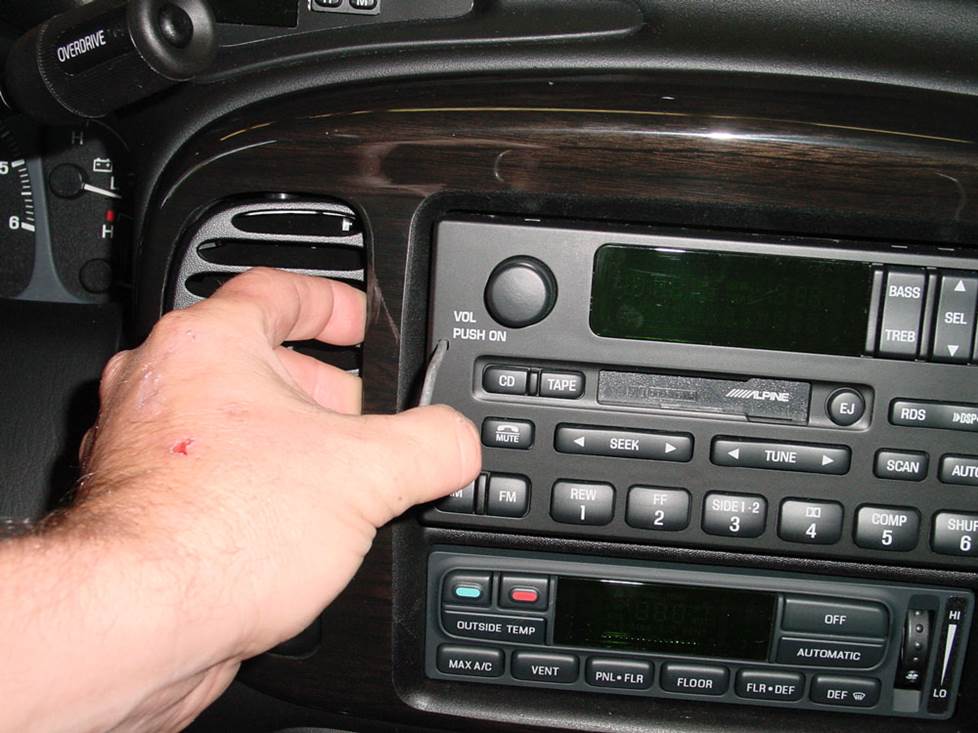 You'll use a set of DIN tools to remove the factory radio (Crutchfield Research Photo)
Replacing your factory radio
Replacing the Blackwood's stock receiver isn't all that hard. Step one is to set the parking brake and disconnect the negative battery cable to prevent an electrical short and ensure that you don't become the special human who got run over by a wayward Lincoln Blackwood.
With that done, insert a set of DIN tools (included with your Crutchfield stereo purchase) into the holes in each side of the factory radio. Push them in about an inch, until you hear a "click" on each side. Don't push them too hard, because you don't want to damage the retaining clips. Once they're in, spread the tools slightly apart and pull the radio out of the cavity. Disconnect the wiring harness, unplug the antenna, and remove the old radio.
When you purchase your new receiver from Crutchfield, we'll give you a healthy discount on the dash kit and wiring harness you need to install it in your Blackwood. Both come with instructions, and when you use those in conjunction with the free Crutchfield MasterSheet that's also included, installation is reasonably easy. If you install a single-DIN receiver, you'll need to install the kit with the pocket on top.
Once the receiver is in place and connected, be sure to test it and make sure it's working properly before you button things up. If you run into trouble here or when you're installing speakers, remember that your Crutchfield purchase also includes free tech support for the life of your gear.
Tools needed: DIN tools, pliers (for dash kit)
Shop for car stereos that fit your Lincoln Blackwood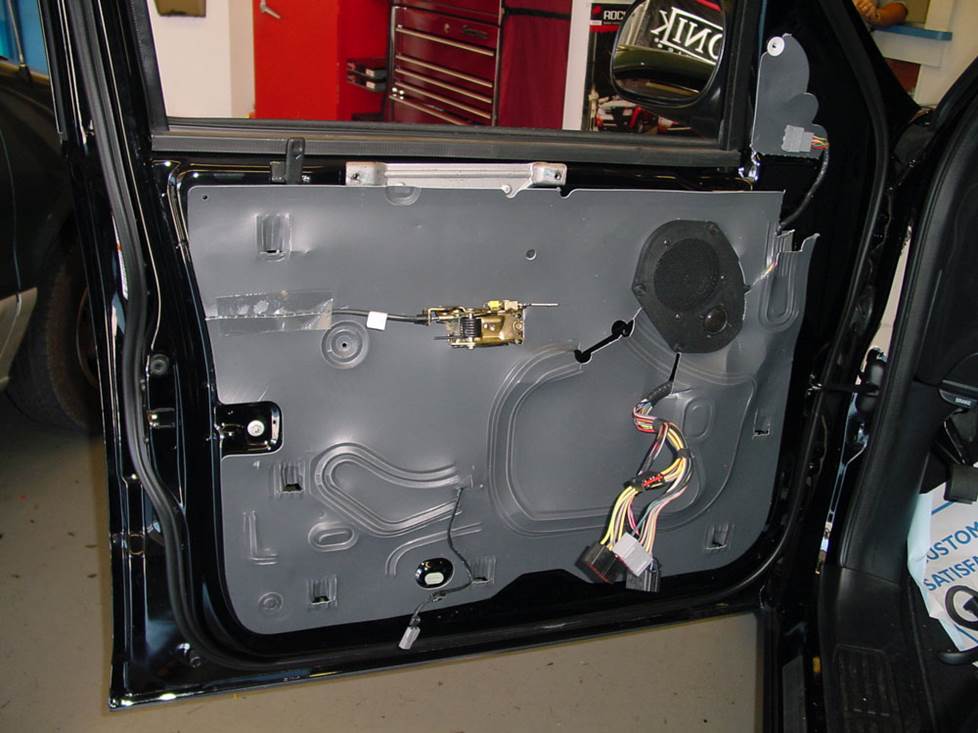 You'll need to remove the panels to replace the Blackwood's door speakers (Crutchfield Research Photo)
Replacing your factory speakers
The Blackwood's speakers weren't bad for the time, but that was a long time ago (Hard to believe, but it's true....). Thankfully, there are some very nice aftermarket speakers available for your truck.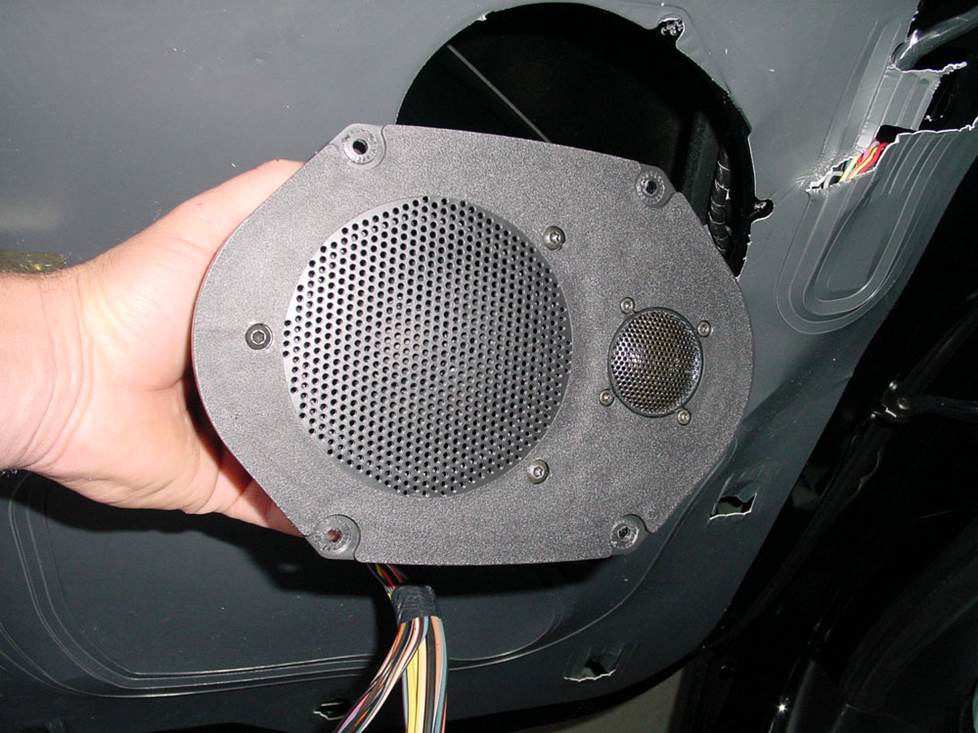 Once the door panels are off, the speakers are reasonably easy to deal with (Crutchfield Research Photo)
Removing the front door speakers
The tired, old front door speakers can be replaced with 6"x8" or 5-1/4" aftermarket models. You'll need a pair of mounting adapters for the smaller ones, and they'll be included with your Crutchfield purchase. You'll need to remove the door panels to get to the speakers, but the job's really pretty simple and you can totally do this yourself.
You'll start by using a panel tool to pry out the sail panel, starting at the top edge. Once you release the plastic clip that holds the panel in place, leave it in place while you work on the rest of the door.
Pry off the two screw covers at each end of the door pull handle, then remove one 8mm screw from each location. Pry the door release trim loose and let it hang while you remove the now-exposed 8mm bolt. Remove the entire door release assembly.
Use your panel tool to pry around the side and bottom edges of the door panel, releasing all of the clips that hold it in place. Then lift the door panel off the door, disconnect the harnesses, and set the door panel aside.
Detailed stereo and speaker removal instructions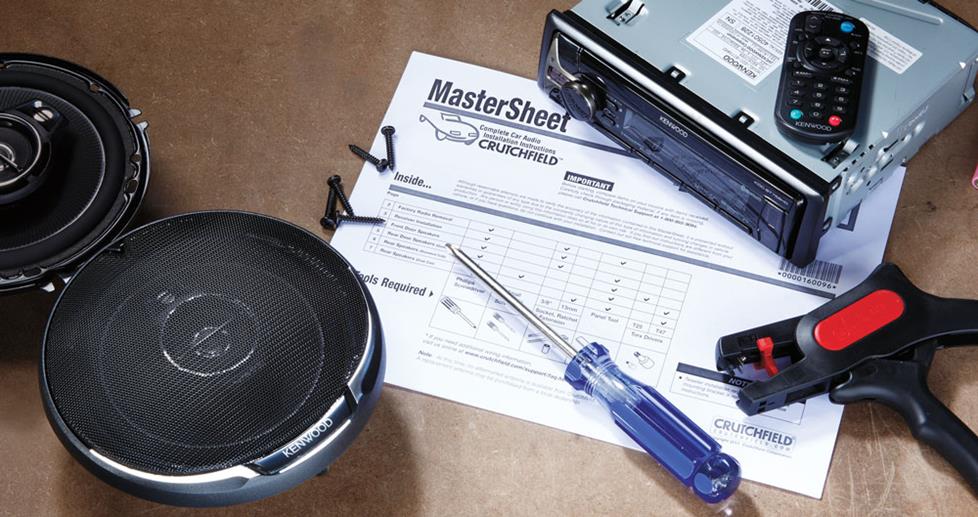 With step-by-step disassembly instructions and plenty of up-close, detailed photos, our exclusive
Crutchfield MasterSheet
™ takes the guesswork out of removing the factory stereo and speakers. It's free with your Crutchfield order, or you can purchase one separately for just $9.99.
With the speakers exposed, you can remove the four 6mm screws that secure the factory speaker. Hang on to them, because you'll need them again. Once they're out, remove the speaker and disconnect the wiring harness. Connect the new speaker's wiring harness (included with your Crutchfield speaker purchase) to the vehicle's speaker connector, then use those old mounting screws to secure the speaker in place.
Once both speakers are installed, test them out, make sure they're working, then put the doors back together. Don't forget to make sure the locks and windows are working properly, too.
Tools needed: Panel tool, 6mm and 8mm sockets, ratchet and extension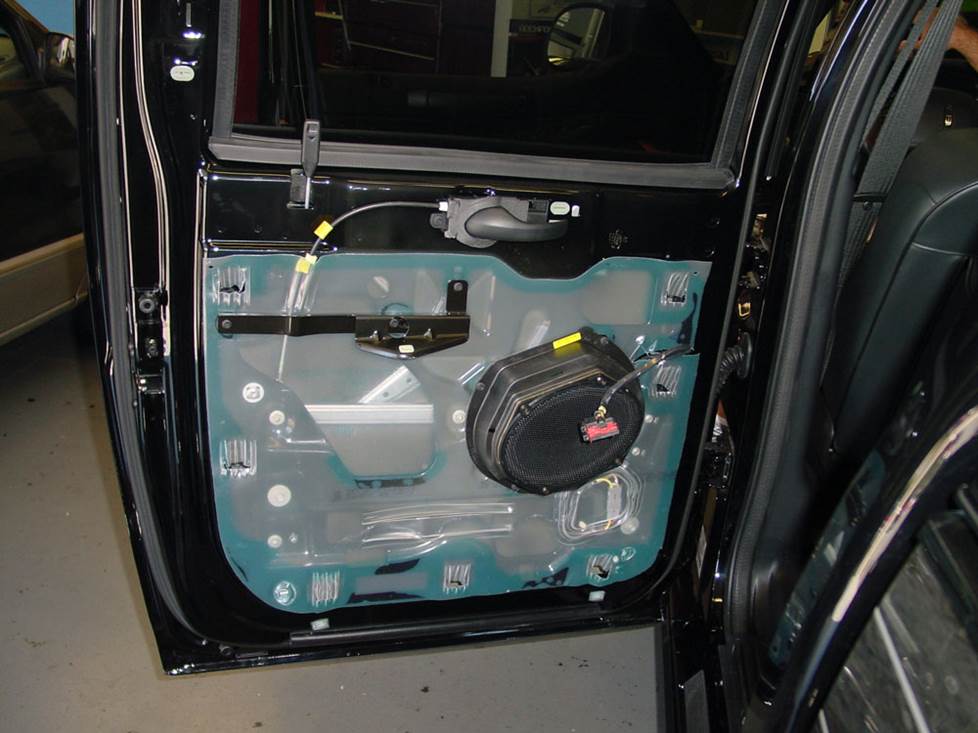 The Blackwood's rear door speakers are also pretty easy to reach and replace (Crutchfield Research Photo)
Removing the rear door speakers
Replacing the Blackwood's rear door speakers is a pretty basic DIY job. You'll start by using your panel tool to pry off the plastic trim at the rear of the window. Next, you'll remove the exposed Phillips screw.
Pry off the trim around the door release handle and remove it, then pry out the screw cover in the bottom of the door pull cup and remove the Phillips screw that's exposed.
Moving down the door, remove the two Phillips screws at the bottom edge of the door panel. Just like up front, use your panel tool to release the door panel clips, then lift the door panel, disconnect the wiring harnesses, and remove the door panel.
Remove the 1/4" screws securing the speaker, then set them aside. Pull the speaker out and disconnect the wiring harness, then get ready to install the new speaker. Once you've connected the wiring adapter to the truck's wiring, situate the speaker and secure it with the screws from the old speaker.
Again, be sure to test the speakers, along with the locks and windows, before you put the door back together.
Tools needed: Panel tool, Phillips screwdriver, small flat blade screwdriver, 1/4" socket, ratchet and extension
Shop for speakers that fit your Lincoln Blackwood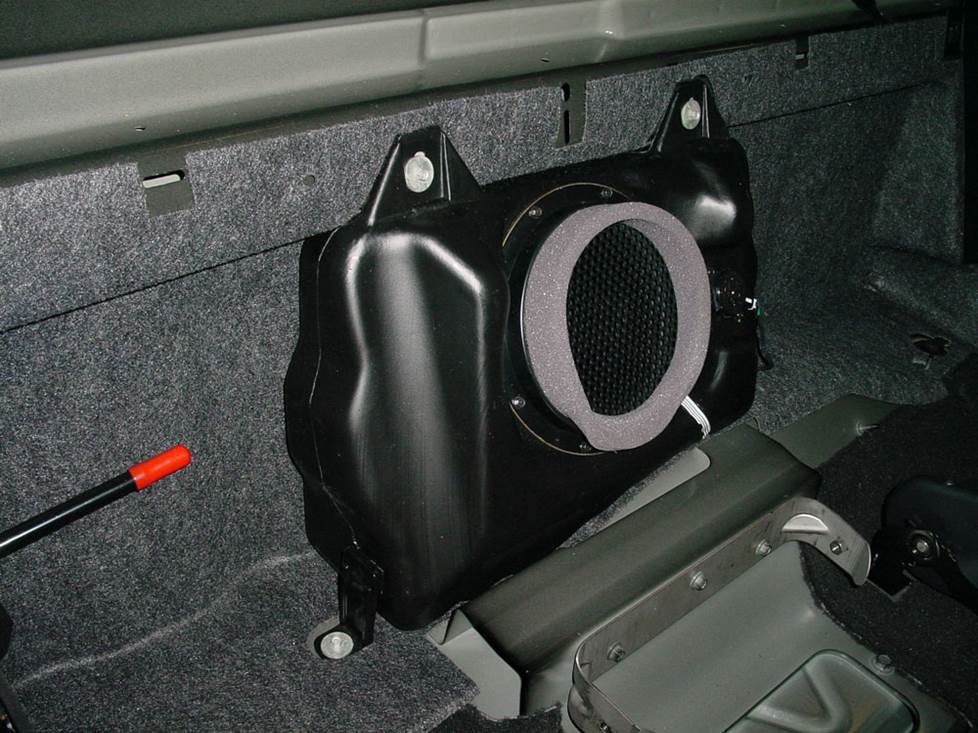 The Blackwood's 8" factory sub is located on the rear wall of the cab (Crutchfield Research Photo)
Bass in your Blackwood
The 8" subwoofer on the rear cab wall isn't hard to remove and replace, but there are a few steps involved and you'll have to do a wee bit of drilling. All of this is well within the capability of the average DIY-er, but it's important to work carefully and stay organized.
Use your panel tool to pry four retaining clips out of the top edge of the rear wall panel, then fold the rear seats forward. Lift the carpeted panel and remove two 7/16" nuts (one on each side of vehicle) underneath.
Remove two 8mm screws from the center console (one on each side), then pry out the cupholder assembly and remove the two exposed Phillips screws. Lift the console up and remove it from the cab.
Pull on the rear wall trim panel to release the metal retaining clips and remove it. That'll expose the subwoofer enclosure, which is secured by four 8mm bolts. Remove those bolts, then turn the enclosure over and remove another 8mm bolt on the back side. Remove eight 7mm screws from the front of the speaker, then pull it out, disconnect it, and set it aside.
Depending on the subwoofer you choose, you may need to drill new mounting screw holes. If so, make sure you know what you're drilling into, work carefully while you're drilling, and always wear eye protection. You can use the original mounting screws to install any subwoofer, but you may need a few extras. Check before you start. We'll show you all of the subwoofers that will fit in the enclosure when you enter your vehicle info in our Outfit My Car tool.
Pay close attention when you're choosing the new sub, because the stock piece is a low-impedance subwoofer. Replacing it with a higher-impedance model will result in lower volume levels, so be sure to match things up before you buy.
Complete, illustrated instructions can be found in your Crutchfield MasterSheet.
Tools needed: Panel tool, Phillips screwdriver, 7mm, 8mm and 7/16" sockets, ratchet and extension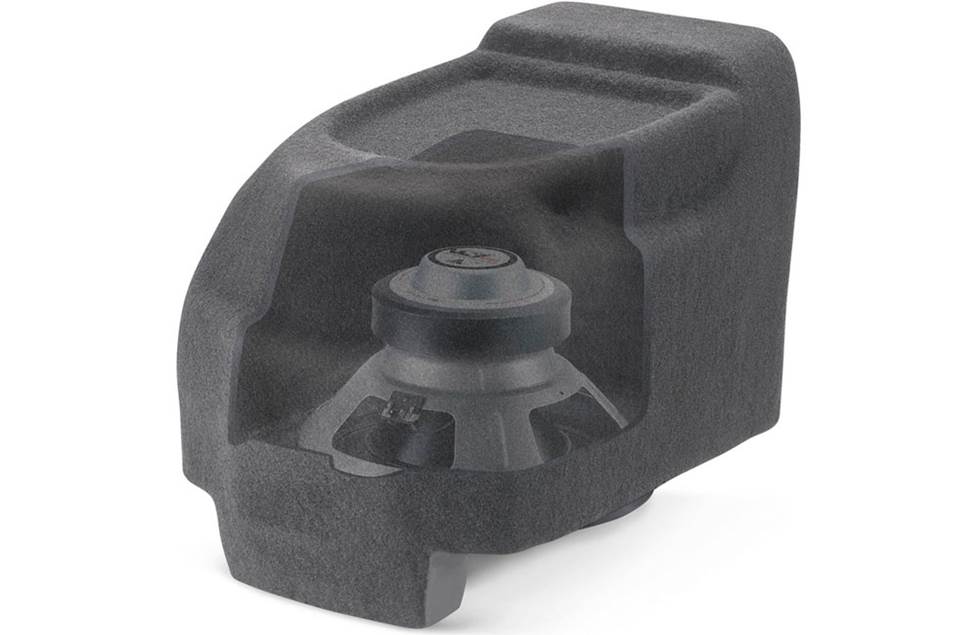 This JL Audio Stealthbox basically replaces the rear console
Adding bass to your Lincoln Blackwood
The Blackwood is a good-sized truck but that doesn't mean there's a lot of room for a subwoofer enclosure behind (or below) the back seat. There is, however, a JL Audio Stealthbox that fits perfectly in the Blackwood's rear center console location. Installing it will involve some significant modifications to the console and there'll be a lot less storage space when you're done. The sound improvement will be impressive, but you should know what you're getting into. If it seems like a bit much, you might want to turn this particular job over to a car stereo professional.
Shop for vehicle-specific subwoofers for your Lincoln Blackwood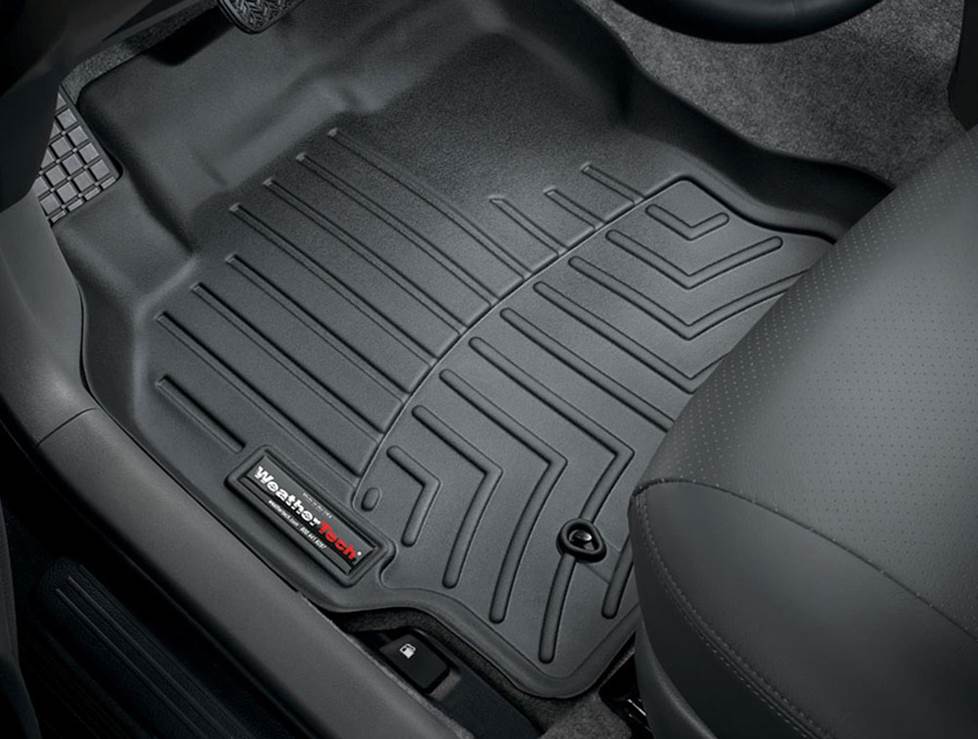 A set of WeatherTech Floor Liners will look terrific in your Blackwood
Other options for your Blackwood
Floor mats
No matter how much you pamper your truck, you're eventually going to get involved in some sort of truck-like activity that gets you and/or it dirty. Even if it's a Blackwood. Hey, it could happen, and when it does, you'll want to have a set of WeatherTech Floor Liners in your truck. These incredibly durable mats trap moisture, contain dirt, and keep your factory carpets looking good. They also look terrific, so they'll be a nice all-around addition to your Blackwood's interior.
Sound damping
The Blackwood is a Lincoln, so it's reasonably quiet for a pickup. But it's still a pickup, so it has big tires and the aerodynamic profile of a toolshed. To prevent wind noise and road roar from undoing the great work your new stereo is doing, install Dynamat when you're replacing your door speakers. This soundproofing material is a great way to dampen the sounds you don't like and get more enjoyment out of the ones you do. For more information on installing Dynamat in a pickup, check out our informative series of articles on our 2004 Ford F-150 project truck.
Security
Installing a security system in your Blackwood isn't easy (security systems rarely are), but it's definitely a good idea. Our Crutchfield Advisors can help figure out what you need to get the job done, but we usually recommend taking your car and new gear to a professional installer.
Shop for car security systems for your Lincoln Blackwood
Find the audio gear that fits your car or truck
Visit our Outfit My Car page and enter your vehicle information to see stereos, speakers, subs, and other audio accessories that will work in your vehicle.