2003-2007 Infiniti G35 coupe
Upgrading the stereo system in your G35 coupe
2003 • 2004 • 2005 • 2006 • 2007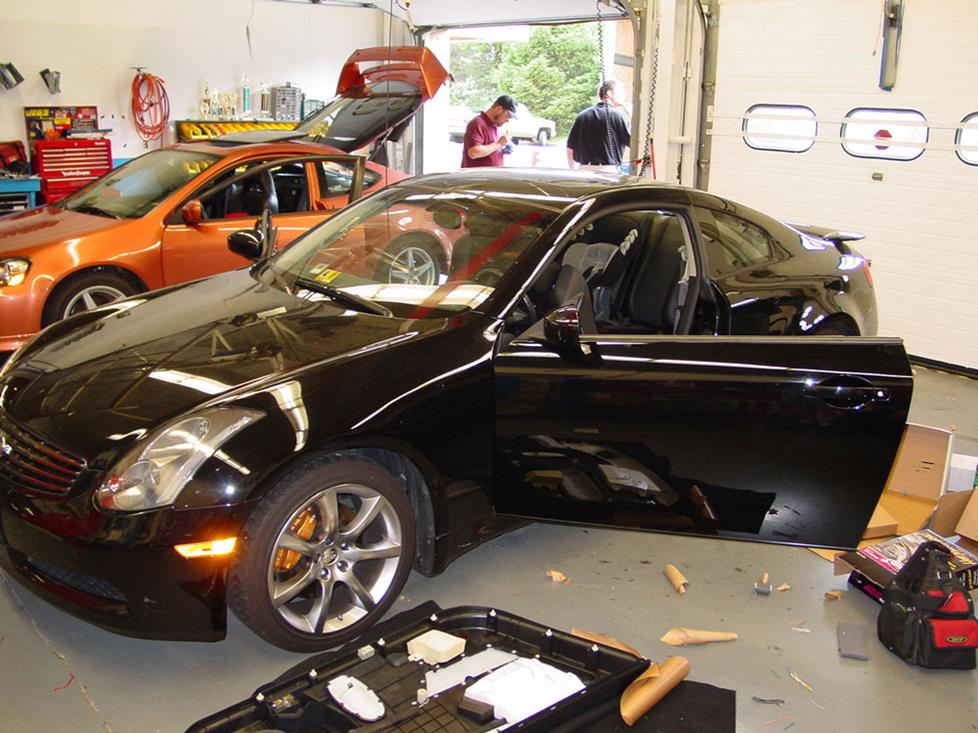 In brief: This Crutchfield Research Garage article gives you an overview of your G35 coupe's stock stereo system and your aftermarket upgrade options. Use our vehicle selector to find the gear that will fit your car.
Overview of the Infinity G35 coupe
If Infiniti's G35 coupe were a horse, TV announcers would ramble on about its "good bloodlines" during the interminable amount of pre-race coverage devoted to every major horse race.
Thankfully, it is not a horse, so we'll simply state that any car that shares a chassis with Nissan's 350Z and Infiniti's G35 sedan comes from a very good stable and leave it at that. Besides, installing stereo gear on a horse is thoroughly impractical and annoys the animal.
The G35 coupe isn't an all-out sports car like the Z, but it's a lot sportier than its (still very cool) 4-door fraternal twin, which makes for a nice mix. If you're into the classic definition of "grand touring," this is a GT car you can truly enjoy. It's also a Nissan, which means it will continue to provide enjoyment for as long as you're able to fold yourself into it without breaking a hip. The G35's V-6 engine makes a very sweet sound, but you'll enjoy the drive a lot more with an upgraded stereo.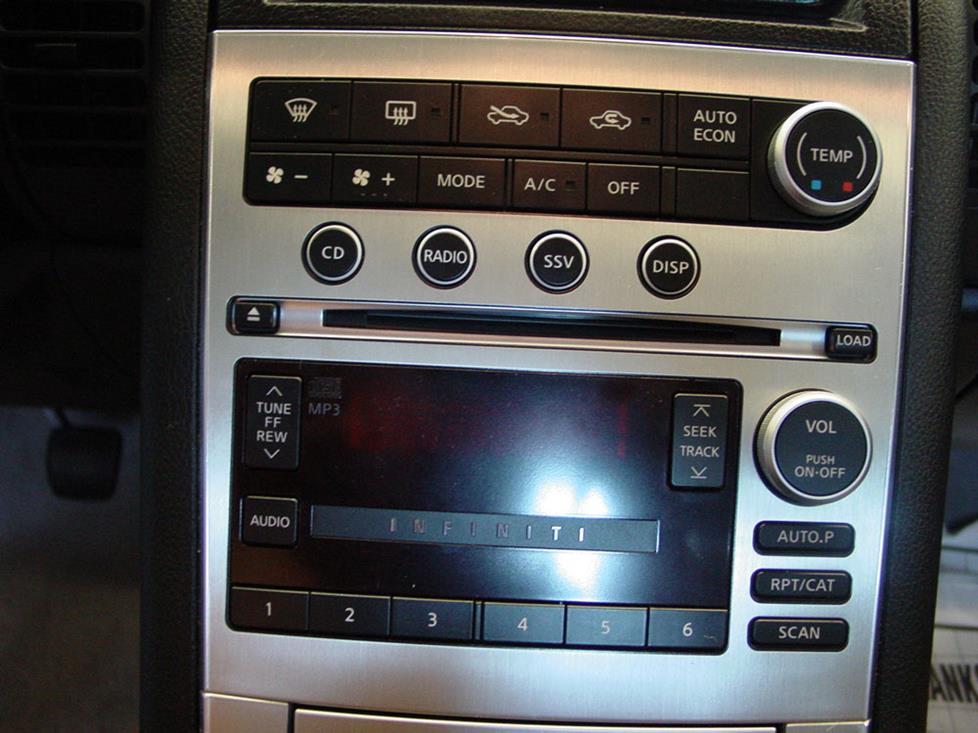 The 2005-2007 stereo (shown) is easier to remove and replace than the 2003-2004 version (Crutchfield Research Photo)
Factory stereo system
The stock systems came in two flavors, base and Bose®. The removal and replacement process is largely the same for both, though a mid-run dash change makes the 2005-'07 cars a bit easier than the earlier cars when it comes to radio replacement. We'll talk more about that later (pretty soon, actually), but let's take a look at some other good things to know about upgrading your stereo.
For one thing, when you remove the stock stereo, you'll have to remove the factory navigation screen and replace it with a storage pocket, which is available from your dealership or online. That's a project to take care of before you order anything else, probably.
Detailed stereo and speaker removal instructions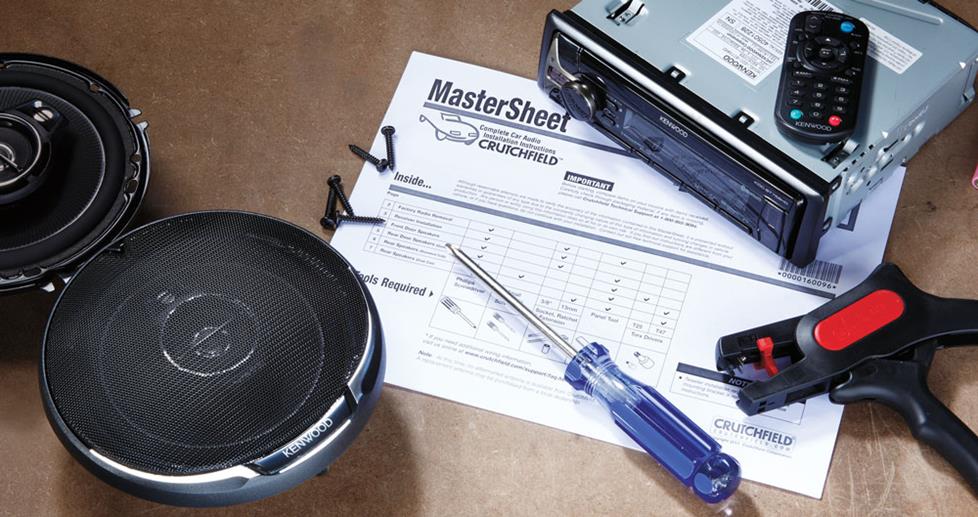 With step-by-step disassembly instructions and plenty of up-close, detailed photos, our exclusive
Crutchfield MasterSheet
™ takes the guesswork out of removing the factory stereo and speakers. It's free with your Crutchfield order, or you can purchase one separately for just $9.99.
When you order from Crutchfield, you will save a thoroughly decent amount on the dash and wiring kit you'll need to install a new stereo. The kit includes a replacement dash panel that matches your vehicle's interior, so you'll need to select the kit color when you place your order. Don't worry, we'll prompt you.
Replacing the stock stereo means losing things like factory satellite radio and navigation (if present). If you want to retain (not to mention improve) those features, be sure to shop for receivers that can do the job. Quite a few can, so you'll have a nice selection to choose from.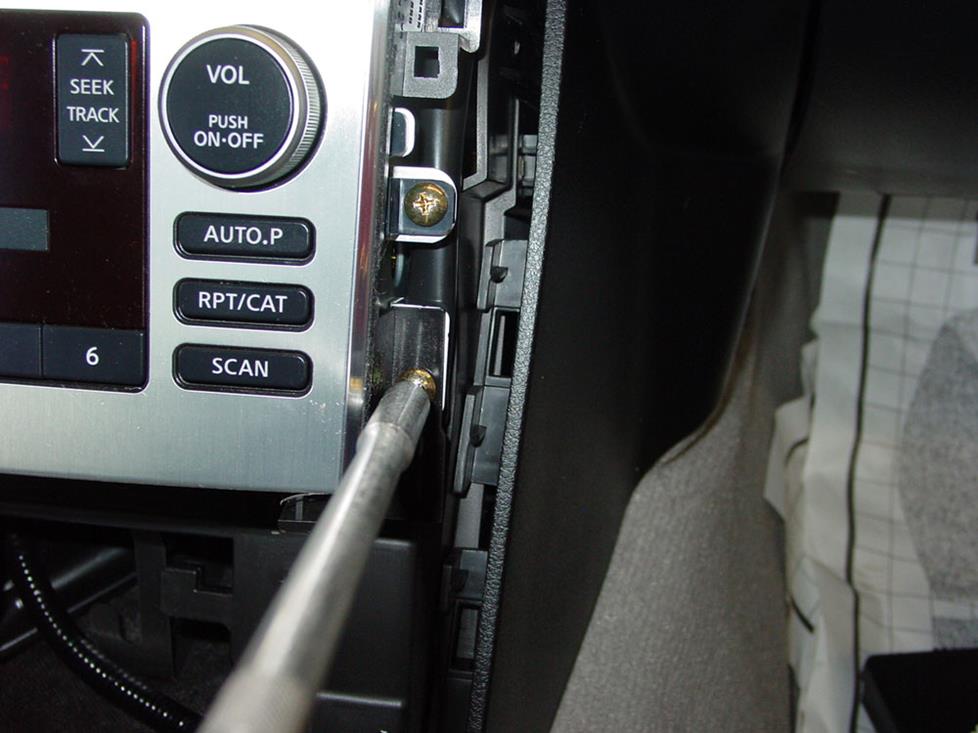 Removing either radio takes some time, but the results will make it worth the effort (Crutchfield Research Photo)
Replacing your factory radio
Removing the factory radio from a G35 Coupe can be a very lengthy process. It's not that it's hard, exactly, since all the tasks are well within the skill set of the average DIY-er, but good grief there are a lot of tasks.
We'd love to run through them all here, but you don't have all day (We do, but that's not important right now…) and besides, every step will be covered in your illustrated Crutchfield MasterSheet. The good news is that the process is a bit shorter on the 2005-2007 models. Well, that's not good news for 2003 and 2004 G35 owners, but it's the best we can do!
Those mildly discouraging words are meant to caution you, not to scare you. This can still be a rewarding DIY project if you have the patience for it. The main thing we want to communicate is that this isn't a job you can whip through during halftime on a weekend afternoon. It's going to take some time and you'll need to stay organized. You'll be removing anywhere from a lot ('03-'04) to quite a few ('05-'07) panels, and you'll want to be gentle with all of them, not to mention all the hardware you'll be removing.
The trim panel kit and wiring harness comes with instructions that will, along with your MasterSheet, help guide you through the installation. If you run into trouble, buying from Crutchfield means free access to our ace tech support team for the life of your new gear, so give us a call. We'll get you through it.
Just remember to plan, prep, and stay patient. If you can manage all that, you can totally do this.
Tools needed:
'03-'04 – Phillips screwdriver, small flat blade screwdriver, panel tool
'05-'07 – Phillips screwdriver, panel tool
Steering wheel audio controls
It's relatively easy to retain the steering wheel audio controls when you install a new stereo in your G35. When you enter your vehicle information, our database will choose the adapter you need to make your factory steering wheel controls work with your new receiver.
Shop for car stereos that fit your Infiniti G35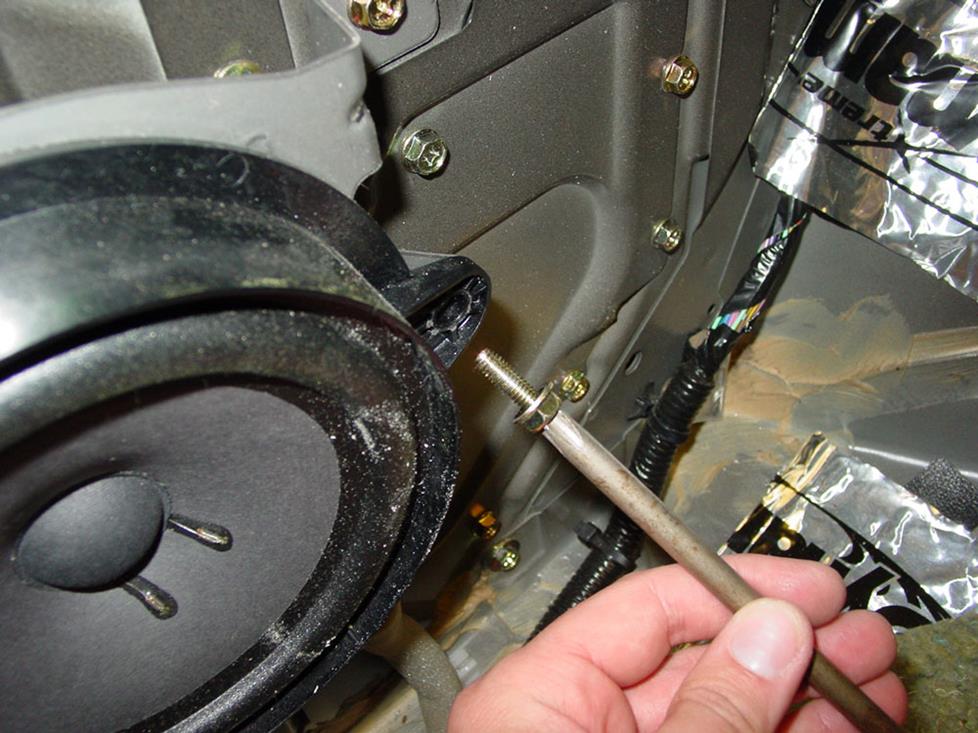 Speaker replacement offers a few challenges, but it's a good DIY project (Crutchfield Research Photo)
Replacing your factory speakers
Whether your G35 is Bose-equipped or not, the speaker removal and replacement process is the same. You'll find component speakers in the doors and 6-3/4" speakers in the rear side panels. The Bose system adds 6"x9" subs in the rear deck.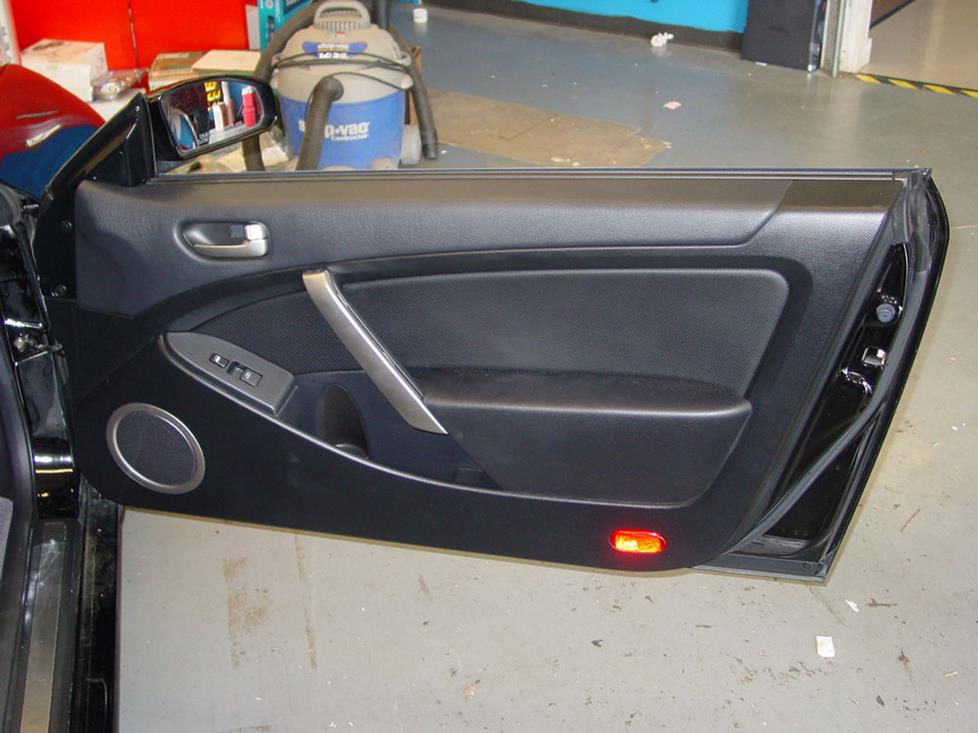 The G35's doors each house a set of component speakers (Crutchfield Research Photo)
Front door speakers
The first step in replacing the door speakers is removing the door panels with a panel tool. You'll start by prying off the screw cover inside the door release trim and removing the exposed Phillips screw. Grab your panel tool again and, starting at the rear edge, pry up the power options switch panel to release the retaining clips. Disconnect the wiring harness and remove it, then pry off the outer cover of the door pull handle and remove two Phillips screws from the door pull handle cavities.
From there, just pry (gently) around the sides and bottom of the door panel to release the retaining clips. Disconnect the door lock, release cables, and wiring harness, then remove the door panel. It is important to be gentle with these panels. Despite your car's age, it was still put together by Nissan and they build pretty tight cars. Take your time, be patient, and you'll be okay.
At the present time, there are no wiring adapters available for either of the door speaker locations. You can splice, of course, but Posi-Products speaker connectors are a lot easier and you'll get solid, durable connection.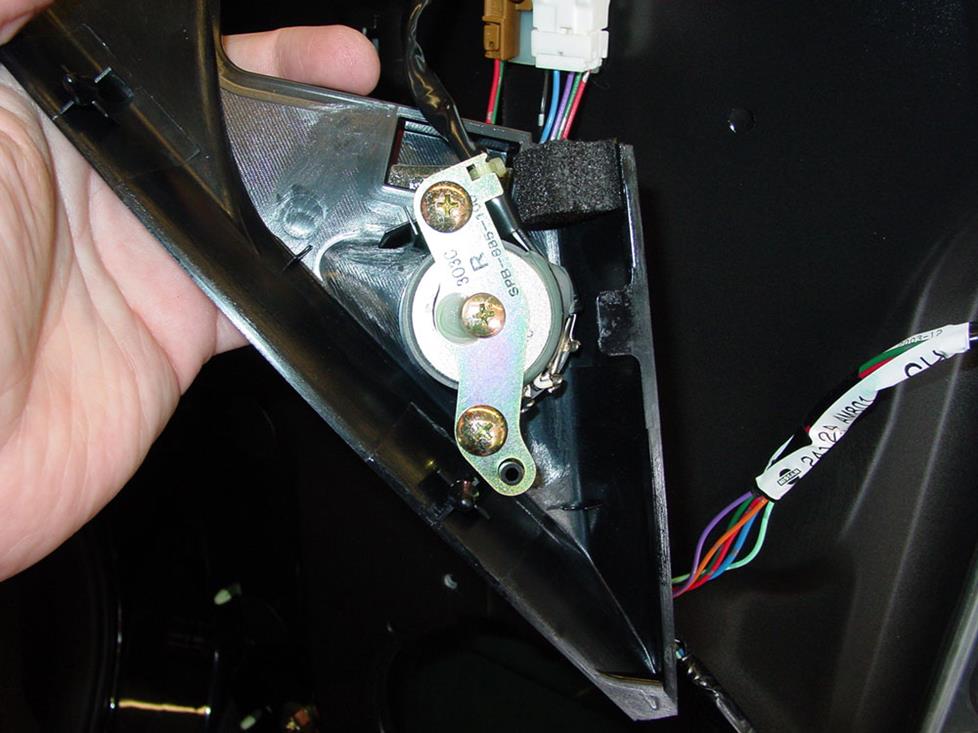 The tweeters are mounted on the sail panels (Crutchfield Research Photo)
Tweeters
Once the door panels are out of the way, you can start dealing with the stock 1-1/2" (roughly) tweeters, which are attached to the sail panels. Pry out the two center-pin retaining clips on the lower portion of the sail panel, then pull the panel out and disconnect the harness. From here, all you need to do is remove two Phillips screws securing the tweeter/bracket assembly to the grille, then remove the Phillips screw securing the tweeter to the metal bracket.
Be careful with the factory bracket, because you can re-use it if the new tweeter has a threaded hole in the magnet. If not (or if you break the bracket) you'll need to get another bracket or secure the tweeter using one of our universal backstraps, or hot glue or silicone. Depending on the tweeters you choose, you might need to acquire some additional mounting hardware, so check the box before you start.
Tools needed: #2 & #3 Phillips screwdrivers, panel tool, small flat blade screwdriver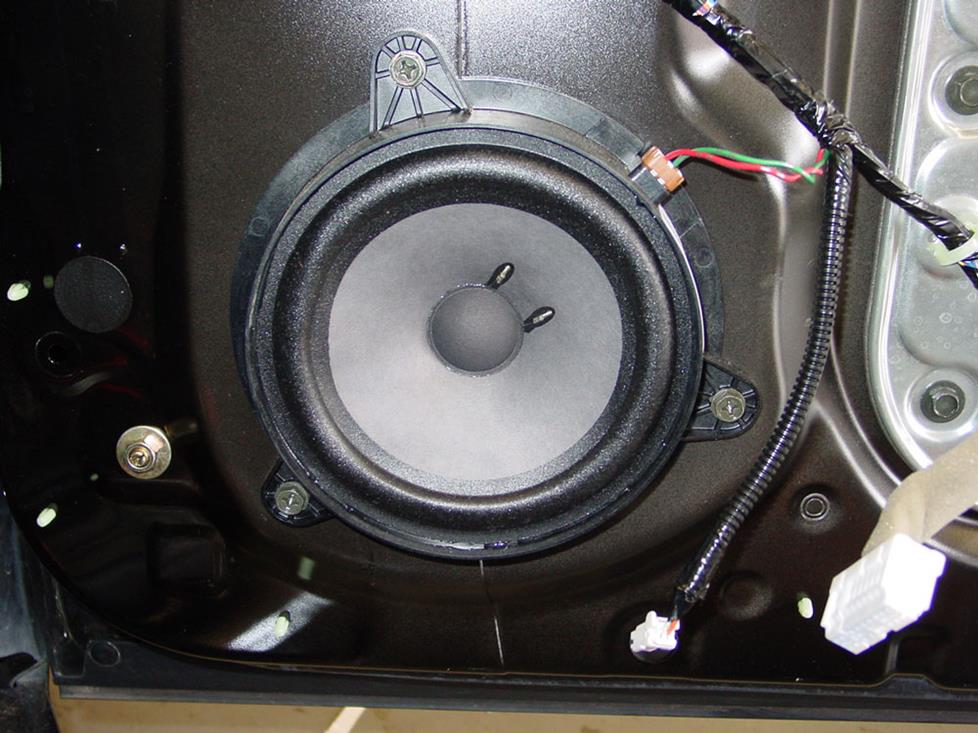 The door woofers takes some work, but it's nothing you can't handle (Crutchfield Research Photo)
Woofers
The woofers, base or Bose, are slightly oversized 6-3/4" models that can be replaced with same-size, 5-1/4" or 6-1/2" aftermarket models. Installing the new ones involves a bit of work, but it's nothing to worry a reasonably skilled DIY-er.
With the door panel out of the way, the speaker is ready to be dealt with. Remove the three Phillips screws securing the speaker to the door, disconnect the wiring harness and remove the speaker.
The first "interesting" part of the job comes when you file out a notch on the rear side of each speaker adapter bracket (included with your Crutchfield speaker purchase). This process, which is detailed in your MasterSheet, will allow the speaker wires to pass through the bracket.
Once that's done, secure the speaker to the bracket and place the speaker/bracket assembly in the cavity in such a way that the wires will pass through the notch. From the front of the bracket, the notch should be located at approximately 11:00 o'clock for the driver's door and at 1:00 o'clock for the passenger's door.
The next interesting bit is drilling new mounting holes. Mark the new hole locations, then pull the assembly out and use a 1/8" bit to drill the holes. It's only drilling, which is not hard, but you are drilling into your car, so work carefully, know what's around and behind the area you're drilling into, and always wear eye protection.
Once your new woofers and tweeters are installed, check to make sure they're working properly before putting the doors back together.
Tools needed: #2 & #3 Phillips screwdrivers, panel tool, small flat blade screwdriver, drill and 1/8" bit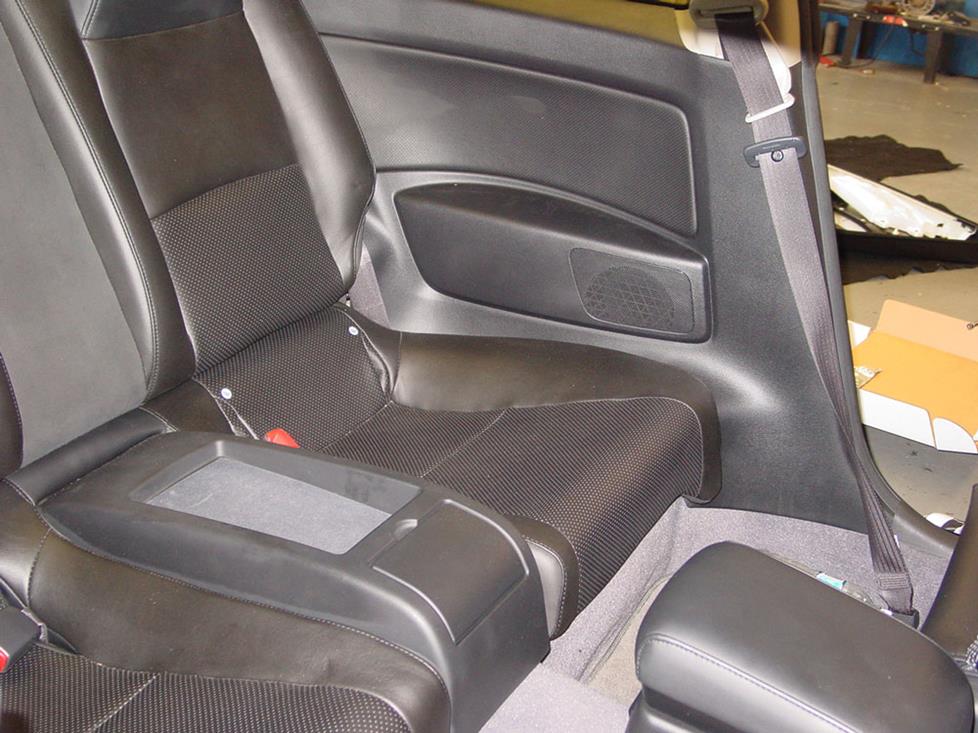 The back seat isn't a great place for people, but it can hold some great-sounding speakers (Crutchfield Research Photo)
Rear side speakers
The rear side speakers are also slightly oversized 6-3/4" models, and they can also be replaced with same-size, 5-1/4" or 6-1/2" aftermarket models. You'll have to drill new mounting holes here, too, so keep your drill (and your eye protection) handy.
You'll start by pulling up the rear seat's bottom cushion to release it, after which you'll lift the cushion up, work the seat belt anchors through the slots in the cushion and remove it from the car. Make sure you have a safe, clean place to store it while you work.
Next, you'll pull up the rear of the interior scuff plate to release three clips. Don't remove the panel yet, though. Pull off the door gasket on the rear of the door opening and just let it hang while you work.
Move around to the trunk, pull the seat-back release and fold it down. Now, you're ready to pry out the front and top edges of the rear side panel to release the retaining clips. Carefully work the panel out of the car and set it aside.
From here, you'll remove the three Phillips screws securing the speaker, disconnect the harness, and remove it. Once the speaker's out of there, you can refer to the same basic instructions and cautions from the door speakers.
Tools needed: #3 Phillips screwdriver, panel tool, drill and 1/8" bit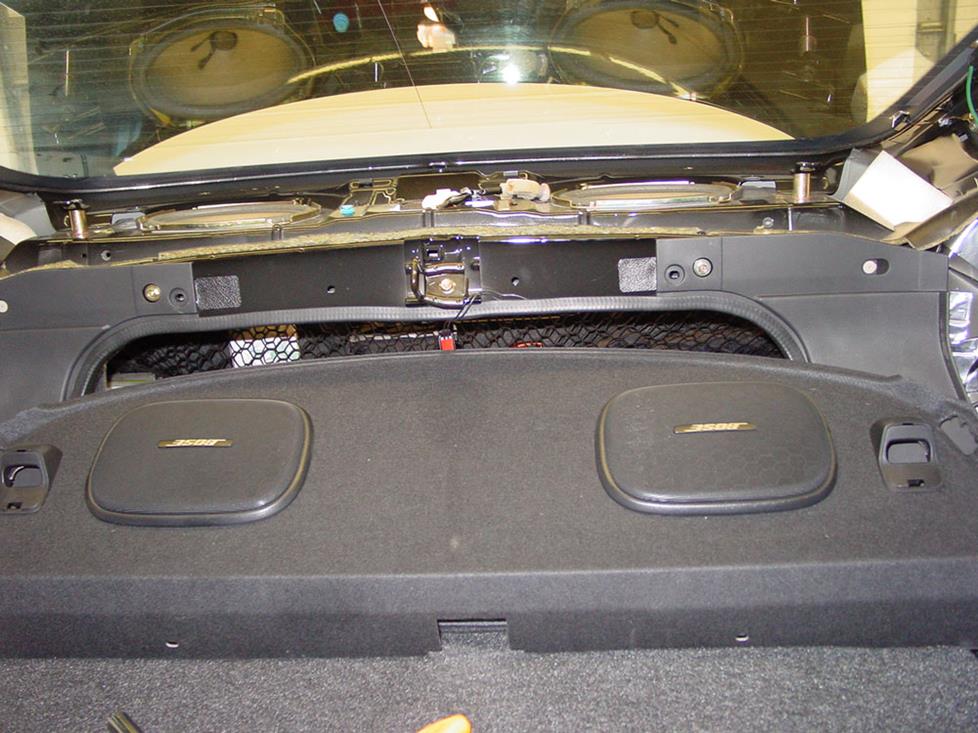 The Bose system adds a pair of rear deck subwoofers (Crutchfield Research Photo)
Rear deck subs (Bose system)
If your car has the Bose system, replacing the 6"x9" subs in the rear deck involves a lot of the same stuff you'll do when you replace the rear side speakers. And a whole lot more. For that reason, we strongly suggest replacing the speakers and the subs all at once if your budget allows it. It's a lot of work, and there's no sense in doing a lot of it twice if you can possibly avoid it.
You can replace these subs with same-size, 5-1/4" or 6-1/2" aftermarket speakers, but because the stock subs only receive bass frequencies from the stock amp, anything you put in here will only make bass noises. So yes, aftermarket subs are the way to go. Speaker adapter brackets are required, and they're included with your speaker purchase.
There are a lot of steps to this job, so we'll leave the details to your MasterSheet. There's nothing hard about the job overall, but as with the receiver, it's not something you can knock out in a hurry. Set aside some time, take your time, and work carefully all the time. And once you've installed your new rear speakers and subs, definitely test them out before you button everything up again. It's that second time through when you're grumpy that things get broken. Or, y'know, so we hear, anyway….
Tools needed: Panel tool, 14mm socket, ratchet and extension, #3 Phillips screwdriver, 8mm right angle driver
Shop for speakers that fit your Infiniti G35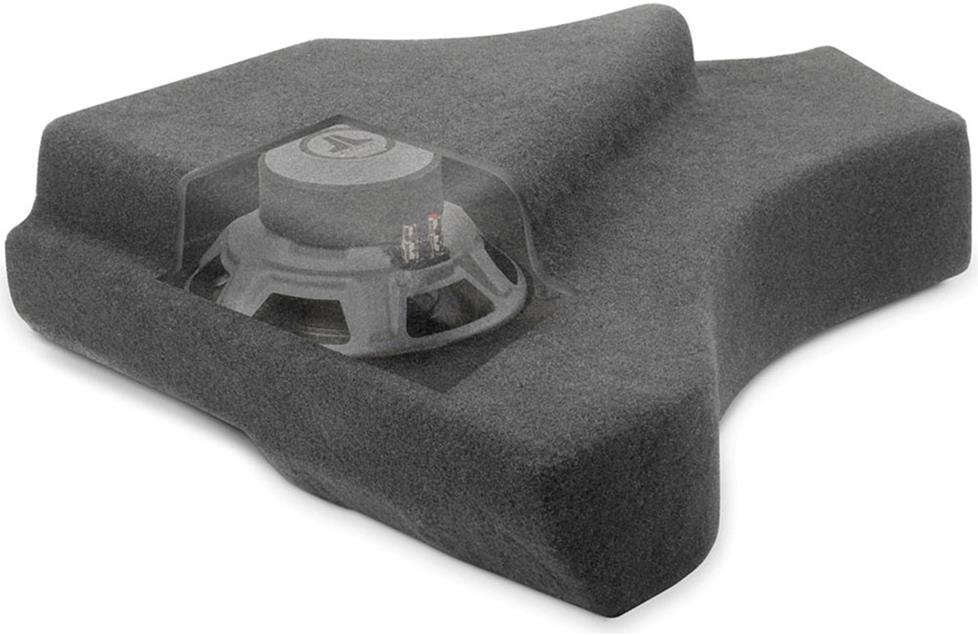 Here's a cutaway view of the JL Audio Stealthbox that's designed for your G35 Coupe
Bass in your G35 Coupe
There is room for even more bass in your G35, just not a ton of it. If you have the standard stereo and want to add some thump, you can choose a compact powered subwoofer, or (in most cars) go with a custom-fit solution from JL Audio.
This JL Audio Stealthbox contains a 10" JL audio subwoofer in a sealed enclosure, and it installs under the trunk floor. You will have to remove or relocate the factory amp, and you will notice that the floor level slightly higher in the corner of the trunk after installation.
Important note: This sub will not fit in G35 models equipped with the 4-Wheel Active Steer Package.
Shop for vehicle-specific subwoofers for your Infiniti G35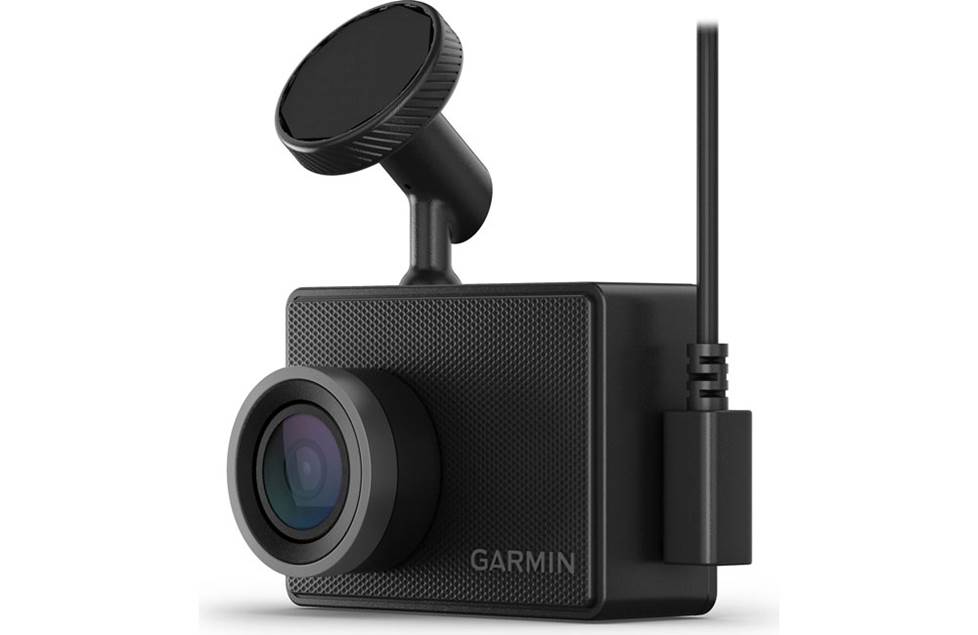 A dash camera is a great way to capture your driving adventures
Other options for your G35 Coupe
There are plenty of other ways to improve your G35. Here are a few suggestions.
Cameras everywhere
The G35 coupe is not the easiest vehicle to see out of when you're backing up in a crowded parking lot. We offer a wide variety of backup cameras that will make that a lot easier. You can go for a camera that mounts to your license plate and works with your new aftermarket nav receiver, or choose one that mounts onto your rear view mirror.
If you enjoy taking your G35 out for spirited drives on lonely country roads (or track day), a dash cam is a great way to record your most enjoyable drives. And on the way home, they're very handy for recording the behavior of other, decidedly less-talented motorists.
Add an amp
A new 4-channel amplifier will help you get the most out of your new speakers. You'll get cleaner power (and a lot more of it), which will result in much, much better sound..
Security systems
Installing a security system in your G35 isn't easy (security systems rarely are), but it's definitely a good idea. Our Crutchfield Advisors can help figure out what you need to get the job done, but we usually recommend taking your car and new gear to a professional installer.
Find the audio gear that fits your car or truck
Visit our Outfit My Car page and enter your vehicle information to see stereos, speakers, subs, and other audio accessories that will work in your vehicle.