2004-2006 Scion xB
Upgrading the stereo system in your xB
2004 • 2005 • 2006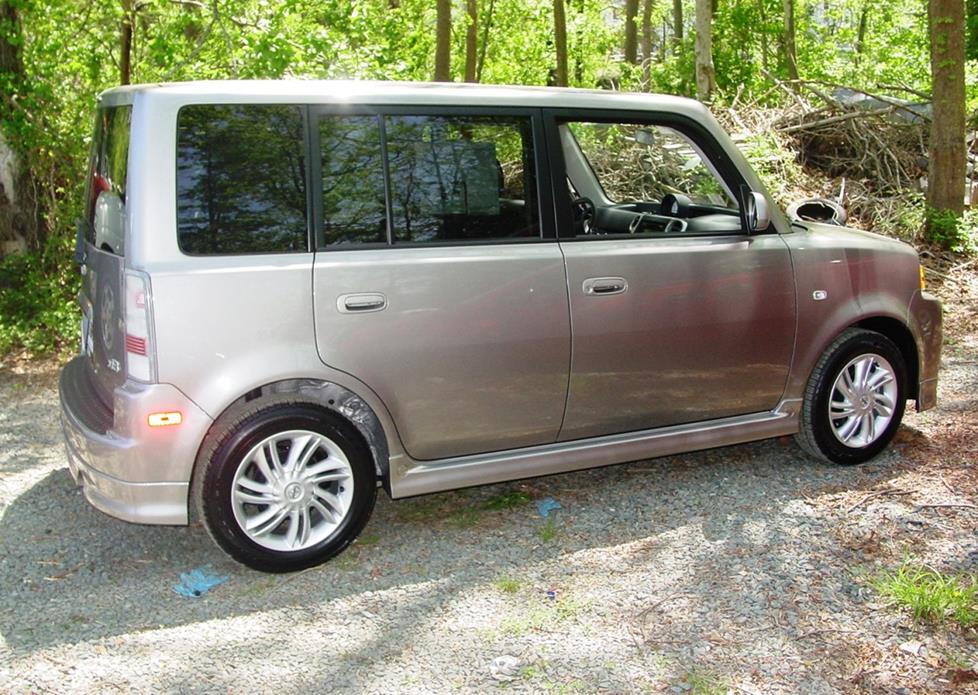 In brief: This Crutchfield Research Garage article gives you an overview of your xB's stock stereo system and your aftermarket upgrade options. Use our vehicle selector to find the gear that will fit your Scion.
Overview of the Scion xB
When it comes to looking like the box it came in, few vehicles can top the 2004-06 Scion xB. That's not a criticism; mind you, just an observation. After all, when you go to a big box store and buy a few big boxes of things, it's nice to know you have a bigger box waiting for you in the parking lot instead of, say, a Pontiac Fiero.
Whether you look at the xB and think "pugnacious" or "cute," there's no denying that it's a distinctive, quirky little wagon — er, crossover. Microvan? Whatever you call it, the first-gen xB was a welcome addition to the sometimes-bland automotive landscape.
The xB isn't for everyone, but if it's the car for you, you'll be rewarded with a surprisingly vast amount of interior space, decent road manners and an impressive list of standard features. All you need to do now is open up a few boxes of car audio equipment....
Detailed stereo and speaker removal instructions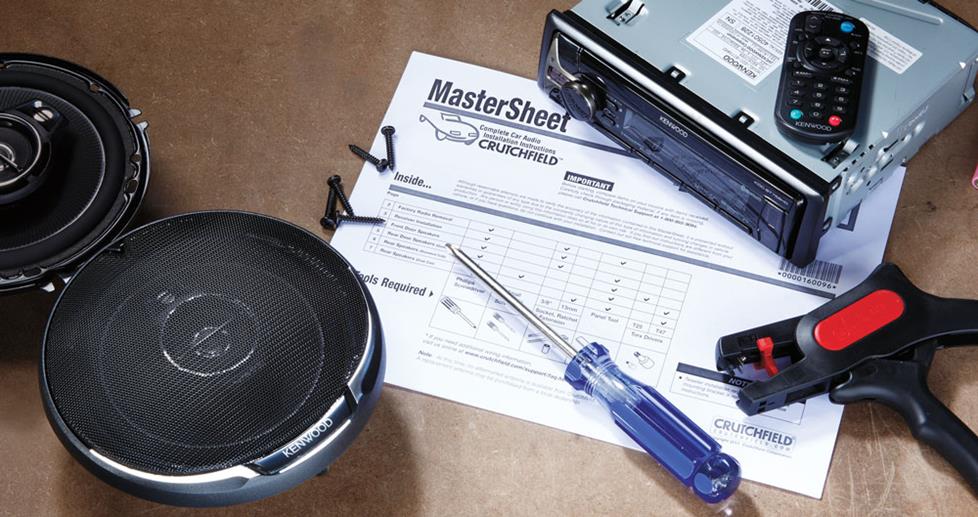 With step-by-step disassembly instructions and plenty of up-close, detailed photos, our exclusive
Crutchfield MasterSheet
™ takes the guesswork out of removing the factory stereo and speakers. It's free with your Crutchfield order, or you can purchase one separately for just $9.99.
Factory stereo system
The xB's factory stereo system didn't change a lot during its relatively brief stateside product cycle. A 6-speaker Pioneer AM/FM/CD sound system was standard throughout, though the 2006 model year saw a revised head unit design, a new steering wheel with built-in audio controls and the addition of a remote AUX input. Also, iPod® users gained the ability to control, charge and view their song info on the receiver.

The Scion xB's factory radio (Crutchfield Research Photo)
Replacing your factory radio
The xB's dash opening will comfortably hold a 2" single-DIN or 4" double-DIN receiver. You'll need a receiver mounting kit and a wiring harness to install a new receiver, and these are available at a discount with all stereo purchases from Crutchfield. To install a double-DIN size receiver, you'll need to use the brackets attached to the side your factory stereo. If you don't have the brackets, you'll need to obtain them from your friendly neighborhood Scion dealership.
When you replace the factory radio, you'll lose your XM satellite radio capability. If you're a big fan of satellite radio, you should shop for SiriusXM-ready receivers, then order a tuner as well.
Removing the factory radio is a reasonably simple task. You'll pull off all three climate control knobs, to expose Phillips screws in each of the outer knob locations. Be gentle, of course. You're dealing with plastic parts and they don't bend so well. Remove the screws, then use a panel tool to pry around edges of the receiver/climate control trim panel to release the mounting clips.
Pull the trim panel out juuuust far enough to reach in and disconnect the wiring harnesses, then set aside the trim panel. Remove four more Phillips screws and the old radio is ready to remove. Hang onto those four screws, by the way. You'll need them to secure your new mounting bracket to the dash.
Single-DIN receivers: Remove the DIN sleeve from your new receiver, slide it into the receiver mounting bracket and secure it by bending the securing tabs. Once they're together, slide the receiver in and connect the wiring adapter. Hold receiver assembly near dash. Next up, you'll connect the receiver wiring adapter to the factory wiring harness and plug in the antenna lead. From here, pop it in, secure it with the screws you set aside earlier, and test things out. If it sounds good, you're ready to put everything back together again.
Double-DIN receivers: Remove the mounting brackets from the sides of the factory stereo, and mount them onto the new stereo. There are a lot of screw holes on the new stereo, but it should be pretty easy to get the brackets to line up. Plug the new stereo's wiring harness into the stereo, then plug the other end (the Crutchfield harness) into the Scion's connector. Plug in the antenna cable, then carefully position the new stereo in the dash and use those four screws removed earlier to secure the new receiver. Test it out, then reassemble the dash.
Tools needed: Phillips screwdriver, panel tool, 8mm socket, ratchet and extension
Steering wheel audio controls
It's relatively easy to retain the steering wheel audio controls when you install a new stereo in your xB. When you enter your vehicle information, our database will choose the adapter you need to make your factory steering wheel controls work with your new receiver.
Shop for car stereos that fit your Scion xB
Replacing your factory speakers
Installing new speakers in the xB involves a few challenges, but it's nothing the average do-it-yourselfer can't handle.

You'll have to drill out the rivets to remove the old speaker, then drill new screw holes for your new speakers (Crutchfield Research Photo)
Front doors
The xB's front doors house a pair of 6-1/2", 4-ohm Pioneer speakers. As factory speakers go, they're not too bad, but if you want to upgrade, you have plenty of 5-1/4" or 6-1/2" options, though the selection is quite a bit larger in the 5-1/4" aisle. Given the easy-to-get-to tweeter locations, consider upgrading to a set of component speakers. You'll need mounting brackets for either size, and they're available at a discount with your Crutchfield speaker purchase.
The factory speakers aren't hard to get to, but replacing them involves drilling new mounting holes. Nothing extensive, mind you, but you are drilling into your car here, so be careful.
You'll need to remove the sail panel at the top of the door, plus the door panel itself. This is a step-by-step process that requires some patience as you unscrew parts and pry off panels, but it's not that tough, really. Once you're inside, you'll need to grab your power drill, attach a 1/8" bit, and remove the three rivets that secure the factory speaker.
With that out of the way, it's time to secure the new speaker to the bracket that comes free with your Crutchfield speaker purchase. Place the speaker/bracket assembly in the cavity and mark the new mounting holes with a permanent marker. Remove the assembly and drill the new mounting holes with a 1/8" bit.
Needless to say, always be careful when drilling or cutting in a vehicle. Be aware of things like wiring, windows, fuel lines and safety devices. Double-check the drilling/cutting depth and location to avoid damaging your xB. "Measure twice, cut once" is as true in car audio as it is in carpentry. Once the holes are drilled, all you need to do is secure the new speaker, test it out, and put the door back together.
Mounting hardware is most often included with new speakers, but not always. It's always a good idea to check the packaging before you start. You wouldn't want to have to drive to the hardware store without your tunes, would you?
Tools needed: Phillips screwdriver, panel tool, drill and 1/8" bit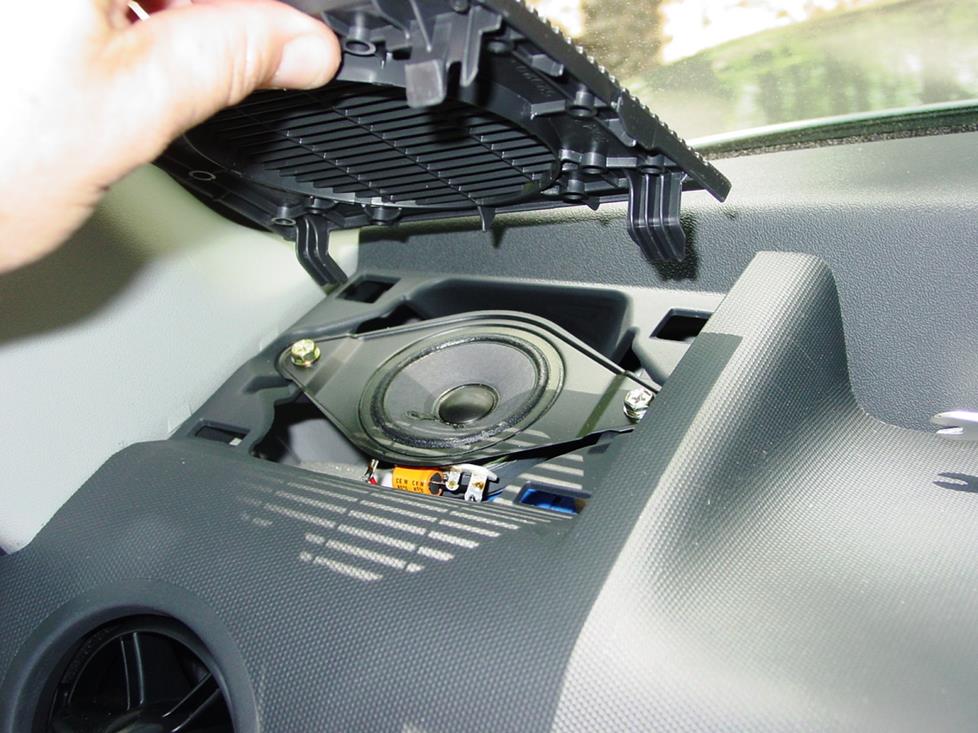 The xB tweeters can be replaced (Crutchfield Research Photo)
Tweeters
Besides a center-mounted gauge cluster that is, we admit, an acquired taste, the xB's dash also contains a pair of 3" (13 ohm) tweeters. Since they're 13-ohm speakers, replacing them with normal 4-ohm tweeters means you'll get an immediate boost in your upper frequencies (because the new tweeters will get more power from your stereo).
Removing them is quite easy, but to replace them with aftermarket units, you'll need mounting hardware, like our universal backstrap, which can be cut or bent to the right size and shape you need for a mounting bracket.
The aftermarket speaker wiring adapter will work with the xB's factory speaker harness, so you won't have to splice the wires for a new tweeter. That's not always the case with tweeter upgrades.
Tools needed: Phillips screwdriver, panel tool, 8mm socket, ratchet and extension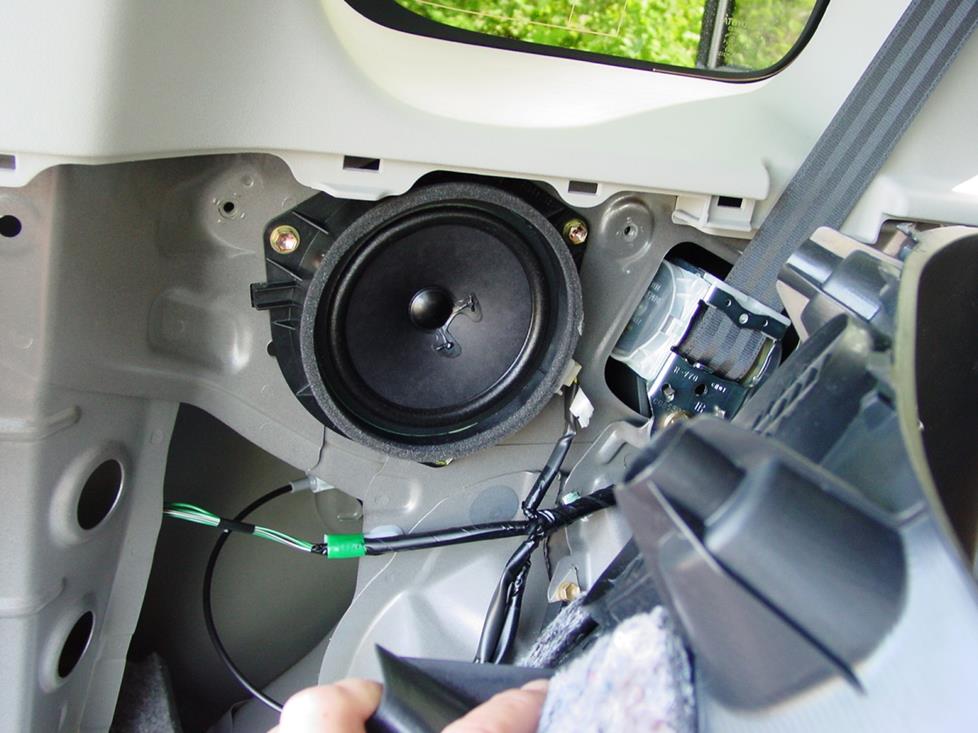 The rear side speaker (Crutchfield Research Photo)
Rear speakers
The xB breaks with convention in many ways – that's part of its charm. In most 4-door vehicles, the conventional approach to rear speakers involves putting them in the rear doors. In the xB, you'll find them way out back, on either side of the rear hatch area. There's nothing wrong with that approach, really, but if you're a travelling quilt dealer, you might notice a slightly muffled sound until your sell down your stock a bit.
Replacing the 5", 6-ohm rear speakers is a busy process, but not a hard one. You'll have to remove the floor panels, spare tire, and the foam rear floor before prying away the scuff plates and exposing the speakers. No drilling is involved, but work carefully on everything else and remember to bend your knees when you're pulling out the spacesaver spare.
Whether you choose a 5-1/4" or 6-1/2" speaker, a mounting bracket and wiring harness are needed, and they are included free with your speaker purchase from Crutchfield.
Tools needed: 8mm hex bit, panel tool, 10mm socket, ratchet and extension
Shop for speakers that fit your Scion xB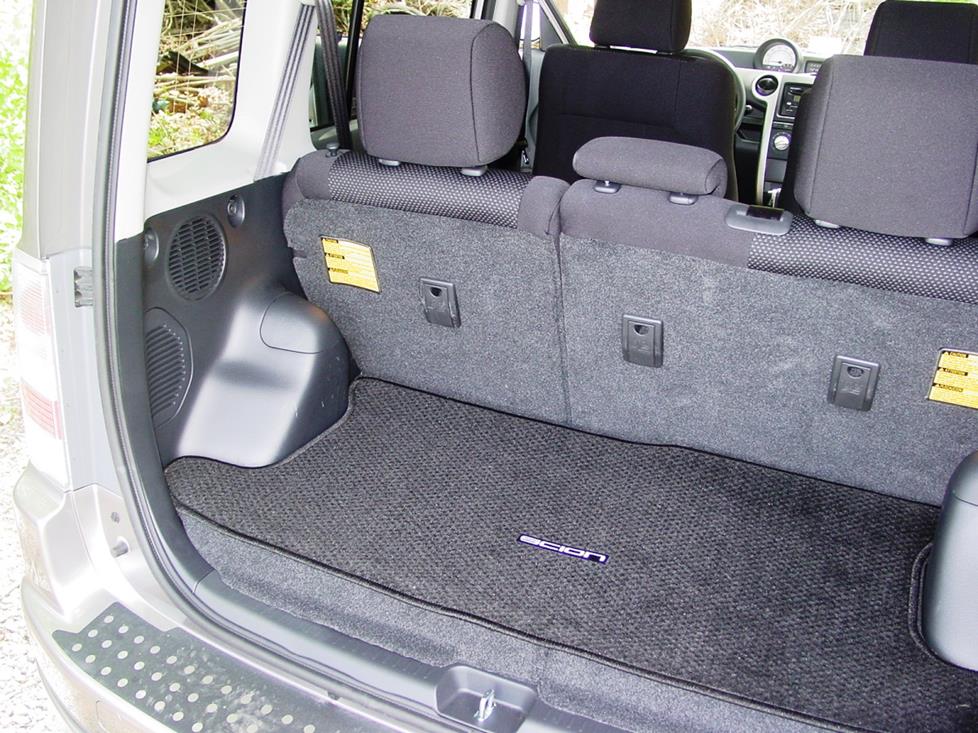 There's plenty of space for bass in the Scion xB. (Crutchfield Research Photo)
Bass in your Scion xB
If you like bass, there are lots of cool ways to add some boom to your box. Depending on your storage and hauling needs, you can go pretty big in the xB. If you're thinking about a subwoofer box for the rear hatch area, there's space to work with. Your available dimensions are 15" high (top to bottom), 37" wide and 15" (top) to 21" (bottom) deep. That's plenty of room for a pair of 10" subs in a sealed enclosure, just in case you're wondering.
Other options for your Scion xB
Here are some other suggestions for improving your Scion xB:
Floor mats
You don't need us to remind you of what can happen when you hit the road carrying any combination of adults, kids, pets, and food. Floor mats and cargo mats from WeatherTech will help protect your floors from dirt, damage and discarded juice boxes.
Security
Installing a security system in your xB isn't easy (security systems rarely are), but it's definitely a good idea. Our Crutchfield Advisors can help figure out what you need to get the job done, but we usually recommend taking your car and new gear to a professional installer.
Find the audio gear that fits your car or truck
Visit our Outfit My Car page and enter your vehicle information to see stereos, speakers, subs, and other audio accessories that will work in your vehicle.