2005-2009 Subaru Legacy and Outback
Upgrading the stereo system in your Legacy or Outback
2005 • 2006 • 2007 • 2008 • 2009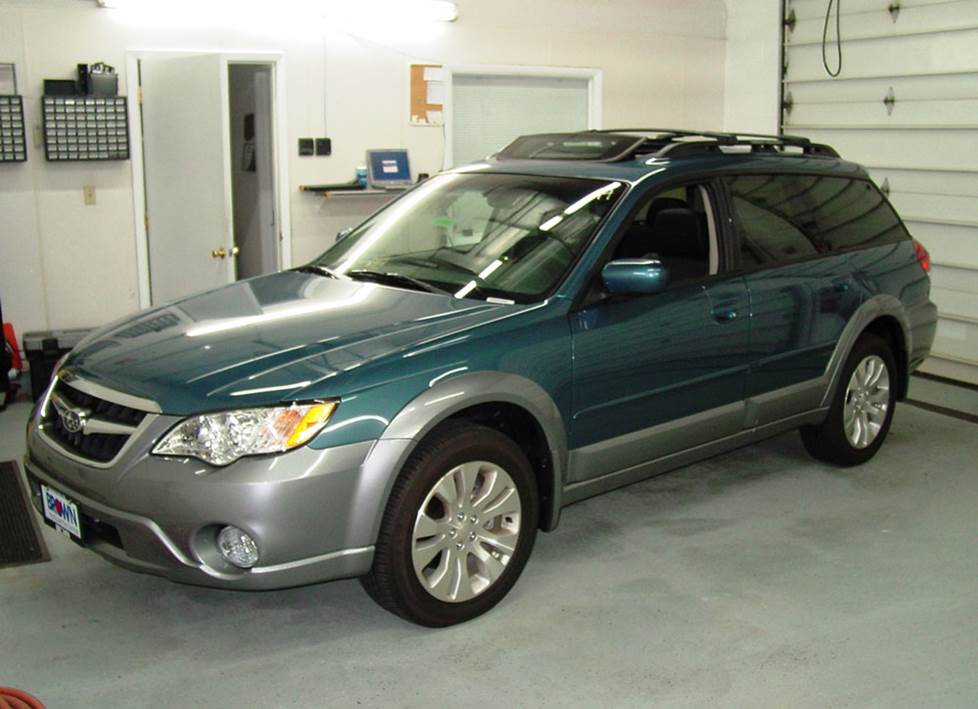 In brief: This Crutchfield Research Garage article gives you an overview of your Subaru's stock stereo system and your aftermarket upgrade options. Use our vehicle selector to find the gear that will fit your Legacy or Outback.
Overview of the Subaru Outback and Legacy
Nobody does all-wheel drive cars like Subaru. It's their thing and it's what makes Subaru owners such a loyal lot. When the weather gets weird and drivers of ordinary cars get worried, Subaru owners just get on with it.
Even when the weather's nice, the fourth-generation Legacy and Outback are nice cars to drive. They're comfortable, stable, and just the right size for anything a sensible human would get up to in an everyday car. They're also about as sleek and sport-looking as sedans and wagons can be, which is a bonus. And the side cladding grows on you.
Both models were available as sedans and wagons until 2007, after which Subaru sensibly decided that the Legacy could handle sedan duties and the Outback could satisfy the wagon set.
These cars are well-regarded for lots of reasons, but the stock stereos generally aren't among them. Even the 2009-only Harmon Kardon system is getting on in years at this point, so a stereo upgrade should make the next hundred-thousand miles or so even better than the first.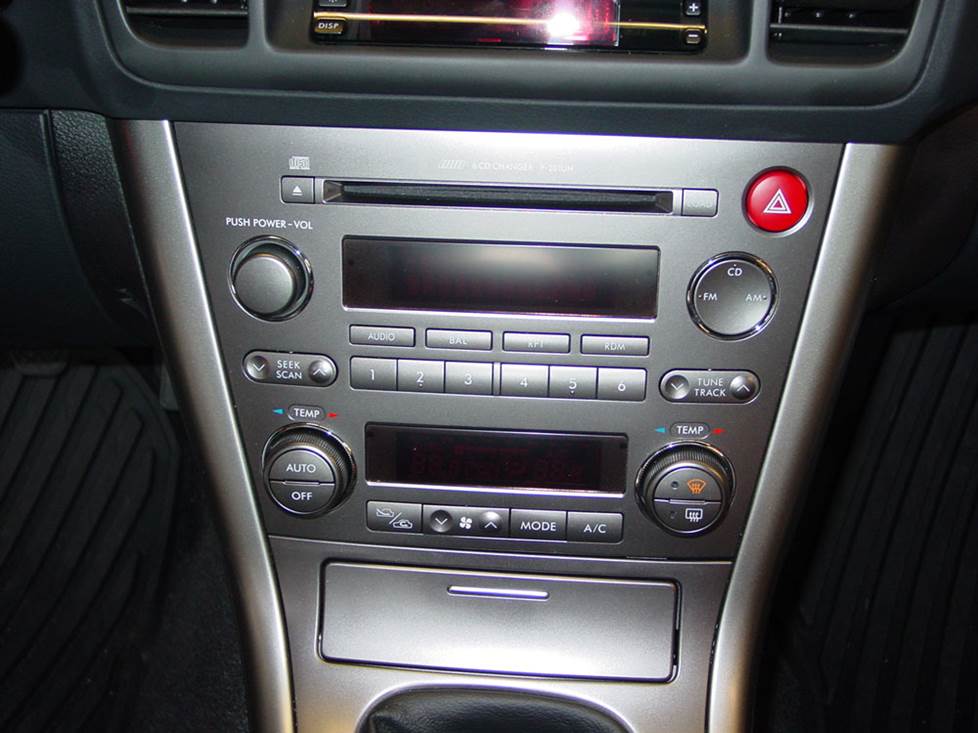 This is the HVAC/receiver combo. You can't replace this unit. (Crutchfield Research Photo)
Factory stereo system
The stock systems start with an AM/FM/CD receiver that has a built-in 6-disc changer. All of the front door speakers are component separates, while in the rear, the base system has full-range speakers and the H-K system has tweeters attached to the main speaker brackets.
For 2009, Subaru introduced a nine-speaker Harman Kardon system with a subwoofer in the rear deck (Legacy) or right rear quarter panel (Outback). An underseat amplifier powers the speakers.
If your car is equipped with the automatic HVAC system, we're sorry to report that there's no real way to replace the factory receiver — it's just way too integrated with the HVAC controls. You can replace the speakers, though, and there are some other ways to improve your system's sound and functionality. We'll discuss them below.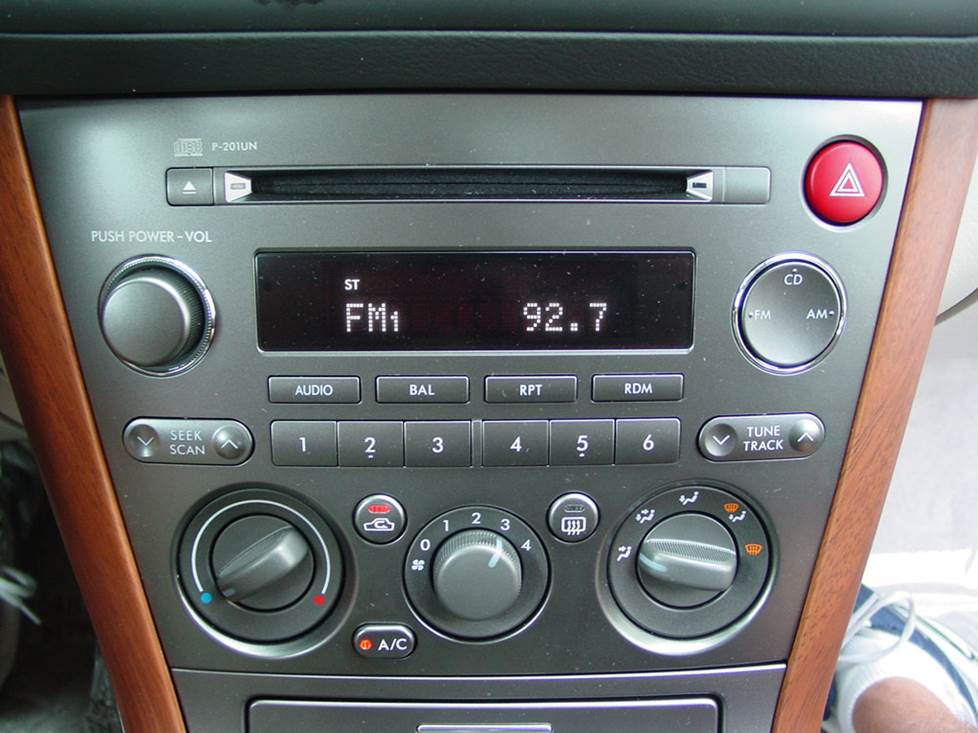 The base receiver, on the other hand, can be removed and replaced. There's a dash kit that works with the manual HVAC controls. (Crutchfield Research Photo)
Replacing your factory radio
The radio removal process starts with setting the parking brake and disconnecting the negative battery cable to prevent any electrical short. Where it goes next depends on your car's transmission.
If your car has an automatic transmission, you'll need to pry out the shift lock release cover and depress the shift lock release. Slide the gearshift into neutral, then use a panel tool to pry up and remove the shifter trim ring. Pry up the ashtray trim panel, then disconnect the harnesses and remove the panel.
If your car has a manual transmission, you'll start at the rear edge and pry up the gearshift trim panel to release the retaining clips. Unscrew the shifter knob, then lift the assembly and disconnect the wiring harness.
Detailed stereo and speaker removal instructions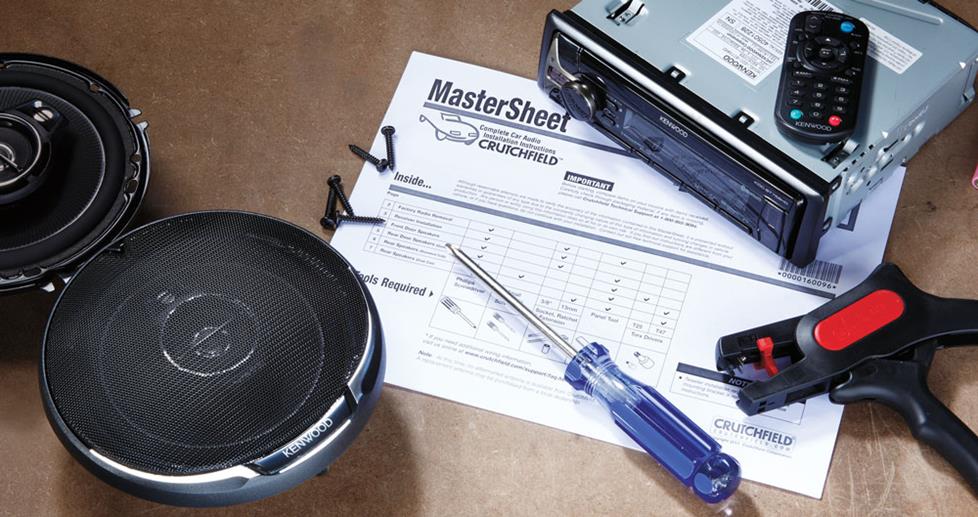 With step-by-step disassembly instructions and plenty of up-close, detailed photos, our exclusive
Crutchfield MasterSheet
™ takes the guesswork out of removing the factory stereo and speakers. It's free with your Crutchfield order, or you can purchase one separately for just $9.99.
From here on out, everything's the same for all the cars. Your next move is to remove two Phillips screws (one on each side) from the console side trim. Pry each side trim piece from the dash to remove them, then remove six Phillips screws (three on each side of the radio) from the radio/climate control assembly.
Next, remove the two plastic turn screws in the black foot panel on the driver's side. Pry out one clip in the center of the panel, then pull down enough to remove the four Phillips screws in the back of the plastic plug housing. Once that's done, remove the panel.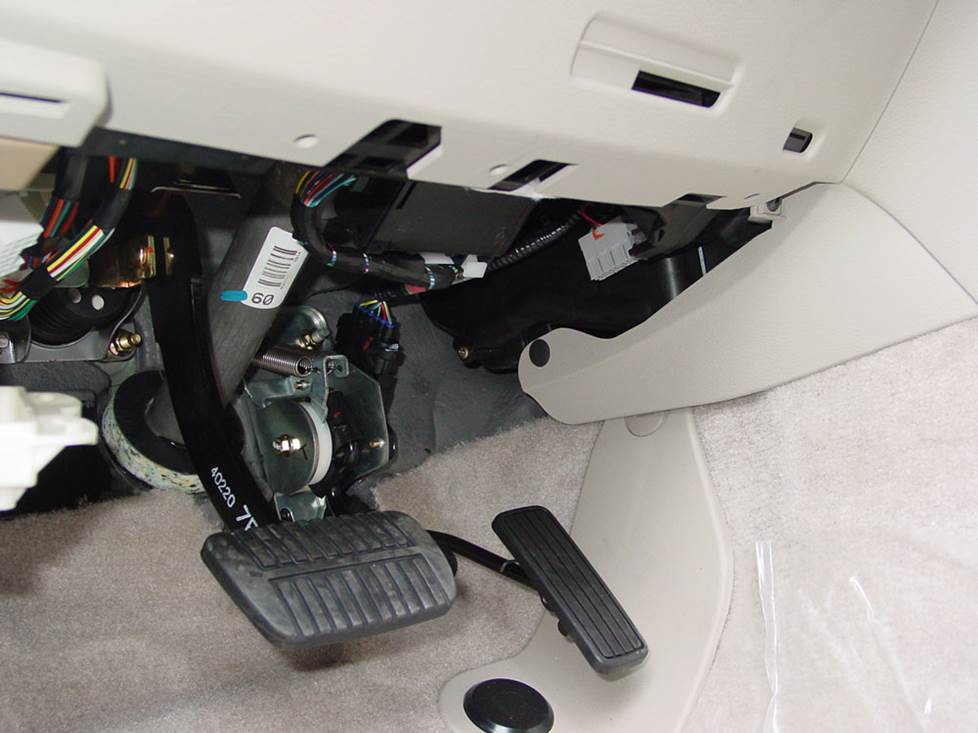 There's work to be done up under here, but we've found an easier way to do it (Crutchfield Research Photo)
The next few steps are kind of fiddly, but stay with us.
Turn the climate control to "heat." Now, under the driver's side of the dash, release the climate control cable from its clip and post. Feel around for the tab on the back of the post. Once you've found it, press the tab to release the cable ring and slide the ring off the post.
After you've removed the cable from the post, pry the cable out of the clip. The cable will remain attached to the radio/climate control assembly when you pull out the radio, disconnect the wiring harnesses (including the hazard switch harness) and antenna lead.
All of this is explained in the illustrated, step-by-step Crutchfield MasterSheet that's included free with your stereo or speaker purchase. You'll also get a nice discount on the dash kit for your car. The kit comes with instructions, as does the (also discounted!) receiver wiring adapter. Make your wiring connections following those instructions, then connect the antenna and slide the assembly into the dash. This is a tricky job, but if you stay patient, it can be done.
Then again, patience can be overrated...
Crutchfield car audio writer and ace installer, Dave Delamere, used to own one of these cars, and admittedly ran out of patience when he was installing a new car stereo. Thankfully (for him and you), instead of pitching a fit and scaring the neighbors, Dave found a different way to do the job.
Another approach to stereo replacement
"Following Crutchfield's MasterSheet instructions for removing the factory radio, I came to the part about releasing the climate control cable. I found this cable really tough to access because it's way up behind the dash. I didn't have a good tool to get to it, so I did a little thinking about the process.
"I noticed that the climate control console was screwed into the same internal bracket I'd used for my new radio. I also knew that it had to be snapped into the new dash kit, since there were holes for the climate control knobs in the kit.
"Instead of detaching that cable, I unscrewed and unsnapped the climate console from the bracket and left it in the dash opening. This way, the cable could remain in place, and there wasn't extra tension on the cable.
"Once I fastened my new car stereo to the brackets and dash kit, I carefully fed the climate console back through the bracket, screwed it in place, and snapped it into the new dash kit. All of this was done at the dash cavity location.
"It's a little tricky, and an extra set of hands is helpful. But I found it easier than going deep behind the dash to release a cable that I could barely see and reach."
And that's how Dave did it.
No matter how you go about the installation, test your receiver to make sure everything's working (including the hazard lights), then start putting the dash back together using the screws you removed earlier.
Tools needed: Phillips screwdriver, panel tool, small flat blade screwdriver (auto trans. only)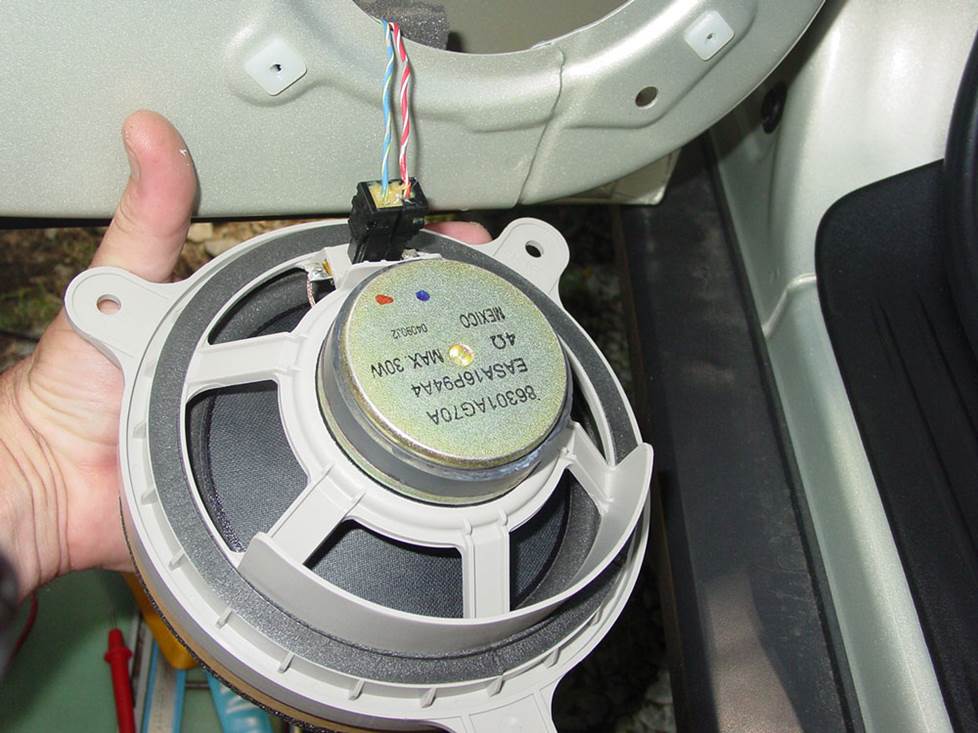 Speaker removal and replacement isn't too difficult in these cars (Crutchfield Research Photo)
Replacing your factory speakers
The speaker situation is largely the same for both models and both body styles. The replacement process isn't extremely difficult, but you might have to do some drilling for your new mounting brackets.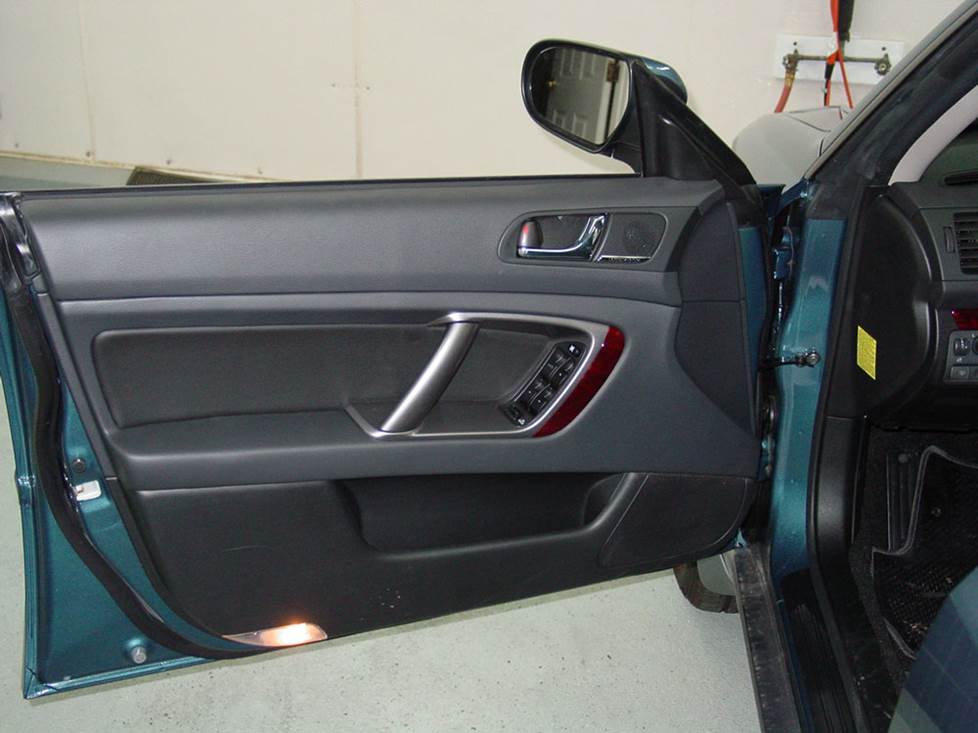 You'll need to remove the door panels to replace your car's front door speakers (Crutchfield Research Photo)
Removing the front door speakers
The component speakers in the front door are wired in parallel, with the parallel connection at the tweeter. The woofers can be replaced by 6-1/2" or 5-1/4" aftermarket models, so you'll have a nice selection of component speaker sets to choose from.
You'll need to remove the door panels to replace these speakers. The job's not that hard, but there are some steps involved, so it's important to work carefully and stay organized. Your new speakers may or may not include mounting screws, so check the box before you start and hit the hardware store if you need to.
The new tweeters should fit neatly into the factory location, but there are no mounting brackets available, so you'll need to use our universal backstraps (or hot glue or silicone) to secure them.
The new woofers will fit, too, with the help of the mounting brackets that Crutchfield includes with your speaker order. You'll need to drill new mounting holes for the brackets, though. This isn't hard, but you are drilling holes in your car, so don't take the job lightly. Know what you're drilling into, work carefully, and wear eye protection.
All the details can be found in your MasterSheet. And if you have questions or run into trouble, your Crutchfield purchase also includes free tech support for the life of your gear, so give us a call.
Once your speakers are installed, test them out to make sure they're working properly. If they are, and if the door locks and windows are also working as they should, you're ready to put the doors back together.
Tools needed: Phillips screwdriver, panel tool, small flat blade screwdriver, drill and 1/8" bit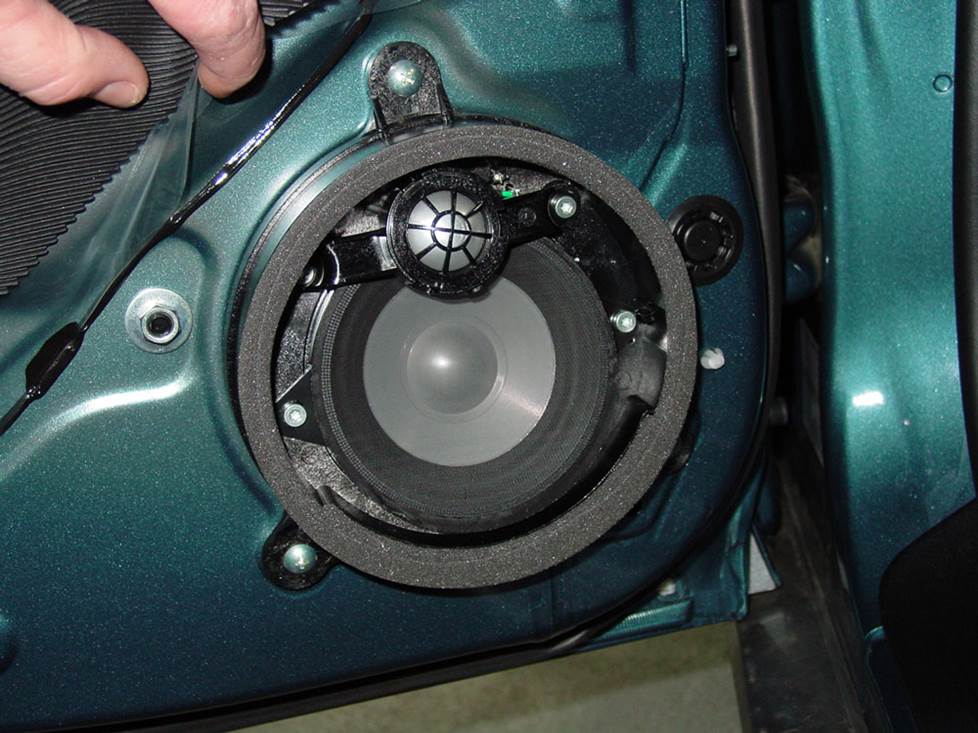 The H-K speakers have tweeters mounted on the factory brackets (Crutchfield Research Photo)
Removing the rear door speakers
The rear door speakers are also pretty easy to deal with, but there are some differences between the Harmon-Kardon system and the earlier systems. In general, 6-1/2" or 6-3/4" will fit into the cavity, but the H-K rear speakers have both the woofer and a tweeter attached to the speaker bracket. For those cars, we recommend a 6-1/2" or 5-1/4" speaker with brackets
In some cases, you will need to drill new mounting holes, so work carefully and don't forget the eye protection. Your new rear speakers might not come with mounting screws, either, so be sure to check that box before you start, too.
Tools needed: Tools needed: Phillips screwdriver, panel tool, small flat blade screwdriver, drill and 1/8" bit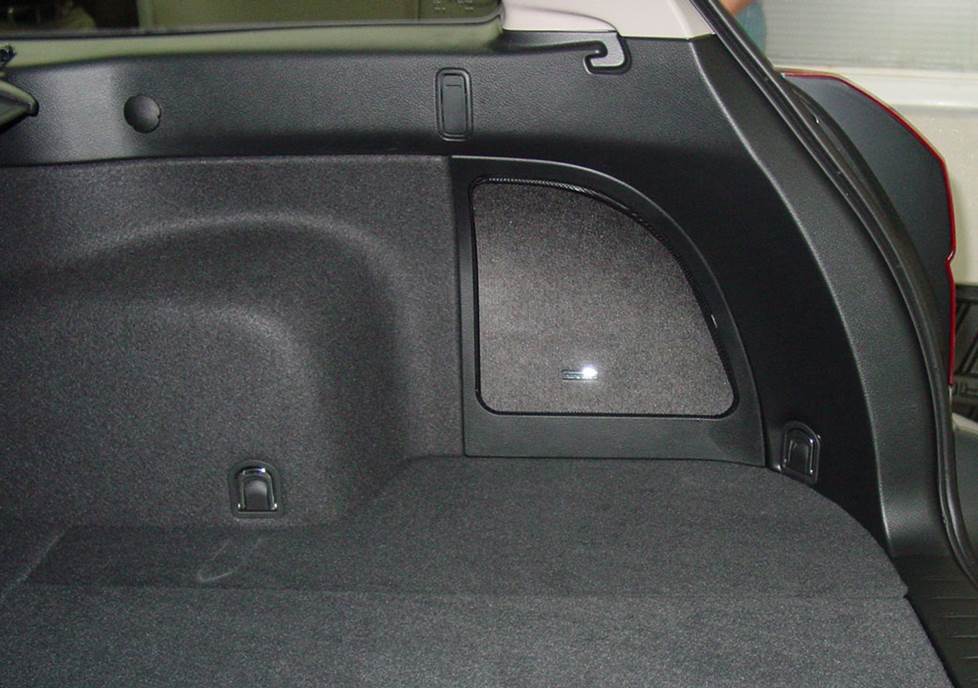 Replacing the Outback's Harmon-Kardon sub is a bit of a challenge (Crutchfield Research Photo)
Bass in your Legacy or Outback
Some 2005-2008 cars have a factory subwoofer that's housed in an enclosure under the front passenger's seat. This sub cannot be replaced or used with an aftermarket receiver, but it can be bypassed.
The 2009 Harmon-Kardon system also includes a subwoofer. In the Legacy, it's located in the rear deck and…that's all we can tell you, because we have yet to research a Legacy with the H-K system.
We have researched an Outback with the H-K stereo, though, and while the news isn't great, it is interesting. The H-K sub is a dual-voice coil, shallow-mount model that's located in the far right rear side panel. It's slightly larger than an 8" sub, and you'll need to fabricate a mounting bracket or spacer to install an aftermarket model. You'll also need to use Posi-Products speaker connectors here, because there's no wiring harness available.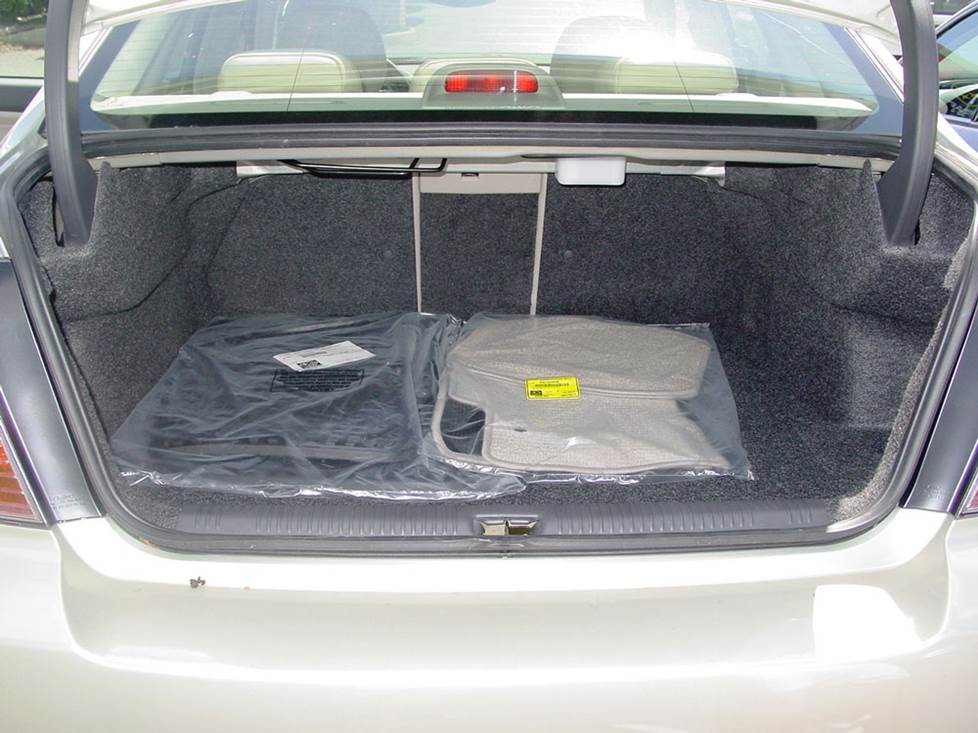 The Legacy and Outback sedans offer a decent amount of space for a subwoofer enclosure (Crutchfield Research Photo)
Adding bass
If you want to (or have to) skip the stock subs altogether, or just want to boost your bass, you can install a subwoofer enclosure with your choice of sub – or subs – plus an amplifier.
In the Legacy, the trunk offers a 41" W x 15" H x 38"/31" D space for a sub enclosure. The Outback gives you a 41" W x 13" H x 40"/32" D space to work with.
In either case, if you want to retain as much everyday utility as possible while giving your music a better bottom end, you can install a powered subwoofer.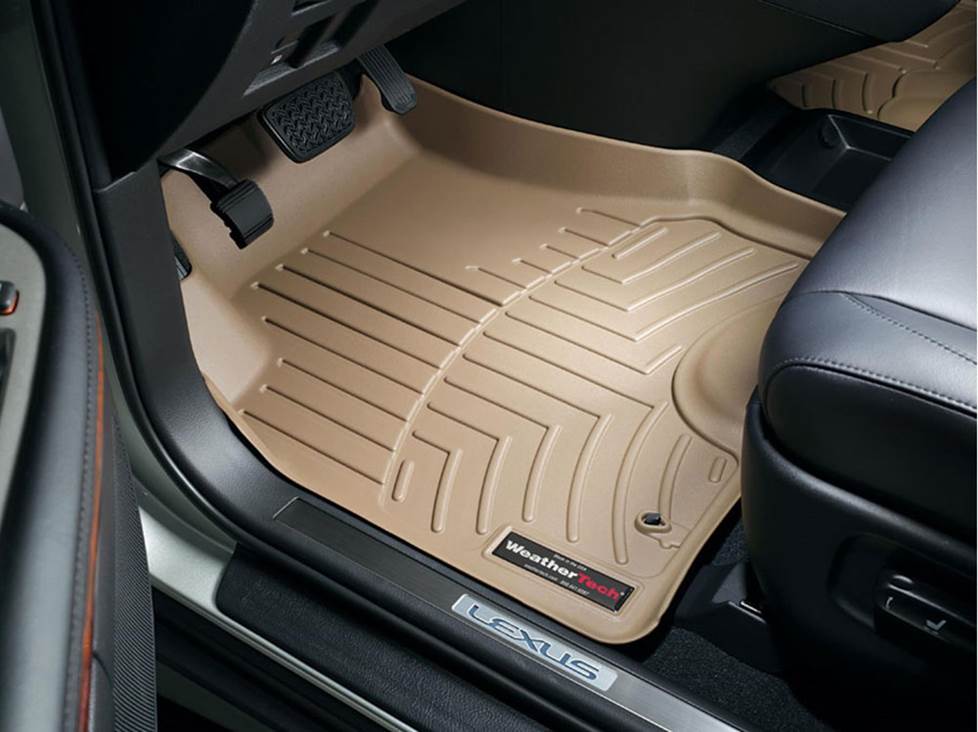 This is a stock photo, but your WeatherTech Floor Liners will look just as good
Other options for your Legacy or Outback
With versatile vehicles like the Legacy and Outback, there are lots of ways to upgrade the in-car experience. Here are some of the ways Crutchfield can help.
Floor mats
The Outback combines luxury and utility in a very Subaru kind of way, which means it's easier than you think to mess up the interior while going about your daily business. Floor mats and cargo mats from WeatherTech will help protect your floors from dirt and damage.
Roof-mounted storage
Legacy and Outback owners tend to have an affinity for outdoor adventures. Recreational pursuits such hunting, fishing, and camping require a lot of gear, so sometimes you need even more space than this wagon can offer. Lightweight cargo carriers, bike racks, and other travel storage gear from Thule will give you the extra space you need.
iPod® adapters and satellite radio
If you don't want to (or in the case of the auto HVAC model, can't) replace your car's factory receiver, you can still improve the performance of your car's stereo system. We offer several adapters that will allow you to use an iPod or MP3 player with the factory receiver. Another great option is a SiriusXM satellite radio subscription. We have all the gear you need to enjoy their vast array of music, sports, news, and entertainment programming.
Security system
Installing a security system in your Legacy or Outback isn't easy (security systems rarely are), but it's less complicated than it could be. Our Crutchfield Advisors can help figure out what you need to get the job done, but we usually recommend taking your car and new gear to a professional security system installer.
Shop for car security systems for your Subaru Legacy
Find the audio gear that fits your car or truck
Visit our Outfit My Car page and enter your vehicle information to see stereos, speakers, subs, and other audio accessories that will work in your vehicle.