2005-2010 Honda Odyssey
2005 • 2006 • 2007 • 2008 • 2009 • 2010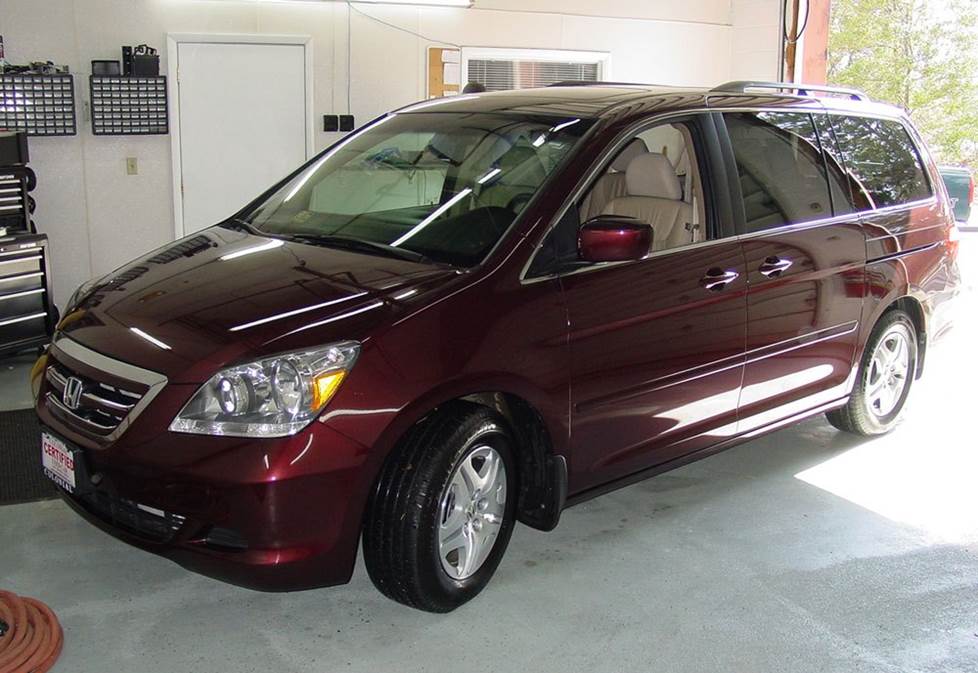 In a nutshell: This article is an overview of your Odyssey's audio system and its upgrade options. Use our vehicle selector to find the gear that will fit your van.
Overview of the Honda Odyssey
Minivans aren't cool, but some are cooler than others and the Honda Odyssey has more coolness than most. The exterior is attractive, the interior is chock-full of smart ideas, and it drives like you'd expect a Honda minivan to drive, which means it's not going to raise the hairs on your arms in either the good way or the bad way. And that's totally cool, actually.
After all, minivans aren't built to thrill. They're meant to haul families, dogs, and stuff in comfort, safety, and a bit of style. The Odyssey does all of those things exceptionally well, plus it's a Honda, which means it'll probably do them until the kids move out of the house.
As long as you're racking up the miles on your Odyssey, you might as well enjoy the ride. An upgraded stereo system will really help with that. After all, your music collection will always be cool and the kids need to learn the classics, right?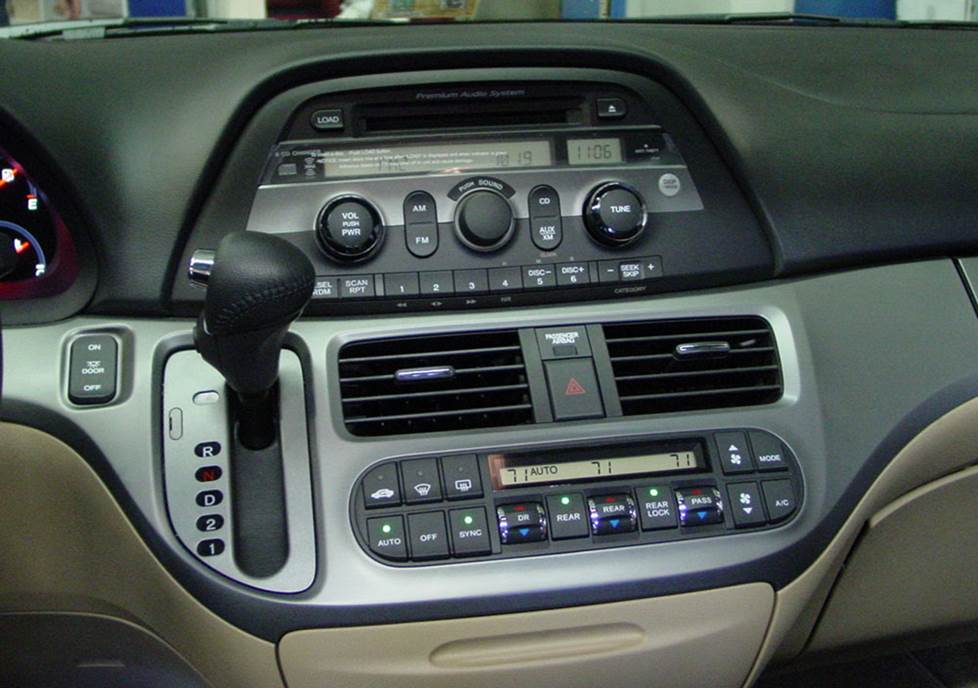 The Honda Odyssey's base radio is pretty basic. There's also an optional navigation receiver. (Crutchfield Research Photo)
The Odyssey's factory stereo system
The Odyssey's factory stereos were decent enough for the time, with your choice of 4-, 6-, and 7-speaker systems. Receiver-wise, buyers had a choice of a traditional radio/CD player and an optional navigation receiver. None of this gear was ever "great," and now it's just old, so replacing any or all of it will make a dramatic difference in your sound quality.
Replacing the receiver will result in the loss of the factory satellite radio, navigation functions, and rear-seat DVD. There are ways to actually upgrade these features with new car A/V gear, so this is not necessarily bad news.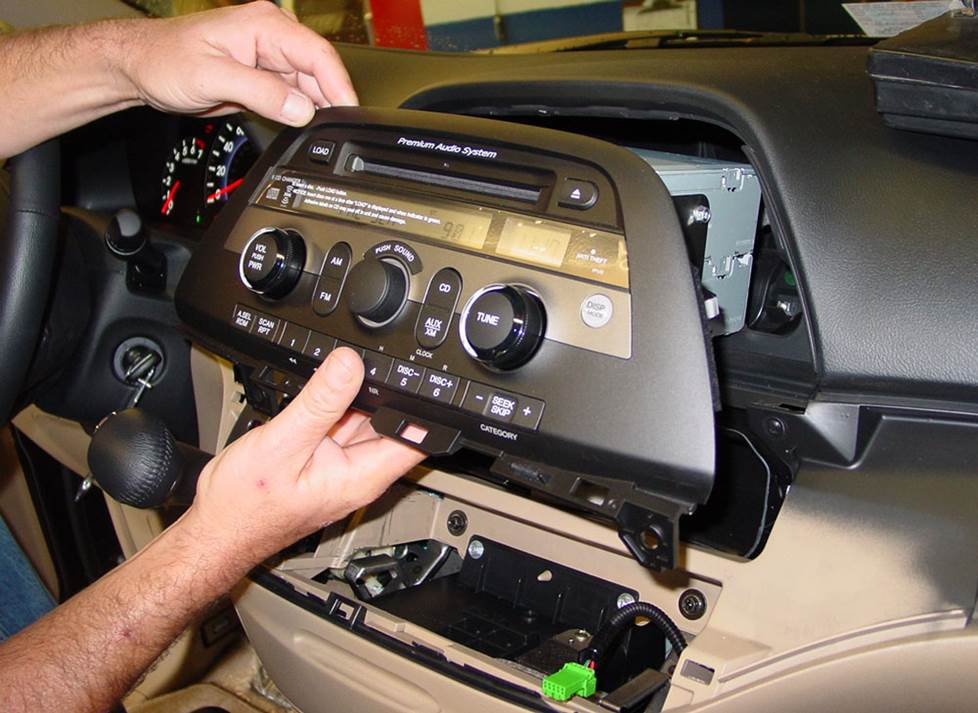 The base radio isn't hard to remove and replace. Same goes for the navigation receiver. (Crutchfield Research Photo)
Replacing your Odyssey's factory radio
Whichever factory receiver you're starting with, the removal and replacement process isn't too bad in the Odyssey. Stereo removal is the same for both, but the nav radio adds one extra step.
Before you do anything else, set the parking brake and disconnect the negative battery cable to prevent any electrical short. Once that's done, you're ready to begin.
Pry around the sides and bottom of the climate control/ gear shift trim panel to release the retaining clips. Pull the panel out far enough to disconnect the wiring harness, then set the panel aside. Make sure it's in a safe place, because it's not a thing you want to break.
Detailed installation instructions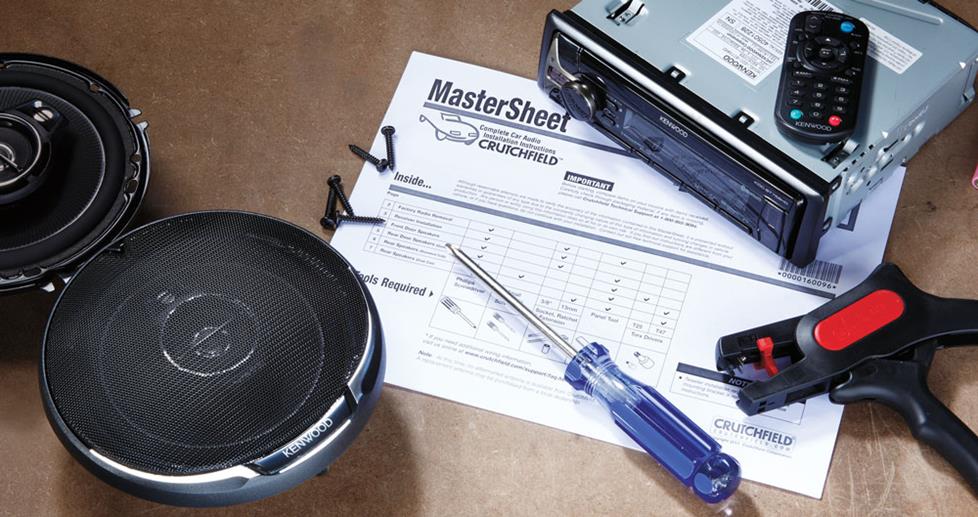 If you're looking for step-by-step instructions on how to install a car stereo or speakers in your car, there's nothing better than our exclusive
Crutchfield MasterSheet
™. This detailed, well-illustrated document is free with your Crutchfield order, or you can purchase one separately for $9.99.
The next step starts with prying out the shift lock cover. That'll allow you to press the shift lock release with a small flat blade screwdriver and release the gear shift. Move the gear shift into the lowest position, and by the way, you did set the parking brake, didn't you?
Remove the three Phillips screws located under the receiver (two on the outer sides and one near the rear center, then pull it out, disconnect it, and remove the receiver.
If you're dealing with the base radio, you're done. But if you're replacing the nav receiver, you still have work to do.
For the nav receiver, remove the two Phillips screws securing the radio control panel, then pry it out to release two retaining clips. Pull the panel out, disconnect the harnesses, and remove the radio. Note that this receiver's harnesses are pretty rigid, so they may restrict the movement of the control panel. Nothing to fear, just work carefully and be patient.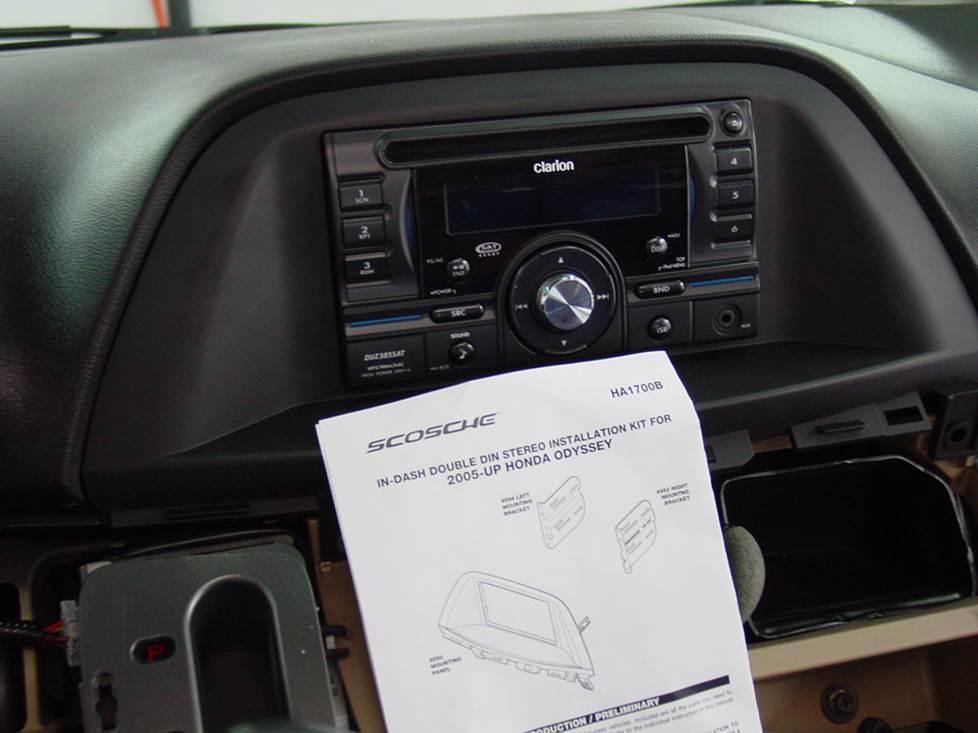 The dash kit looks great and you'll get a great deal on it when you buy your stereo at from us (Crutchfield Research Photo)
When you buy your receiver at Crutchfield, you'll save money on the dash kit and the wiring harness adapter you'll need to install the new receiver. Complete, detailed instructions can be found in your MasterSheet, along with the instructions that come with the kit and the wiring harness.
It's very important to make sure the wiring harnesses associated with the airbag are connected properly before turning on the ignition switch to test receiver. If they aren't, the airbag light will come on when you start the van and it won't go off until you visit your friendly neighborhood dealer or mechanic to have it reset. This will annoy you to no end, so be smart and double-check that connection before you test the receiver.
If everything's working correctly, you're ready to start putting the dash back together by doing all the stuff you just did, but in reverse.
Tools needed: Phillips screwdriver, small flat blade screwdriver, panel tool
Shop for car stereos that fit your Honda Odyssey
Steering wheel audio controls
It's relatively easy to retain your Odyssey's steering wheel audio controls when you install a new stereo. When you enter your vehicle information, our database will choose the adapter you need to make your factory steering wheel controls work with your new receiver.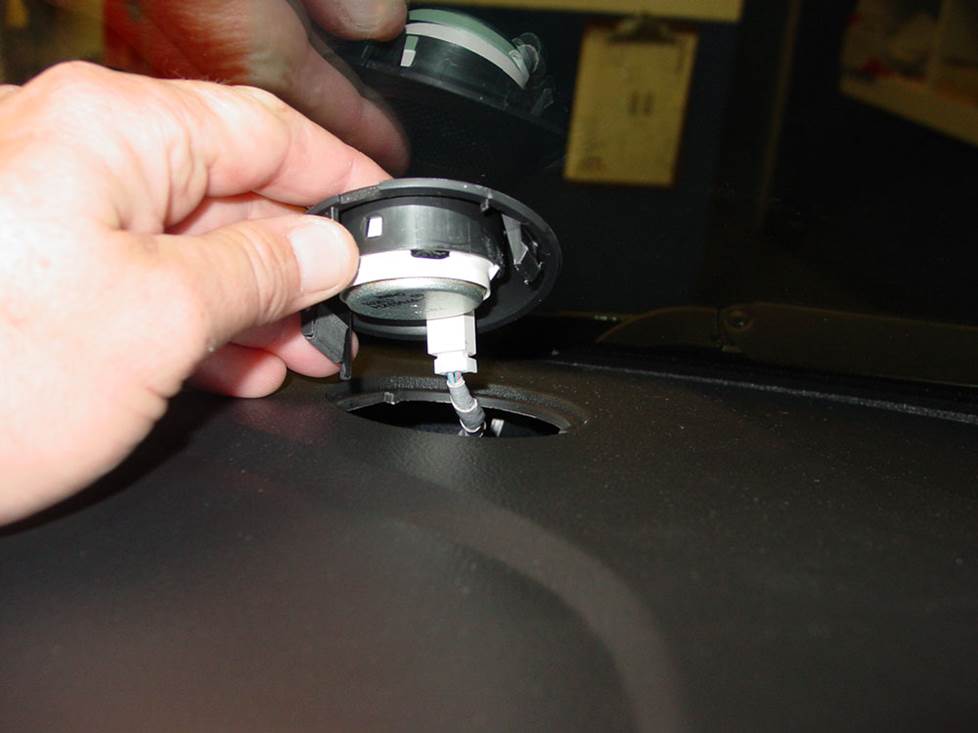 When you replace the dash tweeters, you'll need universal backstraps and Posi-Products speaker connectors (Crutchfield Research Photo)
Replacing the factory speakers in your Honda Odyssey
The Odyssey has speakers in the front door and rear side panels. Optional systems add dash speakers and a subwoofer. They're all pretty easy to remove and replace, so this is a nice project for a car audio DIY-er.
Removing the dash speakers
The dash tweeters, which can be found in 6- and 7-speaker Odysseys, are reasonably easy to replace. To remove them, all you need to do is pry up the tweeter/grille assemblies and disconnect the wiring harnesses. Pry out the clips and remove the speaker from the back of the grille.
Installing the new ones involves a little more effort and equipment, but not too much. There are no mounting brackets for this location, so you'll need to use our universal backstraps (or hot glue or silicone) to secure the new tweeters. There's also no wiring harness adapter, so we recommend using Posi-Products speaker connectors. They're a lot easier to deal with than soldering and the connection is strong enough for a high-vibration area like the dash.
Tools needed: Phillips screwdriver, small flat blade screwdriver, panel tool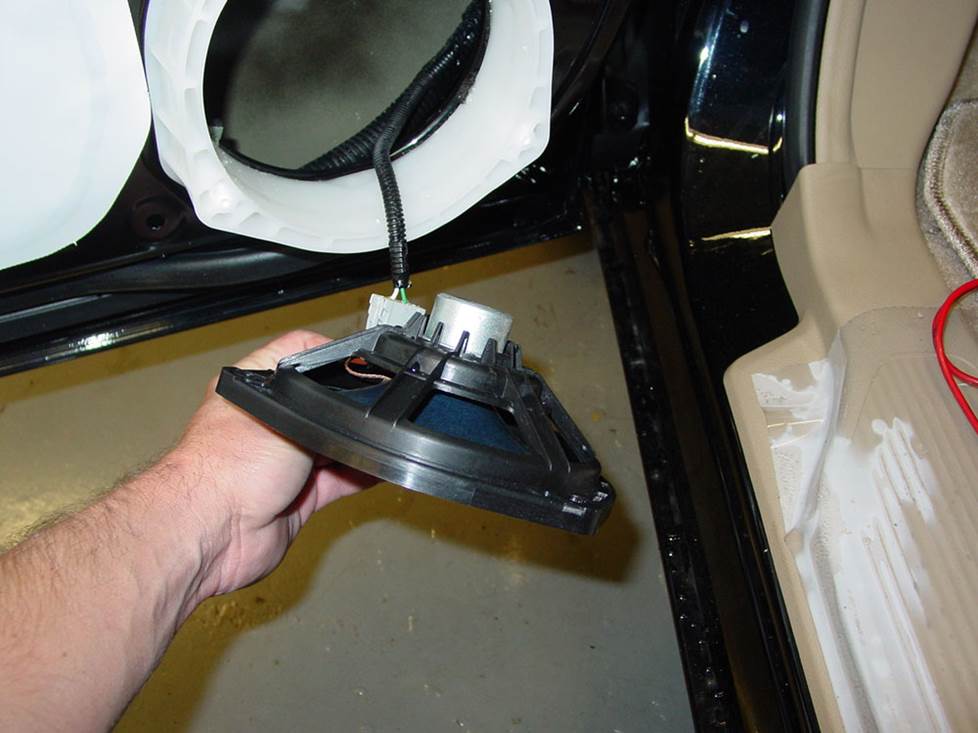 The door and rear side panel speakers can be replaced by 5-1/4" aftermarket models. Alas, nothing else fits in these locations. (Crutchfield Research Photo)
Removing the front door speakers
The Odyssey's main speakers (front door and rear side) are 6-1/2" models. You'd think that aftermarket 6-1/2" speakers would fit just fine, but alas, that is not the case. Between the bolt pattern, the factory bracket, and the remaining space available, there's just no way to make 6-1/2" speakers work in these locations without a bunch of modifications that just aren't feasible for the average DIY-er. And even for the exceptional DIY-er, there's really no point.
We recommend 5-1/4" speakers for these locations, because they'll sound just fine and they'll fit right in with the help of the adapter brackets that are included with your Crutchfield speaker purchase. If you really want to maximize their performance, an aftermarket amp can provide the juice you need to boost the sound.
Complete, step-by-step instructions on how to remove the front door speakers can be found in the Crutchfield MasterSheet that's included free with your speaker (or stereo) purchase. If you have questions about anything, remember that your Crutchfield order also includes free tech support for the life of your gear.
Tools needed: Phillips screwdriver, small flat blade screwdriver, panel tool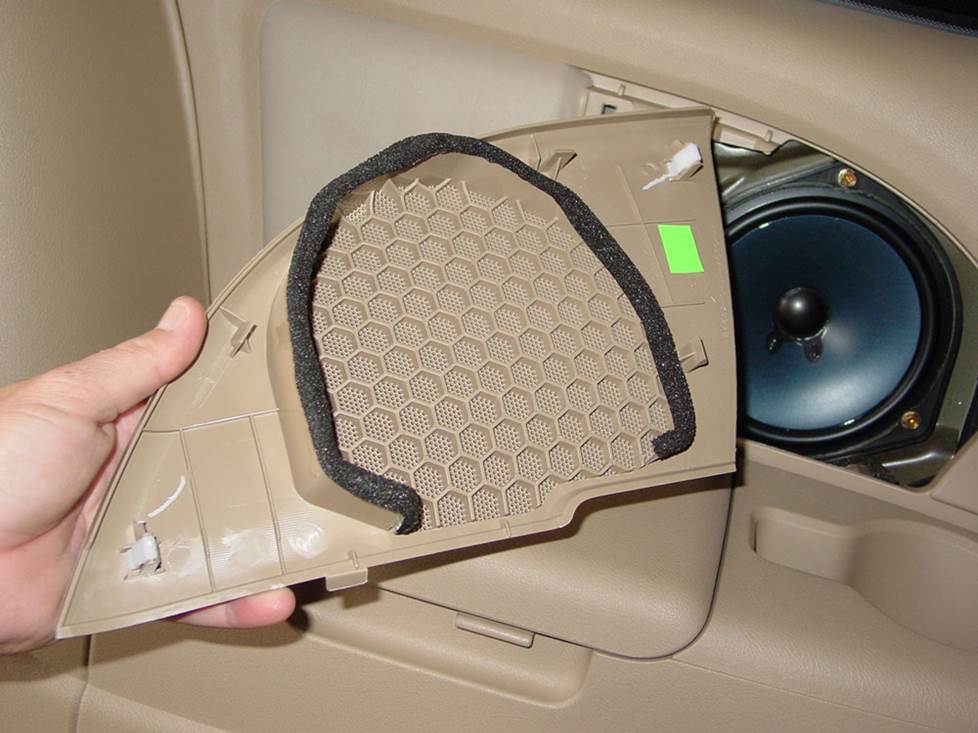 Getting to the rear side speakers is as simple as removing the speaker grilles (Crutchfield Research Photo)
Removing the rear speakers
Replacing the rear side speakers with aftermarket 5-1/4" models is a very simple process. Pry off the speaker grille, then remove the three Phillips screws securing each speaker. Pull 'em out, disconnect 'em, and set 'em aside.
Connect the new speaker's wiring adapter to the van's speaker connector, secure the speakers and adapter brackets with the screws you removed earlier, then test 'em out. If they're working, replace the grilles and enjoy the refreshing beverage of your choice.
Tools needed: Phillips screwdriver, panel tool
Shop for speakers that fit your Honda Odyssey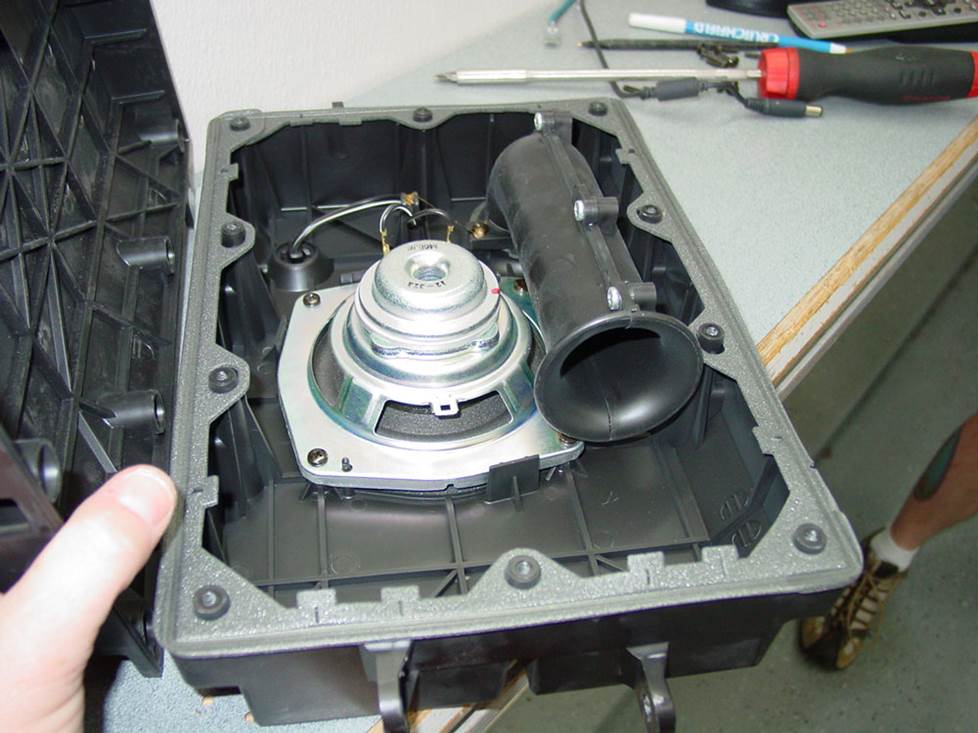 Once the underseat enclosure is out of the van, replacing the sub is pretty easy to do (Crutchfield Research Photo)
Bass in your Odyssey
The 7-speaker stereo system includes a 5-1/4" subwoofer that's mounted inside a plastic enclosure under the passenger's seat. Removing it is reasonably uncomplicated and yes, there are some 5-1/4" aftermarket woofers that will fit into this space.
To start, remove the four 10mm nuts securing the subwoofer enclosure to the seat frame. Once that's done, pull the enclosure toward the front of the van. Spread the seat bracket trim panel out to clear the enclosure, then disconnect the harness and remove the enclosure.
Place the enclosure on a workbench and remove the ten Phillips screws securing the two halves, then pull them apart. Remove the three Phillips screws securing the port to the enclosure and remove the port. And finally, you'll remove the four Phillip screws securing the sub to the enclosure, disconnect the harness and remove the old sub. You'll need to cut off two alignment pins to allow the new sub to fit flush in the enclosure.
The factory amp is under here, too, and the harnesses can be accessed without removing the amp.
Tools needed: 10mm socket, ratchet and extension, Phillips screwdriver
Adding more bass
Adding even more bass to the Odyssey involves a bit of decision-making. There's acres (seemingly) of space back here when the third-row seats are folded down, but when they're up, not so much.
You can install a pretty hefty subwoofer box back there, but the subs will basically be sitting on top of those very nifty fold-into-the-floor seats, so everyday utility might be an issue. If you're not planning to use that third row any time soon, though, go for it.
If you really need those third-row seats, you can still add bass, just not as much. A compact powered subwoofer can fill out your sound without taking up valuable real estate.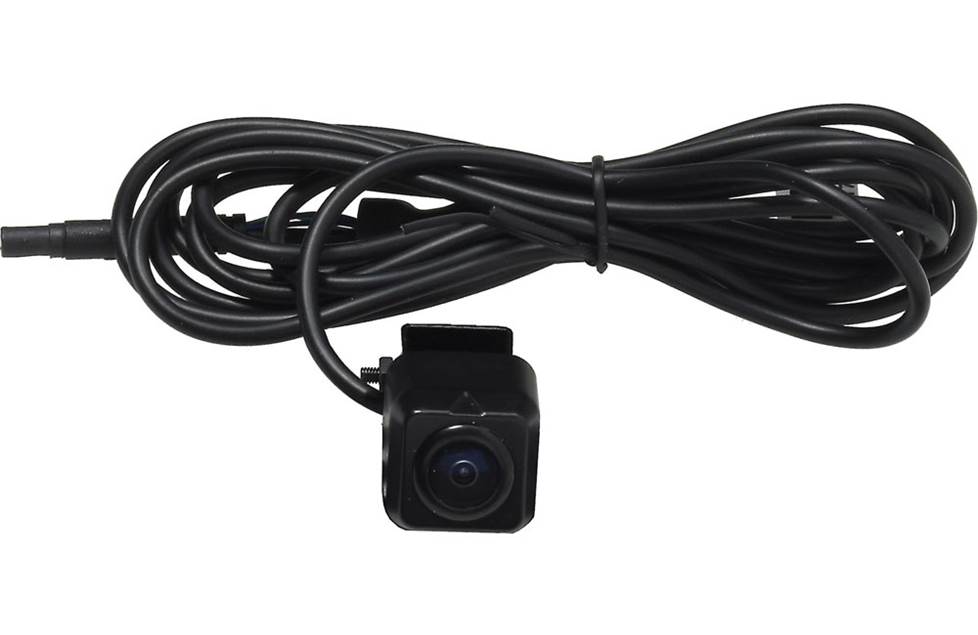 A rear-view camera is a great thing to have when you drive a minivan
Other options for your Odyssey
There are plenty of other ways to improve your Honda Odyssey. Here are some of the ways Crutchfield can help.
Rear-view cameras
A rear-view camera will really help increase your visibility and safety when your busy day takes you into town. We also offer dash cams and side-view cams, both of which are great additions to a vehicle like this one.
Add an amplifier and improve the sound
If you use your Odyssey to haul gear rather than kids, you can still build an amazing system without sacrificing storage space. There are plenty of compact amplifiers that will fit into out-of-the-way spaces in your cargo area.
Floor mats
If you've ever owned a minivan of any kind, you don't need us to remind you of what can happen when you hit the road carrying any combination of adults, kids, pets, and food. WeatherTech floor liners will help protect your floors from dirt, damage and discarded juice boxes.
Remote start and security systems
Adding remote start capability to your vehicle lets you warm it up in the winter or cool it down in the summer. The iDatastart system is incredibly convenient and makes it easier than ever to install a remote start system, so we highly recommend it. The module requires a vehicle-specific T-harness (sold separately) to connect with your vehicle's computer, security, and ignition systems, so we ask that you call to order so that we can make sure you get the right harness for your ride.
You can also talk to your Crutchfield Advisor about a security system. They're not as easy to install (we usually suggest letting a professional do the job), but we can help you choose a system that'll work in your vehicle.
Shop for car security systems for your Honda Odyssey
Find the audio gear that fits your car or truck
Visit our Outfit My Car page and enter your vehicle information to see stereos, speakers, subs, and other audio accessories that will work in your vehicle.
Last updated 9/12/2018