2005-2010 Pontiac G6
Upgrading the stereo system in your G6
2005 • 2006 • 2007 • 2008 • 2009 • 2010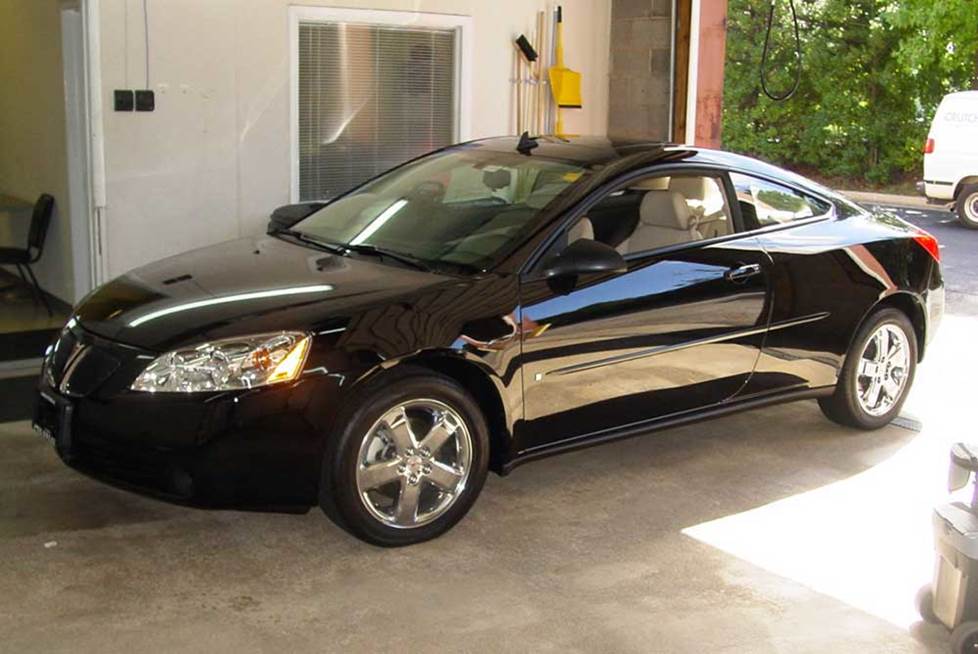 Pontiac G6 convertible (Crutchfield Research Photo)
In brief: This Crutchfield Research Garage article gives you an overview of your G6's stock stereo system and your aftermarket upgrade options. We'll tell you all about:
Then, use our vehicle selector to find the gear that will fit your Pontiac.
Overview of the Pontiac G6
Pontiac is gone, but its memory lives on in the Firebirds burning rubber at stoplights, the GTOs selling for crazy money during televised car auctions, and, yes, in the G6s that you see tooling around town every day. The G6 isn't a "classic" Pontiac (yet, anyway), but as a parting shot, the grand old brand (est. 1926) could have done a lot worse.
Based on the same platform that underpins the Chevy Malibu Maxx, among other GM products, the G6 is a long, sleek car that, in an interesting flashback to an earlier era of automotive marketing, is available in a variety of body styles and trim levels. From a 4-cylinder base sedan to the performance-oriented GTP coupes and convertibles, the G6 range offers something for nearly everyone. And, thanks to unwarranted worries about "orphan brand syndrome," prices can be quite reasonable.
Pay no attention to the "orphan car" nonsense. It's a Pontiac, not a Peugeot, so parts and/or knowledgeable mechanics should be available until 2073 or so. If you're thinking about installing a new stereo, Crutchfield has the gear you'll need to keep your G6 rocking for years to come.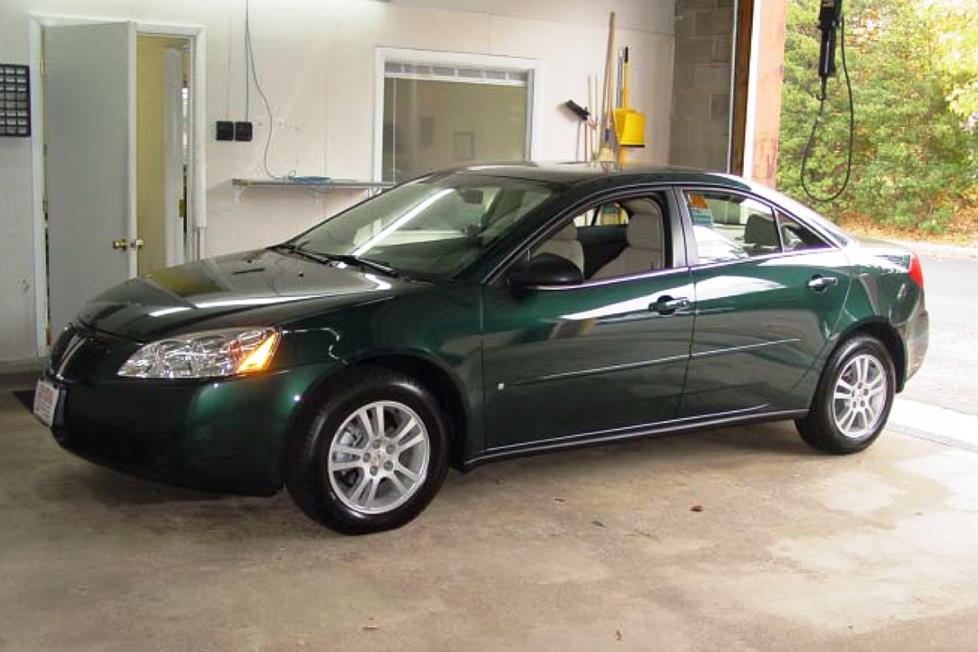 Pontiac G6 sedan (Crutchfield Research Photo)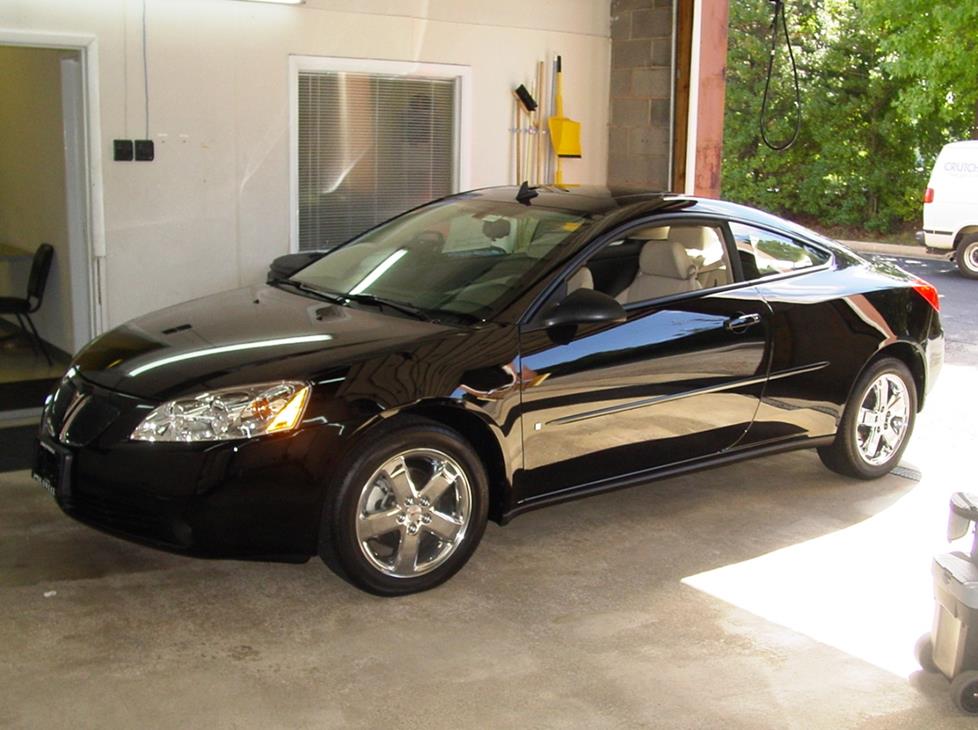 Pontiac G6 coupe (Crutchfield Research Photo)
The factory stereo system
The standard G6 system consisted of an in-dash AM/FM/CD single-disc player with six speakers. XM satellite radio and an MP3 player were added to the package later on. The premium system used the same radio with an 8-speaker Monsoon system. On some 2005-2008 G6 models, the Driver Information Center was built into the radio, so you'll need the right adapter to retain that function and others.

Getting to the G6's radio takes a bit of work (Crutchfield Research Photo)
Removing the factory radio
Thanks to the G6's marvelously well-integrated dashboard design, getting to the factory receiver is a rather indirect procedure. The job isn't terribly difficult, but you will wind up removing a fair number of plastic panels around the radio before you get to the radio itself. Be patient, take good care of the plastic bits, and be sure to store them safely until you're ready to put them back in the car.

Here's a close-up view of the Driver Info Center (Crutchfield Research Photo)
Once you reach the G6's radio cavity, there's plenty of space in the cavity for either a single- or double-DIN receiver. A wide variety of receivers will fit, but there are some things to consider while you're deciding which one to buy.
You'll lose your factory XM satellite radio (if equipped) when you replace the factory radio, but that's easy to remedy with the right aftermarket equipment. If you choose a double-DIN receiver for your 2005-2008 (and some 2009) G6, you'll lose the car's "Driver Information Center" (above), which is housed in the factory radio.
Detailed stereo and speaker removal instructions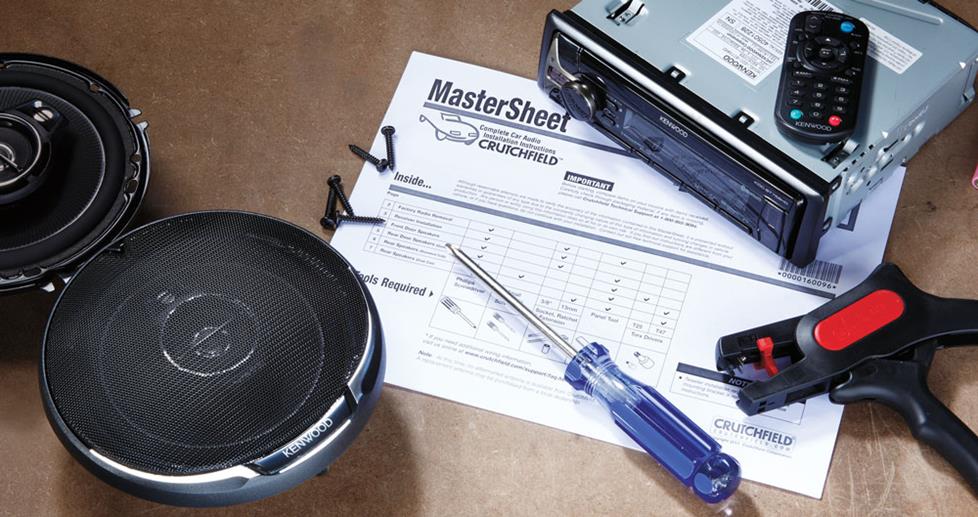 With step-by-step disassembly instructions and plenty of up-close, detailed photos, our exclusive
Crutchfield MasterSheet
™ takes the guesswork out of removing the factory stereo and speakers. It's free with your Crutchfield order, or you can purchase one separately for just $9.99.
In the case of some 2009 and all 2010 G6 models, the DIC moved to the dash cluster. When you use our vehicle selector, you'll see the radios that fit your car and everything you need to install one.
For all G6 models, the warning chimes and audible turn signals are built into the factory radio unit. Whether you have the standard system or the Monsoon system, you'll need to purchase an adapter to retain the warning chimes. The adapter will keep the audible safety warnings functioning properly, while also providing a switched 12-volt power source for your new radio. Depending on the adapter, it might even integrate the steering wheel audio controls.
The specific adapters available depend on how your G6 is equipped. Crutchfield strongly recommends that you use one of these adapters, and to help out, we'll give you a very nice discount on the adapter's price when you buy it along with your new stereo.
Tools needed: Panel tool, 7mm socket, ratchet and extension,
Steering wheel audio controls
It's relatively easy to retain the steering wheel audio controls when you install a new stereo in your G6. When you enter your vehicle information, our database will choose the adapter you need to make your factory steering wheel controls work with your new receiver.
Shop for car stereos that fit your Pontiac G6
Removing the factory speakers
Installing a new set of speakers in the G6 isn't without challenges, but it's nothing a reasonably adept DIY-er can't handle. The results, of course, will be totally worth the effort.

The G6 convertible's front door (Crutchfield Research Photo)
Front speakers
Whether your G6 has two doors or four, the procedures and possibilities for installing front door speakers are quite similar. You'll need to remove the door panels, which, despite a couple of interesting nuances covered in your Crutchfield MasterSheet™, is relatively uncomplicated. Once you're in, you'll find either a 6-1/2" or 6-3/4" woofer at the base of the door and a set of tweeters up high. A set of aftermarket component speakers would be ideal for any G6 model.
To remove the lower speakers, start by removing the four Phillips or Torx T15 screws (we've seen both) securing the factory speaker. Pull the speaker out, disconnect it, and remove it. At this time, there isn't a speaker wiring harness available for this location, so you'll have to cut off the factory connectors and splice the vehicle's speaker wires to your new speaker wires. An easier option is to use a set of Posi-Tap connectors to tap into the speaker wires without cutting off the connectors.
On the G6 sedan, the tweeters are mounted in the sail panels. On the coupe and convertible, they're mounted on the inside of the door panels (as shown above). Either way, the 1-3/8" diameter factory models are easy to reach and easy to remove. A pair of universal backstraps will make it easier to secure the new tweeters.
Tools needed: Panel tool, Phillips screwdriver, flat-blade screwdriver, Torx T15 and T30 drivers
Note: Some convertible models include a mid-range speaker. We have not researched this location at this time, but we welcome your input and, if possible, photos.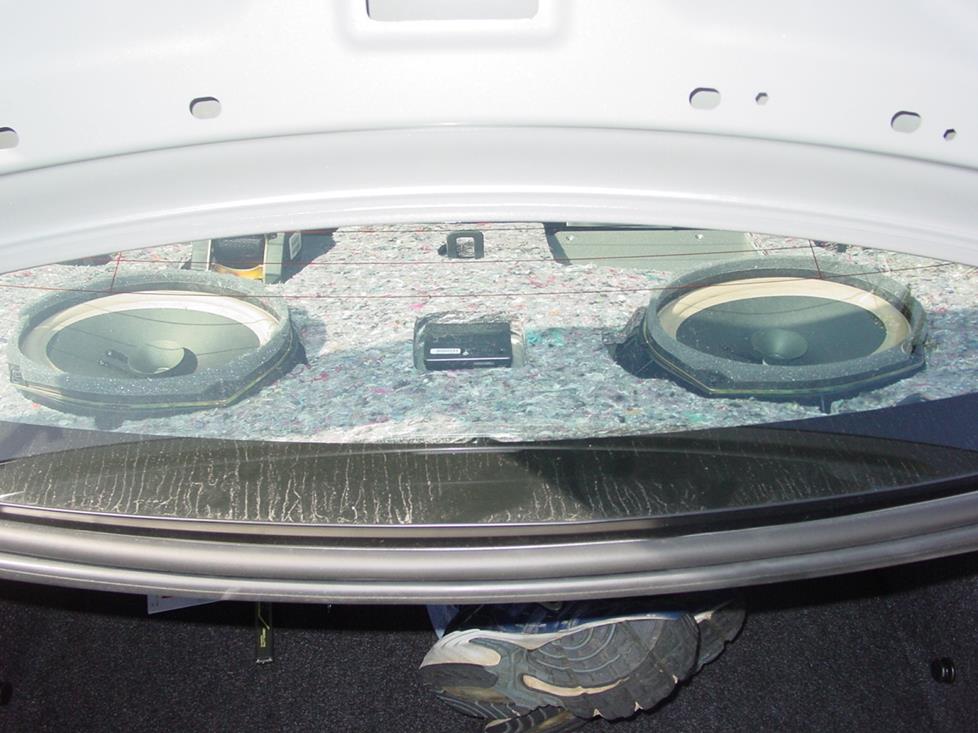 Pontiac G6 sedan rear deck speakers (Crutchfield Research Photo)
Rear speakers
The degree of difficulty involved in replacing the rear speakers on the G6 depends entirely on the type of G6 you're working with. The convertible is relatively easy, but the sedan and coupe involve varying (but similar) amounts of rear seat and trim removal. It's not hard, but it is labor-intensive, so make sure you've cleared out plenty of time for the job. Your Crutchfield MasterSheet contains illustrated instructions for all three models.
On Monsoon-equipped sedans and coupes, the amp sends bass and treble frequencies to the speakers through separate sets of wires. To get full-range sound, you'll need to install an aftermarket stereo and bypass the factory amp, which is located in the right rear of the trunk.
If your G6 has a roof, the rear speakers are in the rear deck. This is the coupe. (Crutchfield Research Photo)
Coupe: On the G6 coupe, the rear deck speaker replacement process is bit more involved, but not unbearably so. Your MasterSheet explains the ins and outs of getting your old speakers out and your new ones in. A variety of 5-1/4", 6-1/2", or 6"x9" speakers will fit in the rear deck of Monsoon-equipped coupes, but you'll need to splice the wires or use connectors when you install the aftermarket models.
We have not yet researched a coupe equipped with the standard system. Based on the sedan, however, we're confident that a variety of 5-1/4", 6-1/2" or 6"x9" speakers will fit.
Sedan: The sedan, regardless of system, was equipped with 6"x9" rear deck speakers, which can be replaced by same-size aftermarket models or, with the help of the discounted brackets available with your Crutchfield speaker purchase, 5-1/4" or 6-12" models. A wiring harness is available for vehicles equipped with the standard stereo, but you'll need to splice the wiring or use a set of Posi-Products connectors to hook everything up in a Monsoon-equipped car.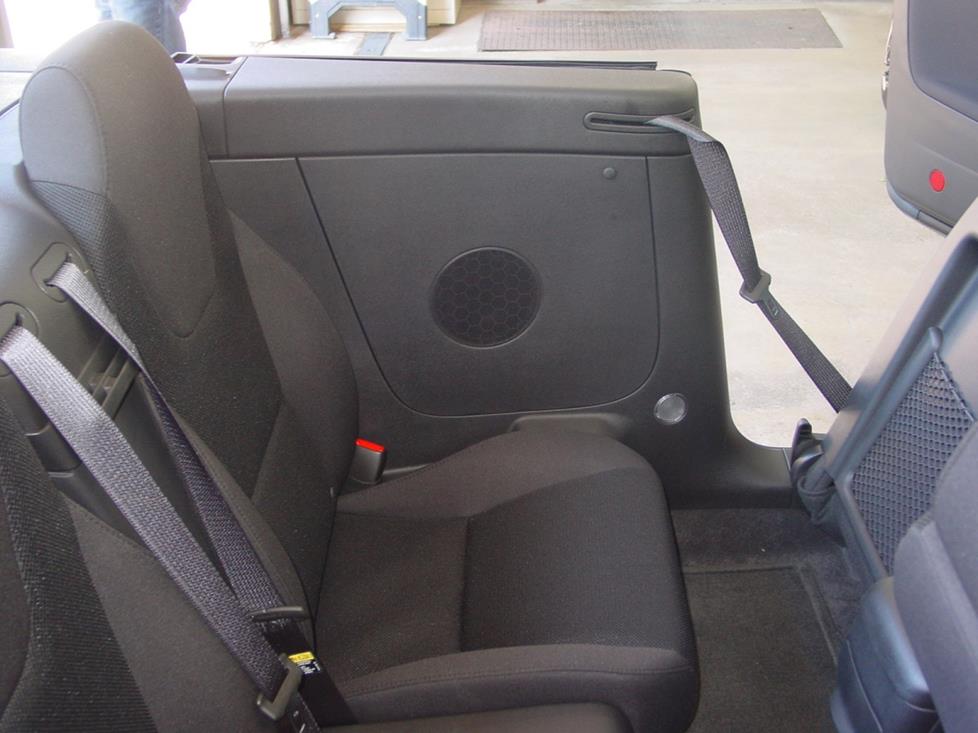 On the G6 convertible, the speakers are in the rear side panels (Crutchfield Research Photo)
Convertible: Your G6 convertible (technically, a retractable hardtop) has a pair of rear speakers located behind grilles in the rear seat side panels. They're pretty easy to get to, and they can be replaced with a number of 6-3/4", 5-1/4", or 6-1/2" speakers. G6 convertibles have the Monsoon system, but unlike the sedan and coupe, these speakers are not bi-amped, so you won't have to replace the radio or bypass the factory amplifier.
To remove them, start on the sides and pry out the edges of the speaker grille panel to release the retaining clips. Flex the panel in the middle to clear the clips on the top and bottom as you remove it.
Remove the four Phillips screws securing the speaker, pull it out and disconnect the wiring plug. Again, you'll need to splice the wiring or use a set of connectors.
A speaker adapter bracket is available at a discount with your order. Depending on the speaker you're installing, you may need to modify this bracket by grinding off some material with a rotary tool.
Tools needed (depending on body style): Panel tool, Phillips screwdriver, flat-blade screwdriver, ratchet and extension, and 1/4", 7mm, 13mm, and/or 18mm sockets
Shop for speakers that fit your Pontiac G6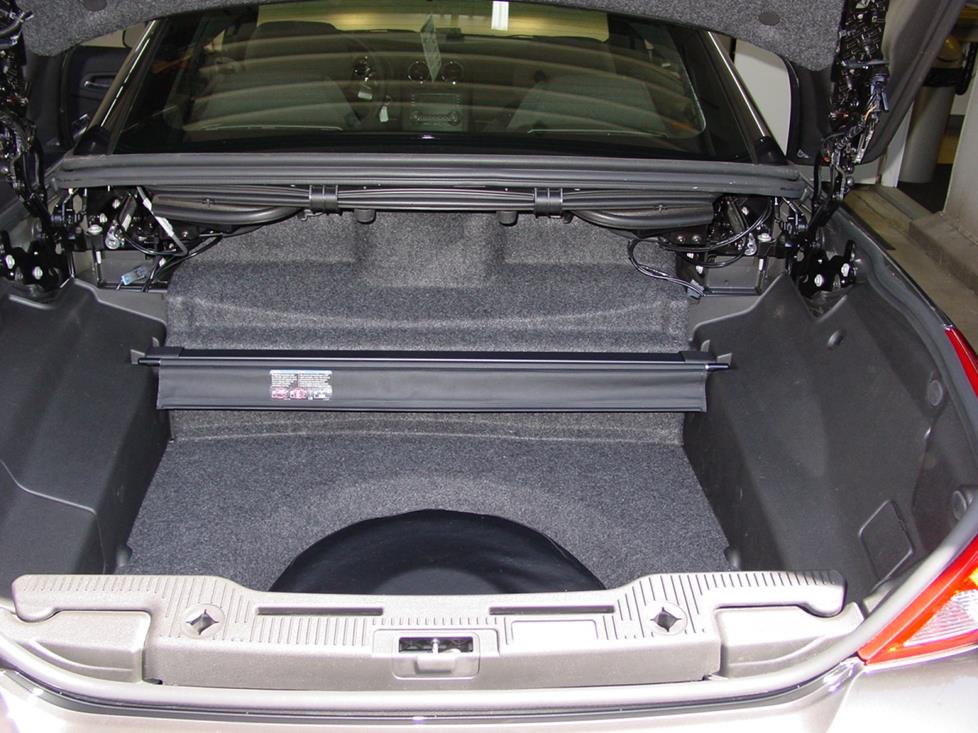 The G6 sedan has plenty of trunk space for your subwoofers; the convertible (shown) does not (Crutchfield Research Photo)
Bass in your Pontiac G6
The G6 sedans and coupes offer a healthy amount of trunk space. The sedan's trunk offers 40" W x 13" H x 34"/38" D of space for a subwoofer box, while the coupe gives you a similar amount of space. That's plenty of room for an amplifier and a subwoofer box.
The convertible is a different story. That retractable hardtop has to go somewhere, and that somewhere is the trunk. Measured below the top's safety cover, there's a mere 39" W x 5" H x 11"/11" D of room back there. Thankfully, there are some compact powered subs to choose from, so you'll be able to add powerful bass to your G6 convertible.
Other options for your G6
Here are some other suggestions on ways to improve your Pontiac G6:
iPod® and satellite radio adapters
If you don't want to replace the factory receiver, you can still add versatility and great sound to the system. We offer several adapters that will allow you to use an iPod, MP3 player, or satellite radio with the factory radio.
Dynamat
With its long wheelbase and slippery body, the G6 is reasonably quiet as it is. But if you really want to get the best performance out of your stereo, you should consider a Dynamat 10435 Xtreme Door Kit. This heavy-duty insulating material is easy to install, and it really makes a difference. One kit should take care of a 2-door G6 or the front doors on a sedan. If you install an aftermarket subwoofer, you might want to line the trunk lid as well.
Remote start and security systems
Adding remote start capability to your vehicle lets you warm it up in the winter or cool it down in the summer. The iDatastart system is incredibly convenient and makes it easier than ever to install a remote start system, so we highly recommend it. The module requires a vehicle-specific T-harness (sold separately) to connect with your vehicle's computer, security, and ignition systems, so we ask that you call to order so that we can make sure you get the right harness for your ride.
You can also talk to your Crutchfield Advisor about a security system. They're not as easy to install (we usually suggest letting a professional do the job), but we can help you choose a system that'll work in your vehicle.
Let's get started!
Ready to shop? Use our vehicle selector to find the gear that will fit your car or truck. If you have questions, give us a shout via phone, chat, or email