2005-2012 Porsche Boxster
Upgrading the stereo system in your Boxster
2005 • 2006 • 2007 • 2008 • 2009 • 2010 • 2011 • 2012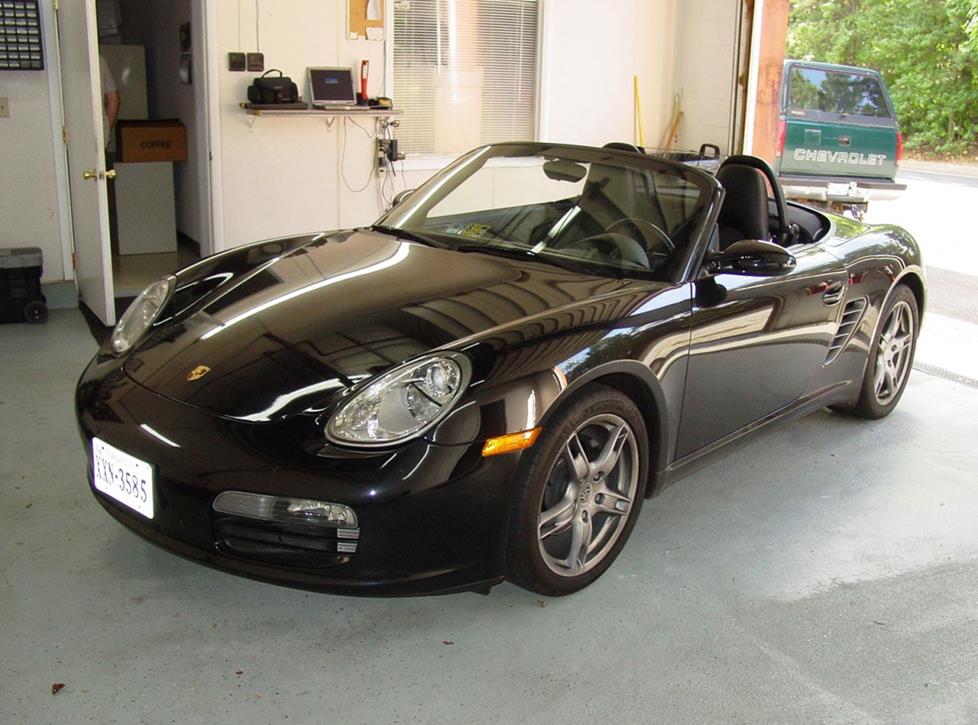 In brief: This Crutchfield Research Garage article gives you an overview of your Boxster's stock stereo system and your aftermarket upgrade options. We'll tell you all about:
Then, use our vehicle selector to find the gear that will fit your Porsche.
Overview of the Porsche Boxster
Automotive journalists can be a cranky bunch, but if you send them out with something sleek, fast, and fun, they'll usually come back grinning from ear to ear and ready to write nice things. Don't believe us? Check out contemporary reviews of the second generation Porsche Boxster, most of which read like a teenage love note.
That said; they had a point, and you'll be tempted to ask if there are any more like that at home when you see a Boxster in person. They really are beautiful, they do sound wonderful, and it's way too easy to imagine how much more fun that person's commute is compared to yours.
No need to be overcome by jealousy, though. If you're tired of watching happy Boxster people fly by in the fast lane, take action. You can be one of them for a lot less money than you think, which will leave some dollars left over for an audio upgrade.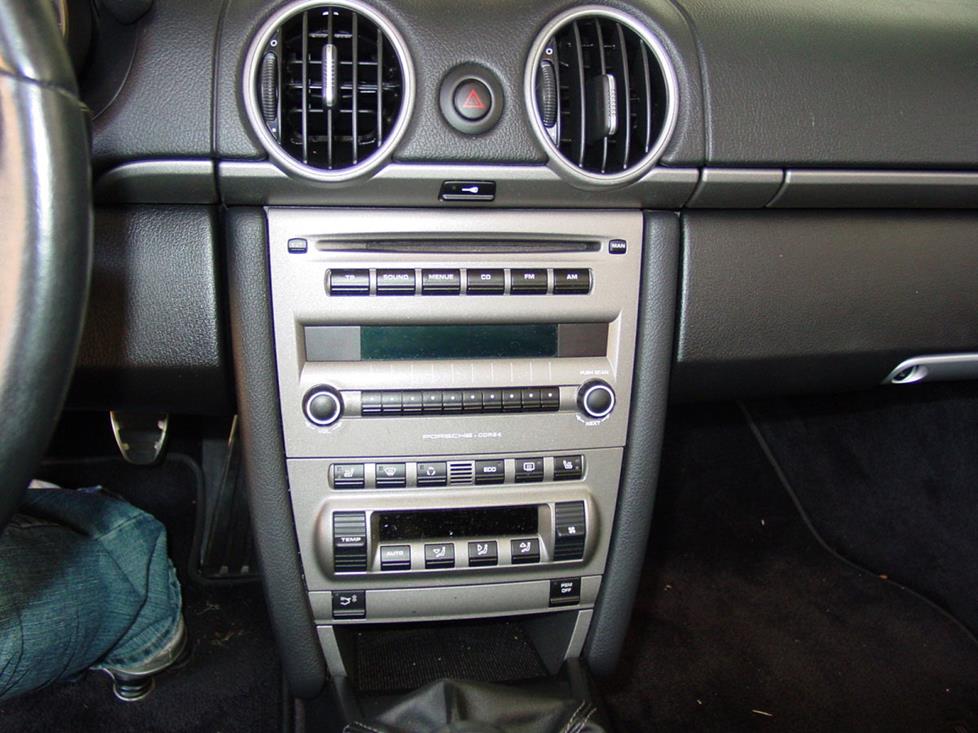 This is the Boxster's base radio. A nav unit was also available. (Crutchfield Research Photo)
The factory stereo system
The Boxster's stereos came in two flavors — nav and non-nav. Those receivers played through two kinds of system – base and Bose®. We haven't researched the Bose version yet, but the receiver and speaker locations are the same in each, save for the Bose system's rear-wall speakers.
Porsches, even the "affordable" ones like the Boxster, are designed by seriously serious engineers, and that can sometimes lead to some seriously complex, over-done stuff. The Boxster is largely free of all that, so working on this purebred sports car isn't nearly as brain-melting as it could be.
You'll lose the factory nav functionality when you replace the stock receiver, but new ones work better anyway, so that's not a big deal. In some models, there's a factory CD changer in the front trunk, which we assume you won't need anymore.
Note: If you have some experience with the Bose system (or want some), we could use your help. To learn more about our "crowdsourced" vehicle research process, check out this informative article. If that sound like something you'd want to do, contact us via the email addy in the article.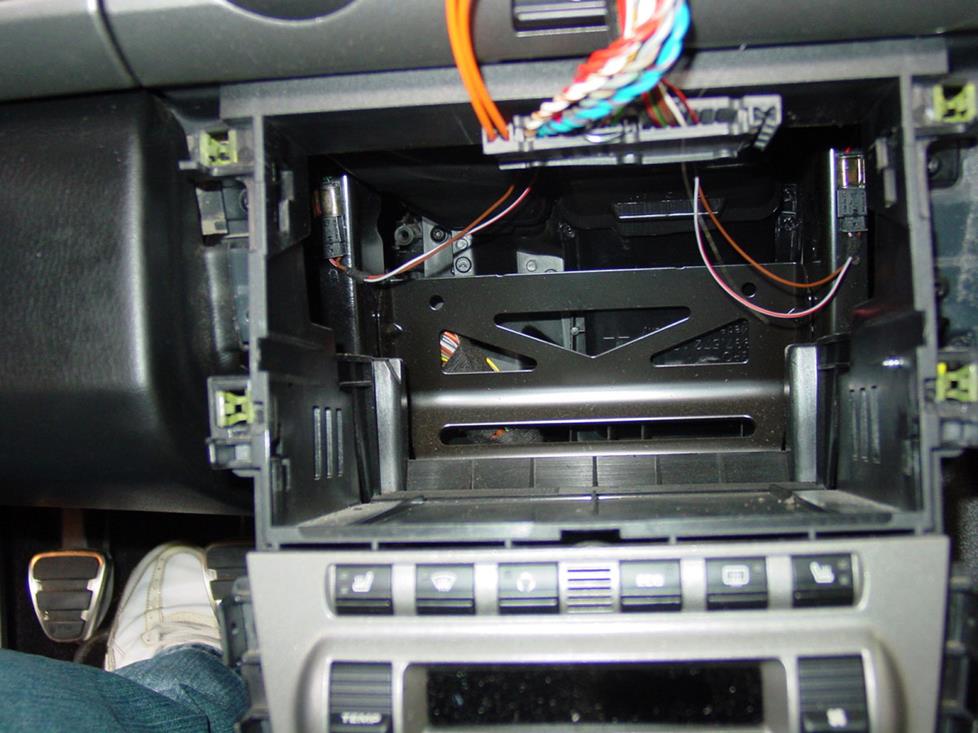 A variety of receivers will fit here, with the help of a dash kit that's included at a discount when you shop with us. (Crutchfield Research Photo)
Removing the factory radio
We've already said that the Boxster's stereo isn't too hard to work with and we're standing by that assertion. It is, however, a bit fiddly in places, so it's important to review the tool list before you start and stay patient while you're working.
Detailed stereo and speaker removal instructions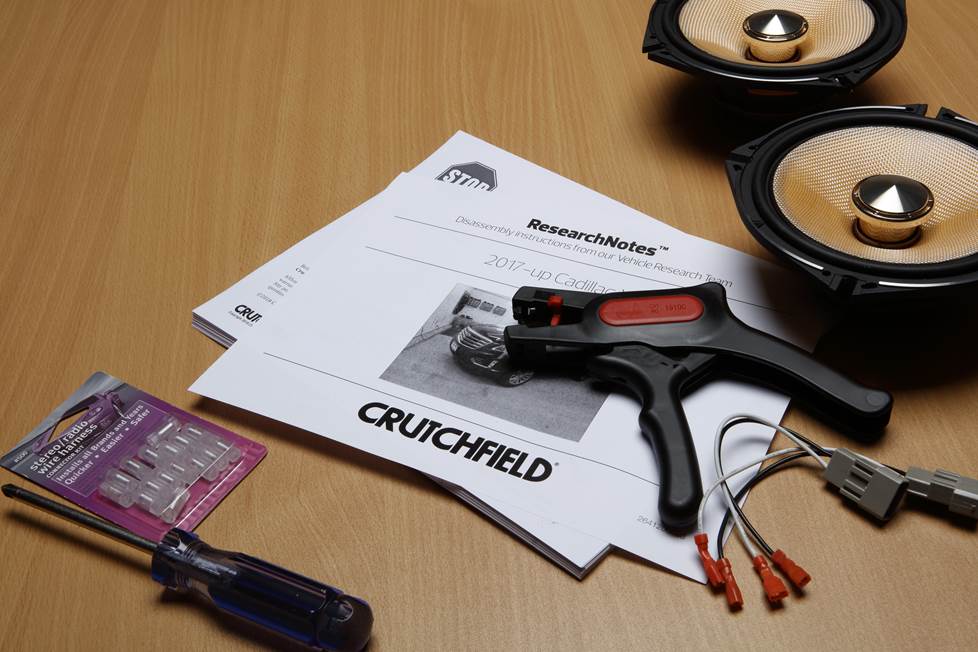 With step-by-step disassembly instructions and plenty of up-close, detailed photos, our exclusive
Crutchfield ResearchNotes
™ takes the guesswork out of removing the factory stereo and speakers. It's free with your Crutchfield order, or you can purchase one separately for just $9.99.
American International's POR911 dash kit allows you to install a new single-DIN (2" tall) or double-DIN (4" tall) car stereo in your Porsche. The kit is available with a black or silver finish, so make sure to pick the one that matches your dash. The kit has its own instructions, so pay attention to those when it's time to put the new receiver in the dash.
The wiring harness (also included at a discount with your Crutchfield purchase) does not have an accessory power connection, so you'll need to connect your new car stereo to accessory power in your vehicle. Also, the functions of the yellow and red wires in the wiring harness are reversed. The yellow wire supplies ignition power, and the red wire supplies constant power. If you run into any challenges, you'll be glad to know that buying a stereo at Crutchfield entitles you to free tech support for the life of your gear. Give us a call if you need us. We're here to help.
Tools needed: Torx T-20 & T-30 drivers, 5mm hex wrench
Shop for car stereos that fit your Porsche Boxster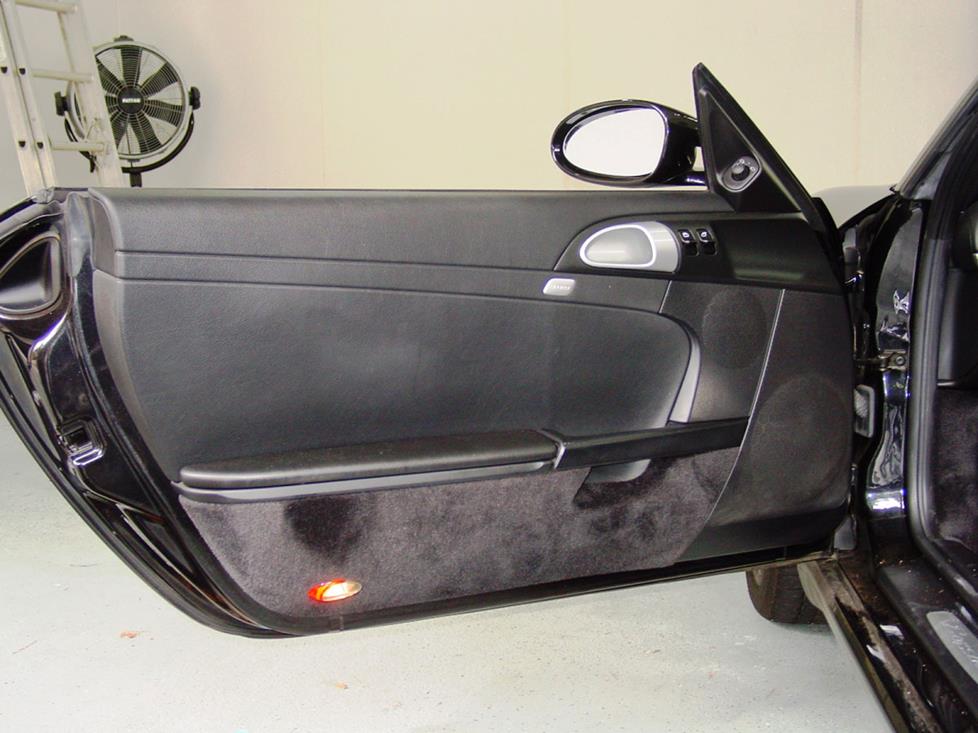 The Boxster's doors house woofers and midrange speakers. (Crutchfield Research Photo)
Removing the factory speakers
The Boxster crams a lot of speakers into a pretty small space. There are three in the dash, two in each door and, on models equipped with the Bose system, speakers in the rear of the cockpit.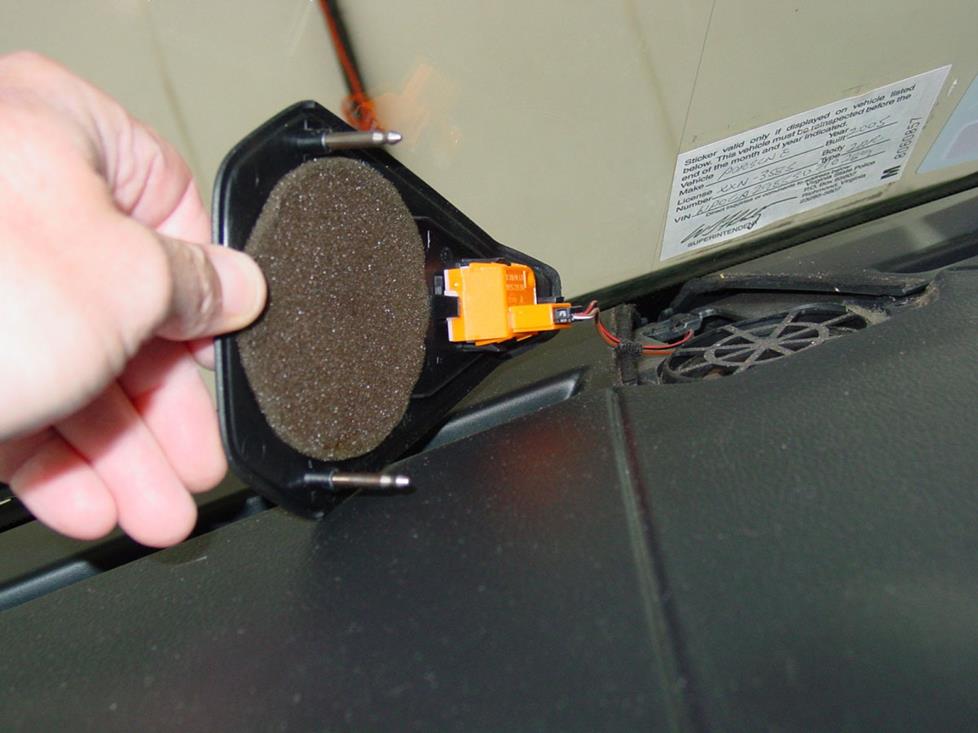 The center dash speaker is easy to reach and replace (Crutchfield Research Photo)
Center dash speaker
The center dash speaker is very easy to deal with. Use a panel tool to gently pry up the rear edge of the dash grille and release two retaining clips, then pry up the front edge to release one more clip. Set the grille aside, loosen the two Torx T-20 screws securing the speaker to dash, then disconnect the harness and remove the speaker.
There's no mounting bracket available, so you'll need to use our universal backstrap (or hot glue or silicone) to secure this speaker. There's no wiring harness available either, so you'll need to use a set of Posi-Products speaker connectors to connect this speaker to the factory wiring.
Tools needed: Panel tool, Torx T-20 driver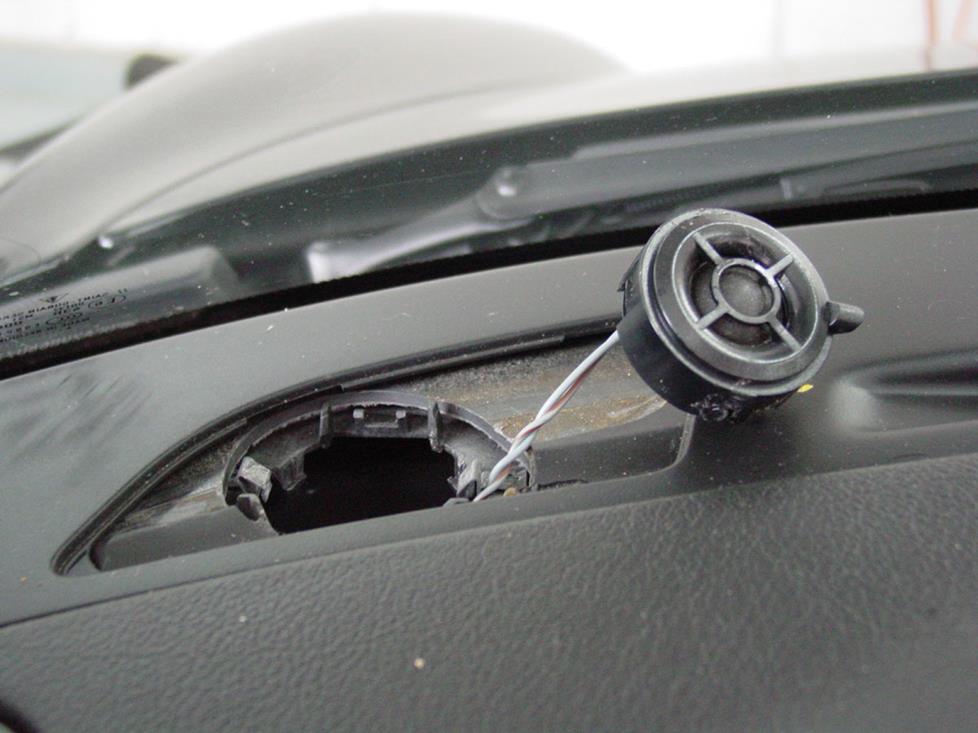 The corner speakers are mostly easy to deal with, but you'll need to use a bit of inginuity to mount them. (Crutchfield Research Photo)
Corner dash tweeters
The story is similar on the corners of the dash. To remove these speakers, pry up the rear edge of the grille to release two clips and remove the grille. Pry outward on the two metal clips securing the tweeter to the dash, then disconnect the harness and remove the tweeter.
You'll need to figure out mounting solutions here, too, and you'll need some more Posi-Products connectors as well. Oh, and when you're choosing your speakers, keep mounting depth to a minimum. If they're too deep, the factory grilles won't fit.
Tools needed: Panel tool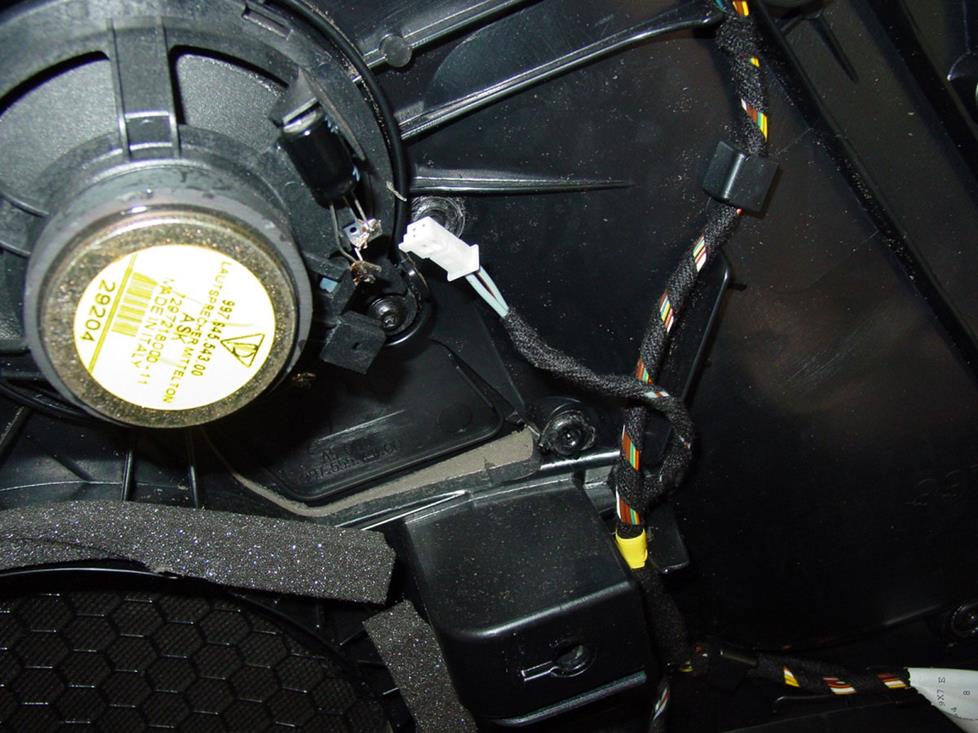 The midrange speakers are attached to the door panels. (Crutchfield Research Photo)
Door midrange speakers
With the dash tweeters handling the highs, the Boxster's mid-range speakers take care of the middle of things. They're attached to the door panels, which you'll need to remove. This also exposes the woofers, which are attached to the door frame, so you're kind of saving some work, sort of.
Starting at bottom edge, use your panel tool to pry out the sail panel. Slide it up to remove it, and, on the driver's side only, disconnect the harness. This will expose a Torx T-30 screw, which you'll need to remove.
Open the door release handle and remove the Torx T-20 screw that secures it, then remove the handle. Pry off the screw cover in the door release trim and remove a Torx T-30 screw. Next, pry off the door pull handle's outer cover and remove two exposed T-30 screws. Pry off the screw cover on the rear edge of the door and remove another exposed Torx T-30 screw.
Now you're ready to remove the panel itself. Pry out the sides and bottom of the panel to release nine clips, then disconnect the door release cable and harnesses. Lift up the panel to remove it, and set it aside, preferably on an old blanket that will protect the panel while you're working on it.
Finally, you'll remove four Torx T-20 screws securing the speaker to the door panel, disconnect the harness and remove the speaker. A wiring harness isn't available, so here's another reminder to stock up on Posi-Products connectors.
Tools needed: Panel tool, Torx T-20 & T-30 drivers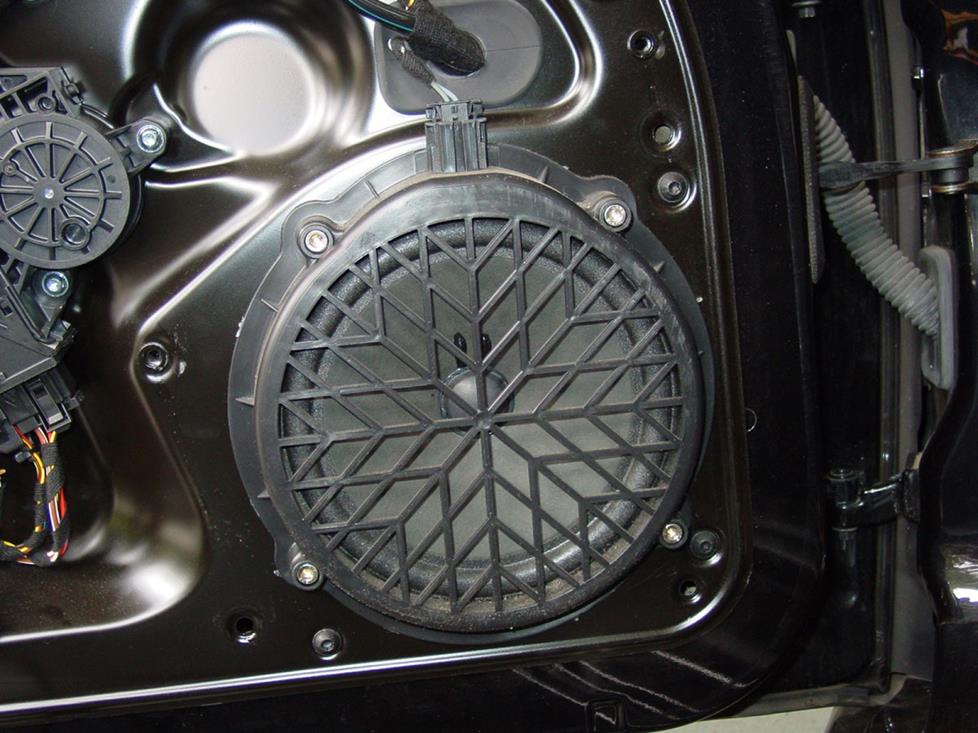 You'll need to drill new mounting holes to install new speakers here. (Crutchfield Research Photo)
Door woofers
If you've made it this far, you're basically ready to replace the 6-1/2" woofers, too. These speakers are powered by an amp in the front trunk and they're secured by four 5mm hex screws. Same-size replacements are available, but you'll need to drill three new screw holes to mount the new speakers with the mounting brackets included with your Crutchfield speaker purchase. You'll need some Posi-Products connectors here, too, of course.
Drilling new mounting holes isn't hard, but you are drilling into a Porsche, so it's okay to take a deep breath before you do it. Recommended, in fact. We also recommend surveying the area you'll be drilling into, working patiently while you drill, and wearing eye protection the entire time. You can do this, just be careful when you do it.
Tools needed: Panel tool, Torx T-20 & T-30 drivers, 5mm hex wrench
Rear wall speakers
As noted above, we have yet to research these speakers, which are found only in Bose-equipped Boxsters. If you have replaced yours, please share your knowledge in the Comments section below. And maybe send a picture, because we could really use one here.
Shop for speakers that fit your Porsche Boxster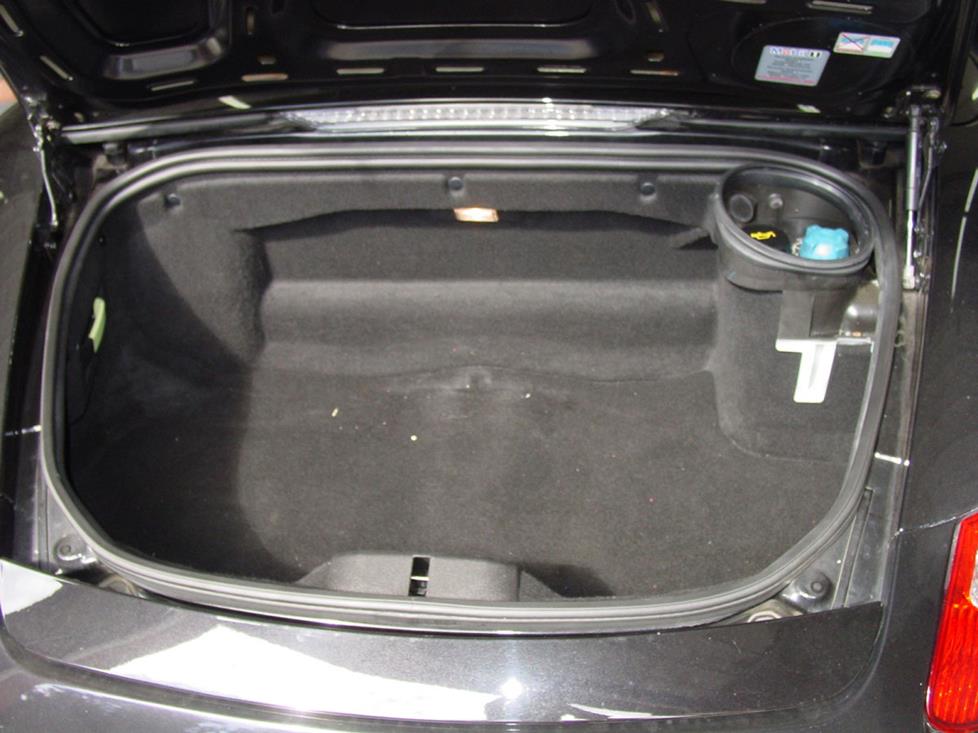 If you install a big sub back here, make sure it's pointing upwards. (Crutchfield Research Photo)
Bass in your Boxster
There's some room for a subwoofer box in the Boxster, but not much. The available space measures 18" H x 28" W x 12"/7" D. If you go this route, make sure the enclosure is situated with the woofers facing up.
Considering what the Boxster is truly made to do, you'll probably be happier with a powered subwoofer. Besides, do you really want to drown out that wonderful engine sound with huge, whomping bass?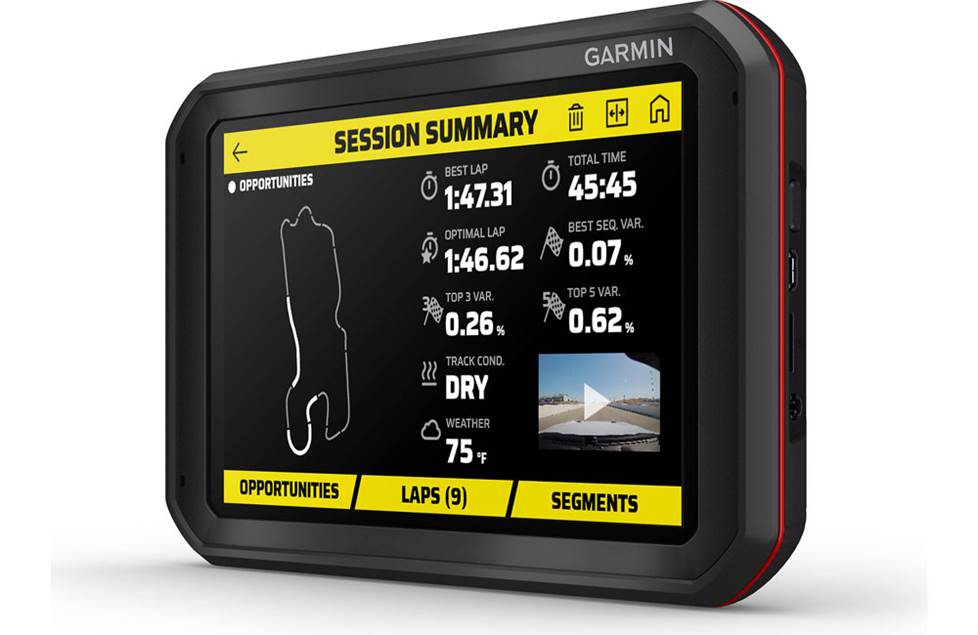 Cut those lap times with help from Garmin's Catalyst driving performance optimizer
Other options for your Boxster
Here are some other ideas for your Boxster.
Cameras and more
With the top up, the Boxster is not the easiest vehicle to see out of when you're backing up in a crowded parking lot. We offer a wide variety of rear view cameras that will make that a lot easier, and there's a healthy variety of options to choose from.
If you enjoy taking your Boxster to the track, the Garmin Catalyst driving performance optimizer (pictured) offers a tech-based solution to improving your times and techniques. It incorporates a wide range of advanced tools to help you identify where you can get maximum performance during your laps. And it includes a camera so you can record your track runs and view the video for further analysis.
Add an amplifier for better sound
Replacing the factory radio and speakers will make a big difference in the sound of your music in the Boxster. But when you're winding your way down the road with the top down, you might need a little bit more power. To further improve the sound quality, consider installing a 4-channel amplifier. Talk to one of our advisors to get some ideas for how to build your system.
Security
Installing a security system in your Boxster isn't easy (security systems rarely are), but even though most car thieves can't drive a stick, it's definitely a good idea. Our Crutchfield Advisors can help figure out what you need to get the job done, but we usually recommend taking your car and new gear to a professional installer.
Let's get started!
Ready to shop? Use our vehicle selector to find the gear that will fit your car or truck. If you have questions, give us a shout via phone, chat, or email