2005-2015 Toyota Tacoma
Upgrading the stereo system in your Tacoma
2005 • 2006 • 2007 • 2008 • 2009 • 2010 • 2011 • 2012 • 2013 • 2014 • 2015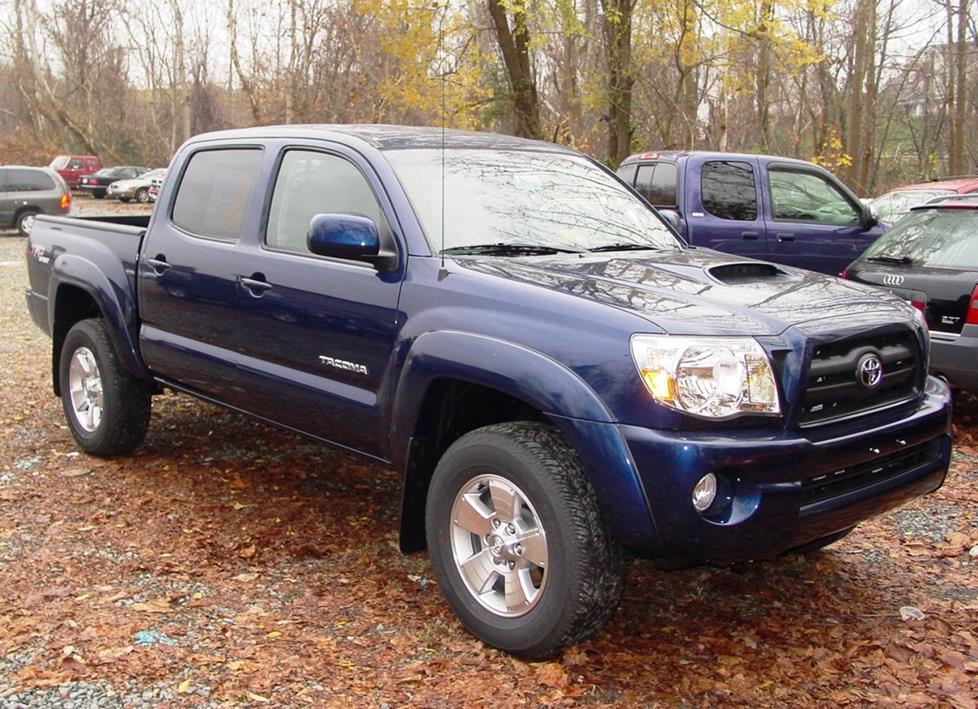 In brief: This Crutchfield Research Garage article gives you an overview of your Tacoma's stock stereo system and your aftermarket upgrade options. Use our vehicle selector to find the gear that will fit your truck.
Overview of the Toyota Tacoma
The 2005-2015 Toyota Tacoma is a rugged hauler with plenty of personality. Toyota built this tough truck in three cab styles with a couple of different stereo systems. The Standard Cab and Access Can sport a basic stock stereo system, while the DoubleCab could be had with an upgraded JBL stereo system. You'll find lots of possibilities for upgrading either system, including easy replacement of the stereo and speakers.
If you want to add bass to your system, JL Audio offers custom-fit Stealthbox sub enclosures that fit perfectly in the AccessCab or DoubleCab. You can also continue to use your factory-equipped steering wheel audio controls with your new stereo with the help of a special adapter.
Replacing your factory radio
The radio removal process is the same in all Tacomas, regardless of whether your truck has the base or the JBL system.

Factory radio in 2005-08 non-JBL system (Crutchfield Research Photo)
6-speaker system
Installing an aftermarket stereo in your Tacoma will make your factory system sound better, plus it's a great way to add new features like iPod® control or HD Radio™ reception. You'll need a dash kit to install a DIN (2" tall) or double-DIN (4" tall) radio, and kits are available in gray or black. You'll have to remove the display from your dash and reinstall it in the Toyota kit.
You'll also need a wiring harness that allows you to install a new stereo without having to cut into the factory wires. Crutchfield will give you a very nice discount on the dash kit and harness needed for this installation with most orders.
Detailed stereo and speaker removal instructions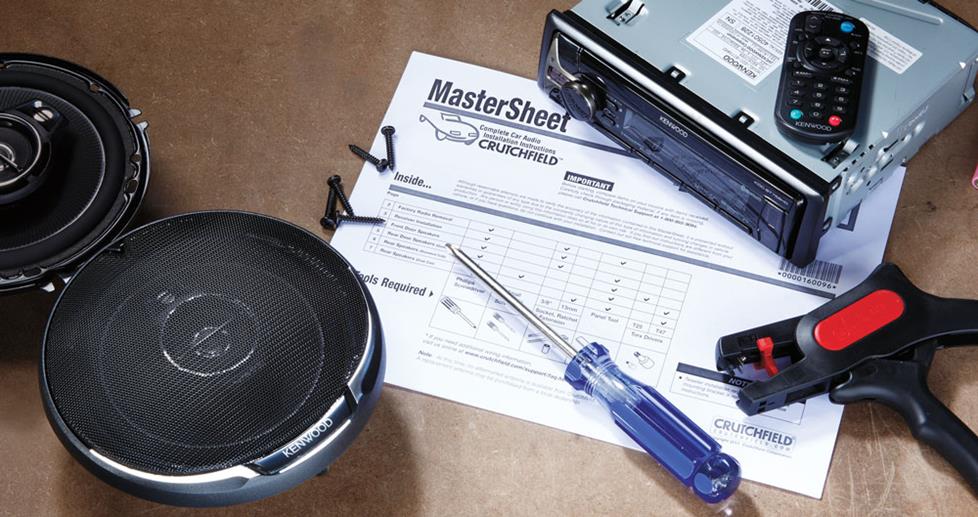 With step-by-step disassembly instructions and plenty of up-close, detailed photos, our exclusive
Crutchfield MasterSheet
™ takes the guesswork out of removing the factory stereo and speakers. It's free with your Crutchfield order, or you can purchase one separately for just $9.99.
If you want to keep the factory look, you'll find it easy to add additional features to the Toyota radio. You can add an adapter that lets you control your iPod® with the Toyota radio (and your steering wheel audio controls). Adapters are also available for adding Bluetooth or satellite radio to your Toyota radio.
You can build a full system around the factory radio with new speakers, amplifiers, and subwoofers, but an aftermarket stereo will give you a cleaner sound that will make these upgrades sound even better.
Installation notes: You can't install a car stereo with a fold-down face in this truck. If you have the Toyota satellite radio option, you'll lose it when you install a new stereo.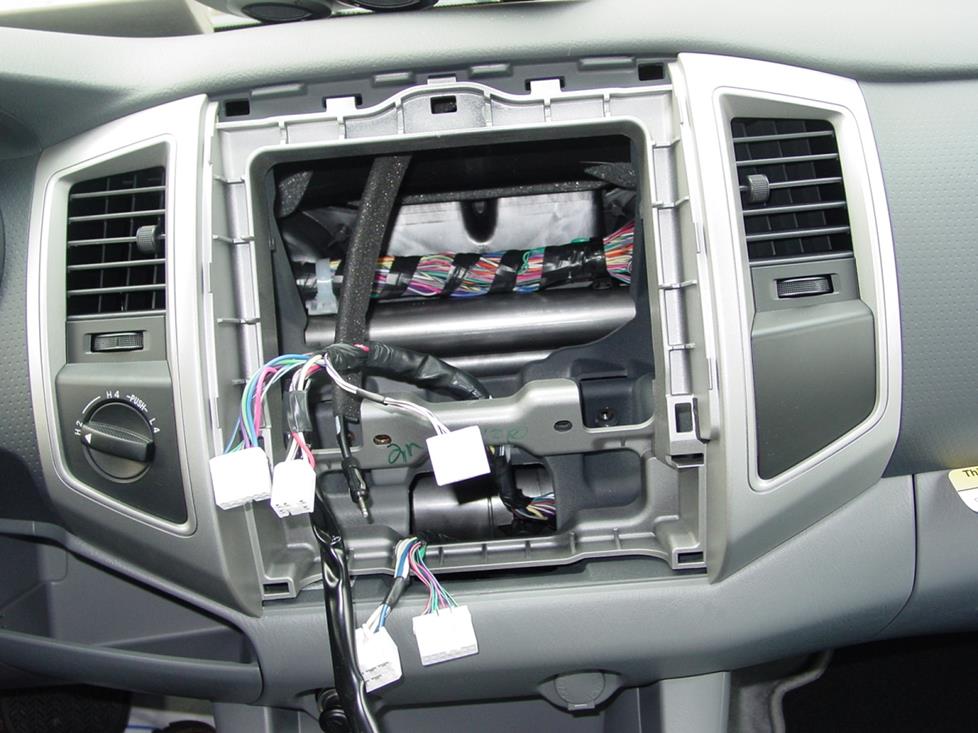 The Tacoma's dash, disassembled (Crutchfield Research Photo)
JBL system
You'll know that you have the upgraded Tacoma system if you see the JBL logo on your truck's radio. You'll need the same dash kit to replace the radio in the JBL system, and you'll also need a special wiring harness that retains the JBL system amplifier. It's a lot easier to keep the JBL amplifier for a couple of reasons.
First, you'll have to run new wires from your new radio to each of the speakers in order to bypass the JBL amp, which is a time-consuming job. Second, you might think that keeping the JBL amp will mean that you won't hear a change in sound quality, but a new aftermarket receiver will send a cleaner signal to the amp and you'll hear the difference.
Metra offers a Toyota wiring interface to plug into the factory harness and keep the JBL system's amplifier working. Crutchfield offers a very nice discount on this special adapter and the necessary mounting kit.
If you have the Toyota satellite radio option, you'll lose it when you install a new stereo.
Steering wheel audio controls
It's relatively easy to retain the steering wheel audio controls when you install a new stereo in your Tacoma. When you enter your vehicle information, our database will choose the adapter you need to make your factory steering wheel controls work with your new receiver.
Tools needed: 10mm socket, panel tool
Shop for car stereos that fit your Toyota Tacoma
Replacing your factory speakers
The front door speaker removal and replacement process is the same for all cab styles, but there are some differences between the AccessCab and DoubleCab models. The removal instructions are also the same for base and JBL models, but when you replace the low-impedance JBL factory speakers with 4-ohm aftermarket models, you might notice some changes in volume levels. Pay attention to impedance when you're speaker shopping.

The front door in a Tacoma DoubleCab with the 6-speaker system (Crutchfield Research Photo)
Basic 6-speaker system
This basic system comes equipped with tweeters in the upper front doors, 6"x9" speakers in the lower front doors, and 6-1/2" speakers in the rear doors. Toyota typically uses 4-ohm speakers in their factory systems, so most aftermarket speakers will work well in the Tacoma.
Front door speakers
The Tacoma's front door houses a 6"x9" speaker molded to a mounting bracket. You can install an aftermarket 6"x9", 6-1/2" or 5-1/4" speakers with the mounting brackets that we'll include with your speaker purchase. A nice set of component speakers would be a great choice for this Toyota.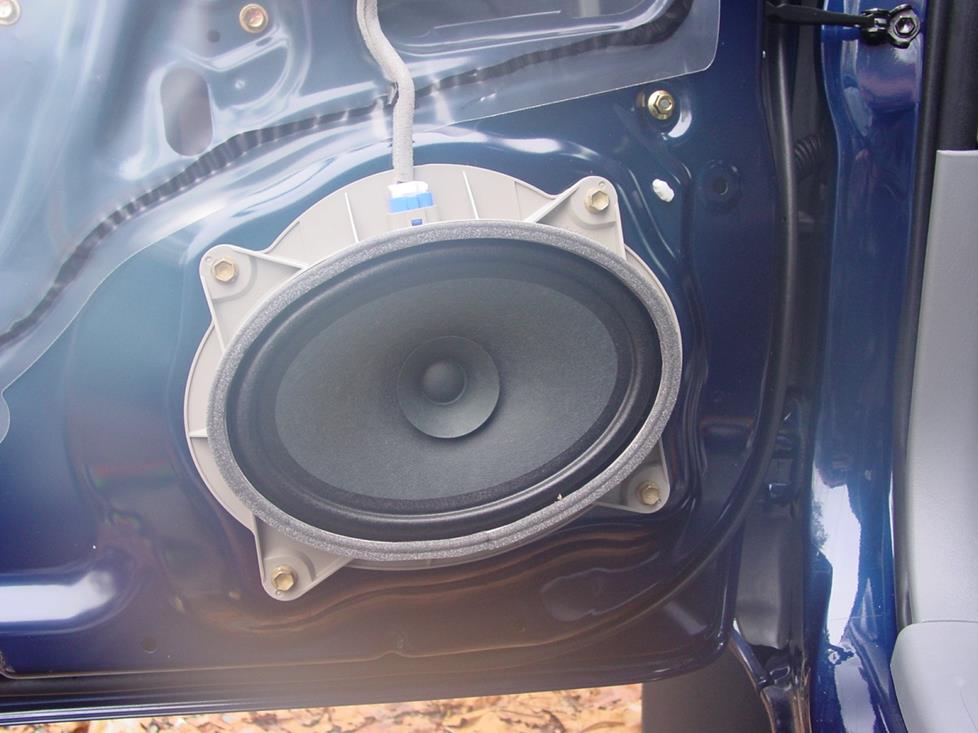 The factory 6"x9" speaker in its molded bracket (Crutchfield Research Photo)
You'll have to remove the door panel to get to the factory speaker, which is attached to the door with four 10mm bolts. The factory speaker is molded to the bracket, so you'll need a new bracket to mount any aftermarket speaker.
To get the door panel off, you'll start by removing the sail panel. When you (carefully) pull it off, the little white retaining clips stay in the door. Make sure you pull those clips out of the door (if they didn't come out with the sail panel) and reattach them to the sail panel. Otherwise, when you push the panel back into place, it'll push the clips into the door.
Use Posi-Products speaker connectors to connect your new speakers to the factory wiring, so you won't need to splice into the factory wires or cut the factory plug to attach a new speaker.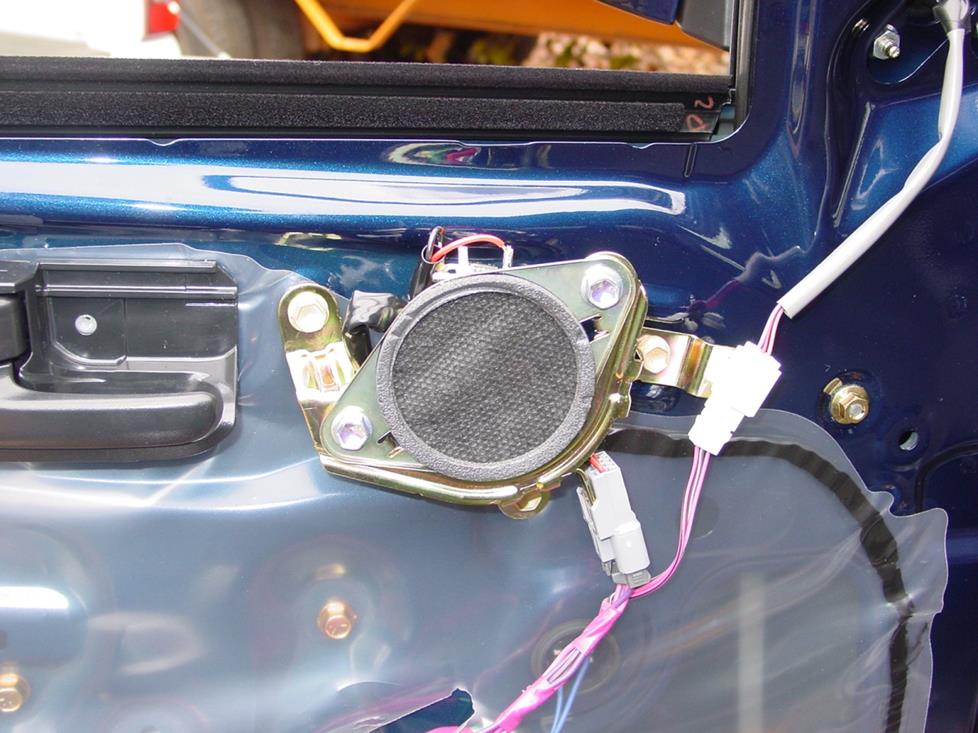 All Tacomas have front door tweeters (Crutchfield Research Photo)
Front door tweeters
The Tacoma's tweeters are located in the front door just below the window. If you decide to disconnect the tweeters and put full-range speakers in the front door woofer location, you'll need to do a little work. The speaker wires are paralleled together at the tweeter location, so the Crutchfield-supplied speaker harness won't work if you're unplugging the tweeter.
You can cut off the factory heat shrink off the plug pictured above, cut the connections when they parallel together, and connect them to your speakers.
Now here's the good news – if you're installing new tweeters, look for a tweeter with a threaded hole on the back. Then you can use a backstrap to mount the tweeter to the holes in the factory tweeter bracket.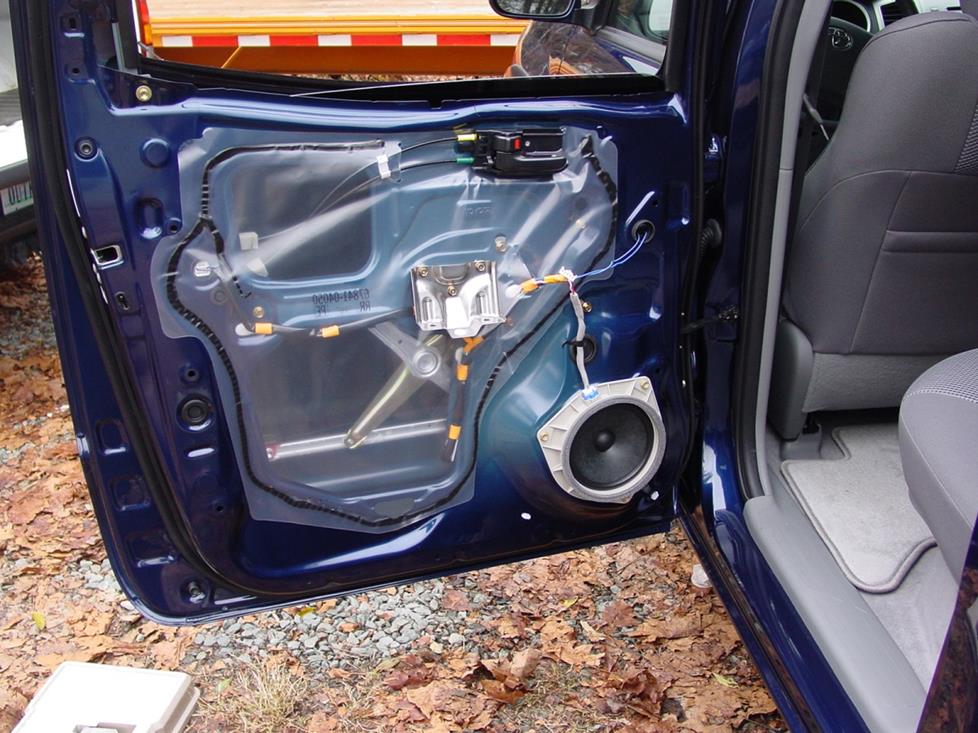 The DoubleCab's rear door with the panel removed (Crutchfield Research Photo)
Rear speakers
You'll find 6-1/2" speakers in the rear doors of the Tacoma DoubleCab, and you'll need to remove the rear door panel to access this location. You can replace these speakers with aftermarket 6-1/2" or 5-1/4" size speakers by using a mounting bracket. There is a wiring harness available for the rear speakers so cutting or splicing won't be necessary. The process is the same for both the base and JBL systems.
In the 2005-2008 Tacoma AccessCab, the door speaker removal process is similar, and it's all explained in your Crutchfield MasterSheet. In 2009-up models, however, the door speaker location was eliminated and the rear speakers relocated to the headliner. These factory speakers cannot be replaced without extensive custom work on the headiner, so we don't recommend it for the average DIY-er.
Tools needed (AccessCab): Small flat-blade screwdriver, 10mm and 14mm socket, T25 Torx driver, panel tool
Tools needed (DoubleCab): Phillips screwdriver, small flat screwdriver, 10mm and 14mm socket, panel tool, wire stripper/crimp tool, crimp caps
Shop for speakers that fit your Toyota Tacoma
Bass in your Toyota Tacoma

JL Audio Stealthbox® installed (photo courtesy of JL Audio)
The Tacoma's JBL system includes an 8", 2-ohm subwoofer on the back of the cab wall. Removing and replacing this sub isn't exceptionally difficult, but there are a few steps involved and you'll want to work patiently and stay organized. You can replace the stock sub wth a shallow-mount aftermarket model, but you'll need to drill new mounting screw holes to secure it. That's not a tough job, but you are drilling a hole in your truck, so you'll want to work carefully, know what's around the area you're drilling into, and wear eye protection.
If you're looking to add a subwoofer to your Tacoma's system, JL Audio offers custom subwoofer enclosures that will fit behind the rear seat in the DoubleCab or Access Cab. There are also many powered subwoofers or shallow subwoofer enclosures that will fit under a seat in those trucks or even the Standard Cab. Finding room for an amplifier to power your subwoofer shouldn't be a challenge either. Enter your vehicle information to see the custom sub enclosures that fit your Tacoma.
Shop for vehicle-specific subwoofers for your Toyota Tacoma
Other options for your Tacoma
Here are some other ways to improve your Tacoma:
Amplifiers
If you're installing new speakers in your truck, an amplifier will give you an enormous boost in sound quality, providing the clean power and headroom that an in-dash receiver just can't deliver. This truck really is a great candidate for component speakers in the front doors, and an amp will give you maximum performance from a nice set of components.
Note: We don't recommend using an amplifier with the factory speakers as they are built for lower power handling.
Satellite radio
If your factory radio came equipped with satellite radio, you will lose that option with a new car stereo. Look for a new car stereo that'll work with an outboard SiriusXM tuner, or consider adding a Dock-and-Play satellite radio that you can take from car to car.
Navigation
An aftermarket in-dash navigation receiver is a great option for your Tacoma, because there's plenty of room behind the dash. Not only will you get great directions, but you'll love using the touchscreen to control your new audio system.
Security
Installing a security system in your Tacoma isn't easy (security systems rarely are), but it's definitely a good idea. Our Crutchfield Advisors can help figure out what you need to get the job done, but we usually recommend taking your car and new gear to a professional installer.
Shop for car security systems for your Toyota Tacoma
Find the audio gear that fits your car or truck
Visit our Outfit My Car page and enter your vehicle information to see stereos, speakers, subs, and other audio accessories that will work in your vehicle.