2006-2010 Hyundai Sonata
Upgrading the stereo system in your Sonata
2006 • 2007 • 2008 • 2009 • 2010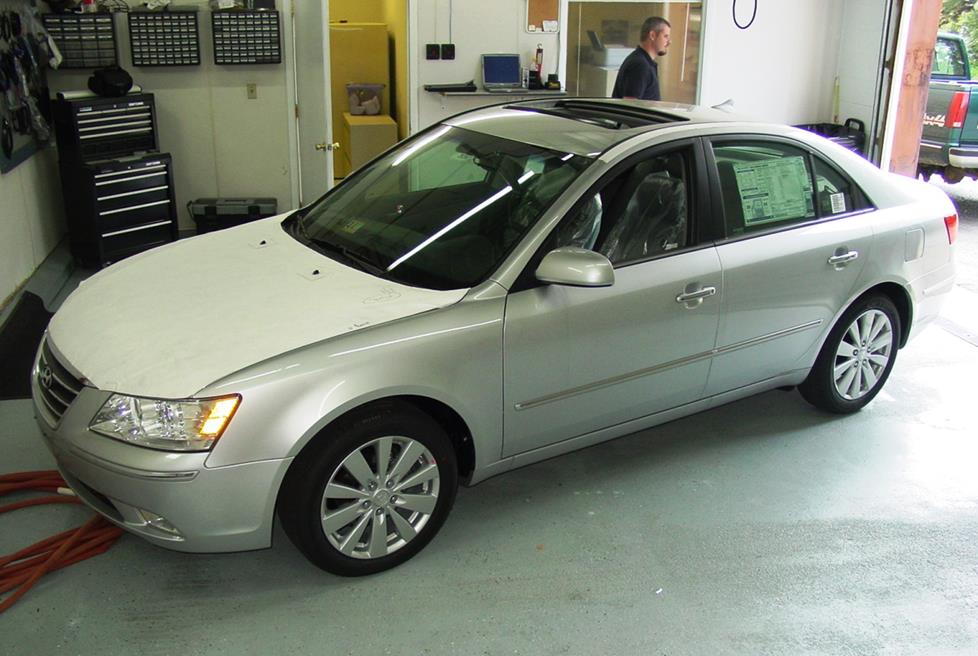 In brief: This Crutchfield Research Garage article gives you an overview of your Sonata's stock stereo system and your aftermarket upgrade options. Use our vehicle selector to find the gear that will fit your Hyundai.
Overview of the Hyundai Sonata
The first Hyundai sold on these shores, the ironically named Excel, was an awkward, wheezing lump that fell apart even faster than it sold. Cheap as dirt and only slightly more mechanically advanced, it still attracted thousands of buyers who couldn't resist its singular combination of bargain price and new car smell. As a consumer product, the Excel was quite successful. As a car, it combined the styling of a covered litter box, the comfort of a waiting room chair, and the reliability of a cable TV installer.
Oh, how times have changed. Forget about the Excel (please) — Hyundai is building some seriously good cars these days. A mere twenty years after the first Excel lurched onto these shores, Hyundai introduced this Sonata, a stylish, well-made sedan good enough to compete head-to-head with any car in its segment. Whether you're considering a used Sonata, or just looking forward to getting more miles out of the one you have, a new stereo system will make your Sonata really sing.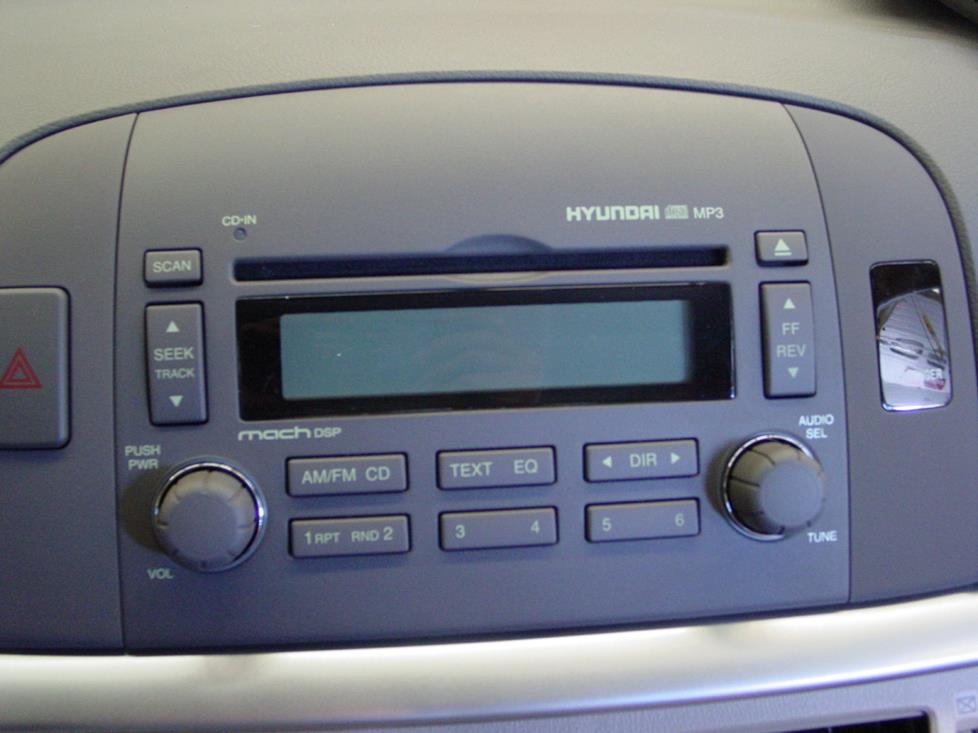 The Sonata's base radio (Crutchfield Research Photo)
Factory stereo system
The Sonata's standard factory stereo system was, like most in this segment of the marketplace, perfectly adequate. The optional Infinity system, however, was generally regarded as pretty darned good. That said; whether you have the standard 6-speaker system or the much-nicer 7-speaker Infinity system, you still have an aging factory system that could use some upgrading. If you want to hear your music at its best, you'll definitely want to install some aftermarket gear.
A variety of single-DIN (2") and double-DIN (4") receivers will fit in the Sonata. You'll need a dash kit to install the new piece in your car's dash cavity, and it's available at a deep discount with your Crutchfield stereo purchase. A wiring harness, which you'll use to connect the new receiver to your car's electrical system, is also available at a very nice price.
That wiring harness does not have a power antenna connection, so you'll need to connect the new stereo's power antenna wire directly to the car's power antenna connection.
You'll need to bypass the Premium system's factory amp (located in the trunk) when you upgrade the receiver. We also recommend replacing the low-impedance factory speakers with standard 4-ohm aftermarket speakers to prevent overheating and other damage to the new receiver. You can also add an aftermarket amp to get the best sound out of your system.

The optional Infinity stereo was a big improvement (Crutchfield Research Photo)
Replacing your factory radio
The "when" (hopefully soon) and "where" (in your garage or driveway) of replacing the Sonata's standard stereo are pretty obvious. The "how" depends on your car's dash design, which depends on the car's model year. Hyundai redesigned the instrument panel for 2009, so removing the radio in 2006-08 models is a slightly different task than it is in later Sonatas.
The good news is that the process is pretty basic, either way. The better news is that each Crutchfield stereo or speaker purchase comes with our legendary Crutchfield MasterSheet, which gives you detailed, illustrated disassembly instructions.
Detailed stereo and speaker removal instructions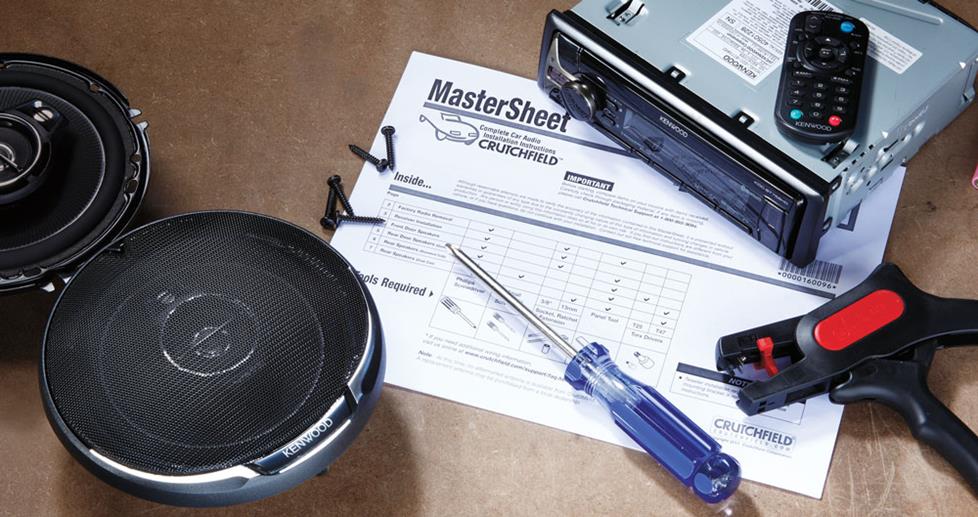 With step-by-step disassembly instructions and plenty of up-close, detailed photos, our exclusive
Crutchfield MasterSheet
™ takes the guesswork out of removing the factory stereo and speakers. It's free with your Crutchfield order, or you can purchase one separately for just $9.99.
On the 2006-08 cars, you'll need to bend the factory radio's rear support bracket to make room for a new double-DIN stereo, but that's not as hard as it might sound.
On the 2009-10 models, that nifty new dash design means you won't be able to install a receiver with a fold-down face. You'll also lose the factory satellite radio capability, but there are plenty of aftermarket receivers that work with a SiriusXM tuner (sold separately), so you won't have to give up any of your favorite programs.
Other than that, the job is pretty straightforward. You'll need a panel tool and a Phillips screwdriver to do it, and we also recommend having a small container handy to store and sort the various screws you're removing. You'll need them to put the dash back together.
Tools needed: Panel tool, Phillips screwdriver
Shop for car stereos that fit your Hyundai Sonata

The 2009-10 door panels don't look like the 2006-08s, but the disassembly process is the same. Note the sail panel tweeter. (Crutchfield Research Photo)
Replacing your factory speakers
Installing aftermarket speakers in the Sonata offers a few challenges, but it's nothing the average do-it-yourselfer can't handle. The 2006-08 and 2009-10 Sonata door panels don't look alike, but the steps involved in removing and replacing them are the same.
Front door speakers
You'll need to remove the door panels to access the speakers, and the number of steps involved is just one indication of how much effort Hyundai now puts into building a solid car. Again, it's not hard, but you'll be removing a lot of screws, so be sure to keep them organized throughout the process, because you'll need them again when you put the door back together.
Tweeters
The speaker replacement process starts with the removal of the sail panels. If you're working with a base factory system, the sail panel is just a sail panel. With the Infinity system, the sail panels house the tweeters. There's no mounting bracket available, so you'll need a pair of our universal backstraps (or some other method) to secure new tweeters. If you're replacing an Infinity stereo system, a set of component speakers, which include seperate woofers and tweeters, is a great choice for the Sonata.
Woofers
Replacing the door woofers begins with drilling out the four rivets that secure the speakers. If you can operate a power drill, you can do this, but be sure to work carefully and wear eye protection any time you're drilling in a car.
You'll also need to use the drill to create new mounting holes. Once you've removed the old speaker, place the speaker bracket in the speaker location. Align the bracket so that the wires will pass through the opening in the bracket, then mark the locations for the new mounting holes. Once that's done, remove the bracket and drill the holes with a 1/8" bit.
Secure the speaker to the bracket following the instructions included with the bracket, then pass the speaker wiring through the opening and connect the speaker's wiring adapter to the Sonata's speaker harness. Secure everything in place, make sure the wires aren't interfering with the windows or locks, then test to make sure the speaker is working. If it is, button it all up and move on to the next task.
Tools needed: Panel tool, small Phillips screwdriver, drill, 1/8" and 5/32" bits, flat head screwdriver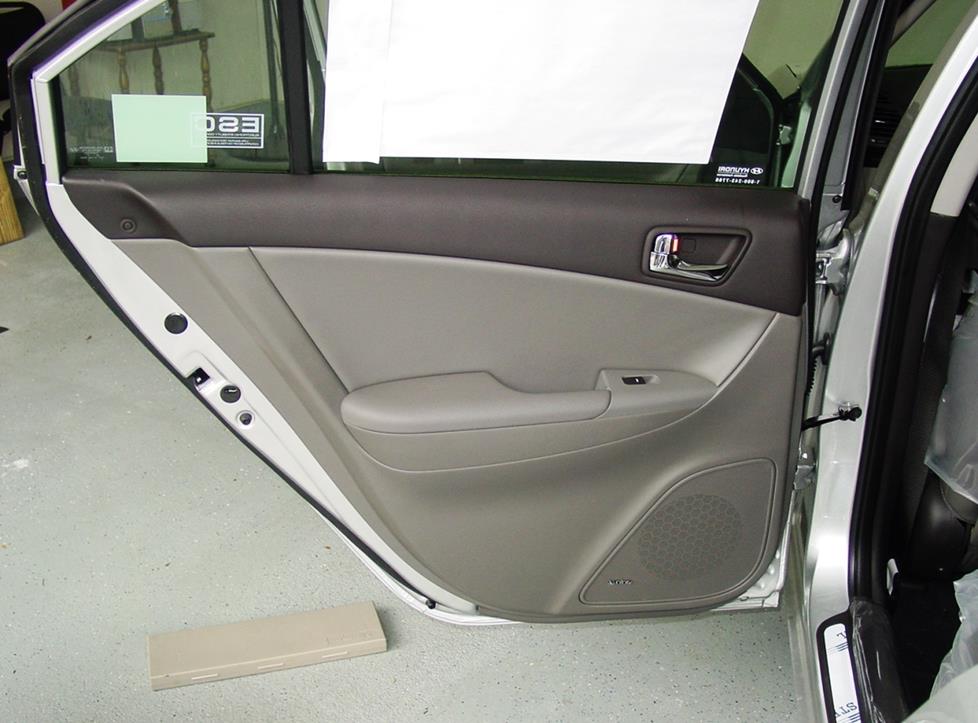 The rear doors went through a restyling as well, but again, the instructions work for all these cars (Crutchfield Research Photo)
Rear door speakers
Removing and replacing the Sonata's rear speakers involves the same tools and techniques used on the front doors. If you can do that, you can do this. If you can't do that, no problem – you can always turn the entire job over to a car audio professional.
Tools needed: Panel tool, small Phillips screwdriver, drill, 1/8" and 5/32" bits, flat head screwdriver
Shop for speakers that fit your Hyundai Sonata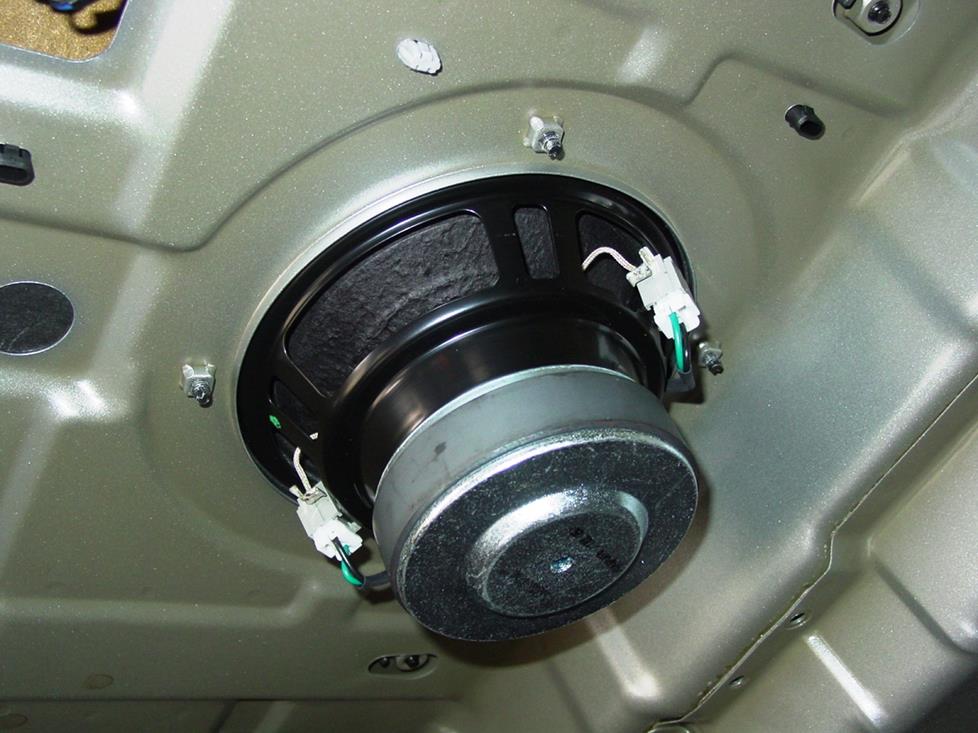 Infinity-equipped cars include this rear deck subwoofer (Crutchfield Research Photo)
Rear deck subwoofer
Sonatas with the Infinity system are equipped with an 8" subwoofer in the rear deck. Replacing this sub isn't impossible, but the job will pose some significant challenges to the inexperienced DIY-er. This might be a job for your local car audio professional.
The rear seat bottom cushion and the rear deck panel must be removed to access the speaker. This isn't hard, but it is time consuming and you really should have someone around to assist with the somewhat-awkward process of wrestling these bits out of the car.
It's possible to find an aftermarket 8" sub with the same bolt pattern as the factory model, but it's not necessarily easy. The factory sub's cutout diameter is also smaller than most aftermarket subs, so you may need to cut into the rear deck steel to create a mounting point for the new piece. If you do it yourself, be careful and wear eye protection. If you're not confident in your metal-cutting abilities, consult a professional.
No speaker wiring adapter is available for this speaker location on the 2006-08 cars, so a set of Posi-Products speaker connectors will be needed to hook everything up. An adapter is available for the 2009-10 models, though.
Tools needed: panel tool, Phillips screwdriver, 10mm and 12mm socket, ratchet, and extension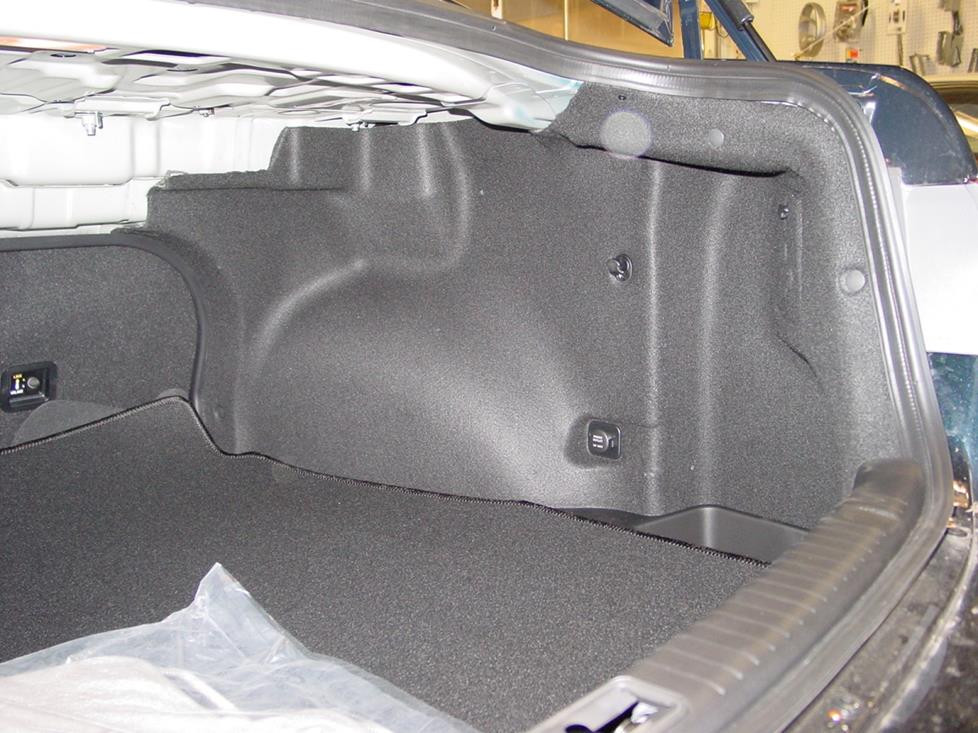 There's quite a lot of space in the Sonata's trunk (Crutchfield Research Photo)
Bass in your Sonata
If you're really into bass and want to build a custom enclosure for the Sonata's trunk, you have a 38" W x 18" H x 32"/38" D space to work with. If you have everyday practical considerations to think about, you may want to go with something smaller, like a powered subwoofer.
Shop for vehicle-specific subwoofers for your Hyundai Sonata
Other options for your Hyundai Sonata
There are lots of ways to improve your Sonata's comfort and performance. Here are a few ideas:
Noise damping
The Sonata is, by and large, a reasonably quiet car. But if you really care about sound, you'll want to keep wind and road noise away from your musical enjoyment. Installing Dynamat in the doors when you're replacing the speakers can really help quiet things down in the good way. If you're installing a sub, lining the trunk with Dynamat will seal in the thump and keep the trunk lid from rattling, too. If you're really serious about sound, you might want to line the floors, as well.
iPod® and satellite radio adapters
Crutchfield carries a variety of adapters that let you add iPod control or satellite radio to your factory stereo system. Of course, if you're replacing the factory stereo, your new receiver will most likely feature built-in iPod control. You can also add SiriusXM Satellite Radio to most aftermarket stereos.
Security systems
Installing a security system in your Sonata isn't easy (security systems rarely are), but it's definitely a good idea. Our Crutchfield Advisors can help figure out what you need to get the job done, but we usually recommend taking your car and new gear to a professional installer.
Shop for car security systems for your Hyundai Sonata
Find the audio gear that fits your car or truck
Visit our Outfit My Car page and enter your vehicle information to see stereos, speakers, subs, and other audio accessories that will work in your vehicle.