2006-2014 Honda Ridgeline
Upgrading the stereo system in your Ridgeline
2006 • 2007 • 2008 • 2009 • 2010 • 2011 • 2012 • 2013 • 2014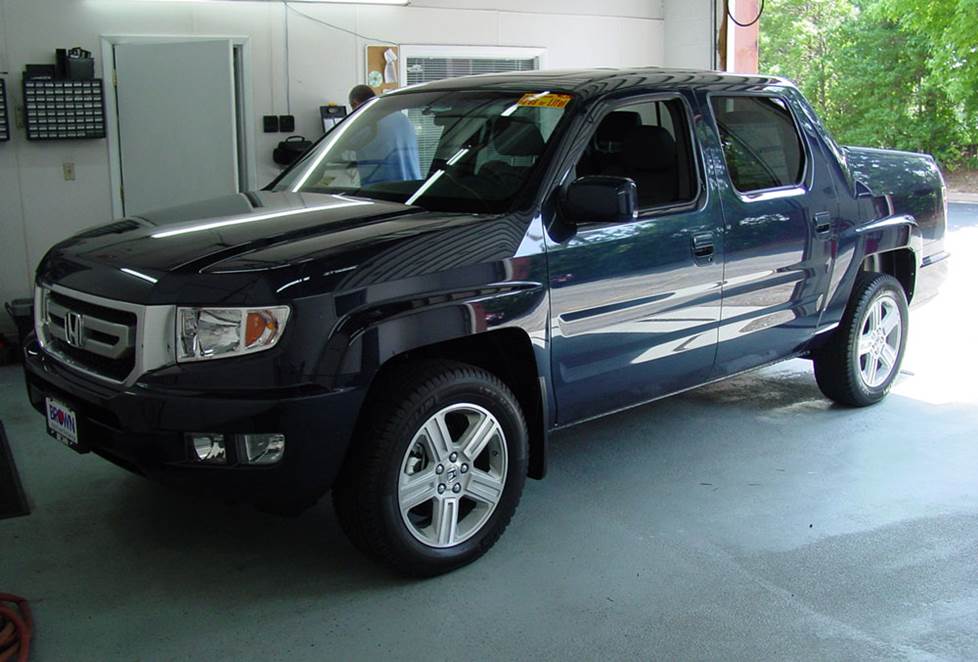 In brief: This Crutchfield Research Garage article gives you an overview of your Ridgeline's stock stereo system and your aftermarket upgrade options. We'll tell you all about:
Then, use our vehicle selector to find the gear that will fit your Honda.
Overview of the Honda Ridgeline
When Honda decided to build a pickup, they could've aimed straight at the big, brawny best-sellers from Ford, GM, and the rest. But, because they're Honda, they went their own way and came up with this. The Ridgeline is a pickup, yes, but it's unlike any other pickup out there.
It's as though Honda reviewed two decades of pickup-related TV advertising, edited out all the things most pickup owners never actually do, and designed a truck for the stuff that was left. As a result, a stock Ridgeline might not be quite right for the grim-faced, mountain-jumping, bull-wrestling people who live in pickup ads, but it's just fine for the rest of us.
The Ridgeline is comfortable, capable, and competent, plus, like all Hondas, it's as reliable as a kitchen timer. If you want to start jumping mountains, there are plenty of aftermarket performance parts out there. But if you just want to enjoy your music on your commute, we have the aftermarket audio gear you need right here.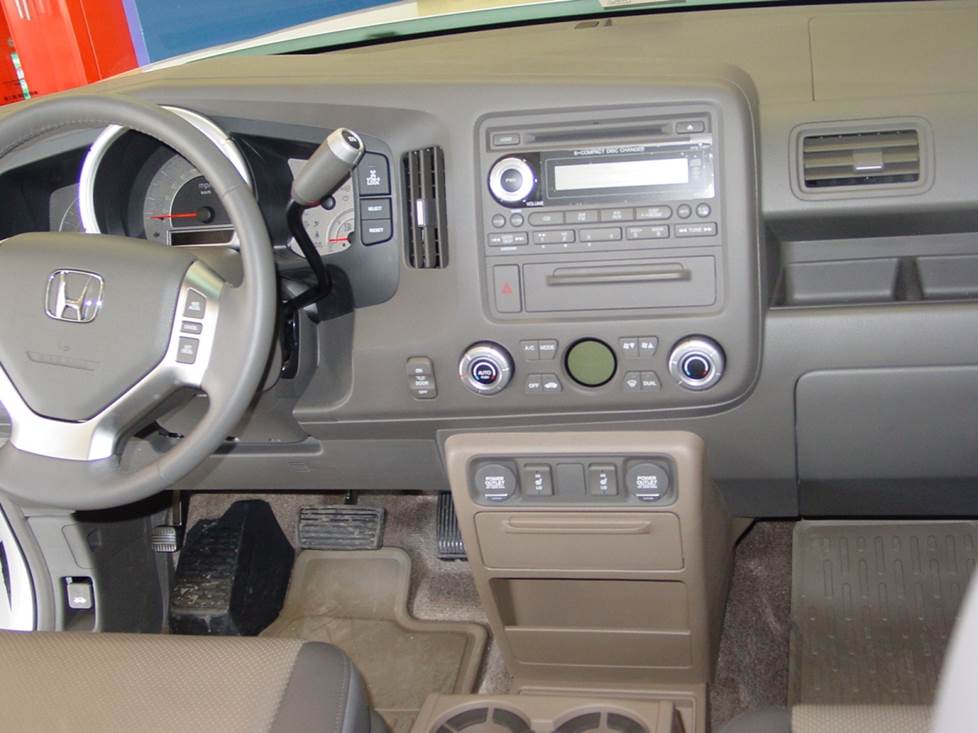 The factory radios aren't terribly hard to replace, and you have lots of aftermarket options (Crutchfield Research Photo)
The factory stereo system
The Ridgeline's factory stereo options were pretty decent, all things considered. The standard receiver was an AM/FM/CD/MP3 unit with XM radio that played through a seven-speaker audio system. The upgrade was a navigation receiver with the same basic features and speakers, plus built-in Bluetooth® connectivity.
When you replace the factory radio, you'll lose features like the factory XM satellite radio, plus the nav (if present) and the factory subwoofer and subwoofer amplifier (again, if present). A wide variety of DIN (2" tall) and double-DIN (4" tall) receivers will work in this truck, so you'll have no problem replacing and upgrading anything you lose.
You'll need a dash kit to install a new receiver, and it's available in colors that match your dash perfectly. The kit and wiring harness are not free, but you'll get a very nice discount when you order from Crutchfield. You'll also get a free Crutchfield MasterSheet with complete, illustrated instructions on removing the factory audio gear from your Ridgeline.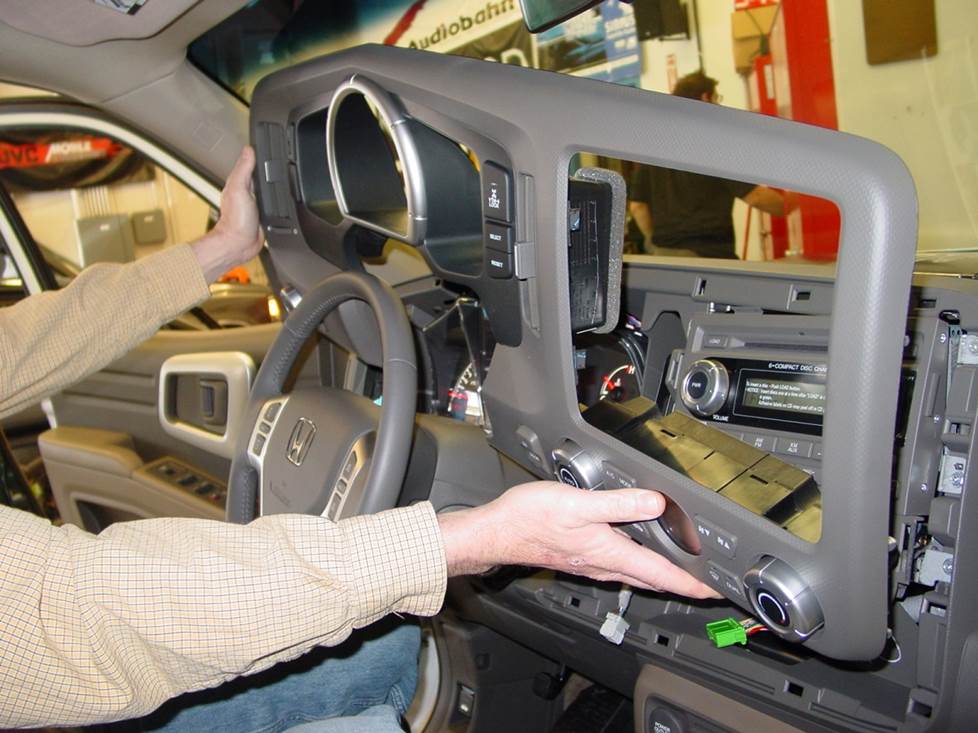 You'll need to remove the dash panel to get to the radio (Crutchfield Research Photo)
Replacing the factory radio in your Ridgeline
Regardless of which factory radio you're removing, the radio replacement process is the same. It's not a difficult process, but you will be removing the entire dash panel (from the driver's side edge to the other side of the radio, anyway), so work carefully.
You'll start by using the shift lock release to move the gear lever to the lowest position and tilting the steering column to its lowest position. With those out of the way, use a panel tool to pry around the edges of the instrument panel and loosen it up. When you can, carefully pull the panel out enough to disconnect all the wiring harnesses, then remove the panel.
Detailed stereo and speaker removal instructions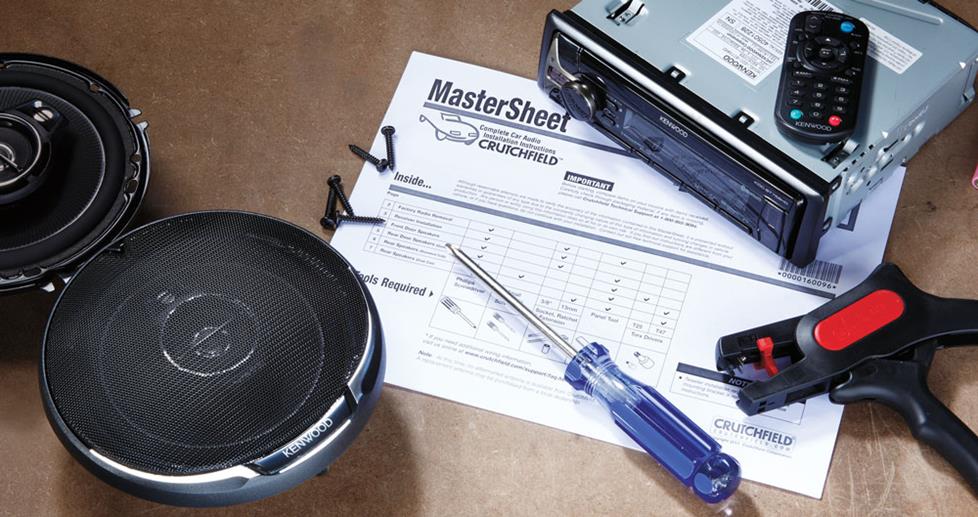 With step-by-step disassembly instructions and plenty of up-close, detailed photos, our exclusive
Crutchfield MasterSheet
™ takes the guesswork out of removing the factory stereo and speakers. It's free with your Crutchfield order, or you can purchase one separately for just $9.99.
That, believe it or not, it the hard part. From here, just remove five Phillips/8mm screws securing the radio, then pull the radio out and disconnect it from the factory wiring.
The dash and wiring kit purchased along with your stereo order comes with instructions on how to connect your new receiver to the dash kit. If you have any questions, your Crutchfield purchase also gets you free lifetime tech support, so just give us a call.
Tools needed: Phillips screwdriver, 8mm driver, small flate blade screwdriver, panel tool
Shop for car stereos that fit your Honda Ridgeline
Steering wheel audio controls
It's relatively easy to retain the steering wheel audio controls when you install a new stereo in your Ridgeline. When you enter your vehicle information, our database will choose the adapter you need to make your factory steering wheel controls work with your new receiver.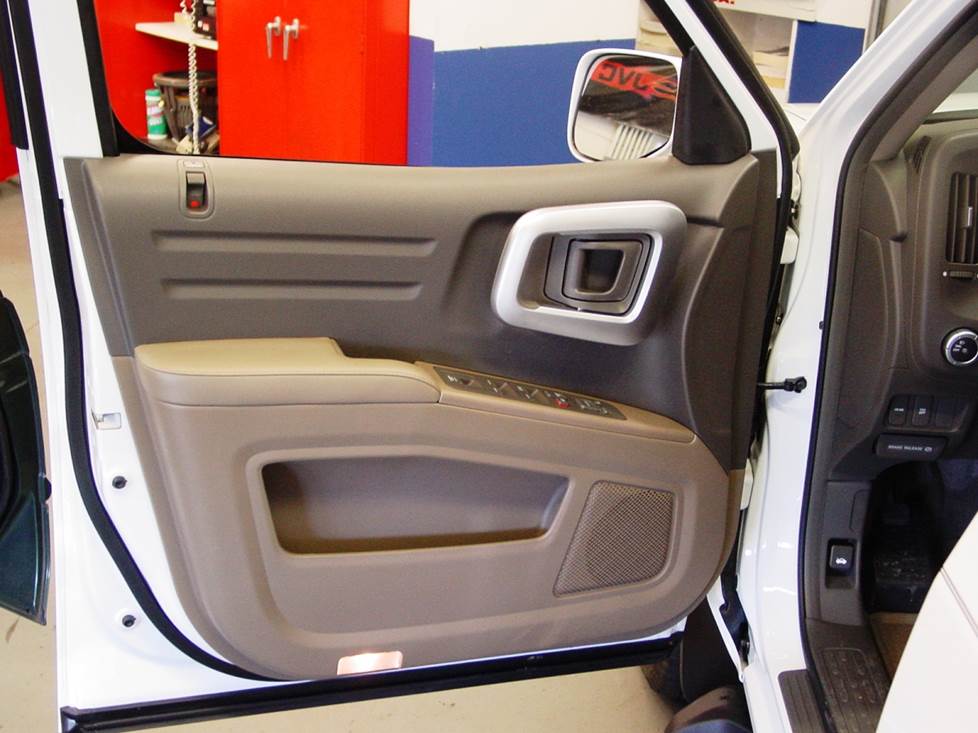 A wide variety of aftermarket speakers will fit in the Ridgeline's front doors (Crutchfield Research Photo)
Replacing the factory speakers in your Ridgeline
The Ridgeline has speakers in the dash and doors. Some models are equipped with an 8" subwoofer, which is located behind the rear seats.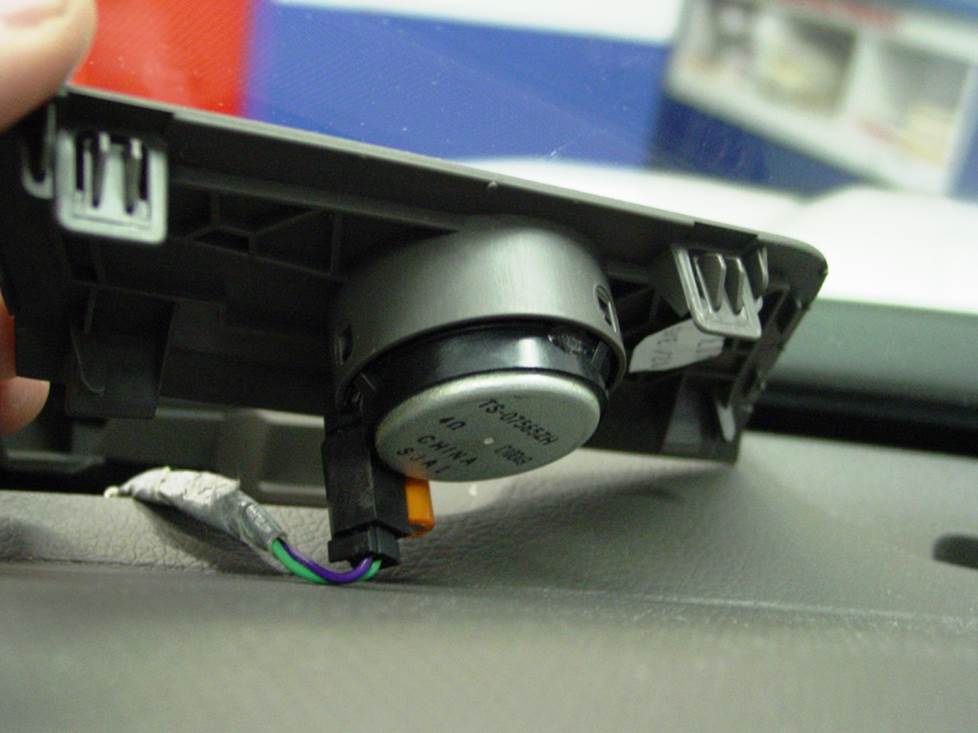 The dash tweeters are located on the corners of the dashboard (Crutchfield Research Photo)
Removing your Ridgeline's dash speakers
The two dash tweeters are located on the far front corners of the dashboard, near the base of the windshield. Each one measures a bit over 1-1/2" in diameter, and they're not that hard to reach and replace.
Starting at the edge closest to the windshield, pry up the speaker/grille assembly, lift it out, disconnect the wiring, and remove it. Then, pry open the speaker retaining clips and remove the speaker.
No mounting brackets are available for these speaker locations, so you'll need to use a set of our universal backstraps (or hot glue or silicone) to secure your new tweeters. You might need mounting screws here, so check the speaker box before you start and hit the hardware store if you need to.
These tweeters are wired in parallel with front door woofers, so this is a great spot for component speakers.
Tools needed: Small flate blade screwdriver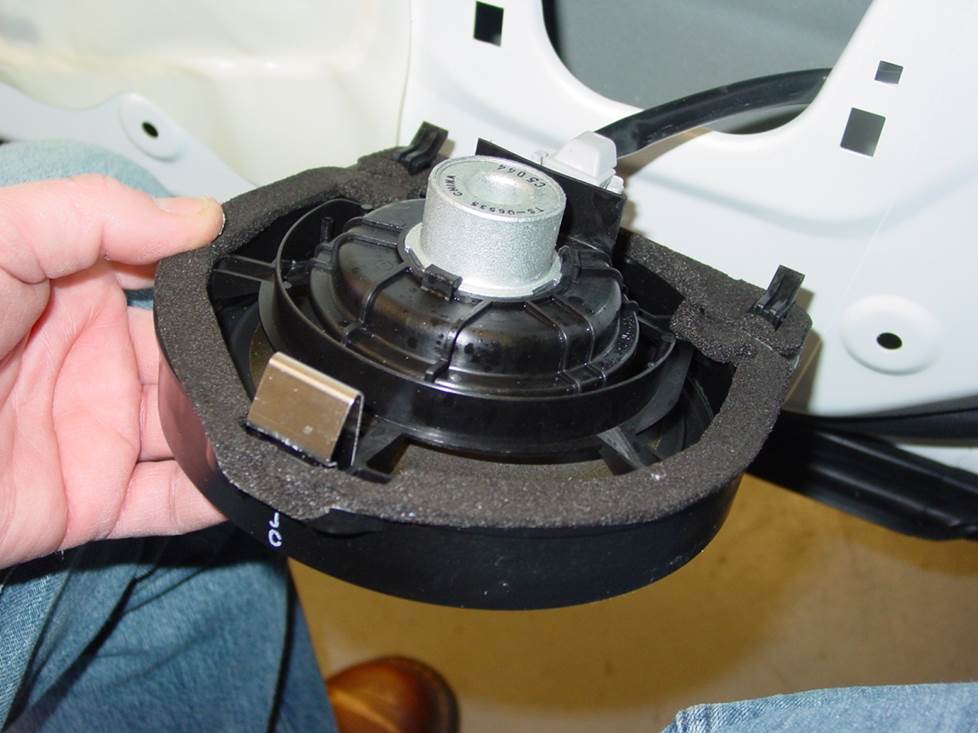 See the tabs and slots? That's why you'll be drilling new mounting holes (Crutchfield Research Photo)
Removing your Ridgeline's front door speakers
The front door woofers are 6-1/2" component pieces that can be replaced by same-size, 5-1/4", or 6-3/4" aftermarket speakers. This isn't a tough task for the average DIY-er, but you will need to drill new mounting screw holes for your aftermarket speakers.
If you've ever operated a cordless drill at all, you can do this – but don't get cocky. You're drilling into a truck made of metal, not a piece of wood, so pay attention to what's around and behind the spot where you're about to drill. You don't want to damage wires, windows, or the truck's door. You also don't want to drill out your own eyeball, so wear eye protection.
As we noted above, this isn't hard, but there are a few steps involved, so it's important to be organized and stay patient. You'll need to remove the door panel, so have a good, clean storage space ready for it before you get to work.
Start by prying off the sail panel and releasing the retaining clip. Then, pry out the screw cover behind the door release handle and remove two 7mm screws. Pull out the door release assembly and disconnect the door release cable, then remove the three exposed Phillips screws.
Next, pry out the rubber mat at the bottom of the door pull cup and remove another exposed Phillips screw. From here, just (gently) pry out the side and bottom edges of the door panel, lift it off, disconnect the harness, and set it aside. You'll remove the speaker by pressing down on the top clip and releasing it from its slot.
As you disconnect the wiring harness, you can take a look at the three speaker mounting points and start to see exactly why you have to drill new mounting holes. After basking briefly in that moment of clarity, place your new speaker mounting bracket over the cavity and use it as a template to mark the new mounting holes. Put the assembly aside and (carefully) drill out the holes with a 1/8" bit.
Once that's done, secure the speaker to the bracket, attach the bracket to the door, get everything hooked up, and test the speaker to make sure it's working. Before you replace the panel, make sure the wires aren't interfering with the windows or the door locks.
Tools needed: Phillips screwdriver, small flat blade screwdriver, panel tool, 7mm socket, ratchet and extension, power drill and 1/8" bit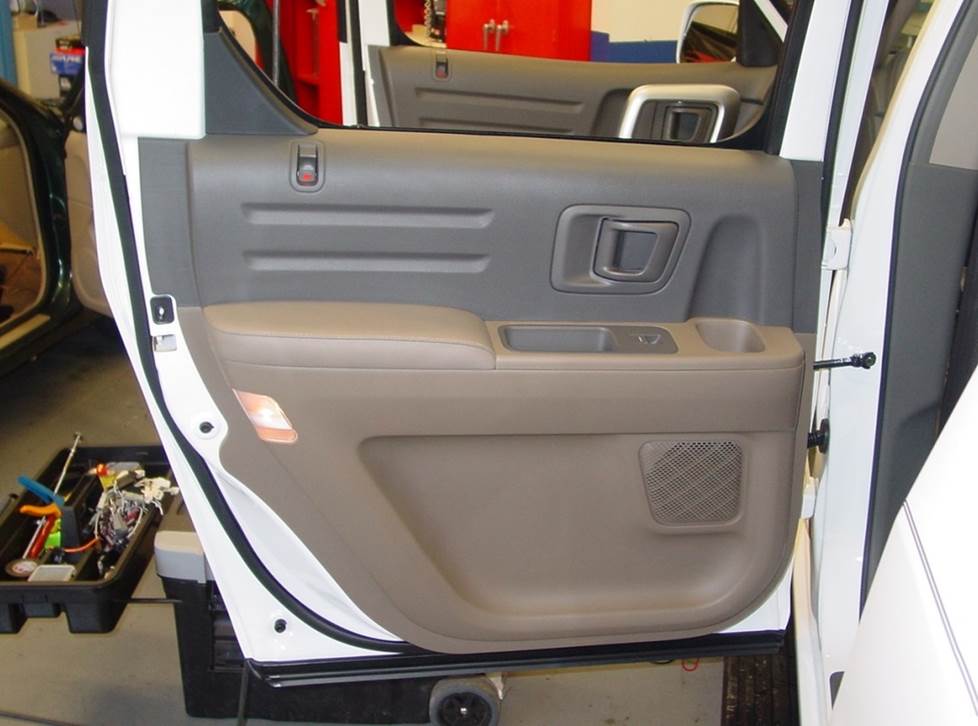 Replacing the rear door speakers involves basically the same process used up front (Crutchfield Research Photo)
Removing your Ridgeline's rear door speakers
Replacing the rear door speakers is almost exactly the same as it is up front. You'll have the same array of speaker size options to choose from (5-1/4", 6-1/2", 6-3/4") and you'll use the same tools – including your eye protection. Especially that.
Detailed, illustrated disassembly instructions can be found in your MasterSheet, of course.
Tools needed: Phillips screwdriver, small flat blade screwdriver, panel tool, 7mm socket, ratchet and extension, power drill and 1/8" bit
Shop for speakers that fit your Honda Ridgeline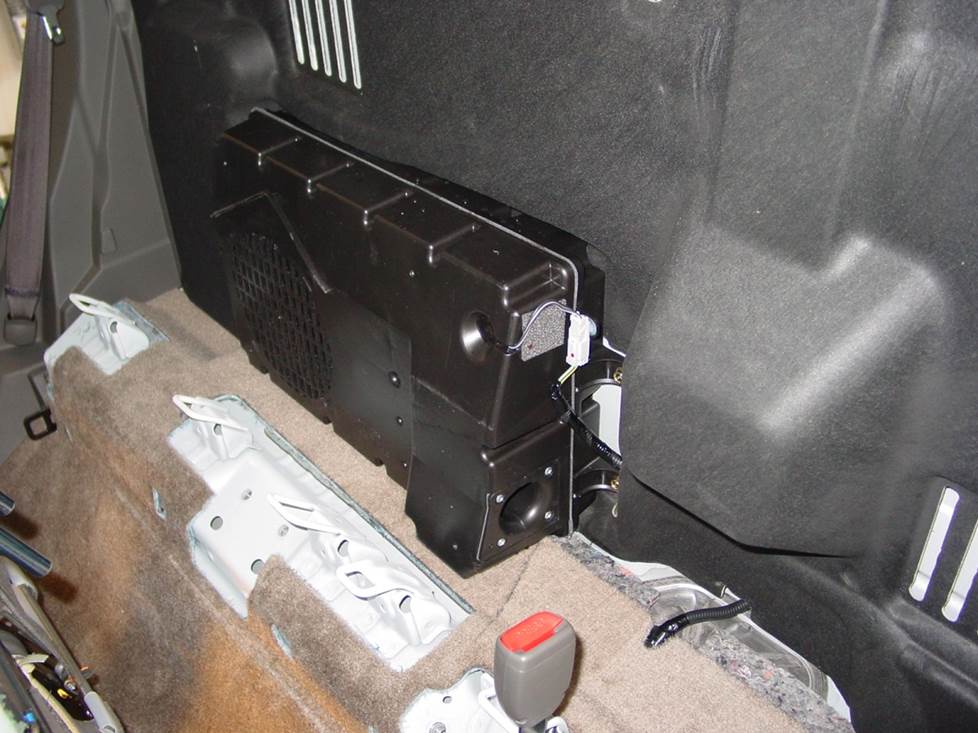 The sub is located behind the rear seats (Crutchfield Research Photo)
Bass in your Ridgeline
The factory subwoofer is located in a plastic enclosure behind the rear seat, on the passenger's side. The rear seat assembly must be removed to access the enclosure, but that isn't as hard as it probably sounds. It is kind of involved, though, so make sure you've got time to do it right, have some bowls or mugs handy for all the screws you'll be removing, and, above all, stay patient.
The factory sub is an 8", 2.5-ohm model that's mounted in a snug little enclosure designed to fit into this rather tight space. There are some shallow-mount 8" subs that will work here, but there are some things you should know about this swap, so talk to a Crutchfield advisor before placing an order. You'll also need to fabricate a mounting bracket to secure your subwoofer. This takes some work, but if retaining your truck's factory look and functionality is as important as better bass, it's worth it.
Complete details on the entire seat removal/sub replacement process can be found in your MasterSheet. Again, it's kind of a long list, but it's not nearly as bad as it looks. If you have questions, just give us a call and we'll help you find the sub you need. We'll also help you find an amplifier to go with it, because the factory model isn't up to the demands of a powerful aftermarket subwoofer.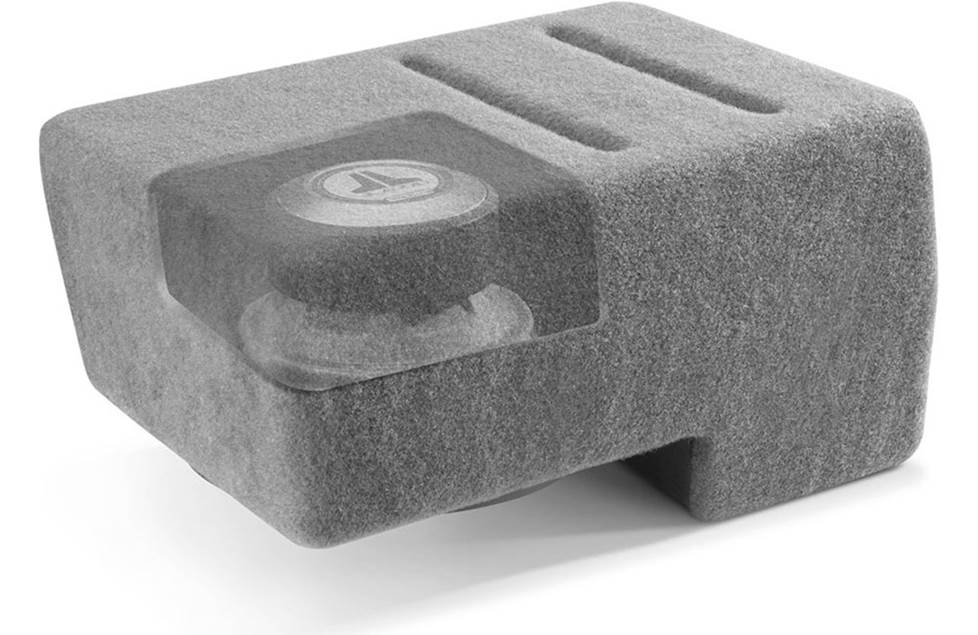 This JL Audio Stealthbox has a 10" sub inside. It's designed to work in the Ridgeline
There are other options, though. A big sub box or a powered sub in the backseat could work, but those aren't exactly practical solutions. The Ridgeline-specific JL Audio Stealthbox comes loaded with a 10" sub and fits underneath the rear seat. It's available in Beige or Gray
If you really, really dig bass and you want to add a couple of large subs to your Ridgeline, you'll have to build a custom enclosure (like this guy did) that fits under the rear seats. Will it involve some hard work? Yes, but if you want more thump in your truck, it's a smart way to go. If you're not that handy, your local custom audio shop can probably handle the job if you can handle the bill.
Tools needed: Panel tool, 10mm and 14mm sockets, ratchet and extension
Shop for vehicle-specific subwoofers for your Honda Ridgeline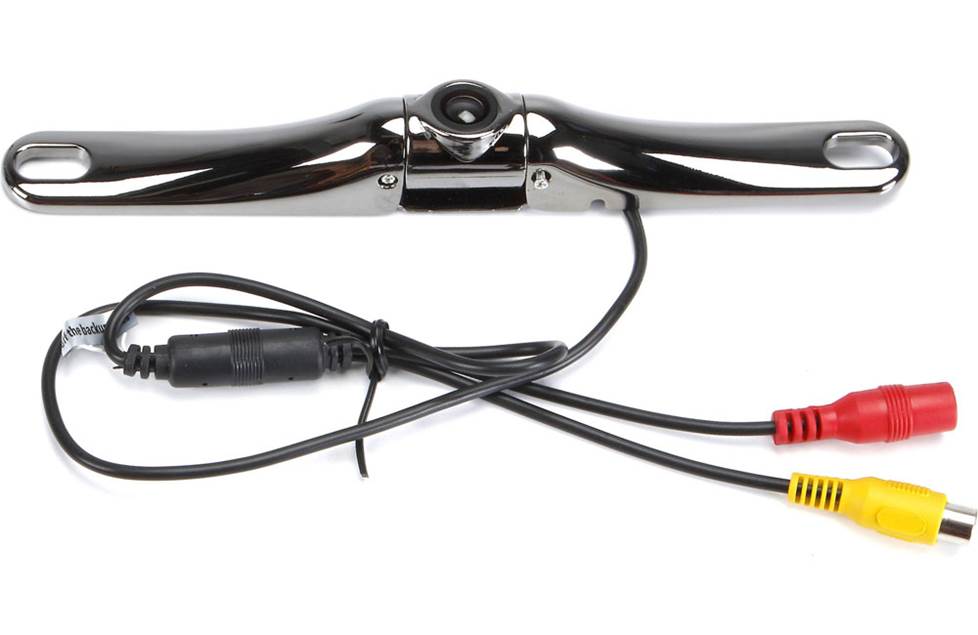 The Accele RVCLPMBS rear view camera mounts on your Ridgeline's license plate
Other options for your Ridgeline
The aftermarket offers an amazing variety of other ways to improve your Ridgeline. Here are some of the ways Crutchfield can help.
Add a rear-view camera
The Ridgeline isn't a huge vehicle, but it's not exactly a Honda Fit, either. A rear-view camera can be a big help when you're backing up in a crowded parking lot. We offer cameras from Kenwood, Alpine, Pioneer, and more. Some are designed to work with same-brand receivers only, but others come with a composite video connector and will work with almost any video receiver.
Install some sound deadening
Like most big, boxy trucks and SUV's, the Ridgeline can roar a bit at highway speeds. To combat wind noise and road roar, you can install Dynamat in the doors and (if you install a big sub) rear area. This sound-deadening material will keep the noise out and allow you to really enjoy your music.
Protect your truck with a security system
Installing a security system in your Ridgeline isn't easy (security systems rarely are), but it's definitely a good idea. Our Crutchfield Advisors can help figure out what you need to get the job done, but we usually recommend taking your truck and new gear to a professional installer.
Let's get started!
Ready to shop? Use our vehicle selector to find the gear that will fit your car or truck. If you have questions, give us a shout via phone, chat, or email