2006-2009 Ford Fusion and Mercury Milan
Upgrading the stereo system in your Fusion or Milan
2006 • 2007 • 2008 • 2009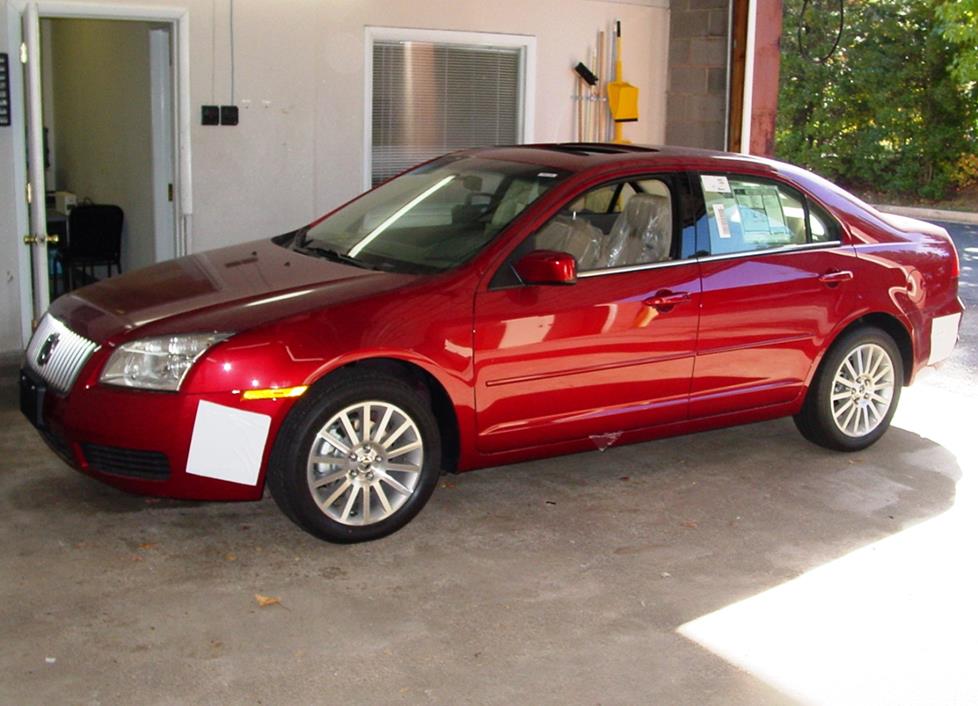 In brief: This Crutchfield Research Garage article gives you an overview of your car's stock stereo system and your aftermarket upgrade options. We'll tell you all about:
Then, use our vehicle selector to find the gear that will fit your Fusion or Milan.
Overview of the Ford Fusion and Mercury Milan
When the Ford Fusion and Mercury Milan (shown) debuted in 2006, the occasion was much more than your average, ho-hum new car introduction. These cars marked Ford's return to the hotly contested mid-size sedan market it once dominated with the extraordinarily popular Taurus/Sable twins. Considering the size of the segment and the investment involved, this intro was a very big deal.
Thankfully, Ford brought forth a very good car. With a nimble chassis, handsome styling and the expected array of available options, both the Fusion and the Milan were well-liked by the motoring press and well-received by the buying public. Yes, the base model was a fleet staple, but the upmarket cars were more than a match for competitors in the segment.
Save for exterior styling differences and slightly different interior trim, the Fusion and the Milan were essentially identical cars. Thus, our Vehicle Profile covers both at the same time. Whichever one you choose, you'll be getting a smart, sleek, comfortable car with plenty of potential for audio upgrades.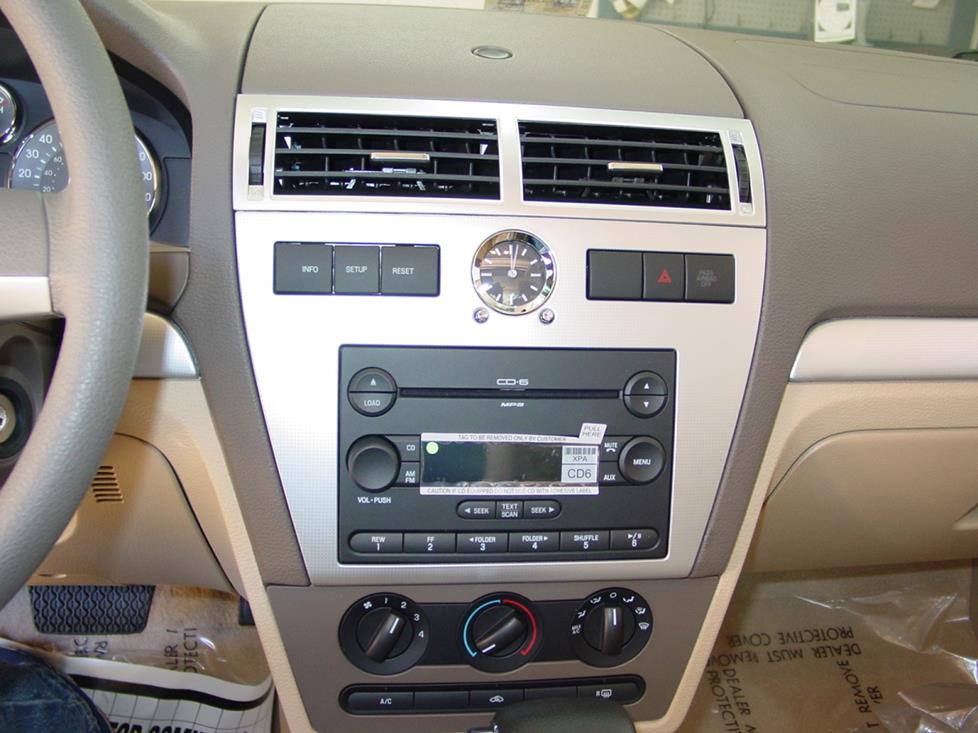 This AM/FM/CD/MP3 6-disc receiver can be found in many Fusions and Milans. (Crutchfield Research Photo)
The factory stereo system
As befitting a car intended to appeal to a wide demographic, the Fusion/Milan was available with a variety of factory stereo systems.
The base model, which you might recall from a drive out of the airport rental lot a few years back, was an AM/FM/CD/MP3 single disc player with an MP3 audio input and four speakers. The next step up was an AM/FM/CD/MP3 6-disc player with an MP3 input, Sirius satellite radio capability and six speakers.
A half-step up from that was a similar system with iPod/iPhone integration and a USB input. The top-of-the-line Audiophile system featured a 6-disc AM/FM/CD/MP3 player and eight speakers. A DVD navigation system was added in 2007 and Ford's popular SYNC system made its Fusion/Milan debut in 2008.
If you replace the factory radio, you'll lose the factory nav and/or the AUX input connection.

The Fusion/Milan, seen here with the factory radio removed (Crutchfield Research Photo)
Removing the factory radio
When it comes to replacing the factory stereo equipment, the Fusion/Milan is generally easy to work with. The factory receivers are easy to reach and remove, and they can be replaced with a wide variety of aftermarket models. Single-DIN (2") or double-DIN (4") receivers will fit, with the help of the specially discounted dash kit that's available with your stereo purchase.
Detailed stereo and speaker removal instructions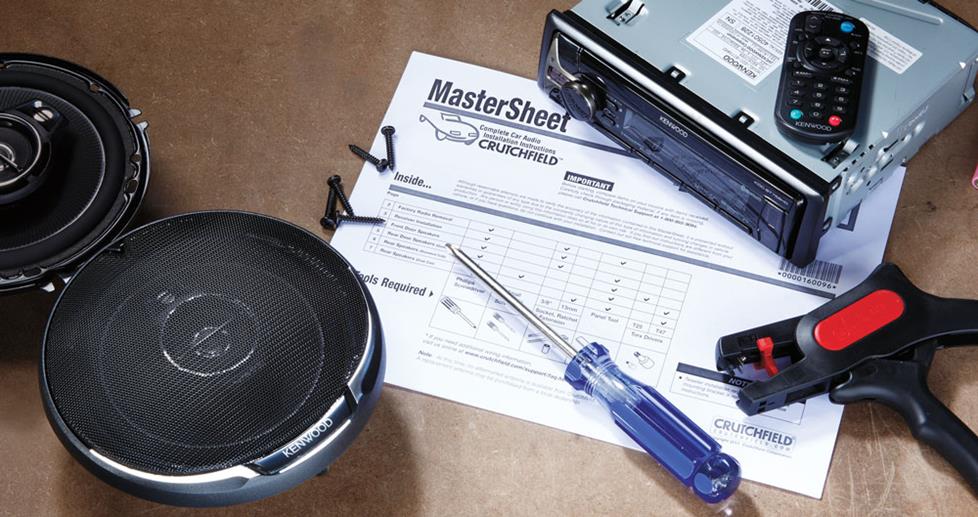 With step-by-step disassembly instructions and plenty of up-close, detailed photos, our exclusive
Crutchfield MasterSheet
™ takes the guesswork out of removing the factory stereo and speakers. It's free with your Crutchfield order, or you can purchase one separately for just $9.99.
Depending on your car's model year and stock stereo system, you will need a wiring harness, an antenna adapter, and/or a factory integration adapter. These parts are all available at a special price with your receiver purchase. Our Kit Finder will help you find exactly the right installation gear for your stereo system
To remove the receiver, start by prying around the edges of the trim panel until it's loose enough to disconnect the harnesses and remove the panel. Remove four 7mm screws from the radio, disconnect the harnesses and antenna, then remove the radio.
Tools needed: Panel tool, socket wrench, extension, and 7mm socket.
Steering wheel controls
It's relatively easy to retain the steering wheel audio controls when you install a new stereo in your Fusion or Milan. When you enter your vehicle information, our Kit Finder database will choose the adapter you need to make your factory steering wheel controls work with your new receiver.
Shop for car stereos that fit your Ford Fusion
Removing the factory speakers

The Mercury Milan's factory front speakers are 5" x 7" models (Crutchfield Research Photo)
Front woofers
The stock front door speakers are 4-ohm, 5"x7" models that can be replaced by a variety of same-size or 5-1/4" aftermarket speakers. You'll need to remove the door panel to access the speakers, but this is an uncomplicated process made easier by the detailed, illustrated Crutchfield MasterSheet™ that's included free with your purchase.
Tools needed: Small flat blade screwdriver, Torx T20, panel tool, socket wrench, extension, and 7mm socket.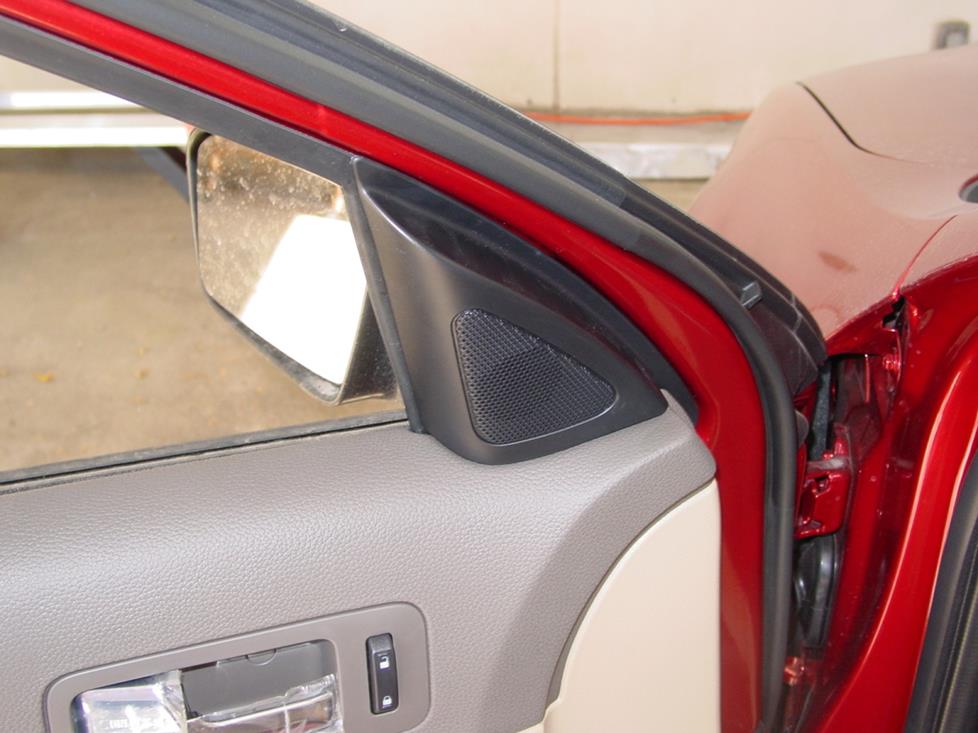 The Milan's tweeters are mounted in the sail panels (Crutchfield Research Photo)
Front tweeters
With the exception of the 4-speaker base models, all Fusions and Milans have 1.5", 6-ohm tweeters in the front doors, wired in parallel with the front door woofers.
The first step towards getting to them is removing the door panel, of course. If you're thinking about improving your car's soundstaging by installing a set of component speakers (which we highly recommend), now's the time to do so. To remove the tweeter, pry off the sail panel, disconnect the harness and remove the panel. Remove the two Phillips screws securing the tweeter to the sail panel, and set the tweeter aside.
A wide variety of component system tweeters will fit here, but a wiring harness is not available. You'll have to cut off the factory connectors and splice the vehicle's speaker wires to your new speaker wires. If you're not interested in splicing and soldering, we highly recommend Posi-Products connectors. They're a lot easier to work with and the connections will last a lot longer.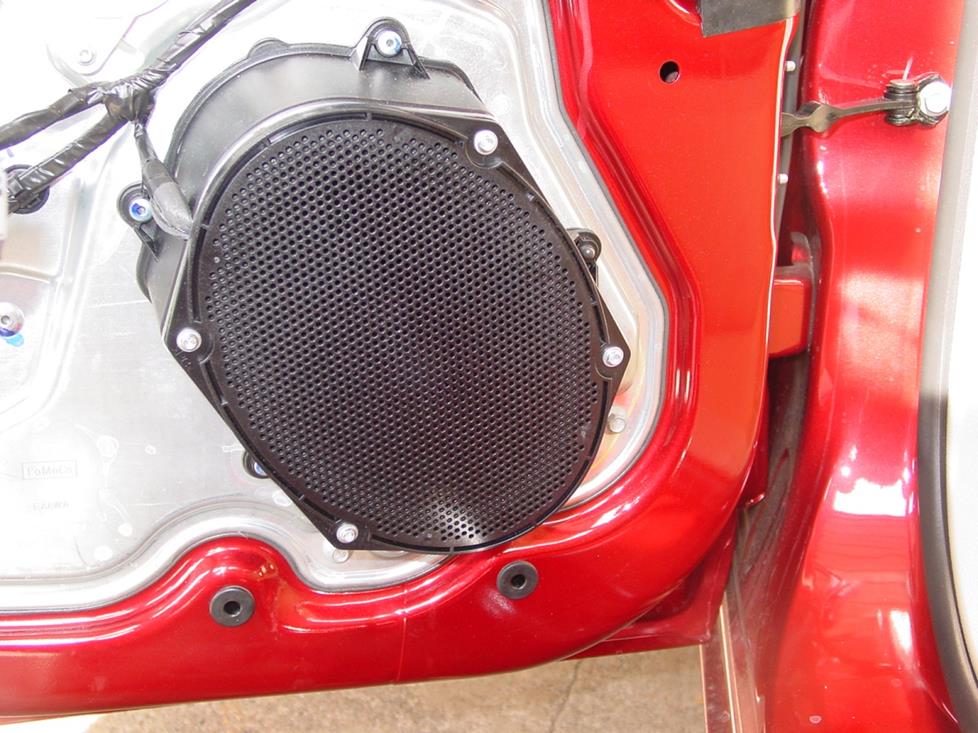 The Milan's rear door speakers are easy to replace (Crutchfield Research Photo)
Rear door speakers
Like the front door speakers, the Fusion/Milan's rear door speakers are 4-ohm, 5"x7" models that can be replaced by a variety of same-size or 5-1/4" aftermarket speakers. You'll need to remove the door panels here as well, taking care to be gentle with the plastic bits and the ten retaining clips that hold the panel in place. All the in-depth instructions can be found in your MasterSheet.
Tools needed: Panel tool, Torx T-20, socket wrench, extension, and 7mm socket.
Shop for speakers that fit your Ford Fusion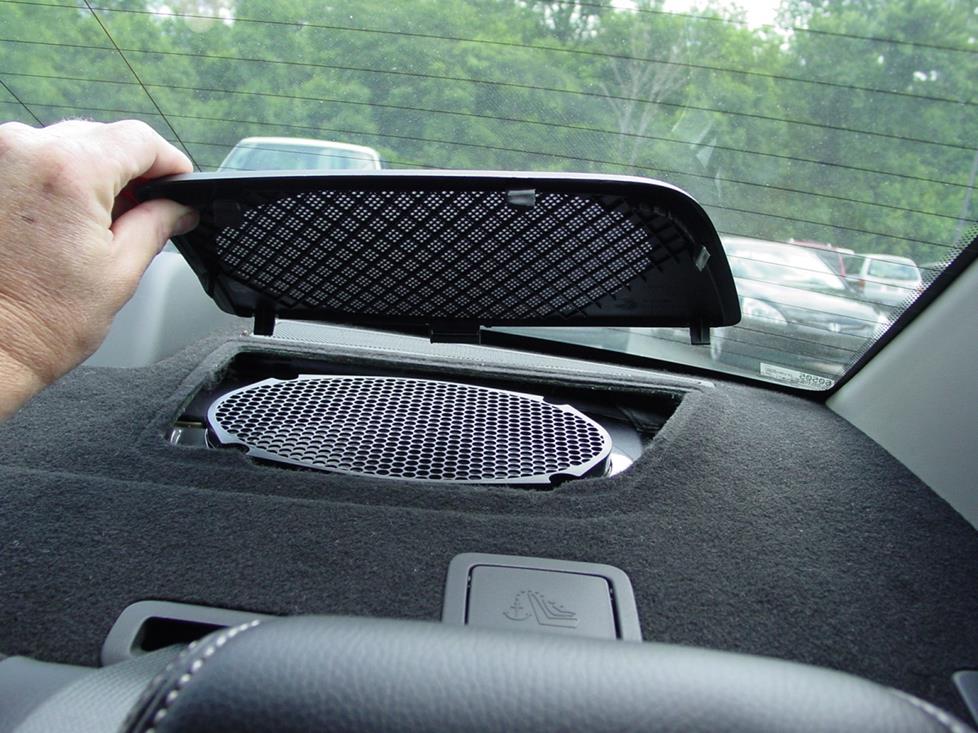 This Milan has two 6x9's mounted in the rear deck (Crutchfield Research Photo)
Bass in your Fusion or Milan
Fusions and Milans equipped with Ford's Audiophile system get an extra dose of sound through a pair of 6x9, 2-ohm subwoofers mounted in the rear deck. These subs are top-mounted, so they're quite easy to access.
You'll start at the front edge and pull up on the speaker grille to release the retaining clips, then pull the grille towards the front of the car until it's free. Remove the four 7mm screws that secure the speaker to the deck, then disconnect the harness and remove the speaker.
These subs are powered by a dedicated subwoofer amp located behind a panel on the right side of the trunk. To get full-range sound from your aftermarket speakers, you'll have to bypass the factory amplifier by splicing the input and output wires together.
Because there's not much room between the speaker and the grille, not many aftermarket 6x9's will fit here. Most likely, you'll be using 6-1/2" or 5-1/4" speakers in this location. In order to mount aftermarket speakers in this location, you'll need to use adapter brackets, which are available at a discount with your Crutchfield purchase.
On the other hand, the location is perfect for a pair of 6-1/2" subwoofers. Most of these will have an impedance rating of 4 ohms, so you'll need to install a new amplifier to power them, but you'd have to do that for any other sub anyway. This is one way to drastically improve the bass without losing any space in the trunk.
Tools needed: Panel tool, 7mm right-angle driver.

There's plenty of room for bass in the Milan's trunk (Crutchfield Research Photo)
Aftermarket subwoofers
As you might expect from a family sedan, albeit a sleek and stylish one, the Fusion/Milan offers plenty of trunk space for luggage, groceries, or really important things, like subwoofer boxes.
If you're planning to install a large component subwoofer enclosure in your car, the Fusion/Milan offers 43" W x 15" H x 38" D1 x 28" D2 worth of available space. There's also room to install the aftermarket subwoofer amp you'll need to power your new subwoofer. (see below).
If you want to improve your sound by boosting the bass, but still need to use your trunk for its intended purpose, we offer a number of powered subs that will fit nicely.
A powered subwoofer (the amp is built-in) will add depth and richness to your music without taking up half your luggage space.
Other options for your Fusion or Milan
With a popular vehicle like the Fusion/Milan, there are lots of ways to upgrade your in-car experience. Here are some of the ways Crutchfield can help.
Amplifiers
The Fusion/Milan has plenty of room under the front seats for an aftermarket amplifier, so if you want to take your sound to the next level, you won't have to worry about space in most cases. Our Crutchfield Advisors can help you find the right amp for your system.
iPod® and satellite radio adapters
If you don't want to replace the factory receiver, you can still add versatility and great sound to the system. We offer several adapters that will allow you to use an iPod, MP3 player, or satellite radio with the factory system.
Dynamat
The Dynamat 10435 Xtreme Door Kit is the perfect way to seal in sound. This heavy-duty insulating material is easy to install, and it really makes a difference. One kit will take care of the front doors. If you install a big sub, you might want to line the trunk lid as well.
Remote start and security systems
Adding remote start capability to your vehicle lets you warm it up in the winter or cool it down in the summer. The iDatastart system is incredibly convenient and makes it easier than ever to install a remote start system, so we highly recommend it. The module requires a vehicle-specific T-harness (sold separately) to connect with your vehicle's computer, security, and ignition systems, so we ask that you call to order so that we can make sure you get the right harness for your ride.
You can also talk to your Crutchfield Advisor about a security system. They're not as easy to install (we usually suggest letting a professional do the job), but we can help you choose a system that'll work in your vehicle.
Let's get started!
Ready to shop? Use our vehicle selector to find the gear that will fit your car or truck. If you have questions, give us a shout via phone, chat, or email