2006-2010 Chrysler PT Cruiser
Upgrading the stereo system in your PT Cruiser
2006 • 2007 • 2008 • 2009 • 2010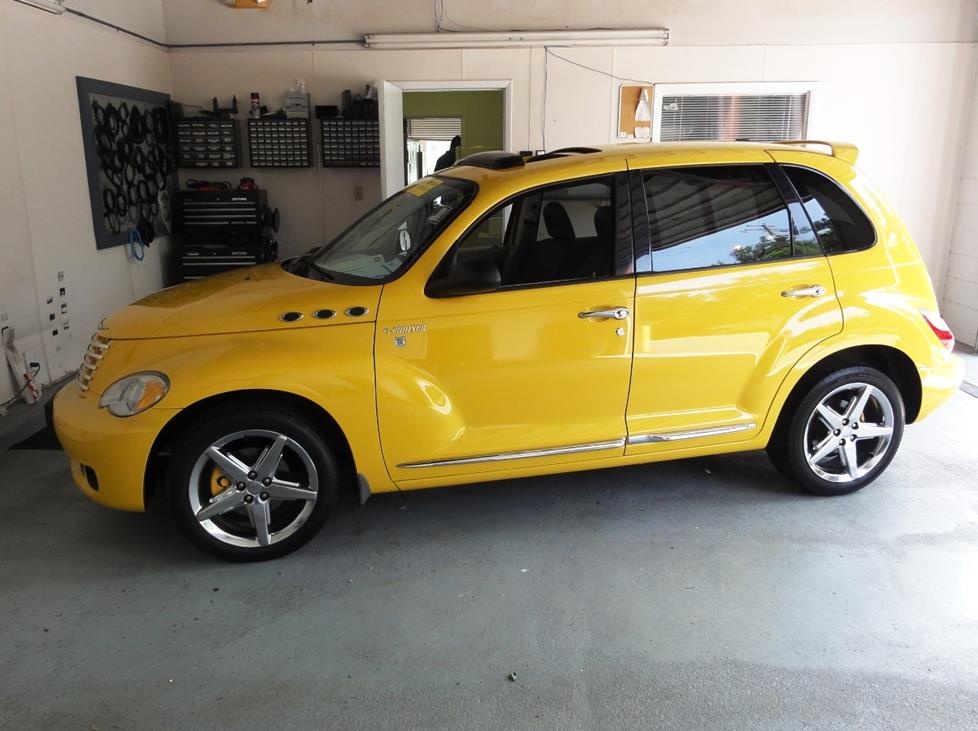 In brief: This Crutchfield Research Garage article gives you an overview of your PT's stock stereo system and your aftermarket upgrade options. We'll tell you all about:
Then, use our vehicle selector to find the gear that will fit your PT Cruiser.
Overview of the Chrysler PT Cruiser
The first-generation PT Cruiser was a big hit for Chrysler, so when it came time for a mid-cycle update, the company faced a bit of a conundrum. How do you make a car that already looks kind of old look new and different without messing up the unique qualities that made it popular in the first place?
To their credit, Chrysler's designers made the "second-gen" PT better without taking anything away from the things that made it great. The exterior received a subtle nip and tuck, while the interior got a major revamp that included a new dash and door panels.
The changes helped make the PT a refreshed and refined version of the completely practical, yet charmingly quirky people-mover it always was. If you're looking for a versatile car with character to spare, the PT Cruiser wagon is a solid choice. There's plenty of space for you, your family, and your stuff. And, of course, a great stereo system.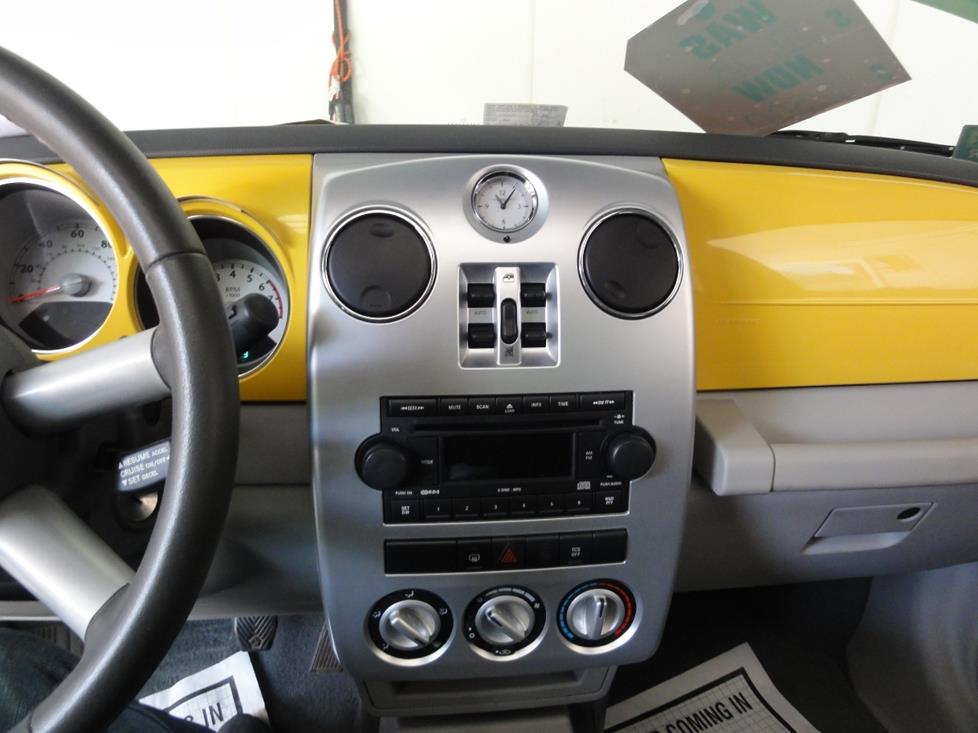 The PT's radio sits in a revised center stack (Crutchfield Research Photo)
The factory stereo system
The original PT's center dash area was a busy place. After the interior redesign, it was still pretty busy, but it was also easier to deal with during a stereo installation. While a 4" double-DIN stereo will not fit (same goes for any receiver with a fold-down face), you can still choose from a wide variety of powerful 2" CD receivers or, if you're travelling disc-free these days, digital media receivers.
The PT's base system was an AM/FM/CD receiver with an AUX jack and six speakers. The optional 7-speaker Boston Acoustics system featured an AM/FM receiver with a built-in 6-disc CD/MP3 player and available Sirius satellite radio. You won't find any Boston Acoustics logos in the PT, but if you find an amp under the driver's seat and a subwoofer in the left rear side panel, you'll know you have a BA system.
When you replace the radio, you'll lose the factory Sirius satellite radio and the factory hands-free cell phone interface. Thankfully, there are plenty of aftermarket receivers that can give you both. If you have the factory amp, you should know that when you replace the factory radio, you'll lose the ability to fade the music from front to rear.
In any event, you'll need a special adapter to install your new car stereo. There are two of these adapters available. The first one, the C2R-CHY4 from PAC lets you integrate the new stereo with your PT's electronics without messing up anything. The second adapter, the RP4-CH11 from PAC also lets you keep your steering wheel audio controls and rear seat entertainment controls, if your PT has them. We strongly recommend that you purchase one of these adapters, and to make it easier, we'll give you a very nice discount when you buy it with any car stereo from Crutchfield.

A closer look at what's behind the PT's factory stereo (Crutchfield Research Photo)
Removing the factory radio
Start by angling the dash air vents toward rear of vehicle. Once they're out of the way, you can remove the Phillips screw that's located in the lowest part of each vent. Next, pull out the receiver trim panel to release the retaining clips. Disconnect the clock and power window harnesses, then let the receiver trim panel hang while you're working on everything else.
Do not disconnect the heater cables and harnesses. It's unnecessary, plus it's also potentially problematic. Now that the radio is exposed, remove the four Torx T20 screws that secure it in the dash, pull it out, unhook everything, and set it aside.
Detailed stereo and speaker removal instructions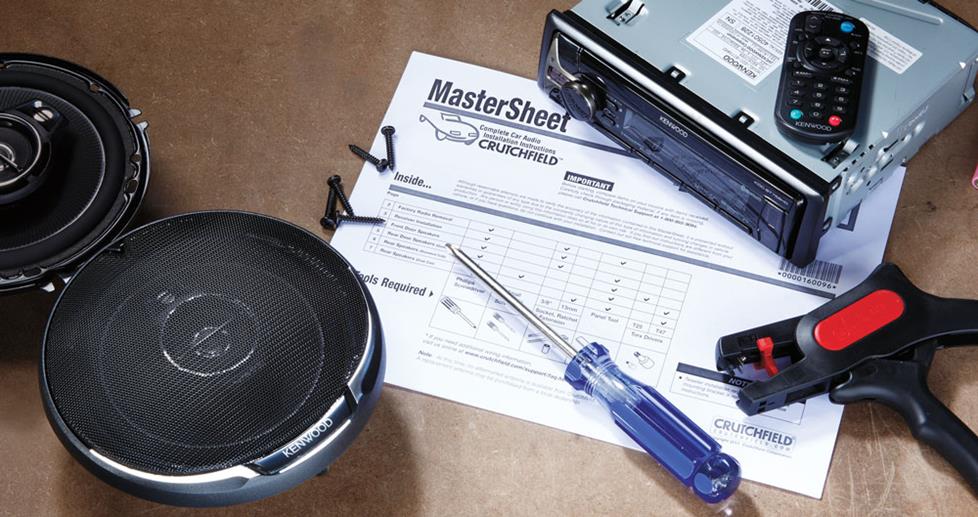 With step-by-step disassembly instructions and plenty of up-close, detailed photos, our exclusive
Crutchfield MasterSheet
™ takes the guesswork out of removing the factory stereo and speakers. It's free with your Crutchfield order, or you can purchase one separately for just $9.99.
Installing your new stereo is largely a matter of reversing the steps you took to remove the old one. To install the new receiver, start by removing the metal DIN sleeve that comes with it. You won't need the sleeve, because the new receiver will be held in place by the mounting kit that's avaiable at a discount with your Crutchfield stereo purchase.
Assemble the mounting kit (instructions are included) and install the new stereo. Plug in the wiring harness and the antenna lead, then re-attach the screws and test everything out. If it works, start putting the dash back together.
Tools Required: Phillips screwdriver, panel tool, Torx T20 driver.
Shop for car stereos that fit your Chrysler PT Cruiser
Removing the factory speakers
The PT Cruiser was equipped with factory speakers in the doors and dash.

The PT Cruiser's front speakers are easy to replace (Crutchfield Research Photo)
Front door speakers
If you have the base radio, your PT's front door speakers are slightly oversized 6-3/4", 4-ohm models. The Boston Acoustics models are the same size, but have a lower 1.7 ohms of impedance. These "oversized" speakers are found frequently in Chrysler and GM vehicles, so same-size aftermarket speakers are plentiful. With the help of an adapter bracket, which is free with your purchase, you can also install a wide variety of 5-1/4" or 6-1/2" speakers.
If you have the Boston Acoustics system, you should replace them with low-impedance speakers (like Infinity or JBL), otherwise you'll have a noticeable drop in volume.
You'll need to remove the door panel, but that's not a difficult process on the PT Cruiser. Just remember to work slowly and carefully, to protect the plastic panels from damage. The full procedure is covered step-by-step in the MasterSheet. We also include the speaker connection harnesses and adapter brackets (if needed) free with your speaker purchase.
Tools needed: Panel tool, Phillips screwdriver, small flat blade screwdriver, 10mm socket, ratchet, and extension.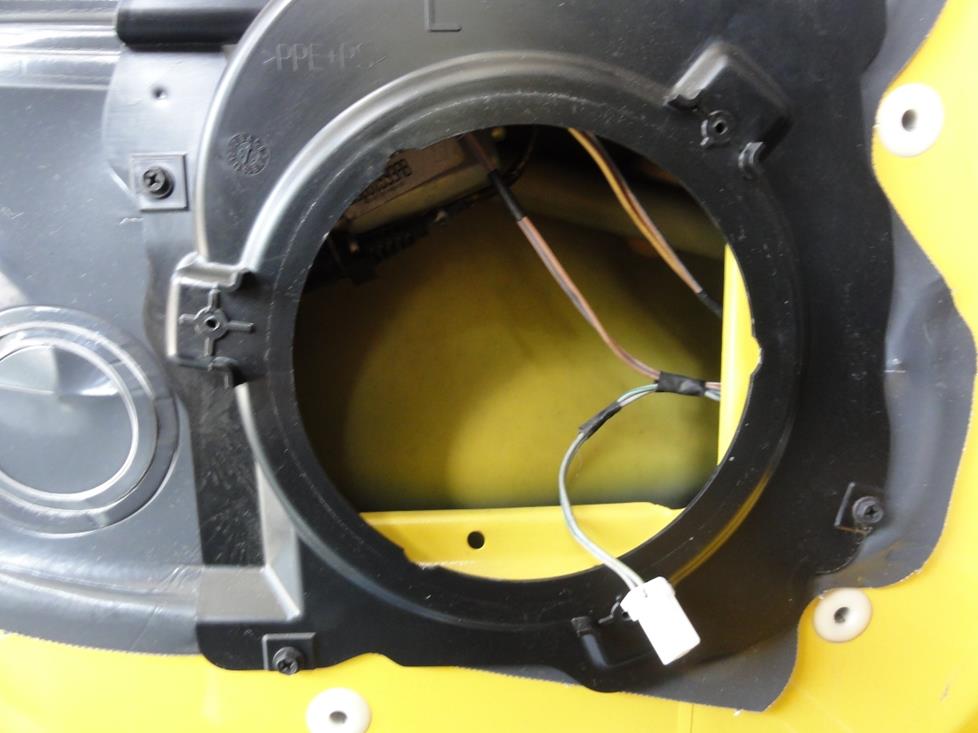 A wide variety of speakers will fit in the PT's doors (Crutchfield Research Photo)
Rear door speakers
The PT's rear door speakers are basically the same as the front door speakers, and so is the process of replacing them. The base models are the same oversized 6-3/4", 4-ohm models found up front, while the Boston Acoustics models differ slightly from their up-front cousins by offering 2.1 ohms of impedance. Still, anything that fits up front should fit back here, so if you like one-stop shopping, you've bought the right vehicle.
Tools needed: Panel tool, Phillips screwdriver, 10mm socket, ratchet, and extension.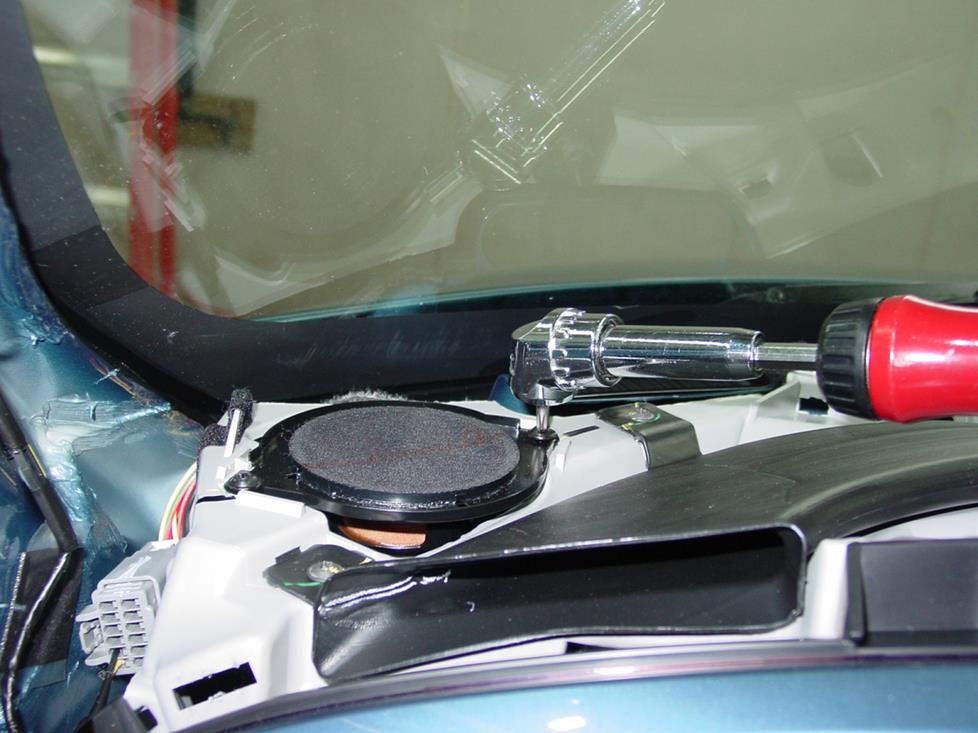 The tweeter is located at the base of the A-pillar (Crutchfield Research Photo)
Dash speakers
Regardless of system, the PT has a pair of 3-1/2" speakers in the dash, at the base of the A-pillars. The only real difference is that the base models are rated at 8 ohms and the Boston Acoustic model are 2.5 ohms. That's important to know, because if you do have the Boston Acoustics system, then you should look for low-impedance replacements for those dash speakers, like Infinity or JBL.
Regardless of which version of speaker is in the dash, the removal and replacement process is the same either way. You'll need to remove the front pillar trim and the dash pad, but the job is pretty straightforward.
Tools needed: panel tool, Torx T20 driver.
Shop for speakers that fit your Chrysler PT Cruiser
Bass in your PT Cruiser

The factory sub is located on the driver's side of the PT (Crutchfield Research Photo)
Factory subwoofer
The PT's Boston Acoustics package included an amplifier under the driver's seat and an 8" dual voice coil sub on the driver's side of the cargo area. This sub receives only bass frequencies from the factory amplifier, and if you replace the sub, you'll also want (need, really) to replace the amp with a more powerful piece.
Plenty of replacement models are available, but getting to the old sub involves a fair amount of panel removal and you'll need to drill new mounting holes for the new one. You'll also need to find a place to mount the new amplifier. Nothing about the process is hard, but there's a fair amount of process. You can do this, but you'll want to give the job the time and patience it deserves. When you realize how much more bass you gained without losing even a little bit of cargo room, it'll all be worth it.
Tools needed: Panel tool, Phillips screwdriver, 7mm, 8mm & 10mm socket, ratchet, and extension, Torx T50 driver.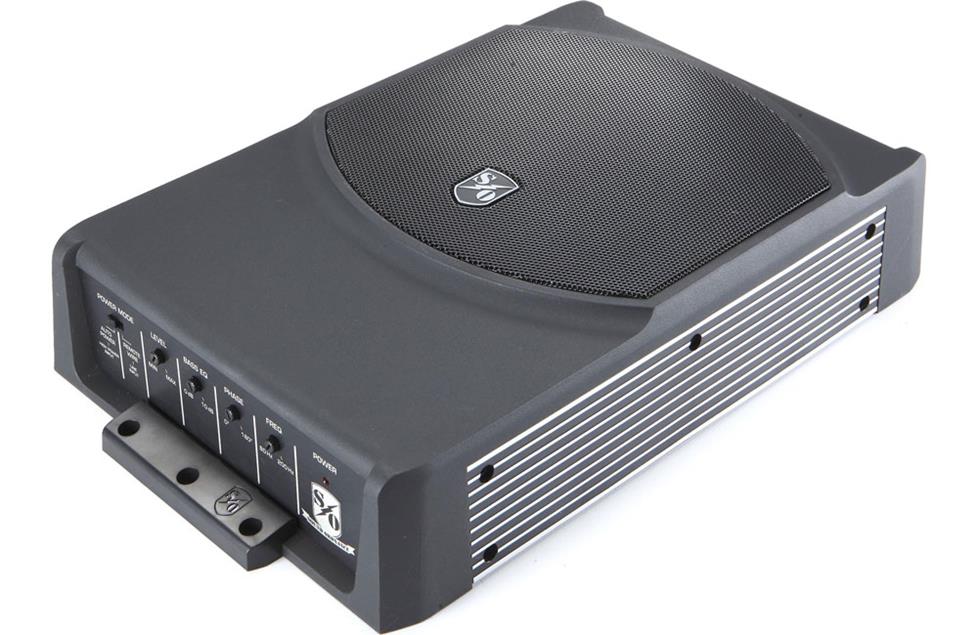 The Sound Ordnance B-8PTD powered sub is a great choice for your PT.
Adding an aftermarket sub
If your PT is equipped with the standard factory system and you're interested in boosting the bass performance, there's plenty of room to work with in the rear cargo area. The available sub box space measures 39" W x 19" H x 19"-24" D, so if you're thinking about dropping in a good-sized set of component subs, you're in luck.
On the other hand, if you're interested in adding a reasonable amount of bass without losing an unreasonable percentage of your PT's cargo capacity, you can also add a compact powered subwoofer. We offer several standalone units that will give you the thump you want without devouring the entire rear compartment.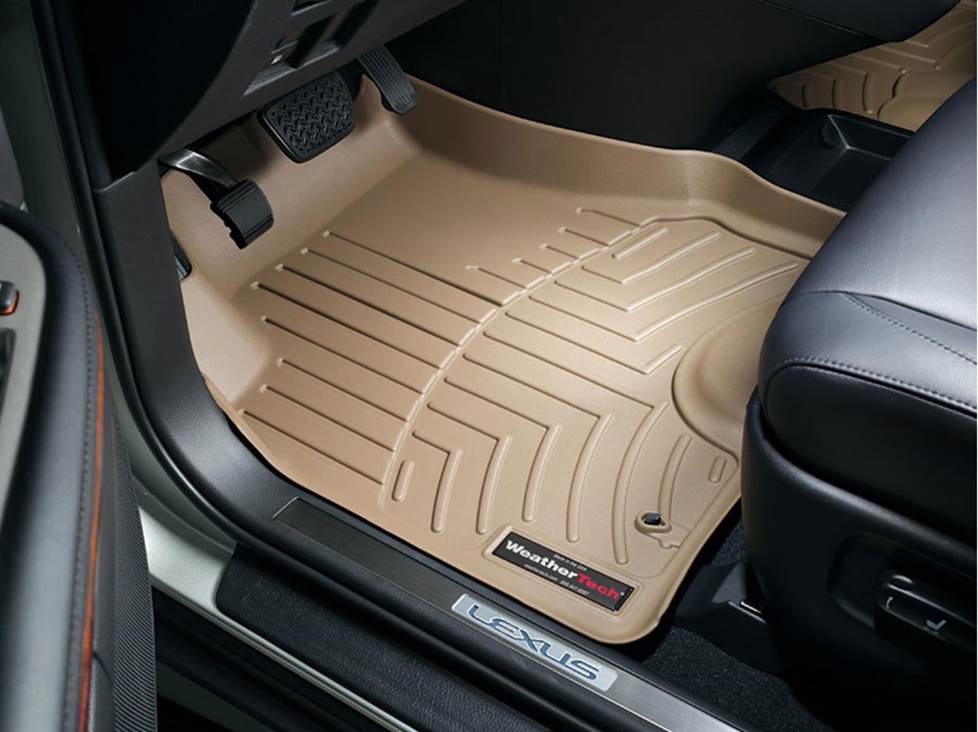 Protect your PT's carpeting with WeatherTech FloorLiners
Other options for your PT Cruiser
There are plenty of other ways to improve your PT Cruiser. Here are some of the ways Crutchfield can help.
Protect your interior with high-quality floor mats
Everyday life can really take a toll on your PT's carpeting, so do what you can to keep it looking good. WeatherTech floor mats and liners will help protect the floors from dirt and damage.
Remote start and security systems
Adding remote start capability to your vehicle lets you warm it up in the winter or cool it down in the summer. The iDatastart system is incredibly convenient and makes it easier than ever to install a remote start system, so we highly recommend it for select PT Cruisers. The module requires a vehicle-specific T-harness (sold separately) to connect with your vehicle's computer, security, and ignition systems, so we ask that you call to order so that we can make sure you get the right harness for your ride.
You can also talk to your Crutchfield Advisor about a security system. They're not as easy to install (we usually suggest letting a professional do the job), but we can help you choose a system that'll work in your vehicle.
Let's get started!
Ready to shop? Use our vehicle selector to find the gear that will fit your car or truck. If you have questions of your own, give us a shout via phone, chat, or email