2006-2012 Porsche Cayman
Upgrading the stereo system in your Cayman
2006 • 2007 • 2008 • 2009 • 2010 • 2011 • 2012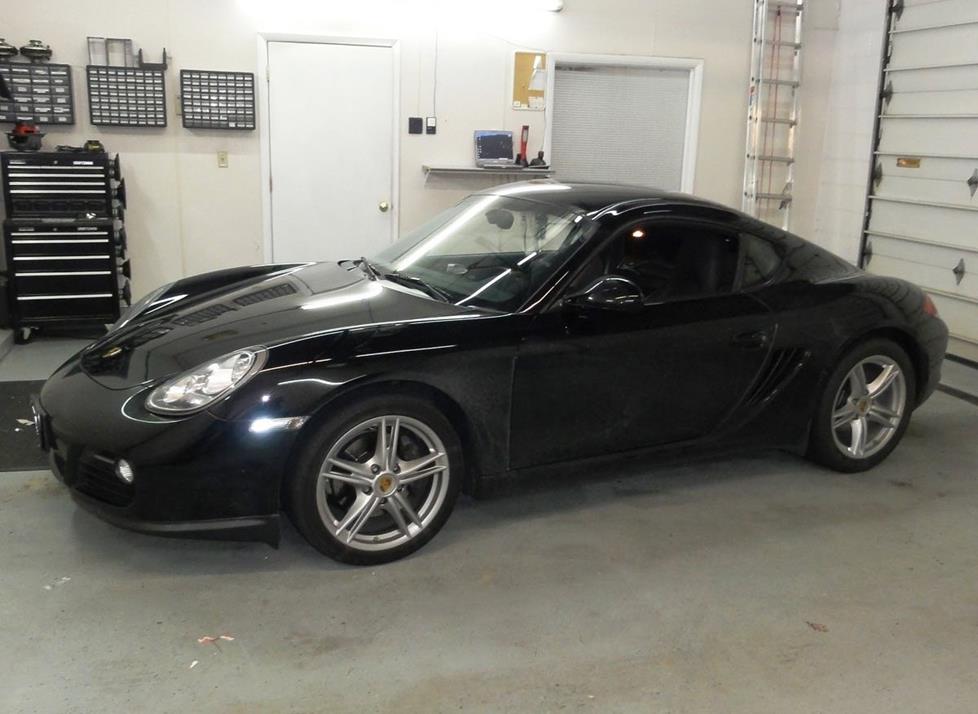 In brief: This Crutchfield Research Garage article gives you an overview of your Cayman's stock stereo system and your aftermarket upgrade options. We'll tell you all about:
Then, use our vehicle selector to find the gear that will fit your Porsche.
Overview of the Porsche Cayman
Porsche's Cayman coupe is built for pure, unadulterated curvy-road-carving enjoyment. It's very similar to Porsche's cabriolet version, the Boxster: you get the same mid-mounted flat six engine and the same wonderful chassis, but you also get a roof over your head and a slightly quieter work environment.
The choice between these two cars really comes down to whether you want to bask in the sun or blast over a blind-apex left-hander. There is no wrong answer, by the way.
Considering that the 987 models are remarkably affordable these days, you can choose one or the other and have some money left over for audio upgrades. If you choose the Cayman, you can create an audio system that performs as beautifully as the car that houses it. Here's how: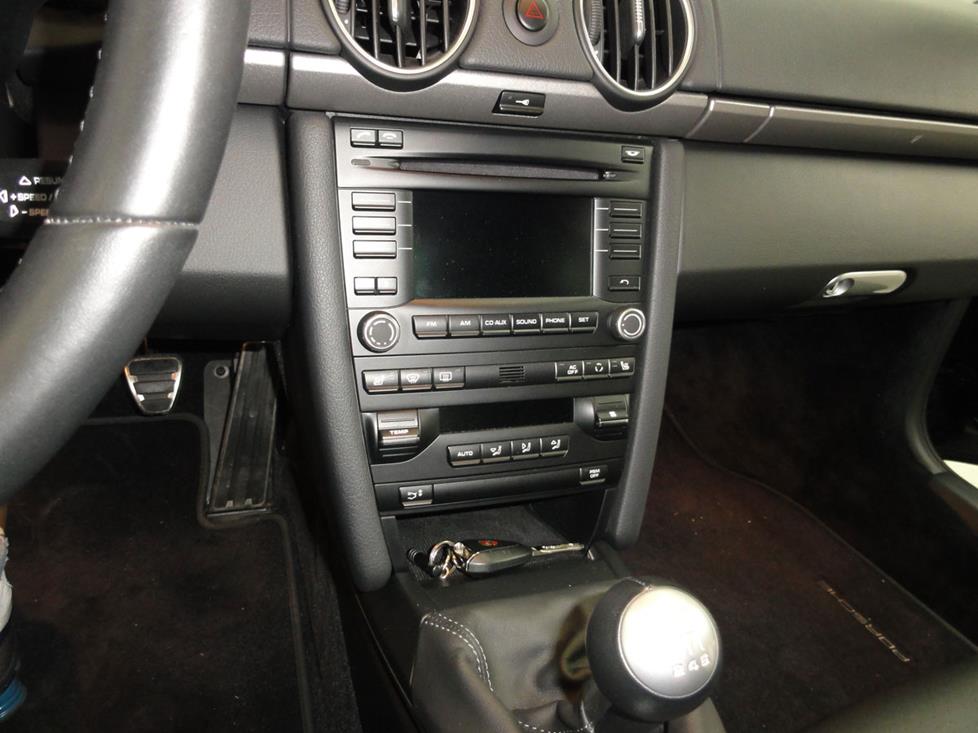 The Cayman's nav radio can be replaced by a variety of aftermarket models (Crutchfield Research Photo)
The factory stereo system
The Cayman's stock receivers came in nav and non-nav versions. Those receivers played through two basic kinds of system – base and Bose®.
Porsches are designed by seriously serious engineers, and that can sometimes lead to some seriously complex, over-done stuff. The Cayman is largely free of all that, so the stereo replacement process, while challenging in places, isn't the insanely complex science project it could be.
You'll lose the factory nav functionality when you replace the stock receiver, but a new one will work better anyway, so that's not a big deal.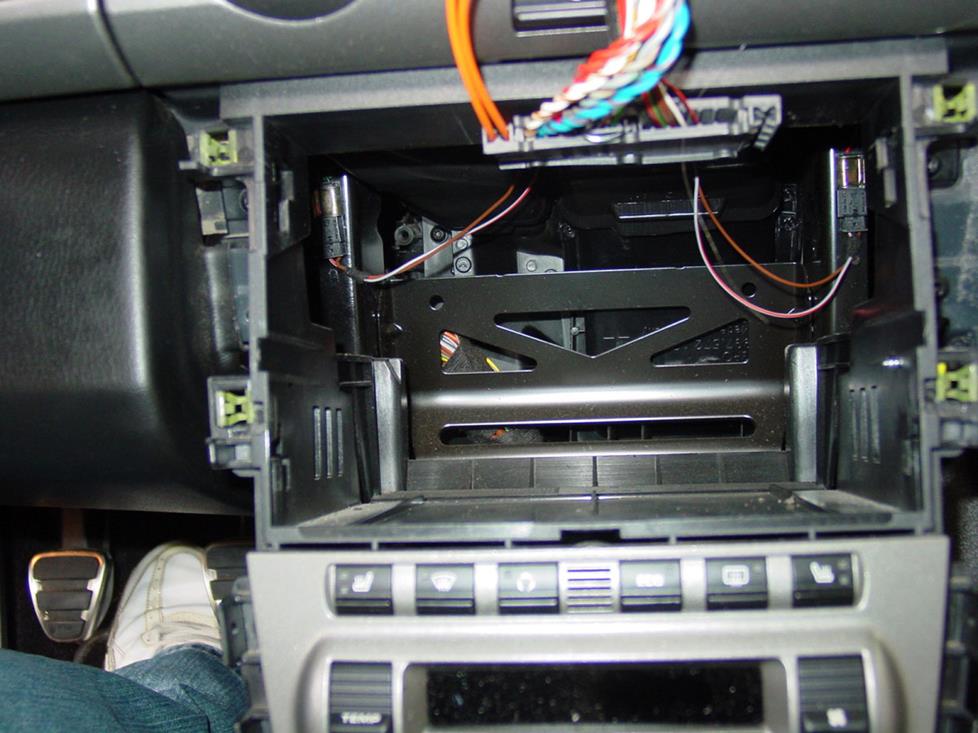 A variety of receivers will fit in the Cayman's dash, with the help of a dash kit that's included at a discount when you shop with us (Crutchfield Research Photo)
Removing the factory radio
The Cayman's stereos aren't hard to work with, and a wiring harness is available. The harness also allows you to retain steering wheel controls, warning chimes, etc.
Detailed stereo and speaker removal instructions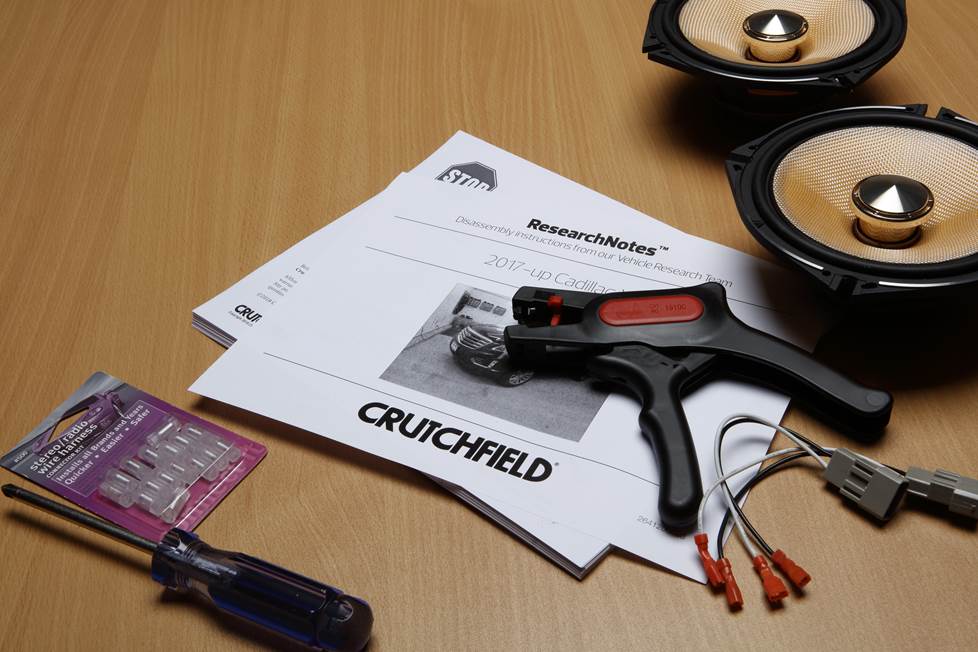 With step-by-step disassembly instructions and plenty of up-close, detailed photos, our exclusive
Crutchfield ResearchNotes
™ takes the guesswork out of removing the factory stereo and speakers. It's free with your Crutchfield order, or you can purchase one separately for just $9.99.
American International's POR911 dash kit allows you to install a new single-DIN (2" tall) or double-DIN (4" tall) car stereo in your Porsche. The kit is available with a black or silver finish, so make sure to pick the one that matches your dash. The kit has its own instructions, so pay attention to those when it's time to put the new receiver in the dash.
Tools needed: Torx T-20 & T-30 drivers, 5mm hex wrench
Shop for car stereos that fit your Porsche Cayman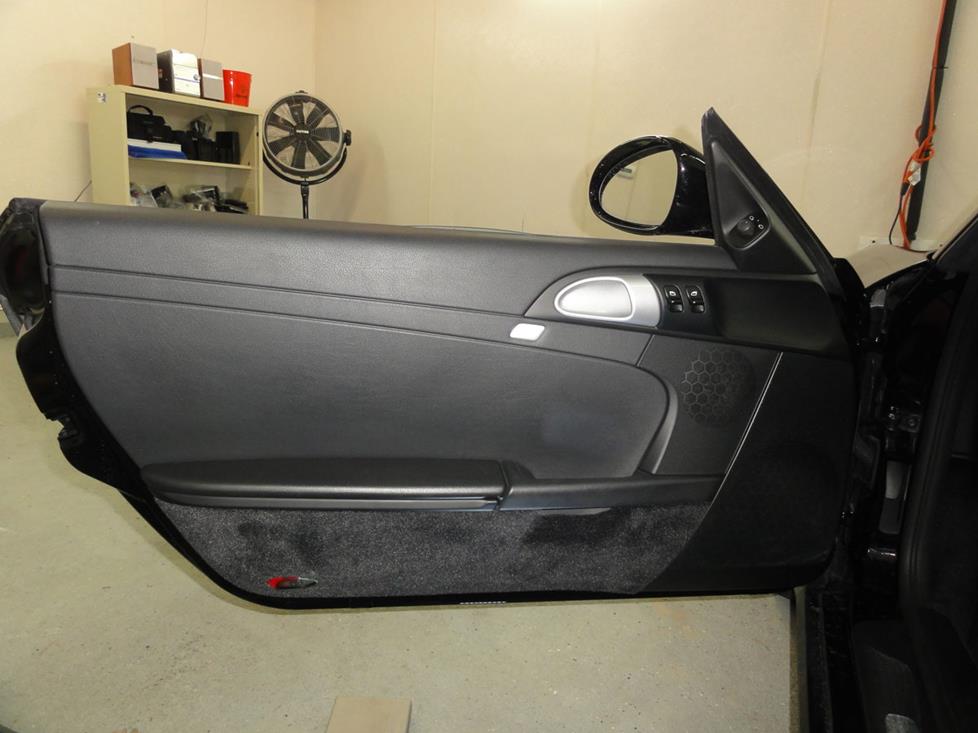 The Cayman's doors house woofers and midrange speakers (Crutchfield Research Photo)
Removing the factory speakers
The Cayman crams a lot of speakers into a pretty small space. There are three in the dash, two in each door and, on some models, speakers on the rear shock towers.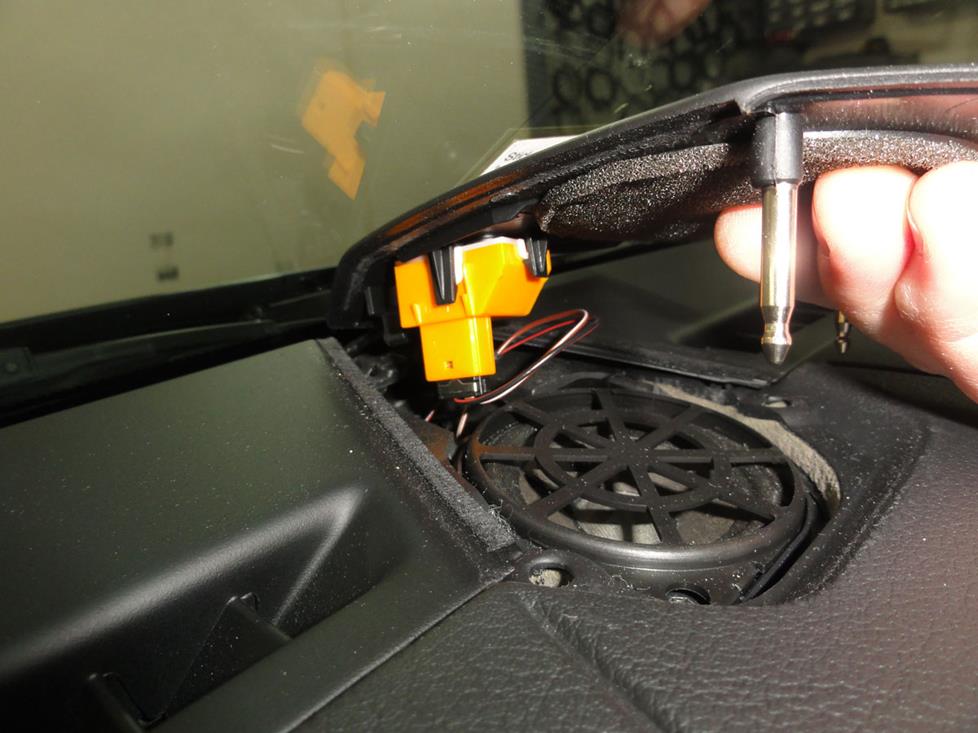 The center dash speaker is easy to reach and replace (Crutchfield Research Photo)
Center dash speaker
The center dash speaker is very easy to deal with. Use a panel tool to gently pry up the rear edge of the dash grille and release two retaining clips, then pry up the front edge to release one more clip. Set the grille aside, loosen the two Torx T-20 screws securing the speaker to dash, then disconnect the harness and remove the speaker.
There's no mounting bracket available, so you'll need to use our universal backstrap (or hot glue or silicone) to secure this speaker. There's no wiring harness available either, so you'll need to use a set of Posi-Products speaker connectors to connect this speaker to the factory wiring.
Tools needed: Panel tool, Torx T-20 driver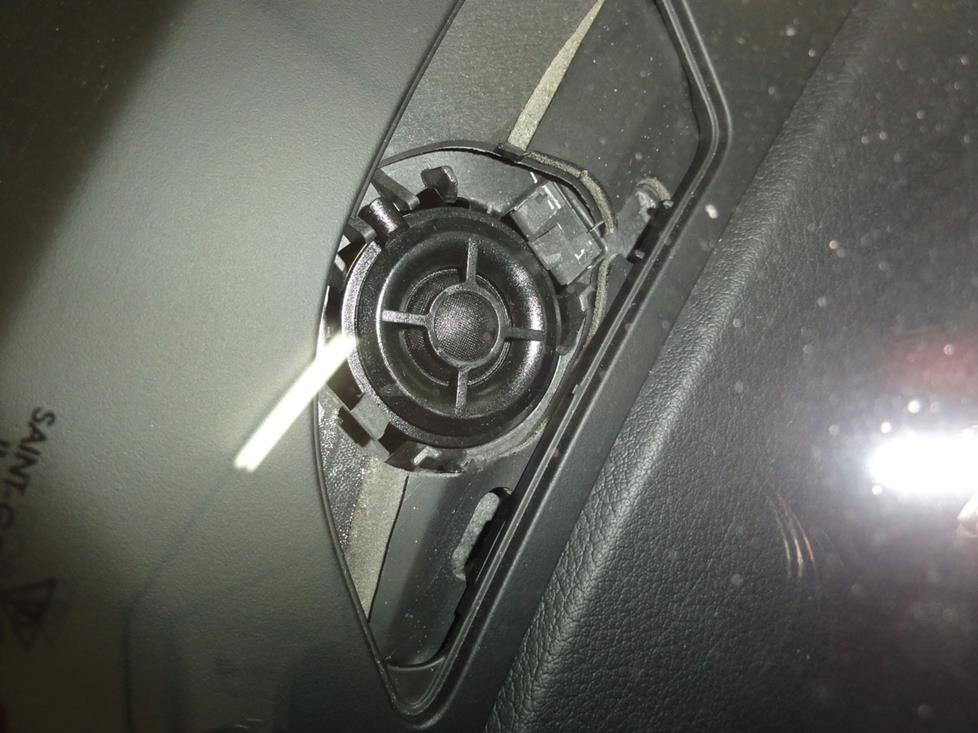 The corner speakers are easy to remove, but you'll need to use a bit of inginuity to mount new ones (Crutchfield Research Photo)
Corner dash tweeters
The story is similar on the corners of the dash. To remove these speakers, pry up the rear edge of the grille to release two clips and remove the grille. Pry outward on the two metal clips securing the tweeter to the dash, then disconnect the harness and remove the tweeter.
You'll need to figure out mounting solutions here, too, and you'll need some more Posi-Products connectors as well.
One more note: When you're choosing your speakers, keep mounting depth to a minimum. If they're too deep, the factory grilles won't fit.
Tools needed: Panel tool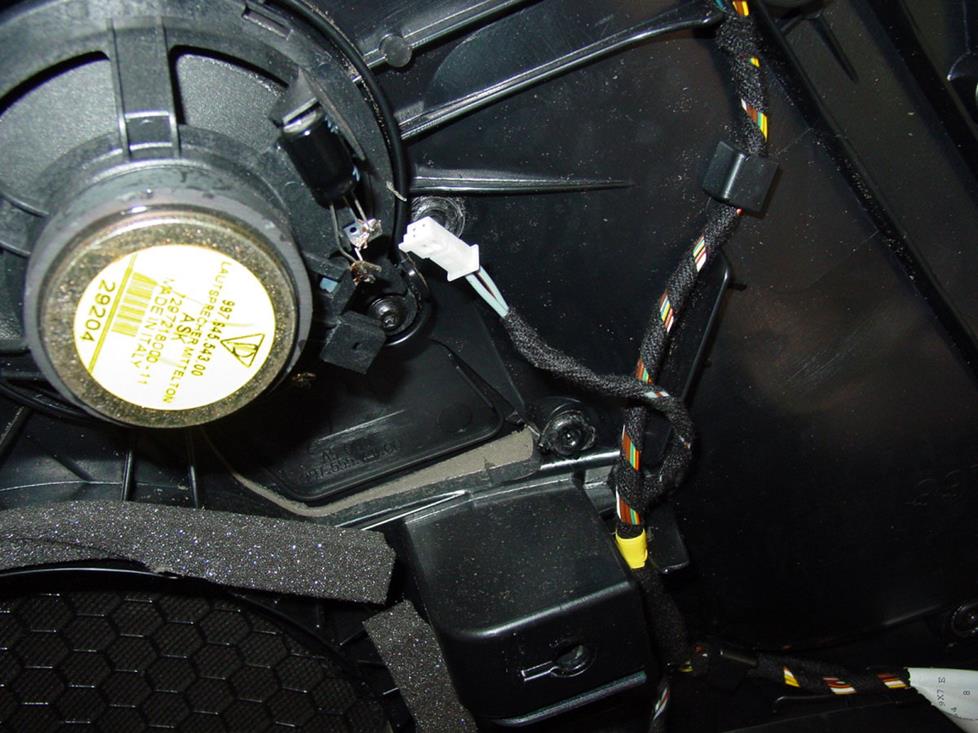 The midrange speakers are attached to the door panels (Crutchfield Research Photo)
Front door midrange speakers
With the dash tweeters handing the highs, the Cayman's mid-range speakers take care of the middle of things. They're attached to the door panels, which you'll need to remove. This also exposes the woofers, which are attached to the door frame, so you're kind of saving some work, sort of.
Starting at bottom edge, use your panel tool to pry out the sail panel. Slide the panel up to remove it, and, on the driver's side only, disconnect the harness. This will expose a Torx T-30 screw, which you'll need to remove.
Open the door release handle and remove the Torx T-20 screw that secures it, then remove the handle. Pry off the screw cover in the door release trim and remove a Torx T-30 screw. Next, pry off the door pull handle's outer cover and remove two exposed T-30 screws. Pry off the screw cover on the rear edge of the door and remove another exposed Torx T-30 screw.
Now you're ready to remove the panel itself. Pry out the sides and bottom of the panel to release nine clips, then disconnect the door release cable and harnesses. Lift up the panel to remove it, and set it aside, preferably on an old blanket that will protect the panel while you're working on it.
Finally, you'll remove four Torx T-20 screws securing the speaker to the door panel, disconnect the harness and remove the speaker. A wiring harness isn't available, so here's another reminder to stock up on Posi-Products connectors.
Tools needed: Panel tool, Torx T-20 & T-30 drivers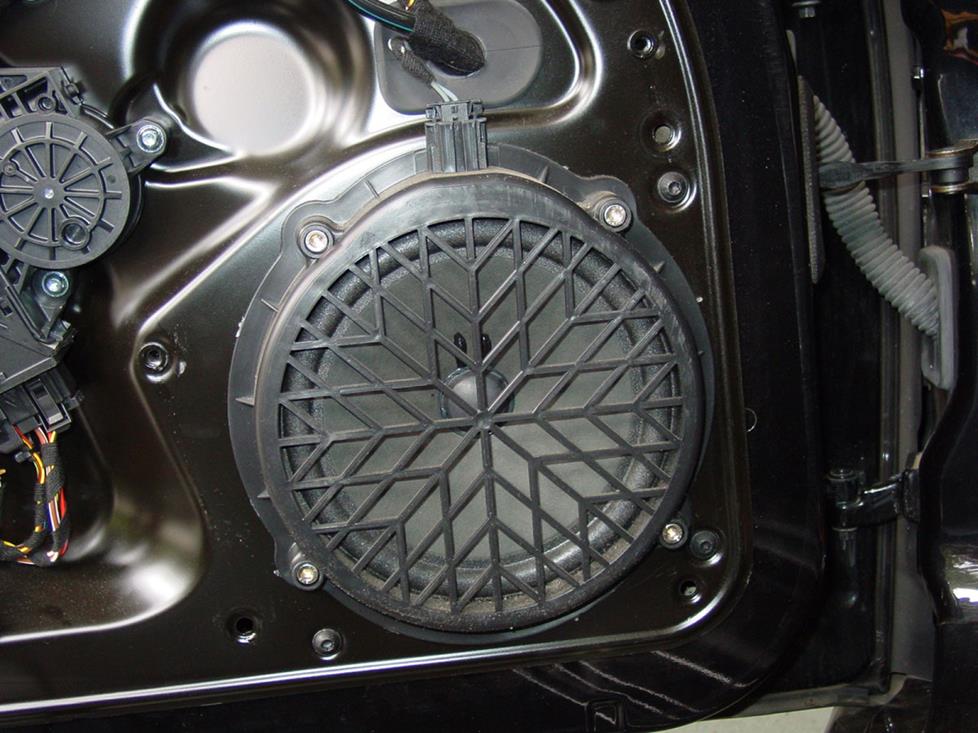 You'll need to drill new mounting holes to install new speakers here (Crutchfield Research Photo)
Front door woofers
If you've made it this far, you're basically ready to replace the 6-1/2" woofers, too. These speakers are powered by an amp in the front trunk and they're secured by four 5mm hex screws. Same-size replacements are available, but you'll need to drill three new screw holes to mount the new speakers with the mounting brackets included with your Crutchfield speaker purchase. You'll need some Posi-Products connectors here, too, of course.
Tools needed: Panel tool, Torx T-20 & T-30 drivers, 5mm Hex wrench
Shock tower speakers
As noted above, we have yet to research these speakers, which are found only in Caymans with the Sound Package Plus option or the Bose® system. If you have replaced yours, please share your knowledge in the Comments section below.
Shop for speakers that fit your Porsche Cayman
Bass in your Cayman
There's some room for a subwoofer box in the Cayman, but not much. The available space measures 14" H x 32" W x 12"/7" D. If you go this route, make sure the enclosure is situated with the woofers facing up.
Shop for vehicle-specific subwoofers for your Porsche Cayman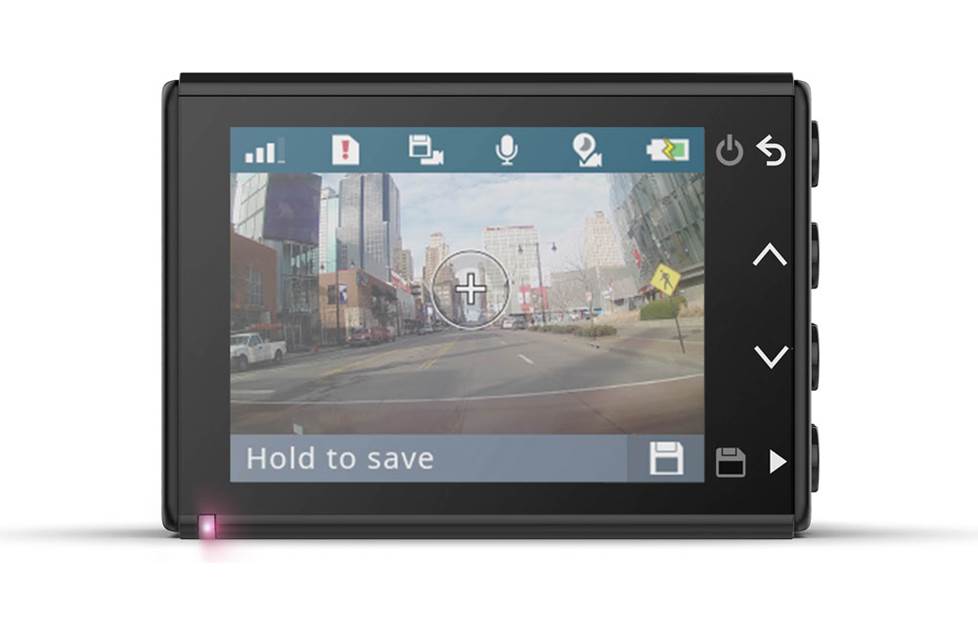 The Garmin Dash Cam 46 is a cool accessory for your Cayman
Other options for your Cayman
Here are some other ideas for your Cayman.
Cameras everywhere
The Cayman is not the easiest vehicle to see out of when you're backing up in a crowded parking lot. We offer a wide variety of rear view cameras that will make that a lot easier. You can go for a camera that mounts to your license plate and works with your new aftermarket nav receiver, or choose one that mounts onto your rear view mirror.
If you enjoy taking your Cayman to the racetrack, a dash cam is a great way to record your hottest laps and analyze your performance. And on the way home, they're very handy for recording the behavior of other, decidedly less-talented motorists.
Add an amplifier
Replacing the factory radio will make a big difference in the performance of your new aftermarket speakers. To further improve the sound quality, consider installing a 4-channel amplifier. Talk to one of our advisors to get some ideas for how to build your Cayman's system.
Security
Installing a security system in your Cayman isn't easy (security systems rarely are), but even though most car thieves can't drive a stick, it's definitely a good idea. Our Crutchfield Advisors can help figure out what you need to get the job done, but we usually recommend taking your car and new gear to a professional installer.
Find the audio gear that fits your car or truck
Visit our Outfit My Car page and enter your vehicle information to see stereos, speakers, subs, and other audio accessories that will work in your vehicle.