2006-2012 Toyota RAV4
Upgrading the stereo system in your RAV4
2006 • 2007 • 2008 • 2009 • 2010 • 2011 • 2012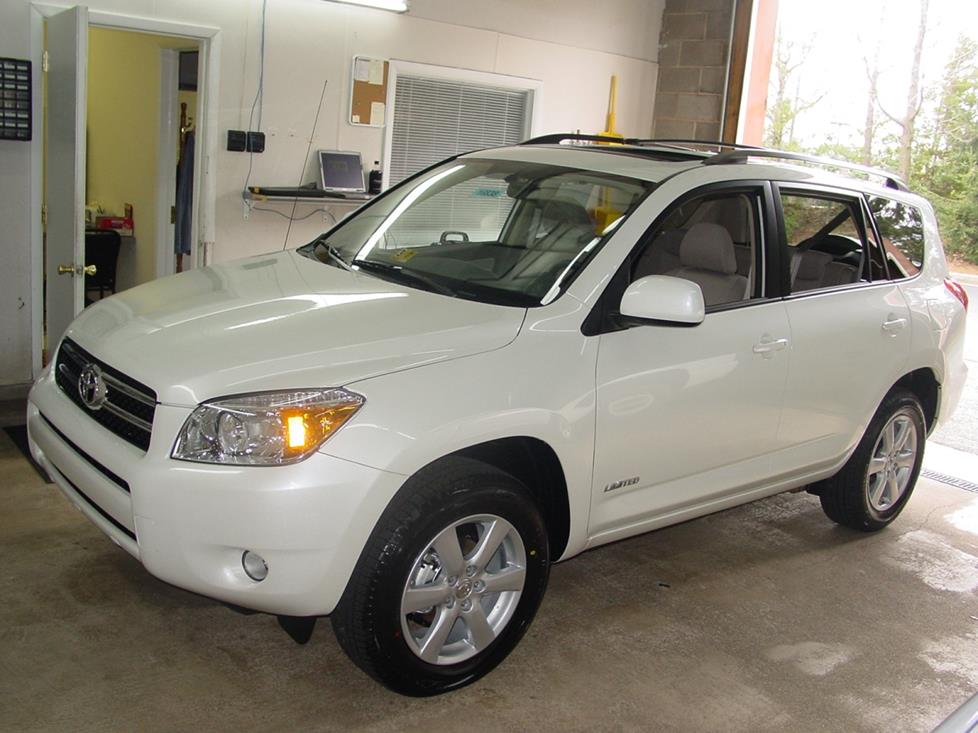 In brief: This Crutchfield Research Garage article gives you an overview of your RAV4's stock stereo system and your aftermarket upgrade options. Use our vehicle selector to find the gear that will fit your Toyota.
Overview of the Toyota RAV4
When it comes to so-called "cute utes," the Toyota RAV4 is one of the best around. The third-generation model, which debuted in 2006 and lasted until 2012, was extremely popular with both press and public for its ride, handling, and overall non-truckiness.
A small SUV is nothing more than a modern interpretation of what we used to call a station wagon anyway, so if you're looking for a vehicle that drives like a car and hauls like a truck, the RAV4 is an excellent choice. Replacing the factory stereo is a good choice, too.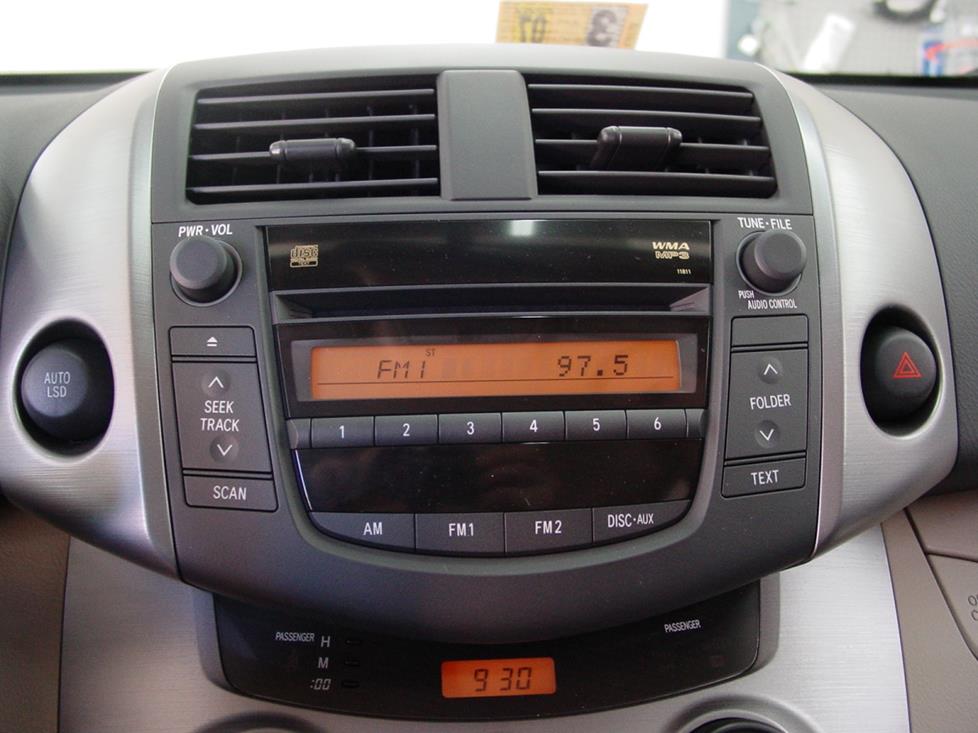 The RAV4's standard radio (Crutchfield Research Photo)
Factory stereo system
The RAV4's stock system was your basic AM/FM/CD/MP3 receiver with 6 speakers. Sport and Limited models could be had with a 9-speaker JBL system that included an in-dash multi-disc receiver and built-in Bluetooth® capability. An optional DVD-based rear seat entertainment system was also available. Towards the end of the third-gen RAV4's production run, a touchscreen nav system appeared on the option sheet.
The stock systems aren't awful, but they're not exactly outstanding, either. If you care about sound, you'll want to upgrade with an aftermarket single-DIN (2" tall) or double-DIN (4" tall) stereo. When you replace either of the factory models, you'll lose the factory AUX input connection. This is no big deal, since nearly every aftermarket receiver out there has at least one of those inputs and most have more.

The optional JBL package included this receiver. (Crutchfield Research Photo)
Replacing your factory radio
Replacing these stock radios isn't especially challenging, but if you're working with a JBL system (signified by a "JBL" logo on the face), there's a bit more to the job. Regardless of which radio you're replacing, you'll use the same dash kit. The difference is that if you're dealing with the JBL, you'll also need a special wiring harness that retains the amp.
It may seem odd for an aftermarket car stereo retailer like Crutchfield to recommend retaining the stock anything, but in this case, keeping the JBL amplifier makes sense for a couple of reasons.
First, if you replace it, you'll have to run new wires from your new radio to each of the speakers in order to bypass the amp. This is a time-consuming job for even the most experienced car audio installers, so we really don't recommend it for first-timers.
Second, even though you're retaining the stock JBL amp, you'll still hear a noticeable change in sound quality because your new receiver sends a much cleaner signal to the amp. In other words, you can get better sound without doing a whole lot of work. What's not to like?
Detailed stereo and speaker removal instructions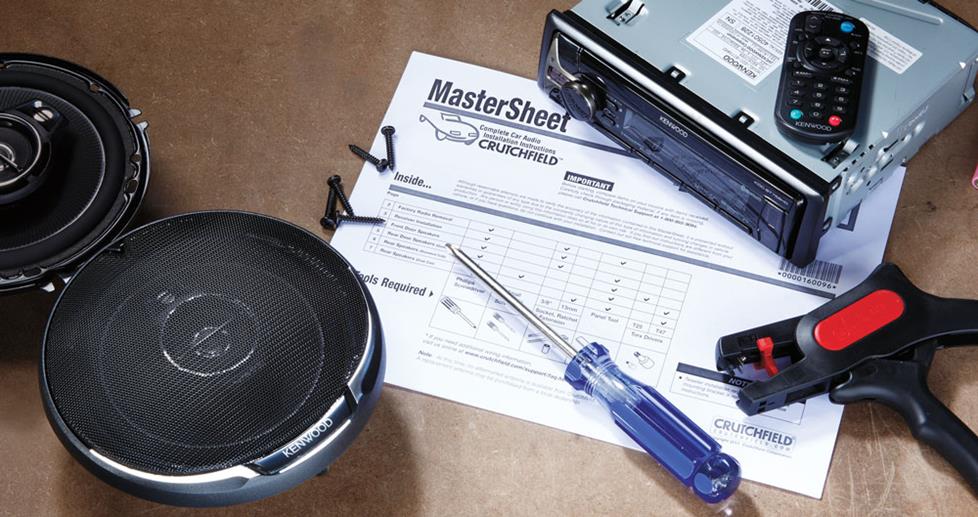 With step-by-step disassembly instructions and plenty of up-close, detailed photos, our exclusive
Crutchfield MasterSheet
™ takes the guesswork out of removing the factory stereo and speakers. It's free with your Crutchfield order, or you can purchase one separately for just $9.99.
PAC offers a Toyota Factory Integration Adapter (TATO) to plug into the factory harness and keep the JBL system's amplifier working. It's important to note that your new stereo must have two sets of preamp outputs in order to connect to the TATO adapter. Crutchfield offers a very nice discount on this special adapter, and we'll also give you a great deal on the mounting kit.
That said; if you really DO want to replace the factory amp and start over, we'll be happy to help…
At least the receiver itself isn't hard to deal with. You'll start by prying out the side trim panels, starting at the bottom edge and carefully releasing the retaining clips. Once those are out of the way, remove the four 10mm bolts securing the radio bracket, pull out the radio to release the clips, and disconnect the wiring harness and antenna.
With some aftermarket receivers, you'll need to use the factory radio's brackets in order to install your new receiver. If you don't have the brackets anymore, you can obtain a new set from your dealership.
Tools needed: Panel tool, 10mm driver
Steering wheel audio controls
It's relatively easy to retain your RAV4's steering wheel audio controls when you install a new stereo. When you enter your vehicle information, our database will choose the adapter you need to make your factory steering wheel controls work with your new receiver.
Shop for car stereos that fit your Toyota RAV4
Replacing your factory speakers
Installing aftermarket speakers will really transform the sound in your RAV4.

The base and JBL speakers (shown) look different, but they're in the same locations and replacing them involves the same basic steps. (Crutchfield Research Photo)
Front doors
The RAV4's front doors contain a pair of 6-3/4" stock speakers. The 4-ohm non-JBL swap is reasonably straightforward, but there are some installation details to note before you start. The JBL system offers some different challenges, but isn't hard to work with.
Base system: A variety of 6-3/4" or 6-1/2" speakers will fit in this location. You'll need adapter brackets for the smaller speakers, and they're available at a deep discount with your Crutchfield speaker purchase.
Getting to the speakers requires removing the door panel, which is relatively simple on the RAV4. It also involves a bit of drilling, which is less simple.
The drilling part isn't hard (you're simply removing rivets), but any time you're using a drill on anything, it's important to work carefully and wear eye protection. Your Crutchfield MasterSheet™ (free with purchase) contains detailed, illustrated instructions for the entire process.
The front tweeters and the door woofers are wired together at each tweeter location, so when you replace the tweeters, you'll have to splice the input and output wires together to keep the woofers working. Posi-Products connectors will make this a lot easier, and you'll use a couple more to connect the tweeters to the factory wiring.
The tweeter is glued to the factory bracket, so be very careful when you're separating the two. A little bit of patience can prevent a whole lot of damage. Once that's done, you'll need a way to mount the replacements, since there isn't an aftermarket bracket for this location. You can cut and bend our universal backstrap to hold the new tweeter in place.
Tools needed: Panel tool, Phillips screwdriver, 10mm driver, drill with drill bit
JBL system: Replacing the JBL speakers is largely the same as above, but there are a few minor differences. For one thing, when you're replacing the 2-ohm JBL woofers (and tweeters), it's important to note that using higher-impedance speakers will result in lower volume levels. Your Crutchfield advisor can help you choose appropriate replacements.
The tweeter bracket is secured to the vehicle with two 1/4" screws, so you'll need to remove those before you disconnect the harness. The tweeter itself is glued to the bracket, so be careful when you're separating them. It's easier than you think to ruin the bracket if you lose patience and apply too much brute force.
Tools needed: Panel tool, Phillips screwdriver, 1/4" driver, drill with drill bit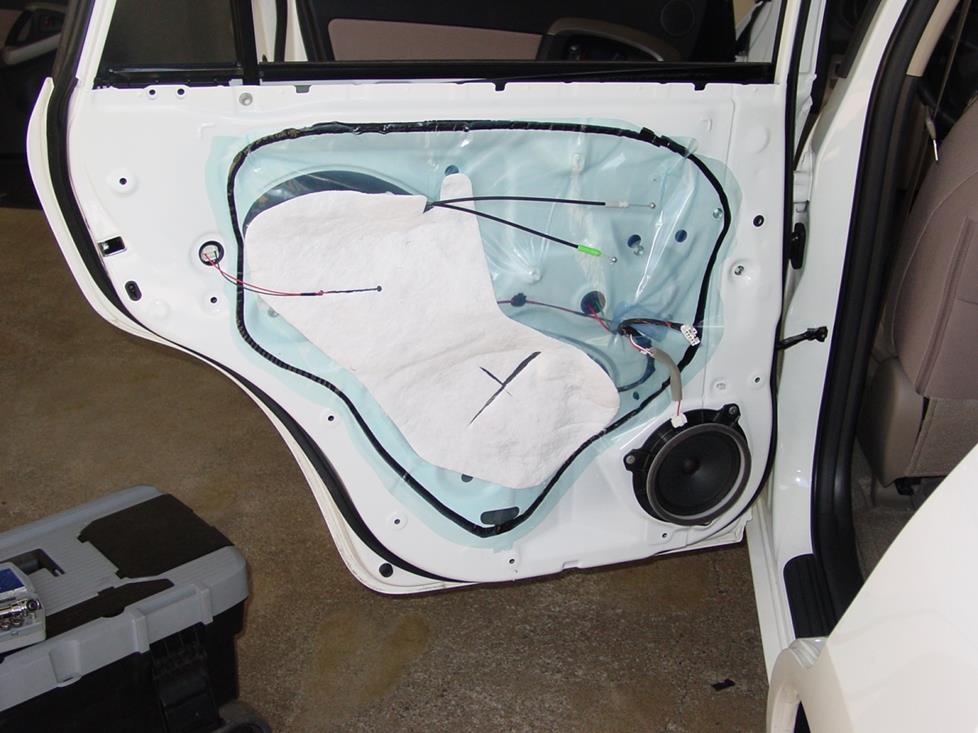 Replacing the RAV4's rear door speakers is relatively simple. (Crutchfield Research Photo)
Rear doors
Replacing the rear door speakers starts with removing the door panels. A variety of speakers will fit, and the adapter brackets for the smaller speaker are available at a deep discount with your Crutchfield speaker purchase.
Base: The process here is similar to what you did up front, including the rivet-drilling. Be patient, wear eye protection, and pay attention to what's around where you're drilling.
You'll also want to check the drilling depth and location to avoid damaging the vehicle. Your MasterSheet contains detailed, illustrated instructions for the entire process.
Tools needed: Panel tool, Phillips screwdriver, 1/8" drill and drill bit
JBL: The JBL system's rear speaker replacement process is also similar to the front door version. Unlike the non-JBL system, you won't have to do any drilling. You will have to pay attention to the impedance of your new speakers for the reasons noted above. In addition to the 6-3/4" or 6-1/2" speakers that will fit into the RAV4's doors, the JBL version lets you choose from a variety of 5-1/4" models.
Tools needed: Panel tool, Phillips screwdriver, small flat blade screwdriver
Shop for speakers that fit your Toyota RAV4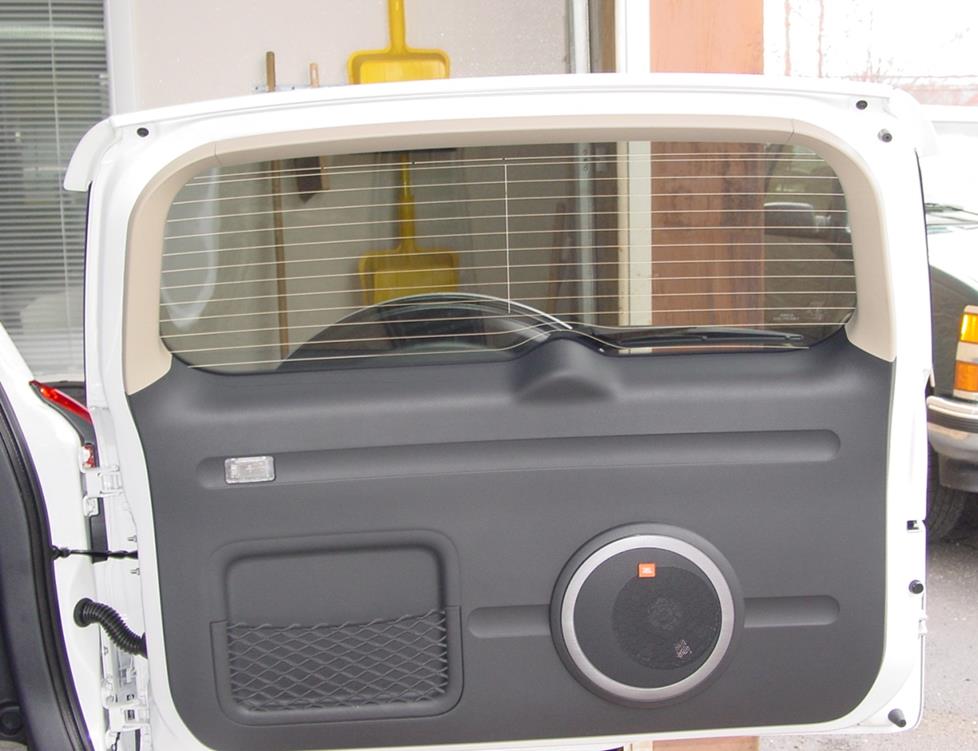 JBL-equipped RAV4's have a subwoofer mounted in the tailgate. (Crutchfield Research Photo)
Bass in your Toyota RAV4
The RAV4's rear cargo door opens horizontally and to the right. That undoubtedly works fine in driveways and parking lots, but if you're parked on the street, loading or unloading is going to be a bit awkward. It's probably one of those things you just get used to.
On the upside, replacing the factory 8" dual voice coil sub found in JBL-equipped models is a lot easier with this layout than it would be if the door opened vertically. So there's that.
It's not a bad sub (Any sub is better than none, right?), but an aftermarket model will give you a lot more bottom-end power. Aftermarket replacements are available, but you'll be limited to shallow mount subwoofers, and even then, the pickings are slim. There's only about 2-1/4" of depth available in that door.
Again, our Sales Advisors can help you find a workable replacement. A speaker wiring adapter is not available, so you'll need to splice the wires. A couple of those Posi-Products wiring connectors we mentioned earlier will do the job."

The RAV4's cargo area offers plenty of space for a subwoofer or two. (Crutchfield Research Photo)
Another thing to look forward to (or not) is drilling out the four rivets that hold the stock sub in place. This isn't a difficult thing if you have any experience at all with a power drill, but any time you're using a drill on anything, be careful.
This is a 2-ohm subwoofer that receives only bass frequencies from the factory amp, so remember that replacing it with a higher-impedance speaker will often result in lower volume levels.
Tools needed: Panel tool, drill with drill bit
Adding more bass to your RAV4
Without the third-row seat, you have a 42" W x 17" H x 32"/35" D space available for a subwoofer enclosure. If you actually use that third seat on a frequent basis or need to retain room for stuff and things in your RAV4, a powered subwoofer will give you plenty of bottom end thump without taking up the majority of your cargo area.
There's also a 35" W x 19" H x 8" D space available under the cargo floor, so keep that in mind when you're shopping.
Shop for vehicle-specific subwoofers for your Toyota RAV4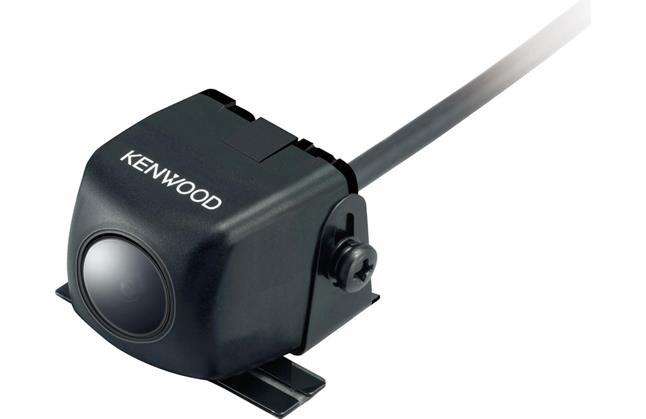 The Kenwood CMOS-230 rear-view camera
Other options for your RAV4
There are lots of things you can do to make your RAV into an even better all-around vehicle. Here are few ideas.
Navigation
An aftermarket in-dash navigation receiver would be a great addition to your RAV4, because there's plenty of room behind the dash. Not only will you get great directions, but you'll love using the big touchscreen to control your audio system.
Rear-view camera
Even in a small SUV, parking lot maneuvers can be challenging. If you upgrade to a big-screen DVD or nav receiver, look for one with a rear-view camera connection. The subtle little cameras can be a big help when you're backing out of a tight space.
Security
Installing a security system in your RAV4 isn't easy (security systems rarely are), but it's less complicated than it could be. Our Crutchfield Advisors can help figure out what you need to get the job done, but we usually recommend taking your car and new gear to a professional security system installer.
Shop for car security systems for your Toyota RAV4
Find the audio gear that fits your car or truck
Visit our Outfit My Car page and enter your vehicle information to see stereos, speakers, subs, and other audio accessories that will work in your vehicle.