2007-2014 Cadillac Escalade
Upgrading the stereo system in your Escalade
2007 • 2008 • 2009 • 2010 • 2011 • 2012 • 2013 • 2014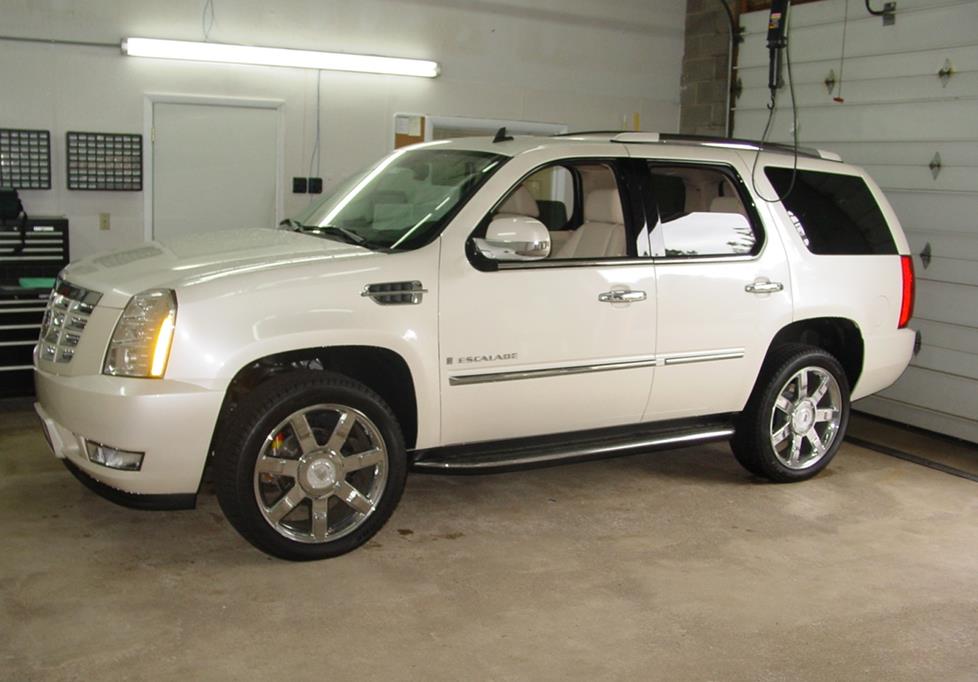 In brief: This Crutchfield Research Garage article gives you an overview of your Escalade's stock stereo system and your aftermarket upgrade options. Use our vehicle selector to find the gear that will fit your SUV.
Overview of the Cadillac Escalade
The third-generation Cadillac Escalade rolled out in 2007 with a new chassis, new features, and a renewed claim to being the most luxurious full-sized SUV in the history of Earth, ever. With sharp styling incorporating elements of Cadillac's "Art and Science" design philosophy, plus all the technology and comfort you'd expect from something wearing the wreath and crest, the new Escalade was a worthy successor to its segment-busting predecessors.
We all know (Er, don't we?) that the Escalade is basically a high-zoot version of the more proletarian Chevy Tahoe and GMC Yukon. That said; no one ever confused an Escalade with either of them or anything else. Even in a parking lot full of SUVs (i.e., most parking lots), this truck stands out from the crowd. And, if you're like most Escalade owners, that's totally okay with you. If you wanted to blend in, you could take your pick of perfectly nice, pleasingly bland luxury sedans. But what fun would that be?
The Escalade's standard radio (Crutchfield Research Photo)
Factory stereo system
The Escalade's factory stereo systems were, as you might expect, pretty impressive as these things go.
Depending on the model year and the number of option boxes checked, the Escalade could be equipped with XM satellite radio, Bluetooth™ connectivity, a navigation system, rear seat entertainment, and Bose® surround sound. In other words, everything you'd expect to find in a top-shelf luxury vehicle.
It's all very nice, but if you want more, Crutchfield offers plenty of ways to escalate your Escalade's audio.
Detailed stereo and speaker removal instructions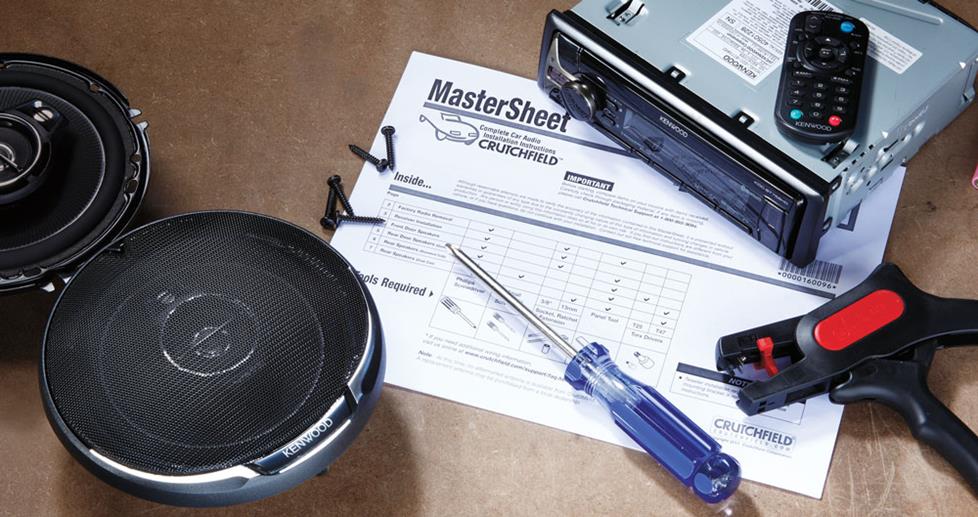 With step-by-step disassembly instructions and plenty of up-close, detailed photos, our exclusive
Crutchfield MasterSheet
™ takes the guesswork out of removing the factory stereo and speakers. It's free with your Crutchfield order, or you can purchase one separately for just $9.99.
Replacing your factory radio
The Escalade's dash will comfortably hold a wide variety of single-DIN (2" tall) or double-DIN (4" tall) receivers.
Replacing the factory radio with a new model is reasonably uncomplicated. The majority of the work involves removing the interlocking trim panels around the radio. This might seem intimidating, but it primarily requires basic tools and patience. You'll find complete, illustrated instructions in the Crutchfield MasterSheet that's included with your stereo purchase. The key is to work carefully and slowly while you're removing the plastic panels.
You'll need to buy an adapter to retain the car's warning chimes, the Bose® amplifier, and the OnStar functionality (if present). If your Escalade is equipped with the GM Rear Seat Entertainment (RSE) system, you'll need a separate adapter to keep that system working and connect it to the audio/video output on your new receiver. We'll give you a very nice discount when you buy these adapters along with your stereo.
Tools needed: Panel tool, 7mm socket and ratchet
Steering wheel audio controls
It's relatively easy to retain the steering wheel audio controls when you install a new stereo in your Escalade. When you enter your vehicle information, our database will choose the adapter you need to make your factory steering wheel controls work with your new receiver.
Shop for car stereos that fit your Cadillac Escalade
Replacing your factory speakers
A new set of aftermarket speakers will really transform the sound in your Escalade.

The tweeters are in the A-pillars (Crutchfield Research Photo)
Front pillar speakers
The Escalade's Bose system includes a tweeter mounted in each A-pillar. These are easy to remove, but you'll need to do a bit of work to install replacements.
There's no wiring harness adapter made for this location, so you'll need a set of Posi-Products connectors to hook everything up. You'll also need a mounting bracket for the new speakers, and our universal backstrap is a much easier solution than making one of your own.
Tools needed: Small flat blade screwdriver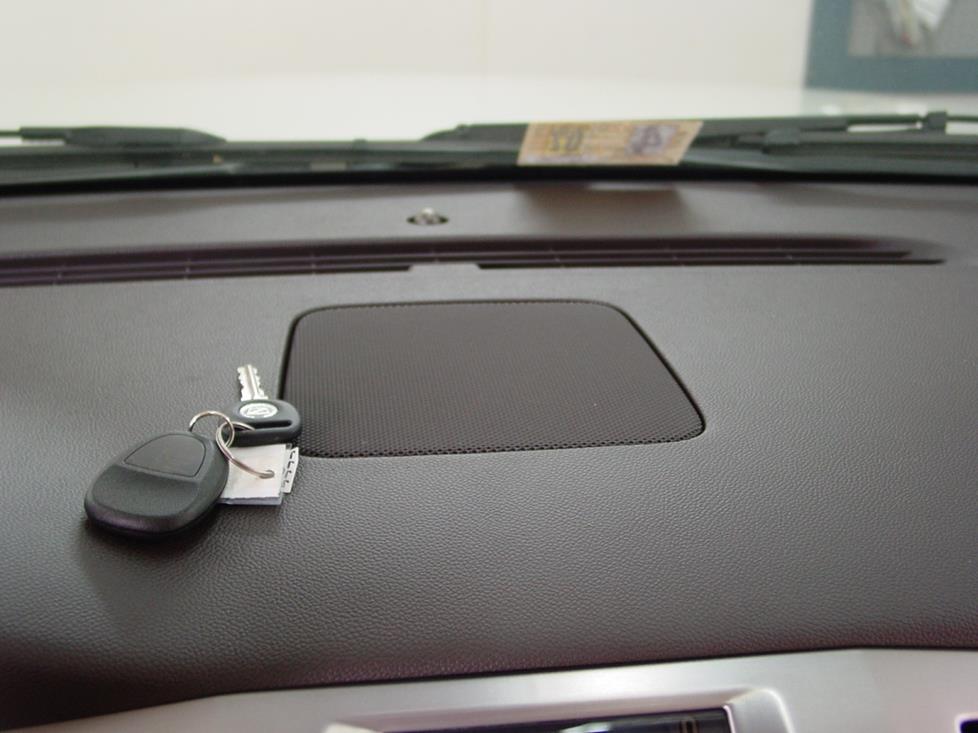 The dash speaker is easy to deal with (Crutchfield Research Photo)
Center dash speaker
The speaker in the center of the dashboard is easy to reach and also easy to replace with a variety of 3-1/2" aftermarket models. The key here is to be patient and work carefully. The same advice holds true any time you're removing plastic panels, but it's especially important here because you don't want to stare at a damaged dash every time you get behind the wheel.
The factory speaker lies beneath a grille that's held in place by four metal clips. Pry up the grille with a panel tool, remove the two 7mm screws holding the speaker in place, then take the old speaker out.
When you install the new speaker, it's a good idea to install an inexpensive foam baffle along with it. The baffle will help the speaker sound its best in this location.
Tools needed: Panel tool, 7mm driver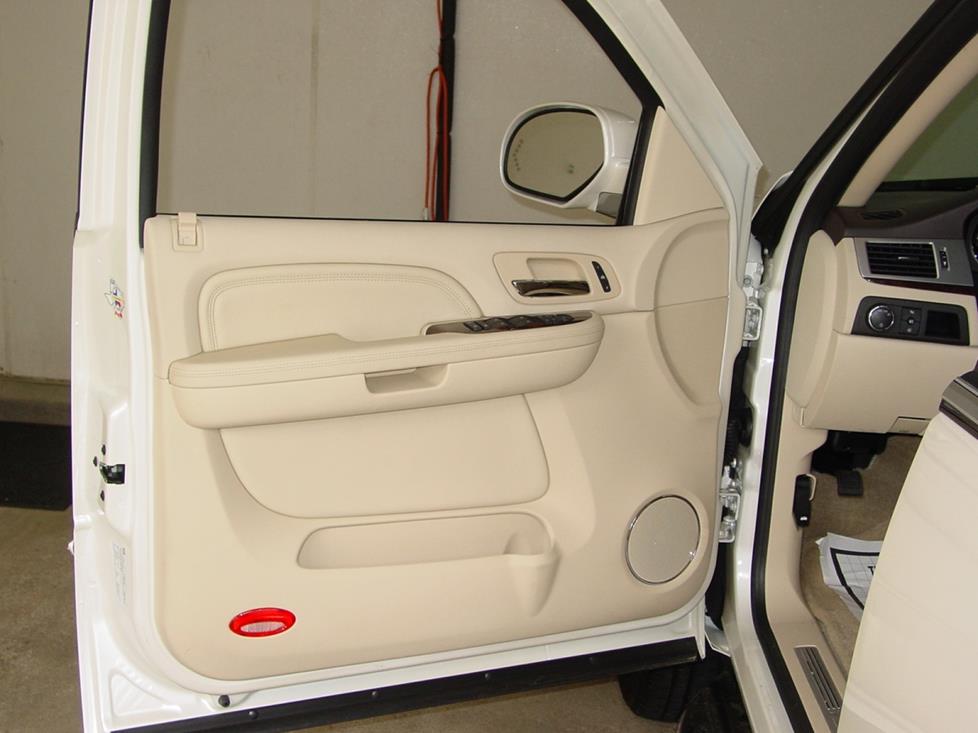 The Escalade's doors hold a lot of speaker, but foam baffles will help keep in the sound. (Crutchfield Research Photo)
Front door speakers
The Escalade's front door speakers are 6-3/4" models that can be replaced with same-size, 5-1/4", or 6-1/2" aftermarket speakers. No matter which size you choose, replacement speaker adapter brackets are required, and they're included free with your speaker purchase. A wiring harness is not available, though, so you'll need to connect the speaker wires to the vehicle wires using a set of Posi-Products connectors. This is a lot easier than soldering and splicing, plus the connection is much more secure.
There are a couple of moderately challenging aspects to this job, but it's well within the capabilities of a reasonably skilled do-it-yourselfer. You'll need to remove the door panels, of course, and while that's not a big deal, there are a lot of "small" tasks involved. Work carefully, and keep track of the various trim pieces and screws you remove while you're taking the door apart.
You'll need to drill new mounting screw holes for the speaker bracket when you install 6-1/2" or 5-1/4" speakers. If you're even slightly handy around the house, you know how to use a power drill. That said, we should remind you to be careful when drilling in your vehicle. Be aware of things like wiring, windows, fuel lines and safety devices. And, of course, check (and re-check) the drilling depth and location before you drill.
We frequently suggest foam speaker baffles for other vehicles, but we strongly recommend them for the Escalade. These big, thick doors can waste a lot of great sound, but the baffles will rein it back in. They're easy to install, and they'll give you improved audio performance while also protecting your speakers.
Your new speakers might come with mounting screws, but then again, they might not. Check your packaging and, if needed, make a run to the hardware store before you start working.
Tools needed: Panel tool, socket wrench, 7mm & 10mm sockets, flat blade screwdriver, drill & 1/8" bit.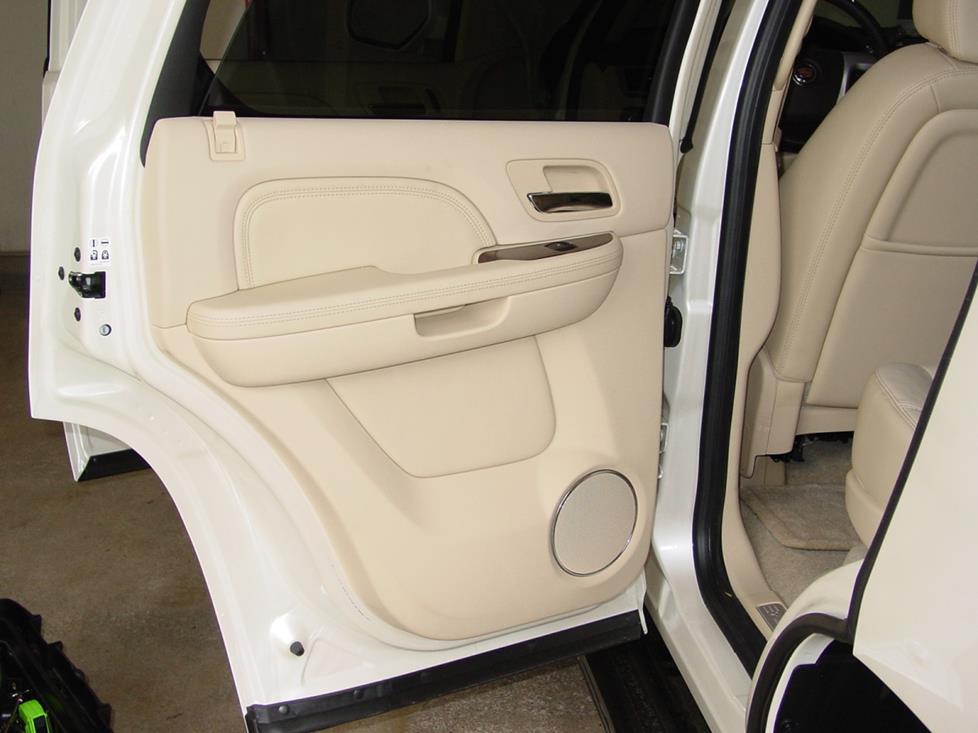 The Escalade's rear doors can house 5-1/4", 6-1/2", or 6-3/4" speakers. (Crutchfield Research Photo)
Rear door speakers
Like their counterparts up front, the rear speakers are a non-standard factory GM size, but they can be replaced with a host of 5-1/4", 6-1/2", or 6-3/4" aftermarket models.
You'll need to do a bit of drilling here, too, but it's the same basic job that it was up front. Detailed instructions for the rear door speaker installation can also be found in your Crutchfield MasterSheet.
For all the reasons noted above, we also highly recommend using foam speaker baffles in the Escalade's rear doors. It's the easiest way we know to get the most out of new speakers.
Tools needed: Panel tool, socket wrench, 7mm & 10mm sockets, flat blade screwdriver, drill & 1/8" bit.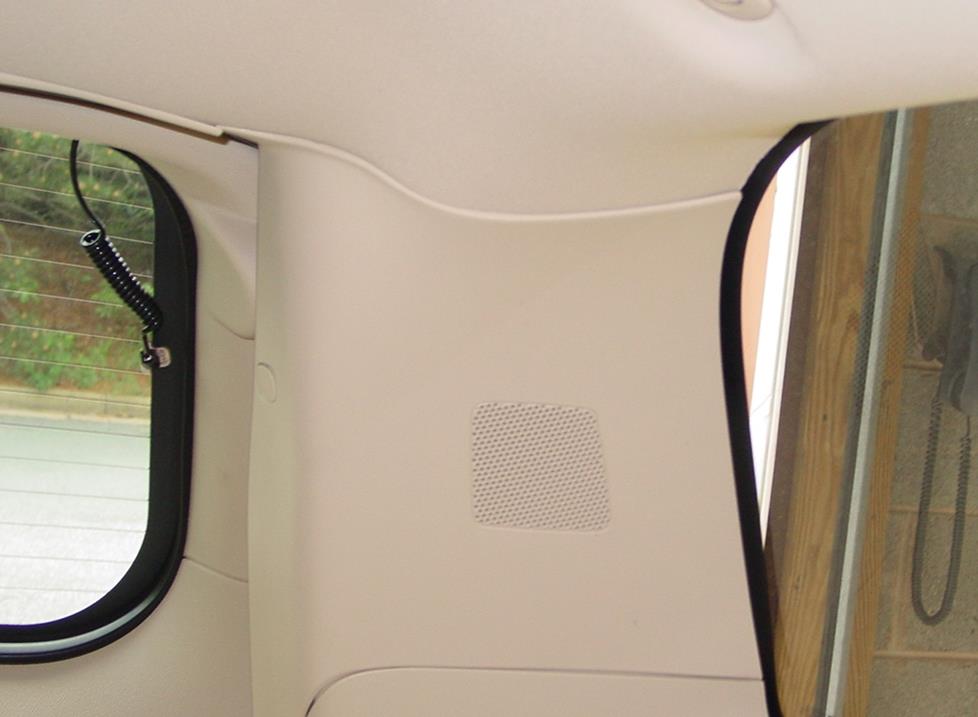 The rear pillar speakers are pretty easy to deal with (Crutchfield Research Photo)
Rear pillar speakers
The rear pillar speakers are, like their counterparts up front, reasonably easy to replace. You'll need to pry away some panels, but it's not terribly difficult. Our universal backstrap will help you mount the new speaker, and Posi-Products connectors will make the wiring connections a breeze.
Tools needed: Panel tool, Phillips screwdriver
Shop for speakers that fit your Cadillac Escalade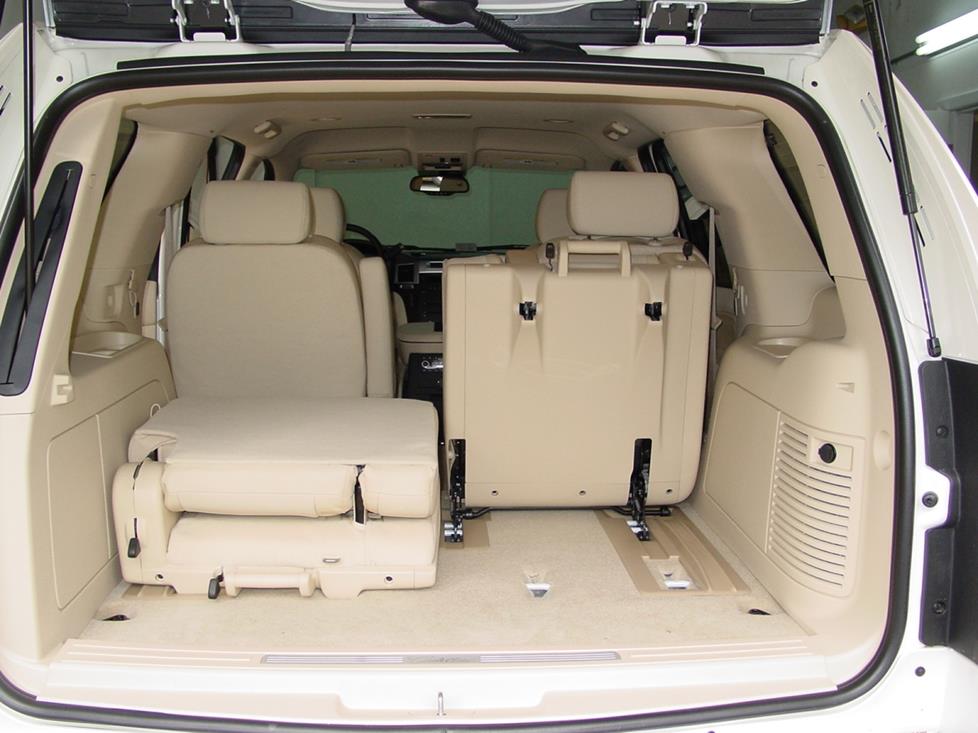 The Escalade's vast cargo area offers plenty of room for bass. (Crutchfield Research Photo)
Bass in your Escalade
The factory subwoofer is located in the Escalade's center console, and if you want to replace it, you'll need to remove the entire console. In all honesty, you'll have an easier time getting your truck invited to an Earth Day parade. The easiest choice is to simply bypass the factory sub and look into the numerous aftermarket solutions available for the Escalade.
You can also add more sound up front, with the help of Q-Forms Kick Panel Pods. As you might imagine, these unloaded enclosures install in the kick panels, and they're available in colors to match your Escalade's interior. Q-Forms do not come with pre-cut holes and installing them can be a bit challenging, so check with a Crutchfield Advisor before you order. And, yes, you should consider turning this work over to a pro, too.
JL Audio and MTX Audio offer a variety of custom-fit, vehicle-specific subs that sound great and fit perfectly in your Escalade's interior.
Installing a vehicle-specific sub takes an impressive amount of skill, so you should definitely consult a Crutchfield Advisor before ordering. Due to the complexity of this installation, we strongly suggest turning the work over to a pro. To learn more about these enclosures, visit our Outfit My Car page and enter your vehicle information.
There's plenty of room for boom in the cargo area of your Escalade, but there's obviously a bit less if you have third-row seats. How much subwoofer power you need really depends on your musical tastes and how you use your truck every day. If you want to squeeze every bit of bass out of your music, you have room for a couple of huge subwoofers in a premade enclosure, plus the amplifiers you'll need to power them.
If you're just looking to add richness and depth to your tunes, you can install something a bit smaller. If you frequently use those third-row seats or place a lot of value on the "utility" part of your SUV, you can always opt for a powered subwoofer. You'll get a surprising amount of sound, without losing valuable cargo space.
Shop for vehicle-specific subwoofers for your Cadillac Escalade
Other options for your Escalade
There are lots of things you can do to make your Escalade into an even better ride than it is already. Here are few ideas.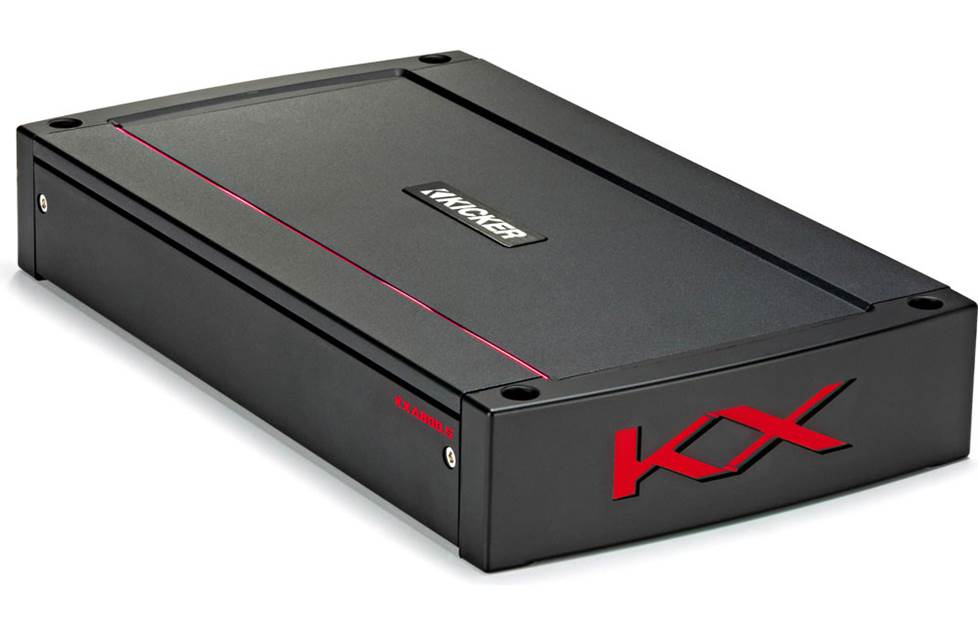 Bring out the best in your system with a more powerful aftermarket amplifier
Amplifiers
The factory Bose system includes amps, but they aren't ideal for use with aftermarket head units or speakers. If you want the best possible sound, it's best to bypass or eliminate these amps in favor of aftermarket models. There's plenty of room in the Escalade to add the amplifier(s) you need for your system.
Remote start and security systems
Adding remote start capability to your vehicle lets you warm it up in the winter or cool it down in the summer. The iDatastart system is incredibly convenient and makes it easier than ever to install a remote start system, so we highly recommend it. The module requires a vehicle-specific T-harness (sold separately) to connect with your vehicle's computer, security, and ignition systems, so we ask that you call to order so that we can make sure you get the right harness for your ride.
You can also talk to your Crutchfield Advisor about a security system. They're not as easy to install (we usually suggest letting a professional do the job), but we can help you choose a system that'll work in your vehicle.
Shop for car security systems for your Cadillac Escalade
Find the audio gear that fits your car or truck
Visit our Outfit My Car page and enter your vehicle information to see stereos, speakers, subs, and other audio accessories that will work in your vehicle.