2007-2014 Toyota FJ Cruiser
Upgrading the stereo system in your FJ Cruiser
2007 • 2008 • 2009 • 2010 • 2011 • 2012 • 2013 • 2014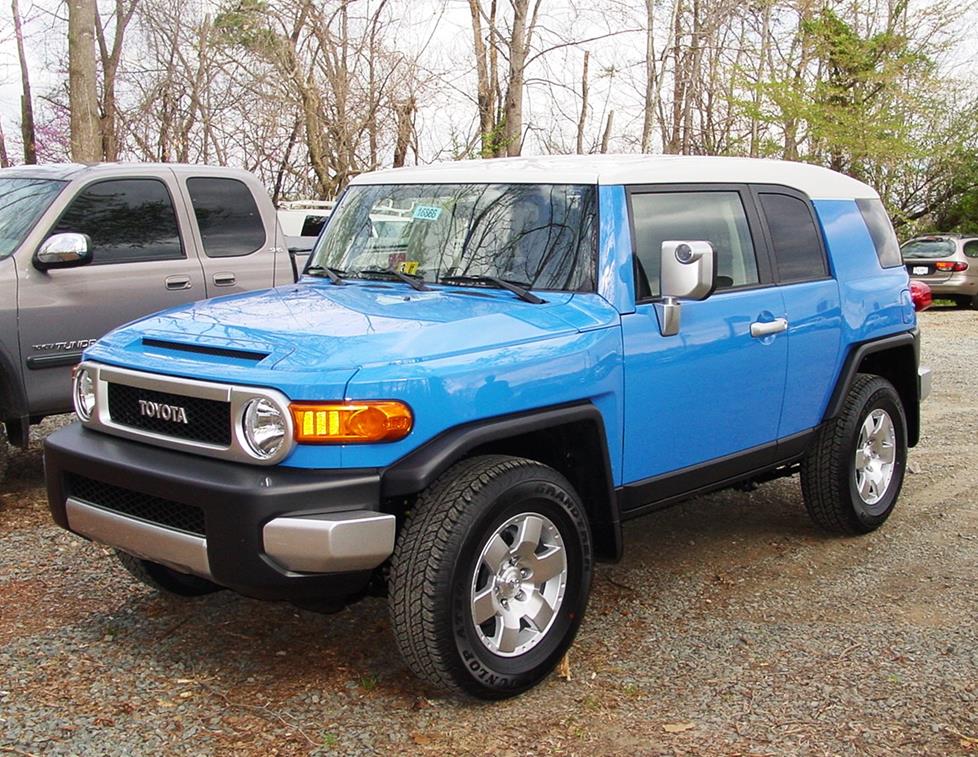 In brief: This Crutchfield Research Garage article gives you an overview of your FJ Cruiser's stock stereo system and your aftermarket upgrade options. Use our vehicle selector to find the gear that will fit your Toyota.
Overview of the Toyota FJ Cruiser
The 2007-2013 FJ Cruiser is the spiritual descendant of Toyota's original FJ40 Land Cruiser, a rugged machine known for its legendary off-road prowess. The modern FJ combines the original's trail-breaking, dune-climbing ability with modern conveniences and retro styling that helps it stand out from ordinary SUVs.
You probably don't go up and down a rocky mountainside every time you run out for groceries, but if you ever have to, the FJ is ready for the challenge. It's a purposeful vehicle designed for serious off-road use, so if you're into outdoor activities like biking, skiing, or camping, the FJ is a great choice. When you're braving the wilds of the suburban jungle, the FJ handles reasonably well and the big V6 has all the power you'll ever need to ford a pass or pass a Ford.
No, it's not a Yaris when it comes to fuel economy. And yes, it does have a blind spot big enough to hide a small town scandal. But if you need a vehicle that's ready to go wherever the road takes you – and beyond – you probably don't care about that stuff. All you want to do is load some gear into your FJ and get on with the weekend. If you're planning to add some stereo gear one of those weekends, you've already arrived at the right destination.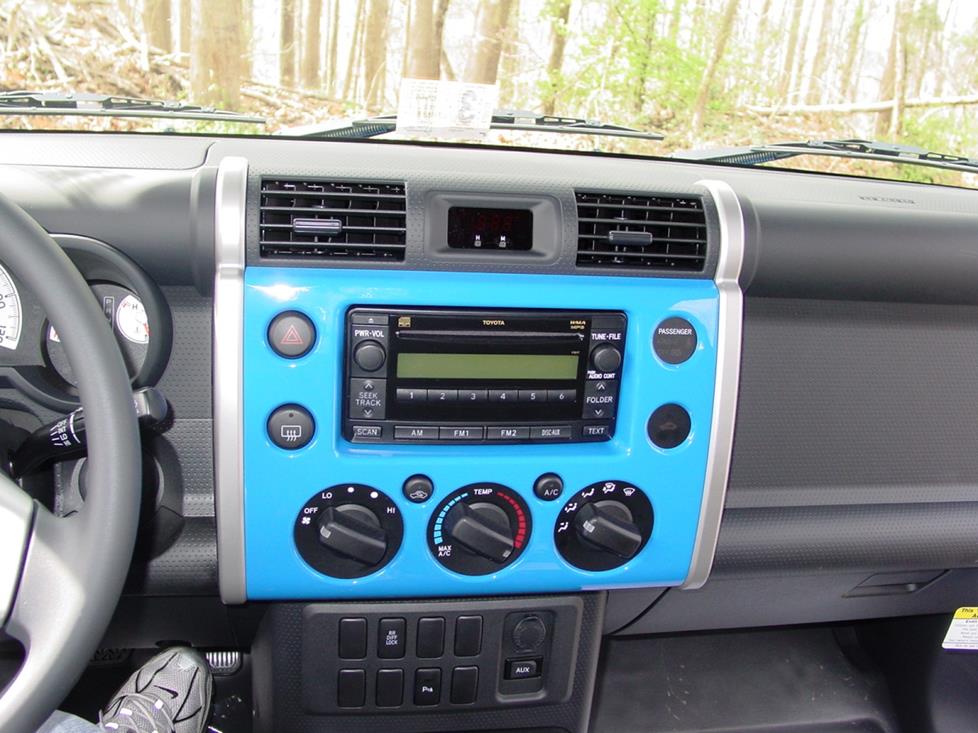 The Toyota FJ Cruiser 's radio (Crutchfield Research Photo)
Factory stereo system
For owners of the original FJ40, "rugged" described both the terrain the vehicle could drive through and what it was like to drive. Today's FJ Cruiser is a much nicer place to spend an afternoon, whether you're crawling carefully along a trail or cranking some tunes on a long highway drive.
The base stereo system was a 6-speaker AM/FM/CD/MP3/WMA player with an AUX input jack on the lower dash panel and a Sirius satellite radio option. The mid-level system boasted an in-dash 6-CD changer and a pair of rear pillar speakers, while the top-line system added a factory subwoofer. In 2011, Toyota introduced a JBL system that featured an AM/FM/6-CD/MP3/WMA player with a whopping eleven speakers in seven locations.
When you start planning your new system, remember that aftermarket receivers with flip-out monitors won't work with the FJ's dash. Also, when you replace the stock receiver, you'll lose your factory satellite radio and the use of the in-dash AUX jack. Those functions are easy to replace, though, when you choose the right aftermarket equipment.
The FJ's stock receiver is pretty easy to remove (Crutchfield Research Photo)
Replacing your factory radio
The FJ Cruiser doesn't take up near the acreage of, say, a first-gen Hummer, but it's still a good-sized vehicle inside and out. That means there's plenty of room in the dash for a single-DIN (2") or double-DIN (4") receiver, plus plenty of room to work during the installation. No matter which receiver you're removing, the steps are the same and, thankfully, they're very straightforward.
To start, remove one Phillips screw from the lower part of each dash side trim strip, then pull the strips towards rear of vehicle to release the clips and remove the trim.
Next, you'll remove two (2) Phillips screws from radio trim panel, pull the trim panel towards you to release more clips, disconnect the harness, and remove the piece.
Detailed stereo and speaker removal instructions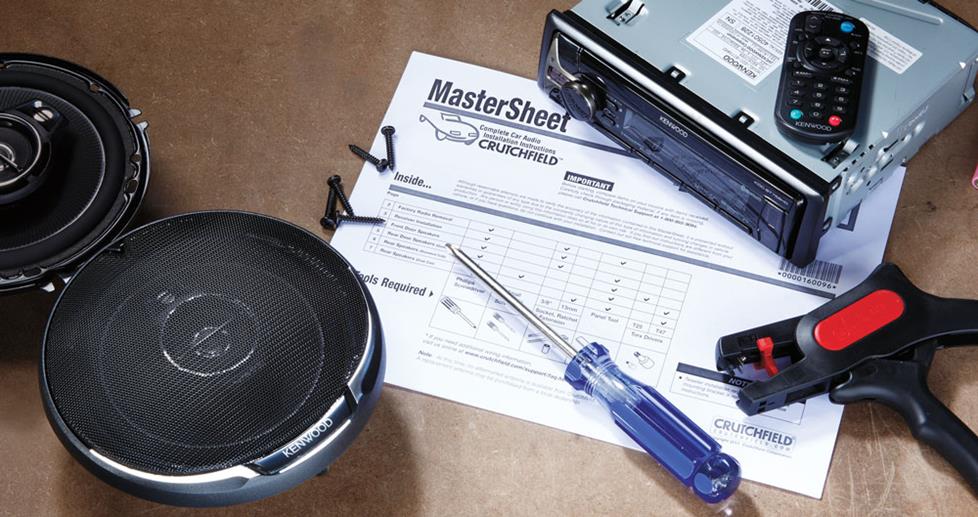 With step-by-step disassembly instructions and plenty of up-close, detailed photos, our exclusive
Crutchfield MasterSheet
™ takes the guesswork out of removing the factory stereo and speakers. It's free with your Crutchfield order, or you can purchase one separately for just $9.99.
You'll then remove four 10mm bolts securing the radio brackets to the dash, pull the radio out, disconnect those harnesses, and remove the old radio.
You'll need a mounting kit to trim out the new radio and a wiring harness that allows you to connect your new radio to the factory wiring. These installation parts are available at a deep discount with most orders, and our famous Crutchfield MasterSheet™, which contains step-by-step installation instructions for your FJ Cruiser, is included free
2011-up FJ Cruisers were available with an optional JBL-branded upgrade package that included a receiver, an external amplifier, and a subwoofer. Replacing the JBL receiver is no different than any other, but be sure to choose a new stereo with both front and rear preamp outputs to retain speaker fade capability.
Tools needed: Phillips screwdriver, socket wrench and extension, 10mm socket, panel tool
Steering wheel audio controls
It's relatively easy to retain the steering wheel audio controls when you install a new stereo in your FJ Cruiser. When you enter your vehicle information, our database will choose the adapter you need to make your factory steering wheel controls work with your new receiver.
Shop for car stereos that fit your Toyota FJ Cruiser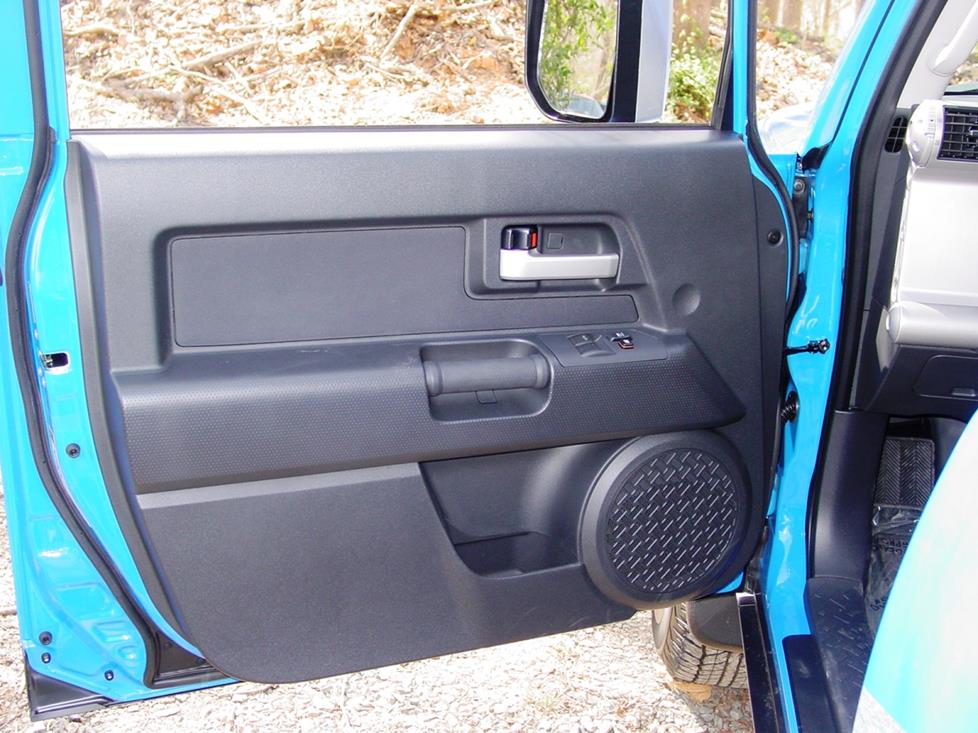 The Toyota FJ Cruiser's front door (Crutchfield Research Photo)
Replacing your factory speakers
A new set of aftermarket speakers will really transform the sound in your FJ Cruiser.
Front doors
The FJ's front doors contain a set of rather oddly shaped 6"x9" speakers. The unique shape means an off-the-rack set of 6"x9" aftermarket speakers won't fit, so you'll need to decide whether you prefer 6-3/4", 6-1/2" or 5-1/4' replacements. They'll all work nicely with the help of the mounting bracket, and wiring harness adapter available at a discount with your Crutchfield speaker purchase.
Whether you have a Toyota system or the JBL package, removing and replacing these speakers involves the same relatively simple steps. Start by prying open the screw cover inside the door release handle trim, then remove the exposed Phillips screw.
Next, remove the center push pin clip located at the upper front edge of the door panel. You'll then pry open the screw cover behind the door pull handle and remove one more exposed Phillips screw.
At this point, everything should be loose, so carefully pry around the sides and bottom of door panel to release the clips. Disconnect the door lock, release cables and harnesses, then remove the door panel and behold the oddly shaped 6"x9" speaker you're about to replace after removing four 10mm screws that secure it to the door and disconnecting the harness.
Tools needed: Phillips screwdriver, small flat blade screwdriver, socket wrench and extension, 10mm socket, panel tool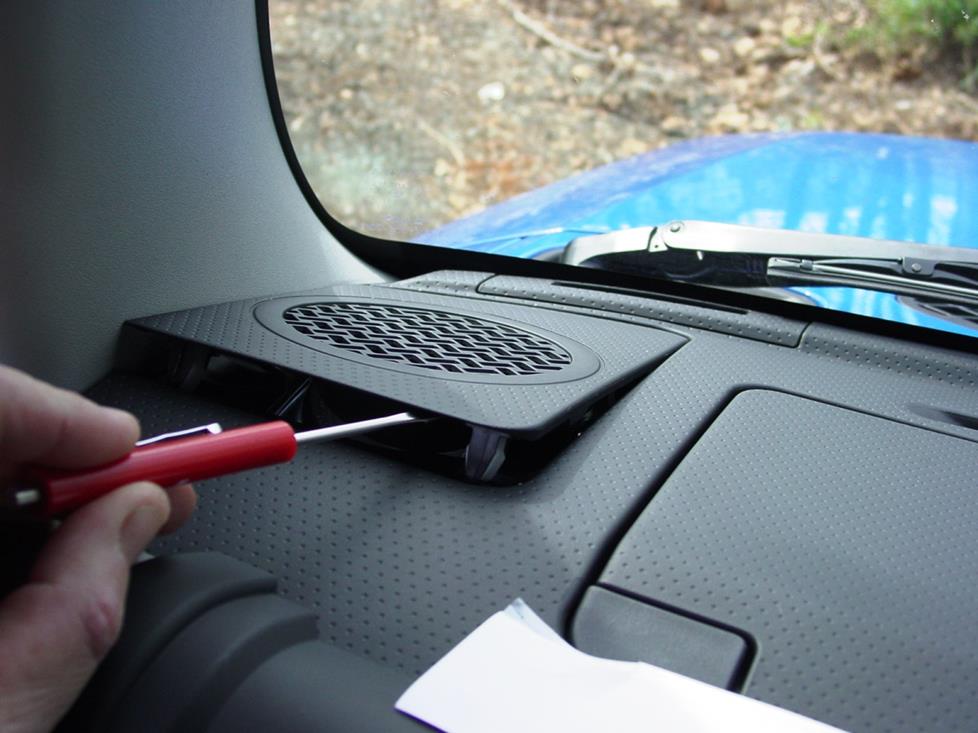 The FJ's dash speakers (Crutchfield Research Photo)
Dash speakers
The FJ Cruiser's dashboard features a pair of small (less than 3-1/2") tweeters, hidden behind a subtle grille that's easy to remove with a panel tool.
These tweeters are wired in parallel with the door speakers, so if you're looking for improved performance, you might want to think about installing a set of component speakers in your truck.
There's no mounting bracket for this location, so you'll need to use a couple of our Universal Back Straps to hold the tweeters in place here.
There's also no wiring harness available, so you'll need a set of Posi-Products speaker connectors to hook the FJ's speaker wires to your new speaker wires.
---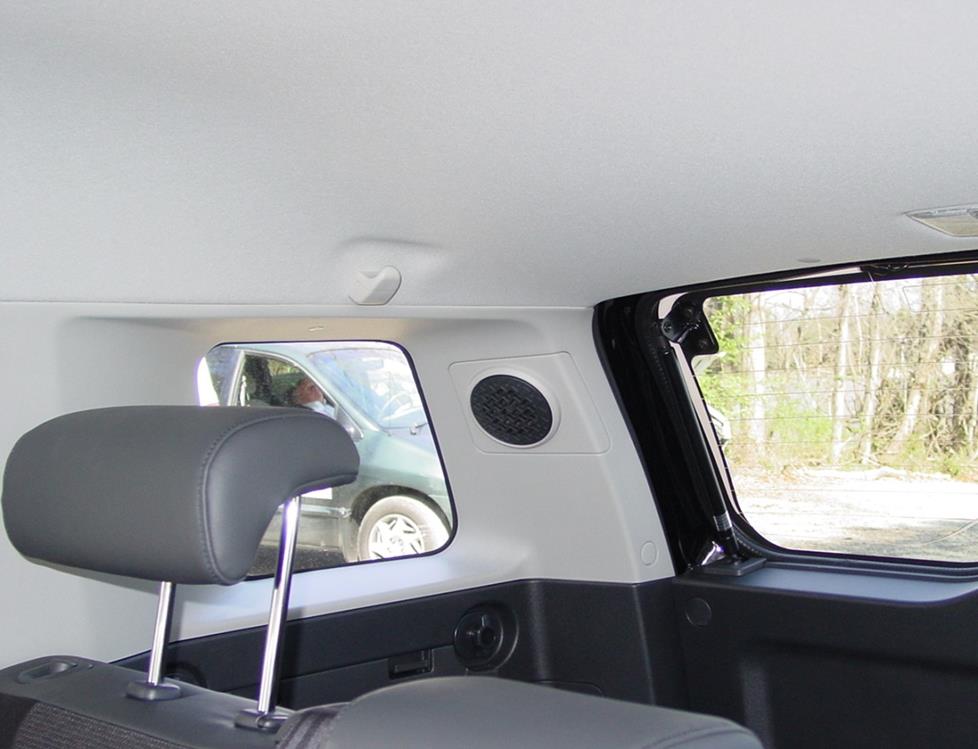 The FJ Cruiser's rear speakers (Crutchfield Research Photo)
Rear speakers
The FJ Cruiser's rear speakers, available on higher-end and JBL-equipped models, are located in the chunky rear pillars. While they're easy enough to get to, direct replacements are just plain hard to get.
Because the grille is integrated into the pillar trim, there's no space for anything larger and, even if you found something, you'd also need to fabricate your own mounting bracket. Honestly, there's nothing wrong with leaving these speakers where they are and focusing on other areas of your system.
Tools needed: Panel tool, Phillips screwdriver
Note: Some FJ models have a transducer-based headliner speaker system that's integrated with the roof panels. Unless you're already planning to spend a massive amount of money customizing your FJ from top to bottom, you don't even want to think about the cost of tearing out the headliner and replacing these small (but effective) speakers.
Shop for speakers that fit your Toyota FJ Cruiser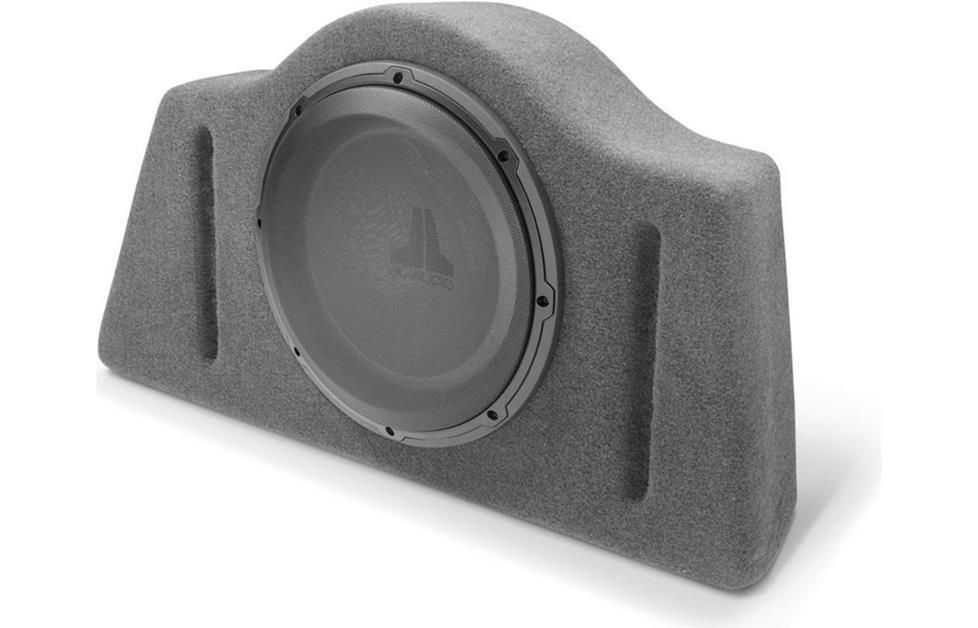 JL Audio Stealthbox (Crutchfield Research Photo)
Bass in your Toyota FJ Cruiser
Give Toyota credit for offering optional factory systems that came complete with subwoofers. Any sub is better than no sub, of course, but if you're serious about bass, you'll still want to upgrade the factory 8" models. Whether you have a "standard" sub or a JBL model, you'll find it neatly packaged on the right side of the rear compartment.
If you want extra boom without losing cargo room, you'll want to investigate the JL Audio Stealthbox. This custom-fit subwoofer enclosure houses a 12" JL sub, so you'll get plenty of thump for your efforts. It's designed to fit perfectly in that right rear corner space, whether there's a factory sub enclosure there or not. The installation requires some effort – you'll have to drill some holes and deal with other installation challenges – but it's well within the range of the average car audio do-it-yourselfer. When in doubt, it's best to leave the job to your local car audio installation shop.
There's plenty of space for a sub box in the FJ's rear compartment, of course. It'll hold up to a 42" W x 20" H x 24"/33" D (top/bottom) enclosure, so you can build something pretty impressive if you want to. It all depends on how much storage you need and how much bass you want.
Shop for vehicle-specific subwoofers for your Toyota FJ Cruiser
Other options for your FJ Cruiser
Here are a few other great ideas for your FJ Cruiser: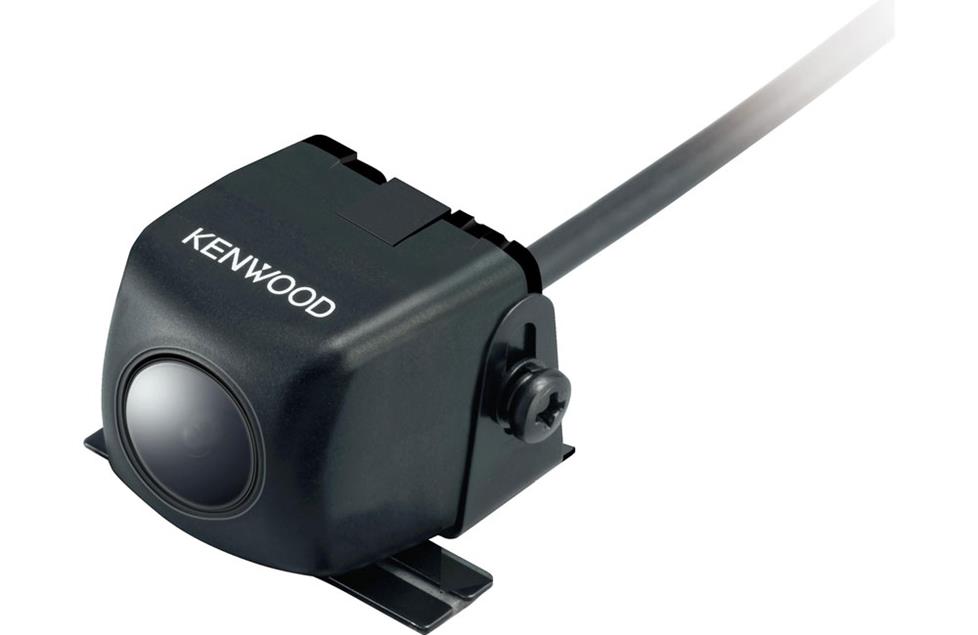 Kenwood CMOS-230 rear view camera
Back-up camera
Blind spots are an issue with the FJ, a fact that Toyota acknowledged by making an optional back-up camera available from 2009-on. If your FJ doesn't have one, we offer rear-view cameras from Kenwood, Alpine, Sony, Pioneer, and more. Some are designed to work with same-brand receivers only, but others come with a composite video connector and will work with almost any video receiver.
Add an amp (or two)
A new 4-channel amplifier will help you get the most out of your new speakers. You'll get cleaner power (and a lot more of it), which will result in much, much better sound. A mono amp can provide the juice you need for your new rear deck subwoofer, too.
Security system
Installing a security system in your FJ Cruiser isn't easy (security systems rarely are), but it's definitely a good idea. Our Crutchfield Advisors can help figure out what you need to get the job done, but we usually recommend taking your car and new gear to a professional installer.
Shop for car security systems for your Toyota FJ Cruiser
Find the audio gear that fits your car or truck
Visit our Outfit My Car page and enter your vehicle information to see stereos, speakers, subs, and other audio accessories that will work in your vehicle.