2007-2013 Suzuki SX4
Upgrading the stereo system in your SX4
2007 • 2008 • 2009 • 2010 • 2011 • 2012 • 2013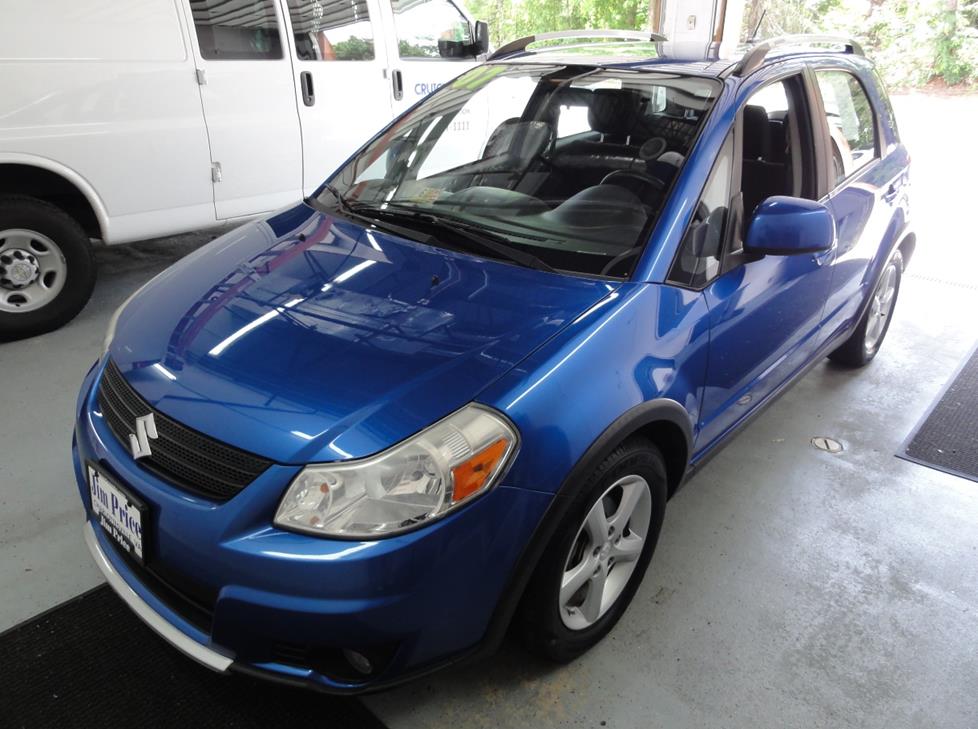 In brief: This Crutchfield Research Garage article gives you an overview of your SX4's stock stereo system and your aftermarket upgrade options. Use our vehicle selector to find the gear that will fit your Suzuki.
Overview of the Suzuki SX4
It's never a good thing when the company that built your car announces that it's going to stop selling cars in your country. Just ask a Suzuki SX4 owner. One day you're driving around in a neat little car, the next day you're checking to see if the AMC people will let you join them in the "Orphan Cars" section at the local show n' shine.
The good news is that Suzuki is a multi-national manufacturing behemoth that still sells tons of motorcycles, ATVs, and more in North America, so it's not like they tossed the keys on the floor and blew town. Suzuki still sells cars all around the world, too, so parts are still available.
The better news is that Suzuki left behind some pretty nifty cars, like the SX4 hatchback (shown) and sedan. If you have the front-wheel drive version, you've got a fun little everyday runabout. With the available all-wheel drive, you get all that good stuff, plus the ability to get home in a blizzard. These cars reviewed well when new, and they seem to be aging nicely. Replacing that tired old factory stereo system with a new receiver and speakers will make your Suzuki even more fun to drive.
Detailed stereo and speaker removal instructions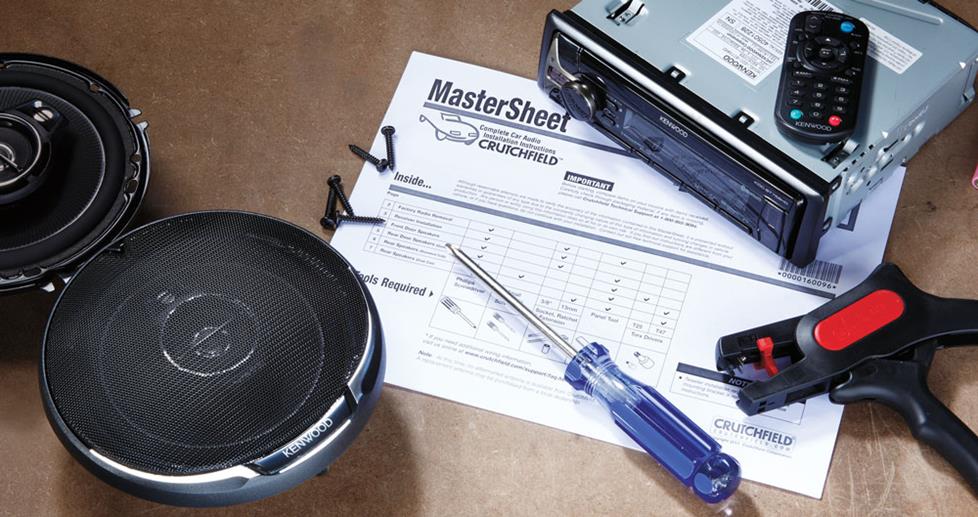 With step-by-step disassembly instructions and plenty of up-close, detailed photos, our exclusive
Crutchfield MasterSheet
™ takes the guesswork out of removing the factory stereo and speakers. It's free with your Crutchfield order, or you can purchase one separately for just $9.99.
Factory stereo system
The SX4 is a pretty basic little car, but the stock stereos still offered a lot for the money. The standard AM/FM/CD/MP3/WMA receiver was XM-ready, and it pumped all that music through four rather puny speakers. The optional Premium system upgraded to a 6-CD changer and nine speakers, including a subwoofer, which is a lot better. A Garmin navigation system was available towards the end of the line.
A variety of single-DIN (2" tall) and double-DIN (4" tall) receivers will fit in the SX4, so you have lots of options. When you replace the factory radio, you'll lose the factory AUX input connection, factory XM satellite radio, and/or factory nav, but all those features can be replaced (and improved upon) when you install an aftermarket receiver.

The SX4's factory radio (Crutchfield Research Photo)
Replacing your factory radio
Despite some mid-cycle changes to the dashboard as a whole, the stereo mount stayed the same, so the same dash kit will work in all SX4s, regardless of the car's age or what size stereo you're installing. This kit, along with a wiring harness designed to connect your new stereo to the factory wiring, is included at a deep discount with your Crutchfield order.
Installing a new stereo in your SX4 is a rather uncomplicated task. To remove the old one, start at the bottom edge of the radio side trim panels and pry them out. Once the panels are out of the way, remove the four Phillips screws that secure the factory radio in place, pull it out, disconnect the harnesses, and remove it from the car.
Secure your new receiver to the mounting bracket following the instructions supplied with the dash kit, then use the Crutchfield-supplied wiring harness to connect the receiver to the factory wiring and plug in the antenna lead. From there, slide the receiver into place and secure it using the screws you removed earlier. Test it out to make sure your stereo is working properly. If it is, put the dash back together.
Tools needed: Phillips screwdriver, small flat blade screwdriver, panel tool
Steering wheel audio controls
It's relatively easy to retain your Suzuki's steering wheel audio controls when you install a new stereo. When you enter your vehicle information, our database will choose the adapter you need to make your factory steering wheel controls work with your new receiver.
Shop for car stereos that fit your Suzuki SX4
Replacing your factory speakers
The SX4's standard stereo system featured speakers in the front and rear doors. The "Premium" package added tweeters and a subwoofer.

The SX4 front door, with the panel removed (Crutchfield Research Photo)
Front door woofers
The factory 6-3/4" speakers can be replaced with same-size, 6-1/2", or 5-1/4" aftermarket models. You'll need mounting brackets to install the smaller ones, and Crutchfield includes them with your speaker purchase.
You'll need to drill new holes for the mounting screws regardless of which speaker size you choose. This isn't massively challenging for the average DIY-er, but any time you're drilling holes in a car, it's smart to take your time and work carefully. Make sure you're aware of what's around and behind the area you're drilling into, and always wear eye protection when you're running a drill bit into metal. Sure, you might look cool and mysterious with an eye patch, but why find out the hard way?
Some aftermarket speakers include mounting screws, but others do not. Check the box before you start working, because going to the hardware store in the middle of a project isn't a whole lot of fun.
Replacing the speakers starts with removing the door panels, and that's a reasonably simple task that's covered in your Crutchfield MasterSheet.
Tools needed: Phillips screwdriver, small flat blade screwdriver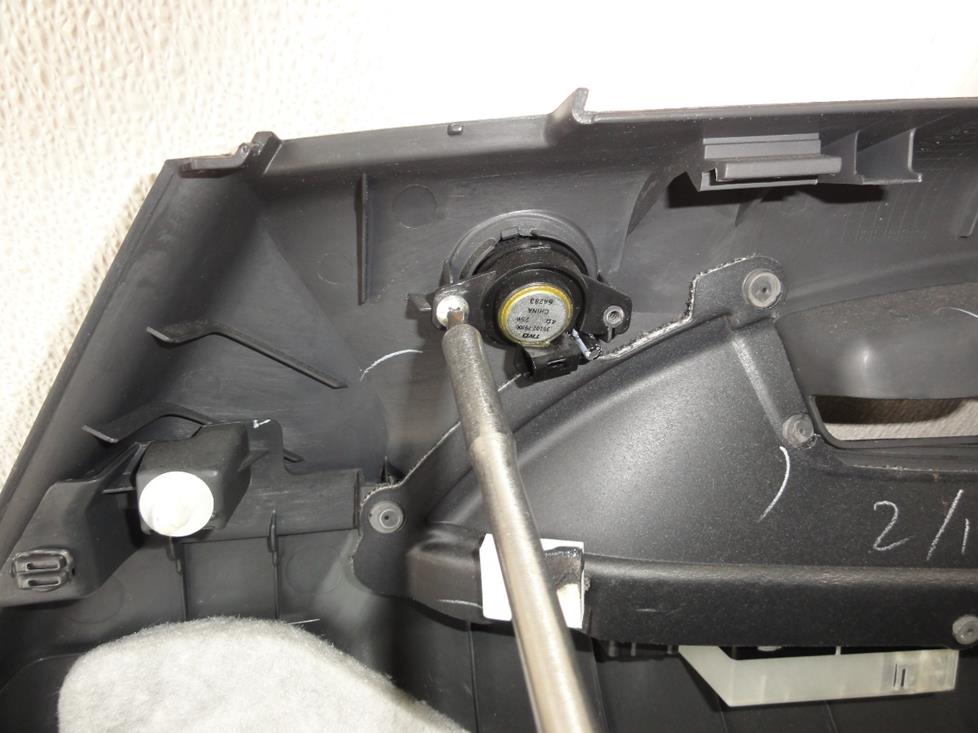 The tweeters are attached to the door panels (Crutchfield Research Photo)
Front door tweeters
If you've removed the door panels to get to the woofer, you've already gotten to the 4-ohm factory tweeters, which are attached to the panel itself with a pair of Phillips screws.
You'll need to fabricate a mounting bracket or use a set of our universal backstraps to mount them, and you'll also want to use Posi-Products connectors to hook them into the factory wiring. You'll need to remove the factory tweeter grilles in most cases. Flush mounting is possible only if the overall diameter of the aftermarket tweeter is less than 1.224".
Tools needed: Panel tool, Phillips screwdriver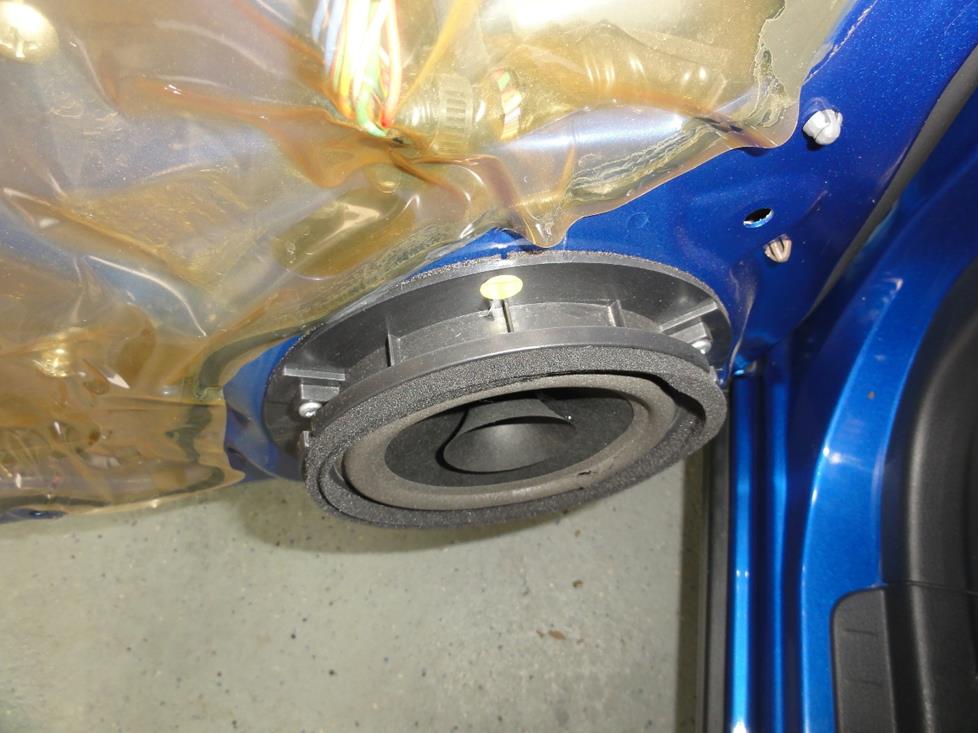 The SX4's rear doors also contain woofers and tweeters (Crutchfield Research Photo)
Rear door woofers
Replacing the rear door woofers is basically the same process as replacing the ones up front. We'd go through the whole thing again, but you get the point, so why bore you with repetitive copy?
Tools needed: Panel tool, Phillips screwdriver
Rear door tweeters
Replacing the rear door tweeters is basically the same process as replacing the ones up front. We'd go through the whole thing again, but you get the point, so why bore you with repetitive copy?
Tools needed: Panel tool, Phillips screwdriver
Shop for speakers that fit your Suzuki SX4
Bass in your Suzuki SX4
The SX4's "Premium" system already includes a small subwoofer, so you can replace that or go bigger with a compact powered subwoofer or a big, thumping sub enclosure. Interestingly enough, the hatchback and sedan offer the same amount of space for an enclosure. You'll have a 40" W x 20" H x 26"/14" D space to work with in either case, so you can create something interesting if you want to go big on bass.

The factory sub is located under the driver's seat (Crutchfield Research Photo)
The factory subwoofer is a 3-1/2" dual voice coil unit that can be found in a box under the driver's seat. It only receives bass frequencies from the factory amp. To replace it, you'll need to scoot the seat as far forward as possible to get to the enclosure, but you won't have to remove the seat. Pry the harness clip out of the sub enclosure bracket, then remove the four 10mm bolts that secure the enclosure to the floor. Once that's done, disconnect the harness and remove the enclosure.
Place the enclosure on your workbench, then remove sixteen Phillips screws securing the bracket and the bottom plate and remove both. Remove the four Phillips screws securing the speaker to the enclosure, then disconnect the harnesses and remove the speaker. Your new sub will only need two screws to hold it in place.
Tools needed: Panel tool, Phillips screwdriver, 10mm socket, ratchet and extension
Shop for vehicle-specific subwoofers for your Suzuki SX4

The cargo area offers plenty of room for a powered sub (Crutchfield Research Photo)
Other options for your SX4
There are all sorts of neat ways to improve your SX4's sound and everyday usefulness. Here are a few ideas:
Dynamat
The SX4 is a well-built car, but it's still a subcompact, so it can get a bit buzzy at highway speeds. The Dynamat Xtreme Door Kit is the perfect way to seal out the noise and seal in the sound. This heavy-duty insulating material is easy to install, and it really makes a difference. This is a great thing to do while you're installing new speakers. Why take the doors apart twice if you don't have to? One kit will take care of the front doors on your SX4.
iPod® and satellite radio adapters
Better sound is a wonderful thing, but not everyone is up for replacing the factory receiver. Not a problem. You can still add versatility and great sound to your SX4. We offer several adapters that will allow you to use an iPod, MP3 player, or satellite radio with the factory system. You can upgrade the speakers later for even better sound.
Security
Installing a security system in your SX4 isn't easy (security systems rarely are), but it's not insanely complicated, either. Our Crutchfield Advisors can help figure out what you need to get the job done, but we usually suggest turning this kind of work over to a professional.
Shop for car security systems for your Suzuki SX4
Find the audio gear that fits your car or truck
Visit our Outfit My Car page and enter your vehicle information to see stereos, speakers, subs, and other audio accessories that will work in your vehicle.