2008-2012 Honda Accord sedan
Upgrading the stereo system in your Accord
2008 • 2009 • 2010 • 2011 • 2012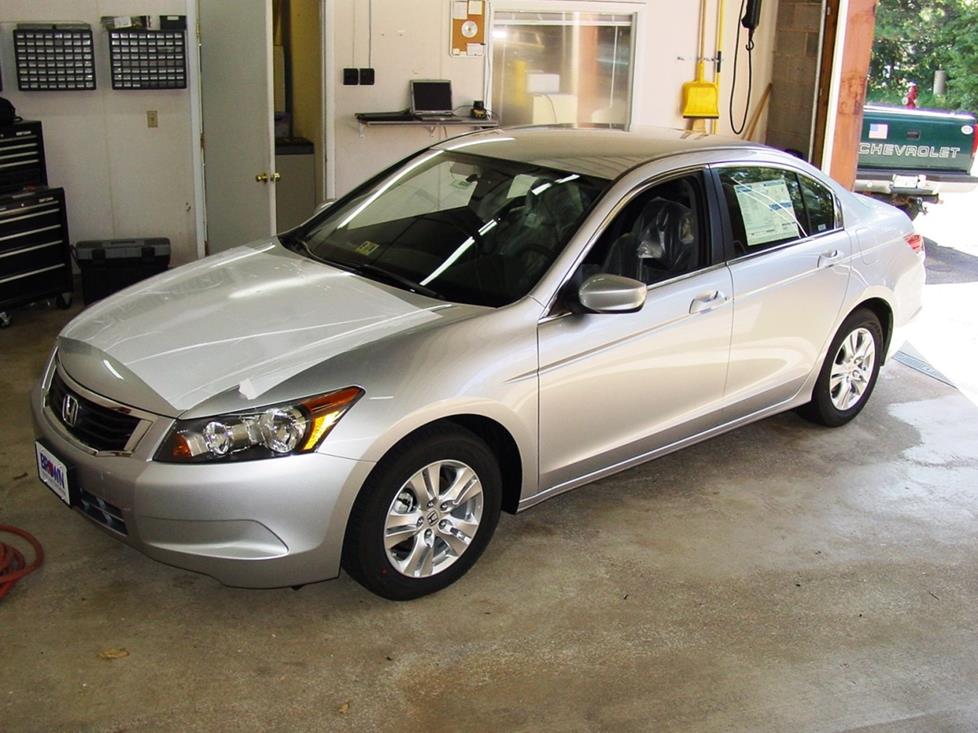 In brief: This Crutchfield Research Garage article gives you an overview of your Accord's stock stereo system and your aftermarket upgrade options. We'll tell you all about:
Then, use our vehicle selector to find the gear that will fit your Honda.
Overview of the Honda Accord sedan
If there's a parking lot in North America that doesn't have a 2008-2012 Accord sedan in it right now, either there's one on the way or the lot was just repaved and the asphalt is still too wet for cars. Here at Crutchfield, our parking lots contain numerous Accords, every one of which is driven by a smart person who never calls off because of car trouble.
Judging by the number of Accords sold during this model's run, there are a lot more smart people out there than you'd probably think. Accords, in stock form, anyway, certainly aren't the most exotic cars around, but they run like watches and they're actually quite handsome in a subtle sort of way. The Accord is a smart package all around, so it's no wonder people like it.
The factory stereos are as reliable as any other part on the Accord, but they don't exactly rock out. If you're okay with okay sound, the factory gear will probably pump it out as long as you and the next three owners ask it to. But since you're reading this, we assume that "okay" probably isn't good enough. We'll show you how to get the performance you crave.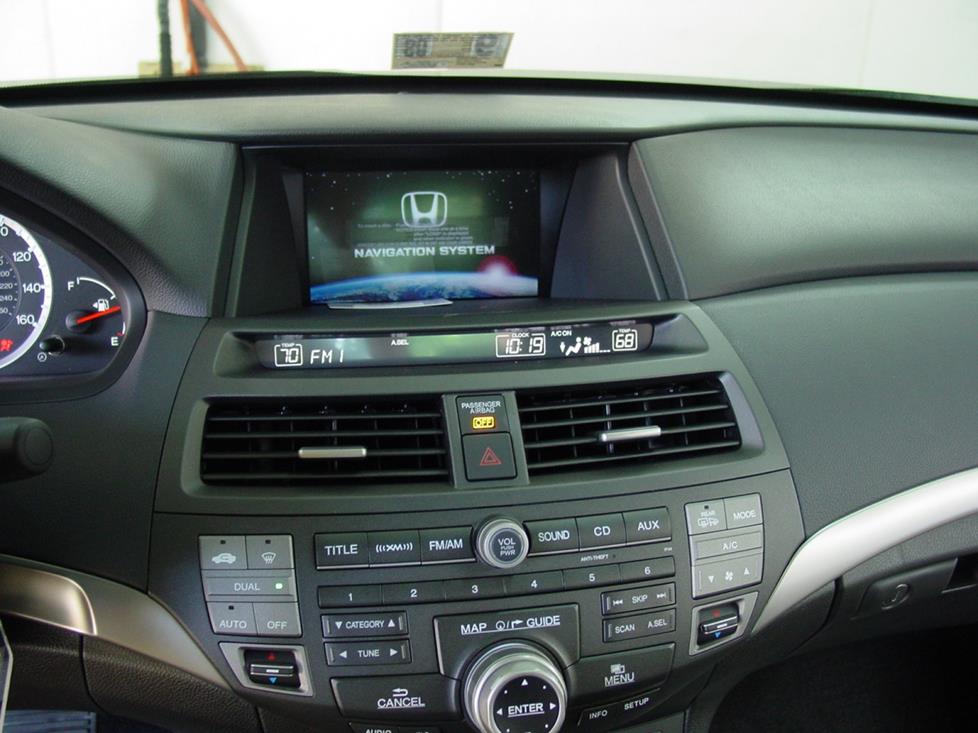 A navigation receiver was a factory option on the Accord (Crutchfield Research Photo)
The factory stereo system
The Accord sedan and coupe share the same dashboard design and factory radios. The standard piece was an AM/FM/CD/MP3/WMA player connected to six speakers. The Premium Audio system added a subwoofer for a total of seven speakers. A navigation receiver was also an option.
The top-line package also included Honda's Active Noise Control System, which kicked in between 1500-2400 RPM and sent out a cancelling signal that reduced low frequency vehicle noise. The two mics are connected to the factory radio, so you'll lose this feature when you install a new stereo. Depending on how your car was originally equipped, you'll also lose factory features like AUX input, satellite radio, backup camera, navigation, hands-free cell phone interface, and the compass/clock.
The good news is that you'll be able to regain (and upgrade, frankly) most or all of the features listed above. A variety of single-DIN (2" tall) or double-DIN (4" tall) receivers will fit in the Accord, so you have a lot of great choices available.
The factory amplifier is located above the passenger's side kick panel. The harnesses can be accessed without removing the amp or the kickboard trim. If you're planning to use this amp with your new system, choose a receiver with front, rear, and subwoofer preamp outputs.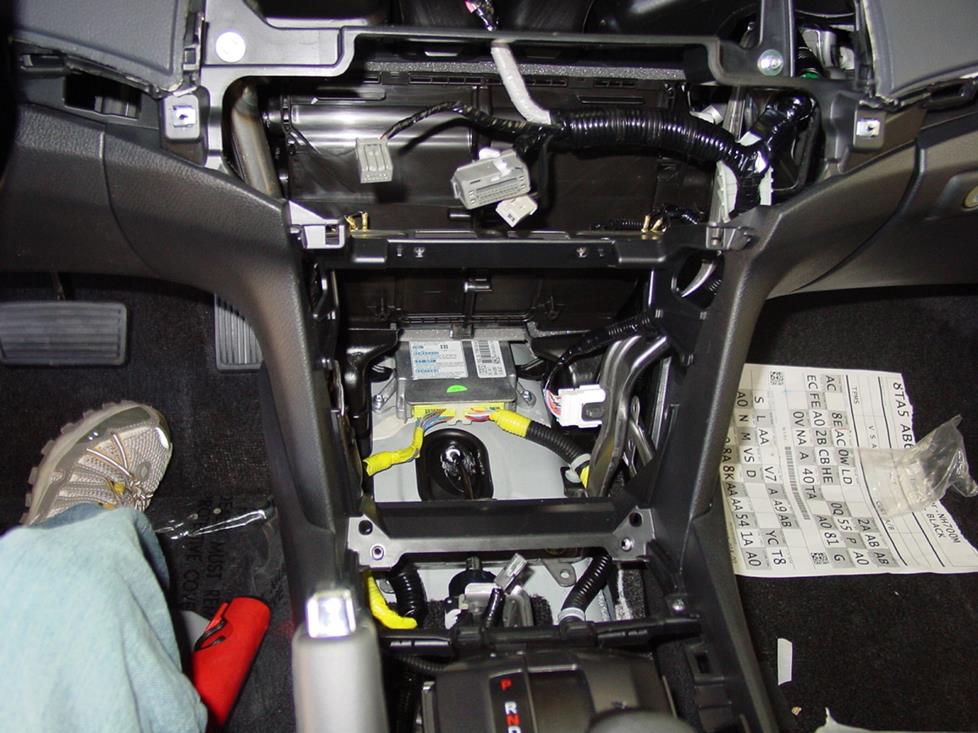 This is not nearly as hard as it looks (Crutchfield Research Photo)
Removing the factory radio
Whether you're dealing with the base radio or the nav unit, removing the Accord's factory radio isn't hard, but it is somewhat complicated due to the number of steps involved. The dash and console are smoothly integrated, so you'll have to start at the console and work your way up to the radio. None of the individual steps are all that tough, but there are a lot of them, so work carefully and stay organized.
Honda is renowned for excellent fit and finish, so the panels you'll be removing here (and throughout the rest of the car) will no doubt be tightly connected. Stay patient, because those retaining clips take their jobs pretty seriously.
You'll need a dash kit to hold your new radio, and it's included at a healthy discount when you purchase your stereo from Crutchfield. This kit, which allows you to retain the factory climate controls, is color-matched to your Honda's interior plastic, so it'll blend right in for a real factory look. You'll also save big on the wiring harness you'll need to connect your new receiver to the car's wiring.
Detailed stereo and speaker removal instructions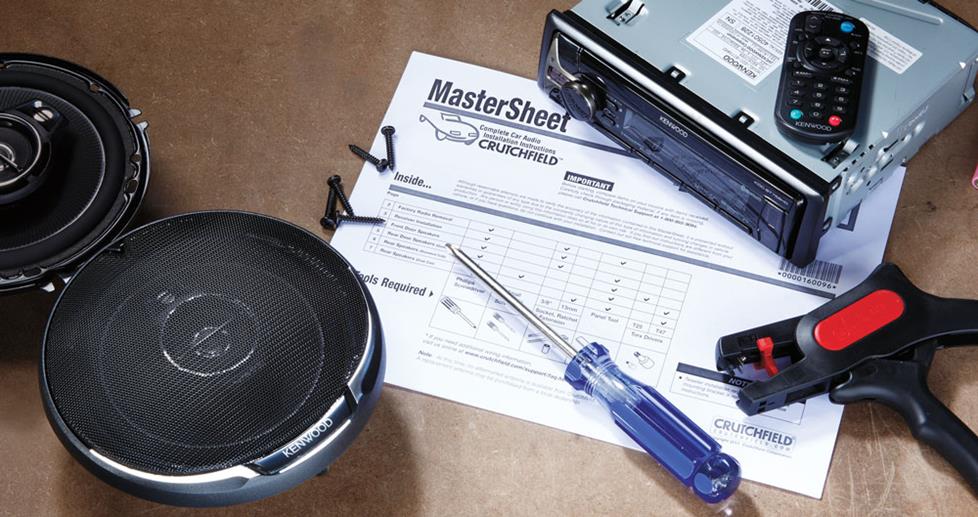 With step-by-step disassembly instructions and plenty of up-close, detailed photos, our exclusive
Crutchfield MasterSheet
™ takes the guesswork out of removing the factory stereo and speakers. It's free with your Crutchfield order, or you can purchase one separately for just $9.99.
Disassembly instructions can be found in your MasterSheet, but if you run into trouble, you can call our Tech Support team seven days a week and get expert advice from an actual human.
Note: Make sure the wiring harnesses associated with the airbag are connected before turning on the ignition switch to test the receiver. If they're not connected, the airbag light will come on, and you'll need to visit your local dealership for a reset.
Tools needed: Panel tool, Phillips screwdriver, 8mm socket, ratchet and extension, small flat blade screwdriver
Shop for car stereos that fit your Honda Accord EX
Steering wheel audio controls
It's relatively easy to retain the steering wheel audio controls when you install a new stereo in your Accord. When you enter your vehicle information, our database will choose the adapter you need to make the factory steering wheel controls work with your new receiver.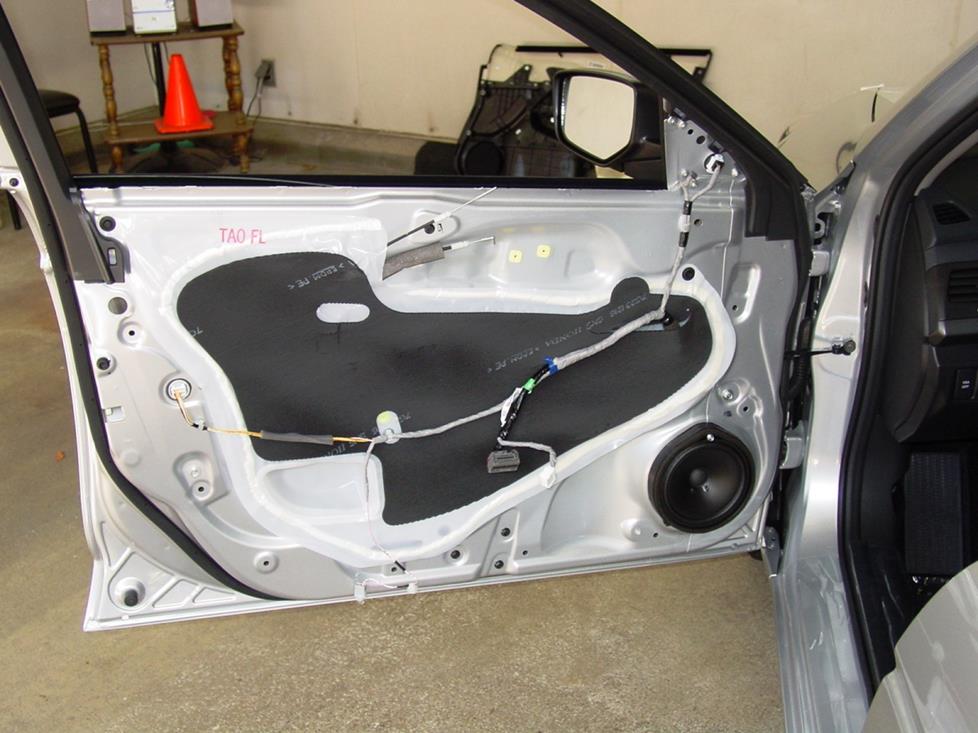 You'll need to remove the door panel to reach the front door speakers (Crutchfield Research Photo)
Removing the factory speakers
The Accord sedan is equipped with speakers in the front doors and rear deck. An optional subwoofer was also available. Disassembly instructions can be found in your MasterSheet, but we'll hit some of the high points here.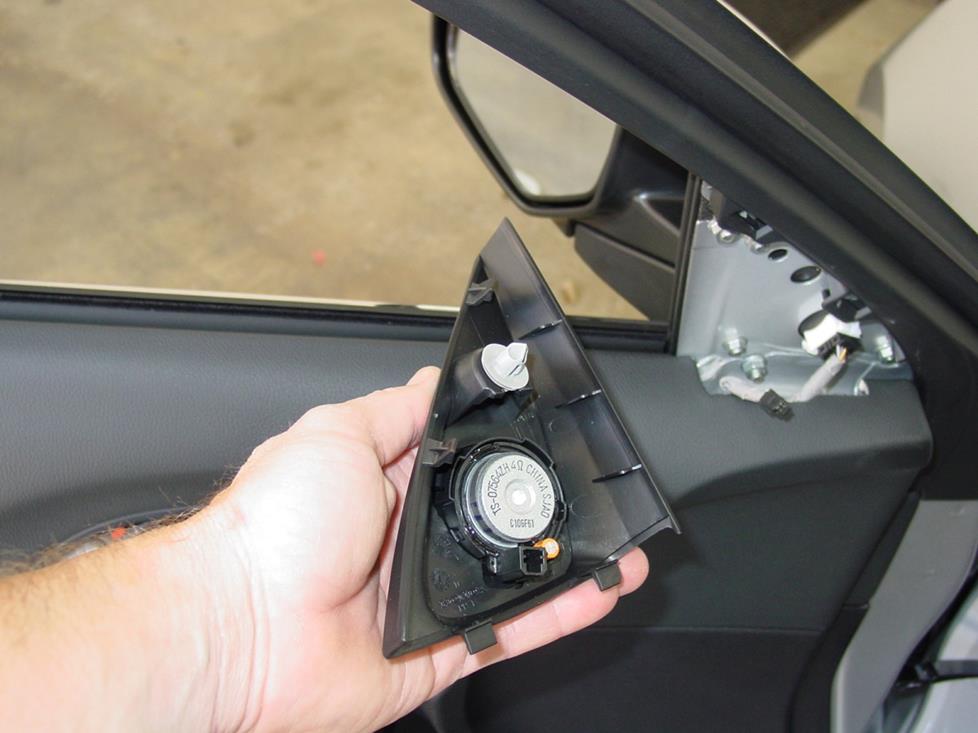 The tweeters are attached to the sail panels (Crutchfield Research Photo)
Front door tweeters
The speaker removal process begins with tweeters mounted in the sail panels. You'll start by prying off the sail panel, starting from the top. Disconnect the harness and pull the sail panel/tweeter assembly out of the way.
Some really terrific component speaker systems fit the Accord, and you'll be able to use the factory tweeter grilles in most cases. You'll need to use a backstrap, hot glue, silicon, or some other method to secure the new tweeters. Also, there's no wiring harness available for this location, so you'll need to use a set of Posi-Product speaker connectors to tap into the wiring.
Tools needed: Small flat blade screwdriver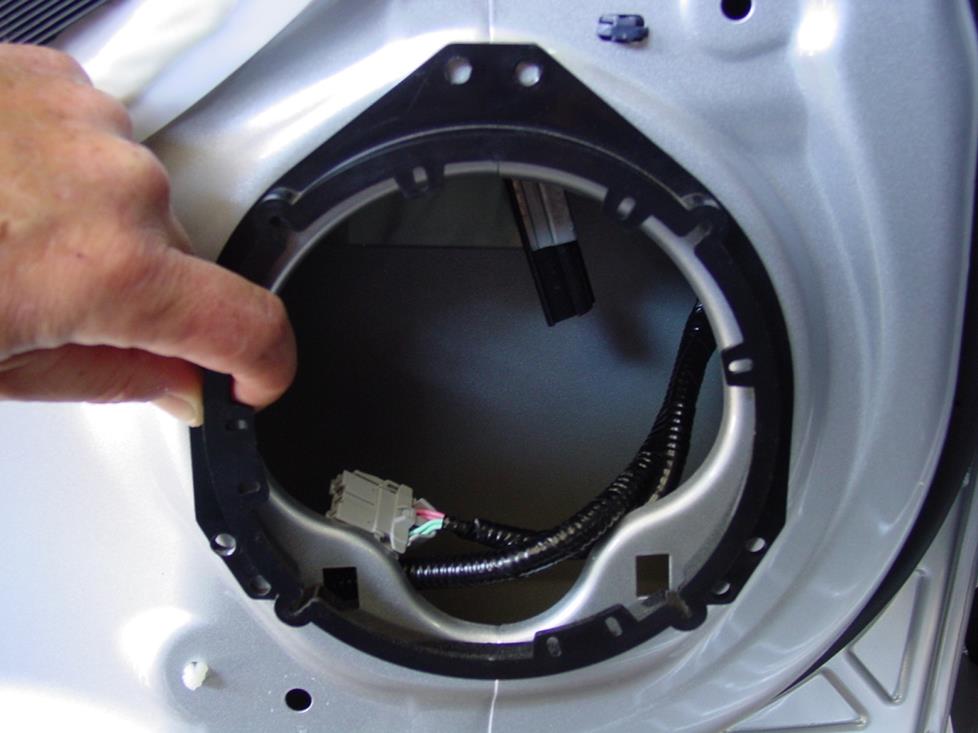 Mounting brackets are included free with your Crutchfield speaker purchase (Crutchfield Research Photo)
Front door woofers
With the tweeter out of the way, you're ready to focus on the woofer. Push down on the screw cover behind the door release, and then remove the cover. That will expose two Phillips screws, which you'll also need to remove.
Starting at the rear edge, pry up the power options switch panel to release one clip. Disconnect the wiring harness and remove the panel. Pry up the screw cover behind the door pull and remove the exposed Phillips screw. You'll finish up by prying out the sides and bottom of the door panel to release the retaining clips, then disconnecting the wiring harness and door lock and release cables. Once you remove the door panel, you can start removing the factory speaker.
Remove one Phillips screw at the top of the speaker, then pry out the top of the speaker. Lift it out, disconnect the wiring harness, and remove it. Then secure the new 5-1/4" or 6-1/2" woofer to the adapter bracket and connect the harness. Both of those installation accessories are included at a discount with your Crutchfield speaker purchase.
Note: Pay close attention to the factory ridge position on the door lock cable when disconnecting it. This will help ensure proper alignment when reinstalling the door panel. Also, be sure to test the locks and make sure the wiring doesn't interfere with the windows before you replace the door panels.
It is possible that the replacement speakers do not have screws supplied. It may be necessary to acquire mounting hardware.
Tools needed: Panel tool, Phillips screwdriver, small flat blade screwdriver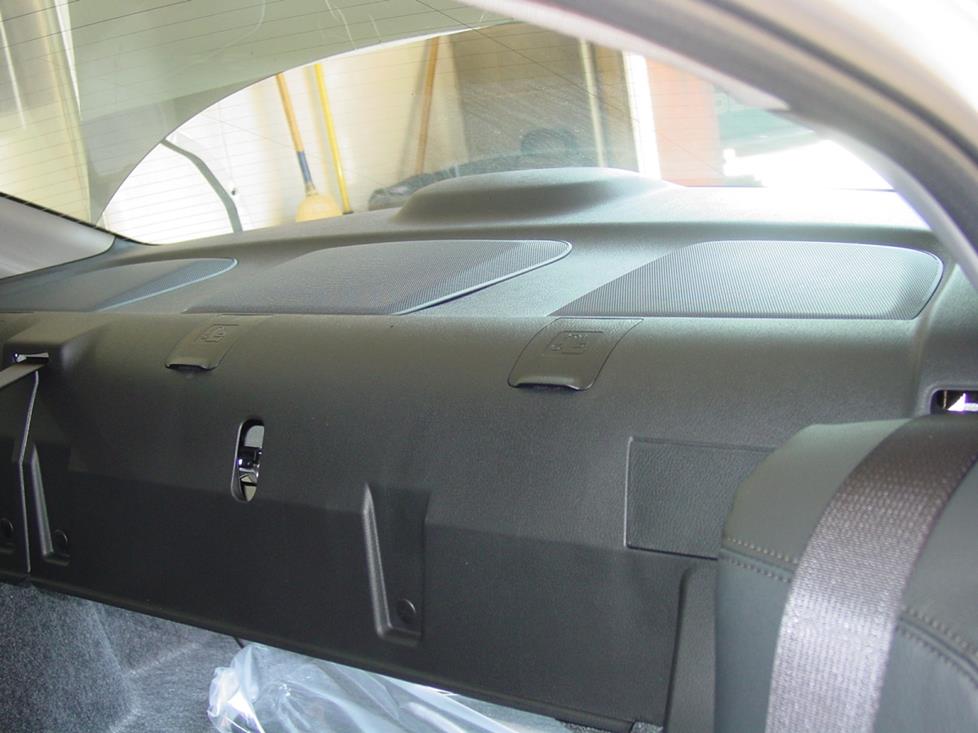 The rear deck houses two speakers and, in some cars, a center subwoofer (Crutchfield Research Photo)
Rear deck speakers
The Accord sedan's 6-3/4" rear deck speakers are reasonably easy to reach and replace. First off, you'll pry up the outer front corner of each speaker grille to release clips. Remove the grille, then remove one Phillips screw securing the speaker. Lift the speaker and push it toward the center of the rear window until it releases. Disconnect the wiring harness and remove the speaker.
We carry a wide variety of 6-1/2" or 5-1/4" speakers that will fit in this location. You'll need an adapter bracket, which is included with your Crutchfield speaker purchase. If you find that your speaker needs more mounting height, the ring on the back of the grille can be trimmed off to accommodate most speakers. Our Outfit My Car tool will warn you if this will be an issue.
As noted earlier, your new speakers might not come with screws, so check the box. If you do need screws, it's best to make your run to the hardware store before you start the project.
Tools needed: Panel tool, right-angle Phillips screwdriver
Shop for speakers that fit your Honda Accord EX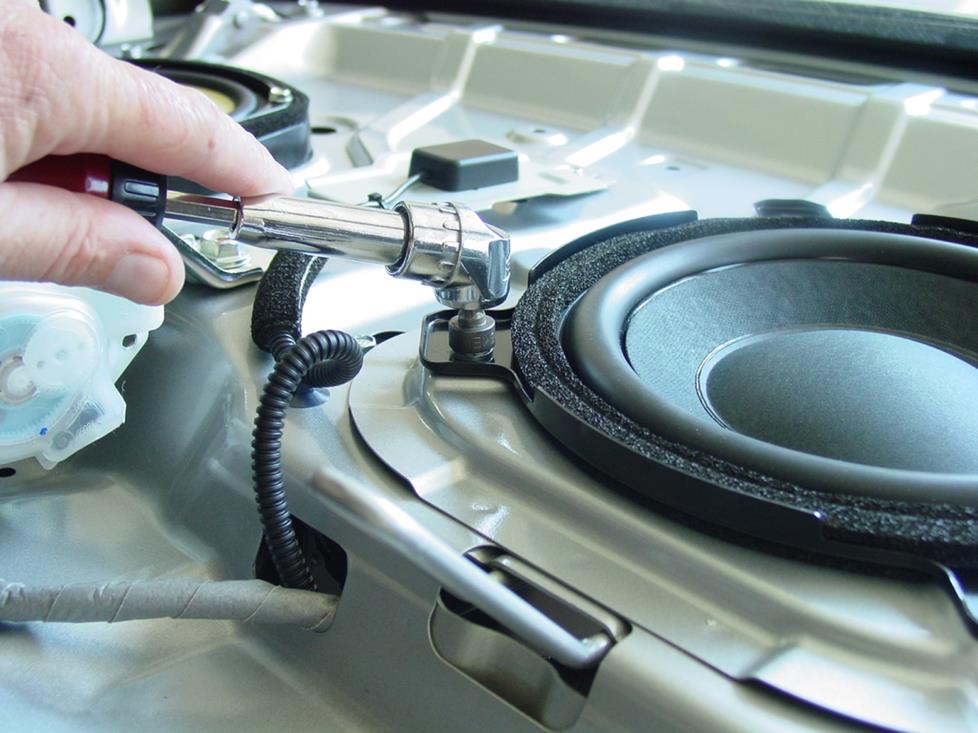 The sub is mounted on the rear deck steel (Crutchfield Research Photo)
Bass in your Accord
The Accord sedan was available with an optional factory subwoofer. If that's not enough, there's plenty of room for bass in the trunk.
Replacing the factory subwoofer
The Accord's optional subwoofer, measuring roughly 8" in diameter, is located between the two rear deck speakers. Unlike the speakers, it's secured to a plate that's welded to the rear deck steel, so getting to it and replacing it is a bit of a challenge. The work isn't all that technical, of course, but there is a fair amount of it and you'll need to fabricate a mounting bracket for whatever you put back there. It's a good idea to have a friend around to help you with this job, if at all possible.
Removing the deck panel and rear trim panels requires caution. These panels are installed with Honda's usual level of fit ("tight"), so work slowly and don't lose your patience. They'll come out in good time. Complete instructions can be found in our MasterSheet for the Accord.
The stock sub's cutout is rather snug, so aftermarket subs with larger baskets might not fit without modification. You may also need to trim the back of the factory grille to get more height. Once again, Crutchfield's Outfit My Car tool can help you choose the best subwoofer to fit this location.
Tools needed: Panel tool, 10mm socket, ratchet and extension
Adding a subwoofer box
The easier way to get even better, bigger bass is to put a subwoofer box in the trunk. The Accord sedan offers 22" W x 15" H x 18" D worth of space in the trunk. We measured at the front of the trunk, because we presume you'll want to leave some cargo space. But if you need even more for your daily and weekly chores, a powered subwoofer is a great choice.
Shop for vehicle-specific subwoofers for your Honda Accord EX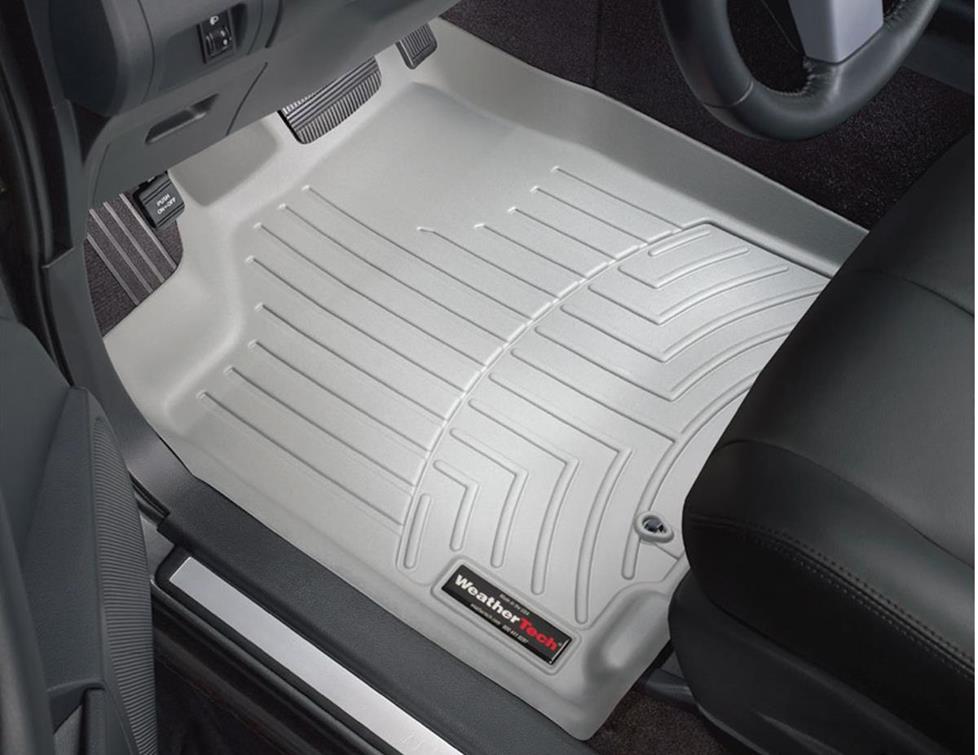 Protect your Accord's carpeting with WeatherTech DigitalFit® Floor Liners
Other options for your Accord
There are plenty of other ways to improve your Accord. Here are just a few of the ways Crutchfield can help.
iPod® adapters and satellite radio
Better sound is a wonderful thing, but not everyone is up for replacing the factory receiver. Not a problem. You can still add versatility and great sound to your Accord. We offer several adapters that will let you use an iPod or other music device with the factory system. We also have a variety of dock-and-play satellite radios to expand your music options. You can upgrade the speakers later for even better sound.
WeatherTech floor mats
Factory floor mats are designed to fill a space as cheaply as possible, so they look lousy and wear out quickly. Replacing the worn-out old mats with quality WeatherTech mats will help protect your Accord's carpeting from dirt, damage, and whatever else life throws at it.
Remote start and security systems
Adding remote start capability to your vehicle lets you warm it up in the winter or cool it down in the summer. The iDatastart system is incredibly convenient and makes it easier than ever to install a remote start system, so we highly recommend it. The module requires a vehicle-specific T-harness (sold separately) to connect with your vehicle's computer, security, and ignition systems, so we ask that you call to order so that we can make sure you get the right harness for your ride.
You can also talk to your Crutchfield Advisor about a security system. They're not as easy to install (we usually suggest letting a professional do the job), but we can help you choose a system that'll work in your vehicle.
Let's get started!
Ready to shop? Use our vehicle selector to find the gear that will fit your car or truck. If you have questions, give us a shout via phone, chat, or email