2008-2012 Ford Escape, Mercury Mariner, and Mazda Tribute
Upgrading the stereo system in your Escape, Mariner, or Tribute
2008 • 2009 • 2010 • 2011 • 2012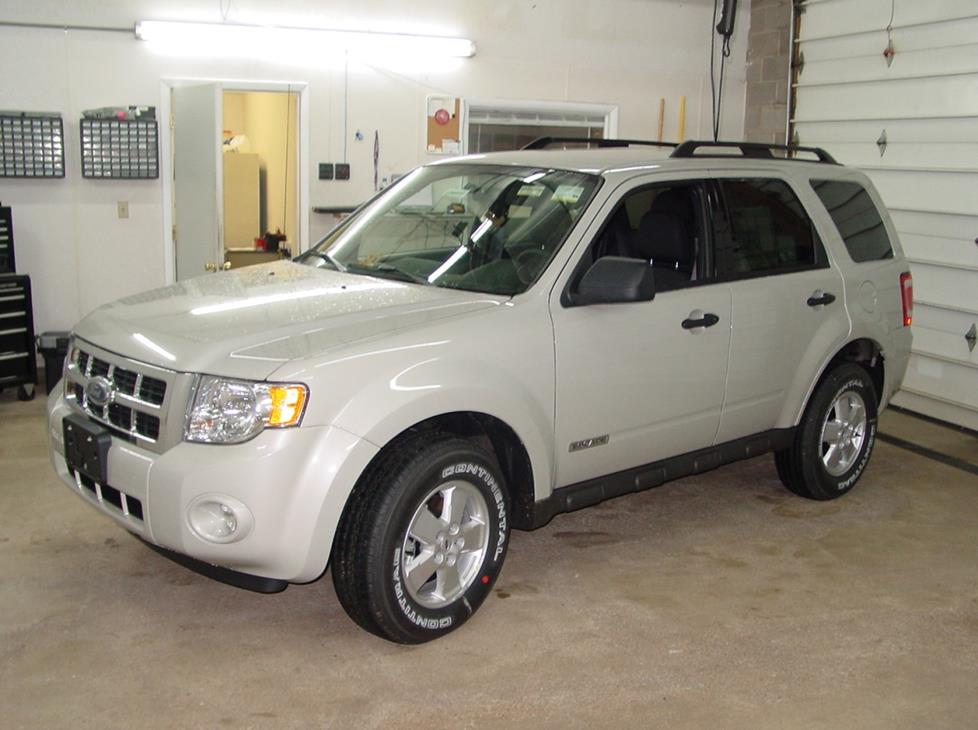 In brief: This Crutchfield Research Garage article gives you an overview of your SUV's stock stereo system and your aftermarket upgrade options. Use our vehicle selector to find the gear that will fit your Escape, Mariner, or Tribute.
Overview of the Escape, Mariner, and Tribute
The second-generation Ford Escape, along with its siblings, the Mercury Mariner and Mazda Tribute, further refined the "cute ute" qualities that made the first generation of these compact SUVs so successful.
Designed more for in-town driving than off-road adventures, the Escape triplets give you plenty of indoor comfort and cargo room in a comparatively svelte exterior package. Unless your requirements for an SUV include seating for an entire youth soccer team, these versatile vehicles offer all the utility you could want, plus a surprising amount of sportiness.
They don't offer much in the way of factory sound, though, so an aftermarket receiver and speakers will make a big difference in your driving enjoyment.

The Escape, Mariner, and Tribute differ in some obvious cosmetic ways, but they're incredibly similar in most respects — including their factory stereo gear. Though you'll see the word "Escape" throughout this article, these removal and replacement instructions will work for all three vehicles.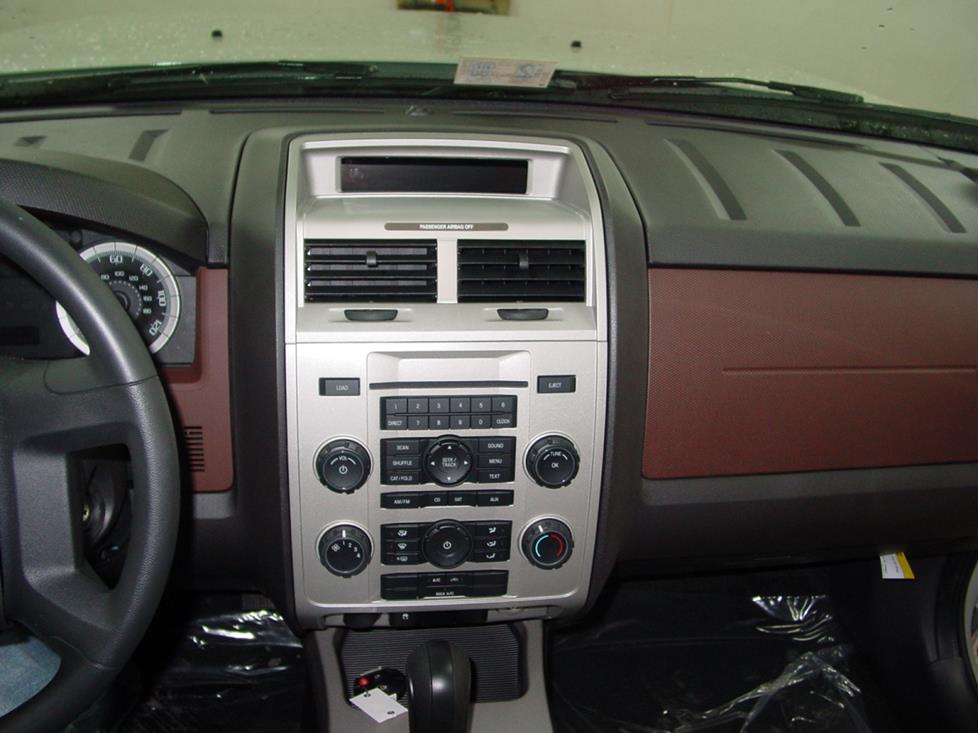 The base radio looks hard to replace, but it really isn't that bad (Crutchfield Research Photo)
Factory stereo system
The factory systems ranged from a base AM/FM/6-CD/MP3 system with four speakers to an Audiophile model that included a rear subwoofer. An optional navigation receiver was available as well, as was the Ford SYNC system.
Detailed stereo and speaker removal instructions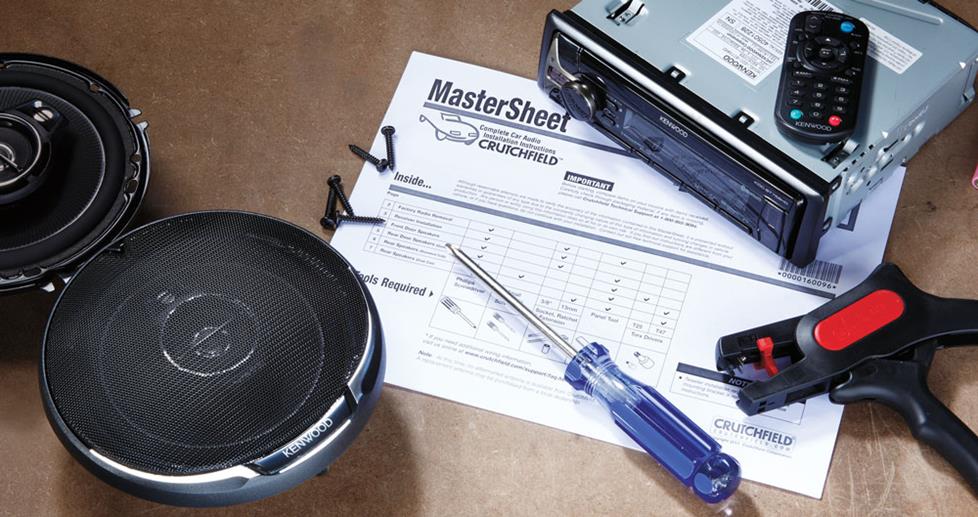 With step-by-step disassembly instructions and plenty of up-close, detailed photos, our exclusive
Crutchfield MasterSheet
™ takes the guesswork out of removing the factory stereo and speakers. It's free with your Crutchfield order, or you can purchase one separately for just $9.99.
If you replace the factory radio, you'll lose the factory nav, but anything it did can be done better by an aftermarket receiver. On later vehicles equipped with SYNC, you'll need to choose a receiver with a rear AUX input and order a special adapter (available from Crutchfield) to retain the SYNC audio features. Both adapters are available at a very nice discount when you purchase your stereo from Crutchfield. You'll also get a nice deal on the dash kit you'll need to install the new receiver in your SUV.
A receiver with a fold-down face will not fit in the Escape, but you'll have a wide selection of single-DIN (2" tall) and double-DIN (4" tall) to choose from.
Hybrid note
If your Escape, Mariner, or Tribute has a gas-electric hybrid powertrain, replacing the stereo is a little more complicated. As you might expect, these hybrid trucks contain some very sensitive electronics, so here are a couple of things to keep in mind:
Be sure to only use a multi-meter when testing wires, and NEVER use a test light to test wires in this vehicle. Doing so could cause some serious (by which we mean dangerous and expensive) damage.
A Hybrid is not the SUV to choose if you want to build a massively powerful audio system. The thirsty current draw of a high-powered stereo is not a good thing for the hybrid system, so don't exceed a 30-amp current draw or 350-watt RMS power rating.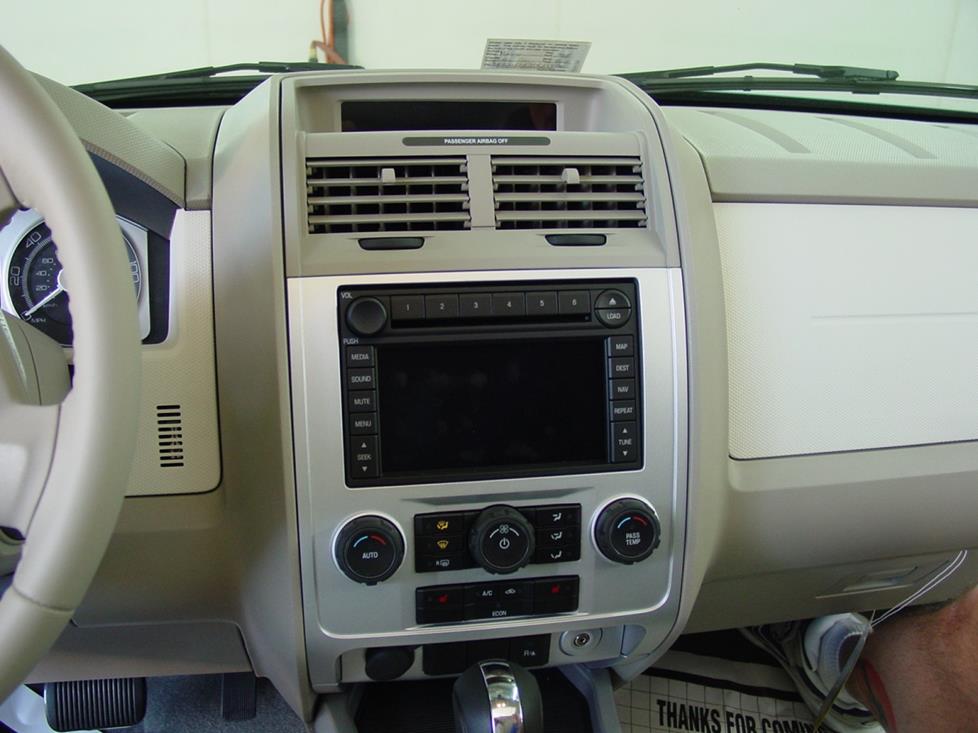 The nav receiver is even easier to deal with than the base model (Crutchfield Research Photo)
Replacing your factory radio
Replacing the Escape's factory radio is a reasonable project for the average do-it-yourselfer, regardless of which radio you're dealing with.
You'll start by using a panel tool to gently pry out the upper vent trim panel and release the retaining clips. Place the panel on the top of the dash, and out of the way, but DO NOT disconnect the airbag harness. Seriously, don't do that.
When you remove the base receiver, you'll need an 8mm open-end wrench to remove a ground bolt from the passenger side of the radio chassis. The nav receiver doesn't have one, so no worries there. All the instructions you need to remove the old radio can be found in your MasterSheet.
To install the new receiver, secure it to the mounting kit following the included instructions; then do everything you just did in reverse order. Be sure to test the new receiver before replacing the vent trim panel.
Tools needed: Panel tool, small flat blade screwdriver, 7mm driver, 8mm open-ended wrench
For a look at how to do this installation, watch our stereo and speaker installation video at the end of this article.
Steering wheel audio controls
It's relatively easy to retain your Escape's steering wheel audio controls when you install a new stereo. When you enter your vehicle information, our database will choose the adapter you need to make your factory steering wheel controls work with your new receiver.
Shop for car stereos that fit your Ford Escape
Replacing your factory speakers
The Escape features 6x8 speakers in both the front and rear doors. They can be replaced by same-size models, or 5-1/4" speakers. If you go with the smaller ones, you'll need mounting brackets, which are included free with your Crutchfield order.

You'll need to remove the door panel to access the front speakers (Crutchfield Research Photo)
Front door speakers
The door speakers aren't hard to deal with. You'll need to remove the door panels to get at them, but that's not tough at all. Starting at the top corner, gently pry off the sail panel to release the retaining clips. Moving down a bit, pry off the screw cover inside the door release trim, then remove the exposed Torx T30 screw. You'll also need to remove a Phillips screw from the door pull cup.
You'll then remove one Phillips screw from the front edge of the door panel, then two more Phillips screws from rear edge. With those out of the way, pry out the sides and bottom of the door panel to release the retaining clips, then disconnect the wiring harnesses and the door release cable before you remove the panel.
The factory speaker is held in place by four 7/32" screws, so remove those, then pull the speaker out and disconnect the harness.
To finish up, connect the speaker wiring adapter of the replacement speaker to the vehicle's speaker harness, secure it with the screws previously removed.
Once both speakers are installed, give them a listen. If they sound good, start putting the doors back together. Before you do, though, make sure that the wires don't interfere with the windows and test the door locks to make sure they're working properly.
Tools needed: Panel tool, small flat blade screwdriver, Torx T-30 driver, Phillips screwdriver, 7/32" hex driver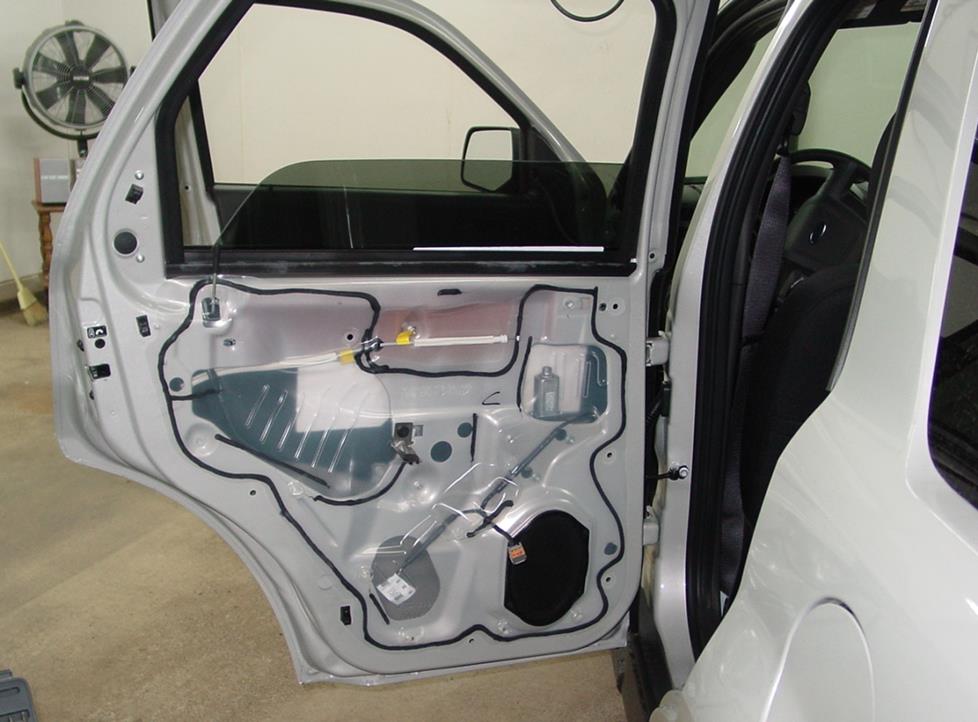 And the same is true for the rear door speakers (Crutchfield Research Photo)
Rear door speakers
Pretty much everything about replacing the Escape's front door speakers, from the speaker sizes available to the tools and techniques needed, applies to the rear doors, too.
Tools needed: Panel tool, small flat blade screwdriver, Torx T-30 driver, Phillips screwdriver, 7/32" hex driver
Shop for speakers that fit your Ford Escape
Bass in your Escape, Mariner, or Tribute

The factory subwoofer has an amp attached to the enclosure (Crutchfield Research Photo)
If your truck is equipped with the Audiophile package, there's an 8" subwoofer (with an amp attached) located in the far right rear side panel. You'll need to replace both if you install an aftermarket sub.
Removal and replacement isn't especially difficult, but there are several steps involved and you'll need a few tools that you haven't pulled out of the toolbox yet. Details and illustrated directions can be found in your MasterSheet.
You'll want to use self-tapping screws to secure your aftermarket sub to the enclosure, so if you don't have any already, you'll need to make a run to your local hardware store before you start this project.
If your truck doesn't have a factory sub, or if you just want more bass than a single 8" model can deliver, the Escape offers plenty of room for a subwoofer box. With a 40" W x 20" H x 26"/33" D space, you can add some serious thump if that's what you're into.
Of course, if you're also into putting things like kids, dogs, and stuff into your SUV, you might want to go with something smaller. We offer several powered subwoofers that will give you plenty of bass without taking up a vast amount of cargo space.
Tools needed: Panel tool, 8mm & 10mm sockets, ratchet and extension, Torx T-20 driver
Shop for vehicle-specific subwoofers for your Ford Escape
Other options for your Escape, Mariner, or Tribute
With popular vehicles like these, there are lots of ways to upgrade your everyday driving experience. Here are some of the ways Crutchfield can help:

WeatherTech DigitalFit floor liners are a very smart investment
Floor mats
No matter how much you pamper your Escape, you're eventually going to get involved in some sort of truck-like activity that gets you and/or it dirty. When that happens, it's a good idea to have a set of WeatherTech Floor Mats on the floors. These incredibly durable mats trap moisture, contain dirt, and keep your factory carpets looking good.
Sound damping
With its blocky shape and tall stance, the Escape can be a bit noisy on the highway. A Dynamat Xtreme Door Kit is the perfect way to seal in sound. This heavy-duty insulating material is easy to install, and it really makes a difference. One kit will take care of the front doors in your Escape. The rear doors and the rear hatch are also good areas to target if you build a serious sound system.
A set of inexpensive foam speaker baffles is another way to ensure that your speakers give you the performance you want without the rattling and booming you don't. They'll also protect your speakers form moisture, dust, and other harmful things.
Amplifiers
The Escape has plenty of room for an aftermarket amplifier, so if you want to take your sound to the next level, you won't have to worry about space in most cases. Our Crutchfield Advisors can help you find the right amp for your system.
Remote start and security systems
Adding remote start capability to your vehicle lets you warm it up in the winter or cool it down in the summer. The iDatastart system is incredibly convenient and makes it easier than ever to install a remote start system, so we highly recommend it. The module requires a vehicle-specific T-harness (sold separately) to connect with your vehicle's computer, security, and ignition systems, so we ask that you call to order so that we can make sure you get the right harness for your ride.
You can also talk to your Crutchfield Advisor about a security system. They're not as easy to install (we usually suggest letting a professional do the job), but we can help you choose a system that'll work in your vehicle.
Shop for car security systems for your Ford Escape
Watch a quick installation
Now that you have some idea of what's involved in upgrading the audio gear in your Escape, watch our short installation video to see for yourself that the task isn't that hard.
This video is a quick look at the installation. For a step-by-step, detailed look, watch our full-length version of how to install a stereo and speakers in a Ford Escape.
Find the audio gear that fits your car or truck
Visit our Outfit My Car page and enter your vehicle information to see stereos, speakers, subs, and other audio accessories that will work in your vehicle.