2008-2014 Dodge Challenger
Upgrading the stereo system in your Challenger
2008 • 2009 • 2010 • 2011 • 2012 • 2013 • 2014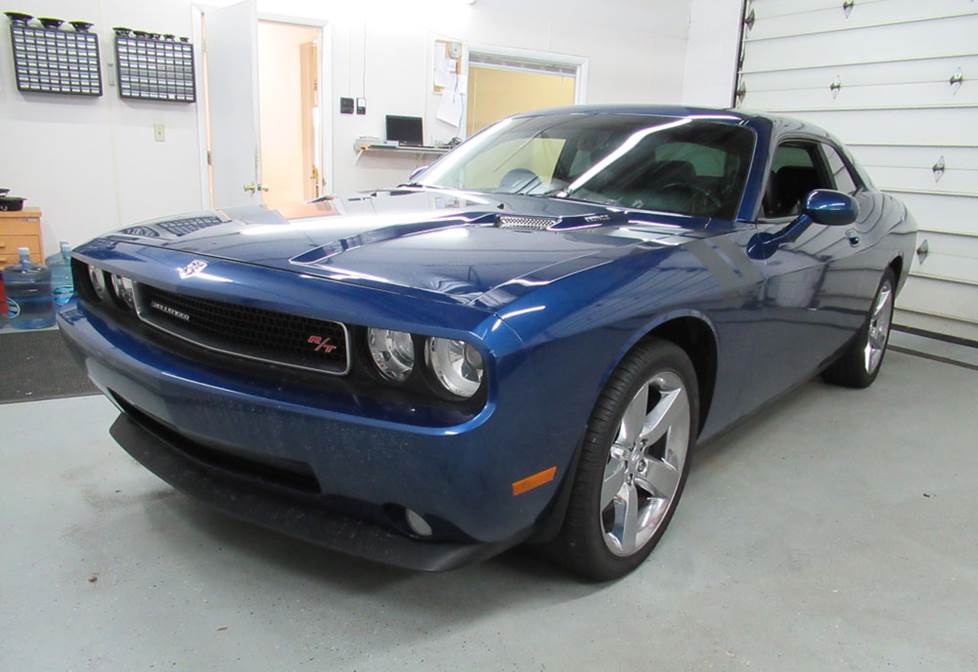 In brief: This Crutchfield Research Garage article gives you an overview of your car's stock stereo system and your aftermarket upgrade options. Use our vehicle selector to find the gear that will fit your Challenger.
Overview of the Dodge Challenger
Everything comes back in style eventually, including old-school muscle. When Ford's retro-themed 2005 Mustang got off to a brilliantly successful start, Chrysler quickly got to work on its own retro rocket. The new Challenger emerged in 2008, and with original Challengers and 'Cudas going for big money at collector auctions, the enthusiastic reception from the Mopar muscle car community was no surprise.
Though the original cars will always be legendary, the new Challenger is bigger and better in almost every measurable way. It can travel quickly in a straight line, of course, but this one also turns and stops – two things that the old cars really didn't do well. Today's Dodge Challenger is a muscle car for grown-ups.
Sure, this powerful coupe is fun between stoplights, but it's also a comfortable long-distance cruiser with surprising amounts of room for people, stuff, and yes, great new stereo equipment.
Detailed stereo and speaker removal instructions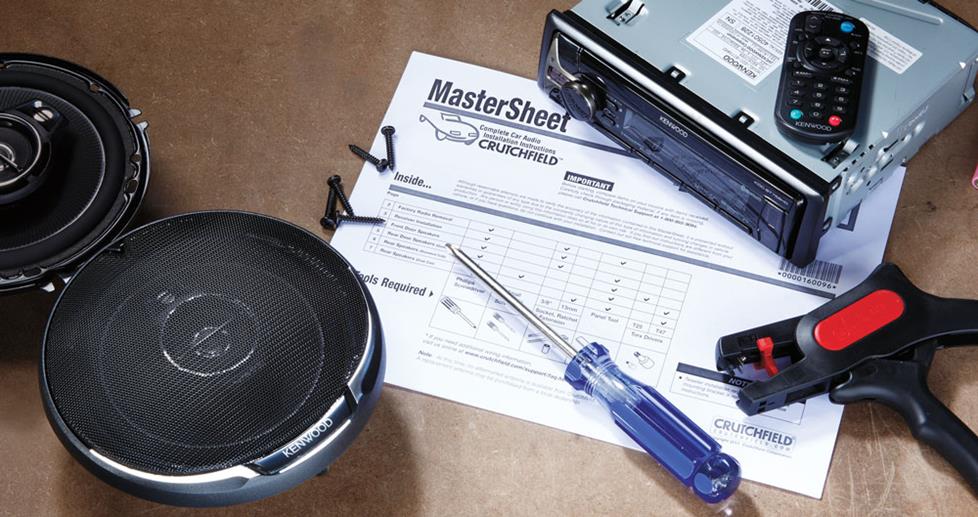 With step-by-step disassembly instructions and plenty of up-close, detailed photos, our exclusive
Crutchfield MasterSheet
™ takes the guesswork out of removing the factory stereo and speakers. It's free with your Crutchfield order, or you can purchase one separately for just $9.99.
Factory stereo system
The Challenger has played host to several different stereo systems over the years. The base package was a 4-speaker system (later, six) with a single-disc AM/FM/Sirius/CD/MP3 receiver. The next step up was a 6-speaker (later, seven) Boston Acoustics package with an AM/FM/Sirius/CD/MP3 player and an amp mounted under the driver's dash. Optional packages added things like navigation systems, Bluetooth® connectivity, Sirius satellite radio, iPod® and USB connectivity, and digital music storage.
The Challenger's original premium package was a 13-speaker Kicker audio system with 6-CD changer and a subwoofer. Later on, an18-speaker Harman Kardon sound system replaced the Kicker gear at the top of the line. We haven't had a chance to research the Kicker or Harman Kardon systems yet, so the instructions below deal with the base and Boston Acoustics systems.

The Challenger's factory receiver (Crutchfield Research Photo)
If you have experience with those premium systems, we'd like to hear from you – and we imagine other Challenger owners would, too. When you have a moment, please share your installation tips and tricks in the Comments section below.
Before you start your project, note that if your 2008-2013 Challenger is equipped with factory-installed navigation, Sirius satellite radio capability, and/or hands-free cell phone interface, you'll lose those functions when you replace the factory radio. You can get them all back with the right aftermarket receiver, though.
The factory sound system also requires a special adapter for your new stereo system. Both the PAC C2R-CHY4 or RP4-CH11 will enable the new stereo to work with the Challenger's electronics. These adapters are pricey, but when you purchase your new stereo from Crutchfield, you'll save a healthy amount of money on the integration adapter. We recommend the RP4-CH11, because it has a built-in factory steering wheel audio control adapter.
Replacing your factory radio
Removing the Challenger's stock receiver is reasonably easy. Replacing it can be a bit, er, challenging (sorry....), depending on the aftermarket receiver you choose.

The Challenger's radio cavity (Crutchfield Research Photo)
To get the old one out, use a panel tool to pry the receiver trim panel out to release eight retaining clips, then disconnect the wiring harnesses and remove the trim panel. Next, remove four Phillips screws that secure the receiver to the dash, disconnect the harnesses and remove the receiver.
A single-DIN receiver will fit right in with the help of a mounting bracket that's included (at a deep discount) with your stereo purchase. A double-DIN receiver also comes with a mounting kit, but, you'll need to do a bit of work before you can install that one.
Due to the depth of the receiver cavity, you'll need to cut the brace in the sub-dash in order to create space for your new 4" tall receiver. This isn't difficult for an experienced installer, but for a beginner, it could be a bit much. If you're not 100% comfortable cutting into your car's dash assembly, it's best to leave this job to a car audio professional.
Tools needed: Panel tool, Phillips screwdriver
Steering wheel controls
It's relatively easy to retain the steering wheel audio controls when you install a new stereo in your Challenger. When you enter your vehicle information, our database will choose the adapter you need to make your factory steering wheel controls work with your new receiver.
Shop for car stereos that fit your Dodge Challenger
Replacing your factory speakers

The Challenger's doors are reasonably easy to work with (Crutchfield Research Photo)
Front door speakers
Both the base and Boston Acoustics systems have 6"x9" speakers in the front doors. The difference is in impedance, with the base models at 4 ohms and the Bostons at 2 ohms. The removal and replacement process is the same, however.
Step-by-step removal instructions can be found in the Crutchfield MasterSheet™ that's included free with your speaker purchase. This is not a fiendishly complex procedure, but it does involve multiple steps and a fair number of "fiddly bits." Before you start, we suggest snagging a couple of small containers or sandwich bags that you'll use to store the various screws you'll be removing. A little organization now will save you some headaches later. It's also a good idea to reserve a clean, safe place to store the door panel while you're installing the speakers.
The grille sits very close to the speaker on this car, which creates some minor fit issues. You can choose from 5-1/4", 6-1/2", 6-3/4", or same-size 6"x9" speakers, but you'll find a much wider selection of 5-1/4" models. If mounting brackets are required for the installation, they're included free with your Crutchfield order.
Tools needed: Small flat blade screwdriver, Phillips screwdriver, panel tool, Torx T15 driver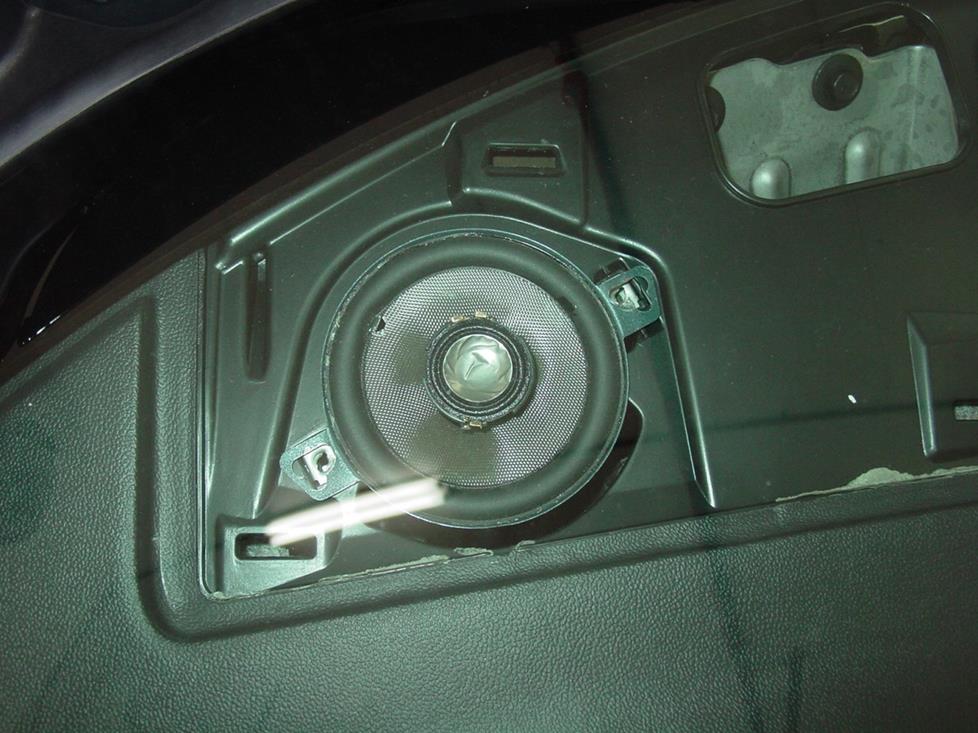 A great spot for a new tweeter (Crutchfield Research Photo)
Dash speakers
Challengers equipped with premium systems feature speakers in the center and corners of the dash. Again, we haven't researched the Kicker or Harman Kardon systems, but we do have experience with the Boston Acoustics system.
To remove the 3-1/2" corner speaker start by prying up the grille panel to release the ten (!) clips that hold it in place. With the speaker exposed, you'll remove two Phillips screws that secure the speaker, then disconnect the harness and set the speaker aside. Direct replacements are not available, but if you're installing a component system, the dash corners are great spots for your tweeters.
The center dash speaker is the same size, and the removal process is exactly the same, too. If you have a base model and you're thinking about installing a speaker in this location, note that this location is not pre-wired from the factory. If you install a component system, you really won't need the center dash speaker to elevate the soundstage. If you like it, leave it. If you don't, just disconnect it.
Tools needed: Panel tool, Phillips screwdriver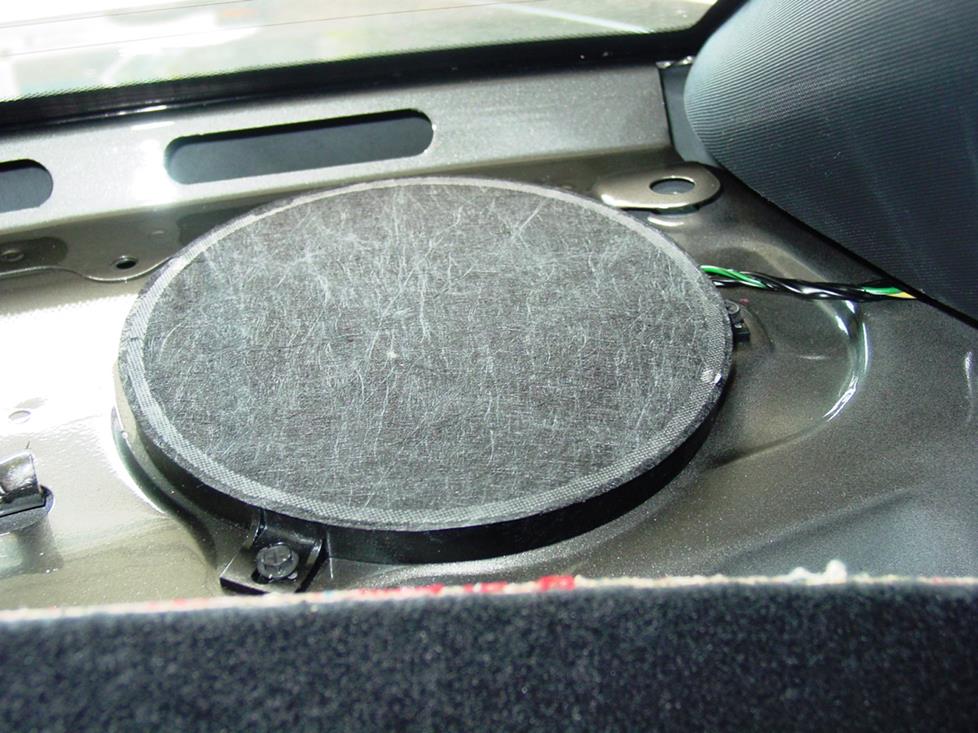 The Challenger's rear deck speakers (Crutchfield Research Photo)
Rear deck speakers
In the Challenger's rear deck, you'll find a pair of 6-3/4" speakers, regardless of whether you have the base or the Boston Acoustics package. The difference, again, is the impedance, with the base models at 4 ohms and the Bostons at 2 ohms.
Accessing rear deck speakers usually involves dealing with the rear seat in some fashion or other, and the Challenger is no exception. The good news is that, compared with some coupes we've seen, the Challenger is comparatively easy to work with.
You won't need to remove the rear seat backs, thank goodness, but you will need to lower them. You might want to grab an old (but clean) blanket to toss over them while you're working. You'll need to pry out two clips on the front edge of the rear deck panel, then pry out two clips on the lower side trim panels.
Once those side panels are loose, pull them out (gently) just enough to clear the deck trim panel, then pull the deck panel out just enough to access the speaker location. When you've gained access to the speakers, remove the three Phillips screws that secure each one to the rear deck, then disconnect the harness and remove the speaker.
A variety of 5-1/4" speakers will fit here, but you can also choose select 6-1/2"or 6-3/4" models. Mounting brackets, if needed, are included with your purchase.
Tools needed: Panel tool, right-angle Phillips screwdriver
Shop for speakers that fit your Dodge Challenger
Bass in your Challenger
Of all the modern ponycars, the Challenger offers the most spacious trunk. That's good news if you're taking a long trip and better news if you like big-time bass.
The premium Kicker and Harman Kardon systems included trunk-mounted subwoofers as part of their vast array of speakers, but, since we haven't had a chance to work with a Kicker- or HK-equipped Challenger yet, we're going to restrict our advice to the base and Boston Acoustics systems.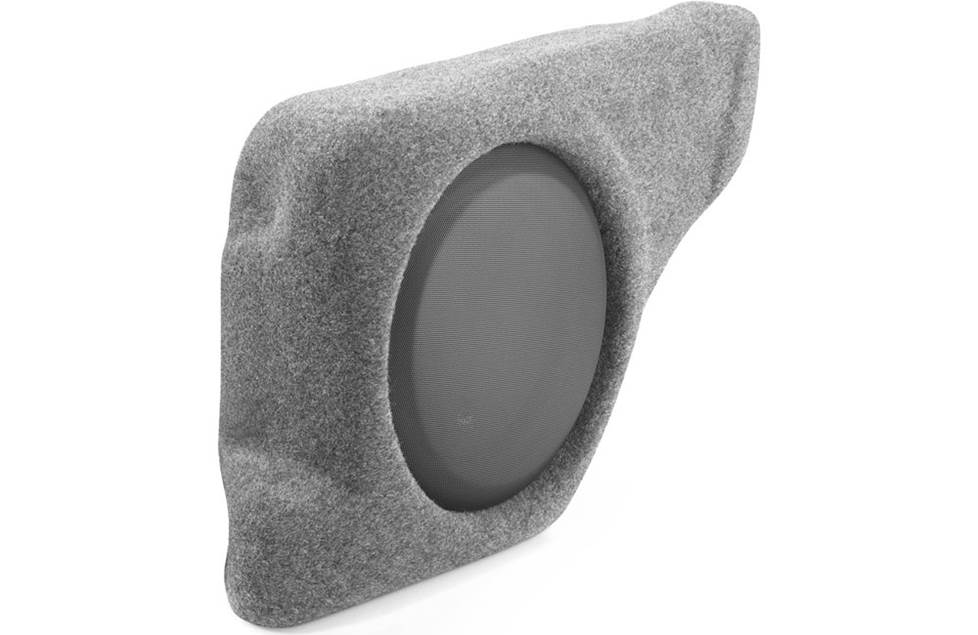 This JL Audio Stealthbox is designed to fit in your Challenger
If you're planning a sub box, you'll have a 32" W x 15" H x 35"/42" D space to work with, with plenty of room left over to mount an amp or two. The battery is located below the cargo floor, which means you won't have to go through the firewall if you need to wire amps to power some big subs.
There's also a custom-fit option. The JL Audio Stealthbox, which features a 12" sub mounted in a specially designed enclosure, fits right into the Challenger.
Shop for vehicle-specific subwoofers for your Dodge Challenger
Other options for your Challenger
There are plenty of other ways to improve your Challenger. Here are just a few of them:
iPod® and satellite radio adapters
If you don't want to replace the factory receiver, you can still add musical variety to your Challenger. We offer several adapters that will allow you to use an iPod, MP3 player, or satellite radio with the factory system.
Dynamat
The Dynamat Xtreme Door Kit is the perfect way to seal in sound. This heavy-duty noise damping material is easy to install, and it really makes a difference. One kit will take care of the front doors. If you install a big sub, you might want to line the trunk lid as well.
Remote start and security systems
Adding remote start capability to your vehicle lets you warm it up in the winter or cool it down in the summer. The iDatastart system is incredibly convenient and makes it easier than ever to install a remote start system, so we highly recommend it. The module requires a vehicle-specific T-harness (sold separately) to connect with your vehicle's computer, security, and ignition systems, so we ask that you call to order so that we can make sure you get the right harness for your ride.
You can also talk to your Crutchfield Advisor about a security system. They're not as easy to install (we usually suggest letting a professional do the job), but we can help you choose a system that'll work in your vehicle.
Shop for car security systems for your Dodge Challenger
Find the audio gear that fits your car or truck
Visit our Outfit My Car page and enter your vehicle information to see stereos, speakers, subs, and other audio accessories that will work in your vehicle.