2009-2014 Ford F-150 Standard Cab
Upgrading the stereo system in your F-150 Standard Cab
2009 • 2010 • 2011 • 2012 • 2013 • 2014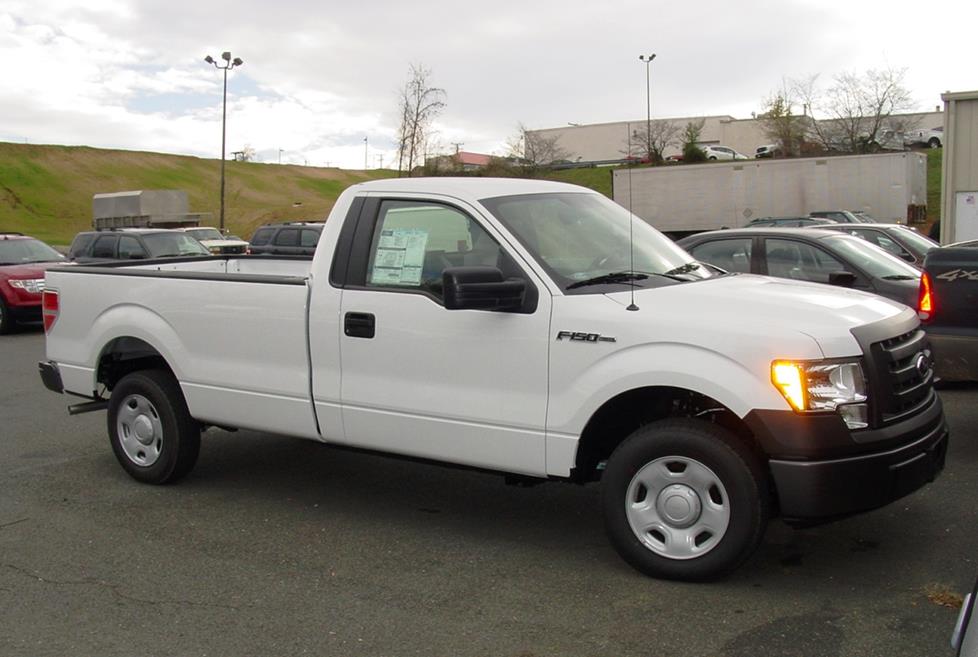 In brief: This Crutchfield Research Garage article gives you an overview of your F-150's stock stereo system and your aftermarket upgrade options. Use our vehicle selector to find the gear that will fit your truck.
Overview of the Ford F-150
Even the most casual sports fan knows the tired old clichés that fill every media outlet every time the previous year's champs prepare to open a new season: No matter the sport, we're all helpfully reminded that last year was last year, staying number one is tough, and that the other teams are really going to go after them because being the champ is like having a target on your back.
Is it boring, bland sports-speak? Of course it is. Alas, it's also true, which makes the Ford F-Series pickup's 3-decade-long (and counting) run at the top of the truck sales charts all the more amazing. Talk about your three-peats.
Needless to say, with huge profits and prestige at stake, Ford had a lot riding on the 12th generation F-Series that debuted in 2009. The new line, led by the wildly popular F-150, didn't disappoint, with a tough new look, three useful body styles, an amazing array of trim levels and options, and the rugged versatility that people – lots and lots of people – want from a pickup. Not surprisingly, the F-Series isn't just the most popular truck in the country; it's one of the most popular vehicles of any kind.
Detailed stereo and speaker removal instructions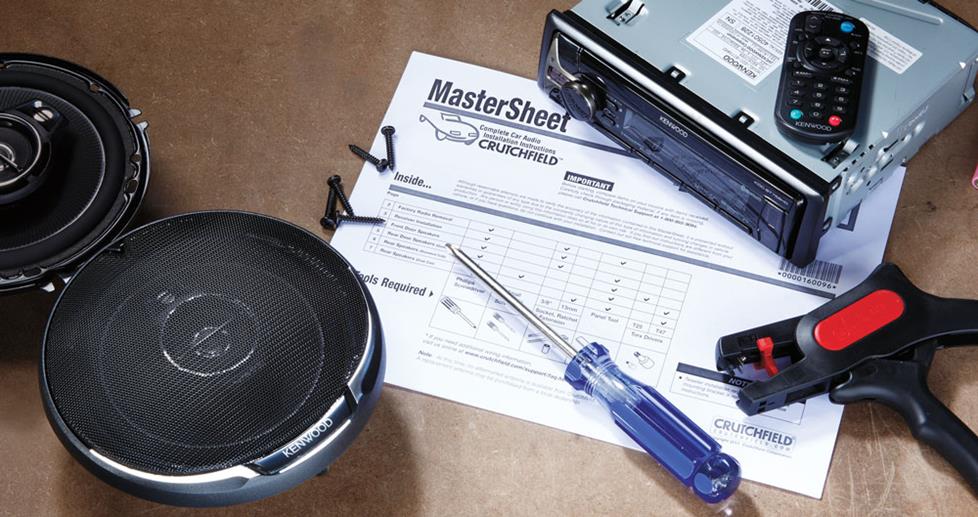 With step-by-step disassembly instructions and plenty of up-close, detailed photos, our exclusive
Crutchfield MasterSheet
™ takes the guesswork out of removing the factory stereo and speakers. It's free with your Crutchfield order, or you can purchase one separately for just $9.99.
Factory stereo system
The F-150 regular cab was available in three different trim packages with a variety of factory stereos. The base stereo was a simple AM/FM radio, and the step-ups went from a CD player with an aux jack all the way to an in-dash Windows CE computer that's part of the Work Solutions package. Satellite radio was an option as well, not to mention Ford's SYNC® system. No matter what's in the dash and doors, though, those factory stereos aren't as powerful and rugged as the truck that surrounds them. Thankfully, we know how to fix that.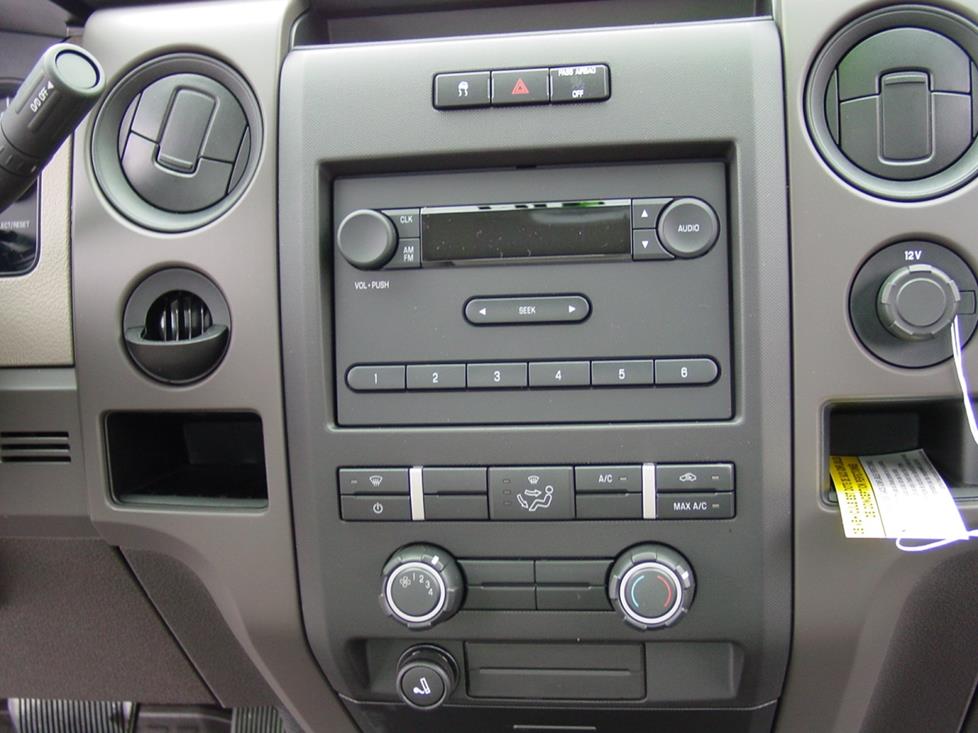 The F-150's non-integrated radio (Crutchfield Research Photo)
Replacing your factory radio
Thanks to a mid-cycle dashboard revamp, there's a difference in how you approach radio replacement in 2009-2012 and 2013-2014 F-150s. What you have to do depends on which truck you have, and Crutchfield MasterSheets are available for both the older and newer versions. Speaker replacement remains the same for all 12th-gen F-150s.
2009-2012 F-150
In basic terms, the 2009-2012 F-150 regular cab can be found with one of two radios: integrated and non-integrated. You'll need a dash kit for either one, which is included at a discount with most Crutchfield stereo purchases. The integrated radio is designed into the dash, so that kit is quite a bit fancier than the non-integrated model, but both blend right into your truck's interior. Your dash kit will work with single-DIN (2" tall) or double-DIN (4" tall) aftermarket stereos.
Depending on which radio you're replacing, you'll lose functions like the factory aux input connection, satellite radio, or SYNC. Thankfully, the right combination of adapters and gear will let you get those features back, better than ever. Our Crutchfield Advisors can help you choose the right package for your needs, and give you the advice you need to do the job right.
To get started on the removal, open the lower dash storage tray. Push out the SYNC panel (or, if you don't have SYNC, a blank plate) from behind to release the retaining clips. Disconnect the harnesses and remove, then remove the exposed 7mm screw. Pull up the rubber mat in front of the dash display and remove two exposed 7mm screws. Then, carefully pry out the inside edges of both radio side panels to release the retaining clips -- but don't remove them.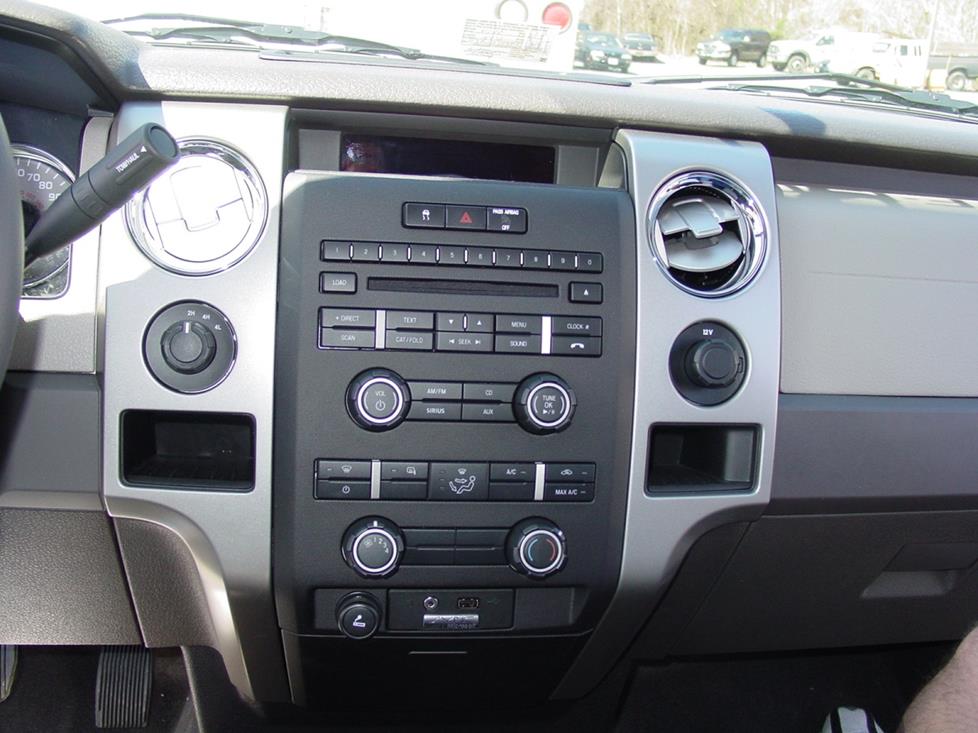 This early radio is totally integrated into the dash (Crutchfield Research Photo)
What happens next depends on which factory receiver you have. Pry out the faceplate (integrated radios) or trim panel (non-integrated) to release the retaining clips, then disconnect the wiring harnesses and remove the faceplate or panel.
If you have an integrated radio, remove the screws securing the radio/chassis to the dash, then disconnect wiring harnesses and antenna and remove the entire assembly. If you have the non-integrated radio, just remove the screws, then disconnect and remove the radio. Complete, illustrated instructions can be found in the Crutchfield MasterSheet that's included free with your order.
Your purchase also includes a very nice discount on the receiver wiring adapter needed to connect the new receiver to your truck's wiring. Some Ford stereo systems require a special integration adapter to let a new stereo work with the truck's electronics, instead of a simple wiring harness, so you'll enjoy the savings.
One last thing — be sure to test your receiver before buttoning up the dash assembly.
Tools needed: Panel tool, socket wrench, extension, and 7mm socket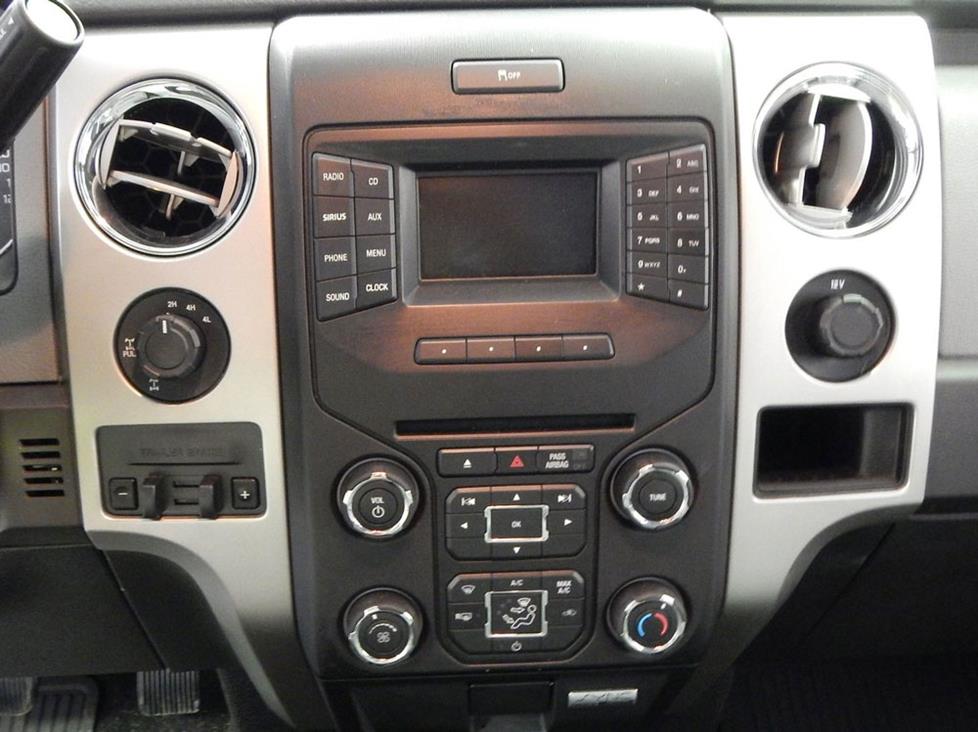 The dash design changed in 2013, and so did the radio removal process (Crutchfield Research Photo)
2013-2014 models
To remove the base radio, follow the instructions for the 2009-2012 "integrated" radio. If you have the 4.2" LCD screen, refer to your MasterSheet for detailed, illustrated instructions. Removing the LCD radio isn't hard, but there are quite a few steps, so you'll want to stay calm and stay organized throughout.
In most cases, you'll lose factory features like USB and AUX inputs, SiriusXM satellite radio, and navigation when you replace the stock radio, but you can regain most or all of them by choosing the right aftermarket receiver. You can also retain SYNC functionality with the right wiring harness adapter. Just enter your vehicle information and let our database find exactly what you're looking for.
Tools needed: Panel tool, Phillips screwdriver, 5.5mm/7mm/10mm sockets, ratchet, and extension
Steering wheel audio controls
It's relatively easy to retain the steering wheel audio controls when you install a new stereo in your F-150. When you enter your vehicle information, our database will choose the adapter you need to make your factory steering wheel controls work with your new receiver.
Shop for car stereos that fit your Ford F 150 STX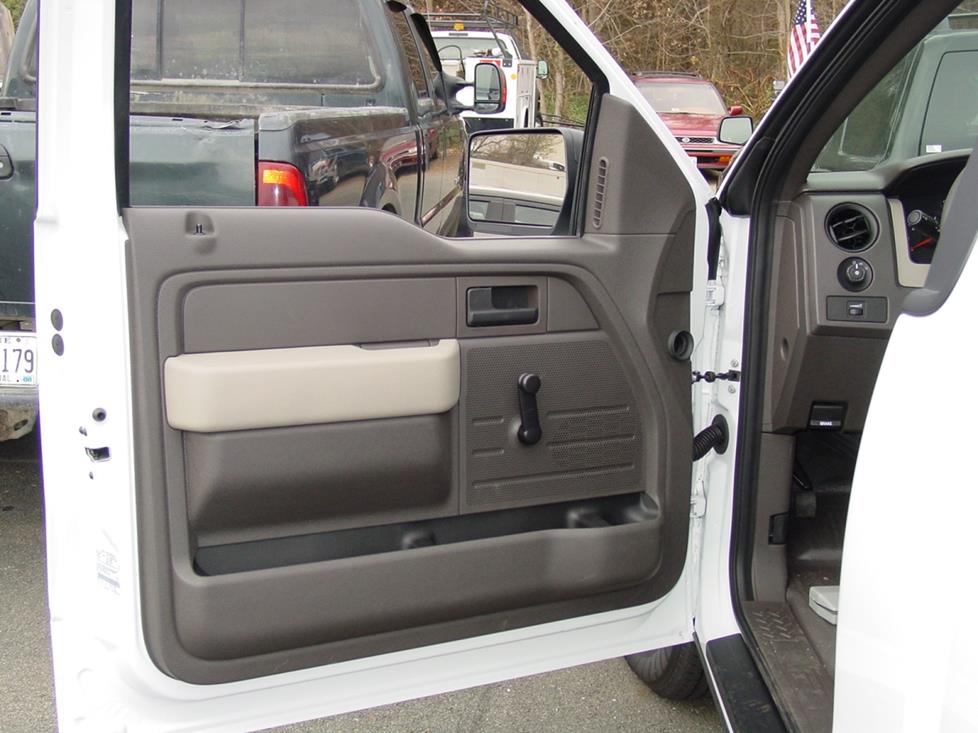 The standard cab F-150 was available with manual windows (Crutchfield Research Photo)
Replacing your factory speakers
The F-150 regular cab is a relatively uncomplicated truck, and replacing the front door speakers is a relatively uncomplicated process. How much so depends on your DIY skills, of course, but if you're reasonably handy with tools, it really isn't that bad.
Another factor is whether your truck has power windows or good old-fashioned crank windows. Either way, you'll need to remove the door panels. The important thing is to work slowly and carefully to avoid breaking or damaging the plastic bits.
The factory 6x8 speakers can be replaced by same-size or 5-1/4" models. If you go with the smaller speakers, you'll need a speaker adapter bracket, which is included free with your speaker purchase from Crutchfield.
Tools needed (power windows): Panel tool, socket wrench, extension, 5.5mm, 7mm, 8mm, & 1/4" sockets
Tools needed (manual windows): Panel tool, socket wrench, extension, 5.5mm, 8mm, & 1/4" sockets, Torx T-20 driver
Shop for speakers that fit your Ford F 150 STX
Bass in your F-150
Yes, there is room to add a subwoofer in a regular cab truck. Quite a lot of subwoofer, actually. Behind the seats, you have a 56" W x 12" H x 10"/6" D space to work with if you want to install a custom sub box.
Shop for vehicle-specific subwoofers for your Ford F 150 STX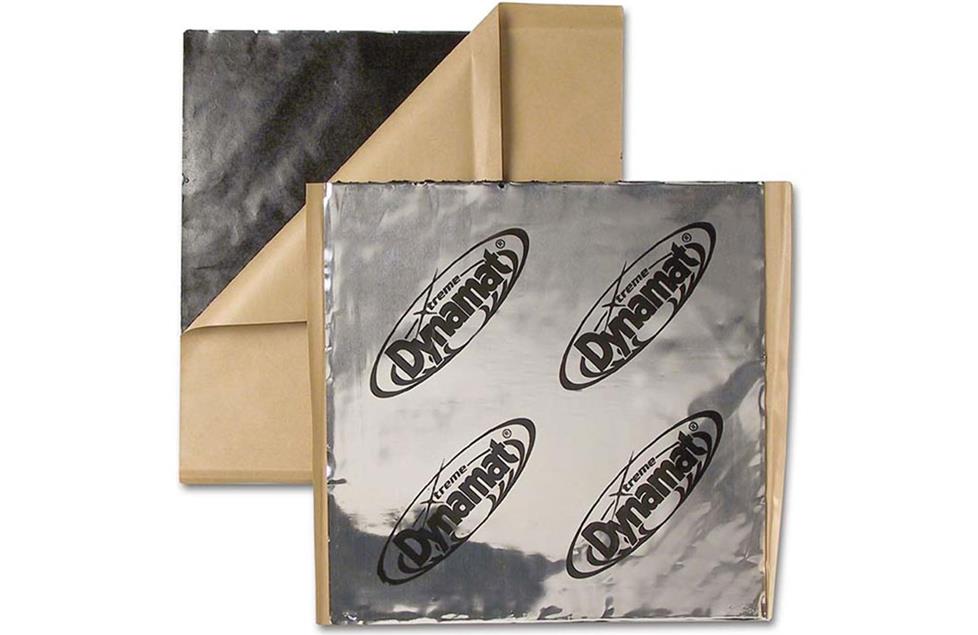 Installing Dynamat in your F-150 will help reduce wind noise and road roar.
Other options for your F-150
As you might expect with a truck as popular as the F-150, there are lots of ways to upgrade your entertainment and security.
Sound damping
Your F-150 is a big vehicle with big doors and the aerodynamic profile of, well, forget the cute analogies, a truck. To keep wind noise and road roar from undoing the great work your new stereo is doing for you, make sure you install Dynamat when you're replacing your speakers. This soundproofing material is a great way to dampen the sounds you don't like and get more enjoyment out of the ones you do. For more information on installing Dynamat in a pickup, check out an informative series of articles on our 2004 F-150 project truck.
Floor mats
No matter how much you pamper your truck, you're eventually going to get involved in some sort of truck-like activity that gets you and/or it dirty. When that happens, it's a good idea to have a set of WeatherTech Floor Mats in your truck. These incredibly durable mats trap moisture, contain dirt, and keep your factory carpets looking good.
Remote start and security systems
Adding remote start capability to your vehicle lets you warm it up in the winter or cool it down in the summer. The iDatastart system is incredibly convenient and makes it easier than ever to install a remote start system, so we highly recommend it. The module requires a vehicle-specific T-harness (sold separately) to connect with your vehicle's computer, security, and ignition systems, so we ask that you call to order so that we can make sure you get the right harness for your ride.
You can also talk to your Crutchfield Advisor about a security system. They're not as easy to install (we usually suggest letting a professional do the job), but we can help you choose a system that'll work in your vehicle.
Shop for car security systems for your Ford F 150 STX
Find the audio gear that fits your car or truck
Visit our Outfit My Car page and enter your vehicle information to see stereos, speakers, subs, and other audio accessories that will work in your vehicle.