2009-2014 Ford E-Series
Upgrading the stereo system in your E-Series van
2009 • 2010 • 2011 • 2012• 2013 • 2014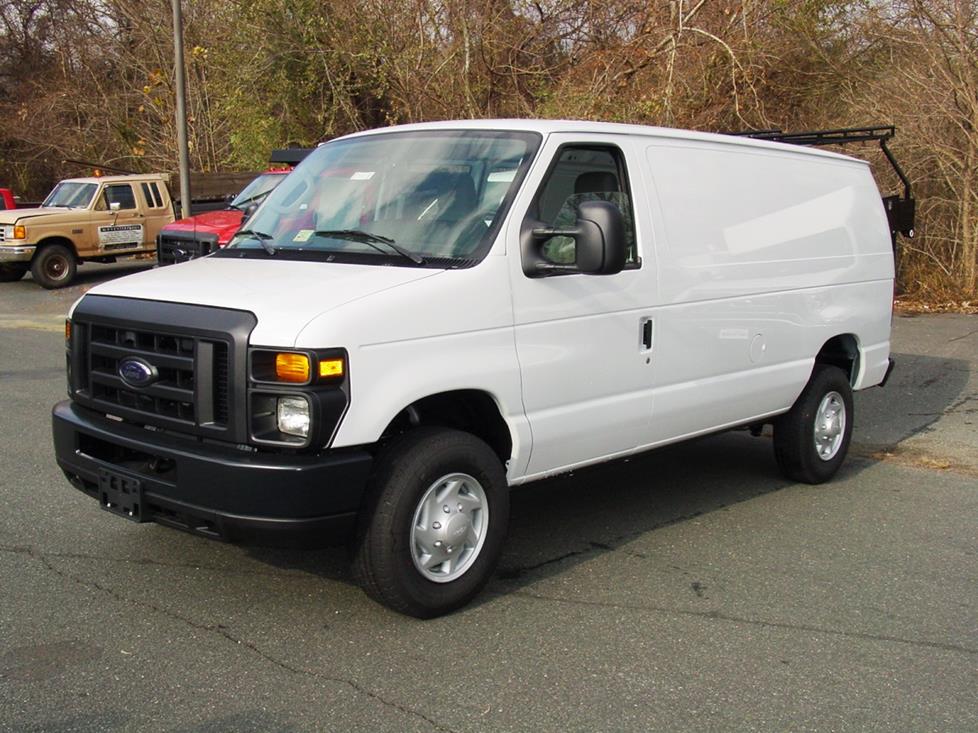 In brief: This Crutchfield Research Garage article gives you an overview of your van's stock stereo system and your aftermarket upgrade options. We'll tell you all about:
Then, use our vehicle selector to find the gear that will fit your Ford van.
Overview of the Ford E-Series van
The final version of Ford's long-running E-Series is arguably the most van-tastic van that ever rolled out of a factory. Available, as always, in cargo van or passenger van configurations, the E-Series (née Econoline) proves that when it comes to carrying things, there really is no substitute for cubic inches. We'll probably not see anything quite like the E-Series again, but since Ford sold a gazillion or so of these classic vans over the years, we'll be seeing the ones we have now for a long time to come.
Mechanically simple and thoroughly sorted, the E-Series is everything you'd want in a van — huge, dependable, and, even when equipped with lots of options, relatively cheap. It's also a very nice starting point (or starting-over point) for all sorts of possible projects. Whether you're creating a retro-style shag-carpet custom, designing a versatile work truck, or making sure your soccer team travels in comfort, the E-Series is ready for just about anything.
For 2009, North America's best-selling van received an all-new dash design, but the factory radio options were essentially the same as before. In other words, they were nothing special, really. A new stereo will make a huge difference in your E-Series.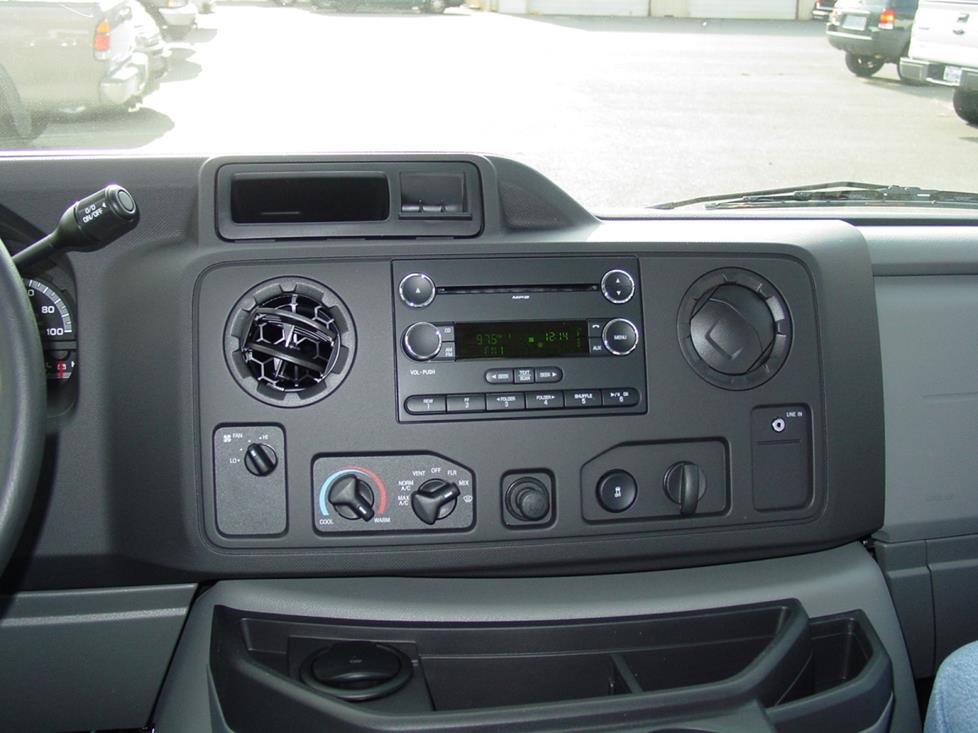 The standard radio is about as basic as it gets these days. (Crutchfield Research Photo)
The factory stereo system
The E-Series has always been available in a variety of configurations and with a variety of options. From a stripped-down cargo van to a luxurious multi-passenger people mover, the E could be pretty much whatever you needed it to be. The factory radio options consist of a base AM/FM radio, an optional 6-disc AM/FM/CD/MP3 receiver, and a navigation receiver.
Cargo vans could also be ordered with the "Ford Work Solutions" package, an in-dash Microsoft computer with features designed to appeal to commercial customers. We haven't had a chance to research a Work Solutions-equipped van as of yet, but these instructions will work fine for all other receivers. The speaker instructions should be the same.
Detailed stereo and speaker removal instructions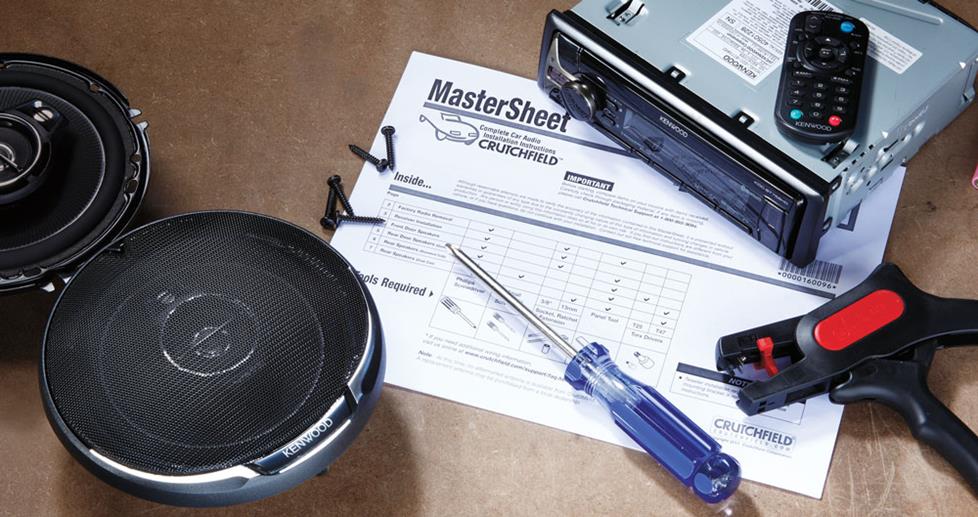 With step-by-step disassembly instructions and plenty of up-close, detailed photos, our exclusive
Crutchfield MasterSheet
™ takes the guesswork out of removing the factory stereo and speakers. It's free with your Crutchfield order, or you can purchase one separately for just $9.99.
When you replace the stock radio, you'll lose the factory AUX input and satellite radio capability. Both of these features can be found on a wide variety of single-DIN (2" tall) and double-DIN (4" tall) aftermarket stereos, so it's no big deal. Either size with fit into your E-Series with the help of a dash kit and a wiring harness adapter, which are available at a deep discount with your Crutchfield stereo purchase. If your van is equipped with the SYNC system, you'll lose that feature when you replace the factory radio.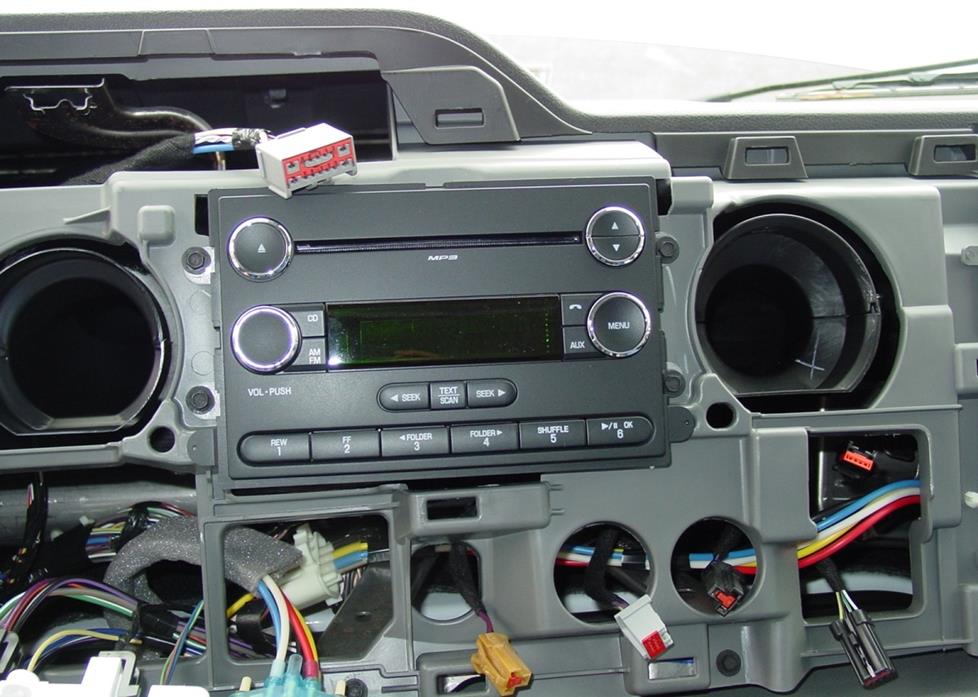 Getting there isn't half the fun, but it is most of the work. (Crutchfield Research Photo)
Removing the factory radio
Upgrading your van's audio system isn't difficult, but getting to the old gear involves a fair amount of effort and exertion. You won't be doing anything beyond the realm of the average DIY-er, but you will be removing a lot of screws, prying out a bunch of clips, and working through a number of steps.
Most of this is due to the fact that you're working with an old-school van, which means the engine is under the dash and halfway into the passenger area. Things are a lot tighter in this dashboard than they are in your average car or truck.
Before you start (but after you've disconnected the battery), tilt the steering column to its lowest position, then move the gear level to its lowest position. Next, remove the two 7mm screws securing the diagnostic port under the steering box and let it hang by the harness while you do everything else. It'll be fine.
Using your panel tool, carefully pry out the driver's side knee panel to release six retaining clips. Set the panel aside; then remove the four 13mm nuts that secure the steering column. Pry out the dash panel to release 17 (!) clips. Remove the three 5.5mm screws securing the heater controls to the dash panel, then disconnect all other harnesses and remove the dash trim panel. Now you're (finally) ready to remove the four 7mm screws that secure the radio to the dash, then disconnect the harness and remove the radio.
The important thing with this job is to be patient, work carefully, and keep all those nuts and screws sorted while you're working. You're going to need them when you put everything back together, so be smart and stay organized.
Tools needed: Socket wrench, extension, 5.5mm, 7mm, and 13mm sockets, panel tool
Shop for car stereos that fit your Ford E Series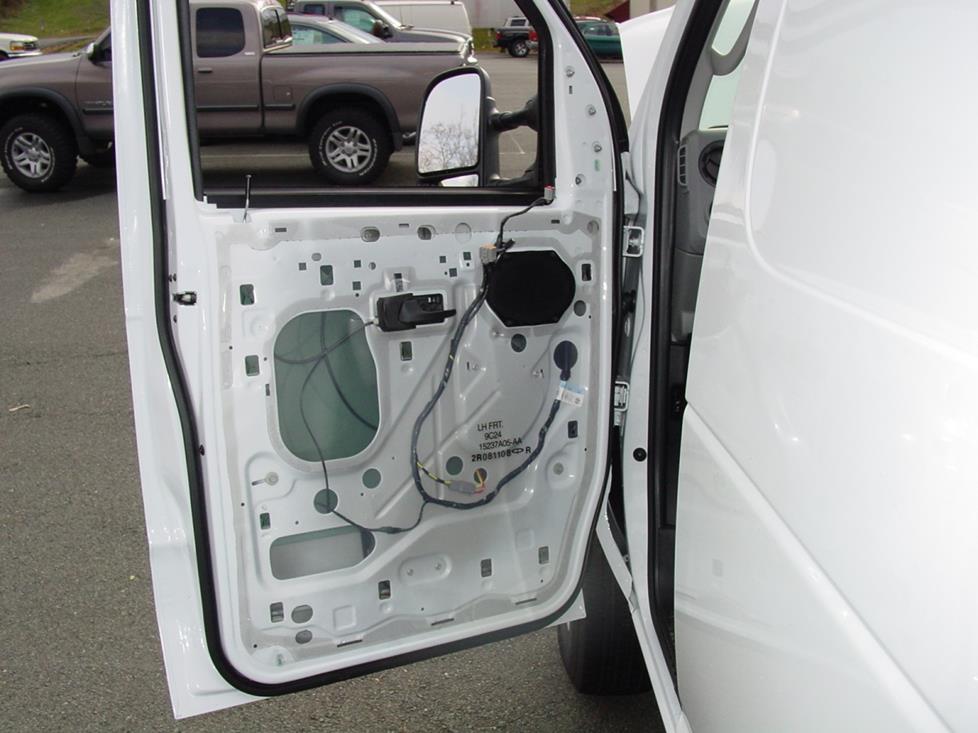 The front door speakers give you a pretty decent soundstage. (Crutchfield Research Photo)
Removing the factory speakers
The E's stock 6"x8" front speakers are reasonably easy to access and replace. The same goes for the 6"x8"s found in the rear doors of some models. We're pretty sure the same also goes for the mid-van speakers, but we're not as positive as we'd like to be.
Front door speakers
You can replace the stock speakers with same-size speakers or, with the help of the adapter brackets available with your speaker purchase, 5-1/4" models.
You'll need to remove the door panel, of course, and you'll start by prying out the clip that holds the sail panel at the top corner of the door. That will expose a Phillips screw, which you'll also need to remove.
Further down, pry off the screw cover behind the door release handle and remove that exposed Phillips screw. That loosens up the door release trim, which you'll pry out, pull toward the front of the vehicle, and remove. Remove (yet) another Phillips screw, then pry up the power options switch panel to release the clips that hold the panel in place.
With the handles handled, move down the door, pry off the screw cover on the lower-rear corner of the door panel and remove the Phillips screw. Lift up the door panel to release it, disconnect the harness, and remove the door panel. The speaker is held in place by four 7mm screws, so remove those, disconnect the harness, and get the old speaker out of there.
Tools needed: Panel tool, Phillips screwdriver, socket wrench, 7mm socket
Side speakers
We haven't actually had a chance to research a 2009-2014 E-Series equipped with speakers in the center door and (right) side panel. But, based on previous history, it's entirely possible that we'd find the standard 6"x8" speakers used elsewhere in this van — and in lots of other Ford trucks. If we're right, and if your van is equipped with side and door panels, you'll need to remove them in order to replace the factory speakers with same-size or 5-1/4" models. If we're wrong, drop us a line and send some photos.
Tools needed: Panel tool, Phillips screwdriver, socket wrench, 7mm socket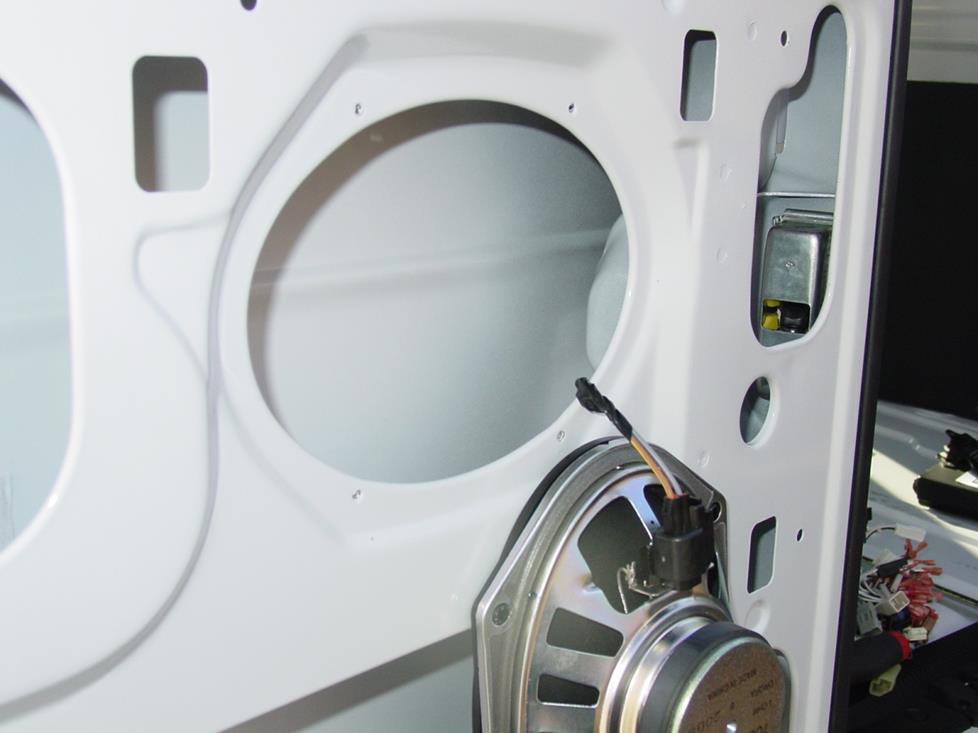 A closer look at the rear door speaker cavity. Some Dynamat (see below) would be a good idea here. (Crutchfield Research Photo)
Rear door speakers
When the plastic trim panels are present, as they will be in most passenger vans, you'll need to remove them to get to the speakers. If you're starting with the basic cargo van, you can skip right ahead to the removal/replacement process.
You can replace the stock speakers with same-size speakers or, with the help of the adapter brackets available with your speaker purchase, 5-1/4" models.
While there's always something to be said for less work, the panels do make for a nicer-looking interior. The doors differ slightly, but they're pretty easy to work with.
To replace the left (driver's side) speaker, you'll start by prying out the eight clips that secure the panel to the door. With that out of the way, remove the four 7mm screws securing the speaker to the door, then disconnect the harness and remove speaker.
On the right (passenger's side) door, pry out two screw covers on the door pull handle and remove the Phillips screw found under each cover. Pry out the seven clips securing the panel to door, then disconnect the harness and remove the panel. Speaker removal and replacement is exactly the same as it is on the other door.
Tools needed: Panel tool, socket wrench, 7mm socket, Phillips screwdriver
Shop for speakers that fit your Ford E Series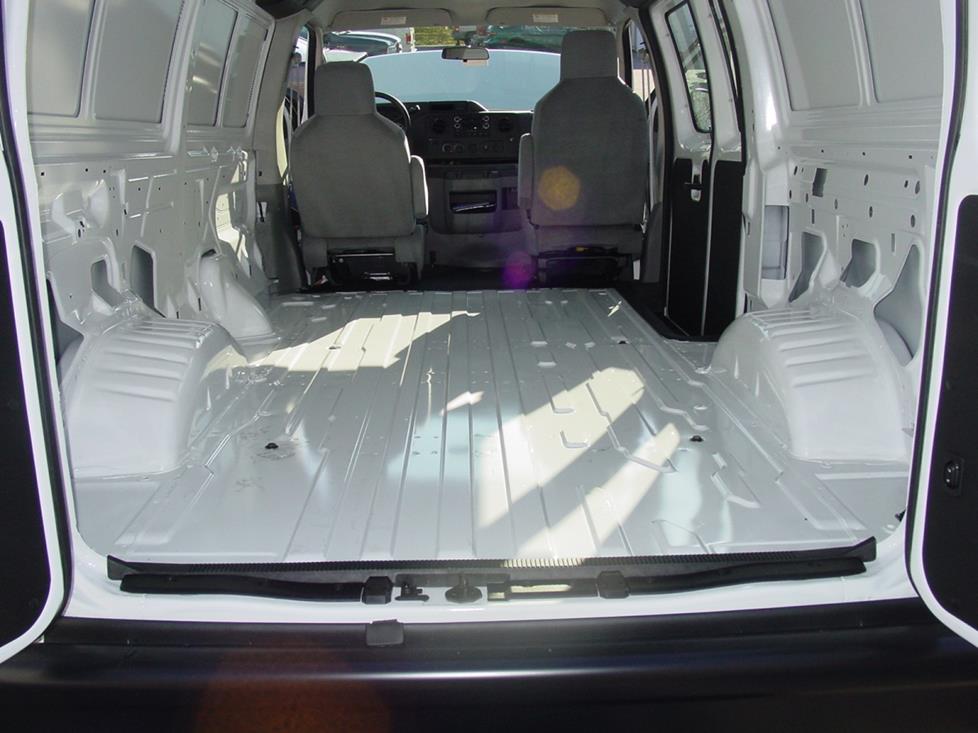 Plenty of room for a sub. Or a sofa. Or both. (Crutchfield Research Photo)
Bass in your E-Series van
When it comes to subwoofers, the E gives you a lot of latitude. Obviously, a passenger van with all the seats in place will require a powered subwoofer. If you're not using all the seats all of the time, you can go a little bigger, but you'd be surprised at how much bass you can get out of one of these subs.
If you're fixing up a cargo van, well, how big do you want to go? As anyone who survived (and/or remembers) the late seventies will tell you, customizing a van is a very creative, individualistic process, so feel free to let your imagination run wild.
If you want to install a couple of 15" component subwoofers in a big subwoofer box, you can totally do that with a cargo van. Or four subs, for that matter, plus all the amplifiers you need and some extra speakers, too. Choose marine-rated gear and install a waterbed. Heck, add a TV and a surround-sound system. The possibilities are endless.
And yes, if you do any of that, we would very much like you to send pictures and info to our Custom Car Showroom.
Shop for vehicle-specific subwoofers for your Ford E Series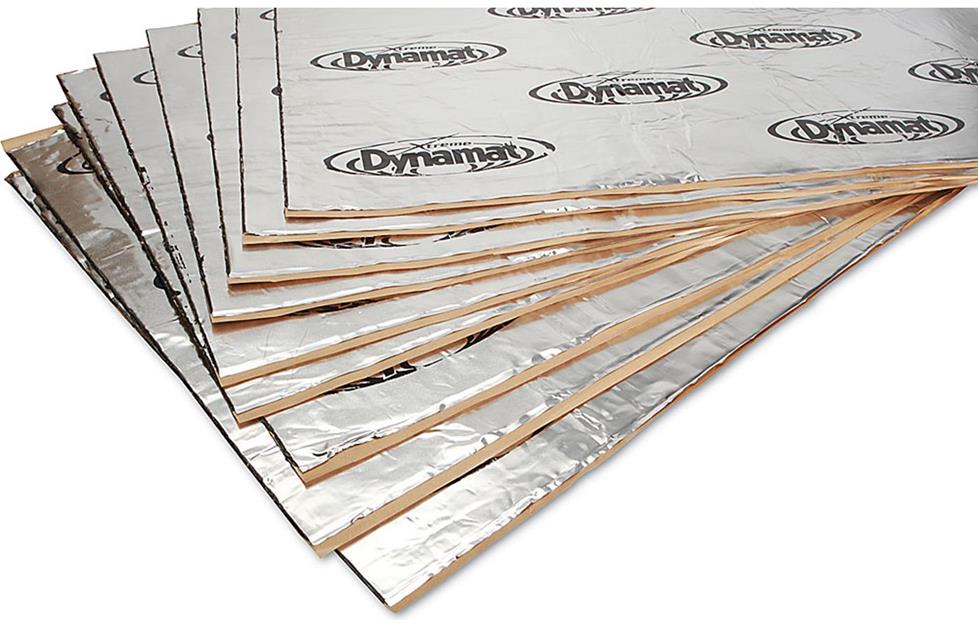 Dynamat Xtreme Mega Pak
Other upgrade options for your E-Series van
As noted above, "other upgrade options" for a van is a pretty vast concept. Depending on what you're starting with and what you're trying to do, we could be talking about, well, almost anything. We'll stick to things you can actually buy at Crutchfield!
Add an amplifier for better sound
Replacing the factory radio will make a big difference in your van. But to further improve the sound quality, consider installing a 4-channel amplifier for your speakers. And if you install a new subwoofer, you'll also need to install an amplifier to power it, as well. Talk to one of our advisors to get some ideas for how to economically and easily build your system.
Noise damping
The E-Series is about as big a box as you can drive without getting a CDL or renting a moving truck, and filling that box with sound can be challenging. Installing Dynamat in the doors when you're replacing the speakers will help seal out noise and seal in sound.
You can also install a set of foam speaker baffles behind your new speakers. In addition to helping with performance, they'll also provide extra protection against moisture and dust.
Rear-view cameras
When you're driving a vehicle that's roughly the size of a Manhattan apartment, maneuvering in a crowded parking lot can be an adventure. A factory rear-view camera was available as an option on the E-Series, but if your van doesn't have one, we offer rear-view cameras from Kenwood, Alpine, Sony, Pioneer, and more. Some are designed to work with same-brand DVD/nav receivers only, but others come with a composite video connector and will work with almost any video receiver.
Security
Installing a security system in your E Series isn't easy (security systems rarely are), but it's less complicated than it could be. Our Crutchfield Advisors can help figure out what you need to get the job done, but we usually recommend taking your car and new gear to a professional installer when it comes to security systems.
Let's get started!
Ready to shop? Use our vehicle selector to find the gear that will fit your car or truck. If you have questions, give us a shout via phone, chat, or email