2010-2014 Honda Insight
Upgrading the stereo system in your Insight
2010 • 2011 • 2012 • 2013 • 2014
In brief: This Crutchfield Research Garage article gives you an overview of your Insight's stock stereo system and your aftermarket upgrade options. We'll tell you all about:
Then, use our vehicle selector to find the gear that will fit your Honda.
Overview of the Honda Insight
It's kind of hard to believe, but not that long ago, hybrid cars were mysterious, high-tech things seen only at car shows and discussed only in car magazines. Now, they're pretty much everywhere, doing regular car stuff alongside regular cars. Which, come to think of it, makes hybrids just...regular cars. And that's a good thing indeed.
The Honda Insight is everything you'd expect a Honda hybrid to be. It's comfortable, roomy, ultra-efficient, and put together as solidly as a 2000-piece jigsaw treated with hairspray. The fact that it was, at launch, the least expensive hybrid in America helped it make friends fast, and the combination of smart technology and Honda quality made the Insight a very successful addition to the lineup.
The Insight's factory stereos ranged from bare-bones to not-bad, but if you're going to drive a car that's so quiet so often, it seems smart to upgrade the audio system. Because it's a hybrid, there are some challenges to the installation, but it's nothing an experienced DIY-er can't handle.

The Insight's base radio was decent enough, but you'll enjoy an upgrade (Crutchfield Research Photo)
The factory stereo system
The Insight was available with an AM/FM/CD/AUX receiver playing through 2, 4, or 6 speakers. A navigation receiver was added later. Along the way, steering-wheel-mounted controls also appeared, along with Bluetooth connectivity, a rearview camera, and a 16-gigabyte flash card system for the nav unit. In 2011, Honda beefed up the sound insulation, making the cabin an even nicer place to enjoy music.
It's very important to note that the Insight is a gas-electric hybrid with incredibly sensitive electronics. Be sure to only use a multi-meter when testing wires, and NEVER check wires in this vehicle with a test light. Doing so could cause serious damage.
We should also point out that high-powered audio systems are not a great idea for the Insight because they draw a lot of current. When you're shopping our site, avoid anything with a current draw in excess of 30 amps or an RMS power rating greater than 350 watts. The Insight is a small, quiet car, so you don't need all that power anyway.

Replacing the nav radio will give you improved functionality all around (Crutchfield Research Photo)
Removing the factory radio
The actual processes for removing the nav and non-nav radios differ somewhat, but they're not complicated. The key thing to remember for either one is that if the factory airbag light wiring harness on the back of the receiver trim panel is disconnected, you might have to visit your friendly neighborhood Honda dealer for a reset of the airbag system.
You probably don't want to make that trip, so Crutchfield recommends not disconnecting the harness from the trim panel. The airbag light assembly must be transferred to the new receiver installation kit, but you can do that without disconnecting the harness. You can remove the two screws that secure the assembly to the trim panel, then secure it to the new kit in the same manner.
Detailed stereo and speaker removal instructions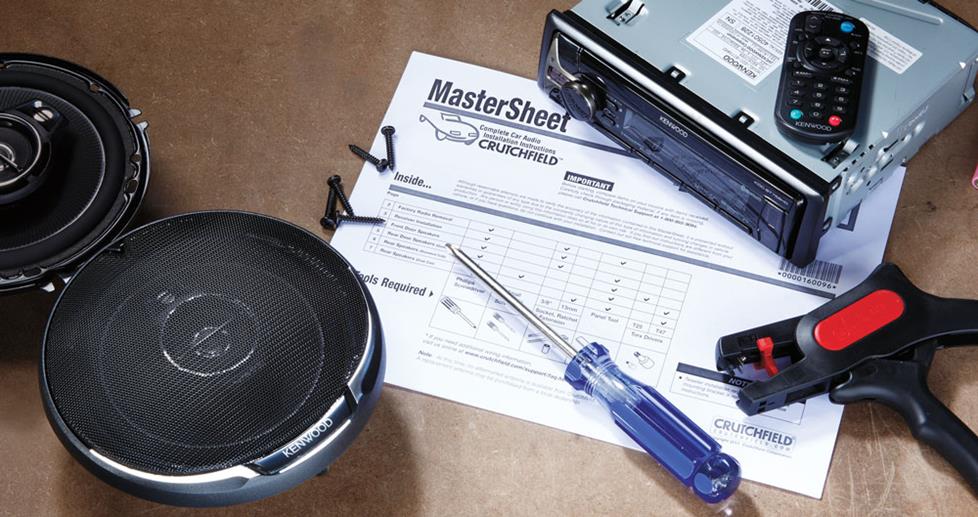 With step-by-step disassembly instructions and plenty of up-close, detailed photos, our exclusive
Crutchfield MasterSheet
™ takes the guesswork out of removing the factory stereo and speakers. It's free with your Crutchfield order, or you can purchase one separately for just $9.99.
When you're removing the old radio, work carefully. Honda's reputation for high-quality assembly is well-earned, and the retaining clips are very tight. They'll come out, but you'll need to be patient and somewhat gentle here.
You'll get a very nice discount on the installation kit and wiring harness adapter you'll need to connect the new receiver to your Insight's factory wiring system.
Tools needed: Panel tool, 8mm socket, ratchet, and extension, Phillips screwdriver
Hybrid note
The Insight's gas-electric hybrid powertrain makes replacing the stereo is a little more complicated. As you might expect, these hybrid vehicles contain some very sensitive electronics, so here are a couple of things to keep in mind:
Be sure to only use a multi-meter when testing wires, and NEVER use a test light to test wires in this vehicle. Doing so could cause some serious (by which we mean dangerous and expensive) damage.
A hybrid is not the car to choose if you want to build a massively powerful audio system. The thirsty current draw of a high-powered stereo is not a good thing for the hybrid system, so don't exceed a 30-amp current draw or 350-watt RMS power rating.
Steering wheel audio controls
It's relatively easy to retain the steering wheel audio controls when you install a new stereo in your Insight. When you enter your vehicle information, our database will choose the adapter you need to make your factory steering wheel controls work with your new receiver.
Shop for car stereos that fit your Honda Insight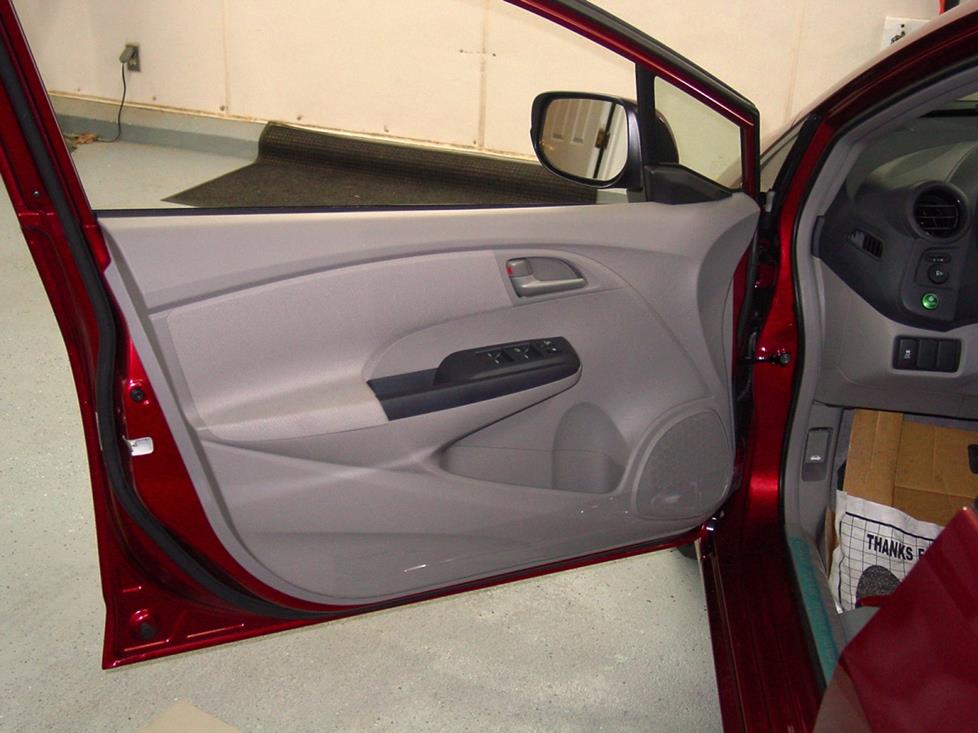 The front door speakers are reasonably easy to work with (Crutchfield Research Photo)
Removing the factory speakers
Depending on how your Insight is equipped, it'll have speakers in the front doors, rear doors, and/or dash corners. There are plenty of aftermarket options available for each location.

Replacing these dash speakers with component tweeters will add a lot to your sound (Crutchfield Research Photo)
Dash speakers
The Insight's dash speakers are small (less than 2" diameter) models that can be replaced by most tweeters found in component speaker systems. You'll need to use our universal backstraps or some other method to secure your new tweeters in the factory locations, though.
At least they're easy to reach. Just pry up the dash grille/tweeter assembly to release four retaining clips, then disconnect the harness and remove the whole unit. You'll need to pry the old speaker out of the assembly, so be gentle and work carefully here.
Tools needed: Small flat blade screwdriver, panel tool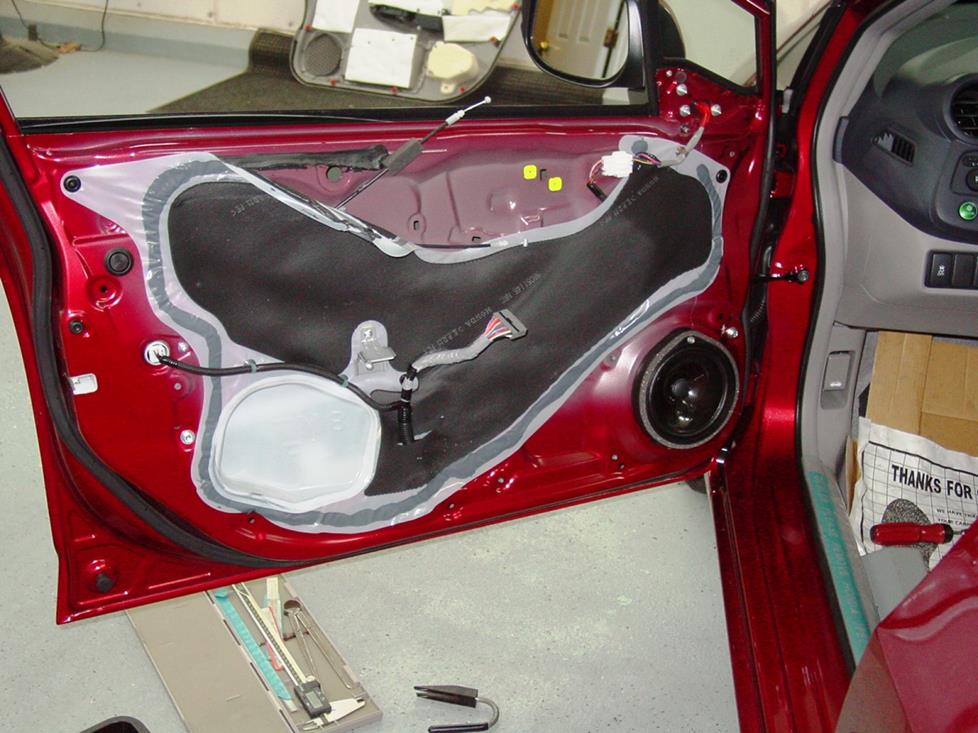 Be sure to test your new speakers before replacing the door panels (Crutchfield Research Photo)
Front door speakers
The stock front door speakers are 6-1/2" units than can be replaced by a wide variety of same-size or 5-1/4" aftermarket models. An adapter bracket is included free with your speaker purchase at Crutchfield, along with a wiring harness adapter.
You'll need to remove the door panels to get to the factory speakers. This isn't difficult, and illustrated instructions can be found in your MasterSheet. As with the dash panels, it's important to work carefully and patiently while prying off these panels. You can do it, just don't expect to do it quickly.
When you install the new speaker bracket, you'll need to remove the upper screw housing clip on the door to allow the bracket to fit flush. Once the speaker is connected, test it out to make sure it's working properly before you replace the door panel.
Tools needed: Small flat blade screwdriver, panel tool, Phillips screwdriver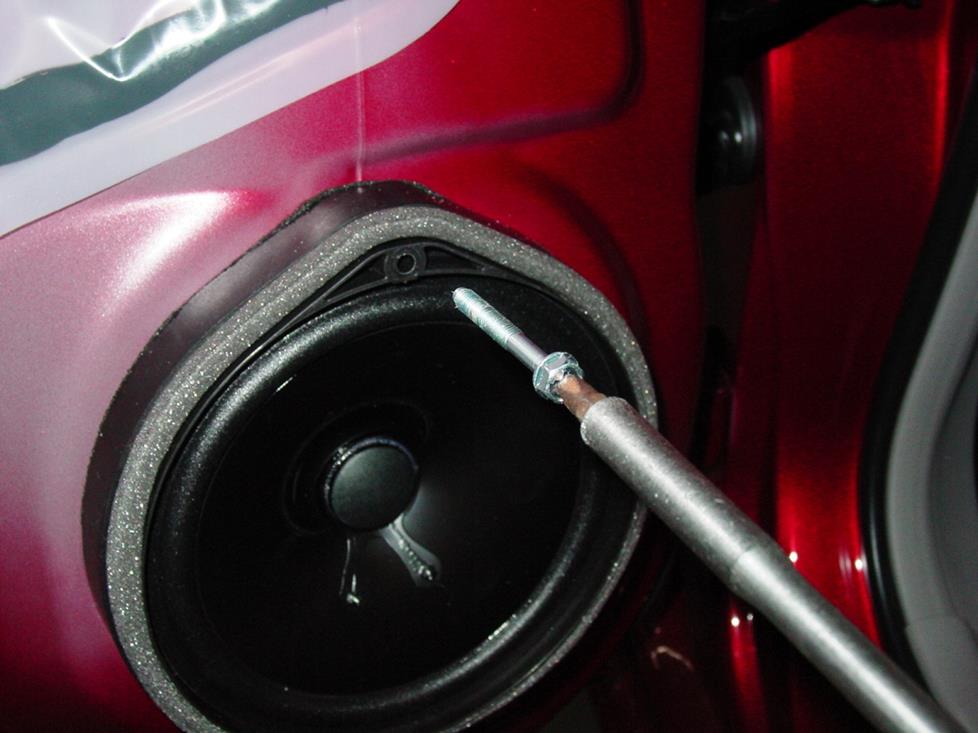 You'll need a couple of screwdrivers to remove the Insight's door speakers (Crutchfield Research Photo)
Rear door speakers
Removing and replacing the rear door speakers is basically the same as what you did up front. The stock 6-1/2" speakers can be replaced by same-size or 5-1/4" aftermarket models. An adapter bracket and wiring harness adapter are included with your speaker purchase.
Before you replace the front or rear door panels on your Insight, check to make sure that the wiring doesn't interfere with the windows. Also, make sure the door is opening, closing, and locking properly.
Tools needed: Small flat blade screwdriver, panel tool, Phillips screwdriver
Shop for speakers that fit your Honda Insight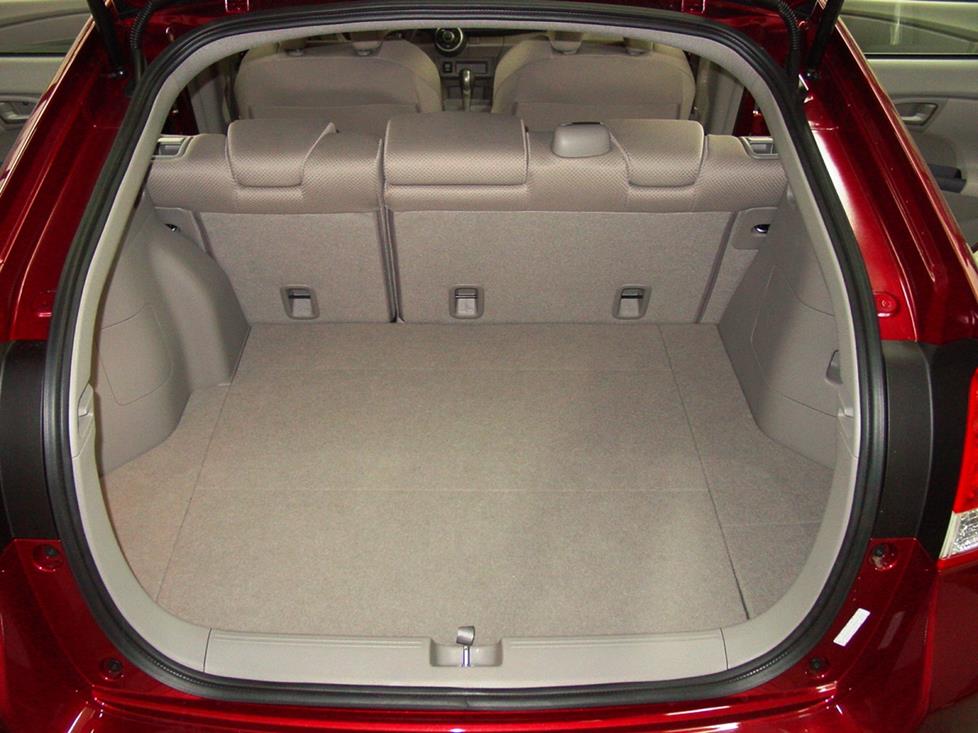 There's plenty of space back here, but a small powered subwoofer is the most bass we'd recommend for this car (Crutchfield Research Photo)
Bass in your Insight
We don't recommend adding a ton of bass to the Insight because of the amount of current a big box full of subs will draw. But, FYI, there is a 36" W x 13" D x 12" H space for a box of reasonably powerful subwoofers if you want to go that way.
The far, far better thing to do is install a compact powered subwoofer that will give you the improved bass performance you want without adding weight or draining current.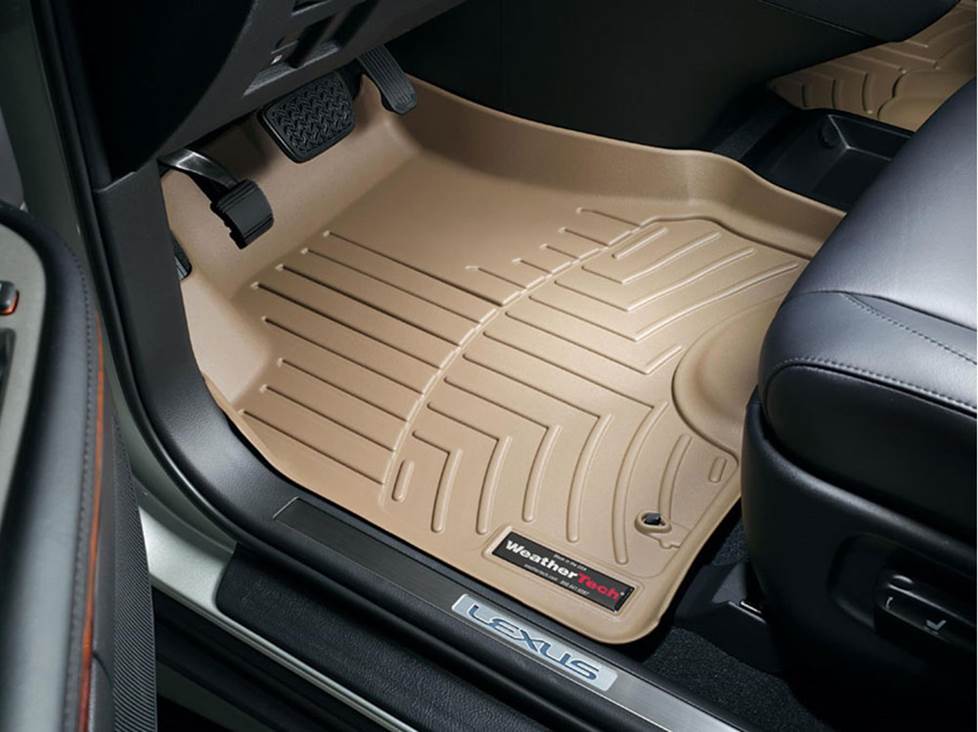 Protect your car's carpeting with custom-fit WeatherTech floor liners
Other options for your Insight
There are plenty of other ways to improve your Honda Insight. Here are some of the ways Crutchfield can help:
Rear-view cameras
A factory rearview camera was added to the option sheet late in the Insight's run, but if your car doesn't have one, we offer rear-view cameras from Alpine, Kenwood, Sony, Pioneer, and more. Some are designed to work with same-brand receivers only, but others come with a composite video connector and will work with almost any video receiver. In a crowded parking lot, a rear-view camera is a great thing to have.
Protect your car's interior
Everyday life can be a bit much for factory floor mats. A set of custom floor liners from WeatherTech will help protect your car's carpeting from dirt and damage.
Remote start and security systems
Adding remote start capability to your vehicle lets you warm it up in the winter or cool it down in the summer. The iDatastart system is incredibly convenient and makes it easier than ever to install a remote start system, so we highly recommend it. The module requires a vehicle-specific T-harness (sold separately) to connect with your vehicle's computer, security, and ignition systems, so we ask that you call to order so that we can make sure you get the right harness for your ride.
You can also talk to your Crutchfield Advisor about a security system. They're not as easy to install (we usually suggest letting a professional do the job), but we can help you choose a system that'll work in your vehicle.
Let's get started!
Ready to shop? Use our vehicle selector to find the gear that will fit your car or truck. If you have questions, give us a shout via phone, chat, or email